January, 24, 2012
1/24/12
9:00
AM ET
Signing day is coming fast. Next Wednesday, the next round of players will sign up for their respective programs and start what could be storied careers.
Here's what each team across the Big 12 needs. You'll find Texas A&M and Mizzou on the SEC blog and West Virginia on the Big East Blog.

BAYLOR
Quarterback:
This one's pretty simple.
Robert Griffin III
is taking his talents to the NFL early.
Nick Florence
is waiting to take over, and the Bears have
Bryce Petty
behind him, but more reinforcements at quarterback are needed. Dual-threat quarterbacks, ideally.
Defensive tackle:
Baylor already was one of the nation's worst teams (102nd nationally) at stopping the run. Now it'll need to replace both its interior linemen,
Nicolas Jean-Baptiste
and
Tracy Robertson
.
Offensive linemen:
Baylor's offensive line, meanwhile, has been solid. It loses junior college transfer and two-year starter
Robert T. Griffin
, as well as All-Big 12 center
Philip Blake
.
John Jones
, a reserve guard, also has exhausted his eligibility.

IOWA STATE
Receiver:
This has been a weak spot for the team for several years, and its top overall talent,
Darius Reynolds
, is gone.
Darius Darks
is, too.
Aaron Horne
and
Josh Lenz
will be the team's best weapons in 2012, but the pair of shifty slot guys will be seniors. This position needs reinforcements.
Defensive back:
The DBs have been a quiet strength for ISU, especially in 2011. Cornerback
Leonard Johnson
and safety
Ter'Ran Benton
both have exhausted their eligibility, though, and defensive backs coach Bobby Elliott left for Notre Dame. You'll see plenty of new faces in the Cyclones' secondary next year.
Defensive line:
Experienced starters
Stephen Ruempolhamer and Jacob Lattimer are both gone, and Iowa State has struggled to stop the run consistently the past few seasons.

KANSAS
Quarterback:
Kansas landed high-profile transfers
Dayne Crist
(Notre Dame) and
Jake Heaps
(BYU), but this is still a huge position of need. Last year's starter,
Jordan Webb
, left the team.
Quinn Mecham
is out of eligibility. Heaps is sitting out his NCAA-mandated year after transferring. Crist is the starter, but he badly needs a backup, especially if
Brock Berglund
's transfer appeal allows him to leave.
Wide receiver:
Kansas lacks a big threat at this position. It needs a talent upgrade in a big way. Oklahoma transfer
Justin McCay
is joining the team, but he's no guarantee to a) be granted immediate eligibility or b) become an impact player.
Defensive tackle:
Kansas is thin here, too. Richard Johnson,
Patrick Dorsey
and
Michael Martinovich
are gone, and Kansas couldn't stop much of anything on defense. Some push up front could help make everything look better. A late addition to the 2012 class from a junior college seems like a no-brainer. The Jayhawks need physically mature players to contribute immediately.

KANSAS STATE
Offensive line:
K-State's offensive line was much better in 2011 and could be again in 2012. It needs help replacing All-Big 12 lineman
Clyde Aufner
, though. Starter
Colten Freeze
is also gone.
Defensive line:
Kansas State is bringing back about as many starters as anyone in the Big 12, but the biggest losses are along the defensive line. Kick-blocking specialist (five in 2011) Ralph Guidry is gone, along with tackle
Ray Kibble
. Juco transfer
Jordan Voelker
exploded onto the scene this year, but he's gone, too.
Defensive backs:
Cornerback
David Garrett
leaves a huge hole behind.
Tysyn Hartman
may not be as talented as teammate
Ty Zimmerman
, but his experience leaves a big hole. Zimmerman will have to mentor a younger safety in the near future.

OKLAHOMA
Receiver:
The Sooners are thin here in a big way. That was obvious late in the season when
Ryan Broyles
' storied college career ended a few weeks early with a knee injury. The team also lost Justin McCay (transfer) to Kansas.
Jaz Reynolds
and
Kenny Stills
are the likely top two targets, but they need help.
Tight end:
This position inspired a bit of panic at the end of the season. Seniors
James Hanna
and
Trent Ratterree
are gone.
Austin Haywood
wasn't allowed back on the team, and two more tight ends left the team for various reasons. That left the Sooners suddenly without a scholarship player at the position returning in 2012.
Offensive line:
Starting tackle
Donald Stephenson
must be replaced, as will guard
Stephen Good
, who moved in and out of the starting lineup throughout his career. The Sooners bring back a lot of talent and aren't dying for depth there, but those two will leave holes. Three more offensive line starters will be seniors in 2012.

OKLAHOMA STATE
Offensive line:
The Cowboys need a whole lot of help here to fill in behind young players stepping into the starting lineup. Starters
Levy Adcock
,
Nick Martinez
and
Grant Garner
are gone. Backup center
Casey LaBrue
is gone, too. Those are two All-Big 12 linemen who leave big shoes to be filled.
Receiver:
Justin Blackmon
surprised no one by leaving a year early, and
Josh Cooper
leaves with perhaps the most underrated career of any receiver in school history. In OSU's offense, there's always room for depth here. Nine receivers had at least 19 catches in 2011. Blackmon and Cooper combined for 192, though.
Defensive ends
: The pass rush was solid for Oklahoma State this year, but both starters,
Jamie Blatnick
and
Richetti Jones
, are gone. Replacing both is a necessity.

TEXAS
Receiver:
Texas lacks a true game-changer at the position, though
Jaxon Shipley
and
Mike Davis
may develop into that role in 2012. Former blue-chip recruit
Darius White
left for Missouri, too.
Quarterback
:
David Ash
and
Case McCoy
didn't show a ton of potential at quarterback this year, though Ash may grow with an offseason to prepare as starter. Garrett Gilbert got a big chunk of the work in the spring, summer 7-on-7 and fall preseason camp. Even if Ash does grow, the Longhorns need reinforcements at the position.
Linebacker:
Two senior impact players are gone. Texas is left trying to replace
Emmanuel Acho
and
Keenan Robinson
, though
Jordan Hicks
may mature into a star in 2012.
TCU
Offensive line:
TCU's offensive line is headed for some major turnover. OT
Robert Deck
, OG
Kyle Dooley
and OG Spencer Thompson are gone. Two more starters, OG
Blaize Foltz
and C
James Fry
, will be seniors in 2012.
Defensive linemen:
TCU isn't losing a lot at this spot, but
Ross Forrest
and
D.J. Yendrey
will be seniors in 2012. The Horned Frogs would be well-served to prepare, and offer some depth next year.
Specialists:
TCU will have to break in a pair of new starters on special teams next season. Kicker
Ross Evans
and punter
Anson Kelton
have exhausted their eligibility.
TEXAS TECH
Receiver:
The Red Raiders' offense requires a lot of depth here.
Tramain Swindall
is the only loss at the position, but three more (
Alex Torres
,
Cornelius Douglas
,
Darrin Moore
) will be seniors. Douglas moved to cornerback this year after the team was racked with injury, but we'll see whether he moves back this offseason.
Offensive line:
Tech has a huge need here. Four players won't be returning in 2012.
Lonnie Edwards
,
Mickey Okafor
and center
Justin Keown
must be replaced.
Defensive linemen:
Tech's
Donald Langley
and
Scott Smith
are both out of eligibility, and juco transfer
Leon Mackey
will be a senior.
December, 13, 2011
12/13/11
4:30
PM ET
We
unveiled our All-Big 12 team
last week with lots of talent.
Time for a new take, with a little help from the Big Ten Blog: The All-Underrated team.
My criteria: The conference's most underrated player at each position. This is, of course, subjective. This isn't for the second-best player at each position. It's for the player who doesn't get enough respect. The only rule: He can't be on my All-Big 12 team.
Here goes:
OFFENSE
QB:
James Franklin
, Missouri
RB:
Christine Michael
, Texas A&M
RB:
John Hubert
, Kansas State
FB:
Braden Wilson
, Kansas State
WR:
Ryan Swope
, Texas A&M
WR:
Tevin Reese
, Baylor
WR:
Josh Cooper
, Oklahoma State
TE:
James Hanna
, Oklahoma
OL:
Clyde Aufner, Kansas State
OL:
Philip Blake, Baylor
OL:
Austin Wuebbels, Missouri
OL:
David Snow, Texas
OL:
Lonnie Edwards, Texas Tech
DEFENSE
DE:
Toben Opurum, Kansas
DT:
Nicolas Jean-Baptiste, Baylor
DE:
Meshak Williams, Kansas State
DE:
Jackson Jeffcoat, Texas
LB:
Steven Johnson, Kansas
LB:
Elliot Coffey, Baylor
LB:
Alex Elkins, Oklahoma State
CB:
David Garrett, Kansas State
CB:
Leonard Johnson, Iowa State
S:
Terrance Bullitt, Texas Tech
S:
Daytawion Lowe, Oklahoma State
SPECIALISTS
P:
Trey Barrow, Missouri
PK:
Michael Hunnicutt, Oklahoma
PR/KR:
Jarvis West
, Iowa State
Coach:
Paul Rhoads, Iowa State
November, 19, 2011
11/19/11
6:06
PM ET
By
ESPN.com staff
| ESPN.com
Texas Tech already entered today's game one of the most banged-up teams in the Big 12. It's getting worse.
Receiver
Alex Torres
suffered a knee injury, and three other Red Raiders (running back
Aaron Crawford
, offensive line Lonnie Edwards, running back Deandre Washington) were all carted off the field with injuries.
Despite that, Texas Tech is well-positioned with a 27-17 lead entering the fourth quarter of its winner-goes-bowling contest against Missouri.
Darrin Moore
hauled in a 24-yard touchdown pass on 3rd-and-7 to push the Red Raiders ahead.
Quite the performance by Tech today on the road against an emotional Missouri team missing its coach, Gary Pinkel.
August, 26, 2011
8/26/11
2:30
PM ET
By
ESPN.com staff
| ESPN.com
Thanks for the all the emails.
B. Stautzenberger (@coachrock4) in OKC asked:
I hear so much that the a&m will struggle in the sec but at there worst they r better than both miss schools and vandy Kentucky. They are on par with auburn and Arkansas. And that's just football. I don't see why the sec wouldn't love to have the aggies.
David Ubben:
Yeah, I don't really get it. The folks that know what they're talking about know that the SEC is crazy not to want the Aggies, which they clearly do. The only problem could be the 14th team.
The fans are kind of another story. As an Arkansas native, I know a pretty large group of Arkansas fans, and the majority of them are not excited about bringing in A&M at all. I spent last weekend in Kansas City with a few of them, and the lack of big-time accomplishments on the résumé and a "if it ain't broke, don't fix it" approach has them and lots of other Hog fans pretty lukewarm to the idea.
The program, facilities and fans make it a good fit from the SEC perspective, though I disagree with the move from the A&M perspective.
I think you'll see all three of those get at least a temporary boost with the move to the SEC. The atmosphere for games will be amped up a bit the first couple of years, but I think the Aggies will have to win over a reasonable percentage of the fans.
Fortunately for them, the same doesn't appear to be true for decision-makers.
---
Ryan in Tulsa, Okla., asked:
David,Im an OSU fan. I just don't think new OC Todd Monken will have the same impact as Dana Holgerson did last year. Dana just had that knack to stay patient and not ever get overwhelmed when it came to crunch time in big games. I feel Todd might get flustered and nervous in those big game situations when he has to call the right play at the right time. He already has to be feeling pressure about it. How do you think he will do? Also, do you think
Brandon Weeden
will get to be like Peyton Manning and have the ability to make his own play calls at times?
DU:
Well, the facts add up to this: We have no idea. There's not a lot to draw on regarding Monken's play-calling prowess. We have Gundy's endorsement. That's about it. Monken might be great. He might be a significant downgrade. He might be OK. We'll find out pretty quick. There's not a lot of evidence pointing to any of those options just yet.
What we do know is this: He's going to have a heck of a lot of talent running his plays. That makes everyone look better.
As for Weeden calling plays, I don't see that happening, but he'll no doubt have a lot of input and impact on what's called. And besides, even after a play is called or even snapped,
he still has a lot of effect on what's going on during the play
.
---
Chris in San Jose, Calif., asked:
Dubbs, I think you did a great job on the top 25 list, but you missed the mark badly on
Michael Egnew
from Missouri. I'll be the first to admit that he's no Chase Coffman, but he was a All American and voted MVP of the Missouri team by his teammates (over the others you chose for the list). Your point about how average per catch being 44th among receivers is less spectacular when you figure that the highest TE on that stat is at 37th. That's just not a position that lends itself to high avg per reception. He's the only BCS conference TE in the top 100 in yards per game, and he's top 10 in receptions per game, so even though other teams know it's coming to him, they can't stop him.But more to the point, I just don't see how you can leave a returning consensus All American off your top 25 list. There are only 4 returning consensus All Americans in the entire country.
DU:
You make some valid points. And it was close. He was probably the first player just outside the top 25. I may be wrong on this, but I just don't see the physical talents that Martin Rucker and Coffman had. And the facts are also this: The crop of tight ends in college football is weak.
There's no Jermaine Gresham or Martellus Bennett in this group.
Here's the core my general thought process: If
Andrew Jones
was the only tight end on Missouri's roster, and he was given the exact same opportunities Egnew was given, would he be able to have a similar output?
In my opinion, yes. I don't believe you could say that about the players behind guys like Gresham, Bennett, Rucker or Coffman.
---
JG in Enid, Okla., asked:
This is just awesome
. Quinn sharp booting a 62 yard field goal in practice. Not only that the whole team cheering against him and special team coach Joe Defo calling timeout to ice him. Backup QB
Clint Chelf
taunting him in a manner that makes you think of the Karate Kid. Plus, you have to love Jonathan Rush holding back Grant Garner as he barks like a dog earlier in the video.
DU:
Outstanding. Had to get that on the blog somehow.
---
Andrew in College Station, Texas, asked:
Have you noticed that Pac 12 blogger continually picks teams to "whip" A&M in _____ bowl in the Pac 12 Best/ Worst case scenarios? Seriously, I know I've seen it at least three times.
DU:
No worries. It's all simple reverse psychology. I hear A&M is
shopping a new conference,
but not one in particular. Ted's trying to talk them into coming out west and proving him wrong. He's a fiend, but never forget: Those West-Coast types are much, much smarter than the rest of us in the heartland.
---
Jared in Portland, Ore., asked:
Dubbs, what's up with this years bowl schedule? No games on New Years Day? Did the BCS forget about tradition? Am I supposed watch parades when I'm hung over?
DU:
No worries, fans. It happened a few years ago, and it's happening again. Jan. 1 falls on a Sunday, so the NFL will be playing that day. The good news: College football will be well-sandwiched around those games.
---
John Thomas in LeBary, Fla., asked:
Not a single Red Raider in the top 25? From the team that has the longest string of bowl appearances in the Big 12? David, Southwest Airlines has several flights a day between Dallas and Lubbock. Book a flight. Spend some time there.
DU:
Oh, I've made that flight quite a few times. I was out in Lubbock this spring. This isn't the Red Raiders' year, but who, exactly, would you suggest I put in the top 25 or near it?
Someone from the defense that ranked 118th nationally in stopping the pass and 114th nationally in total defense? Or someone from an offense that lost its top two quarterbacks, a three-year starter at running back and the two top receivers?
The Red Raiders have a lot of potential, but not a lot of proven players. Lonnie Edwards or Cody Davis was probably the closest to making the top 25, but they're going to have be a lot better this year.
Here's betting a few of them make the postseason top 25, but they'll only be there once they earn it.
---
Daniel in St. Louis, Mo., asked:
I hear Aaron Williams and Curtis Brown are doing pretty well in the preseason. Is there any other school who produces more potential nfl starters at defensive back?
DU
: No doubt about it. Texas is absolutely DBU. Credit Duane Akina for that, though. He's one of the league's best position coaches, and his secondary proves it every season.
Guys like Quandre Diggs have a lot of potential. Akina grooms them into stars.
July, 20, 2011
7/20/11
9:00
AM ET
We'll move on to the cornerbacks today in our position rankings across the Big 12.
Here's what we've covered so far:
This group is subject to more change during the season than perhaps any other position. You never quite know how chemistry will develop, and in these rankings, you really have to rely heavily on experience, similar to quarterbacks. It's not the only factor, but you have to acknowledge that it's a major one.
So, here's how I rank them:
[+] Enlarge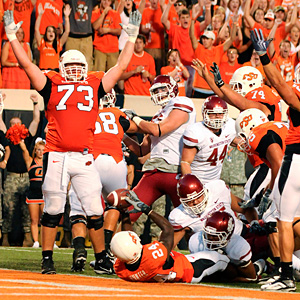 AP Photo/Brody SchmidtOklahoma State's Levy Adcock, 73, is among the Big 12's best returning offensive linemen.
1. Oklahoma State:
This is a no-brainer. The Cowboys broke in four new starters last season, but became a big reason why OSU's offense was one of college football's best. Despite throwing 532 passes, third-most in the Big 12, the group surrendered just 10 sacks. All five starters return, too. Running back Kendall Hunter also rushed for more than 1,500 yards. Right tackle Levy Adcock headlines the unit as the league's best overall lineman.
2. Baylor:
The Bears might be a bit of a surprise here, but Baylor's strong skill-position talents wouldn't look nearly as good without this group, which lost a first-round pick at left tackle in Danny Watkins. However, Philip Blake is one of the league's best centers and four starters return from a line that helped Baylor finish second in the Big 12 last season in yards per carry, just behind Nebraska but nearly a half-yard more than Oklahoma State, the third-place team.
3. Missouri:
The Tigers suffered a big loss in center Tim Barnes, a three-year starter and the offensive line's leader, but they return four starters from last season line and have the most career starts on the line of any team in the Big 12, with 105, which ranks 11th nationally.
4. Texas A&M:
A&M's rising sophomore tackles, Luke Joeckel and Jake Matthews, had to learn on the go last season, but their development should be fun to watch this season on an offensive line blocking for the Big 12's best overall collection of skill-position talents. The line returns four starters, replacing only center Matt Allen.
5. Oklahoma:
The Sooners' goal-line problems last season cost them a game at Texas A&M, but this line was very solid the rest of the season and has plenty of upside. Likely starter Jarvis Jones won't be available until perhaps October, so the Sooners will turn to touted redshirt freshman Daryl Williams at right tackle in the interim. Center Ben Habern and tackle Tyler Evans add a lot of experience.
6. Texas Tech:
Tech boasts one of the Big 12's best guards in Lonnie Edwards, but don't be surprised if Mickey Okafor grabs the Big 12's first-team spot at right tackle by season's end. The Red Raiders return all five starters, and will have to play well to support new faces at every skill position on offense.
7. Kansas:
Four of the Jayhawks' starters are juniors and another is a senior, and for all of KU's struggles last season, it did have some success running the ball in spots, even though its 1,615 total rush yards were the fewest in the Big 12.
James Sims
(742 yards, 9 TDs) returns and KU adds a possible home-run threat in Darrian Miller, but the offensive line returns 97 total starts, 15th-most in college football and second-most in the Big 12. That has to pay off eventually, if not this season.
8. Iowa State:
The Cyclones boast the league's best left tackle, Kelechi Osemele, but center Ben Lamaak is gone and ISU might turn to redshirt freshman Tom Farniok as his replacement. Brayden Burris is solid at right tackle, but sophomore Ethan Tuftee, who has very little experience (just five appearances total), enters fall camp as the starter at right guard.
9. Texas:
No, I don't know how this happens. But it's hard to deny. Run blocking has been a struggle for Texas, and new position coach Stacy Searels will have to change that for the Longhorns, who have kept quiet about any real depth-chart developments throughout the spring and into fall camp. Tray Allen's health is a concern, but Mason Walters played well in 2010 and David Snow has a lot of experience at center with 19 starts and 39 appearances. If this group can't ascend in these rankings during the season, Texas' turnaround from last season 5-7 campaign will not happen. Texas, though, has the fewest career starts in the Big 12, with 36, which ranks 105th nationally.
10. Kansas State:
Kansas State has had the Big 12's leading rusher the past two seasons, but he's gone and so are three offensive linemen, including the unit's best blocker, guard Zach Kendall. Center Wade Weibert and guard Kenneth Mayfield also are gone, leaving gaps in the interior. Senior Zach Hanson joins Manese Foketi and Clyde Aufner on a unit that returns just 42 career starts, second-fewest in the Big 12 and 97th-most in college football.
July, 19, 2011
7/19/11
4:30
PM ET
The Big 12 has released its All-Big 12 preseason team as voted on by the media, including yours truly.
Here's my ballot
, for reference.
And here's the preseason team, in all its glory.
OFFENSE
QB:
Landry Jones
, Oklahoma
RB:
Cyrus Gray
, Texas A&M
RB:
Bryce Brown
, Kansas State
RB:
Roy Finch
, Oklahoma
WR:
Justin Blackmon
, Oklahoma State
WR:
Ryan Broyles
, Oklahoma
TE:
Michael Egnew
, Missouri
OL:
Levy Adcock, Oklahoma State
OL:
Kelechi Osemele, Iowa State
C:
Ben Habern, Oklahoma
OL:
Lonnie Edwards, Texas Tech
OL:
Luke Joeckel, Texas A&M
DEFENSE
DL:
Brad Madison, Missouri
DL:
Ronnell Lewis, Oklahoma
DL:
Kheeston Randall, Texas
DL:
Frank Alexander, Oklahoma
LB:
Travis Lewis, Oklahoma
LB:
Jake Knott, Iowa State
LB:
Keenan Robinson, Texas
DB:
Coryell Judie, Texas A&M
DB:
Markelle Martin, Oklahoma State
DB:
Blake Gideon, Texas
DB:
Demontre Hurst, Oklahoma
SPECIALISTS

K:
Grant Ressel, Missouri
P:
Quinn Sharp, Oklahoma State
KR:
Coryell Judie, Texas A&M
PR:
Ryan Broyles, Oklahoma
AWARDS
Offensive Player of the Year:
Justin Blackmon, WR, OSU
Defensive Player of the Year:
Travis Lewis, LB, Oklahoma
Newcomer of the Year:
Malcolm Brown
, RB, Texas
Selections by team:
Oklahoma (9), Oklahoma State (4), Texas A&M (4), Missouri (3), Texas (3), Iowa State (2), Kansas State (1), Texas Tech (1)
And a few thoughts:
Generally, I agree with most of the selections. Nothing was really shocking. Brandon Weeden vs. Landry Jones is pretty close to a coin flip, and let's not act surprised that the quarterback from the bigger program got the nod. Perception is reality, even if the numbers are so, so close. Jones has the Heisman hype coming into the season, certainly more than Weeden, based on little more than the possibility his team runs the table.
Running back is going to get a lot of attention, but let's not get riled up. This is going to sound bad, but believe me when I say I don't mean it to: Bryce Brown's selection is more an indictment of the returning talent at running back in the Big 12 than an endorsement of the hype surrounding Brown, who isn't even the clear-cut starter at K-State just yet. Here's what I wrote when I posted my ballot earlier this month. "The second running back spot is near impossible. Just about anyone might get it on the official vote when its revealed by the Big 12. You could realistically make a convincing case for James Sims, Eric Stephens, Joe Randle, Roy Finch and even newcomers like Malcolm Brown, Bryce Brown or Oklahoma's Brandon Williams. And that's the first team!" Well, there you go. For the record, I voted for Christine Michael, and still feel good about it.
Finch and Brown tied for votes, giving the Big 12 three running backs. There weren't three spots on the ballot. And it also explains how Malcolm Brown got Newcomer of the Year and Bryce Brown got first-team All-Big 12 running back, despite both being newcomers. It's a little confusing, I suppose, and maybe not everyone did it, but my guess is a lot of ballots had Finch as the first-team running back and Malcolm Brown as the Newcomer of the Year. Not all that surprising.
I originally had Luke Joeckel on my ballot, but took him off for Missouri's Elvis Fisher. I think Joeckel will end up being better, and maybe even by the end of this year, but right now, Fisher is the better lineman, and that's how I define the ballot. Perhaps others see it differently. There's no concrete rubric for this.
I'm not very surprised to see Ronnell Lewis and Blake Gideon grab spots on the team, though I voted for Tony Jerod-Eddie and Trent Hunter in those spots on my ballot. Second safety and defensive line were pretty tough for me to fill out. Neither spot is very deep in this league, and both Lewis and Gideon have two of the biggest names, which matters in a media vote.
Quite a huge gap between Oklahoma and the rest of the league. The Sooners had a lot of guys on my ballot that were close, but five more selections than anyone else in the league? That's impressive, and if ballot deadlines had been after Jamell Fleming's reinstatement, Oklahoma might have had 10 guys on the team. My ballot had Oklahoma State leading the way with seven selections, followed by Texas A&M with six and Oklahoma with five. My ballot also only had six teams represented. The media's Bryce Brown vote put Kansas State on the board, and Lonnie Edwards at Texas Tech made it eight teams represented on the official team.
July, 13, 2011
7/13/11
2:15
PM ET
By
ESPN.com staff
| ESPN.com
The Lombardi Award has released its preseason watch list, and 14 players from the Big 12 cracked it. Here they are:
Levy Adcock, OL, Oklahoma State
Lonnie Edwards, OL, Texas Tech
Stephen Good, OL, Oklahoma
Ben Habern, OL, Oklahoma
Tony Jerod-Eddie, DL, Texas A&M
Luke Joeckel, OL, Texas A&M
Shaun Lewis, LB, Oklahoma State
Travis Lewis, LB, Oklahoma
Brad Madison, DL, Missouri
Kelechi Osemele, OL, Iowa State
Kheeston Randall, DL, Texas
Keenan Robinson, LB, Texas
Jacquies Smith, DL, Missouri
Garrick Williams, LB, Texas A&M
It's
a big list,
and it's preceded by the best definition of any award in sports, one I'm always reminded of each fall and December.
Got a notepad? Here are the eligbility requirements:
Eligibility for the Rotary Lombardi Award is limited to down linemen, end-to-end, either on offense of defense, who set up no farther than 10 yards to the left or right of the ball, and linebackers who set up no father than five yards deep from the line of scrimmage. All candidates also must be eligible to play college sports under the rules and regulations of the National Collegiate Athletic Association (NCAA).
Wonderful. The Lombardi Award is also
my favorite trophy
among the college football awards. Good gracious, granite. (I think.)
The Big 12 has won two of the past three Lombardi Awards, courtesy of Nebraska's Ndamukong Suh and Texas' Brian Orakpo. Suh was Nebraska's fifth winner, but Tommie Harris in 2003 gave Oklahoma its third winner, tied with Texas for the most of any current Big 12 team.
July, 11, 2011
7/11/11
11:00
AM ET
By
ESPN.com staff
| ESPN.com
The Outland Trophy has released its watch list, and nine Big 12 players made the 65-man list.
The Outland Trophy is given annually to college football's top interior lineman, offensive or defensive.
Levy Adcock, OL, Oklahoma State
Lonnie Edwards, OL, Texas Tech
Ben Habern, C, Oklahoma
Dan Hoch, OL, Missouri
Kelechi Osemele, OL, Iowa State
Kheeston Randall, DT, Texas
Lane Taylor, OL, Oklahoma State
The Big 12's seven list members are tied with the ACC for fourth most among the conferences. The Big Ten had the most, with 13. The award, which began in 1946, is the third-oldest in college football.


Ndamukong Suh won the award in 2009, becoming the first Big 12 player to win since Jamaal Brown of Oklahoma in 2004. Nebraska's nine winners are four more than any other school in college football.

Oklahoma has the second most, with five winners. Texas has three winners, tied for third-most.


May, 31, 2011
5/31/11
1:00
PM ET
By
ESPN.com staff
| ESPN.com
College football pundit Phil Steele
has released his All-Big 12 team
, and on the first and second teams, you'll see plenty of names you recognize.
[+] Enlarge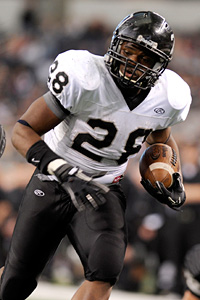 AP Photo/Matt StrasenExpectations are extremely high for incoming Texas Longhorns running back Malcolm Brown.
Oklahoma's
Landry Jones
snagged the first-team quarterback honors, joining the league's three top receivers,
Justin Blackmon
of Oklahoma State,
Ryan Broyles
of Oklahoma and
Jeff Fuller
at Texas A&M.
Broyles and A&M cornerback Coryell Judie even appear on the first team twice, as punt and kick returners, respectively.
But the story of Steel's team is no doubt his confidence in a handful of unknowns, headlined by Texas incoming freshman
Malcolm Brown
grabbing a first-team spot at running back.
Brown, the nation's No. 2 running back in the 2011 class and No. 7 overall prospect, is expected to arrive on campus next month.
His spot seems reminiscent of North Carolina basketball player Harrison Barnes, the first freshman to be named a preseason All-American since 1986.
As Texas struggled to run the ball last season, failing to have a 600-yard rusher for the third consecutive year, Brown's commitment was welcome news. The Longhorns' 5-7 season placed even more hopes on Brown, who will compete with Fozzy Whittaker and
Cody Johnson
for carries once fall camp begins.
The uncertainty of the depth chart, which currently resembles an amorphous blob, will help Brown make it on the field, but he's apparently earned Steele's confidence.
He's not the only one.
Kansas State linebacker Arthur Brown, a Miami transfer who made waves this spring, cracks Steele's first team, too, despite not playing a snap of Big 12 football. His brother, Wildcats running back
Bryce Brown
, made the second team without playing a down in the Big 12, too.
Oklahoma safety Aaron Colvin, who spent last season as a backup cornerback, is on Steele's second team. Sooners freshman running back
Brandon Williams
enrolled early and also has never played, but made the second team.
All of those players should have an opportunity to make an impact, and Steele believes they'll all take advantage.
Looking back at Steele's preseason team last year
, he didn't always take these kinds of chances.
Missouri tight end
Andrew Jones
was the only player on the first team before last season that would have drawn a gasp, and his teammate,
Michael Egnew
, ended up being a finalist for the Mackey Award as college football's best tight end.
Last year's preseason team didn't have a single newcomer or freshman on the top two teams, but could the Big 12 be chock full of new faces this time around?
I'd say about half of those players make the postseason All-Big 12 teams, but Steele sees big seasons in store for players that you ought to know before September.
Here's the first team (notoriously potent offenses and stingy defenses, thanks to 12-man sides) in its entirety:
OFFENSE
QB:
Landry Jones, Oklahoma
RB:
Cyrus Gray, Texas A&M
RB:
Malcolm Brown, Texas
WR:
Justin Blackmon, Oklahoma State
WR:
Ryan Broyles, Oklahoma
WR:
Jeff Fuller, Texas A&M
TE:
Michael Egnew, Missouri
C:
Ben Habern, Oklahoma
G:
Lonnie Edwards, Texas Tech
G:
Lane Taylor, Oklahoma State
T:
Kelechi Osemele, Iowa State
T:
Levy Adcock, Oklahoma State
DEFENSE
DE:
Ronnell Lewis, Oklahoma
DT:
Kheeston Randall, Texas
DT:
Tony Jerod-Eddie, Texas A&M
DE:
Brad Madison, Missouri
LB:
Arthur Brown, Kansas State
LB:
Keenan Robinson, Texas
LB:
Travis Lewis, Oklahoma
LB:
Zaviar Gooden, Missouri
CB:
Coryell Judie, Texas A&M
CB:
Demontre Hurst, Oklahoma
S:
Markelle Martin, Oklahoma State
S:
Blake Gideon, Texas
SPECIAL TEAMS
K:
Grant Ressel, Missouri
P:
Quinn Sharp, Oklahoma State
KR:
Coryell Judie, Texas A&M
PR:
Ryan Broyles, Oklahoma
Here's how many players each program had on the Steele's All-Big 12 first-fourth teams combined:
1. Texas A&M
- 19
2. Oklahoma
- 16
3. Missouri
- 11
3. Oklahoma State
- 11
3. Texas
- 11
6. Baylor
- 7
7. Kansas State
- 6
8. Iowa State
- 5
8. Kansas
- 5
8. Texas Tech
- 5
January, 14, 2011
1/14/11
11:00
AM ET
We've spent the week wrapping up the bowls, and now that it's Friday, here's our Big 12 bowl team comprised of players who got it done individually in their bowl games.
Plenty of guys got snubbed, particularly at receiver (Sorry,
Lyle Leong
,
Cameron Kenney
and
Kendall Wright
!), but without further ado, here it is.
OFFENSE
QB: Landry Jones, Oklahoma
Jones shook off an early pick-six and threw for three touchdowns and 429 yards on 34-of-49 passing in Oklahoma's 48-20 win over Connecticut in the Fiesta Bowl. It was his second consecutive 400-yard passing game in a bowl.
RB: Daniel Thomas, Kansas State
Thomas scored three touchdowns against Syracuse, and finished with 90 yards on 22 carries in the Wildcats 36-34 loss to the Orange in the Pinstripe Bowl.
RB: Eric Stephens, Texas Tech
Stephens ran for a season-high 126 yards on 14 carries and caught five passes. His 86-yard touchdown run helped push Texas Tech to a 45-38 win over Northwestern in the TicketCity Bowl.
WR: Ryan Broyles, Oklahoma
Broyles caught 13 passes for 170 yards--his second consecutive bowl game with 13 receptions--and had a highlight-reel catch for his lone touchdown on his final catch of the night.
WR: Justin Blackmon, Oklahoma State
Blackmon opened the game with a 71-yard touchdown catch on the Cowboys opening drive, and finished with nine catches for 117 yards and a second touchdown in OSU's 36-10 win over Arizona in the Alamo Bowl.
WR: T.J. Moe, Missouri
Moe helped quarterback Blaine Gabbert top 400 yards against a porous Iowa zone defense, finishing with a 15 catches for 152 yards, both career highs.
OL: Zach Kendall, Kansas State
Kendall helped pave the way for Kansas State's offense, which threw for 258 yards and ran for 121 more against Syracuse.
OL: Tim Barnes, Missouri
Barnes was solid as usual, getting Gabbert in rhythm with solid snaps and giving the quarterback plenty of time to throw for a season-high 434 yards.
OL: Eric Mensik, Oklahoma
Oklahoma rolled up 524 yards of offense in the Fiesta Bowl, and Mensik was one of the big guys up front who helped it happen.
OL: Lonnie Edwards, Texas Tech
Texas Tech ran the ball with uncharacteristic effectiveness, especially late in the game with a lead, and Edwards gets the nod for helping the Red Raiders run for 183 yards and throw for 369 more.
OL: Elvis Fisher, Missouri
Fisher completely eliminated Iowa defensive end Adrian Clayborn from the game, and because of it, the Tigers offense rolled for 512 yards against the Hawkeyes.
DEFENSE
DL: Phil Taylor, Baylor
Taylor made 10 tackles in the middle of Baylor's defense responsible for slowing down Illinois' rushing offense.
DL: Jeremy Beal, Oklahoma
Beal plugged up holes for Connecticut's Jordan Todman, who averaged under a yard per carry at halftime, and finished with six tackles, a tackle for loss and a pass breakup.
DL: Jared Crick, Nebraska
Crick made seven tackles--all solo--for the Huskers in their 19-7 loss to Washington in the Holiday Bowl.
DL: Richetti Jones, Oklahoma State
Jones made five tackles, including 1.5 sacks and two tackles for loss, against Arizona's Air Raid passing attack.
LB: Von Miller, Texas A&M
Miller made nine tackles, a sack and three tackles for loss against LSU in the Aggies' 41-24 loss in the Cotton Bowl.
LB: Travis Lewis, Oklahoma
Lewis was responsible for slowing Todman, and finished with 10 tackles--all solo--and a pair of pass breakups to lead the team.
LB: Orie Lemon, Oklahoma State
Lemon led the Cowboys with 14 tackles against Arizona.
CB: Jamell Fleming, Oklahoma
Fleming made seven tackles and had a tackle for loss, but made a huge play when he intercepted a pass and returned it 55 yards for a score against the Huskies in the Fiesta Bowl.
CB: Kevin Rutland, Missouri
Rutland helped slow Iowa's passing attack led by Ricky Stanzi, making seven tackles, breaking up a pair of passes and returning an interception 25 yards.
S: Byron Landor, Baylor
Landor led the Bears with 12 tackles, and had a sack and another assist on a tackle for loss.
S: Markelle Martin, Oklahoma State
Martin made just four stops, but swung the game on his 62-yard interception for a score, and broke up a pair of passes in the win over Arizona.
SPECIALISTS
P: Matt Grabner, Missouri
Grabner helped Missouri win the field position battle with a pair of punts inside the 20-yard line, a 55-yard punt and a Big 12 bowl-best average of 42 yards on his four punts.
K: Dan Bailey, Oklahoma State
Bailey made three field goals longer than 40 yards, and was flawless on his five punts after being forced into duty by a suspension.
KR: Coryell Judie, Texas A&M
Judie broke the Big 12's longest kick return on the opening kickoff of the Cotton Bowl, breaking a 69-yarder to set up a game-oepning touchdown and finished with 197 yards on seven returns.
PR: Ryan Broyles, Oklahoma
Broyles returned five punts for 92 yards, and had the longest return of the Big 12 bowl season, a 57-yarder against the Huskies.
December, 20, 2010
12/20/10
4:10
PM ET
By
ESPN.com staff
| ESPN.com
Like it or not, the Big 12 will be without divisions after 2010, no matter how many legends or leaders made their mark in the league's short history as a two-part conference.
Over that history, the South has been dominant with a pair of national powers, Texas and Oklahoma who were consistently racking up big win totals over the last decade while the North has, more often than not, sent a significantly less impressive team to the title game. That's measurable in plenty of ways, but I'll settle for the 11-4 advantage in the championship game and a 13-4 advantage in BCS bowl game appearances.
But what about this year? The South is clearly the deeper division when you talk total teams, but then I got this e-mail, which got me wondering:
John in Omaha, Neb., wrote:
Bored at work, thought I'd give you a blog topic idea. If you had to pick two all star teams, one made entirely of B12 north players at each position and then a B12 south all star team at each position and then had them play a game. Who would win and who would be the players. Off the top of my head I'd say the south would but I bet it's pretty close once you break it down player by player.
My interest was piqued. We know
what the All-Big 12 team looks like
, but what if you broke it down by division? For reference, my All-Big 12 team had 11 players from the North and 15 from the South.
Here are my picks, when broken down by division:
Big 12 South
OFFENSE
QB:
Brandon Weeden
, Oklahoma State
RB:
Kendall Hunter
, Oklahoma State;
DeMarco Murray
, Oklahoma
WR:
Justin Blackmon
, Oklahoma State;
Ryan Broyles
, Oklahoma
TE/FB:
Bryant Ward
, Oklahoma State
OL:
Levy Adcock, Oklahoma State; Danny Watkins, Baylor; Eric Mensik, Oklahoma; Matt Allen, Texas A&M, Lonnie Edwards, Texas Tech
DEFENSE
DL:
Jeremy Beal, Oklahoma; Lucas Patterson, Texas A&M; Colby Whitlock, Texas Tech; Sam Acho, Texas
LB:
Von Miller, Texas A&M; Orie Lemon, Oklahoma State; Travis Lewis, Oklahoma
CB:
Andrew McGee, Oklahoma State; Jamell Fleming, Oklahoma
S:
Quinton Carter, Oklahoma; Byron Landor, Baylor
SPECIALISTS:
K:
Dan Bailey, Oklahoma State
P:
Quinn Sharp, Oklahoma State
KR:
Coryell Judie, Texas A&M
PR:
Ryan Broyles, Oklahoma
Big 12 North
OFFENSE
QB:
Blaine Gabbert
, Missouri
RB:
Rodney Stewart
, Colorado,
Daniel Thomas
, Kansas State
WR:
T.J. Moe
, Missouri;
Scotty McKnight
, Colorado
TE/FB:
Michael Egnew
, Missouri
OL:
Nate Solder, Colorado; Ricky Henry, Nebraska; Tim Barnes, Missouri; Zach Kendall, Kansas State, Ben Lamaak, Iowa State
DEFENSE
DL:
Jared Crick, Nebraska; Aldon Smith, Missouri; Brad Madison, Missouri; Pierre Allen, Nebraska
LB:
Lavonte David, Nebraska; Andrew Gachkar, Missouri; Jake Knott, Iowa State
CB:
Prince Amukamara, Nebraska; Alfonzo Dennard, Nebraska
S:
Eric Hagg, Nebraska; Ty Zimmerman, Kansas State
SPECIALISTS:
K:
Alex Henery, Nebraska
P:
Alex Henery, Nebraska
KR:
William Powell
, Kansas State
PR:
Niles Paul
, Nebraska
So, there are my teams. I'll offer some further observations, plus my pick in a post Tuesday. But for now ... who you got?
August, 6, 2010
8/06/10
2:00
PM ET
By
ESPN.com staff
| ESPN.com
Schedule:
Practice starts Saturday
What's new:
The defense. New coach Tommy Tuberville brought in James Willis as his defensive coordinator. Willis coached the linebackers at Alabama and won a national title in 2009. He brought with him an aggressive, blitzing 3-4 scheme that's almost the complete opposite of what the Red Raiders used for a decade under Mike Leach.
Key battle:
Quarterback.
Steven Sheffield
and
Taylor Potts
will resume their abbreviated battle from the spring for the starting job, and Tuberville hopes to make a decision after the second scrimmage, trusting that one will stand out. Sheffield has the fan vote, but Potts has more experience.
New on the scene:
The offensive line. Texas Tech must replace three starters up front, but it left the spring with Terry McDaniel, Lonnie Edwards, Justin Keown, Deveric Gallington and LaAdrian Waddle as starters.
Breaking out:
Safety Cody Davis is the team's second-leading returning tackler, but it's been hard to make headlines on defense while playing for Texas Tech. Under Tuberville, that might change. Davis' 81 tackles as a freshman were already impressive, but this year, others outside Lubbock might take notice, especially if the Red Raiders see defensive success under Willis.
Don't forget about:
Running back
Baron Batch
. He's topped 750 yards in each of the past two seasons and should get more carries this year as one of the team's most talented players under a coach who loves to run the ball. Tech's offense will still the the Air Raid, but this year's version will be faster and around a 60-40 pass-run ratio, slightly more balanced than the 68-32 ratio (669 passes, 319 rushes) in 2009.
Eric Stephens
and
Harrison Jeffers
are quality backups who'll earn a few of those carries, too.
All eyes on:
The quarterback battle. It's worth mentioning twice. Tuberville won't be flipping starters unless there's an injury, so one guy should be set up to put up big numbers, while the other is forced to spend his senior season on the bench. Not an easy situation for Potts, Sheffield or Tuberville to be in.
Quoting:
"First thing I did when I went in to them, when I first talked to them, I apologized to them for what they went through because players are there to get an education and have fun playing college football, and they went through a season that was hectic and coach leaves and the bowl game was a mess in terms of it wasn't about them, it was about who's going to be the coach. So we had to get our players back. So it's really been good." --
Texas Tech coach Tommy Tuberville
February, 13, 2009
2/13/09
10:00
AM ET
By
Tim Griffin
| ESPN.com
Posted by ESPN.com's Tim Griffin
The Big 12 should again be loaded in 2009. And the spring will feature several key positional battles and holes to fill that will go a long way in determining whether Oklahoma can make history and claim a fourth-straight championship this season.
Here a look at each team and three major items to watch in spring practice.
NORTH DIVISION

Colorado Buffaloes
Spring practice begins: March 31
Spring game: April 25
What to watch:
The health of the team: The Buffaloes' players lost a combined total of 121 games to due to illness or injury last season. Some players like tight end Riar Geer, guards Devin Head, Maxwell Tuioti-Mariner and Mike Iltis, linebacker Jon Major and cornerback Jalil Brown will be limited during the spring because of past injuries. But others like tackle Ryan Miller, tailback Rodney Stewart and cornerback Benjamin Burney should be good to go throughout the spring. Coach Dan Hawkins won't push things, but it will be good to have as many regulars as possible practicing again.
The return of Darrell Scott: The conference's most publicized running back recruit of 2008 never could get untracked, rushing for disappointing totals of 343 yards and 3.9 yards per carry last season. The spring will give him a chance to show why he was one of the nation's top recruits in the Class of 2008.
Settle the kicking game: After Colorado kickers combined to shank 11 of 17 attempts last season, it might be the last chance for Aric Goodman or Jameson Davis to show what they can do after their struggles last season and the arrival of heralded recruit Zach Grossnickle in the fall.

Iowa State Cyclones

Spring practice begins: March 24
Spring game: April 18
What to watch:
Paul Rhoads' early assimilation: After his hiring last Dec. 23, Rhoads has concentrated on recruiting and building a coaching staff. Being able to work on the field with his team will likely be a relief for him after such a hectic start.
Help in the secondary: The Cyclones lose starters Chris Singleton and Brandon Hunley from a unit that ranked in the bottom 10 nationally in pass efficiency defense and pass defense. Rhoads' specialty is defense, but he'll have his work cut out with his new unit.
Finding another starter at wide receiver: Darius Darks is back after an impressive freshman season, but Rhoads needs to find a replacement for 2008 leading receiver R.J. Sumrall. Look for Sedrick Johnson, Marquis Hamilton and Houston Jones all to have their chances at the starting unit during the spring.

Kansas Jayhawks
Spring practice begins: March 9
Spring game: April 11
What to watch:
Finding starters at linebackers: The Jayhawks must completely rebuild their linebacking corps as James Holt, Mike Rivera and Joe Mortensen all are gone from last season. Arist Wright and Dakota Lewis are in the mix because of their experience. A bigger wild card could be converted running back Angus Quigley, who turned heads with his defensive instincts and tackling in work before the Jayhawks' bowl game last season.
Get a consistent kick returner: The mystifying struggles of Marcus Herford last season resulted in a drop of more than 8 yards per kick return as the Jayhawks fell from seventh in 2007 to 118th nationally last season. Dezmon Briscoe showed flashes of being a productive returner late in the season, but more work from different players will be needed in the spring to shore up the area.
Rebuild the center of the offensive line: Losing starting guards Chet Hartley and Adrian Mayes along with center Ryan Cantrell will be the biggest offensive concern this spring for the Jayhawks. Carl Wilson and Sal Kapra should get a long look at guard and Brad Thorson will given the first shot at center.

Kansas State Wildcats:
Spring practice begins: April 6
Spring game: May 2
What to watch:
Bill Snyder's return to coaching: The wily Snyder will be facing the biggest challenge of his professional career after returning after a three-year coaching sabbatical. The Wildcats aren't as bad as they were in 1989 when Snyder originally took over, but the Big 12 is a much tougher than the Big Eight was in those days. And it will test the patience and legendary work ethic of Snyder to get the Wildcats back into Big 12 title contention in the immediate future.
The quarterback battle: New offensive coordinator Andy Ludwig is one of the conference's most notable hirings after his strong recent work at Utah. Ludwig will be challenged as he looks at Carson Coffman or junior-college transfer Daniel Thomas to replace Josh Freeman as his starting quarterback.
Looking for a defensive turnaround: The Wildcats were woeful last season, ranking among the bottom 10 teams nationally in rushing defense, scoring defense and total defense and 106th nationally in pass defense. It will likely try the patience of new coordinator Chris Cosh, who will be looking for replacements along the defensive front for Brandon Balkcom and Ian Campbell. One potential playmaker could be Jeff Fitzgerald, who started 13 games for Virginia in 2007.



Missouri Tigers
Spring practice begins: March 10
Spring game: April 18
What to watch:
The changing of the guard on offense -- and then some: Gone are all-time greats like Chase Daniel, Jeremy Maclin and Chase Coffman, along with productive receivers Tommy Saunders and Earl Goldsmith. Offensive coordinator Dave Christensen has left for the Wyoming coaching job, meaning that Dave Yost takes over as the coordinator along with Blaine Gabbert at quarterback, Andrew Jones at tight end and Jerrell Jackson as the featured receiver. Collectively, it will be the largest transformation in Gary Pinkel's coaching tenure at Missouri.
Finding a pass rush: Three starters are gone along the defensive front as productive starters Stryker Sulak, Tommy Chavis and Ziggy Hood all are gone from last year. Look for redshirt defensive end Aldon Smith to get in the fight for playing time immediately, along with holdover Brian Coulter at defensive end if he can recover quickly from labrum surgery. Terrell Resonno and Dominique Hamilton will get a long look at defensive tackle before the arrival of heralded "tight end" Sheldon Richardson in the summer.
Secondary assistance: The Tigers need help after losing starting safeties Justin Garrett and William Moore and cornerback Tru Vaughns from last year's team. Considering all of the prolific offenses in the Big 12, this will capture much of defensive coordinator Matt Eberflus' attention as newcomers like safety Jarrell Harrison and cornerback Robert Steeples will show what they can do.

Nebraska Cornhuskers
Spring practice begins: March 21
Spring game: April 18
What to watch:
The battle for quarterback: One of the nation's most intriguing quarterback battles will play out during the spring. Incoming freshman Cody Green arrived in college early intent to battle for the starting job and become the first four-year starting quarterback for the Cornhuskers since Eric Crouch. Holdovers Patrick Witt, Zac Lee and redshirt freshman Kody Spanos all are in the hunt to replace Joe Ganz. Witt has more experience, but it's not much more than any other contender. It should be interesting to see how offensive coordinator Shawn Watson handles the competition.
Find starters at wide receiver: The Cornhuskers lose starters Nate Swift and Todd Peterson who combined for 125 receptions last season as the team's two major receiving threats. Menelik Holt has more experience than any other returner, although coaches are salivating about the chance to work with Antonio Bell, a 2008 recruit who wasn't on the team last season while he got his grades in order.
Rebuild the right side of the offensive line: Powerful blockers Matt Slauson at guard and tackle Lydon Murtha both are gone from last season, leaving a huge void for offensive line coach Barney Cotton to fill. Marcel Jones and D.J. Jones should get the first crack at the starting jobs during the spring.
SOUTH DIVISION

Baylor Bears
Spring practice begins: March 3
Spring game: April 4
What to watch:
Competition at offensive tackle: The Bears will be looking for two new starting tackles to replace Don Gay and Jason Smith along the offensive line. Sophomore Joe Korbel figures to get a look at one of the positions, but beyond him it's anybody's guess who will replace the talented pair that combined for 73 career starts.
New starters on the left side of the defensive line: Starting defensive end Leon Freeman and defensive tackle Vincent Rhodes both will be gone after their eligibility expired. The only holes in Baylor's front seven will be found there as Jameon Hardeman and Zac Scotton will challenge at defensive end and Sam Sledge at defensive tackle.
Better production in their pass defense: The Bears struggled mightily last season and could never seem to produce big plays when they needed them, ranking 103rd in pass defense, 84th in sacks and 109th in tackles for losses. Another spring learning the concepts of defensive coordinator Brian Norwood should benefit them and perhaps serve as a catalyst for a bowl berth with significant improvement.

Oklahoma Sooners
Spring practice begins: March 3
Spring game: April 11
What to watch:
Help at wide receiver: After losing Juaquin Iglesias, Quentin Chaney and Manuel Johnson from last season's BCS title-game runner-up, the Sooners desperately need some players to emerge this spring. Ryan Broyles assumes the No. 1 position, although junior college receiver Cameron Kenney will help, along with Brandon Caleb from last season's two-deep roster. It will also be noteworthy to watch the work of running back Mossis Madu, who will receive some work at slot receiver.
Competition in the offensive line: Trent Williams is the only returning starter from last season for a talented veteran group that will lose four starters who combined for 149 starts during their college career. The Sooners aren't devoid of talent, but it's just untested. It means they need a big lift this spring from players like tackle Cory Brandon, guards Brian Simmons and Alex Williams and center Jason Hannan.
New look at safety: Nic Harris and Lendy Holmes seemingly had been at Oklahoma since
the days of Brian Bosworth. That's a little bit of an exaggeration, but the Sooner duo combined for 83 starts and provided steady, efficient defense throughout their careers. Quinton Carter and Desmond Jackson appear poised to take over for them, although it will be impossible for the Sooners to match their experience.

Oklahoma State Cowboys

Spring practice begins: March 9
Spring game: April 18
What to watch:
Bill Young's work: Oklahoma State has the offense to challenge for the Big 12 championship. But the success of the season ultimately will be determined by the defense generated by new defensive coordinator Bill Young. The Cowboys return six starters but must improve drastically after last season's late collapse that saw them blistered for 56, 61 and 42 points among their final three games of the season.
Help at safety and defensive tackle: The Cowboys lose starters Tonga Tea and Jeray Chatham at tackle and starting safeties Quinton Moore and Ricky Price. Those key positions in the heart of Oklahoma State's defense will command much of Young's attention. He's particularly excited about the play of Swanson Miller and Shane Jarka and Johnny Thomas at safety. But other players need to step up when they get their chance.
Develop depth at wide receiver: Dez Bryant accounted for a larger percentage of completions than any other wide receiver in the Big 12. His absence this spring as he recovers from knee surgery will enable others to have a chance to play and become acclimated with the first-string offense. The Cowboys' depth at the position is aggravated after Bo Bowling was suspended after his arrest earlier this week. It will provide players like Hubert Anyiam, Josh Cooper and DeMarcus Conner an opportunity to work with Zac Robinson while Bryant and Bowling are gone.

Texas Longhorns
Spring practice begins: Feb. 27
Spring game: April 5
What to watch:
Build consistency in the running game: The Longhorns ranked 41st nationally in rushing last season -- their worst national ranking since 2002 -- and relied on Colt McCoy as their primary running threat. That dangerous strategy has to change this season if the Longhorns have any legitimate national title contenders. Key tasks during the spring will be to build cohesion in an offensive line that loses only starter Cedric Dockery from last season and additional work for Fozzy Whittaker, who struggled with injuries most of his freshman season last year.
Rebuild the defensive front: The Longhorns had the nation's most productive pass rush, leading the country with an average of 3.62 sacks per game last season. It will be a challenge to replace key players like Brian Orakpo, Roy Miller and Henry Melton. But defensive coordinator Will Muschamp liked what he saw in limited playing time for players like Sam Acho, Russell Carter, Ben Alexander, Michael Wilcoxson, Kheeston Randall and Eddie Jones. Those players, along with possibly Sergio Kindle getting more playing time at defensive end, will be key to Texas' defensive hopes this season. And incoming freshmen Dominique Jones, Alex Okafor and Kyle Kriegel all arrived at college early to challenge for immediate playing time.
Build confidence with young receivers: Leading receiver Quan Cosby graduated and Jordan Shipley will miss spring work after recovering from shoulder surgery. It will give McCoy a chance to build confidence in some of the younger members of his receiving corps, most notably Brandon Collins, Dan Buckner, Malcolm Williams and James Kirkendoll.

Texas A&M

Spring practice begins: March 26
Spring game: April 18
Spring practice ends: April 24
What to watch:
Additional development of young talent: The Aggies were one of the nation's youngest teams last season as 10 true freshmen combined to see action in 90 games and start in 41 of them. The spring will provide an additional opportunity for those young players and others on the roster to gain much-needed experience.
Improvement of the pass rush: The biggest hole on defense for the Aggies will be at defensive end where Michael Bennett, Amos Gbunblee and Cyril Obiozor accounted for most of the playing time last season from a group that ranked 11th in the Big 12 and 100th nationally in sacks. Paul Freeney is poised to assume one of the starting positions there. The other side looks like a wide-open battle that will play out throughout the spring and into summer camp.
Find a running back: Coach Mike Sherman will be looking at Keondra Smith, Cyrus Gray and Bradley Stephens for the role as the Aggies' featured running back -- for a few weeks anyway. Whoever wins that battle may celebrate a kind of pyrrhic victory as heralded running back Christine Michael arrives for fall camp as the Aggies' likely featured back. But Sherman likely will be working on building depth in the spring.

Texas Tech Red Raiders
Spring practice begins: March 25
Spring game: April 18
Spring practice ends: April 20
What to watch:
Any passing game regression?: Graham Harrell and Michael Crabtree rewrote the national record book as one of the most prolific pass-and-catch
combinations in NCAA history. But yet, the Red Raiders always have always had a potent passing attack with Mike Leach in charge. It will be interesting to see Taylor Potts' development at quarterback and the growth of wide receivers like Detron Lewis, Lyle Leong, Edward Britton, Rashad Hawk and Tramain Swindall as they try to fill those big shoes for the Red Raiders.
Find a pass-rushing threat: Defensive end Brandon Williams is turning pro after leading the Big 12 with a school-record 12 sacks last season. McKinner Dixon was a big performer in spot duty last season and could be ready to emerge, as is junior-college transfer Daniel Howard.
Rebuild the left side of the offensive line: Rylan Reed and Louis Vasquez were the two most decorated linemen in Texas Tech history during their careers. The productive duo will be missed, along with starting center Stephen Hamby. Chris Olson at left tackle and Lonnie Edwards at left guard aren't nearly as big or experienced as Reed and Vasquez. Growth during the spring for the unit will be important as the Red Raiders prepare for a difficult September schedule.