June, 11, 2014
6/11/14
1:30
PM ET
The rule never made sense to West Virginia running backs coach JaJuan Seider. Recent signees would arrive on campus but couldn't spend time with the Mountaineers' coaching staff due to NCAA rules prohibiting coaches interaction with their players during the summer.
"You're talking about kids who might be 1,000 miles away from home for the first time," Seider said. "And you can't even go hang out with your coach if you want to. That was a dumb rule, you bring a kid up here for the first time and you can't have any interaction with those kids."
A silly rule. And one that is in the past.
"

You get to be around those kids and help them to adjust, it helps tremendously. You can be around those kids, you can see their growth, you can watch film with them, they'll understand how you coach and then they're comfortable. They get to see the guy who recruited them, the guy who will be coaching them. I can't tell you how important it is.

"

-- West Virginia RB coach JaJuan Seider
A new NCAA rule allows Big 12 coaches more interaction with their players this summer. Gone are the days of freshman arriving on campus with only upperclassmen to help make their transition into the schedule of a college football player as smooth as possible. Under the new rule, football players can be required to attend weight training and conditioning for eight hours per week during summer semesters with two of those hours available to use for film study. No on-field work is allowed.
The Mountaineers welcomed 10 new faces into the program this week, including quarterback
William Crest
and defensive back
Dravon Henry
. In the past WVU coaches couldn't have interacted with those newcomers to help prepare them to play this fall. Now, the coaching staff gets the opportunity to help those players -- including Crest, who could insert himself into the starting quarterback battle this summer -- make a smoother transition into the program.
"You get to be around those kids and help them to adjust, it helps tremendously," Seider said. "You can be around those kids, you can see their growth, you can watch film with them, they'll understand how you coach and then they're comfortable. They get to see the guy who recruited them, the guy who will be coaching them. I can't tell you how important it is."
At Oklahoma State, the new rule could help a young Cowboys' roster be better prepared to open preseason camp in August. Instead of kids teaching kids, the Pokes' coaches can teach them both.
"To be able to work with these guys in the summer time takes the mental game to another level," Cowboys cornerbacks coach Van Malone said. "Now, rather than relying on [true sophomore]
Jordan Sterns
to teach [true freshman]
Dylan Harding
, we have the opportunity to spend time, especially with this young team, to teach them both. It's really only an hour a week but you get the opportunity to be around them and help them grow."
Malone doesn't expect to even use the full allotment of time but instead wants to use it as quick primer for what to expect in the fall.
"You just try to get one point across, two points across in that time you have," Malone said. "Take advantage of this time, even though we have an hour a week, we're not going to grind them up every week, we're not going to use that full hour. You just try to get one point across, two points across and let them go. I think when you do it that way it ends up being much more fruitful."
For new Iowa State running backs coach Louis Ayeni, the time will be valuable for him to start to interact with his freshmen, but he wants to make sure the Cyclones running backs get time away from him before the season heats up at the end of the summer.
"This biggest thing it will do is answer those little questions they have as they work out with the guys, we can go on the board and draw it," Ayeni said. "It will help the freshman as they get adjusted. As they get adjusted, they'll be more on their own. My freshmen ... I'll be able to help get adjusted. My older guys are on the ball, so they'll see me when they see me."
Even with the increased interaction, the overall time demands still remain limited and manageable for both the players and coaches. Coaches will still have the opportunity for some valuable down time during the summer months, and players will continue to have much needed time away from a coaching staff they're around day in and day out during the fall.
"The thing about the summer is they'll get away from me for a little bit," Ayeni said. "Because once the season comes around I'll be on them 24/7 so I want the message to still be fresh."
June, 4, 2014
6/04/14
10:30
AM ET
Louis Ayeni is poised to spend his first season as the running backs coach at Iowa State after coaching stints at Northwestern and Toledo. As a player, Ayeni played running back and safety at Northwestern before spending a few seasons as an NFL safety with the Indianapolis Colts and St. Louis Rams.
The Cyclones' new assistant joined Paul Rhoads' program in January as he took over a group of running backs that features
Aaron Wimberly
and
DeVondrick Nealy
. He took some time to chat with ESPN.com about his initial interest in the job, his coaching influences, his spring focus for his running backs and his strengths as a coach.
What got you interested in the job?
[+] Enlarge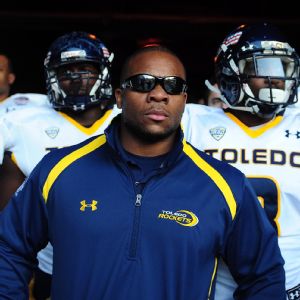 Andrew Weber/USA TODAY SportsLouis Ayeni joins the Iowa State coaching staff after coaching Toledo's running backs.
Ayeni:
Coach Rhoads did a good job of talking to me about the tradition, the fanfare and the ability to take Iowa State to another level. They did a good job of explaining the culture of it, which is a great football family, great fan base and great facilities. Those three things set it apart and got me interested in the program.
How was your first spring?
Ayeni:
It was good. We had a bunch of new coaches on staff and I thought we jelled pretty quick together. We saw some great growth as spring went on, and there's a lot of optimism as we move toward the season.
With the running backs, what did you want to instill in those guys?
Ayeni:
In the spring it was simple; we had two main goals. No. 1 was consistent and constant improvement we want every single day. From practice 1 to practice 15 we wanted to show that we've improved every single day. No. 2 was earn our roles, earn the trust of our coaches, earn the trust of teammates and earn the trust of the head coach. The best thing about these kids is they came in with a positive attitude and great investment every single day -- it made it fun to coach them. I think we jell well together with me being a young guy and those guys being young.
Did you go back and look at past film to get a look at what you had in your meeting room, or did you just show up, blank slate?
Ayeni:
I watched the film, but I thought I'd watch more of their good stuff than bad stuff. I took their best plays and watched them because I wanted to see what they've done and if I could take them a step higher. I showed them all their big plays and how it could be a bigger play to show them we're going to take the next step and how to be consistently good. Because when you're consistently good, that's when you become great.
How do you feel about the overall depth at the position?
Ayeni:
I like where we are at; they've done a great job. Aaron [Wimberly] is as talented as anybody, not just in the conference but maybe the country. DV's [Nealy's] skill set -- there's not a lot of people who can do all the things he can do.
Rob Standard
is a guy who is very versatile and a bigger back that adds a different dimension.
Tyler Brown
is a young guy with a lot of speed and I have two freshmen,
Martinez Syria
and
Michael Warren
, coming in. Those guys will add to our room -- add to our room and our bench. We'll have a good little stable when all is said and done.
When did the coaching bug hit you?
Ayeni:
It didn't; it kind of found me. I always dreamed of playing. I got done playing and my mom said I should go back and get my master's, so I went back to Northwestern and was a G.A. and I found out I was pretty good at it. I was fortunate to be around good people -- played for Randy Walker at Northwestern, played for Tony Dungy in Indianapolis, Mike Martz in St. Louis, then the privilege of working with Pat Fitzgerald and Mick McCall at Northwestern -- and they were the ones who molded me into this thing. Then Tim Beckman gave me a chance at Toledo, and I got to work with Matt Campbell, who kind of molded me as well. All those guys have kind of molded me, guided me and directed me. Now I get to learn from Paul Rhoads and Mark Mangino. When you're around good people, good things happen, and that's what's happened with me.
Do you think your defensive background helps you?
Ayeni:
Absolutely, being able to play safety in college and the NFL helps me recognize things and see things these guys don't see. I played running back all my life and a lot of times these guys are getting coached by guys who didn't play the position. I can see things from their eyes, what they see. I understand them and it creates trust, then being a guy who played defense in the NFL, I understand what defenses are trying to do. It's a good advantage for me as a coach and should help me become a better coach, a better teacher as I go forward.
Being a younger guy, I'm sure you feel like you have a lot of room for growth, but what do you feel is your biggest strength right now?
Ayeni:
My biggest strength is the way I communicate with our players, our coaches. I can convey a message. I'm a loyal guy -- loyalty is my biggest asset -- and I can lead men.
January, 24, 2014
1/24/14
12:00
PM ET