December, 30, 2011
12/30/11
9:00
AM ET
Oklahoma and Iowa will play the other game in the desert -- the Insight Bowl -- Friday night at 10 p.m. ET on ESPN.
Should be a good one, with Oklahoma coach Bob Stoops taking on his alma mater for the first time, and the two teams meeting for the first time since 1979. Here's a look at what to expect.


WHO TO WATCH:
Landry Jones
, QB, Oklahoma. It's not going to be easy for him. He'll be playing without two of his top three targets,
Ryan Broyles
(torn ACL) and
Jaz Reynolds
(kidney). The Sooners running backs are banged up and transferring, too, reduced to just
Roy Finch
and
Brennan Clay
. Jones hasn't thrown a touchdown pass in three games, either. He wasn't great against Oklahoma State, and he'll have to be better in this one, even as a heavy favorite.
WHAT TO WATCH:
Iowa's running game vs. Oklahoma's front seven. This sounds familiar, no? Iowa dealt with running back transfers and suspensions in last year's Insight Bowl, but
Marcus Coker
rushed for 219 yards in a win over favored Mizzou. He's suspended now, and Iowa will turn to
De'Andre Johnson
,
Jordan Canzeri
,
Damon Bullock
and
Jason White
to run the ball. None of them have more than 18 carries. Oklahoma's best shot to lose this game -- it's been pretty lackluster late in the season -- is letting Iowa figure out a way to run against it. The defensive line and one of the Big 12's best group of linebackers have to slow down an Iowa running game that seems likely to struggle to produce.
WHY TO WATCH:
This one has serious upset potential. Iowa has excelled in bowl games, winning three straight, including an Orange Bowl victory. Oklahoma has struggled mightily without Broyles, dropping games to Baylor and Oklahoma State late in the season. Iowa is a two-touchdown underdog, but this has a big chance to be the biggest bowl upset of the season.
PREDICTION:
No. 14 Oklahoma 23, Iowa 21:
On the flip side of the "Bet who wants to be here more" coin is Oklahoma, whose trip to the Insight Bowl is far from what it had hoped for in a season that began with national title hopes. The Sooners are banged up and dealing with player exits, but they're still significantly better than Iowa. We see a pretty lackluster performance from the Sooners, but they survive. Iowa is, after all, a team that lost to Iowa State, Minnesota and Penn State, and is playing without its top two running backs.
December, 4, 2011
12/04/11
11:22
PM ET
Iowa Hawkeyes (7-5) vs. Oklahoma Sooners (9-3)
Dec. 30, 1o p.m. ET (ESPN)

Iowa take by Big Ten blogger Adam Rittenberg:
Iowa football hasn't had much go its way in the past 11 months aside from a dramatic victory against Missouri in the 2010 Insight Bowl. The Hawkeyes will return to Tempe, Ariz., later this month looking for another boost after an up-and-down 2011 campaign.
Kirk Ferentz's teams typically save their best for the postseason, as Iowa is 6-3 in bowls during his tenure as coach, including victories in each of the past three years (2010 Insight, 2010 Orange, 2009 Outback). But extending the win streak will be tough against Oklahoma, the preseason No. 1 team. Both teams struggled down the stretch, each dropping two of the final three games.
Iowa is led by its big three on offense: receiver
Marvin McNutt
, running back
Marcus Coker
and quarterback
James Vandenberg
. Coker burst on the scene as a freshman at the 2010 Insight Bowl, setting an Iowa bowl record with 219 rushing yards. McNutt also has been fabulous, while Vandenberg struggled away from Kinnick Stadium but can put up big numbers.
The Hawkeyes' defense was in rebuilding mode for most of the season, as the NFL losses along the defensive line and at safety stung. Oklahoma isn't nearly as dangerous on offense without star receiver
Ryan Broyles
, who is out for the season with a knee injury. But Iowa can't let
Landry Jones
settle into a rhythm and must pressure the Sooners junior quarterback.
Oklahoma coach Bob Stoops faces his alma mater in Iowa, which goes up against the Sooners for just the second time after dropping a 1979 game in Norman.
---

Oklahoma State take from Big 12 blogger David Ubben:
The "Chase For Eight" quickly went awry for the Sooners, who lost a 41-38 game at home to five-win Texas Tech. The Red Raiders didn't win again the rest of the season. The Sooners' defense fell to powerful offenses late in the season, too. Baylor bested the Sooners on a last-second touchdown from
Robert Griffin III
, and Oklahoma State receivers ran free in a Cowboys blowout.
Injuries played a huge role. That's undeniable, but this season, with the expectations that came with it, is nothing but a disappointment. The Sooners suffered two losses after losing Broyles and
Dominique Whaley
.
Blake Bell
's Tebow-esque "BellDozer" formation was pretty effective late in the season, but Oklahoma is bested only by Texas A&M as the Big 12's most disappointing team.
September, 10, 2011
9/10/11
1:14
PM ET
I don't know if there was excessive butter on the corn supplied by game sponsor Iowa Corn, but it got pretty sloppy in the second quarter.
Iowa State was driving, but
Shontrelle Johnson
fumbled and the Hawkeyes recovered. But two plays later, Iowa's
Marcus Coker
answered with a fumble of his own, setting up an Iowa State touchdown to
bring the game within 10-7
.
Steele Jantz
hit
Darius Reynolds
on the left side of the end zone for an 11-yard score on third down.
It's been a nice rebound after some very frustrating plays for the Cyclones, who are right back in this game.
The string of fumbles was a bit crazy, but Iowa State's defense has looked much better in this quarter. The Cyclones set up that drive with a punt inside the 10-yard line and a three-and-out to force a punt.
September, 8, 2011
9/08/11
10:15
AM ET
Here's what I'm watching in this week's slate of games:
1. Oklahoma State's secondary.
Starting safety Johnny Thomas is ineligible for the entire season, so it's up to senior Markelle Martin to lead a very young group of cornerbacks and promising safety Daytawion Lowe, to try to fill the void left by Thomas. They're going up against a difficult passing offense in Arizona and a fantastic receiver in
Juron Criner
. Criner reportedly may miss tonight's game, but the secondary still better learn fast.
2. Texas' running backs.
Foswhitt Whittaker
is the starter, but
Malcolm Brown
got
hot in the second half and took over
, leading the team in yardage and carries.
Joe Bergeron
may be a factor, too, but how does this situation look on and after Saturday's game against BYU?
3. Missouri's offensive line.
Center Travis Ruth isn't back yet, and senior left tackle and captain Elvis Fisher is out for the season. They'll face a tough test at Arizona State, highlighted by linebacker Vontaze Burfict, who had three sacks in the Sun Devils' season opener.
4. Justin Blackmon.
By his standards, he actually had kind of a quiet night (8 receptions, 144 yards) while his offense racked up 60 points in its season opener. He'll need another big game in a matchup with Arizona that looks like it will be extremely high scoring. Watch for him to get as many as 20 targets in Oklahoma State's passing game, which tore up the Wildcats in the Alamo Bowl.
5. Iowa State's linebackers.
Marcus Coker
looked fantastic against Missouri in his debut in last year's Insight Bowl. In Iowa's opener? Not so much. Iowa State struggled to stop the run last year, but Jake Knott and A.J. Klein will need to slow Coker down if Iowa State is going to take home the Cy-Hawk trophy.
6. Kansas' receivers.
Daymond Patterson
may not play against Northern Illinois, but somebody's got to step up. True freshman
JaCorey Shepherd
caught three passes for 107 yards and two scores last week, but no other Kansas receiver had a catch. The Jayhawks will lean on their running game again this week, but their receivers have to be better in Week 2.
7. Second-time starters at quarterback.
Missouri's
James Franklin
and Iowa State's
Steele Jantz
didn't have fantastic first starts, but both showed some promise. Jantz did it with two big drives late in the game to get the win. Franklin played well outside of one big pick that cost the Tigers seven points and a couple near interceptions. Both will have to continue their development for their teams to pull upsets this week.
8. Texas' secondary.
I
put them "On the Spot" this week
. Of course, I put Baylor wide receiver
Kendall Wright
on the spot last week, and he had a huge game.
Jake Heaps
was unimpressive against Ole Miss last week, but don't count him out this week. His potential is enormous. Texas has to slow him down or prepare for a long day in Austin.
January, 12, 2011
1/12/11
2:00
PM ET
I said it repeatedly when the bowl slate was first released: The Big 12 had a decent chance to finish 8-0 in the bowl season.
It wouldn't be easy. It wasn't expected. But seven teams -- everyone except Texas A&M -- were favored to win and the Aggies were the only one of five ranked Big 12 teams who was matched up with a ranked opponent.
The league finished 3-5. Conference USA, at 2-4, was the only league that fared worse.
That's a pretty pathetic effort.
The Big Ten's New Year's Day meltdown -- the league went 0-5 with a pair of blowout losses to the SEC -- attracted plenty of attention. But the 80-yard touchdown given up that was the Big Ten's performance that day, the Big 12 preferred a slow, plodding, week-long drive toward lousiness.
Fitting, considering the inability to prevent similar drives produced the Big 12's weak postseason showing. The inability to stop the run was no doubt the biggest culprit of the 3-5 finish.
Missouri gave up 219 yards to Iowa running back
Marcus Coker
, and the Tigers had the best day defending the run of any Big 12 bowl loser. That's exactly how bad it was.
Baylor, Nebraska, Kansas State and Texas A&M all gave up more than 250 yards on the ground and lost.
The Big Ten equaled the Big 12's 3-5 finish in bowl games, but there was a big difference: Three of the Big Ten's losses came to ranked teams, including one from an unranked team (Michigan) playing a ranked team. Northwestern, meanwhile, lost to Texas Tech as nine-point underdogs and Penn State lost to Florida as a touchdown underdog.
What exactly was the Big 12's excuse? Nebraska (10-3), which was a two-touchdown favorite, headlined the weak efforts, dropping a 19-7 game to Washington (6-6). Missouri (10-2) looked in control of Iowa (7-5) before a late interception thrown by
Blaine Gabbert
turned the game in the Hawkeyes' favor. Texas A&M got, quite simply, outclassed by an LSU team that made the Aggies look like they didn't belong.
Only Oklahoma and Oklahoma State turned in performances they could be happy with. Texas Tech nearly blew a 31-13 lead against Northwestern before winning, 45-38.
Those 3-5 records from the Big Ten and Big 12 look identical, but there's really no comparison. No league was a bigger disappointment in the bowl season than the Big 12.
January, 12, 2011
1/12/11
9:00
AM ET
1. If the Big 12 is going to impress on big stages against other conferences, it has to get better at stopping the run.
You saw it in last year's national championship game, which was part of the reason Texas committed to a downhill running game in 2010. This time around, it was no different. Iowa kicked things off by running all over Missouri.
Marcus Coker
finished with 219 yards against the Tigers. Baylor couldn't stop Illinois' running game. The Illini ran for 291 yards against the Bears. Syracuse was two yards away from having a 200-yard rusher against Kansas State and had 259 yards on the ground as a team. Washington went for 268 against Nebraska. LSU did whatever it wanted against Texas A&M and finished with 288 yards. Try not to be too surprised, but every aforementioned Big 12 team lost those games. Any team that had a downhill running game beat a Big 12 team. Oklahoma was the only team who could stop it, and the Sooners beat Connecticut 48-20.
2. Oklahoma really can get it done in the BCS.
Yes, critics will crow about Connecticut's lack of a ranking,
but like I wrote last week
, this was as much about Oklahoma's poor play in BCS games as it was about their losses. To quote one Gene Chizik (and Lil' Wayne, too, I guess), the Sooners could say they "DWWD" against the Huskies. That is to say, OU successfully "Did What We Do" and won a game that was never really in doubt after the first half. It's been awhile since OU could say that, and it might enter 2011 as the preseason No. 1 because of it. If it hangs on to that spot, it won't have to worry about the BCS asterisk hanging over its head later in the year, either.
3. Nebraska's finish left a lot to be desired.
The ugly loss to Texas A&M aside, Nebraska was still in position for a Big 12 title and a BCS bowl appearance. So much for that. The Huskers squandered an early 17-0 lead against Oklahoma in the championship, and then laid an absolute egg against Washington, losing 19-7 despite being favored to win by two touchdowns. That's not exactly the momentum the Huskers would have liked heading into the Big Ten. Instead they are looking for a shoulder to lean on (Dan Beebe's, perhaps?) during an offseason that needs to feature a long look and perhaps changes to what the Huskers do offensively. Forcing
Taylor Martinez
to be a drop-back passer a la
Terrelle Pryor
is not a good look, and Nebraska did it plenty (if only because of injury during the regular season) during its 1-3 finish to the season.
4. So did the Aggies' finish.
Texas A&M's ugly loss to LSU doesn't erase the momentum established during its six-game winning streak to close the season, but it certainly delivers a blow. The Aggies should be ranked to begin the season, and don't have an easy run to start. SMU, Arkansas and Oklahoma State are all scheduled to play against the Aggies in their first four games. Stumbling out of the gate like Texas A&M did this year when real competition arrived won't fly. Of course, keeping
Jeff Fuller
will make avoiding that outcome a bit easier.
5. Late in games, celebrate at your own risk.
We've
written about "The Bronx Salute"
plenty this bowl season, and by now, there's not much left to say. Oklahoma coach Bob Stoops really said it best, relaying a message every coach should pass along to his players next year: "... it is a judgment call. Everybody's judgment is different," Stoops said. "So if you open the door for it to be called, then don't be -- if it is called, don't be saying 'All I did was this.' You opened the door, gave them the opportunity, and everybody's judgment's different. So don't go there."
Adrian Hilburn
went there, and paid dearly for it. Ultimately this was a meaningless bowl game between two seven-win teams. Please, Mr. Late-Game Touchdown Scorer, don't make an official's flag, unnecessary or otherwise, become a focal point for your team's season.
December, 29, 2010
12/29/10
1:21
AM ET
That's a crushing loss for Missouri, who looked like it was in complete control before a mistake by the team's best player swung the game in Iowa's favor. Here's some instant analysis from the Tigers'
27-24 loss
.


How the game was won:
Blaine Gabbert
rolled to his left and tried to loft a ball across his body to
Wes Kemp
, but Iowa's Micah Hyde intercepted the pass and returned it 72 yards for a touchdown to put Iowa up 27-24 and provide the final score. Iowa's offense looked lackluster in the second half, but the Hawkeyes defense gave them enough to get over the hump and close the season with a win instead of a four-game losing streak.
Turning point:
The interception was a big one, but
T.J. Moe
made what he thought was a diving catch in Iowa territory on 4th-and-6 with Missouri trailing by three and just more than two minutes to play. More on that later.
Stat of the game:
Iowa's offensive points in the game's first 20 minutes: 17. Offensive points in the final 40 minutes: three. It's really that simple for the Hawkeyes. They rolled over Missouri early on, beginning with a dominant opening drive and a 62-yard touchdown run in the second quarter, but in the second half, Iowa looked sluggish and quarterback
Ricky Stanzi
wasn't sharp, throwing a pair of interceptions during the 40-minute stretch after tossing just four the entire season coming into the Insight Bowl.
Player of the game:
Marcus Coker
, RB, Iowa. Missouri's defense will head back to Columbia with visions of the 6-foot, 230-pound Coker for quite awhile. The freshman bruised the Tigers' defense for the better part of the game and racked up an Insight Bowl-record 219 yards to go along with a pair of touchdowns.
Player of the game II:
Blaine Gabbert, QB, Missouri. Outside of his inexplicable interception, Gabbert had one of his best games ever. Iowa's defense played a soft zone for much of the game before switching to man late, but Gabbert sliced up the Hawkeyes defense for 434 yards on 41-of-57 passing with a touchdown and a pair of picks. Again, the interceptions aside, Gabbert made good decisions for the majority of the game, had lots of zip on the ball and looked as accurate as ever. Receivers
Jerrell Jackson
(9 rec, 129 yards) and T.J. Moe (15 rec, 152 yards) had big nights, but Gabbert's arm was the reason why. The Tigers looked downfield more than they worked the screen game, and Gabbert delivered.
Unsung hero of the game:
The crowd. Conflicting black-and-gold colors made it difficult to tell who brought more, but Missouri certainly helped its "our fans don't travel" perception with an Insight Bowl record crowd of 53,453. Iowa and Missouri fans both made lengthy cross-country trips to fill Sun Devil Stadium. The past three seasons have resulted in what Missouri fans could fairly consider slights by bowl committee, but in the future, the school can point to this game as evidence to the perception's contrary.
Second guessing:
The replay decision late in the fourth quarter on Moe's catch. My gut says Moe didn't have full possession of the ball as he slid out of bounds, but based on the replays provided, it didn't look like there was conclusive evidence to overturn the call. Maybe the right call in reality, but based on the way the replay rules are written, the wrong one in practice.
What it means:
Missouri suffers a second consecutive disappointing bowl loss. The Tigers were only a three-point favorite, but a loss to an unranked 7-5 team when a team enters a bowl game at 10-2 and ranked No. 12 never looks good. Last year, Missouri couldn't slow Navy's option attack and dropped a 35-13 game to the Midshipmen. For Missouri, the loss could pay off in 2011. Gabbert is a pretty even-keeled player, but a it's hard to see a competitor of his caliber feeling comfortable moving to the NFL with this kind of cap on an otherwise excellent career. The smart money was probably on Gabbert staying at Missouri for his senior year, but it'd be very surprising if he left now.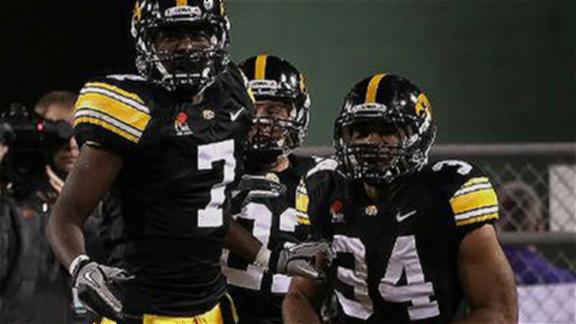 December, 14, 2010
12/14/10
11:00
AM ET
Missouri was already happy about getting selected for the Insight Bowl ahead of Nebraska, but now the Tigers' opponent, Iowa,
will be playing without its top two running backs and its leading receiver
.
Jewel Hampton
and
Adam Robinson
won't be in Tempe, Ariz. with the Hawkeyes to face Missouri. Hampton has chosen to transfer, and Robinson was suspended.
"Jewel Hampton has decided to leave the team and plans to transfer to another school to complete his degree and finish his career," Ferentz said in a prepared statement. "We wish him the best of success in the future. While Adam has been cleared medically, he will not be participating in the upcoming Insight Bowl game as a result of failing to comply with team expectations and policies. Adam will have the option to rejoin the team when classes resume in January."

Robinson started at running back throughout the 2010 season and led Iowa with 941 rushing yards and 10 touchdowns.

Hampton appeared in two games before suffering an ACL tear in his knee. He missed the entire 2009 season with an ACL tear after rushing for 577 and eight touchdowns as a freshman in 2008.
The news comes after senior receiver
Derrell Johnson-Koulianos
was kicked off the team for multiple drug charges last week. The Hawkeyes' sophomore running back
Brandon Wegher
also elected to transfer before the bowl game.
According to colleague Adam Rittenberg, that leaves true freshman
Marcus Coker
to carry the ball for Iowa.
You never like to see guys make bad decisions, but while Missouri prepares for its bowl in relative quiet, Iowa looks like it's in complete disarray. The flip side for the Tigers is when he was given a heavy load of carries, Coker excelled.
He rushed for 129 yards on 22 carries in a win over Indiana, and for 90 yards on 21 carries against rival Minnesota. We'll surely get a long look at him in the Insight Bowl on Dec. 28.