May, 29, 2012
5/29/12
4:00
PM ET
Sometimes, emails deserve their own post, and not a spot in the mailbag. This is one of those days.
Here's a note from
David in Austin:
You previously listed the Big 12 players you felt would be part of the All-Big 12 BBall team. In the spirit of the ongoing NBA Playoffs and considering Durantula is still going strong and representing Texas on his van, what about reversing the scenario? Which former Big 12 BBall players could make the transition to football like Antonio Gates? Durant would obviously play WR, maybe even QB, or one helluva kicker.
Oh my, great question. I love the NBA, and truthfully, I don't understand folks that love basketball and don't love the NBA. Either way, it's time to look at a few players who made names for themselves in the Big 12 that I'd love to see hit the field. Durant is clearly a receiver. Good call there. But let's move on.
Blake Griffin, TE, Oklahoma:
No question about this one. Griffin is a man-child who has no regard for his body. Have you seen him run in the open floor? I'm tempted to use Griffin as a running back, but I've got to maximize his jumping ability, especially in the red zone. Griffin is my tight end who could play some receiver. He'll be getting lots of bubble passes, daring defensive backs to tackle him.
DeMarre Carroll, DE, Missouri:
Carroll's nickname is the "Junkyard Dog," and for good reason. He's nasty, and he's got a motor that never stops. Sound familiar? Put him on the defensive line and let him loose.
[+] Enlarge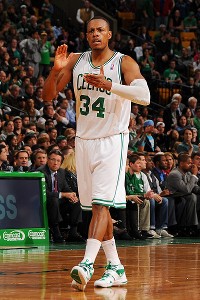 Steve Babineau/NBAE/Getty ImagesPaul Pierce is the type of veteran leader every team needs at QB.
Paul Pierce, QB, Kansas:
Pierce has been around the block for something like 83 years. He's got experience. He's got toughness. He's got a championship ring. Pierce is a smart, heady player who's exactly the type of guy you'd want with the ball in his hands. He's not the quickest guy in the world, but he's a gunner from three, too. Accuracy, homes.
DeAndre Jordan, WR, Texas A&M:
Jordan's is Griffin's teammate on the Clippers, and they're both high flyers. Jordan doesn't have the strength or mass that Griffin does, so I'd use him more as a big target. At 6-foot-11 and 250 pounds, he's as big as they come.
Tony Allen, CB, Oklahoma State:
Allen's still one of the league's toughest defenders, and his job is to stay in front of some of the best offensive players in the NBA. Sounds like a heck of a cornerback to me. He'll get in opposing offenses' heads.
Mario Chalmers, K, Kansas:
Chalmers can hit from long range, and proved he can make the big shot when he helped Kansas win a national title. What more could you ask from a kicker?
Dexter Pittman, OL, Texas:
Because ...
obviously
. Pittman checks in at 285 pounds these days, and he's
not afraid to get physical.
Let's just keep the elbows to the throat at a minimum. Deal?
Jamaal Tinsley, RB, Iowa State:
Tinsley's experienced, and his straight-line speed isn't the fastest, but he's got a great feel for space on the floor, and he's willing to do what it takes for his team to succeed. He'll spend a lot of time pass-blocking in this system, but he can make big plays if he gets space.
Marcus and Markieff Morris, LBs, Kansas:
Those two know how to communicate and how to dominate a tight space, i.e., the paint. They're tough, too,
maybe to a fault sometimes
. Either way, toughness and unity? Good footwork? Each checks in at about 240 pounds? Give me that at linebacker.
Who would you put on the team? Plenty of other great players I couldn't find a place for.
Michael Beasley
?
LaMarcus Aldridge
?
Nick Collison
? John Lucas?
Ekpe Udoh
? Where would you put them?
Spurs-Thunder, Game 2 tonight. Get after it.
March, 25, 2011
3/25/11
2:30
PM ET
By
ESPN.com staff
| ESPN.com
Thanks for the questions, all. Enjoy the second weekend of the tourney.
Adam in Joplin, Mo., writes:
With the conference shrinking, making it a round robin format, do you think that recruiting the state of Texas will get easier for the more northern schools? This would guarantee a recruit a certain amount of games played in his home state.
DU:
I don't know how much "easier" it will get, per se, but I do like the conference's move of arranging future conference schedules so every team in the Big 12 plays at least one game in Texas every year. In this league, there's no understating the importance of recruiting Texas, which produced 345 FBS signees in the 2011 class, more than any other state in the country. Players that come out of the state are, on average, well-coached and used to taking on talent they'll see at the next level.
According to
this Rivals.com report
, Florida produced 344 FBS signees out of just over 38,000 high school players in the state. That's an impressive state ratio (1 in 111, the lowest in the nation) compared to 345 out of over 161,000 players (1 in 454) in Texas, but you can't argue with volume.
To win in the Big 12, you have to recruit Texas. I don't know that it will be that much easier for anyone now without Nebraska and Colorado in the league, but the league is making sure they get as much exposure as possible. There's the argument that Nebraska may lose Texas recruits over time with the move to the Big Ten, but really, we're only talking about a handful of guys every year. It's possible that's a game-changer, but I doubt it.
Also, don't forget about the high volume of Big 12 bowl games that take place in Texas, too. Texas kids will have plenty of chances to be exposed to the Kansases, Kansas States, Iowa States and Missouris of the league.
---
Kyle in CoMo writes
: Dubs, love the blog, just wanted to say I was overjoyed to see
Taylor Martinez
not make your top 25. Good choice.
DU:
I was actually surprised he didn't. When I was putting together the list, I figured he'd make it, but when I started piecing together the numbers, it was clear he didn't belong this year. He's got the upside to be a top 5 player in any league, but his slide over the season's second half was too dramatic. I know part of that was the ankle injury, but injuries happen. It's the biggest reason Aldon Smith didn't make the list, too.
---
Tommy B in Stillwater asks:
I can't help but notice all the post about Texas Tech and just wondering why they are getting all the love? Shouldnt you be writing about the Big 12 Champs Oklahoma State, Texas A&M, Nebraska, Missouri and I guess the Sooners? After all, we're the ones with the rings....
Jimmy Wallis in Haysville, Kan., asks:
Why so much love for Tech? Why not cover each team that much?
DU:
Now, now. The blog's most faithful readers know that I'm making my way around the Big 12 this year -- like I did last year -- and after I visit a campus, there's going to be a high volume of stories and videos about that particular school. I was in Lubbock this week to check out the Red Raiders during the last week of their spring practices before Saturday's spring game. I've still got a few more visits to make, but you'll have to wait and see where I go next week.
---
Sam in West Texas writes
: I know this is a football blog but do you have any favorites for the teams left in the NCAA Tourney? Figured I'd throw you a little curveball.
DU:
You've got to go with the inside-outside combo teams, of course. I like to pick my spots for upsets and Cinderellas (Marquette: Gotta love it. Gonzaga: You disappoint me) but I don't get cute with my national title game picks, so I've got KU beating Ohio State. Jared Sullinger inside with the shooters outside makes Ohio State tough to beat, of course, but KU is deeper than the Buckeyes. Their sixth man, Thomas Robinson, is an NBA player, and Tyrel Reed and Brady Morningstar are way, way more athletic than they get credit for, particularly Reed. Tyshawn Taylor is coming on at the right time, too. Also, they apparently took their best player, Marcus Morris, and cloned him to make another starter. I'm not sure where that fits in the NCAA rulebook, but it's served the Jayhawks well enough to make them my title favorite.
---
SoonerSonics in Seattle writes:
Hey David,Great blog and keep up the good work..Is there any legitimacy to the few complaints I've heard regarding the Sooners' non-conference schedule for next season?
DU:
I haven't really heard a lot of complaints. I actually think the schedule is easier than it's been in recent years for the Sooners. The Florida State game in Tallahassee is obviously a huge hurdle, but if they lose it, you can't ask for a better loss to stay in the national title hunt. A top five team? On the road? In September? That game isn't as much of a risk as it seems.
Outside of that, the Sooners play Tulsa and Ball State at home. Not exactly a murderer's row. So, I'm not sure what the complaint would be. Too easy? The only tough game is against the Seminoles, whereas in past years, Oklahoma has played Florida State, Air Force and at Cincinnati (2010), BYU in Dallas and at Miami (2009) and Cincinnati and TCU (2008). Those are much more balanced -- and more difficult -- schedules.
---
Jason G in Bryan, Texas, asks:
David,I have followed your blog for a while now, and I have to say it has been far more informative than before you came to ESPN. I was wondering what you think about the way recruiting players at such a young age has changed the game? What is your take on college coaches going after sixteen year olds. It would seem a bit overwhelming if M. Sherman came to me, and asked if I would play for the Aggies after I graduate when I was 16. I would feel a sense of entitlement to him even if I wanted to go somewhere else. This happens on the basketball stage as well. Thanks,Jason
DU:
I don't have a problem with it, but I can tell you most coaches hate it. That said, there's nothing they can do about it. If you're not recruiting them that early, others will, and then you're behind in the game. Recruiting is already difficult, but when you're having to issue offers earlier and earlier and guys are committing before they've played a game in their senior year, the number of variables is way, way up. Like you wrote, one of those is a sense of entitlement that can stunt a player's growth. But players change through their high school careers and as seniors, and coaches don't have a choice a lot of times: They can't account for that.