March, 11, 2013
3/11/13
2:00
PM ET
ESPN draft expert Mel Kiper has two Big 12 players -- Oklahoma's
Lane Johnson
and Texas'
Kenny Vaccaro
-- potentially going in the first round of this year's NFL draft.
Fellow expert Todd McShay has the same two as Kiper and also is optimistic about the chances of West Virginia's
Geno Smith
and
Tavon Austin
.
So let's split the difference and label the potential Big 12 first-round picks as an optimistic three, with Johnson being the only absolute first-round lock.
Those three would represent the fewest Big 12 players taken in the first round of the NFL draft since 2008. Even if four went, the Big 12 still would have the fewest since 2008.
That year, only Kansas -- yep, the Jayhawks -- managed a first-rounder,
Aqib Talib
to Tampa Bay with the 20th pick. In the four drafts that followed, the Big 12 has always put at least five players into the first round, including the first four overall picks in 2010.
How well this year's group of first-round picks will fare might not be known for years. What is known, though, is how well Big 12 players have done when they are selected in the first round. With that in mind, here is a ranking -- from worst to best -- of the Big 12's best first-round draft classes over the past 10 years.
2008
: It's all about quantity, and a little bit of quality. In 2008, the Big 12 only produced one first-round pick, Talib. He has not produced dramatic returns in the NFL. In the past two years, he has only started nine games. He was somewhat productive for Tampa Bay in the previous three seasons, starting 41 games and playing in 53. But, again, he was the only Big 12 player taken in the first round in 2008.
2006:
Vince Young
is working out at Texas' pro day at the end of March. Enough said.
Davin Joseph
and
Michael Huff
have been solid producers. But when the No. 3 overall pick is out of the league and having to work out at his alma mater's pro day, it means it was a bad year for the Big 12 in the first round of the NFL draft.
2004:
Tommie Harris
and Marcus Tubbs, the two defensive tackles taken in the first round, were productive for a few years, with Harris selected to Pro Bowls in 2005, '06 and '07 before he was beset by injuries. Tubbs lasted four seasons in the NFL. Roy Williams had 5,715 receiving yards but never lived up to the hype he generated coming out of Texas. Rashaun Woods played only two years and had seven career catches.
2005:
The lack of numbers might be what hurts this group the most.
Cedric Benson
,
Jammal Brown
,
Derrick Johnson
,
Mark Clayton
and
Fabian Washington
all proved they could play at the NFL level. Benson has had three 1,000-yard-plus seasons. Johnson is one of the top linebackers in the game. Brown remains a solid option on the offensive line. Clayton played seven NFL seasons; Washington played six. But there were only five guys selected and that isn't enough to push 2005 to the top of the list.
[+] Enlarge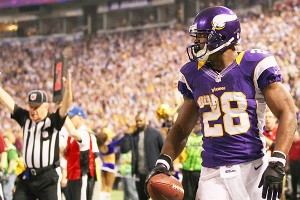 Andy Clayton King/Getty ImagesThe Big 12's 2007 draft class wasn't huge, but did feature 2012 NFL MVP Adrian Peterson.
2009:
Every Big 12 player selected in the first round in 2009 has produced and appears to be poised to continue to do so. Only
Jason Smith
didn't have a start last year. But the offensive lineman still played in all 16 games for the
New York Jets
.
Michael Crabtree
,
Brian Orakpo
,
Josh Freeman
,
Jeremy Maclin
,
Brandon Pettigrew
and
Ziggy Hood
are all starters for their respective teams.
2007:
It wasn't the biggest group, but it did include
Adrian Peterson
, so there could be some quibbling that maybe 2007 should be higher in the rankings. Throw in
Aaron Ross
and
Michael Griffin
and the debate could get even more heated.
Adam Carriker
was also taken this year. He started his career strong but suffered an injury and only played in two games last season.
2003
:
Kevin Williams
has been the standout of this group. The defensive tackle has started every game but four in his 10-year career.
Terence Newman
has been effective as a defensive back, first in Dallas and last season in Cincinnati. Tyler Brayton played at least 15 games on the defensive line in a nine-year career.
Ty Warren
played eight solid seasons for New England but tailed off last season with Denver. Andre Woolfolk lasted four seasons, mostly as a reserve.
2011:
Von Miller
, who was the highest pick among Big 12 players this year, has proved to be the top player so far.
Aldon Smith
is not far behind. Add in
Prince Amukamara
,
Phillip Taylor
, who when healthy is a starter at defensive tackle, a somewhat productive
Blaine Gabbert
and
Nate Solder
as well as reliable backups
Danny Watkins
and
Jimmy Smith
and this proved to be a successful year for Big 12 first-round selections.
2012:
Three quarterbacks, and all were not only starters as rookies but also made huge differences for their respective squads. Clearly,
Robert Griffin III
made the most dramatic impact, but
Ryan Tannehill
, with the Dolphins, and
Brandon Weeden
, with Cleveland, were both solid.
Kendall Wright
and
Justin Blackmon
each had 64 catches, for Tennessee and Jacksonville, respectively. Blackmon was targeted more (133 to 104) and had 200 more receiving yards.
2010:
This list maybe doesn't have the star power and is not littered with offensive playmakers, but six of the nine players picked were selected for the 2013 NFL Pro Bowl:
Gerald McCoy
,
Trent Williams
,
Ndamukong Suh
,
Earl Thomas
,
Russell Okung
and
Jermaine Gresham
. And the other three players --
Dez Bryant
,
Sam Bradford
and
Sean Weatherspoon
-- were vital pieces for their respective teams.
April, 27, 2011
4/27/11
9:00
AM ET
By
ESPN.com staff
| ESPN.com
For just the second time ever, the first round of the NFL draft will be the only part of the draft's first day, set for primetime on Thursday night.
This year, the Big 12 could have as many as five first-round picks, and
five players from the league are in New York
for the draft.
So, let's take a look back. Since the first NFL draft of the Big 12 era, who has the most first-rounders?
Texas: 16
Oklahoma: 12
Oklahoma State: 6
Missouri: 4
Kansas State: 3
Texas A&M: 2
2003: DT Ty Warren, 13th overall, New England Patriots
2003: DB Sammy Davis, 30th overall, San Diego Chargers
Texas Tech: 1
Kansas: 1
2008: CB Aqib Talib, 20th overall, Tampa Bay Buccaneers
Baylor: 1
Iowa State
: none since 1973 (George Amundson)
A few thoughts and observations:
I doubt many would be surprised that this list is also a reasonably accurate reflection of overall success since the Big 12's inception in 1996. Obviously, Texas and Oklahoma have dominated. Since 2000, Texas has the nation's fourth-most first-rounders. Oklahoma is No. 6. Their success has paralleled that, along with recruiting rankings.
In that same breath, it's impossible to look at this list and not once again be impressed with what Mike Leach did. He obviously has the reputation as an overachiever, but looking big picture, he was able to do it with one first-round pick. Nobody beat Texas and Oklahoma more and Leach helped put together what is still the Big 12's longest bowl streak.
Texas' consistency sticks out, too. Since just 2001, Texas has had two first-rounders in six different seasons. If you've got two first-rounders on your team, you're probably going to be pretty good. The Longhorns, if you haven't noticed, have been. Those two first-rounders in six seasons are more or as many as half the league has in the history of the Big 12. What else you should note? Texas is unlikely to have a first rounder this year, and after Aaron Williams is drafted, Sam Acho probably will be the next to go, which won't be until the third or fourth round.
Oklahoma State and Missouri's rise over the past three seasons has paid off in the NFL draft. Missouri had three first-rounders in the last two seasons and figures to add two more this year after having just one in the 12-year history of the league before 2009. That's quite a streak, and even more proof of what Gary Pinkel has built at Missouri. One more piece of evidence? Despite losing those two first-rounders, Missouri should be back in the preseason polls next year after losing two of its top players. That's definitely something new in Columbia. The Cowboys figure to add more soon with Justin Blackmon at least. As long as Pinkel and Gundy are at the helm for their respective programs, expect them to continue to rise.
Don't be surprised by Texas A&M's swoon following R.C. Slocum's departure. From 1990-1998, the Aggies won nine games every season but one. From 1990-96, the Aggies had eight first-round picks. Since 1998? Two seasons with at least nine wins and just two first-round picks.
More evidence you can't underestimate the importance of having first-round picks? None for Baylor in the history of the Big 12 before Art Briles. In just three years, Briles may have three if the Bears add two more this year with Phil Taylor and Danny Watkins. Taylor and Watkins both came from unlikely sources. Taylor was a Penn State transfer and Watkins a juco transfer that formerly worked as a fireman in Canada.
June, 16, 2009
6/16/09
2:45
PM ET
By
Tim Griffin
| ESPN.com
Posted by ESPN.com's Tim Griffin
There was an interesting item the other day in Mike Sando's fine NFC West blog about the preponderance of Pro Bowl defensive tackles that the Big 12 has produced.
Sando's research indicates there are currently six players from Big 12 schools who have earned Pro Bowl honors at defensive tackle: Oklahoma's Tommie Harris (Chicago), Oklahoma State's Kevin Williams (Minnesota) and Jamal Williams (San Diego), Texas A&M's Pat Williams (Minnesota) and Texas' Shaun Rogers (Cleveland) and Casey Hampton (Pittsburgh).
No other conference has more than four Pro Bowl defensive tackles at the present time.
That esteemed Big 12 group better get ready for a couple of new members. Because if Nebraska's Ndamukong Suh and Oklahoma's Gerald McCoy are nearly as good as I suspect they will be at the next level, it wouldn't surprise me if either of them make a Pro Bowl roster or two in the future with continued health and development.
Looking at the Pro Bowl list showed me several players who were dominant in college in Harris, Rogers and Hampton. Kevin Williams was a strong player at Oklahoma State who really didn't come on until his senior season. And Jamal Williams and Pat Williams have really blossomed once they made the NFL. Pat Williams, in fact, didn't play in the Big 12 and has blossomed in his mid-30s while playing in the NFL.
Sando's list made me think about who I think have been the best 10 defensive tackles in Big 12 history. These rankings are subjective and based solely on their performances in college football.
February, 9, 2009
2/09/09
8:56
AM ET
By
Tim Griffin
| ESPN.com
Posted by ESPN.com's Tim Griffin
So much for any rest for the weary. Texas coaches are out recruiting for 2010 and already have attracted the foundation of a strong class -- less than a week after national signing day.
Alan Trubow of the Austin American-Statesman writes today that the Longhorns have already picked up five verbal commitments in their 2010 class.
And their early signees have already helped fill what appears to be their biggest positional need at defensive tackle. Among the five players are two of the state's most highly ranked players at the position in Alief Taylor's DeAires Cotton and Denton Guyer's Taylor Bible, Trubow reports.

Other verbal commitments over the weekend came from Galena Park offensive lineman Trey Hopkins, DeSoto wide receiver Darius Terrell and Garland Naaman Forest receiver John Harris.
Bible, a 6-foot-3, 280-pounder, picked the Longhorns over Oklahoma. Recruiting analysts see that he could develop into the next line in a succession of Longhorn players at the position like Casey Hampton, Roy Miller, Frank Okam, Shaun Rogers and Marcus Tubbs.
The high school junior had an interesting comment on why he picked Texas.
"I guess the best way to describe it was Texas just feels like my own bed," Bible told the American-Statesman. "You know when you spend a lot of time on the road and you just get sick of that hotel bed? Well, a lot of schools feel like that bed. It's uncomfortable. But when I'm at Texas, I feel like I'm in my own bed."
That feeling of comfort works for Bible at Texas. And it's why Mack Brown's recruiting efforts already are off to a good start early in the recruiting game for next season.