December, 30, 2012
12/30/12
2:12
AM ET
Pretty much everybody thought the Buffalo Wild Wings Bowl would be a low-scoring game, given the two outstanding defenses and the, uh, challenges facing the offenses. TCU and Michigan State lived up -- or down, depending on your point of view -- to expectations. But the finish was exciting.


The Spartans looked completely lost on offense for the first three and a half quarters, punting on each of their first eight drives. But they rode their workhorse, tailback
Le'Veon Bell
, and caught a big special-teams break in rallying for two late touchdowns and a 14-13 lead in the fourth quarter. The Horned Frogs answered on
Jaden Oberkrom
's 53-yard field goal with 2:42 left. But Michigan State won it
17-16
on a 47-yard field goal from
Dan Conroy
with 1:01 left.
Here's a quick review of how it all went down:
It was over when:
TCU's
Trevone Boykin
threw an incomplete pass on fourth-and-18 in the final minute, extinguishing the Horned Frogs' chances. After scoring 13 points on its first four possessions, TCU had just a field goal in its final nine drives. Michigan State's defense limited the Horned Frogs to just 74 yards in the second half.
Game ball goes to:
Michigan State's Bell. After a slow start, he carried the ball 32 times for 145 yards and a touchdown. He also threw a 29-yard pass out of the Wildcat formation to convert a key third down on the team's first scoring drive. He accounted for 174 of the Spartans' 227 total yards, which is nothing new. Bell finished the season with a nation-leading 382 carries.
Stat of the game:
Michigan State had as many punts (11) as pass completions and yet won the game. Bell had one more passing yard than starting quarterback
Andrew Maxwell
.
Unsung hero:
Speaking of punts, the Spartans'
Mike Sadler
was a busy man, and he did a great job. Sadler averaged 43.7 yards on his 11 punts and pinned three inside the TCU 20. He boomed a 52-yarder while backed into his own end zone in the second half. And his driving 55-yard punt inside the Horned Frogs' 5 sent returner
Skye Dawson
backpedaling. Dawson fumbled the punt, Michigan State recovered on the 4-yard line and Bell ran in for a go-ahead score.
What Michigan State learned:
After losing five games by 13 points this season, the Spartans looked like they were headed for another heartbreak when Oberkrom hit that 53-yarder. Instead, unlike so many previous games this season, Michigan State found a way to make big plays in all three phases in the final two minutes. The bowl win doesn't erase the disappointment of a 6-6 regular season, and the offense still looked cringe-worthy most of the night. But Mark Dantonio's team has something to build on with a positive closing note. The spring storyline is already set, as there's a quarterback controversy brewing. Freshman
Connor Cook
, who hadn't thrown a pass since Week 2, gave the team more of a spark than Maxwell. With two minutes left and his team needing a score to win, Dantonio turned to Cook, not the junior he'd started in all 12 games this season.
What TCU learned:
This was a rare off-year for Gary Patterson, whose team lost five of its final seven games. The good news is that the Horned Frogs are still extremely young and bring back just about everyone next year. Though facing Michigan State's offense probably seemed like a vacation compared to Big 12 play, TCU still showed that it has an elite-level defense. Improving on offense will be the key for next season. Quarterback Boykin made some big plays early but overthrew several receivers and was limping around late. He completed only 13 of 29 passes and threw an interception. He'll need to make great strides to compete with
Casey Pachall
next year, assuming a successful return for Pachall.
December, 29, 2012
12/29/12
12:00
PM ET
Michigan State (6-6, 3-5 Big Ten) vs. TCU (7-5, 4-5 Big 12)


WHO TO WATCH:
Michigan State running back
Le'Veon Bell
. The 6-foot-2, 244-pound junior has carried the Spartans offense at times this season. He ranks third in the country in average yards per game and has three 200-yard rushing games this season. As you'd expect for a guy his size, he's a work horse -- he's run the ball 350 times already, averaging more than 29 carries per game to lead the nation in that stat. He's also surprisingly nimble, with a signature move called the Le'Veon Leap, where he hurdles over unsuspecting defenders. Michigan State's offense needs to establish Bell in order to move the ball, but TCU ranked 10th nationally against the run while averaging only 104 yards per game on the ground. Yet the Horned Frogs haven't seen a back quite like Bell, because there aren't many like him. This could be his final college game, as he is expected to enter the 2013 NFL draft. Will he go out with a bang?
WHAT TO WATCH:
The defenses. Both programs are defense-first teams with some great minds in charge. Gary Patterson is known for his fast, athletic defenses, while the Mark Dantonio-Pat Narduzzi combination has produced some elite defensive units in East Lansing. Michigan State ranked No. 4 in total defense this season, while TCU was No. 18. Stars abound on each side. Linebackers
Max Bullough
, defensive end
William Gholston
and cornerbacks
Darqueze Dennard
and
Johnny Adams
lead the way for the Spartans. Adams, however, is likely out for the game because of a turf toe injury, which would be a huge loss for Michigan State. Big 12 defensive player of the year
Devonte Fields
, linebacker
Kenny Cain
and all-America cornerback
Jason Verrett
are among the standouts for the Horned Frogs. TCU's defensive numbers would probably be even better if it didn't play in the wide-open Big 12, while Michigan State probably benefited some from playing in the more button-down Big Ten. Which defense is better? A more important question might be, can either offense get anything going?
WHY TO WATCH:
Neither team lived up to expectations this year, as Michigan State was picked by many to win the Big Ten and TCU had its troubles during its first go-round in the Big 12. Both were also curiously bad at home. But both the Spartans and the Horned Frogs have experienced recent success and could be very good in 2013. Michigan State will return the core of its offense and has replacements ready for its departing defensive stars. Nearly 70 percent of the players who saw action for TCU this year were freshmen or sophomores. A bowl game win could provide momentum to the victor. And you are guaranteed to see some future pros on the field, especially on defense.
PREDICTION:
Michigan State has come up short in key games all year long, but the Spartans have plenty of talent. The extra 15 bowl practices must have helped quarterback
Andrew Maxwell
and the team's young receivers develop better timing and chemistry. TCU has an excellent defense but will have to adapt to a more physical style of play than it saw in the Big 12. Maxwell has a nice game to build optimism for 2013, and Michigan State makes a key stop late to win a close one ...
Michigan State 20, TCU 16
December, 17, 2012
12/17/12
11:00
AM ET
As the bowl season approaches, we're going to be looking a little closer at each game. We'll go down the Big 12 bowl schedule in chronological order.


BUFFALO WILD WINGS BOWL
TCU (7-5) vs. Michigan State (6-6)
Where:
Sun Devil Stadium, Tempe, Ariz.
When
: Saturday, Dec. 29, 10:15 p.m. ET
TV
: ESPN
About TCU
: The Frogs have been through more in the past year than any team in the Big 12, dealing with the losses of impact players like quarterback
Casey Pachall
(left team to seek drug/alcohol treatment) and
Waymon James
(knee injury). Still, they've held it together and grabbed the best win of their season on the road on Thanksgiving night with a physical win over Big 12 power Texas. A 4-0 start had TCU ascending into the top 15, but the loss of Pachall left the offense in the hands of redshirt freshman
Trevone Boykin
, who's turned in an admirable effort, but ultimately, the Frogs have gone as far as the defense will take them this season.
About Michigan State
: Michigan State lost four of its final six games, but one of those wins came against Big Ten champion Wisconsin on the road. That was the end of what looked like a promising season for the Spartans, picked by many to win the league. Its first three losses in Big 12 play came by a combined five points, and its next two came by just a combined seven points. The Spartans are very likely better than their record, but there's no hiding from the disappointment of a 6-6 regular season in a weak Big Ten after coach Mark Dantonio had guided MSU to consecutive 11-win seasons entering 2012.
Horned Frogs to watch
: We already told you TCU's defense makes this team run, so keep your eyes on the unit's two biggest talents. It starts with DE
Devonte Fields
up front and CB
Jason Verrett
in the secondary. Michigan State's a running team, so Fields may get more action, but he'll be ready. He's more of a pass rusher, but the true freshman earned Big 12 Defensive Player of the Year honors from the media. Verrett was the Big 12's best shutdown corner, but offensively,
Josh Boyce
and
Brandon Carter
are almost as good as any receivers in the league. Boykin's been effective with his arm and legs, but if MSU doesn't cover Boyce and Carter well, you'll see a big day through the air. Boykin's hit both on big plays down the field against Oklahoma and West Virginia this season. The Frogs will certainly try to stretch the field in this one.
Spartans to watch
: Michigan State's offense begins and ends with running back
Le'Veon Bell
. TCU will get to know the 244-pound workhorse -- he even inspired some early season Heisman buzz -- very well by the game's end. He's carried the ball at least 29 times in seven games this season, and logged 350 carries on the season. That's the most in the nation, and no back in the Big 12 carried the ball more than 257 times. The Spartans also have five receivers with at least 340 yards receiving, but defensively, TCU's offensive line will have to focus lots of energy on star defensive lineman
William Gholston
. He's got 12 tackles for loss this season and has broken up nine passes.
Did you know?
This isn't a new bowl game, it's just a new sponsor. The Big 12 has had a long-standing relationship with the Insight (previously Insight.com) Bowl, sending a team every year since 2006 and every year but four since the Big 12's inception. This year, the bowl just welcomes a new sponsor. The most eye-opening stat for TCU this season? It's played 16 true freshmen this season ... and 11 seniors.
December, 3, 2012
12/03/12
11:00
AM ET
The USA Today coaches' top 25 poll is private all season, until the final week. Every year, the final ballot is made public. Last year, Missouri coach Gary Pinkel made waves by voting Oklahoma State No. 4, instead of No. 3, which would possibly give Alabama the edge in the BCS race with Oklahoma State for the right to play LSU for the title.
So, what happened this year? Half the nation's coaches have a vote, and it rotates each year. I'll go through this starting with the Big 12 coaches' individual ballots, and then we'll look at how each Big 12 team looked on various coaches' ballots. You can
see all the ballots in their entirety with this great graph
from USA Today.
Let's get started:
Art Briles, Baylor
Briles had Oklahoma very high, at No. 6. He also voted Kansas State at No. 4. The Sooners finished No. 11 in the coaches poll, and K-State was at No. 6. Only two other coaches (You might recognize them, we'll touch on it later) had Oklahoma at No. 6.
Most coaches typically do have teams in their league higher than others, but aside from that, not much else about Briles' ballot was notable.
Paul Rhoads, Iowa State
Rhoads was the second voter who had Oklahoma at No. 6, joining Briles in voting OU higher than any other voter. We'll talk about the third and final voter to do so later.
He cast his vote for K-State at No. 3, behind national title participants Notre Dame and Alabama at No. 1 and No. 2.
Rhoads threw Texas a bone, but he was one of just two Big 12 coaches of the five voters to do so. He had the Longhorns at No. 22.
Dana Holgorsen, West Virginia
Holgorsen slotted K-State at No. 4 and Oklahoma at No. 9. He also included Texas at No. 25. He also gave his old friends in the C-USA, league champion Tulsa, a nod at No. 22. Only one coach had the Golden Hurricane higher. They finished at No. 29 in receiving votes.
Bob Stoops, Oklahoma
Stoops had his Sooners at No. 6, joining Briles and Rhoads as the voters who had Oklahoma higher than anyone. Stoops also clearly knew what was going on with Northern Illinois, voting NIU at No. 24, lower than all but one voter in the entire poll. Only one other voter among the 59 had NIU at 24th or lower.
Stoops also slotted K-State at No. 3, and didn't include Texas on his ballot.
Tommy Tuberville, Texas Tech
He was the only Big 12 coach to put Alabama at No. 1 instead of undefeated Notre Dame, who the Tide will face in the national title game.
He had Oklahoma down at No. 11, right where the Sooners finished in the poll. He also had K-State at No. 7, the only Big 12 coach to place the Wildcats below where they finished, at No. 6. Tuberville also left No. 25 Texas off his ballot.
All in all, mostly decent ballots from the Big 12 coaches. So, how did the Big 12 teams receiving votes do?
KANSAS STATE
We mentioned those two Big 12 coaches that had K-State at No. 3, but they were joined by a third. It won't surprise you. It's Miami coach Al Golden, whose Hurricanes lost in Manhattan in September, 52-13.
Fresno State's Tim DeRuyter (DC at Texas A&M last season) and Vanderbilt coach James Franklin had Kansas State all the way down at No. 9, but Kentucky coach Joker Phillips was all alone with the Wildcats at No. 11. Ouch.
Franklin, however, did have three SEC teams ahead of Notre Dame on his ballot.
OKLAHOMA
You already heard about the three coaches (all from the Big 12, and only the Big 12) that had Oklahoma at No. 6.
Not a single coach had OU at No. 7, but Michigan State's Mark Dantonio had the Sooners at No. 8. No other coach had the Sooners below 13.
TEXAS
Brady Hoke of Michigan and Kent State's Darrell Hazell love them some Longhorns. Both had No. 25 Texas at No. 16, despite the two losses to close the season and an 8-4 record. Only two other coaches (Jim Grobe, Wake Forest; Mike Riley, Oregon State) had Texas higher than No. 21. It would seem the Horns have not convinced many in the Big 12 that they're world-beaters.
Texas appeared on 27 of 59 ballots.
No other Big 12 teams received votes.
July, 21, 2011
7/21/11
3:45
PM ET
You're counting down the days, I'm sure. We're so close, and yet so far from the season's opening weekend. I can't wait for it, and I'm sure every player in the Big 12 can't either. So, despite being a bit far off, we'll take a look at each team's opener, inspired by our friends over at the Big Ten Blog.
We started this series at the top of the alphabet, and it's time for the Tigers.


Missouri Tigers
Week 1 Opponent:
Miami (OH)
Coach:
Don Treadwell, first year
2010 record:
10-4 (7-1, MAC)
Returning starters:
17 (8 offense, 9 defense)
About the RedHawks:
Miami was no doubt underrated last season when the Tigers rolled them in Columbia, 51-13. The Redhawks were unimpressive in nonconference play, but reeled off six consecutive wins to end the season to win the MAC, a quality league at the FBS level. The RedHawks' turnaround from a 1-11 season in 2009 to a MAC title was one of the best stories in college football, and earned second-year head coach Mike Haywood the job at Pittsburgh,
though that already didn't end well
.
The RedHawks will lean on new coach Don Treadwell this year, who helped guide Michigan State to a share of a Big Ten title last season as offensive coordinator and interim head coach after coach Mark Dantonio suffered a heart attack following an overtime win against Notre Dame on Sept. 19.
Could Treadwell be the next great Miami name in the program that's earned the moniker of "Cradle of Coaches?" Jim Tressel, Woody Hayes, Bo Schembechler and new Indiana coach Kevin Wilson, a former Oklahoma offensive coordinator, have all come through Miami.
On the field, the Redhawks return quarterback
Zac Dysert
, a junior, and
Austin Boucher
, a sophomore who played in seven games as a freshman. Dysert suffered a rib injury and Boucher led the team to wins in its final four games, including the conference championship and the GoDaddy.com Bowl, but fall camp opens with a competition between the two. Boucher completed more than 60 percent of his passes and averaged more than 300 yards a game in his final two starts.
Leading rusher
Thomas Merriweather
(921 yards, 12 TDs) graduated, but rising sophomore
Tracy Woods
carried the ball 94 times for 376 yards and a touchdown last season.
Leading receiver
Armand Robinson
(1062 yards, 12 TDs) is gone, too, but the RedHawks return four receivers with at least 25 catches last season.
The defense returns nine starters, including all eight of the team's top tacklers, led by linebacker Jerrell Wedge.
Random factoid:
Illinois coach Ron Zook, whose Illini team has opened its past four seasons against Missouri, is a Miami (OH) alum.
Totally unscientific percentage chance Missouri wins: 81 percent.
Miami clearly made big improvements late in the year, and the Tigers will be throwing out a first-time starter at quarterback, which comes with all kinds of unknowns. Missouri is better at every position, but if the offense sputters, anything could happen.
More Week 1 previews:
December, 13, 2010
12/13/10
2:30
PM ET
Texas A&M coach Mike Sherman and Oklahoma State coach Mike Gundy are among 10 finalists for the Liberty Mutual Coach of the Year Award.
Fans can
vote on the award's website
for their favorite candidate, and the winner will be announced on January 10, 2011, just before the BCS National Championship Game.
Fan voting constitutes 20 percent of a coach's final score.
Various members of the College Football Hall of Fame will also vote on the award, and their votes count for 55 percent of a coach's score. Media voting constitutes 25 percent.
Here's Gundy and Sherman's competition:
Gene Chizik, Auburn
Mark Dantonio, Michigan State
Rich Ellerson, Army
Chip Kelly, Oregon
Doug Marrone, Syracuse
Tom O'Brien, North Carolina State
Nick Saban, Alabama
Jim Tressel, Ohio State
November, 2, 2010
11/02/10
11:45
AM ET
Mike Gundy was named to the Dodd Coach of the Year Watch List, after leading his team to a 7-1 start.

Gundy is the only Big 12 representative on the list, which also features Oregon's Chip Kelly, Boise State's Chris Petersen, Auburn's Gene Chizik, Michigan State's Mark Dantonio, Arizona's Mike Stoops and Iowa's Kirk Ferentz.
December, 22, 2009
12/22/09
4:03
PM ET
By
Tim Griffin
| ESPN.com
AUSTIN, Texas -- Will Muschamp wanted to get out of his house for a few hours while visiting relatives in Atlanta on Christmas Day 2000, figuring that meeting a few old coaching friends would provide a calming respite.
[+] Enlarge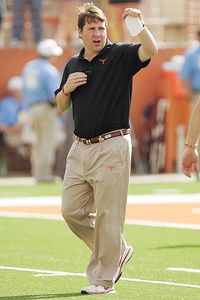 Brian Bahr/Getty ImagesTexas defensive coordinator Will Muschamp attributes some of his success to what he learned under Nick Saban.
He called some old friends on the LSU staff that morning with hopes of watching the Tigers practice for their Peach Bowl game a few days later.
While there, Muschamp met first-year LSU coach Nick Saban. Both of their lives changed from that moment.
The then-Valdosta State defensive coordinator was hired to join Saban's staff three weeks later as a linebackers coach after a vacancy appeared on the staff.
"He wanted somebody young, from the South and who had ties with people on the staff," Muschamp said. "They brought me in for an interview and we talked that day. That night, he offered me the job."
LSU won a BCS championship barely four years later. Muschamp then followed Saban to the Miami Dolphins, where at 34, he was one of the youngest defensive coordinators in recent NFL history.
Later, Saban returned to Alabama and Muschamp became the defensive coordinator at Auburn. Muschamp eventually was hired at Texas, where his strong work has earned him the designation of Mack Brown's successor when he leaves coaching.
Back in the LSU days, Saban had a reputation as a taskmaster who was difficult for many assistants to work for.
But in Muschamp, he found a kindred spirit who enjoyed grinding away at the job as much as he did.
"Nick never asked me to do anything he wasn't doing himself," Muschamp said. "From a work standpoint, a recruiting standpoint or a coaching standpoint, if you didn't want to work it wasn't a good place to be. But I enjoyed work and I like coaching football.
"I like evaluation and I like recruiting and that's why we got along philosophically and schematically. We believe the same way in coaching and motivating. I think that's why we got along."
Today, Muschamp's players say the apple hasn't fallen too far from the tree in terms of Muschamp's dedication for work.
"I always want to try to beat him into the office," Texas defensive tackle Kheeston Randall said. "But it's hard to do. He's the first one there a lot and the last one to leave. You look out and see (Muschamp's) that white truck out there all the time."
Saban is proud of Muschamp's ascension in coaching like the development of former assistants like Michigan State head coach Mark D'Antonio, incoming Florida State coach Jimbo Fisher or Louisiana Tech head coach Derek Dooley.
"To put it into perspective, (it's like) when one of your children does something that makes you proud," Saban said. "That's how you feel when coaches on your staff go on and do bigger and better things and have success in what they do. I'm really proud and want to see them all do extremely well."
Because of their dedication to coaching, Muschamp estimates that he and Saban talk less than once a month. They haven't exchanged pleasantries since the Texas-Alabama matchup was set when Texas beat Nebraska in the Big 12 championship game and Alabama defeated Florida in the Southeastern Conference title game earlier that day.
"It's tough during the season," Muschamp said. "He knows they are playing us and I know we're playing them. He's busy and I am, too."
Both coaching staffs have a lot of connections other than the Saban-Muschamp association. Current Alabama defensive coordinator Kirby Smart was Muschamp's secondary coach at Valdosta State when Muschamp was hired at LSU. Alabama associate head coach/linebackers coach James Willis worked as Muschamp's linebackers coach at Auburn. And Texas running backs coach Major Applewhite worked on Saban's staff as his offensive coordinator and quarterbacks coach in 2007.
Saban faced a similar challenge at Miami when he faced his old mentor, Bill Belichick, when he was coaching the New England Patriots.
"I'm really proud and want to see them all do extremely well," Saban said. "We're good friends and you compete and play against each other, but you don't dislike each other and it's not you don't have the same amount of respect and admiration for them.
"You want to be helpful to those guys if you can. And even if you compete against somebody in that moment in time, you're trying to do the best you can for your team."
Muschamp learned a lot during his time with Saban. While he jokes there will be a lot of "wasted ink" written bout their relationship over the next few weeks, he remains grateful for the opportunity to join Saban's staff nine years ago.
"When you get there and get exposed to a lot schematically, that appealed to me," Muschamp said. "And that's obviously where I formed my ideas about how you play and the things you needed to do to be successful."
May, 28, 2009
5/28/09
4:01
PM ET
By
Tim Griffin
| ESPN.com
Posted by ESPN.com's Tim Griffin
The realization came a few years ago, early one morning in the Lubbock airport, when I thought nobody could have cared what I was doing.
After a long night of covering Texas Tech, I was scheduled on the first flight back home the following morning. But before I left, I knew I had to take care of something.
As I went to a bank of pay telephones back in those pre-cellular phone days, I mumbled off my list of 25 teams to the Associated Press desker in New York City. I usually tried to get my vote in by 9 a.m. -- always settling on them the night before but always looking at them one more time the following morning before I submitted them.
The teams tumbled out in my order for the week. After I finished, I tried to relax for a couple of minutes before my flight left until an elderly man tapped me on my shoulder.
"Excuse me, sir," the man said. "I think you had Michigan ranked too high this week. And West Virginia, they were way too low."
How the fellow passenger had determined I was a voter, I had no idea. But he -- as do most college football fans at that time of the year -- had his own idea how the polls should be voted. And fans don't hesitate to tell you about it, either, in person or by e-mail.
That idea infused me with the thought of how important some considered my vote. As such, I knew the kind of diligence the poll deserved if I was voting.
And the idea that my vote was being made public each week made me take even more care in trying to get things right in my mind. Because, I knew I would hear something if it was skewed.
This is why I think the American Football Coaches Association's decision to keep their final votes private is so wrong.
Horribly wrong, in fact.
Not making the votes public robs the poll of its greatest attribute -- its credibility. When that is stripped away, the poll loses its relevance.
AFCA executive director Grant Teaff argues differently.
"Why do you think they have voting booths," Teaff told the Tulsa World. "Why do you think they have curtains around voting booths? Experts believe that's the truest way of getting the purest vote. That's what coaches are after."
Teaff is wrong in his thinking. Horribly wrong, in fact.
December, 8, 2008
12/08/08
4:00
PM ET
By
Tim Griffin
| ESPN.com
Posted by ESPN.com's Tim Griffin
One of interesting items that always comes up this time of year is the release of the ballots following the final regular-season balloting of the USA Today Coaches' poll. It provides you a good handle of what some coaches really think about other teams.
And it also could lead you to wonder if coaches might remember grudges or occasionally vote their friends or conference teams a little too highly -- or lowly.
There's nothing at all wrong with this, of course. But it does provide some interesting day-after conversation, particularly when the vote ends up being as close as Oklahoma's one-point victory over Florida for first place.
Take a look at how the coaches considered the Big 12 teams in the poll.
Oklahoma: The Sooners claimed the title at the end of the year by one vote, claiming 31 first-place ballots to 26 for second-place Florida.
Most of the Big 12's coaches held firm with the Sooners as the best team. It's no surprise that Gary Pinkel would vote them that highly less than 12 hours after his team had been thumped 62-21 by the Sooners in the Big 12 championship game. Art Briles, Dan Hawkins, Mike Leach and Bo Pelini all voted for Stoops. And in the spirit of full disclosure, it should be noted that Leach and Pelini both worked as assistants under Stoops and Briles worked under Leach, making him a second-generation descendant of the Stoops coaching tree.
The Sooners were listed fourth on UCLA coach Rick Neuheisel's ballot and third on 11 others, including the ballot of Texas coach Mack Brown.
Texas: Four first-place votes helped push the Longhorns to third place. One of them didn't come from Brown, who voted with his conscience rather than giving his team the maximum number of points. He voted his team second, behind Florida and in front of Oklahoma.
Texas' four first-place votes came from Gene Chizik, Todd Dodge, Neuheisel and Mike Price of UTEP. Chizik coached under Brown before taking the Iowa State job. Dodge played for Texas. And Price played against the Longhorns earlier this season, losing 42-13 in a game that was considered the biggest home football game in the Miners' history.
The Longhorns' lowest votes were fifth, given by four coaches -- Briles, Leach, Rutgers' Greg Schiano and Michigan State's Mark Dantonio.
Texas Tech: The Red Raiders finished in eighth place, two points behind Utah. Their highest votes were the second-place ballot cast by Leach for his own team and a third-place vote delivered by New Mexico State's Hal Mumme, whom Leach worked with at several jobs earlier in his career.
Nobody else had the Red Raiders higher than sixth. Among the 12 coaches who had Tech at sixth place were Briles, Chizik, Pelini and Pinkel. Brown had the Red Raiders eighth.
But their lowest vote was 11th, cast by TCU's Gary Patterson. The Red Raiders delivered a 70-35 whipping to the Horned Frogs in 2004. It remains the most points ever allowed by a Patterson-coached team and the worst defeat in his head-coaching career.
Oklahoma State: The Cowboys finished the regular season 14th. The voting wasn't as varied on them as some others. Their highest vote was 11th, provided by Briles, Pinkel and former Oklahoma State and current LSU coach Les Miles. Their lowest was a 20th place vote from Florida International's Mario Cristobal. I have no explanation for that.
Missouri: Despite losing by 41 points in the Big 12 championship game, the Tigers fell only six spaces in the coaches' poll. They had fallen six places the previous week from 11th to 17th when they lost to Kansas.
Interesting, the highest ranking the Tigers got was an 11th-place vote from departing Washington coach Tyrone Willingham. Maybe there was a show of loyalty for Pinkel, a one-time Washington offensive coordinator under Don James. Other than that, the Tigers' highest votes were three 18th-place votes cast by Pinkel, Schiano and Patterson.
Missouri was left off the ballots of 12 coaches, including those of Brown and Leach.
It's always intriguing to look at these votes. The transparency provides some interesting fodder and a more interesting way to determine how coaches look at their opponents -- and their rival coaches.
July, 25, 2008
7/25/08
11:22
AM ET
By
Tim Griffin
| ESPN.com
Posted by ESPN.com's Tim Griffin
While developing a list of the top 12 non-conference matchups Thursday, I began thinking about ideal matchups for different schools across the conference.
If I were king of college football and could mandate opponents for different Big 12 teams, here are some of the choices I'd make and my reasoning. Let me know what you think, and if you could come up with better ones.
Baylor -- How about Vanderbilt? What could be better than watching two schools that face similar difficulties from the nation's toughest conferences? Both are private schools and have the benefit of strong coaches. It would be an entertaining game.
Colorado -- I originally thought Air Force would work because of the geographical proximity. But a better choice, I think, is UCLA, so we could watch Rick Neuheisel squaring off against his old team. And the two programs are relatively equal, which should make for some real competition on the field.
Iowa State -- You could argue for Florida and a return of Dan McCarney to Ames. But a better, more entertaining game would be to match the Cyclones against Minnesota. The two schools are relatively close and are at about the same levels in their respective conferences. You could bet that Mack Brown would be watching the matchup of his old protégés Gene Chizik and Tim Brewster.
Kansas -- ESPN has liked matching the coaching wiles and offenses of Mark Mangino and Toledo's Tom Amstutz in the past. But a better matchup would be to let Mangino call plays against Joe Paterno and Penn State. Jayhawks fans are still grouchy about how the 1969 Orange Bowl finished up. It would be kind of neat to see a rematch -- even if it's nearly 40 years later.
Kansas State -- Give me the Wildcats and Fresno State, the school they ducked earlier this season. I don't know what Ron Prince is afraid of. His Wildcats would match up very favorably with the Bulldogs.
Missouri -- There was a lot of bluster emanating out of Iowa City a couple of years ago when the Tigers and Iowa abruptly cancelled a series of upcoming games. But things have changed since then. The Tigers are white-hot and the Hawkeyes have taken a big step back. Let's see them finally play.
Nebraska -- It's hard to think of many for the Cornhuskers, who have played virtually every great national program in the past. I'd like to see them challenge South Carolina right now. I know that Steve Spurrier hasn't forgotten that 62-24 bludgeoning his Florida Gators endured at the hands of the Cornhuskers in the 1996 Fiesta Bowl. And the coaching battle between Spurrier and Bo Pelini would be delicious.
Oklahoma -- I used to think seeing Bob Stoops match wits with Spurrier would be neat. But a better matchup might feature the Sooners against Florida -- a game between two of the nation's most talented programs in recent history.
Oklahoma State -- It might be kind of cool to see the Cowboys square off with Les Miles' LSU team or the Southern Mississippi team now coached by Larry Fedora. But a better game -- and definitely more anticipated media scrum afterward -- would be to see the Cowboys meet Michigan State and Coach Mark Dantonio. The game would be close on the field and the fireworks after the game with Mike Gundy and Dantonio might be better than the game before it.
Texas -- After watching a BCS title game that lived up to the hype (and more), I could watch Texas against USC every day for the rest of my life. These two programs really should play more often, even if Vince Young and Reggie Bush don't have any eligibility remaining.
Texas A&M -- The rivalry for recruiting in East Texas is pretty intense and I think it would be kind of fun to see the Aggies hook up against Les Miles and LSU. The two old rivals played 49 times between 1899 and their most recent skirmish in 1995. It would be good to see them playing again.
Texas Tech -- Mike Leach once roamed the sidelines at BYU, where he intently watched coach LaVell Edwards' practices as a student. Those early sessions enabled him to glean some of the bedrock principles for his passing offense. Who says you can't go home again? A game between the Red Raiders and the Cougars would provide the kind of offense that fans dream about.
Let me know what you think and suggest some other potential dream non-conference games. I'll let others know about your choices.