October, 29, 2010
10/29/10
10:00
AM ET
Oh yes, it's a holiday weekend, and it's football season. That means a theme post. Don't fight it, it's already here. Just give in.
Here are a few Halloween honors heading into this weekend's games.
Scary movie:
This one goes to the team with the worst loss this season. It was a warning of things to come, but who pegged
Texas
to get rolled by three touchdowns at home to a weak UCLA team?
Trick-or-Treat:
This award goes to the game featuring the most to gain or lose. There's no question it's happening this weekend between
Nebraska and Missouri.
The winner could glide into the Big 12 championship game, favored in each of its final four games, and Missouri could be five games from a possible national title game appearance. Lose, and the division title slips out of each team's hands.
Wizardry:
This award goes to the league's most "spellbinding" player so far this season. He's not only the most productive, he's the most exciting, even though he'll be sitting out this weekend. Oklahoma State receiver
Justin Blackmon
will run past you, run through you or jump over you. Either way, he's coming down with the ball.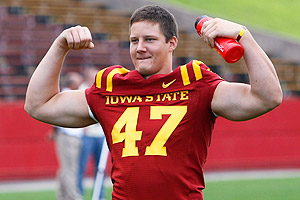 AP Photo/Charlie NeibergallIowa State linebacker A.J. Klein has quietly had a monster season.
Ghosts, Goblins, Ghouls:
This one goes to three guys putting up good seasons, but doing it under the radar. Iowa State linebacker
A.J. Klein
is a first-year starter, but he leads the Big 12 with 86 tackles. No other player in the league has more than 79. Texas A&M has had a disappointing season, and so has its quarterback,
Jerrod Johnson
. Top receiver
Jeff Fuller
hasn't. He's third in the league with 687 receiving yards, behind only Blackmon and
Ryan Broyles
. His nine touchdown grabs are also third in the league, behind only Blackmon and Texas Tech's
Lyle Leong
.
Aaron Jones
at Baylor has already kicked a league-high 16 field goals, hasn't missed any of his 31 extra points and is sixth in the Big 12 in scoring.
Cursed -- Texas A&M:
Johnson looks like he's fallen victim to the curse of the Texas A&M senior quarterback. First there was Mark Farris in 2002, followed by Reggie McNeal and Stephen McGee. Johnson ended up splitting time with
Ryan Tannehill
last week, and might not even finish the season as his own team's starter after opening it as the Big 12's Preseason Offensive Player of the Year. Johnson underwent offseason shoulder surgery and says he feels fine. His play argues otherwise. He only threw eight picks all of last year, but tossed as many in two games earlier this year in a near loss to Florida International and a last-second loss to Oklahoma State. All three of Texas A&M's losses have come to ranked teams, but they never thought they'd have three this early in the year.
Halloween costume:
Somebody get
Taylor Martinez
a "
The Flash
" costume! Ironic that he's the one who could do it the fastest, though, no?
Monster Mash:
This one goes to the league's scariest matchup. How about anyone against
Nebraska's running game
? The Huskers have three of the league's top 10 rushers, in Martinez,
Roy Helu Jr.
and
Rex Burkhead
. No other team has more than one.
Thriller:
The most exciting play of the season so far? Dan Bailey's game-winning field goal against Texas A&M, but no single play had the "What just happened?" factor of
Missouri kick returner Gahn McGaffie's 86-yard touchdown
to open the game against Oklahoma. It also had the most impact, helping send Missouri five spots up the BCS rankings and precipitated a double-digit jump in the human polls. Of course, it might not have been possible without
T.J. Moe
's 68-yard catch-and-run, go-ahead touchdown in the final minute against San Diego State, highlighted by three Aztec defenders giving each other their best shots while Moe ran free.
Jason Vorhees
--
Iowa State won't die:
Utah tried its best. So did Oklahoma. But there they were, celebrating inside a Texas visiting locker room to the surprise of everyone. Let's see what these resilient Cyclones have in store for the rest of the season.
July, 31, 2009
7/31/09
12:00
PM ET
By
Tim Griffin
| ESPN.com
Posted by ESPN.com's Tim Griffin
Is there an exact moment that can be pinpointed as the turning point of a national championship season?
My colleagues Ivan Maisel and Mark Schlabach have done a great job of looking at a special moment that helped turn the season for every national championship team since 1984.
The Big 12 was well represented. No moment was bigger than Oklahoma linebacker Torrance Marshall's key interception at Texas A&M that rescued that game for the Sooners en route to their 2000 national championship.
The Sooners were the country's only unbeaten team when they traveled to Texas A&M with an 8-0 record. After Oklahoma fell behind 31-21, tailback Quentin Griffin scored on a 2-yard run to make it 31-28 with 7 minutes, 43 seconds to play. Twenty-five seconds later, Sooners linebacker Torrance Marshall stepped in front of Mark Farris' pass and returned it 41 yards for a touchdown and a 35-31 victory. Marshall's first career interception helped the Sooners win in College Station for the first time since 1903.
I still remember covering that game. I don't think I've ever heard Kyle Field as quiet, with the exception of the small collection of Oklahoma fans who were tucked into a corner of that mammoth facility on that day.
Other key Big 12 moments that were included were Matt Davison's kicked pass reception that helped save Nebraska's season at Missouri in 1997 and Vince Young's late TD pass to Limas Sweed that propelled Texas' key comeback victory at Ohio State in 2005.
Big 12 schools are also represented for their championships claimed before the conference was formed in 1996. Troy Aikman's broken leg that forced Oklahoma back into the wishbone helped turn the Sooners' season in 1985, Colorado's fifth-down victory at Missouri in 1990, Nebraska's Orange Bowl redemption en route to the 1994 title and Tommie Frazier's remarkable 75-yard TD run against Florida the following season are highlighted.
It's great series that has a lot of neat multimedia tricks. Check it out for some good memories about Big 12 championship teams.
And are there any other plays or moments that might help define those Big 12 championship seasons?
June, 30, 2009
6/30/09
6:34
PM ET
By
Tim Griffin
| ESPN.com
Posted by ESPN.com's Tim Griffin
Bonfire game shows softer side of Texas-A&M rivalry
Date: Nov. 26, 1999
Place: Kyle Field, College Station, Texas
Score: Texas A&M 20, Texas 16
Just eight days after the most stunning tragedy in school history, Texas A&M had to refocus to play Texas in the 106th meeting of the storied rivalry between the two bitter adversaries.
Except this time, it was a little different.
Thousands of maroon balloons filled the sky, followed by the pregame release of 12 white doves -- one for each of the 12 current and former A&M students who were killed in the bonfire collapse. Four F-16 fighters flew overhead in the missing man formation, a tribute usually saved for pilots killed in the line of duty.
Earlier in the week, A&M missed practice for two days. When the bonfire stack collapsed, A&M players helped rescuers move the logs in search of survivors.
Texas players and the Longhorn football staff held a blood drive to benefit the victims. Texas officials also canceled their annual "hex rally" before the game in favor of a unity rally that also included hundreds of A&M students.
The Aggies jumped to quick lead on a 3-yard TD run by bullish tailback Ja'Mar Toombs. But the conversion backfired when holder Mark Farris bobbled the snap, leaving kicker Shane Lechler to try an ill-advised pass that was returned 96 yards by Lee Jackson for the two-point conversion.
But heralded freshman Texas quarterback Chris Simms led a pair of scoring drives later in the first quarter that gave the Longhorns the lead. Simms was starting only because Major Applewhite was ailing with an upset stomach.
A fumble by Texas A&M quarterback Randy McCown helped the Longhorns to score their first TD, provided on a 14-yard run by Hodges Mitchell. Texas extended its lead to 16-6 later in the quarter on a 1-yard TD plunge by Chris Robertson.
The Aggies blocked a punt later in the second quarter, but were unable to score as they trailed 16-6 at the break.
Many fans who were at the game still remember the halftime presentation by both bands as the most moving part of the game. The Texas band played "Amazing Grace" and members took off their hats at the end. The A&M Band honored the bonfire victims by marching off the field without its usual musical accompaniment as the Kyle Field crowd was eerily silent.
The inspired A&M defense was the difference in the second half, limiting Texas to only two first downs as Simms struggled and was eventually replaced by Applewhite in the fourth quarter.
Toombs, rushed for 126 yards on 37 carries to lead the Aggies, gradually wore down the Longhorns in the second half. His 9-yard scoring plunge pulled the Aggies within 16-13 with 4:47 left in the third quarter.
And with 5:02 left, McCown lofted a 14-yard lob into the end zone that was snagged by his roommate Matt Bumgardner for the game-winning score.
The Aggies' defense took care of the rest. With 23 seconds left in the game, cornerback Jay Brooks forced a midfield fumble by Applewhite. Linebacker Brian Gamble recovered the fumble to seal the victory.
A&M offensive lineman Chris Valletta wore a T-shirt with the names of the 11 A&M students and one former student under his pads and jersey.
"We had the thought and memory of those 12 who died in our hearts and minds every single play," Valletta told reporters after the game. "I hope this can ease the pain a little bit."
June, 15, 2009
6/15/09
6:30
PM ET
By
Tim Griffin
| ESPN.com
Posted by ESPN.com's Tim Griffin
Today is a special summer day for football fans across Texas and the Southwest.
Today is the annual release date of Dave Campbell's Texas Football, which is the unquestionable college football magazine of record in these parts every year.
This magazine is special because it's the 50th anniversary edition. The first one was laid out on the kitchen table of former Waco Tribune-Herald sports editor Dave Campbell, who started it in 1960.
It's gotten much bigger than that over the years, being read by three generations of football fans over the years. Today, there's a Texas Football classic every year at the Alamodome and even an official Texas Football song.
I first learned about the magazine in the late 1960s when a friend of mine in fifth grade, Richard Jackson, moved to Memphis from Houston. Along with his neat Houston Astros hat that I always was envious of was his copy of Texas Football Magazine. The story and pictures of the guys from Texas, Baylor and Rice were so different than anything I came across in the Southeastern Conference. I wanted mine, too.
My dad occasionally traveled to Texas with his job and soon learned to look at the 7-Eleven on one of his trips to Dallas to see if he could score a copy of Dave Campbell for me.
Later, my family moved to Texas and I learned the excitement of visiting the newsstand in mid-June to pick up the Dave Campbell magazine, which was there to chronicle the demise of the Southwest Conference and the start of the Big 12.
The new one will officially be released today across the area. And the coverboy is Texas quarterback Colt McCoy, who becomes the first individual player to be pictured since Texas wide receiver Roy Williams in 2003.
I picked up my copy and am already deeply into it. It takes me back to my childhood.
The only problem is that I wonder why I couldn't pick up a Grape Slurpee to drink with it like I used to back in the day.
A list of the cover boys in the magazine's history exhibits a unique history of football in the southwest. Here's a list of the players who have graced the cover of the magazine over the years.
1960: Texas RB Jack Collins
1961: Baylor RB Ronnie Bull
1962: TCU QB Sonny Gibbs
1963: Texas coach Darrell Royal and DT Scott Appleton
1964: Baylor coach John Bridgers and WR Lawrence Elkins
1965: Texas Tech RB Donny Anderson
1966: SMU NG John LaGrone, Baylor DT Greg Pipes, Texas DT Diron Talbert
1967: Texas A&M T Maurice "Mo" Moorman
1968: Texas A&M QB Edd Hargett
1969: Texas QB James Street
1970: Texas RB Steve Worster
1971: Texas Tech QB Charles Napper
1972: Texas A&M LB Brad Dusek
1973: Texas LB Glen Gaspard
1974: Texas coach Darrell Royal
1975: Baylor coach Grant Teaff
1976: Houston coach Bill Yeoman
1977: Texas Tech QB Rodney Allison
1978: Texas A&M K Tony Franklin and Texas K/P Russell Erxleben
1979: Texas DT Steve McMichael
1980: Baylor LB Mike Singletary and Texas A&M QB Mike Mosley
1981: Baylor RB Walter Abercrombie and SMU RB Craig James
1982: Texas A&M QB Gary Kubiak
1983: SMU QB Lance McIlhenny
1984: Texas A&M DE Ray Childress
1985: TCU coach Jim Wacker and TCU RB Kenneth Davis
1986: Texas A&M coach Jackie Sherrill
1987: Texas QB Bret Stafford and Texas coach David McWilliams
1988: Texas RB Eric Metcalf and Texas A&M LB John Roper
1989: Houston coach Jack Pardee and SMU coach Forrest Gregg
1990: Texas Tech coach Spike Dykes
1991: Houston QB David Klingler
1992: Rice RB Trevor Cobb
1993: Texas A&M coach R.C. Slocum
1994: Texas QB Shea Morenz
1995: A collage of Southwest Conference historical figures including Texas RB Earl Campbell, Houston coach Bill Yeoman, Baylor LB Mike Singletary, TCU QB Sammy Baugh, Texas coach Fred Akers, Texas coach Darrell Royal and SMU RB Doak Walker.
1996: Baylor coach Chuck Ready, Texas Tech coach Spike Dykes, Texas coach John Mackovic and Texas A&M coach R.C. Slocum
1997: Texas QB James Brown and Texas RB Ricky Williams
1998: Texas A&M LB Dat Nguyen, Texas RB Ricky Williams and Texas coach Mack Brown
1999: Texas coach Mack Brown and TCU coach Dennis Franchione. Note: Alternative cover for those magazines sold outside the state featured Dallas Cowboys QB Troy Aikman
2000: Midland Robert E. Lee H.S. RB Cedric Benson
2001: Texas QB Chris Simms, TCU QB Casey Printers, Texas A&M QB Mark Farris and Texas Tech QB Kliff Kingsbury
2002: Texas Tech QB Kliff Kingsbury, Celina H.S. coach G.A. Moore, Dallas Cowboys RB Emmitt Smith and Baytown Lee H.S. QB Drew Tate.
2003: Texas WR Roy Williams
2004: Texas Tech DE Adell Duckett, TCU S Marvin Godbolt, Houston QB Kevin Kolb, North Texas RB Patrick Cobb
2005: Texas QB Vince Young and Texas A&M QB Reggie McNeal
2006: Former Texas RB Earl Campbell, Mansfield Summit H.S. QB John Chiles, Texarkana Texas H.S. QB Ryan Mallett and Gilmer H.S. QB G.J. Kinne
2007: Texas A&M QB Stephen McGee, Texas QB Colt McCoy and TCU DE Tommy Blake
2008: Texas Tech coach Mike Leach, Texas Tech QB Graham Harrell and Texas Tech WR Michael Crabtree
2009: Texas QB Colt McCoy
Source: ESPN.com research