Big 12:

Martellus Bennett
August, 26, 2011
8/26/11
2:30
PM ET
By
ESPN.com staff
| ESPN.com
Thanks for the all the emails.
B. Stautzenberger (@coachrock4) in OKC asked:
I hear so much that the a&m will struggle in the sec but at there worst they r better than both miss schools and vandy Kentucky. They are on par with auburn and Arkansas. And that's just football. I don't see why the sec wouldn't love to have the aggies.
David Ubben:
Yeah, I don't really get it. The folks that know what they're talking about know that the SEC is crazy not to want the Aggies, which they clearly do. The only problem could be the 14th team.
The fans are kind of another story. As an Arkansas native, I know a pretty large group of Arkansas fans, and the majority of them are not excited about bringing in A&M at all. I spent last weekend in Kansas City with a few of them, and the lack of big-time accomplishments on the résumé and a "if it ain't broke, don't fix it" approach has them and lots of other Hog fans pretty lukewarm to the idea.
The program, facilities and fans make it a good fit from the SEC perspective, though I disagree with the move from the A&M perspective.
I think you'll see all three of those get at least a temporary boost with the move to the SEC. The atmosphere for games will be amped up a bit the first couple of years, but I think the Aggies will have to win over a reasonable percentage of the fans.
Fortunately for them, the same doesn't appear to be true for decision-makers.
---
Ryan in Tulsa, Okla., asked:
David,Im an OSU fan. I just don't think new OC Todd Monken will have the same impact as Dana Holgerson did last year. Dana just had that knack to stay patient and not ever get overwhelmed when it came to crunch time in big games. I feel Todd might get flustered and nervous in those big game situations when he has to call the right play at the right time. He already has to be feeling pressure about it. How do you think he will do? Also, do you think
Brandon Weeden
will get to be like Peyton Manning and have the ability to make his own play calls at times?
DU:
Well, the facts add up to this: We have no idea. There's not a lot to draw on regarding Monken's play-calling prowess. We have Gundy's endorsement. That's about it. Monken might be great. He might be a significant downgrade. He might be OK. We'll find out pretty quick. There's not a lot of evidence pointing to any of those options just yet.
What we do know is this: He's going to have a heck of a lot of talent running his plays. That makes everyone look better.
As for Weeden calling plays, I don't see that happening, but he'll no doubt have a lot of input and impact on what's called. And besides, even after a play is called or even snapped,
he still has a lot of effect on what's going on during the play
.
---
Chris in San Jose, Calif., asked:
Dubbs, I think you did a great job on the top 25 list, but you missed the mark badly on
Michael Egnew
from Missouri. I'll be the first to admit that he's no Chase Coffman, but he was a All American and voted MVP of the Missouri team by his teammates (over the others you chose for the list). Your point about how average per catch being 44th among receivers is less spectacular when you figure that the highest TE on that stat is at 37th. That's just not a position that lends itself to high avg per reception. He's the only BCS conference TE in the top 100 in yards per game, and he's top 10 in receptions per game, so even though other teams know it's coming to him, they can't stop him.But more to the point, I just don't see how you can leave a returning consensus All American off your top 25 list. There are only 4 returning consensus All Americans in the entire country.
DU:
You make some valid points. And it was close. He was probably the first player just outside the top 25. I may be wrong on this, but I just don't see the physical talents that Martin Rucker and Coffman had. And the facts are also this: The crop of tight ends in college football is weak.
There's no Jermaine Gresham or Martellus Bennett in this group.
Here's the core my general thought process: If
Andrew Jones
was the only tight end on Missouri's roster, and he was given the exact same opportunities Egnew was given, would he be able to have a similar output?
In my opinion, yes. I don't believe you could say that about the players behind guys like Gresham, Bennett, Rucker or Coffman.
---
JG in Enid, Okla., asked:
This is just awesome
. Quinn sharp booting a 62 yard field goal in practice. Not only that the whole team cheering against him and special team coach Joe Defo calling timeout to ice him. Backup QB
Clint Chelf
taunting him in a manner that makes you think of the Karate Kid. Plus, you have to love Jonathan Rush holding back Grant Garner as he barks like a dog earlier in the video.
DU:
Outstanding. Had to get that on the blog somehow.
---
Andrew in College Station, Texas, asked:
Have you noticed that Pac 12 blogger continually picks teams to "whip" A&M in _____ bowl in the Pac 12 Best/ Worst case scenarios? Seriously, I know I've seen it at least three times.
DU:
No worries. It's all simple reverse psychology. I hear A&M is
shopping a new conference,
but not one in particular. Ted's trying to talk them into coming out west and proving him wrong. He's a fiend, but never forget: Those West-Coast types are much, much smarter than the rest of us in the heartland.
---
Jared in Portland, Ore., asked:
Dubbs, what's up with this years bowl schedule? No games on New Years Day? Did the BCS forget about tradition? Am I supposed watch parades when I'm hung over?
DU:
No worries, fans. It happened a few years ago, and it's happening again. Jan. 1 falls on a Sunday, so the NFL will be playing that day. The good news: College football will be well-sandwiched around those games.
---
John Thomas in LeBary, Fla., asked:
Not a single Red Raider in the top 25? From the team that has the longest string of bowl appearances in the Big 12? David, Southwest Airlines has several flights a day between Dallas and Lubbock. Book a flight. Spend some time there.
DU:
Oh, I've made that flight quite a few times. I was out in Lubbock this spring. This isn't the Red Raiders' year, but who, exactly, would you suggest I put in the top 25 or near it?
Someone from the defense that ranked 118th nationally in stopping the pass and 114th nationally in total defense? Or someone from an offense that lost its top two quarterbacks, a three-year starter at running back and the two top receivers?
The Red Raiders have a lot of potential, but not a lot of proven players. Lonnie Edwards or Cody Davis was probably the closest to making the top 25, but they're going to have be a lot better this year.
Here's betting a few of them make the postseason top 25, but they'll only be there once they earn it.
---
Daniel in St. Louis, Mo., asked:
I hear Aaron Williams and Curtis Brown are doing pretty well in the preseason. Is there any other school who produces more potential nfl starters at defensive back?
DU
: No doubt about it. Texas is absolutely DBU. Credit Duane Akina for that, though. He's one of the league's best position coaches, and his secondary proves it every season.
Guys like Quandre Diggs have a lot of potential. Akina grooms them into stars.
June, 3, 2011
6/03/11
3:30
PM ET
By
ESPN.com staff
| ESPN.com
Thanks for all the mail, readers. As always, if your answer didn't make the cut,
ask a better one and maybe that will change
.
Ben in San Antonio asked:
Now that you have written about the helmet...who has the best overall uniforms?
David Ubben:
Ha, I'm sure I'm not asking for trouble here. But here's how I'd rank them, using each team's best uniform.
1. Texas
- The
all whites
are all right.
2. Texas Tech
- Conversely, the
all blacks
are all that. (I'm done, I swear.)
3. Texas A&M
-
Maroon jerseys on white pants
are worth whooping about. (Ok, not done just yet.)
4.
Oklahoma State
-
Black jersey, black pants and white helmets
need to see the light more often. (Now we're done.)
5. Oklahoma
- The
red jerseys on white pants
are just OK, but "SOONERS" across the chest looks great, and makes the get-up.
6. Missouri
- The rare combo of
black jerseys on gold pants
is fantastic.
7. Kansas State
- As lame as I think the Powercat is, the
purple jersey, grey pants combo
is sweet.
8. Kansas
- The classic
blue jerseys on silver pants
are where it's at.
9. Baylor
- I'm a fan of
Baylor's all-whites
, but they slip behind what I realized today is a pretty solid set of unis across the league.
10. Iowa State
- No, 'Clones.
Just no
.
How would you rank yours?
---
David in KC asked
: Do u think ISU can upset a team like Oklahoma or A&M? before you answer I bet at this time last year you never thought ISU would beat Texas. You probably never thought the cyclones would upset Neb in Paul Rhoads first year either.
DU:
No, I don't see it. Oklahoma and A&M might have the two best offenses in the league, and like I've mentioned before, Iowa State pulled off their upsets against teams that had really bad offenses. Also, Iowa State has to go back to Norman, where it lost 52-0 last year.
If
Shontrelle Johnson
and whoever wins the quarterback battle up there learn quickly, I do think the Cyclones have a decent shot at a bowl game, but they're not beating either of those teams.
---
Buck in San Antonio asked:
Howdy Dave, good to talk with you.Where has the art and science of having a stud TE, a la Derrick Spiller, gone these days? Will Sherman (and other Big XII teams) utilize this dangerous and undervalued weapon more in the coming seasons?
DU:
It's a good question. The obvious answer is the advent of spread offenses, but we've still seen some pretty good traditional tight ends in recent years in this league, like Jermaine Gresham at Oklahoma,
Collin Franklin
at Iowa State and Martellus Bennett at A&M.
Missouri, of course, has done their own damage with receiving tight ends.
Texas A&M has a big body in
Nehemiah Hicks
, but he hasn't been a big factor in the passing game. I thought
Tim Biere
at Kansas was due for a big year in 2010, but that didn't necessarily happen. It could in 2011.
We'll see what Jace Amaro does at Texas Tech once he arrives.
If you want to see great, traditional tight ends, I suggest you wake up and catch an 11 a.m. Big Ten game. Outside of reception machine
Michael Egnew
at Missouri, you won't see much in the Big 12 this year.
---
Andrew in St. Louis asked:
Do you think that some teams could benefit from the round-robin scheduling new to the conference this upcoming season? While obviously teams like Iowa State and Kansas will be hurt because they're schedules made it so they missed out on both OU and Texas some years, it seems a team like Missouri or Oklahoma State that's been on the cusp of BCS bowls recently could have a better chance of proving their strength with more quality opponents.
DU:
Yeah, the teams that are going to benefit are the ones used to tougher nonconference schedules that get to add some of the weaker teams from the North every year.
Oklahoma State, Texas Tech and Texas A&M immediately jump to mind, but Baylor could benefit from getting to play Kansas, K-State and Iowa State every year. The Bears have had a tough time in the South, but if they were in the North, that bowl drought might have ended a few years earlier once the North started to decline midway through the last decade.
Your example, I don't think will happen. I don't think it makes it easier for OSU or Missouri to get into a BCS bowl. Texas and Oklahoma are still in the league and you can't get three teams in the BCS. But you might see those South teams that have struggled to get over the hump get a bump in their conference win percentage.
---
Alistair in College Station, Texas, asked
: 2 part question for you Dubbs. First,
why do you apparently hate every school
in the Big 12 and write totally biased articles against them? And second, how is that even possible? I'm impressed...But really, what do you think Johnny Manziel's chances are of getting some playing time this upcoming season as either Tannehill's backup, or perhaps following the route Tannehill took and playing some receiver?
DU:
Good question. It's an acquired skill, I guess.
As for Manziel, I think you've got to redshirt him. If this were Texas, Kansas or Iowa State, a team starved for receivers, then he's got to see the field immediately.
On the scout team, I think you get him some work at quarterback and receiver, just in case, and next fall, throw him in the race with
Jameill Showers
and
Matt Joeckel
to replace Tannehill.
Texas A&M is too loaded at receiver this year to waste a year of eligibility on him, but Tannehill will be gone next year, and so will
Jeff Fuller
. They'll bring everybody else back at receiver, but opportunities to make an impact will be there.
If he loses the quarterback battle next year, then you've got to look hard at who you want as your backup: Joeckel, Showers or Manziel, and then you've got Trevor Knight coming in, too. If Manziel isn't clearly your No. 2, I think you've got to move him to receiver something just short of permanently. Only an injury should change that.
Competition decides so much of this and I've rambled a bit, but really, my main point is yes, he needs to keep getting reps at receiver unless he's the starting quarterback.
Just don't put him out there this year. A&M is too good at his two positions.
---
Blake Fite in Jenks, Okla., asked:
I find it interesting that the Tulsa World and the Daily Oklahoman have not come out with a statement from Coach Stoops saying he is not interested in the Ohio St. job. Do you think he should make a statement?
DU:
Nope. It would only backfire on him and make him look presumptuous. Plus, like Stoops has learned in the past (i.e., Notre Dame, Florida) even releasing a statement doesn't end speculation. Unless Ohio State makes him an actual offer, Stoops won't say a word about the job, maybe even if he's asked.
---
Paul in Austin, Texas, asked:
Do you ever feel like people don't give Christen Michael enough credit? I've been hearing so much about
Cyrus Gray
because of the finish, but people refuse to realize that he stunk it up the first half of the season. Is it because Michael isn't as explosive of a runner?
DU:
It seems that way in the last few months, but it seems like a bit of "What have you done for me lately?" syndrome. Michael was outplaying Gray before he got hurt -- there's no doubt about that. Michael had just under 600 yards in the Aggies' first six games, while Gray had just seven yards on 11 carries during the three-game losing streak that landed A&M at 3-3 midway through the season.
But Gray took a page from Marshawn Lynch and shifted into Beast Mode after Michael went down.
The good news for A&M is they've already got what looks like a franchise back, and if Michael is back to his usual self this fall, they'll have two now.
January, 4, 2011
1/04/11
11:00
AM ET
Texas A&M receiver
Jeff Fuller
hasn't said much about his decision to either forgo his senior season for the NFL draft or fulfill his eligibility as an Aggie.
On Monday, he finally opened up about his plans, which must be made known before a Jan. 15 deadline.
[+] Enlarge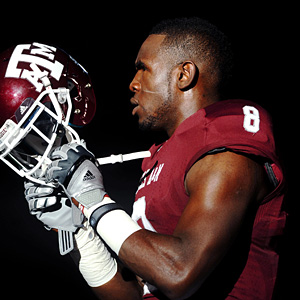 Mark J. Rebilas/US PresswireJeff Fuller will have eight days after the Cotton Bowl to decide whether he'll enter the NFL draft.
"I'm doing my best to kind of keep it not a distraction and just trying to focus on the bowl game, but it's definitely there," Fuller said. "I'm definitely thinking about it."
Fuller set school records in 2010 with 983 receiving yards and 12 touchdowns, and took over as the program's all-time leader in touchdown receptions midway through the season. His teammate, Von Miller, went through this process a year ago, but elected to return to College Station, where he won the Butkus Award as the nation's top linebacker.
"Von gave me a few pointers, I got to talk to [former Texas A&M and current Dallas Cowboy tight end] Martellus Bennett," Fuller said. He also met with coach Mike Sherman about the decision during pre-bowl practices in College Station. "It's good to get a bunch of different views. Nobody's going to just tell you anything wrong. Von told me either way, it's a good decision."
The difference between Miller and Fuller is Texas A&M played in the Independence Bowl last year on Dec. 28, a full two-plus weeks before the deadline for underclassmen to declare for the draft.
Fuller's junior season won't be over until Friday, just eight days before the deadline.
"He got to go through the bowl game and have a lot more time to think about it," Fuller said. "This year, you kind of have to take time before and take some time after."
He hasn't received his grade back from the draft advisory committee, but the most serious conversations about his future will begin once his paperwork is returned. Every player's situation is different, but Fuller says the typical concerns are influencing his decision.
"Injuries come into play. This is the best [NFL Draft] receiving classes in decades. That comes into play. At least I feel like it's one of the best receiving classes," he said.
And there's that other big buzzword: lockout. Players and owners are gridlocked over a new collective bargaining agreement to replace the old one, which runs out in March.
"I've heard it's going to happen, I've heard it's not going to happen," Fuller said.
Lockout or no lockout, there will be a draft. But there might not be an NFL season for all of 2011. Would-be rookies could be better off refining their skills on the field with the risk of career-altering injury, rather than checking the daily news for updates on when their careers will begin.
"You kind of go back and forth and think about it and it's just really going to be one of those situations where you'll have to sit by yourself," Fuller said. "Even my dad said, 'The decision is on you.'"
Jeff Fuller, Sr. played six seasons with the San Francisco 49ers in the 1980s before a spinal injury ended his career.
"This whole week has been about A&M and all about the Cotton Bowl," Fuller said. "That's the only thing on my mind this week, but I'm not going to lie, it's in the back of my head. But this is my main focus."
January, 21, 2010
1/21/10
4:17
PM ET
By
Tim Griffin
| ESPN.com
At the start of the decade, Texas A&M was at the top of the Big 12 South Division.
The Aggies claimed the Big 12 championship in 1998 after qualifying for the title game in 1997. A&M capped off an emotion-packed 1999 season by beating eventual Big 12 South champion Texas in the "Bonfire Game" to end the regular season.
But the program regressed as Oklahoma's Bob Stoops and Texas' Mack Brown built their programs throughout the aughts. R.C. Slocum was let go after the 2002 season and Dennis Franchione was similarly jettisoned after the 2007 season.
Mike Sherman is in place now. The program faces a huge battle to get itself back to the level where the Aggies were at only 10 seasons ago.
Here's a look at some of the top players and moments of the Aggies' last decade.
OFFENSE
QB:
Jerrod Johnson
RB: Courtney Lewis
RB: Jorvorskie Lane
WR: Robert Ferguson
WR: Terrence Murphy
TE: Martellus Bennett
OL: Cody Wallace
OL: Taylor Whitley
OL: Lee Grimes
OL: Kirk Elder
C: Seth McKinney
DEFENSE
DL: Mike Montgomery
DL: Rocky Bernard
DL: Ty Warren
DL: Von Miller
LB: Jason Glenn
LB: Justin Warren
LB: Mark Dodge
DB: Sammy Davis
DB: Melvin Bullitt
DB: Terrence Kiel
DB: Jaxson Appel
P: Justin Brantly
K: Todd Pegram
Ret:
Cyrus Gray
Offensive player of the decade:
QB Jerrod Johnson. It was a tough choice over quarterbacks like Stephen McGee and Reggie McNeal who played for the Aggies earlier in their careers. But Johnson's abilities to develop the most potent passing offense in A&M history -- setting school records for touchdown passes, total offense and passing yards in 2009 -- make him the choice. And he could be poised for even more in his senior season.
Defensive player of the decade:
DE/LB Von Miller. The Aggies' proud reputation for tough defenses became forgotten over the decade as spread passing offenses proliferated across the conference. But Miller was decidedly a throwback in a 2009 season where he led the nation with 17 sacks and became the most dominant A&M defensive player since Dat Nguyen. Miller thrived in the hybrid "Jack" position created by former defensive coordinator Joe Kines. He wisely chose to return to college for his senior season next year where he can continue with a new coordinator in place.
Coach of the decade:
R.C. Slocum. It was difficult for A&M fans to see the demise of Slocum, perhaps the most popular coach in school history. The Aggies never had a losing record under Slocum and made bowl trips in two of the three seasons he coached them this decade, including the 2001 Galleryfurniture.com Bowl that remains their most recent bowl victory.
Moment of the decade:
Stephen McGee's dramatic game-winning drive in a 2006 victory at Texas. Despite vomiting in the huddle throughout the game-winning drive, McGee directed the Aggies on a 16-play, 88-yard drive capped by his own 8-yard touchdown run en route to a 12-7 victory over the Longhorns in Austin. McGee converted five third-down plays on the drive as A&M snapped a six-game losing streak to their most bitter rivals.
November, 24, 2009
11/24/09
5:12
PM ET
By
Tim Griffin
| ESPN.com
With his team tucked tight against its own goal line,
Christine Michael
just wanted to do what he could to get Texas A&M out of a daunting hole.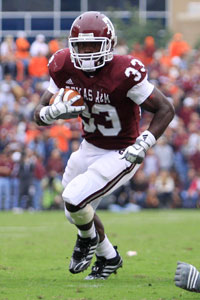 Thomas Campbell/US PresswireTexas A&M tailback Christine Michael leads all Big 12 freshmen with 684 rushing yards.
But after coming back to the huddle, tight end
Jamie McCoy
told the freshman tailback to be ready to sprint to the other end zone, providing he could deliver a clearing block against a Baylor defense bunched to stop an inside run.
"Jamie told me that he would get the block and I should be ready to run the distance," Michael said. "And that's exactly what he did. He told me he would get the first guy who came in and I should be able to outrun the rest of the defense."
Michael's record-setting 97-yard touchdown run against the Bears came with some surprising physical exertion. If he hadn't been glancing up at Kyle Field scoreboard, he never would have known that Baylor safety
Jeremy Williams
was closing on him at about the Baylor 15-yard line as he approached the end zone.
"Honestly, it's kind of hard running 97 yards," Michael said. "I got tired at the end and almost started slowing up until I looked up at the Jumbotron and saw the guy coming up. I saw that and knew I would have to finish."
The touchdown run sparked the Aggies' 38-3 victory which boosted them into a bowl game for the first time since 2007. It also catapulted them into the annual rivalry game against Thursday night with some unbridled confidence in their hopes of notching their third victory in the last four seasons against the No. 3 Longhorns.
Michael has helped spark an emerging running game that has helped the Aggies develop one of the strongest offenses in the nation.
The Aggies have scored at least 31 points in every home game this season and will have confidence they can dent the Longhorns' No. 1 ranked rushing defense.
"It all comes down to one game," Michael said. "We can win if we play good football. We're going to give them our best and see what it leads us to. We're not going to be intimidated by them, not at all."
Earlier in the season, Texas A&M defensive end/linebacker Von Miller had a unique description of Michael's running style.
"He's like a 210-pound rabbit on steroids, with the speed of a cheetah," Miller told reporters. "He's like a hybrid, mutant running back."
Michael said he took Miller's unique description as a compliment.
"I felt it was kind of funny," said Michael, who was A&M's first consensus five-star recruit since Martellus Bennett. "I like to make sure I never stop moving and keep going forward. I want to do what I can to finish runs off."
Some of that movement hasn't always enthralled A&M coach Mike Sherman, who has been concerned about Michael's habit of making spin moves. One red-zone fumble killed a scoring drive against Baylor.
But he's growing more comfortable with the play of Michael, who leads all Big 12 freshmen with 684 rushing yards and ranks seventh nationally among freshmen with an average of 68.4 rushing yards per game. He's topped 100 yards in two of the Aggies' last five games.
Some of his growth has coincided with the recent development of A&M's offensive line. The Aggies produced a season-best 375 rushing yards against Baylor, helping boost them to No. 25 nationally in rushing.
The emergence of the running game has helped A&M galvanize one of the nation's most balanced and productive offensive attacks. The Aggies are the only team nationally ranking in the top 25 in scoring, rushing, passing and total offense.
"Those guys have blocked and worked hard," Michael said. "They give us their best blocks possible. I feel they have come along like the rest of us. We've had our ups and downs and we've tried to bounce back and do what we can to finish the season strongly."
The 5-foot-11, 206-pound Michael is one of the most talented athletes in A&M's program. He sometimes shows that by doing standing back flips -- in full football gear -- during mundane practices.
"That's just me being hyper," Michael said. "I'm always moving and always playful in what I do. It's something I've done for a long time."
And if the Aggies pull off a stunning upset, Michael has promised more gymnastics later this week.
"I'll do a bunch of those if we win on Thursday night," Michael said.
November, 27, 2008
11/27/08
7:16
PM ET
By
Tim Griffin
| ESPN.com
Posted by ESPN.com's Tim Griffin
AUSTIN, Texas -- Mack Brown remembers sitting in an oversized couch at his parents' home in Cookeville, Tenn., watching the Texas-Texas A&M game as he grew up.
"I always thought it was neat that the way that the football attention of the country was focused on one state," Brown said.
For the first time since 1993, Texas-Texas A&M has returned to its traditional Thanksgiving night kickoff time.
Tonight's game has large BCS ramifications for the Longhorns. Texas needs an impressive win in order to resonate with the nation's pollsters.
Brown has tried to minimize the meaning of the BCS standings after briefly discussing them with the team when they were released earlier this week.
"I read them to the team, answered any questions and after that decided that we wouldn't discuss it any more because we have a live audience of all the voters Thursday night to see," Brown said. "Everybody that votes in college football will be watching Thursday, period. So why discuss it, why talk about it?

"What we can do about it is play well and win the game. If we don't, then it's not a discussion. So we're not discussing it anymore for the rest of the week."
Here are few items that will be important to watch tonight.
A&M's pass protection. The Aggies have struggled all season long and will face a huge challenge tonight. The Longhorns lead the nation in sacks and have Brian Orakpo back at what he calls "100 percent health." Not a good combination for a young offensive line that is struggling with injuries. tsarting offensive tackle Travis Schneider is out with a concussion and his backup Robbie Frost is also out with a concussion and won't play. Guard Lee Grimes moves to the starting position at right tackle and backup center Danny Baker moves into Grimes' starting slot.
Will Texas dominate in the trenches? The Longhorns were consistently muscled off the point of attack in upset losses to the Aggies in each of the last two seasons. It's led to a change of attitude for the Longhorns. They have talked about sending a statement to the Aggies, who aren't much like those previous teams with much youth in their offensive and defensive lines.
Stephen McGee's final game. The Aggies' senior backup quarterback will remain one of the heroes in the annals of his school for directing those upset victories, especially a gutsy 16-play game-winning drive in Austin two seasons ago while he was vomiting from illness and fatigue. McGee isn't playing much after a shoulder injury and the emergence of sophomore quarterback Jerrod Johnson. But it will be interesting to see if Coach Mike Sherman inserts him in the lineup to give his team a lift.
Colt McCoy on the big stage. The Texas quarterback has a chance to sway a lot of Heisman voters with a big performance against an Aggie defense that ranks 100th or worse in every major team defensive statistical category.
Can the Aggies pressure McCoy? If we are to believe former A&M tight end Martellus Bennett, who called out "Cart McCoy" from the safety of the Dallas Cowboys' locker room earlier this week, it should be a snap. Maybe he's just trying to light a fire under an underachieving group that is tied for last in sacks with only 13 this season. Whatever, if the Aggies don't pressure McCoy, their secondary could be exposed. Often.
Will Muschamp's first game as coach-in-waiting. Muschamp was hired as the Longhorns' designated successor to Mack Brown nine days ago. It will be interesting to see if he's concocted any different schemes with his defense or reacts any differently than when he was just a defensive coordiantor. I'm guessing he'll be just as animated and bombastic along the sidelines with his new job in hand as he ever was before.
November, 26, 2008
11/26/08
3:38
PM ET
By
Tim Griffin
| ESPN.com
Posted by ESPN.com's Tim Griffin
Dallas Cowboys tight end Martellus Bennett, a former Texas A&M player whose brother, Michael, still plays on the Aggies' team, hasn't lost the touch.

Bennett
Martellus Bennett is one of my favorite quotes of all time. His brother isn't far behind. But Bennett is stirring the pot about Thursday's Texas-Texas A&M game and he isn't even in school anymore.
Bennett laid down some bold words to the Dallas Morning News' Brian Davis in the Cowboys' locker room after their game against San Francisco last week about the Longhorns and quarterback Colt McCoy.
It only continued the trash talking that Michael Bennett started the previous week.
Martellus Bennett told Davis and other reporters that he's predicting a 27-24 upset victory for the Aggies in Thursday's game over an opponent he referred to as "yellow bellies."
"We're going to beat Texas, though," Bennett said. "It's going to be an upset. We always beat Texas. It wouldn't be an upset. Well, maybe this year it would be. But we expect to beat Texas, the yellow bellies."
And he also referred to the 2006 game when his brother knocked out Texas quarterback Colt McCoy with a devastating shot.
"My brother [Michael Bennett] knocked McCoy out a while back and we call him Cart McCoy now."
Texas coach Mack Brown said he hadn't hear about Bennett's comments, but expected nothing less from the loquacious rookie tight end.
"It would've surprised me if Martellus didn't have comments this week," Brown said.
Bennett had some more comments Wednesday to the News about why he hasn't made any bets with Dallas teammates and former Texas players Roy Williams and Leonard Davis about Thursday's game.
"Roy doesn't speak English," Bennett told the News. "He's like a Martian or something. He's like a mime. Leonard? He speaks English, but he talks slow."

If his Dallas teammates don't want to muzzle Bennett, maybe his old teammates still playing at A&M might want to. Nothing like disparaging a team and then not playing against them.
September, 18, 2008
9/18/08
9:42
AM ET
By
Tim Griffin
| ESPN.com
Posted by ESPN.com's Tim Griffin
It would seem that being relegated to a pay-per-view telecast would be college football's version of playing in Siberia. Less attention compared to national games on the major networks seemingly would make this an unattractive solution.
But excitement about the arrival of new Nebraska coach Bo Pelini is helping to disprove that line of thinking. The Omaha World-Herald reported that Nebraska notched impressive pay-per-view numbers in its first three telecasts, helping the school make more money than if those games had been carried by a national television network.
School officials estimate that Nebraska's first three games have generated more than $1 million in their telecasts produced in cooperation with Fox Sports Network.
"FSN has also done games with Florida, Texas, Oklahoma, and the Nebraska games we have done have performed well in comparison with those schools," Geoff Goldman, FSN Midwest's media relations manager, told the Lincoln Journal Star.
So maybe there is a method there. Hire a vibrant new coach and play a bunch of nobodies from schools outside BCS conferences. And then sit back and rake in the cash.
I wish my budgeting was that simple.
Here are some of the other stories around the conference generating some hot sports opinion this morning.
August, 18, 2008
8/18/08
12:25
PM ET
By
Tim Griffin
| ESPN.com
Posted by ESPN.com's Tim Griffin
| | |
| --- | --- |
| | |
| | AP Photo/Tony Gutierrez |
| | Former Texas A&M tight end Martellus Bennett (left) is adjusting to life in the NFL on the HBO Series 'Hard Knocks'. |
I'm not much for reality series, but the HBO documentary "Hard Knocks" about the Dallas Cowboys' training camp has been really enjoyable to me so far.
The reason why is because the show has prominently featured former Texas A&M tight end Martellus Bennett, a rookie who I always felt one of the most supremely talented players to ever come through the Big 12. I always felt like Bennett just needed to grow up to fully realize his talents.
That trend has turned out once he started his NFL career. His Dallas Cowboys coaches have been grumbling about his lack of instruction he received in college and have wondered if his career might be salvaged. Particularly telling has been Bennett's lack of instruction in basic pass-receiving skills.
While I think that assessment is a little premature -- how many 6-foot-6, 265-pound tight ends can you find who are as fast and can jump as high as Bennett? -- I still wonder what might have happened if Bennett had stayed in college one more season.
Something tells me that Bennett could have made a lot more money in an improved draft status if he had stayed in college for one more season. New A&M coach Mike Sherman, a former NFL head coach, would have helped Bennett learn more of what he needed to make himself better prepared for the next level.
In Sherman's ball-control offense, I could envision Bennett catching 55-60 passes and growing up a little more.
And if that had happened, I don't think we'd see Bennett sulking through his meetings with Cowboys tight ends coach John Garrett like he was is in the last "Hard Knocks" episode that I saw.