November, 10, 2012
11/10/12
7:49
PM ET


FORT WORTH, Texas -- TCU quarterback
Trevone Boykin
left Saturday's game against visiting Kansas State late in the first quarter and headed into the locker room shortly after with an apparent injury to his throwing arm.
Boykin threw an incomplete pass to tight end
Griffin Gilbert
and immediately trotted to the sideline while holding his arm.
He was replaced by
Matt Brown
. TCU missed a field goal later on the drive and trails No. 2 Kansas State,
10-0
, early in the second quarter.
Boykin was 3-of-6 passing for 24 yards and rushed four times for 21 before leaving the game.
UPDATE (8:11 p.m. ET):
Boykin returned to the game with just under five minutes to play in the second quarter.
October, 27, 2012
10/27/12
7:29
PM ET
TCU won the first quarter, Oklahoma State won the game.
As a result, the Cowboys control their own destiny in the Big 12 title race.


OSU defeated TCU,
36-14
, at Boone Pickens Stadium on Saturday, scoring 36 unanswered points after facing a two-touchdown deficit in the first quarter. At 3-1 in Big 12 play, OSU joins in-state rival Oklahoma as the lone Big 12 squads with one loss and fingers crossed hoping for a Kansas State loss. The Cowboys will play both teams in their final five games and would take the Big title if they win out.
OSU's win sets up a key Big 12 matchup between the Cowboys and Wildcats in Manhattan, Kan., next Saturday. Unlike the Sooners, OSU doesn't have to hope for a K-State loss -- it can knock the Cats from the ranks of the unbeaten in their head-to-head matchup. OSU also travels to Norman, Okla., for Bedlam on Nov. 24. Thus, Saturday's victory combines with Texas Tech's 55-24 loss to KSU to put OSU in position to control its fate.
Cowboys quarterback
Wes Lunt
was shaky early in his return from injury, throwing a interception for a touchdown to TCU safety
Elisha Olabode
on OSU's second possession. Lunt, a true freshman, played in his first game since injuring his knee against Louisiana-Lafayette on Sept. 15.
When Lunt finally found his groove in the second half, the Cowboys began to pull away. Lunt seemed to regain confidence after sitting out for over a month -- an encouraging development for coach Mike Gundy's team.
In the first half, OSU had three red zone opportunities and settled for three field goals as Lunt searched for his rhythm. In the second half, the Cowboys scored on five of their six possessions, including three touchdowns before running the clock out on their final drive.
The OSU defense was stellar in the victory, allowing one touchdown to a TCU squad that had scored 53 points in a triple-overtime loss to Texas Tech last weekend. The Cowboys allowed 344 total yards -- 4.8 yards per play -- and were particularly stout on third down, allowing the Horned Frogs to convert just 2 of 14. The Cowboys will need to continue to play defense at that level if they hope to win their second consecutive Big 12 championship.
The loss dropped TCU below .500 in the Big 12 (2-3) with West Virginia, Kansas State, Texas and Oklahoma remaining on its schedule.
Yikes.
To make matters worse for the Horned Frogs, quarterback
Trevone Boykin
went down with 1:26 left in the game with an left knee injury and was replaced by
Matt Brown
on their final drive. So TCU could be looking at the roughest stretch of its conference schedule with its third different starting quarterback.
Welcome to the Big 12.
October, 9, 2012
10/09/12
3:00
PM ET
Gary Patterson fashions himself as a man who built his program on a foundation of doing things "the right way." After TCU quarterback
Casey Pachall
's failed drug test in February led to no missed game time, plenty outside the program started wondering if that foundation had a few cracks.
When Pachall committed what Patterson called "strike two" last week when he was arrested on suspicion of driving while intoxicated, that foundation naturally faced yet another examination.
Patterson met with Pachall and his parents, talked to people in his profession and met with his bosses, athletic director Chris Del Conte and chancellor Victor Boschini, Jr. Patterson mentioned a barrage of emails as well from plenty of concerned people from a number of perspectives.
[+] Enlarge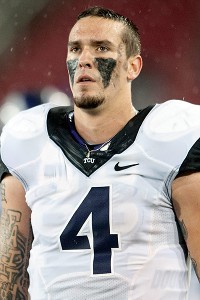 Cooper Neill/Getty ImagesTCU quarterback Casey Pachall plans to enter an inpatient facility and withdraw from school.
How long should he suspend the best player on his team? Patterson decided: "Who cares about a suspension?"
"I don't think one game, three games would have made a difference," he said. "You try to change people's lives. That's what this is all about."
Patterson suggested
Pachall enter a treatment facility
, and Pachall elected to take that option. Patterson, though, insisted on two stipulations.
First, it had to be up to Casey.
"I know enough about this to know he has to make this decision," Patterson said.
Second, he had to make sure Casey knew the door was open to return.
"You have to have hope," Patterson said. "He can come back here in January if he gets clean. Those people have to tell me that he's changed."
As for Patterson? More than a few people unfamiliar with the man rolled their eyes when he said in a release on Thursday that his job was to "win games, educate our kids and help them with their lives."
Who's rolling their eyes now? Is there any doubt that Patterson's doing for Pachall what he'd do for any of his own three sons?
Patterson knows his job is to win games, but that's not his only job. Not as a college coach.
"All you who think it's all about wins and losses? Wrong," he said.
Make no mistake: Pachall was TCU's best player this season. He looked the part last year and proved it in the first four games of this season. Pachall leaves the team and took with him whatever chance TCU had to win a Big 12 title in the school's first year in the league.
He might have taken even more. Patterson was asked if the move could cost TCU a bowl bid.
"Maybe," Patterson said. "But I didn't think about that."
For now, his next concern is moving forward with redshirt freshman
Trevone Boykin
and sophomore
Matt Brown
. Without Pachall, his job of winning games got a lot tougher in a season that was already among the toughest he'd ever faced in more than a decade in Fort Worth.
Tuesday, though, Patterson proved he takes his job of helping his players with their lives seriously. The easy thing, Patterson said, would have been dropping the hammer and cutting him out of the program entirely. It would have appeased skeptics and sent a message to his team.
But would it have helped Pachall? Maybe, maybe not. The decision Patterson made, though? It's clear to Pachall and the people around him that sending him to a place he can get professional help is what's best. It's up to Pachall to make it happen.
Patterson did his part, even if bringing a QB back into the fold with a past as troubled as Pachall's hurts the perception of his program next year.
The fact is, Pachall needs it. Getting help won't be easy, but if imagining what it'll be like to get back on the field this time next year pushes Pachall through a difficult day and gets him closer to being a better, healthier man, Patterson will have done his job.
That's what it's all about.
October, 9, 2012
10/09/12
9:00
AM ET
When was the last time a player worked as a third-string running back in practice during the week, and on Saturday took the field as a team's starting quarterback?
Before Saturday, it had to have been awhile. TCU's
Trevone Boykin
made both unorthodox moves out of necessity, but couldn't lead TCU to a win over Iowa State in the Frogs' first Big 12 home game.
[+] Enlarge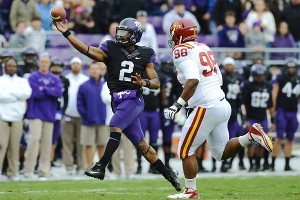 Matthew Emmons/US PresswireTrevone Boykin got his first start as the Horned Frogs' quarterback on Saturday against Iowa State.
Boykin won the TCU backup quarterback job ahead of
Matt Brown
, but the 6-foot-2, 215-pound redshirt freshman from Mesquite, Texas, worked at running back with
Waymon James
out for the season with a knee injury and
Matthew Tucker
a game-time decision with an ankle injury.
On Thursday morning, TCU coach Gary Patterson dealt with the news that his starting quarterback,
Casey Pachall
, had been arrested on suspicion of DWI. Pachall was suspended indefinitely, and all of a sudden, it was Boykin's time.
For one practice, he was the team's starting quarterback. After Thursday, it was time to go head-to-head against the Big 12's No. 3 scoring defense.
"We wish we had a little bit more for [time for] it. The biggest thing is he doesn't have the experience to do it," Patterson said. "Trevone runs better, but just needs the experience of seeing the field better."
TCU's offense didn't change much with Boykin in place instead of Pachall, but to make matters worse, Tucker couldn't play to provide Boykin a safety valve. When James went down with a knee injury, Patterson said he had one back he trusted. Now, that one back was down, and only freshman
B.J. Catalon
and senior
Aundre Dean
were left.
Still, TCU managed 455 yards of offense, more than any offense against Iowa State all season.
"You're talking about playing your first Big 12 [game] and I consider Iowa State a pretty good defense," Patterson said. "The key is you can't throw interceptions, especially not for touchdowns, and you can't turn the ball over. He's got to do a better job of managing the game."
Will Boykin get another chance this week against Baylor, which has had two weeks to prepare for the Frogs? Patterson says he'll address Pachall's status at his Tuesday media luncheon, after meeting with the school's AD and chancellor on Sunday.
Boykin was responsible for three interceptions, and Catalon coughed up a pair of fumbles, including one inside Iowa State's 5-yard line.
Boykin's last interception was returned for a score, but his speediness provides a new facet to TCU's offense that Pachall couldn't.
"We're excited about it; he gave us some options we didn't have before," Patterson said. "We'll move forward with that."
May, 16, 2012
5/16/12
2:30
PM ET
We're moving on in our series on the Big 12 Blog pegging the single player each team in the Big 12 can't afford to lose. He's also the player that will be most responsible for the team's ultimate success.
Next up, the TCU Horned Frogs. Find
more indispensable players here.
Most indispensable player(s): QB Casey Pachall

2011 stats: 228-of-343 (66.5 percent) for 2,921 yards, 25 TD, 7 INT. 51 yards rushing, 2 TD
Why TCU can't afford to lose him:
Pachall didn't put up huge stats as a first-year starter and replacement for Andy Dalton, but he was really good and had three backs on his team that each had at least 100 carries. That limits his attempts. If TCU had been in the Big 12 last season, Pachall would have been seventh in the Big 12 in attempts. TCU's balance last season was astounding. He would have been fourth in completion percentage and second in yards per attempt.
TCU's backs are deep. Losing one wouldn't be a problem. It has three solid receivers and another in
LaDarius Brown
who could be a big player in the offense. That eliminates them from "most indispensable." The defense should be OK, but its top talent,
Tanner Brock
, is already gone.
That leaves Pachall, who might have been more valuable than all of them anyway. Sophomore
Matt Brown
and
Trevone Boykin
have almost no experience, and Pachall has showed lots of upside. His talent doesn't show up in the stat sheet, but it makes defenses do a whole lot more than respect the pass. Without Pachall, TCU's rushing attack is nowhere near as effective. TCU won't be rolling over opponents in the Big 12, and Pachall will be forced to throw the ball a whole lot more in high-scoring games and no off weeks like TCU encountered in the Mountain West. Against Boise State, Pachall proved he's capable of big numbers, throwing for 473 yards and five touchdowns to just one pick.
He may need more of those kinds of days for TCU to succeed in 2012. And for TCU to succeed in 2012, there's no doubt they need Pachall more than any other player on the roster.
January, 26, 2010
1/26/10
6:27
PM ET
By
Tim Griffin
| ESPN.com
Some people like to have cocktails before their dinner.
Me, I greatly prefer a nightly report from Tom Luginbill, the esteemed national recruiting director for ESPN's Scouts Inc.
Here are some of the latest Big 12-related tidbits from Luginbill this afternoon.
And for the latest recruiting information, always consider ESPN.com's
On the Trail
, which is one of the best highlights of our Insider benefits. It's something I check on an almost hourly basis this time of year.
G Javius Townsend
Dallas, TX
James Madison H.S.
Scouts Grade:
75
Position Rank:
67
Three-star Javius Townsend of Madison (Dallas, Texas) has accepted a Class of 2010 offer from Oklahoma State after decommitting from Texas Tech. The 6-foot-2, 300-pound guard prospect also considered Kansas.
Townsend told the Lubbock Avalanche-Journal the Red Raiders' recent coaching change impacted his decision.
"I had a special relationship with every one of those coaches - Coach (Matt) Moore, Coach (Brian) Mitchell and (former Texas Tech) Coach (Mike) Leach," Townsend said. "It wouldn't be the same as it would if they were all still there."
Among his other offers were Minnesota, Buffalo, Colorado State, Idaho, Louisiana Tech, New Mexico, New Mexico State, North Texas, San Diego State, SMU, Tulsa, UTEP and Western Kentucky.
QB Christian LeMay
Mint Hill, NC
Butler H.S.
Top junior quarterback Christian LeMay (Mint Hill, N.C./Butler) will graduate early and is now considering 10 schools from his long list of suitors, ESPN's Brian Stumpf reports.
Among his finalists is Oklahoma. Florida, Alabama, Clemson, Georgia, Miami (Fla.), Mississippi State, Florida State, Virginia Tech and North Carolina also will battle for the ESPNU 150 Watch List prospect.
Additionally, the 6-foot-2, 187-pound talent hopes to narrow the field down to five by May and three by July and eventually name a "leader" instead of making a verbal commitment. LeMay will enroll at his school of choice January 2011.
Maryland, N.C. State, Oregon, Wake Forest, West Virginia, Illinois, Tennessee and Michigan have also offered.
As a junior, he completed 170 of 248 attempts (68.5-percent) for 3,396 yards, 44 touchdowns and just two interceptions, leading Butler to a 15-0 state title.
DT Dominique Jones
Midwest City, OK
Midwest City H.S.
Scouts Grade:
78
Position Rank:
47
Three-star defensive tackle Dominique Jones has decided to accept a scholarship offer from Baylor.
The 6-foot-2, 280-pound Midwest City (Oklahoma City, Okla.) product, who recently parted ways with Arizona, has pledged to the Bears for the Class of 2010.
Jones had committed to the Wildcats in December, but was later informed his position scholarship had actually been filled.
Jones also considered Kansas State. He also has offers from Kansas, Missouri, Louisville, Tulsa and Colorado State.
WR Chris Hawkins
Channelview, TX
Channelview H.S.
Scouts Grade:
78
Position Rank:
49
Three-star wide receiver Chris Hawkins of Channelview, Texas, has pledged to TCU for the Class of 2010.
The 6-foot-1, 165-pound standout had originally picked Minnesota of the Big Ten.
Hawkins, who had more than 20 other offers, was also sought by Arizona, Arizona State, Arkansas, California, Colorado, Houston, Kansas, Kansas State, Kentucky, Nebraska, Tulsa and Utah, among others.
As a senior, Hawkins had 27 receptions for 656 yards (24.3 average) and 10 touchdowns.
DE Beau Yap
Pearl City, HI
Kamehameha Schools
Scouts Grade:
75
Position Rank:
116
Top Hawaii defensive lineman Beau Yap has picked Baylor.
Yap, a 6-foot-1, 230-pound defensive end from Kamehameha Schools (Honolulu, Hawaii), had also been offered by Hawaii.
ATH Reggie Wilkins
Shelby, NC
Crest H.S.
Scouts Grade:
77
Position Rank:
72
Three-star Reggie Wilkins, a 5-foot-9, 165-pound wide receiver/cornerback prospect from Crest (Shelby, N.C.), has changed his Class of 2010 commitment from North Carolina State back to North Carolina.
He originally chose the Heels and then pledged to the Wolfpack.
Wilkins also holds scholarship offers from Clemson, Colorado, East Carolina, Louisville and Marshall.
WR Jazz King
Duncan, SC
James Byrnes H.S.
Scouts Grade:
77
Position Rank:
80
Marshall head coach Doc Holliday has landed Jazz King, a three-star 5-foot-11, 185-pound wide receiver, for the class of 2010.
King, who starred at Byrnes High School (Duncan, S.C.), chose the Herd over offers from North Carolina, Kansas, Mississippi, Illinois, Tulane and Central Florida, among others.
"I just liked the whole coaching staff," King told the Daily Mail. "They seemed like they know what they are doing. I liked their graduation rate for football players. I loved the atmosphere and how everybody knows everybody, just like down here at Byrnes."
As a senior, King had 29 receptions for 543 yards and nine touchdowns.
QB Matt Brown
Allen, TX
Allen H.S.
Scouts Grade:
77
Position Rank:
44
Three-star quarterback Matt Brown, a 6-foot-1, 175-pound quarterback from Allen, Texas, has committed to sign with TCU after withdrawing his pledge to Arizona.
Brown told ESPN affiliate Web site WildcatSportsReport.com, ""Odds of going to TCU are at 90 to 10 right now. I just think TCU is better for me and my family."
Other programs such as Nebraska, Kansas, Kansas State, Oregon, Iowa State, Iowa and Colorado were also recruiting Brown.
ATH Dwight Macon
Steubenville, OH
Steubenville H.S.
Scouts Grade:
70
Position Rank:
256
Athlete/quarterback Dwight Macon of Steubenville, Ohio, has committed to sign with Toledo's Class of 2010 after withdrawing his pledge to Central Michigan.
The two-star 6-foot, 190-pound prospect was also holding scholarship offers from Kansas, Kent State, Bowling Green, Ball State and Wyoming.
DE Corey Jones
Memphis, TN
Mitchell H.S.
Scouts Grade:
40
Local defensive lineman Corey Jones of Mitchell High School in Memphis picked the Memphis Tigers
The 6-foot-4, 225-pound defensive end was once set for Kansas, but had his offer rescinded.
Wake Forest and Louisiana Tech have also offered.
WR Joshua Ford
Washington, DC
Calvin Coolidge H.S.
Scouts Grade:
76
Position Rank:
130
Wide receiver Joshua Ford has dropped an early scholarship commitment for New Mexico for Temple.
The 6-foot-3, 190-pound Ford also was sought by Kansas and Utah. He had 23 receptions for 494 yards and nine touchdowns as a senior.
ATH Antonio Graves
Texarkana, TX
Pleasant Grove High
Scouts Grade:
40
Athlete Antonio Graves has decided on TCU.
Graves, who decommitted from Louisiana Tech, also had an offer from Baylor.
Although he played quarterback as a high schooler, Graves was recruited as an athlete by TCU.