August, 10, 2012
8/10/12
2:30
PM ET
AUSTIN, Texas -- At the tail end of Texas' season, with the kicking game about to be shambles, Mack Brown put in a call for help.
"We actually called the soccer club … and said, 'Got anybody that can kick and has a great leg?'" Brown said.
That's how
Michael Davidson
, who had never kicked a field goal in a game, but spent the entire Christmas break at Houston's Strake Jesuit High School teaching himself the few things he had watched on YouTube, tried out and was put on the roster after spring practice.
[+] Enlarge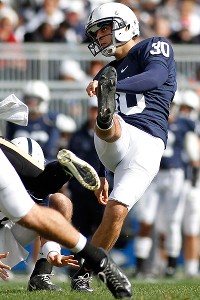 Justin K. Aller/Getty ImagesPenn State transfer Anthony Fera brings the most experience to the Longhorns' roster of kickers.
"He's a guy that's got a great leg and we'll watch him," Brown said.
Davidson is not the only guy Texas will watch this fall. There are eight kickers and punters in Texas' fall camp. Three of those are scholarship players --
Anthony Fera
, the transfer from Penn State, incoming freshman
Nick Jordan
and sophomore Will Russ.
Clearly, Justin Tucker's value just went through the roof. The last time one player had to be replaced by so many others Herschel Walker and the Minnesota Vikings were involved.
But Tucker was a guy who did it all for Texas. And he handled it well. Just ask Texas A&M.
In fact, Texas has always had a guy who could handle the kicking duties. In Brown's 14 years the Longhorns are 8-for-8 on game-winning field goals. Net punting has been more hit or miss with a high of No. 3 in 2007 and a low of No. 93 in 2009. Most of Brown's years, Texas has been middling at best.
With the 2012 season at least appearing to be one where Texas could be a lower-scoring, grind-it-out, field-position offense, kicking and punting could play a large role. Larger than most even expect.
"We set a lot of goals for preseason camp," Brown said. "What we do is, No. 1, would be to try to have the best kicking game in America."
OK, maybe there could be more pressing concerns, but at least according to Brown, the team's first goal is the kicking game.
Guess he saw the red zone stats last year, too. (Worst ever touchdown percentage by any team in Big 12 history.)
Since that emergency call was placed to the Texas club soccer team, a few other calls have come into Texas. The first was from
Alex King
, a punter previously at Duke. He needed a place to go to graduate school and a team on which to punt. Texas took a look at his 42-yard average and said there was a walk-on post waiting for him.
The next call came from Fera. The Penn State transfer wanted to be back in Texas, and closer to his mom who has MS. Texas needed a veteran kicker -- Fera was 14-of-17 for the Nittany Lions last year -- and welcomed yet another kicker.
King and Fera, like the other specialists, were only guaranteed a roster spot, not a starting one.
"We told Anthony that when he came to visit and we told Alex that," Brown said.
What Brown told himself was it might be nice to have a veteran at least competing for the kicking and punting spots. Texas had used a true freshman before -- Dusty Mangum was 16-of-23 on field goals in 2001 -- but typically a team does not relish placing a young player in such pressure situations.
"I like the fact that we are not putting so much pressure on young, talented kickers and punters and we will at least have experience as an option," Brown said. "I think that those two older guys can really help our young ones, that are talented, come on, too. So we are really excited about both those additions, and both of them just kind of fell in our lap and we didn't expect or pursue either one of them."
But now, with all the players in Texas' lap, the Longhorns can set about pursuing Brown's goal of being the top kicking team in the country.
August, 10, 2012
8/10/12
9:00
AM ET
Camp is open in Austin. Before we get too deep in sweltering hot practices, I'll offer up a quick preview of what you need to know heading into the season.
See
more fall camp previews
.
Next up: Texas.
Media's predicted finish:
Third.

Biggest storyline:
Texas was a lot better last year than it was in 2010's five-win season, but how much better will Texas be in 2012? Eight wins won't cut it with the expectations facing this year's team. An offense full of freshmen is now an offense full of sophomores, but the Longhorns are still trying to climb back up the mountain after a Big 12 title in 2009 and two forgettable seasons since. Is this the year the Horns reach the summit once again?
Biggest question mark: Quarterback.
No question about this one. For now, coach Mack Brown still says the position isn't settled between
David Ash
and
Case McCoy
, but Ash has reportedly received nearly all of the first-team reps since a strong performance in the win over California in the Holiday Bowl. Ash has the bigger upside and more impressive physical attributes, but he's got to start making good on that upside. He'll have plenty of help around him with a strong backfield and two good, young receivers in
Jaxon Shipley
and
Mike Davis
.
Who needs to step up: The linebackers.
Junior
Jordan Hicks
is the leader of the group, but there's a huge leadership void there with the loss of Emmanuel Acho and Keenan Robinson. That leadership has shifted to guys like
Alex Okafor
,
Kenny Vaccaro
and
Jackson Jeffcoat
.
Steve Edmond
is a big presence and a promising player at 255 pounds in the middle of the defense, and former blue-chip recruit
Demarco Cobbs
is ready to take over at the other outside linebacker spot. He missed six games last season with a broken arm, but he's got absurd speed for his position.
Fun fact:
Texas has exactly
12 players on its roster
who are not from Texas. Who came from furthest away? How about freshman kicker
Michael Davidson
, from Aberdeen, Scotland.
New addition:
Don't underestimate the impact of newcomer Anthony Fera, who gives Texas a huge upgrade at one of its biggest question marks: kicker. He may also get in the mix at punter, but Fera's an experienced kicker who transferred to Texas after the NCAA hammered Penn State with severe sanctions, including a four-year bowl ban. He made 14 of 17 kicks last season. Texas' defense should produce a lot of close, low-scoring games. Here's guessing Fera will have a big influence on how many of those are wins and how many are losses.
Don't forget about:
WR Mike Davis.
Shipley grabbed a lot of headlines last year, but Davis is still a big talent, too. The junior grabbed 45 passes for 609 yards and a touchdown last year. I'd be shocked if he doesn't have a major boost in production this year.
Breaking out:
RB Johnathan Gray.
Gray was the nation's top running back in the 2012 recruiting class, and joins
Malcolm Brown
and
Joe Bergeron
in a loaded backfield for the Longhorns. Still, where he fits and what kind of impact he'll have is one of the league's most fascinating developments. It's not every day the nation's Gatorade Player of the Year shows up on a Big 12 campus.