March, 11, 2013
3/11/13
2:00
PM ET
ESPN draft expert Mel Kiper has two Big 12 players -- Oklahoma's
Lane Johnson
and Texas'
Kenny Vaccaro
-- potentially going in the first round of this year's NFL draft.
Fellow expert Todd McShay has the same two as Kiper and also is optimistic about the chances of West Virginia's
Geno Smith
and
Tavon Austin
.
So let's split the difference and label the potential Big 12 first-round picks as an optimistic three, with Johnson being the only absolute first-round lock.
Those three would represent the fewest Big 12 players taken in the first round of the NFL draft since 2008. Even if four went, the Big 12 still would have the fewest since 2008.
That year, only Kansas -- yep, the Jayhawks -- managed a first-rounder,
Aqib Talib
to Tampa Bay with the 20th pick. In the four drafts that followed, the Big 12 has always put at least five players into the first round, including the first four overall picks in 2010.
How well this year's group of first-round picks will fare might not be known for years. What is known, though, is how well Big 12 players have done when they are selected in the first round. With that in mind, here is a ranking -- from worst to best -- of the Big 12's best first-round draft classes over the past 10 years.
2008
: It's all about quantity, and a little bit of quality. In 2008, the Big 12 only produced one first-round pick, Talib. He has not produced dramatic returns in the NFL. In the past two years, he has only started nine games. He was somewhat productive for Tampa Bay in the previous three seasons, starting 41 games and playing in 53. But, again, he was the only Big 12 player taken in the first round in 2008.
2006:
Vince Young
is working out at Texas' pro day at the end of March. Enough said.
Davin Joseph
and
Michael Huff
have been solid producers. But when the No. 3 overall pick is out of the league and having to work out at his alma mater's pro day, it means it was a bad year for the Big 12 in the first round of the NFL draft.
2004:
Tommie Harris
and Marcus Tubbs, the two defensive tackles taken in the first round, were productive for a few years, with Harris selected to Pro Bowls in 2005, '06 and '07 before he was beset by injuries. Tubbs lasted four seasons in the NFL. Roy Williams had 5,715 receiving yards but never lived up to the hype he generated coming out of Texas. Rashaun Woods played only two years and had seven career catches.
2005:
The lack of numbers might be what hurts this group the most.
Cedric Benson
,
Jammal Brown
,
Derrick Johnson
,
Mark Clayton
and
Fabian Washington
all proved they could play at the NFL level. Benson has had three 1,000-yard-plus seasons. Johnson is one of the top linebackers in the game. Brown remains a solid option on the offensive line. Clayton played seven NFL seasons; Washington played six. But there were only five guys selected and that isn't enough to push 2005 to the top of the list.
[+] Enlarge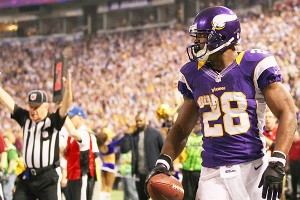 Andy Clayton King/Getty ImagesThe Big 12's 2007 draft class wasn't huge, but did feature 2012 NFL MVP Adrian Peterson.
2009:
Every Big 12 player selected in the first round in 2009 has produced and appears to be poised to continue to do so. Only
Jason Smith
didn't have a start last year. But the offensive lineman still played in all 16 games for the
New York Jets
.
Michael Crabtree
,
Brian Orakpo
,
Josh Freeman
,
Jeremy Maclin
,
Brandon Pettigrew
and
Ziggy Hood
are all starters for their respective teams.
2007:
It wasn't the biggest group, but it did include
Adrian Peterson
, so there could be some quibbling that maybe 2007 should be higher in the rankings. Throw in
Aaron Ross
and
Michael Griffin
and the debate could get even more heated.
Adam Carriker
was also taken this year. He started his career strong but suffered an injury and only played in two games last season.
2003
:
Kevin Williams
has been the standout of this group. The defensive tackle has started every game but four in his 10-year career.
Terence Newman
has been effective as a defensive back, first in Dallas and last season in Cincinnati. Tyler Brayton played at least 15 games on the defensive line in a nine-year career.
Ty Warren
played eight solid seasons for New England but tailed off last season with Denver. Andre Woolfolk lasted four seasons, mostly as a reserve.
2011:
Von Miller
, who was the highest pick among Big 12 players this year, has proved to be the top player so far.
Aldon Smith
is not far behind. Add in
Prince Amukamara
,
Phillip Taylor
, who when healthy is a starter at defensive tackle, a somewhat productive
Blaine Gabbert
and
Nate Solder
as well as reliable backups
Danny Watkins
and
Jimmy Smith
and this proved to be a successful year for Big 12 first-round selections.
2012:
Three quarterbacks, and all were not only starters as rookies but also made huge differences for their respective squads. Clearly,
Robert Griffin III
made the most dramatic impact, but
Ryan Tannehill
, with the Dolphins, and
Brandon Weeden
, with Cleveland, were both solid.
Kendall Wright
and
Justin Blackmon
each had 64 catches, for Tennessee and Jacksonville, respectively. Blackmon was targeted more (133 to 104) and had 200 more receiving yards.
2010:
This list maybe doesn't have the star power and is not littered with offensive playmakers, but six of the nine players picked were selected for the 2013 NFL Pro Bowl:
Gerald McCoy
,
Trent Williams
,
Ndamukong Suh
,
Earl Thomas
,
Russell Okung
and
Jermaine Gresham
. And the other three players --
Dez Bryant
,
Sam Bradford
and
Sean Weatherspoon
-- were vital pieces for their respective teams.
May, 31, 2012
5/31/12
10:30
AM ET
By
ESPN.com staff
| ESPN.com
Yesterday, we tackled the Big 12's best offensive players in the NFL, but today, it's time for the other side of the ball.
The rules:
Players must be active
Players are judged by their current skills
The 2012 draft class is not eligible
Only players from the 2011 configuration of the Big 12 (No Nebraska, Colorado. Mizzou, Texas A&M are included.) are eligible
Let's get to it.
DE: Justin Smith, San Francisco 49ers (Missouri)
Smith has made Pro Bowls in each of the past three seasons and emerged as one of the NFL's premier pass rushers, nearly winning Defensive Player of the Year in 2011. He's forced 14 career fumbles and had 72.5 career sacks.
DT: Phil Taylor, Cleveland Browns (Baylor)
Taylor snuck into the first round of the 2011 draft and started every game for the Browns in 2011, making 59 tackles and four sacks, as well as forcing a fumble.
DT: Casey Hampton, Pittsburgh Steelers (Texas)
Hampton's career has peaked, but the 2001 first-rounder is still effective. He's won two Super Bowls and made five Pro Bowls, the last coming in 2009. He has 350 career tackles with nine sacks and four forced fumbles.
DE: Antonio Smith, Houston Texans (Oklahoma State)
Smith earned his first trip to the Pro Bowl last season, even though it was as an alternate. He has 29.5 career sacks and seven forced fumbles.
LB: Aldon Smith, San Francisco 49ers (Missouri)
Smith was one of the NFL's best pass rushers as a rookie in 2011. He didn't start a single game, yet came within a half sack of
Jevon Kearse
's rookie record for sacks, with 14 sacks. That broke the team record, and the Pro Football Writers of America named him the Defensive Rookie of the Year.
LB: Brian Orakpo, Washington Redskins (Texas)
Orakpo edges out
Derrick Johnson
for this spot, though Johnson was better in 2011. Orakpo was an alternate on this year's Pro Bowl team, but made the squad as a rookie in 2009 and in 2010.
LB: Von Miller, Denver Broncos (Texas A&M)
Miller earned NFL Defensive Rookie of the Year honors and a trip to the Pro Bowl after notching 11.5 sacks and making 64 tackles. He forced a fumble on the first snap of his career, too.
CB: Terence Newman, Cincinnati Bengals (Kansas State)
Newman's taken his fair share of knocks as a Cowboy before being released, but he made the Pro Bowl in 2007 and 2009 and has 32 career interceptions. The Wildcats' former Thorpe Award winner is moving on to the next phase in his career after an up and down career in Dallas.
CB: Aaron Ross, Jacksonville Jaguars (Texas)
Ross won two Super Bowls as a New York Giant, but he's moving on to warmer climates this offseason. He's made 200 career tackles and intercepted 10 passes in five seasons as a Giant before the former Thorpe Award winner signed a new deal with the Jags.
S: Michael Griffin, Tennessee Titans (Texas)
Griffin was a first-round pick in 2007 and made Pro Bowls in 2008 and 2010. He earned an All-Pro selection in 2010 and has 17 career interceptions and seven forced fumbles with his 389 tackles.
S: Earl Thomas, Seattle Seahawks (Texas)
Thomas gives the Longhorns a third member of the All-Big 12 NFL secondary after a Pro Bowl season in his second year, 2011. Thomas was arguably the Seahawks' top defender and has seven career interceptions.
April, 27, 2011
4/27/11
9:00
AM ET
By
ESPN.com staff
| ESPN.com
For just the second time ever, the first round of the NFL draft will be the only part of the draft's first day, set for primetime on Thursday night.
This year, the Big 12 could have as many as five first-round picks, and
five players from the league are in New York
for the draft.
So, let's take a look back. Since the first NFL draft of the Big 12 era, who has the most first-rounders?
Texas: 16
Oklahoma: 12
Oklahoma State: 6
Missouri: 4
Kansas State: 3
Texas A&M: 2
2003: DT Ty Warren, 13th overall, New England Patriots
2003: DB Sammy Davis, 30th overall, San Diego Chargers
Texas Tech: 1
Kansas: 1
2008: CB Aqib Talib, 20th overall, Tampa Bay Buccaneers
Baylor: 1
Iowa State
: none since 1973 (George Amundson)
A few thoughts and observations:
I doubt many would be surprised that this list is also a reasonably accurate reflection of overall success since the Big 12's inception in 1996. Obviously, Texas and Oklahoma have dominated. Since 2000, Texas has the nation's fourth-most first-rounders. Oklahoma is No. 6. Their success has paralleled that, along with recruiting rankings.
In that same breath, it's impossible to look at this list and not once again be impressed with what Mike Leach did. He obviously has the reputation as an overachiever, but looking big picture, he was able to do it with one first-round pick. Nobody beat Texas and Oklahoma more and Leach helped put together what is still the Big 12's longest bowl streak.
Texas' consistency sticks out, too. Since just 2001, Texas has had two first-rounders in six different seasons. If you've got two first-rounders on your team, you're probably going to be pretty good. The Longhorns, if you haven't noticed, have been. Those two first-rounders in six seasons are more or as many as half the league has in the history of the Big 12. What else you should note? Texas is unlikely to have a first rounder this year, and after Aaron Williams is drafted, Sam Acho probably will be the next to go, which won't be until the third or fourth round.
Oklahoma State and Missouri's rise over the past three seasons has paid off in the NFL draft. Missouri had three first-rounders in the last two seasons and figures to add two more this year after having just one in the 12-year history of the league before 2009. That's quite a streak, and even more proof of what Gary Pinkel has built at Missouri. One more piece of evidence? Despite losing those two first-rounders, Missouri should be back in the preseason polls next year after losing two of its top players. That's definitely something new in Columbia. The Cowboys figure to add more soon with Justin Blackmon at least. As long as Pinkel and Gundy are at the helm for their respective programs, expect them to continue to rise.
Don't be surprised by Texas A&M's swoon following R.C. Slocum's departure. From 1990-1998, the Aggies won nine games every season but one. From 1990-96, the Aggies had eight first-round picks. Since 1998? Two seasons with at least nine wins and just two first-round picks.
More evidence you can't underestimate the importance of having first-round picks? None for Baylor in the history of the Big 12 before Art Briles. In just three years, Briles may have three if the Bears add two more this year with Phil Taylor and Danny Watkins. Taylor and Watkins both came from unlikely sources. Taylor was a Penn State transfer and Watkins a juco transfer that formerly worked as a fireman in Canada.
August, 13, 2010
8/13/10
3:30
PM ET
By
ESPN.com staff
| ESPN.com
Big G in Western Nebraska writes:
The Expendables comes out Friday. If you had to make a team of elite warriors using Big 12 players, who would you put on it? Not necessarily an All-Star team, but the toughest, baddest dudes in the conference.
David Ubben:
First off, no matter what my friends tell me, that movie looks like garbage. But this question is interesting. I'd invite you all to make your own lists, but here's mine.
1) Nate Solder, left tackle, Colorado:
First off, at 6-foot-9 and 310 pounds, he's probably the biggest player in the entire league. But he also hang cleans 470 pounds, runs a 4.88 40-yard dash and has a 32-inch vertical leap. He's very high on my list of guys I wouldn't want to face in a jungle death match. And yes, that list exists.
2) Ronnell Lewis, linebacker, Oklahoma
: Defensive coordinator Brent Venables has coached some big hitters in his day like Rocky Calmus and Roy Williams. He says Lewis, just a sophomore, hits the hardest. And he hails from tiny Dewar, Oklahoma. Everybody knows you don't mess with country boys.
3) Cody Johnson, running back, Texas:
Anybody want to try and tackle him? The Longhorns' 5-foot-11, 250-pound goal-line back is the closest thing to a bowling ball in the Big 12. Steer clear. I know I will.
Who's on your list?
---
Craig in Wichita, Kan. writes:
Two years ago, the Big XII was known for lighting up the scoreboard. Last seasonit was the defenses that took the spotlight. What's going to be the Big XII's signature in 2010?
DU:
A conference takes on the identity of its top teams. There's a ton of other great offenses across the Big 12, but look at the top three teams in the league: Nebraska, Texas and Oklahoma. All three should field top-10 defenses in 2010. So even though there are offenses like Texas A&M, Texas Tech and Missouri, the league's going to be known for defense once again. If that's not enough, look around at the Big 12 representatives on any All-American team. Very few offensive players, but lots of defensive guys like Jared Crick at Nebraska, Aaron Williams at Texas or Travis Lewis at Oklahoma.
---
Cord in College Station, Texas, writes
: As a longhorn living in College Station, I've already heard plenty of "noise" from the A&M faithful about this being their year. I know you're an Aggie, too, and I'm just wondering what you're non-biased prediction for the Aggie season is. Hook'em.
DU:
I'm afraid you're mistaken. I've never gigged anything or anyone, but nine wins for the Aggies is probably about right. If I had to pick it, they knock off Nebraska at home, but lose to Texas, Oklahoma and Arkansas. They'll need to spring some upsets to win the South.
---
Craig in Ames, Iowa, writes:
Do you think the recent flooding will help or hurt the Cyclones? Will the team-uniting fight against the adversity help, or will the routine-destroying distraction keep ISU from being ready for the first game against NIU?
DU:
I don't think it hurts all that much, but if Paul Rhoads' team isn't already one of the league's closest, this sealed it. Some of the guys on that team have been through three coaching staffs, but finally got to experience some real success last season. Really, Iowa State only missed one practice, and though I'm sure there's some family troubles for a few of the players and some difficulty getting around still, I don't see the floods having much of an effect on the on-field product. But it's definitely a memorable experience that should change the way a lot of those guys see the world.
---
Tony in Lincoln, Neb., writes:
Hey Dave, Just curious. What's the best game you've ever seen/been to?
DU:
Of the games I've ever seen, it's pretty close between the Texas-Southern Cal Rose Bowl and the Boise State-Oklahoma Fiesta Bowl. I probably said this about 100 times in the weeks following the game, but the best part of that is the hook-and-ladder
never
works. Ever. It's a great play in theory, but the execution and timing has such a small margin of error required for success, plus it needs a little luck from the defense's call. That makes it impossible to execute. Except that one time.
I also love the big-time clashes. There was just an unfair amount of talent on the field in that national title game between Texas and USC, two teams who 100 percent earned the right to be there. You don't get that with every national championship.
Matt Leinart, Vince Young, Reggie Bush, Jamaal Charles, Lendale White, Steve Smith, Fred Davis, Selvin Young and Limas Sweed are all factors in the NFL now, most of whom I've started on my fantasy teams at least once. And that's just the offenses. Can't forget Aaron Ross, Michael Griffin and Michael Huff in the Longhorns secondary alone. Brian Orakpo and Roy Miller also played down in front. It just doesn't get much better than two premiere programs and NFL factories going at it in a game of that magnitude that delivered the drama, even if you could see that final drive coming the whole time.
Of the game's I've covered, I'd probably go with the Kansas-Missouri Border Showdown at the end of the 2008 season. Gotta love rivalry games, and Kansas-Missouri has been one of the most dramatic in recent seasons. That game was no exception. A ton of offensive talent on the field during a blizzard at Arrowhead Stadium. It included four go-ahead touchdowns in the final seven minutes, and finished with a
Todd Reesing
floater over Kerry Meier's shoulder on -- what else -- a broken play. Classic game with a classic finish.
January, 9, 2010
1/09/10
1:21
AM ET
By
Tim Griffin
| ESPN.com
It's not really a surprise that Texas sophomore safety Earl Thomas declared Friday night for the NFL draft.
[+] Enlarge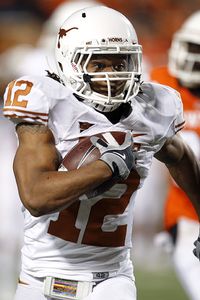 AP Photo/Sue OgrockiTexas' Earl Thomas set a team record with eight interceptions this season.
Thomas is coming off one of the best seasons for a Texas defensive back in school history in 2009. The redshirt sophomore had eight interceptions, which broke Noble Doss' mark of seven interceptions that was set in 1940. Thomas ran two of them back for touchdowns to set another record.
If there's such a thing as "The Natural" among defensive backs, it's Thomas. He isn't overly big or physical (5-foot-10, 197 pounds) but he has the uncanny instincts to stick with any receiver. His skills definitely will translate well to the next level.
Thomas isn't as physically gifted as either Eric Berry of Tennessee or USC's Taylor Mays. Both figure to be picked ahead of Thomas unless he has an off-the-charts workout for NFL scouts later this spring.
Thomas was a finalist for the Thorpe Award in 2009 and would have been the favorite for the award if he had remained for his junior season in 2010.
If he had stayed for another season and had another productive year, it's not out of the question that Thomas could have developed into the greatest defensive back in Texas football history.
As it is, he'll be in the conversation with players like Tarell Brown, Cedric and Michael Griffin, Michael Huff, Quentin Jammer, Aaron Ross and Nathan Vasher. All left Texas for a career as a starting defensive back in the NFL. Huff and Ross left with Thorpe awards in back-to-back seasons in 2005 and 2006.
With Thomas leaving, sophomore Nolan Brewster could move into the starting job when spring practice begins for the Longhorns late next month.
A more likely scenario might be to move Blake Gideon to the tight safety position to make room for game-breaking defensive back Christian Scott at Gideon's current position at free safety.
Scott was giving Gideon a serious challenge in fall camp this year before he was academically suspended. His ferocious hits would provide an intimidating presence to the secondary that was missing this year.
But whoever takes over Thomas' spot will be attempting to fill a sizable void that makes Texas' rebuilding job a little more daunting.
November, 10, 2009
11/10/09
11:35
AM ET
By
Tim Griffin
| ESPN.com
Posted by ESPN.com's Tim Griffin
As Texas streaks to its second 9-0 start since 1983, it's understandable that some are already comparing this year's team to the other team that started that fast.
Texas' 2005 national championship team is the benchmark for all of the other Texas teams coached by Mack Brown. And this team appears to be the closest to the national championship squad in many respects.
While Brown says such comparisons are premature, he does say his current team's fast start makes for some inevitable comparisons.
| | |
| --- | --- |
| | |
| | Brendan Maloney/US Presswire |
| | Colt McCoy and the Longhorns have drawn comparisons to the 2005 national championship team. |
"I would think you could compare them because there's been only one close game for this team and for that team in 2005," Brown said. "It was the Ohio State game in 2005 and the Oklahoma game this year that was in question late in the ballgame."
But in order to meet the challenge of matching the 2005 team,
Colt McCoy
's team will have to match the finishing kick of Vince Young's team.
"At this time, they've earned the right to be in conversation with the 2005 team," Brown said. "But they haven't earned the right to be considered as good because they have to finish like that bunch did."
The 2005 national championship led the conference in 11 statistical categories; the current team leads it in five. The 2005 team was the nation's leading scoring team and led the nation in pass efficiency. The current team is more defensively oriented as it leads the nation in rushing defense and scoring defense and ranks second in kickoff returns.
The 2005 title team ranked 10th or better in 10 of the 17 team statistical categories tracked by the NCAA. The 2009 team ranked 10th or better in eight of those team statistical groups.
Here's a position-by-position comparison of the two teams:
Quarterbacks:
Both teams featured quarterbacks who were involved in the Heisman Trophy race. The 2005 team had Vince Young, a multi-purpose player who accounted for 3,036 passing yards and 26 touchdown passes. Most importantly, he provided leadership for a team that had never won a Big 12 title under Brown. McCoy redshirted on that team, earning the opportunity to soak up lessons watching Young's leadership. He's capping the most productive statistical career for a Texas quarterback by passing for 2,447 yards and 17 touchdowns with at least three games remaining -- not counting a potential Big 12 championship game and a bowl. And his leadership skills are comparable with Young's in guiding his team to an undefeated season so far.
Edge: Even
Rushing game:
The 2005 team relied on Young, who rushed for a team-high 1,050 yards and scored 12 touchdowns and also had a strong starter in Jamaal Charles and an outstanding change-of-pace player in Ramonce Taylor. That team produced 55 rushing touchdowns and had five different backs with eight rushing touchdowns or more. The current team's rushing game might be its major weakness without a featured rushing threat, as no current back has rushed for more than 275 yards. Depending on game situations, the team has utilized any of three starters, but its most consistent producer has been
Cody Johnson
, who will become its fourth starter this week against Baylor.
| | |
| --- | --- |
| | |
| | Mark J. Rebilas/US Presswire |
| | Vince Young quarterbacked the 2005 Texas team to the national title. |
Edge: 2005 Texas
Receivers/Tight end:
The 2005 team had a stacked collection of receivers led by top deep threat Billy Pittman and Limas Sweed. But the most consistent receiving threat for Young was tight end David Thomas, who produced 50 receptions, including a career-best 10 in the BCS title game victory over USC. But that team had no receiving threat to match
Jordan Shipley
, who has already produced 75 catches, four double-figure reception games and broken the school single-game receiving yardage record.
Dan Buckner
developed early into a receiving threat at flex end and
Malcolm Williams
,
James Kirkendoll
and
John Chiles
all have been strong in an offense that has lived by short passes. But Shipley has been the focal point of a passing game that features short, quick passes as its primary offensive weapon.
Edge: 2009 Texas
Offensive line:
The 2005 team featured three-first team All-Big 12 picks in Justin Blalock, Jonathan Scott and Will Allen. Because of Young's mobility, that team allowed only 14 sacks and produced 5.9 yards per carry and 55 rushing touchdowns. The current team is nearly as strong with key players like Adam Ulatoski, Charlie Tanner and Chris Hall, who have currently combined for 99 career starts and should be peaking as the season continues. The current team is producing 3.9 yards per carry, 16 sacks and 20 rushing touchdowns.
Edge: 2005 Texas
Defensive line:

The 2005 team featured first-team All-Big 12 players like Rodrique Wright and Tim Crowder and pass-rushing specialist Brian Robison, a converted linebacker who led the team with sacks. But that team didn't feature anybody as proficient as Sergio Kindle or a run-stuffing tackle like Lamarr Houston. It's the main reason the current Texas team leads the nation in rush defense (55.33 yards per game), total defense (230.78 yards per game) and ranks in the top 20 in both sacks and tackles for losses. The 2005 team was 39th nationally in sacks and 29th in tackles for losses.
Edge: 2009 Texas
Linebackers:
The 2005 unit was at its weakest at linebacker where no players earned All-Big 12 first-team or second-team designation. Robert Killebrew was that team's only player to earn honorable mention. The current team features an anchor in the middle in senior linebacker Roddrick Muckelroy, flanked by Keenan Robinson and Emmanuel Acho. Will Muschamp's unit seldom uses three linebackers except in run-stuffing situations, preferring to use a nickel formation. But his current group still has the edge at linebacker over the championship team.
Edge: 2009 Texas
Secondary:
The 2005 team might be one of the great college units of all time. That team featured the Thorpe Award winner in Michael Huff and another all-league player in Cedric Griffin. Huff, Cedric Griffin, Michael Griffin, Aaron Ross and Tarell Brown all were drafted in the NFL and had eventual pro careers. The unit was nearly impermeable as it broke up 85 passes and permitted only two teams to pass for more than 200 yards against them. The current group is young and skilled and might develop into as strong of a group with experience.
Earl Thomas has played like the best defensive back in the country this season with six interceptions, including two touchdown returns. Curtis Brown, Chykie Brown, Aaron Williams and Blake Gideon have already helped the defense combine for 16 interceptions. And the group is playing with swagger as the season continues.
The current group could match the eventual production of the 2005 team, but it still has to get there.
Edge: 2005 Texas
Special teams:
Neither team had to punt very often, but Hunter Lawrence has a narrow edge over David Pino at kicker for his consistency and range. The biggest difference is in the return game. The current team features two threats with D.J. Monroe (two TDs, 36.5 yards kick return average) and Shipley (14.5 punt return average, two TDs), giving it an edge over Ramonce Taylor and Aaron Ross (14.7 punt return average, two TDs).
Edge: 2009 Texas
Coaching:
With largely the same cast of coaches, the 2009 team appears to be better coached. In 2005, Brown was trying for his first Big 12 title and utilized defensive co-coordinators with Gene Chizik and Duane Akina. It often seemed that the individual talents of Young took over the game during that championship season. But this team features a better job by Greg Davis as he compensates for his team's lack of a consistent running game by developing a crafty passing game utilizing quick short passes. And the defense has taken big steps this season in its second season under Muschamp.
Edge:2009 Texas
Intangibles:
The 2005 team was trying to become Brown's first Big 12 title team and played well throughout. It started with a dramatic comeback victory over Ohio State and continued with a run through the Big 12 that featured no victory less than 11 points. The 2005 team needed a comeback over Oklahoma State, but Young helped the team peak as the Longhorns scored at least 40 points in 12 games. The team rolled to victories of 62, 52 and 11 points in November before notching a record-breaking 70-3 triumph over Colorado in the Big 12 title game and the 41-38 BCS title game victory over USC.
This team hasn't faced many tests, although it did handle Oklahoma in a 16-13 triumph that ranks as its closest margin. Other than that game, the 2009 Longhorns have rolled up at least 34 points in every game and allowed more than 20 points on only two occasions. But it still has its chance to finish strongly in November like the 2005 team did.
Edge: 2005 Texas
If they met:
The 2005 team still would merit a slight edge, mainly because this team doesn't have a transcendent talent like Young. But the current team is developing and could have a chance to match the championship with a strong finish.
Edge: 2005 Texas
March, 27, 2009
3/27/09
4:00
PM ET
By
Tim Griffin
| ESPN.com
Posted by ESPN.com's Tim Griffin
Spring practice has sparked an outpouring of letters and e-mails about the events taking place across the Big 12. Here are some of the more notable missives I received this week.
Jonny from Chicago writes: Hey, Tim. Are any Big 12 schools known for the type of NFL positions prospects they have produced over the years. For instance, Penn State is commonly referred to as "Linebacker U" and USC has the nickname of "Tailback U". Any in the Big 12 you can think of?
Tim Griffin: Good question. There aren't any as notable as the ones you mentioned, but here are a few of the most notable trends I could find when I thought about the Big 12 and the NFL draft.
Colorado: Wide receivers. The Buffaloes have had four first-round selections since 1991, although none since 1997. Included in the list are Rae Carruth, Charles Johnson, Michael Westbrook and Mike Pritchard.
Texas: Defensive backs. This is the conference's most consistent factory at any position. The Longhorns have six first-round selections at the position since 1991 -- Stanley Richard, Bryant Westbrook, Quentin Jammer, Michael Huff, Michael Griffin and Aaron Ross. It's almost like a machine turning out No. 1 picks under defensive backs coach Duane Akina.
Nebraska: Defensive ends. The Cornhuskers have had six defensive ends picked in the first two rounds of the NFL draft since 1997. That's included key producers like Grant Wistrom, Adam Carriker, Mike Rucker, Kyle Vanden Bosch and Chris Kelsay.
Oklahoma: It's more quantity for the Sooners than top-round quality, with nine defensive backs picked since Bob Stoops took over. That list has included only two first-round selections -- Roy Williams and Andre Woolfolk.
---
Steve from Overland Park, Kan., writes: Tim, if you were starting an NFL team and you could have your choice of any Big 12 player who is on a college roster this spring, who would you pick.
Tim Griffin: Given the choice, I think Oklahoma quarterback Sam Bradford would look awfully good on my team. I like his size and arm a little better than Colt McCoy, and I also think Bradford will hold up better in the NFL. Among others I would strongly consider include Oklahoma tight end Jermaine Gresham, Oklahoma defensive tackle Gerald McCoy, Oklahoma State wide receiver Dez Bryant, Texas defensive end/linebacker Sergio Kindle and Baylor defensive tackle Phil Taylor.
---
G from Gering, Neb., writes: Will you be attending any of Nebraska's spring practices this year? And what are you specifically looking for?
Tim Griffin: G, I'm headed up there to watch on Saturday morning if I don't get snowed out along the way. I know most coaches have vanilla workouts when the media is around. But I'll be curious if Zac Lee's arm is really as good as I've heard. I'm also going to be looking at Nebraska's receivers as they replace the sizable hole created by the departure of Nate Swift and Todd Peterson. And I'll be curious to see what kind of attitude the Cornhuskers have on defense. They need to be more aggressive in terms of creating turnovers. And if I know Bo Pelini, he's probably coaching that into them from their first spring practice.
---
Jason from Fort Collins, Colo., writes: Tim: In an offensive conference like the Big 12, who do you see as having the top defenses for this upcoming season?
Tim Griffin: I would expect the conference's top two defenses to be Oklahoma and Texas, who I also think will have the conference's two best teams.
I like Oklahoma's just a little bit more because of the return of players like McCoy, Jeremy Beal, Travis Lewis and Dominique Franks. If the Sooners can find a couple of safeties, they'll be one of the best in the country.
And linebackers Austin Box and Ryan Reynolds and defensive end Auston English could be among the best players in the conference at their best position if they can come back from injuries. Their return will only boost the production of Brent Venables' unit.
I also like Texas if they can find some help for Kindle along the defensive front. I expect some of the younger players in the secondary to challenge existing starters for playing time.
And I think Nebraska can be very good as the Cornhuskers work for the second season under Pelini. They need for Barry Turner to come back healthy at defensive end. And it will be interesting to see if Jared Crick is as good as I'm hearing at defensive tackle next to Ndamukong Suh.
Not coincedentially, those three teams should be among the best in the Big 12 this year. I think the teams with the best defenses will have a huge advantage in a conference like the Big 12 where the offenses will be so potent.
---
N. Hodgin from Alpharetta, Ga., writes: Tim, Where did Patrick Witt transfer to?
Tim Griffin: It still is undetermined, although I hear he's considering UCLA, Stanford, Duke and Yale.
Obviously, the question for him will be whether he wants to play immediately, which he could do if he went to an FCS school. Recent Big 12 transfers like Rhett Bomar and Bobby Reid were able to do that.
If Witt wants to play at another FBS school, he'll have to sit out a year.
His family has hinted to several Nebraska newspapers that he might move and give up his football career.
But I frankly don't see that happening. I would look for him to end up at another FBS school, getting a year to learn the offense before playing again 2010.
---
Zeyad from Tulsa writes: Oklahoma has a good chance at going undefeated this year as long as they get by Texas. But with the Sooners' soft schedule and their recent letdowns in big games do you think there's a chance they will get voted out of the national championship game if they finish undefeated? Especially if it would end up being a rematch of last season?
Tim Griffin: Zeyad, I think that any team that goes undefeated in the Big 12 is going to have a great shot at playing for the national championship. And I would also argue about Oklahoma having a soft schedule. The Sooners will be playing bowl teams like BYU and Tulsa and also have a trip to Miami among their nonconference games. That's in addition to playing all of the schools in the Big 12 South along with road games at projected Big 12 North title contenders Kansas and Nebraska and a potential Big 12 championship game. The Sooners won't have to apologize for that schedule.
Thanks again for all of the e-mails and letters and please keep them coming. We'll check back again next week.
August, 25, 2008
8/25/08
10:30
PM ET
By
Tim Griffin
| ESPN.com
Posted by ESPN.com's Tim Griffin
The defensive calls are simpler and some of the best young recruits in college football will be playing Saturday night in Texas' secondary in the Longhorns' season opener against Florida Atlantic.
And it still won't make Texas coach Mack Brown rest any easier over the next several nights before his team's first game.
The Longhorns will open the season with unprecedented youth in the secondary, including freshmen safeties Blake Gideon and Earl Thomas in the starting lineup.
Backing them up will be three more freshmen, all for a unit that a year ago ranked 109th nationally in passing, set school records for passing yards and touchdown passes allowed and is already breaking in a new coordinator.
Making the task even more perilous will be Florida Atlantic quarterback Rusty Smith, who passed for 3,688 yards and 32 touchdowns for the nation's 16th most potent passing attack last season.
And did we add that the largest crowd to attend a football game in Texas state history is expected?
So it's understandable that Brown isn't resting too comfortable these days -- getting ready for an opponent he calls the best team that has ever traveled to Austin for an opener in his 11-year coaching tenure there.
"It's hard to test them like they're going to be tested with that noise and with a bunch that's as good at throwing the ball as Florida Atlantic," Brown said about his defensive unit. "We're going to have to play well because they're going to throw the ball."
Brown is especially girding for an FAU offense that returns 10 starters and rolled up at least 30 points in six of its final seven games last season. Included in that run was FAU's 44-27 shellacking of Memphis in the New Orleans Bowl in the Owls' first postseason action in school history.
"You'd love to play older defensive backs," Brown said. "It's interesting that the best thing Florida Atlantic does is throw the ball and the thing we've had the most trouble with is stopping the pass. We're excited about it, but it's obviously a concern."
The Longhorns' injury woes worsened Monday when junior Ishie Oduegwu was announced out for the game after shoulder surgery. Oduegwu was the defense's most experienced player in the secondary with three career starts.
The Texas secondary is dotted with high school standouts who came to college with strong pedigrees. But it will be interesting to see how the Longhorns react to a solid passing team in their first game.
Thomas has been one of the most impressive players in Texas' training camp. And players
like Nolan Brewster, Christian Scott and Ben Wells all were heralded high school players. Collectively, Brown compares his incoming group in the secondary to the one that featured future NFL standouts Cedric Griffin, Michael Griffin and Michael Huff.
That group served as the core of the Longhorns' national championship team's secondary, but all played together early in their careers.
"It's only a concern because they haven't been out there, and we're going to need our fans to really help us because we're probably going to give up some plays," Brown said.
And it will only get worse for this group as gun-slinging Big 12 quarterbacks like Sam Bradford, Chase Daniel, Graham Harrell and Todd Reesing loom in upcoming weeks.
Brown wants this green group to grow up fast and get challenged early -- even if it might come with some growing pains along the way.