March, 21, 2012
3/21/12
4:40
PM ET
WACO, Texas -- Above the players' gate leaving the Allison Indoor Facility at Baylor reads just one request: "Finish Strong."
At his final public workout before the NFL draft,
Robert Griffin III
did exactly that.
Not only did he finish strong, he finished in style.
In a nod to Baylor's Sweet 16-bound hoops team, Griffin and his receivers donned matching neon yellow "Electricity" socks, identical to the ones worn by the hoops Bears.
[+] Enlarge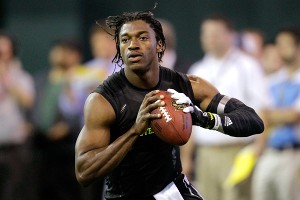 AP Photo/Tony GutierrezRobert Griffin III completed 78 of 84 passes during Baylor's pro day Wednesday.
"Robert signed with adidas, so we all just wanted to come out here and look like Robert," receiver
Kendall Wright
said with a laugh.
Over the stadium stereo, Griffin played a hand-picked soundtrack including old-school tracks from the late Notorious B.I.G., simulating a familiar environment for Baylor's practices, which feature constant music while players are on the field.
"I don't think you'll hear 'Thriller' at any other pro days," Griffin said of the final track of the day, offering fitting background noise to the final pass of Griffin's workout, caught by Griffin from Wright, a former high school quarterback.
Every other passing workout during their four years together ended with the play they called "Baylor Magic." Why wouldn't the final one end the same way?
The final tally for Griffin?
With his (probable) future bosses, Redskins coach Mike Shanahan and owner Daniel Snyder, watching from the sidelines, Griffin completed 78 of 84 passes with four drops.
This coming the morning after dining with Redskins brass, along with Griffin's fiancée (a
Denver Broncos
fan who was wowed by meeting former Broncos coach Shanahan for the first time) and parents.
Griffin set out to craft a relaxed, normal atmosphere on Wednesday, and did that as best he could, with 130 media members peering at every throw and 70-plus NFL personnel looking on as well.
"We wanted it to not be so uptight like the combine can be," said Griffin, who paused between throws for congratulatory hip bumps with teammates and bobbed his head to the music between throws, too. "We wanted it to be loose."
Griffin's work is done. It's a near certainty that his future destination is the nation's capital (which he has visited three times,
including a National Prayer Breakfast last month
).
The relief was clear, and after catching the final pass of the day, he celebrated by pretending the football was a bomb that exploded on the final touchdown, blowing over Griffin and his receivers.
Any NFL-aspiring quarterback has to get through his pro day, but for Griffin, his true work was done long before today's pomp and circumstance, which was a four-hour celebration of Baylor football (and adidas).
"I didn't have anything to prove at pro day, and that's why it was so easy. It's not stressful when you don't feel like you have to prove anything," Griffin said. "The game tape speaks for itself, and it does for a lot of people. Your game tape is going to tell everybody who you are. Today is just coming out and confirming it."
Griffin's game tape added up and told the country he was the best player in college football for the 2011 season. Some people voted and gave Griffin a trophy -- most call it the Heisman -- to commemorate that accomplishment.
Now, he'll move to the next stage of his career, where he most definitely has plenty to prove.
"Everybody's going to say, 'I'll come and work hard. I'll be dedicated,'" he said. "But I mean it when I say it. I won't just come in there and be flamboyant and act like I'm the man, I'm the leader. You have to earn respect from players. I'll do it from the inside out, from the players and the organization to the fans. All the players will get recognition for what we do, not just myself. I'm looking forward to going out there and having fun ... and my definition of fun is winning."
December, 22, 2010
12/22/10
10:15
AM ET
By
ESPN.com staff
| ESPN.com
Jon Embree played his college football at Colorado, and was drafted by the Los Angeles Rams in 1987. Now, 23 years later, he left his post as the tight ends coach for the Washington Redskins to become the head coach at his alma mater.
Embree took some time out for ESPN.com earlier this week to talk about his first weeks on the job and the program's transition to the Pac-12, as well as his own transition to a head coaching role.
In part two later Wednesday, he'll discuss changes in style and recruiting heading into next year, as well as what he'll miss about the conference the program is leaving.
David Ubben: What have these first few weeks on the job been like?
Jon Embree
: It's been very busy, because you know, you're trying to put together your staff, you're trying to figure out who does what and some of the things around here and get things situated with kids and academics and getting ready to get everything going for recruiting, so it's mostly just real busy.
As a former position coach in the NFL, how do the time requirements compare between that and being a college head coach so far?
JE:
Ha, it's a
little
bit longer in Boulder than it was in Washington. There's a lot of things you want to do early -- coming in early and staying there late -- and part of the reason you do that is because there's nobody in there who can come in and ask for a five-minute meeting when you're there early or late, so it's longer hours but it's definitely a lot of fun.
What's been the most difficult part of the transition?
JE:
Probably
letting kids know that they can't be part of the program
anymore. That's hard when you have to do that. That, or letting kids that were committed to the previous staff know that
they don't fit into what you're going to do
from an offensive or defensive standpoint.
It seems like so far, the signature of your staff has been getting a ton of guys connected to Colorado, the state and the program. Why was it so important to get guys with ties to Colorado, or "Buffs?"
JE:
Well, we only have four Buffs on the staff, but really, Colorado is a unique place. We don't have [multi-year] contracts, so you have to get people that a) want to be in Boulder and b) understand the uniqueness of the program and of the university that can go out and recruit and sell the strong points and answer questions about perceived negatives about the program. I think that's why you see some guys who have been at Colorado or played at Colorado that are here coaching for us.
What are some of those perceived negatives you guys are fighting when you're out talking to recruits or new assistants?
JE:
People talk about the uniqueness of Boulder and the diversity, really our diversity is no different than any other campus, but there's a perception out there that there's a diversity issue that doesn't really exist. And we have the ability to let kids know that Denver is 20 minutes away and anything they could ever want to do, whether it's a Nuggets game, a Rockies game or a Broncos game, whatever it is they want to do is 20 minutes away from them. Just little things like that.
With those guys who are on your staff from Colorado, was getting that many something you emphasized when you interviewed, or was it something that the administration really wanted to see in the new staff?
JE:
Nah, first and foremost, I just wanted to get the best coaches I could get. There's a lot of guys -- I could have filled the whole staff with Colorado people if I wanted. But I'm trying to get the best coaches I can get, so nothing was stressed by them or me. It's just how it worked out. [Offensive coordinator] Eric Bieniemy and I were basically guys that knew we were going to work with each other, [defensive coordinator] Greg Brown, a guy who has been here for a couple different stints, but has NFL experience. I think his résumé speaks for itself. [Linebackers coach and former interim coach] Brian Cabral, who has been here for 27 years and his experience. Like I said, it just kind of worked out like that.
As a first-time head coach, who are some of the guys you rely on professionally? Guys you call up for advice on handling this job and requirements that come with it?
JE:
I'll lean on guys I've worked with during my career, like a Mike Shanahan. We've talked a couple times since I've been hired. I'll talk with Chan Gailey. Herm Edwards has already reached out to me. Bill McCartney. I'll reach out to various people, and it doesn't necessarily have to be just former head coaches. You have to broaden your scope as far as people you talk to about various things and get a different perspective.
January, 21, 2010
1/21/10
12:44
PM ET
By
Tim Griffin
| ESPN.com
This is a history-making post for me, my 4,000th over the past 18 months.
When you figure roughly 500 words per post -- give or take a few extra during the season -- that's more than 2 million words that have been churned out about the Big 12.
I feel like we should celebrate -- with a few lunch links.
So how about these?
December, 27, 2009
12/27/09
6:41
PM ET
By
Tim Griffin
| ESPN.com
Oklahoma fans can rest a little bit easier after Florida coach Urban Meyer was offered and accepted an indefinite leave of absence to
reclaim his old job
.
[+] Enlarge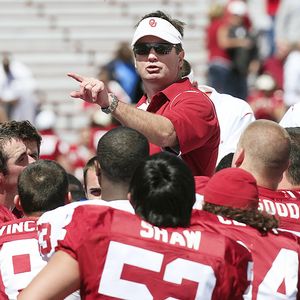 AP Photo/Sue OgrockiWith Urban Meyer planning to return to Florida after a leave of absence, Oklahoma's Bob Stoops (above) will remain with the Sooners.
It means that Bob Stoops will remain at Oklahoma for the immediate future -- and probably well beyond it.
Stoops was mentioned among the favorites if Florida athletic director Jeremy Foley needed to find a permanent replacement for Meyer.
But when Meyer told reporters Sunday in New Orleans he would like to still coach the Gators, it will mean he'll have to keep his list of replacements unchecked.
Along with Utah coach Kyle Whittingham, Mississippi State coach Dan Mullen, Arkansas coach Bobby Petrino, Boise State coach Chris Petersen and maybe even former Denver Broncos coach Mike Shanahan or Arizona coach Mike Stoops, the Oklahoma coach would have been a likely candidate to be interviewed for the Gators' head coaching position.
Stoops is familiar with the program after serving as defensive coordinator for three seasons under Steve Spurrier from 1996 until he was hired by the Sooners in 1998 to replace John Blake.
The Oklahoma coach still keeps his condominium in Crescent Beach, Fla., and visits there often with his family.
But Meyer's leave of absence quashes any need for an immediate replacement to coach the Gators.
Sooner fans can be thankful for that announcement.
November, 19, 2009
11/19/09
12:15
PM ET
By
Tim Griffin
| ESPN.com
The games will be starting early this week with one contest tonight as Oklahoma State and Colorado meet in Stillwater.
But the action isn't limited to the field. Speculation already is rife about a couple of Big 12 coaching jobs before the season even finishes.
Here's some of the early guesswork, along with other stories across the conference this morning.
January, 3, 2009
1/03/09
4:49
PM ET
By
Tim Griffin
| ESPN.com
Posted by ESPN.com's Tim Griffin
MIAMI SHORES, Fla. -- Oklahoma coach Bob Stoops tried to diffuse any controversy linking him with the Denver Broncos job by taking some unusual steps.
Stoops originally was not slated to meet with the media before deciding late Friday that he would meet with them after the Sooners' practice Saturday at Barry University. He had to know that questions about the vacant NFL job would be asked -- and they did, barely three minutes into the press conference.
But by firmly discounting any stories of interest for the job, Stoops has done what he could to extinguish any controversy through the BCS title game on Thursday night.
It will be interesting to see how quickly the Broncos move on the job. If they do not hire somebody by the time the Oklahoma game is over Thurday night against Florida, look for Stoops' name to heat up again.
But at this point in his career, it would be hard to think that Stoops would be interested in coaching in the NFL -- despite his previous association with Denver owner Patrick Bowlen, an Oklahoma graduate as an undergrad and from law school.
The Broncos are one of the model franchises in the NFL. Bowlen isn't considered a meddling owner. He's fired only three coaches in his 24-season tenure as owner and cried when he let Mike Shanahan go last week.
But Stoops might have a better job with the Sooners. He's close with athletic director Joe Castiglione and school president David Boren and is assuredly bigger than the Oklahoma program. It wouldn't be that way in Denver.
Stoops has maintained that the NFL could interest him one day and I think it would. But I think he would like to see his three children complete high school before taking the challenge.
And additionally, he's pretty well compensated at Oklahoma, which has to be considered one of the top 10 college jobs in the country. He will collect $6 million in 2008, thanks to cashing in a $3 million bonus for finishing 10 years on his job.
I don't think the Sooners were going to be distracted by talk about him and the Broncos.
But Stoops took steps to assure his team it didn't become a problem -- just to make sure.
BIG 12 SCOREBOARD
Saturday, 12/20
Monday, 12/22
Tuesday, 12/23
Wednesday, 12/24
Friday, 12/26
Saturday, 12/27
Monday, 12/29
Tuesday, 12/30
Wednesday, 12/31
Thursday, 1/1
Friday, 1/2
Saturday, 1/3
Sunday, 1/4
Monday, 1/12
Tweets from https://twitter.com/ESPNCFB/lists/big12