September, 24, 2014
Sep 24
9:30
AM ET
Mike Smith is not talking this week, which must be killing him.
The man now fully responsible for Texas Tech's defense is not doing interviews this week, which is understandable. Tech is busy trying to rally from its abrupt coaching shakeup and prepare for a critical Thursday night game at No. 24 Oklahoma State.
The 33-year-old steps into a tricky situation, but one he no doubt treasures. The unexpected resignation of co-defensive coordinator Matt Wallerstedt last week is giving Smith, a loud and proud former Red Raiders linebacker, a pressure-packed chance to once again prove himself.

Smith
"He brings a lot of energy," Texas Tech coach Kliff Kingsbury said this week. "Very positive. Good with the players. Things won't change a lot schematically or personnel. But every guy is going to have their different way of doing things. I think he's handled himself well."
Smith's rapid rise in the coaching ranks parallels Kingsbury's in many ways. They were teammates at Texas Tech for three years. They cut their teeth with some of the game's best coaches. They approach their jobs today with the passion of guys who wish they were still playing.
A four-year starting linebacker with the Red Raiders who racked up 314 tackles, Smith, who graduated in 2004, played hard and might've pranked harder. He and roommate Wes Welker, one of Smith's best friends to this day, developed quite the reputation. One time, they released a pack of hairless rats in Tech's running backs room.
On the field, though, they teamed with Kingbsury to help lay the foundation for the Mike Leach era in Lubbock. Smith tied for the team lead in tackles as a senior and was a seventh-round draft pick by the Baltimore Ravens.
He played there for two seasons under defensive coordinator Rex Ryan, backing up an All-Pro in Ray Lewis and learning from veterans like Terrell Suggs and Bart Scott.
But Smith's climb up the coaching ladder couldn't begin without a heartbreaking setback. He earned his first career start, in place of an injured Lewis, on Nov. 12, 2006. He injured his left shoulder on his very first snap, after a cut block from Tennessee Titans center Kevin Mawae.
The Ravens announced he would miss two or three weeks. But the injury was much worse than that. Smith suffered a torn labrum, rotator cuff and biceps tendon and had dislocated his shoulder. The injury would eventually require four surgeries.
Smith missed the 2007 season and reached an injury settlement with the Ravens in summer 2008. His playing days were over after just 14 games as a pro.
But Smith made some important friends during his time with the Ravens. After a stint as a grad assistant at Hawaii in 2009, he landed an internship with the New York Jets and reunited with Ryan.
This was grunt work at its finest: up to 20 hours a day of helping with game plans and meetings for little pay and less recognition. He stayed in the townhouse of then-Jets defensive coordinator Mike Pettine, now the Cleveland Browns' head coach. Smith made a big impression, especially for his work helping revive linebacker Aaron Maybin's career.
"It's like the 'it' factor with coaches," Pettine told the New York Daily News in 2011. "You either have it or you don't. And he's got it."
He got the coaches' attention, too, with his sideline antics. The no-name intern couldn't stop himself from running on the field and celebrating his pass-rushers' feats.
"The refs would tell me before the game, 'Hey, Coach Smith, you're going to have to stay off the field. You're out there on the freaking numbers,' " Smith told the Lubbock Avalanche-Journal last year. "I was going to go tackle those guys."
He turned down opportunities to work with two of his former Texas Tech coaches, Leach and Dana Holgorsen, after Ryan finally promoted him to a full-time gig -- outside linebackers coach -- for the 2012 season.
He couldn't say no, though, to teaming up with Kingsbury at the end of 2012 as co-defensive coordinator. And now, for the first time in his young coaching career, he's fully in charge of a defense. When the news broke Thursday, Smith received congratulatory text messages from both Ryan and Pettine.
In the week since, the interim DC has had plenty to fix after Tech gave up 49 points and 438 rushing yards in a blowout loss to Arkansas. Smith will lean on his NFL background to fix alignment issues. He'll lean on his Ryan-trained love for dialing up blitzes, too. For all of Smith's energy, Tech Tech linebacker
Sam Eguavoen
said Smith's daily demeanor meshes well with players.
"He's just more laid-back. I don't want to say a friendly environment, but it's less stress, less screaming," Eguavoen said. "I mean, he comes to you like a man, not as a child or something."
During Kingsbury's weekly radio show last week, Smith spoke for the first and only time before the Red Raiders take the field against Oklahoma State. He told the story of meeting with the defense that day. He made a challenge to his players that he'll promise to match:
"For the next nine games, give me everything you've got."
September, 19, 2014
Sep 19
2:30
PM ET
Fourth-and-1 at
Texas Tech
's 39. Time for the Red Raiders, down seven points in the third quarter, to get a stop.
Arkansas lined up exactly how you would expect: A three-tight-end power set with a fullback. Nine blockers, one running back. No pass, no fakes, no funny stuff.
Just a power run off right tackle.
And Texas Tech played it right.
Safety
J.J. Gaines
met Arkansas back
Jonathan Williams
near the line of scrimmage. Williams juked left. Gaines whiffed. Then the Arkansas junior threw two stiff-arms at linebacker Sam Eguaoven and picked up 21 yards. Six plays later, the Hogs were back in the end zone.
[+] Enlarge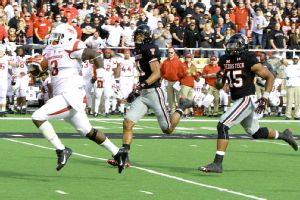 Michael C. Johnson/USA TODAY SportsOver the past nine games, this has been a familiar view of running backs for Texas Tech defenders.
This wasn't the turning-point play in Texas Tech's 49-28 loss. Just another landed punch in an eventual beatdown.
Williams ran for 80 yards in the second half, teammate
Alex Collins
added 167 yards, Arkansas averaged a ridiculous 7.15 yards per carry and attempted just two passes. No need to throw. Everything was working against a Red Raiders defense whose biggest flaw of 2013 re-emerged.
"You've got to give them credit," Texas Tech coach Kliff Kingsbury said after the loss. "They lined up and pounded us, and we just didn't have an answer today."
Fixing a Texas Tech run defense that has been a sieve in its past nine games is Challenge No. 1 for newly elevated defensive coordinator Mike Smith. Though Matt Wallerstedt
exited Thursday because of off-field issues
, he leaves behind one real on-field problem that Big 12 foes will try to exploit.
Since Oct. 26, 2013, Tech's first loss of last season at Oklahoma, the Red Raiders have the second-worst run defense in the FBS at 293.4 rushing yards allowed per game.
During that nine-game stretch, of which Tech has lost six, no defense in the country has given up more first downs on rushes (142). Only Southern Miss has allowed more touchdowns and more rushes of 10-plus yards.
In fact, Tech gave up 36 rushing touchdowns during that period, eight more than any other FBS team.
Though Arkansas has one of the best run games in the country, a power-heavy attack the likes of which Tech probably will not face again in Big 12 play, the fact is no FBS defense has faced more rushing plays in those nine games than Tech. Opponents know they must hit this weak spot hard. The Red Raiders know it's coming. They can't stop it.
In the third quarter against Arkansas, Williams' fourth-down dash was deadly because it was another play that kept Texas Tech's defense on the field. The Hogs ran 23 plays in the quarter and kept the ball for a total of 12:45. That is an easy way to get your opponent gassed.
Linebacker
V.J. Fehoko
said he saw too many communication issues, too many times when defenders tried to do too much and didn't stick to their assignment.
"In this conference," Fehoko said Saturday, "the smallest mistakes go the longest ways."
Though this is a generally young defense, the starters in the front seven are all juniors and seniors. How are they going to react to another letdown against the run?
"You know, it's tough. It's tough when the ball's not going your way and the momentum's not going your way," Fehoko said. "But I think we've got to just persevere and fight through it. As a team we've got a lot of young guys, but that's no excuse. I think energy and fire comes from within."
So does Texas Tech's new leadership on defense. Smith was already the co-coordinator, so it's not a drastic change. He is expected to bring more of an NFL mindset to assignment and alignment than Wallerstedt. And no doubt he's already hard at work to address his defense's most obvious defect.
It's not that complicated. Next up is Oklahoma State. They and every other opponent are going to pound the rock. They will keep doing it, and the reputation will continue, until Texas Tech starts finding answers to stop it.
September, 19, 2014
Sep 19
8:00
AM ET
Well, if it's any consolation, Kansas State
probably
would've beaten the Bucs on Thursday night. On to the links:
May, 3, 2011
5/03/11
9:00
AM ET
By
ESPN.com staff
| ESPN.com
The NFL labor dispute means undrafted college players were left without a job and no immediate football future. Teams aren't allowed to make transactions, so any free agents will remain so until a new collective bargaining agreement is reached and the lockout officially lifted.
But if you were unaware, the NFL isn't the only pro league in town any more. The United Football League is gearing up for its third season this fall, and had its annual draft on Monday night. The league is made up of five teams and mostly former NFL players. Among the most recognizable names to suit up in the league: Jeff Garcia, Maurice Clarett and Daunte Culpepper.
Because NFL teams weren't able to scoop up the remaining free agents, the talent pool was a bit deeper than usual. We took a look at
some of the Big 12's NFL draft snubs
on Monday, and a few of them had their names called by UFL teams.
No. 1: Jerrod Johnson, QB, Texas A&M (Hartford Colonials)
No. 8: Ugo Chinasa, DE, Oklahoma State (Sacramento Mountain Lions)
No. 16: Ricky Henry, OL, Nebraska (Hartford)
No. 20: Brad Thorson, OL, Kansas (Hartford)
No. 21: Clint Ingram, LB, Oklahoma (Virginia Destroyers)
No. 23: Mike Smith, OT, Nebraska (Omaha Nighthawks)
No. 28: D.J. Jones, OL, Nebraska (Omaha)
No. 32: Greg Smith, TE, Texas (Hartford)
No. 37: Colby Whitlock, DT, Texas Tech (Hartford)
Great to see Johnson get a shot at the next level. He'll get a chance to prove his shoulder is back to full strength in the UFL and if he can do that, a ticket to the NFL might await. Traditionally, drafted players have a decision to make: Wait on the NFL or bank on the UFL. With no NFL, and the circumstances looking like it'll remain that way for awhile, that's not the case this year. Especially for Johnson, who sounds pretty reared up to go via Twitter.
Hartford,Connecticut it is... excited & blessed for the opportunity, thanx & gig em !! #makedreamsreality
Johnson will play for former NFL coach Jerry Glanville in Hartford.
That's a pretty good haul for Nebraska's offensive line, especially the pair of players headed to nearby Omaha to block for Clarett.
Chinasa is another player, like Johnson, who could parlay this into an NFL gig, but the athletic pass rusher is headed to Sacramento for now. He made
one of the most athletic plays of the entire season
in the Big 12, and I'd like to see him get a shot at the next level.
Texas Tech's Whitlock, coincidentally, ended up in Hartford, where he'll reunite with his old defensive coordinator. James Willis coached the Red Raiders last year, but after leaving the program, ended up coaching linebackers for the Colonials.
Ingram, a former Sooners linebacker, was actually drafted in the third round of the 2006 draft, but after landing in New Orleans with the Saints last season, was released in October.
A few other notable names to get drafted last night?
Boston College linebacker Mark Herzlich, who famously returned to the field this year after receiving cancer treatment and missing the 2009 season, was drafted in the 10th round by Omaha.
Controversial Ole Miss quarterback and former Oregon Duck
Jeremiah Masoli
went 38th overall to Omaha.
August, 23, 2010
8/23/10
4:35
PM ET
By
ESPN.com staff
| ESPN.com
Preseason camps are about half gone. Opening weekend is less than two weeks away, and it's just over a week away for teams like Iowa State.
But plenty has been resolved in camps so far. Here's the best of what we know:
1. Three quarterback battles have been won.
Two (Kansas State and Nebraska) have yet to be decided, but
Tyler Hansen
won the job over
Cody Hawkins
at Colorado.
Kale Pick
beat out
Jordan Webb
at Kansas.
Taylor Potts
beat out
Steven Sheffield
in an epic duel at Texas Tech between two seniors who could start for about anyone in the conference.
[+] Enlarge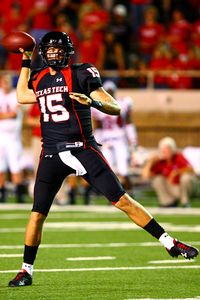 Karl Anderson/Icon SMITaylor Potts beat out Steven Sheffiled to be Texas Tech's starting quarterback.
2. Nebraska and Kansas have been hit hardest by injury.
Nebraska lost linebacker Sean Fisher and utility lineman Mike Smith for the season, each with a broken leg. Backup cornerback Anthony Blue will also miss the season with a torn ACL. Tight end Dreu Young also required back surgery and may miss up to the entire season. None figured to be game-changers, but without them, the Huskers depth suffers, leaving them more reliant on less experienced players. That's not the case in Lawrence, where Turner Gill will coach his first season without Huldon Tharp,
one of the conference's best linebackers
and one of his most exciting young talents. Backup running back
Rell Lewis
will miss the season with a knee injury, as will offensive lineman Jeff Spikes, who had a chance to start.
3. Gill: What have you done for me lately?
Turner Gill cares not about your recruiting stars, Jayhawks.
Toben Opurum
was the Jayhawks leading rusher as a freshman, with 554 yards. As one of the nation's best fullbacks, he came to Kansas because Mark Mangino planned to let the 6-foot-1, 240-pounder play running back. He was injured in the spring, but returned to full strength by preseason camp. Unable to crack the depth chart at running back, he's been moved to linebacker to help solve the Jayhawks' depth problems at the position. Meanwhile, two-year starter at center Jeremiah Hatch was sent to the bench in favor of senior captain Sal Capra, who played both guard positions last year.
4. Iowa State is even more huggable.
The team rallied behind rookie head coach Paul Rhoads in 2009 and raced to a seven-win season after just five wins in the previous two seasons combined. This fall, one of the teams practices was canceled so the players could sandbag the athletic facility to prevent damage from a major flood in Central Iowa. To do the team's laundry, team managers had to travel nearly 20 miles to the nearest source of fresh water.
5. Robert Griffin's arm isn't rusty.
The Bears sophomore quarterback has strung together two masterful scrimmages through the air, completing 33 of his 44 passes for three touchdowns and one interception. He has yet to prove he can run with the same explosiveness he showed as a freshman, but coach Art Briles isn't going to be getting Griffin hit many more times than is necessary.
6. Texas is talking up its defense.
Coach
Mack Brown
isn't keeping quiet about his expectations for his defense in 2010. ""I do think this could be our best defense," Brown
told the Dallas Morning News last week
, noting health and depth as variables. "We should be really, really good on defense." The Longhorns already ranked No. 3 nationally in total defense last year, but bring back one of the nation's best secondaries and perhaps the best and deepest group of defensive ends anywhere.
August, 12, 2010
8/12/10
9:00
AM ET
By
ESPN.com staff
| ESPN.com
The top two teams in the Big 12 North have both suffered concerning injuries early in camp that have changed each's plans for their season openers on Sept. 4.
Nebraska's
Mike Smith
suffered the worst injury, a broken leg, in Tuesday's workout, Huskers coach Bo Pelini confirmed on Wednesday.
Smith had moved between center, left guard and left tackle throughout camp, but Pelini was confident in his unit despite being forced to play without Smith for 2010.
"We still have great competition," Pelini
told reporters after Wednesday's practice
. "Really, not much has changed. Mike was kind of a swing guy. We were moving him to a number of different positions. So really, not a lot has changed."
Smith's injury came a day after left tackle Yoshi Hardrick had to be taken to the hospital via ambulance after practice, presumably due to issues relating to the triple-digit heat in Lincoln. Hardrick attended but sat out Tuesday's and Wednesday's practices, and is expected to return Thursday.
Also, I have no plans to ever use his given name, "Jermarcus," in the forseeable future. The origin of the nickname? Yoshi's older brother (and I stress I am not making this up) is named Mario, and the two were extremely close growing up in Batesville, Miss. I'm not sure I've ever loved a nickname -- or it's roots -- more than that.
---
Missouri's
Jerrell Jackson
suffered a less-serious but more impactful injury in Tuesday's practice. The Tigers' leading returning receiver, Jackson broke a scaphoid bone in his left wrist on the end of a long catch-and-run and will miss an estimated four weeks. Three weeks from Saturday, Missouri opens its season in St. Louis against Illinois.
Though Jackson holds the distinction of the team's leading receiver, it's hardly a major blow for the Tigers. Junior
Wes Kemp
is just as experienced and had nice numbers (23 rec, 418 yards, 3 TDs vs. Jackson's 37 rec, 458 yards and 2 TDs). Additionally, Jackson's absence only provides more opportunity for
T.J. Moe
, who, by all accounts, has been one of the team's most consistent receivers after catching just two balls in 2009.
In the spring game, he caught 12 balls for 85 yards and the
Columbia Tribune's Dave Matter predicted in his blog
earlier this week that Moe would lead the team in receptions this season. Consider the odds helped a bit with the injury.
Most importantly, even if Jackson's recovery is slowed, opening 4-0 shouldn't be difficult for Missouri. They open with Illinois, who colleague Adam Rittenberg placed 11th in
his preseason Big Ten power rankings
. The Tigers' next three games are snoozers against McNeese State, San Diego State and Miami (Ohio). So, the situation could be worse for Missouri, who is also missing linebackers Luke Lambert (knee) and Will Ebner (hamstring) with minor injuries. Both should return soon.
Of more concern is safety Jarrell Harrison's torn meniscus, which
abbreviated one of the featured position battles
in Missouri's camp.
January, 21, 2010
1/21/10
5:36
PM ET
By
Tim Griffin
| ESPN.com
Despite its isolated location, Texas Tech became one of the prime stories in college football during the last decade.

Tech was an underrated program on the field, qualifying for a bowl game in every season under Mike Leach.

In building his program, Leach was known for his love of pirates and Sherlock Holmes and many other things that had little to do with football. He was a breath of fresh air in the coaching fraternity.

When he was fired after the 2009 regular season, it was a national story because of its abrupt nature.

The Red Raiders claimed 85 victories during the decade, trailing only Oklahoma and Texas. All but one of those wins was earned by Leach, who was fired shortly before Tech's Valero Alamo Bowl victory over Michigan State.

The Red Raiders certainly were the Big 12's most entertaining program with a high-powered offense and the quirky Leach in charge. And when they were at their very best, the Red Raiders had an underrated defense directed by Ruffin McNeill that accentuated the team's offensive firepower.

Here's a look at my selections for the top moments and players for Tech from the last decade.

OFFENSE

QB: Graham Harrell

RB: Taurean Henderson

RB: Baron Batch

WR: Michael Crabtree

WR: Joel Filani

WR: Wes Welker

OL: Brandon Carter

OL: Rylan Reed

OL: Luis Vasquez

OL: Daniel Loper

C: Dylan Gandy

DEFENSE

DL: Aaron Hunt

DL: Adell Duckett

DL Brandon Sharpe

DL: Brandon Williams

LB: Lawrence Flugence

LB: Mike Smith

LB: Marlon Williams

DB: Dwayne Slay

DB: Kevin Curtis

DB: Darcel McBath

DB: Jamar Wall

P: Alex Reyes

K: Alex Trlica

Ret: Wes Welker

Offensive player of the decade: WR Michael Crabtree. Despite playing only two seasons, he became the most productive receiver in Tech's history. He was a two-time winner of the Biletnikoff Award with 231 receptions and 41 TD grabs setting an NCAA record for two seasons of production.

Defensive player of the decade: S Kevin Curtis. A fiery, hard-hitting safety, Curtis was the most decorated and one of the most versatile defensive player of the decade for the Red Raiders. Curtis earned first-team All-Big 12 honors in 1999 and 2000 and second-team all-conference honors in 2001. He was a second-team All-American in 2000 while playing strong safety and a second-team All-America choice in 2001 after moving to free safety.

Coach of the decade: Mike Leach. He perhaps was the most influential coaching figure in Big 12 history as he helped push the conference from a stodgy run-based attack to one where cutting-edge passing attacks predominated. He also became a national figure because of his personality and his guest appearances on television shows as diverse as "Sixty Minutes" and "Friday Night Lights."

Moment of the decade: Michael Crabtree's late touchdown grab beats Texas in 2008. Graham Harrell's 28-yard touchdown pass to Crabtree was one second left helped push Tech to an area it had never been before. It not only boosted them to a 39-33 triumph over Texas but also served as a national coming-out party for Leach, Crabtree and the rest of the Tech program. In the process, the Red Raiders earned an unprecedented share of the Big 12 South title that season.
June, 26, 2009
6/26/09
4:14
PM ET
By
Tim Griffin
| ESPN.com
Posted by ESPN.com's Tim Griffin
If it's Friday, it must mean it's time to crack open the mailbag.
Here are some of the better questions I received this past week.
Ryan Lund of Minneapolis, Minn., writes: Hi Tim. I love your blog, especially as a Cyclone and Big 12 fan who lives in Big Ten country. You wrote recently that Big 12 commissioner Dan Beebe is considering the creation of a Big 12 network. Do you see this eventually becoming a reality? And if so, when?
Tim Griffin: I would imagine that discussions are taking place in a broad sense between the conference and some of its partners about a potential television network. But before these plans would go forward, a determination has to be made on which way the conference's schools really want to go.
Mainly, would those Big 12 schools be willing to start their own television network -- with all the inherent chances for riches but with a greater gamble. Or would they prefer to take the model of the Southeastern Conference and employ a model where a television partner offered extensively wider distribution to the conference in exchange for them not creating their network. In essence, let somebody else do the work for them.
Both models seem to have worked.
I think the Big 12 is also hamstrung when compared to the Big Ten in a couple of ways. The Big 12 doesn't have as many attractive big-city markets or populous states as the Big Ten, lessening its chances for more money through wider distribution in their immediate areas.
More importantly, the Big Ten has always been more conducive to sharing revenues. It makes a smaller school like Northwestern feel like an equal partner to Ohio State or Michigan.
In the Big 12, the teams that have the most nationally televised games or make the most tournament trips receive more money.
That's been an ingrained idea that has been in place throughout the history of the conference and would be difficult to change, despite the wailing of some of the little brothers at the table clamoring for a bigger piece of the conference's pie.
I think for the idea of a conference television network to fly, it would be practical for all partners to be on an equal footing to help get it off the ground. And frankly, I don't know if the strongest schools in the Big 12 would be willing to share that much.
---
James from Swede Home, Neb., writes: Tim, remember you heard it here first. Evidence points to 2010 being the Year of the Cornhuskers. Exhibit A: A cupcake non-conference schedule with home games against Western Kentucky, South Dakota State, Idaho and Washington. Exhibit B: A friendly conference schedule favors the Cornhuskers with games against more difficult foes like Texas, Missouri, Kansas and Colorado at home. On the road, they will meet Kansas State, Iowa State, Texas A&M and Oklahoma State. This is the kind of schedule that would win championships.
Tim Griffin: And that's besides the fact that Zac Lee, Roy Helu Jr., Quentin Castille, Mike McNeill, Mike Smith, Keith Williams, Pierre Allen, Blake Lawrence, Anthony West and Prince Amukamara all should return for their senior seasons, as well. Add that younger players like Cody Green, Rex Burkhead and Chris Williams will have another year of experience. I expect the Cornhuskers to be pretty good in 2009 and even better in 2010.
---
James Coulter from Corpus Christi, Texas, writes: Tim, I completely agree with you on your assessment of the rushing statistic in college football and how it compares to how the stat is kept in the pros.
Do you think, however, that college football keeps its rushing game because of the larger role that quarterbacks play in the running game versus how much quarterbacks run in the NFL?
Tim Griffin: James, I got a lot of good feedback on that post. I just think that it diminishes the ability of running quarterbacks who are forced to include their sacks with their rushing total.
Actually, I think the NCAA does their statistics as a throwback to the older days when teams were more run-heavy than they are today. Sacks were fewer in those earlier days because teams didn't pass the ball as often.
But today, a quarterback is susceptible to a sack on many more passing attempts than in earlier eras of football. Those numbers eventually add up to diminish their rushing totals.
I just believe we would have a clearer, more consistent view of the rushing productivity of an offense or a defense -- those sack yards shouldn't be subtracted from the rushing totals. Instead, they should be kept in a separate category like in the NFL.
And yes, it does grieve me to say they do something better in the NFL than college football.
---
Dan Swanson writes: The story you wrote about Oklahoma giving $3 million back to the school was nice, but hardly merited the front-page coverage it received on your college-football link.
Why is it so special that Oklahoma's athletic department contributed $3 million back to the school?
That sum is pocket change from an athletic department of this size, particularly when you consider individual donors sometimes give $50 million to $100 million.
Tim Griffin: Dan, I respectfully disagree with your comments. I thought the Oklahoma gift to the general academic department at the school was significant for a couple of reasons.
First, it's one of the largest gifts that an athletic department has made back to its school this year. Secondly, the Sooners' athletic department made this gift without the benefit of new megabuck television deals like those garnered by some of the schools in the Southeastern Conference and Big Ten.
But the main reason I think the story was newsworthy was what Oklahoma president David Boren said when the gift was announced. The gifts, he said, helped the school avoid tuition increases or faculty layoffs.
In these challenging economic times, to hold the line on those costs is commendable. And if Boren credited the athletic department for helping to bring that about, it was noteworthy.
---
Jack Branch from Oklahoma City writes: Hey, Tim. You've got the ball on your own 20-yard line with 2 minutes left in a game needing a touchdown to win.
Which Big 12 quarterback do you want running your offense?
Tim Griffin: Jack, great question. Maybe it's because I just watched the tape of the 2009 Fiesta Bowl a couple of nights ago, but I would go with Texas' Colt McCoy. He might not have the deep arm of other quarterbacks in the league, but he has a knack for improvising big plays when he needs them.
Here's a statistic that best shows McCoy's clutch value, in my opinion. In games that he has started and finished that have been decided by seven points or less, Texas is 8-2.
---
Andrew Gaskill of Aledo, Texas, writes: Tim, I read your answer to a question about Chris Brown where you stated that you believe the combination of Brown and DeMarco Murray are the best combination in the Big 12. Wouldn't Oklahoma State's combination of Kendall Hunter and Keith Toston, which led the conference in rushing last season, be your top combination?
Tim Griffin: Andrew, I think the Oklahoma group is just a shade better because both of the backs rushed for 1,000 yards last season. Hunter led the conference in rushing last season, but the combination of Oklahoma's two primary backs makes them collectively just a little bit better, in my opinion.
And I also think an argument could be made that Nebraska's Helu and Castille are the second-best pair of running backs along with the Oklahoma State duo you mentioned.
---
Joe Costas from Memphis, Tenn., writes: As a Southeastern Conference fan, I'm enjoying your mythical matchups with the Big 12. But one question. What's with posting the midpoint between the two locations?
Tim Griffin: Joe, I just thought that might be a neat little trinket that would show the distances between the two teams. And the fact that it's often a small town only adds to its appeal, in my opinion.
The matchups will continue for the next couple of weeks. I'm taking a critical look at both teams before I make my pick, which is why the Big 12 hasn't fared so well, so far.
But you never know -- things could change in the mythical matchups. Keep reading them.
Thanks again for all of the great questions this week. Keep them coming and enjoy your weekend.
And let's agree to meet here again next week, OK?
April, 1, 2009
4/01/09
10:00
AM ET
By
Tim Griffin
| ESPN.com
Posted by ESPN.com's Tim Griffin
Backup Nebraska offensive lineman Derek Meyer will be making history this season as he attempts to earn playing time with the Cornhuskers as a walk-on.
Meyer has the rare chance to play for two Big 12 teams during his college football career after leaving Kansas State after Ron Prince was hired by the Wildcats in 2006. After originally being recruited by Bill Snyder, Meyer fell out of favor with the new coaching staff and decided to try to play somewhere else.
After almost attending San Diego State, Meyer told the Omaha World-Herald that coming to the Cornhuskers made the most sense after he spent time at Central Community College in Hastings, Neb., before surfacing in Lincoln.
"There was a time when I was like, 'You know what? Maybe it's just time for me to hang it up and just finish out my degree and move on,'" Meyer told the World-Herald. "It was hard falling out of love with it because you do it for so long. The situation that I happened to run into, it was difficult. But I'm glad I'm here, and I'm glad the love is back."
Meyer sat out last season but practiced well enough to be the Cornhuskers' co-scout team offensive player of the year. The 6-foot-5, 315-pounder was expected to be the No. 2 left tackle behind Mike Smith this spring, but Meyer started spring practice No. 2 on the right side behind Marcel Jones after Jaivorio Burkes was ruled out of action with an unspecified medical condition.
Nebraska coach Bo Pelini said that Meyer will help the Cornhuskers wherever he plays.
"He's a great kid, and he has a tremendous want-to. He has high character," Pelini said. "I think he's going to be a guy who's able to help us."
Meyer told the World-Herald he's excited about his opportunity as a walk-on player with the Cornhuskers. In the process, he will be fulfilling a childhood dream of playing with his favorite team when he was a kid growing up in Campbell, Neb.
"When coach Pelini was hired here, it was just a sign this is where I was supposed to be and things were supposed to happen this way," Meyer told the Herald. "It's been a really weird road, but I'm glad I'm here.

"Growing up in Nebraska, this is your home, this is the team you always want to play for. It's the one you watch every Saturday. To have a chance to come play here, it's just unreal. Like I told my parents, this is my last year of eligibility ... it's going to be worth having the 'N' on the side of my helmet regardless if I play or not."
I can't think of many players who played at two different Big 12 schools in football. But his return to Nebraska will help stoke the Cornhuskers' once-simmering rivalry with the Wildcats that once was as good any in the Big 12.
The KSU-Nebraska matchup already figured to pick up because of the presence of Pelini and KSU coach Bill Snyder, who had a celebrated run-in after a 2003 game. Pelini admonished Snyder on the field after that game after he thought the Wildcats had run up the score in a 38-9 Wildcat victory by scoring late in the game against a bunch of Nebraska walk-on defensive players.
And Meyer's arrival at Nebraska should only add a little bit of spice in the trenches, particularly after this quote in the Lincoln Journal-Star that described his father watching the 2005 game against the Cornhuskers in Lincoln when Meyer still was a Wildcat.
"I'll never forget the day after that game, my dad said, 'This is the first time I've ever been embarrassed to walk into Memorial Stadium.' I told him, 'Dad, it will never happen again. You're going to be wearing red. That was a one-time deal,'" Meyer told the Journal-Star.

March, 25, 2009
3/25/09
7:21
PM ET
By
Tim Griffin
| ESPN.com
Posted by ESPN.com's Tim Griffin
A prime topic of discussion among Nebraska fans and the media this spring has been the possible use of a no-huddle offense.
The philosophy was all the rage across the conference last season, most notably by Oklahoma.
Despite little training before last spring, the Sooners erupted for an average of 548 yards per game -- more than 100 yards more than the previous season. Heisman Trophy winner Sam Bradford led the Oklahoma offense to some mind-boggling numbers with Kevin Wilson's no-huddle attack. The Sooners produced at least 58 points in six consecutive games until losing to Florida in the BCS title game.
It wouldn't be out of the realm of possibility to see the Cornhuskers dabble in it this spring. Projected starting quarterback Zac Lee is comfortable running the offense, utilizing it at City College of San Francisco where it was employed about 40 percent of the time, according to the Lincoln Journal-Star. Lee's team qualified for the California junior college championship game.

Bo Pelini wasn't tipping his hand at his news conference that preceded the Cornhuskers' start of spring practice.
Nebraska senior center Jacob Hickman isn't a supporter of the no-huddle attack. Like most linemen, he prefers a more measured attack that enables breaks between plays.
"I don't really like it," Hickman said. "I know it changes the pace of the game. But I just kind of like the idea of the o-line coming up to the line and everybody getting in their positions. It's the way football is supposed to be played.
"I'm sure we'll see some changes. But overall, if it's not broke, don't fix it. The offense worked pretty well for us the latter half of last season."
But junior offensive tackle Mike Smith said he sees some benefits in utilizing a no-huddle strategy to dictate tempo.
"We did it a little last year in Kansas," Smith said. "It seemed to work, but it's hard because we have so much other stuff we're working on. But I would like to see it because it's sets a different pace for the defense."
After watching the Cornhuskers rip the gasping Jayhawks for 31 second-half points in that game, Smith said he would like to see some additional no-huddle elements incorporated into the Cornhuskers' basic offensive attack.
"After that, I was glad I didn't play defense," Smith said. "It got the defense out of rhythm and could be a help to our offense, too."
The Cornhuskers will need an offensive wrinkle or two as they try to overcome the loss of starting quarterback Joe Ganz and productive and underrated receivers Nate Swift and Todd Peterson.
The no-huddle attack could help them bridge that gap with an inexperienced set of expected starters for the Cornhuskers.

March, 3, 2009
3/03/09
7:55
PM ET
By
Tim Griffin
| ESPN.com
Posted by ESPN.com's Tim Griffin
Arizona inside receivers coach Mike Smith has left the Wildcats program to pursue a possible position at Kansas State.
The Arizona Daily Star reported Tuesday that Smith told Arizona coach Mike Stoops of his decision on Monday, and the job opening was placed by athletic department officials early Tuesday.
"Mike Stoops gave me his blessing," Smith told the Star. "I value Mike's friendship and our relationship on and off the field. It was a tough decision for me."
Smith could become the second Arizona coach to join KSU coach Bill Snyder's staff in the past month. Associate head coach Dana Dimel, a former veteran KSU assistant under Snyder, returned to his old school on Feb. 10.
With the departure of offensive coordinator Andy Ludwig for a vacant job at California late last month, Dimel likely will roll into the coordinator position with Smith taking a similar job coaching receivers with the Wildcats.
The return makes a lot of sense for Smith, who coached running backs with Snyder on his KSU staff from 1995-2005. His two daughters still live in the Manhattan area, the Star reported.
It would appear to be another part of Snyder's staff familiar with his coaching philosophy. Among the coaches who are currently on the KSU staff, co-defensive coordinator Chris Cosh, defensive ends coach Joe Bob Clements and defensive line coach Mo Latimore all previously served on Snyder's staff. And co-defensive coordinator Vic Koenning played at KSU.
Or maybe it's the addictive Cajun food at the Hibachi Hut in Aggieville in Manhattan, Kan.
August, 27, 2008
8/27/08
10:54
AM ET
By
Tim Griffin
| ESPN.com
Posted by ESPN.com's Tim Griffin
Credit Western Michigan coach Bill Cubit for being honest.
Cubit had a unique description for his mindset leading up to the Broncos' season opener Saturday at Nebraska.
"You kind of go in there blind," Cubit said, reflecting on his lack of knowledge about how new Nebraska coach Bo Pelini will operate his program during game situations.
Pelini has been a head coach for one previous game -- a 2003 Alamo Bowl victory over Michigan State as interim coach after Frank Solich was fired. So Cubit doesn't know much about what he'll be facing.
So he's preparing for just about anything.
"We just don't know," Cubit said on the Mid-American Conference's weekly teleconference. "You can talk to people about what coach Pelini did at LSU. But you've got different players and you're always trying to adapt your system to the players you've got, and what their strengths and weaknesses are.
"For us, it's just going to be more fundamentals. The unknown in the first game is always severe, but with the new coaching staff ... With our kids, you can't tell them exactly where people are going to be all the time."
Other coaches are facing similar problems across the country.
And that's why we're here. To provide enlightment about the Big 12 one link at a time.
Here are some of this morning's goodies.
BIG 12 SCOREBOARD
Saturday, 12/20
Monday, 12/22
Tuesday, 12/23
Wednesday, 12/24
Friday, 12/26
Saturday, 12/27
Monday, 12/29
Tuesday, 12/30
Wednesday, 12/31
Thursday, 1/1
Friday, 1/2
Saturday, 1/3
Sunday, 1/4
Monday, 1/12
Tweets from https://twitter.com/ESPNCFB/lists/big12