December, 29, 2010
12/29/10
9:31
PM ET
A
38-14 loss
is not how Baylor pictured its return to the postseason turning out, but considering the way Baylor's offense opened the game, it could have been worse. A few bounces the other way could have made this game come down to the final drive, too.


How the game was won:
Baylor's offense sputtered early (missed field goal, two lost fumbles and four punts in their first seven possessions), while Illinois scored on its first four possessions and led 24-0 after opening the second half with a touchdown. The early lead was too big for a late Bears rally to overcome, thanks to Illinois' running game, which overpowered Baylor for most of the game and racked up 306 yards on the ground.
Turning point:
Baylor grabbed a solid hold on the game's momentum with a 39-yard touchdown pass from
Robert Griffin III
to
Kendall Wright
that cut Illinois lead to 24-14, and the Bears followed that with a defensive stop to get the ball back down 10 early in the fourth quarter. Baylor got stuffed on a 3rd-and-1 for a three-and-out and Illinois came up with the ensuing muffed punt. Seven plays (six runs) later, Illinois was in the end zone with a 31-14 lead to put the game out of reach.
Stat of the game:
Nathan Scheelhaase
's completion percentage: 78. The redshirt freshman quarterback completed just under 57 percent of his passes on the year entering the Texas Bowl, ninth in the Big Ten. He was a perfect 13-of-13 for 170 yards in the first half and made Baylor respect the pass. The Bears defense has had plenty of struggles in 2010, but when Illinois can throw the ball efficiently, it's much more difficult to defend. Because of Scheelhaase's play, the Bears experienced that firsthand. He finished 18-of-23 for 241 yards.
Player of the game:
Illinois' offensive line. Baylor needed to get a push up front to slow the Illini running game, and it didn't happen. That's because the Illinois big men up front paved the way for
Mikel Leshoure
and
Jason Ford
. Baylor didn't tackle particularly well, but often, no Bears defender was getting a shot at ballcarriers until they were 4-to-7 yards upfield. That's a credit to Illinois. LeShoure racked up 184 yards on his own and Scheelhaase added a late 55-yard touchdown run.
Second guessing:
Baylor's decision not to try and make a 24-point deficit a three-possession game. It's a mild complaint, but Baylor has a mobile quarterback that's particularly difficult to defend in the red zone and has lots of playmaking receivers who can get open in tight spaces on two-point conversion attempts. The Bears only got to within 24-14, but if that lead had been 24-16, you wonder if it might have applied enough pressure on the Illinois offense to produce a different result. Maybe not, but it's worth considering.
Record performance:
Baylor running back Jay Finley broke the single-season rushing record during the game, and Griffin broke the career passing yards record.
What it means:
It's a disappointing loss for Baylor, but the Bears are a program looking to make strides year upon year. Getting to a bowl game was a big one, and it was especially good for fans to be able to make a short trip to Houston to see a program with a big opportunity, similar to the basketball team's appearance in the Houston regional back in March. With Griffin returning in 2011, the Bears figure to make another run to the postseason.
On a conference-wide scale, it's another black eye for the Big 12, who drops to 0-2 in the bowl season with a pair of losses to Big Ten teams after Missouri dropped a 27-24 game in the Insight Bowl on Tuesday night.
That's a big disappointment for a conference favored in nearly every bowl game and had a reasonable chance to go 8-0. That's an afterthought now, and if the Big 12 can't get some wins later on in the bowl season, a league already low on prestige after being raided during this summer's conference realignment gets even more so.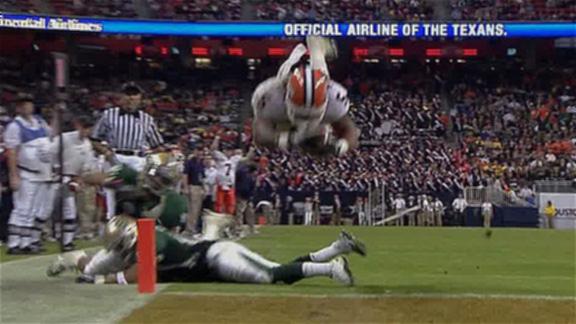 December, 28, 2010
12/28/10
1:15
PM ET

1. Robert Griffin III has to look to run, but not force it.
Baylor's offense really gets going when Griffin breaks a defense's contain, and the quickest way to beat the Bears is to limit Griffin's legs. TCU did it early in the season and beat the Bears 45-10. Oklahoma State did it as well. Griffin can't look explicitly to run the ball, but if the opportunity is there, he'd be well served to take it. When defenses constantly have to account for Griffin as a runner, it makes his already excellent accuracy as a passer even more dangerous and even more difficult to defend.
2. Wrap up when they get the chance.
Illinois' zone-read scheme with running back
Mikel LeShoure
and
Nathan Scheelhaase
and is hard enough to defend, but anytime Baylor defenders aren't fooled by the fake, someone has to make a play and wrap up while the defense swarms. The Fighting Illini demand teams play assignment football, and part of that assignment is making a tackle and limiting yards after contact. Racking up broken and missed tackles is the surest way for the Bears' defense to put tons of pressure on its offense. Do that, and Baylor will be waiting until next year for another chance to celebrate a bowl win.
3. Cash in when the opportunity arises.
Some games, like
Texas A&M's win over Nebraska
this year, can be won with field goals. This certainly won't be one of them. The over/under for the Texas Bowl is 63 points, and for the Bears, capitalizing in the red zone is a must in a game like this. That's especially true considering Baylor's field goal kicking struggles late in the season. Freshman Aaron Jones looked like one of the Big 12's best kickers early in the season, but suffered through a disastrous 1-for-4 night with a missed extra point in a loss to Texas A&M. Baylor would be well served to get it across the goal line rather than leave it up to special teams.
December, 16, 2010
12/16/10
4:15
PM ET
By
ESPN.com staff
| ESPN.com
Not sure what to expect with the Big 12's bowl slate over the holidays? It's a somewhat underwhelming slate.
Here's who I'd like to see.
Those aren't happening, but here's how I'd rank what we've got on the matchup sexiness scale:
1. AT&T Cotton Bowl, Jan 7:
Texas A&M vs. LSU. They say defense wins championships. That's not always true in beauty contests like these, but I'll take these two disciplined, hard-hitting defenses at Cowboys Stadium over the high-octane offenses elsewhere on this list. Plus, if it's close late ... Les Miles is involved.
2. Texas Bowl, Dec. 29:
Baylor vs. Illinois. Zone-read enthusiasts, your day has arrived.
Robert Griffin III
and
Jay Finley
of Baylor should run it more than a few times.
Nathan Scheelhaase
and
Mikel Leshoure
at Illinois will do it even more. Expect lots of points from two good offenses, but Baylor's Griffin has a big edge when it comes to putting the ball in the air. The Illini secondary better be well-prepared to face the Bears, who have five receivers with at least 40 catches.
3. Valero Alamo Bowl, Dec. 29:
Oklahoma State vs. Arizona. The Cowboys secondary will get a tough test from the Wildcats'
Nick Foles
-led spread attack. And Oklahoma State fans will get another chance to yell at a Stoops.
4. Tostitos Fiesta Bowl, Jan. 1:
Oklahoma vs. Connecticut. I can't believe this game is this high, but Oklahoma is really in a no-win situation. Win big, and you do what everyone expected. Win by less than two possessions, and the BCS streak ends, but the talk about Bob Stoops-coached teams in BCS bowls won't. That could provide for some drama late.
5. Bridgepoint Education Holiday Bowl, Dec. 30:
Nebraska vs. Washington. We may have seen this before, but we haven't seen a healthy
Taylor Martinez
in a long time. This could be our last chance until next season. Don't expect him to run all over the Huskies, but this defense isn't anything like the ones he faced against Texas A&M and Oklahoma.
6. Insight Bowl, Dec. 28:
Missouri vs. Iowa. Suspensions have sapped some of the energy out of this one; Iowa's
Ricky Stanzi
is running out of talent around him, but the Tigers will see a defensive line from the Hawkeyes unlike anything the've seen in awhile. That could mean trouble, and a one-dimensional offense.
7. TicketCity Bowl, Jan. 1:
Texas Tech vs. Northwestern. The same goes for this one. The Wildcats lost their mojo without do-everything quarterback
Dan Persa
, and somehow it even transferred to the defense. But the 48 and 70 points Northwestern gave up to Illinois and Wisconsin came in a very different manner than how Texas Tech will try to score.
8. New Era Pinstripe Bowl, Dec. 30:
Kansas State vs. Syracuse. The novelty of playing on a baseball field was lost a bit during the season, but some snow could make for a pretty old-school game.
Daniel Thomas
was built for nasty weather.
December, 16, 2010
12/16/10
10:30
AM ET
By
ESPN.com staff
| ESPN.com
We'll be taking our video series from the season and slapping it into word form on the blog before the bowl season starts. In this series, we'll look at a particular player or position group that must play well for the team in question to win its bowl game.
First up: the
Baylor Bears
.
Art Briles' 7-5 team is in the postseason for the first time in 1994, ready to face Illinois in the Texas Bowl in Houston. The bowl drought is over, now comes the next step: winning it.
So, who's on the spot?
Defensive tackle Phil Taylor.
The Penn State transfer goes by "Big Phil" and for good reason: He's a very NFL-like 6-foot-4 and 340 pounds in the middle of Baylor's defense. He had an underwhelming debut season in 2009, but earned All-Big 12 honors in 2010 after making seven tackles for loss and 52 tackles as a senior. He also forced a fumble and broke up a pair of passes.
That's nice, but the Bears need Taylor to be at his best clogging up the middle and pushing the interior of the Illinois offensive line into its backfield. The Fighting Illini's 569 rushing attempts were the most in the Big Ten and running back
Mikel Leshoure
led the league's running backs in rushing, with 1,522 yards. That's almost 400 yards more than his closest competition at the position. His highlight was a 330-yard day against Northwestern earlier this year, the highest total of any FBS player this season. Illinois loves to run it with LeShoure and quarterback
Nathan Scheelhaase
, but Taylor could put the kibosh on a repeat performance from LeShoure with a big day himself. He can't do it by himself, of course; linebacker Antonio Johnson and defensive end Tevin Elliott could help with big games, too, but Taylor is the first line of defense.
At the very least, if Taylor's not in the backfield, he could serve the defense well by getting all the stops he can against the running attack. LeShoure averaged six yards a carry this season; if Taylor is within arm's reach of a ballcarrier, any tackle that limits an Illini player to just a couple yards is a big play for the Bears.
LeShoure averaged over 183 yards in his final four games of 2010 with eight touchdowns, and Paul Petrino's offense will be intent on heading for a fifth consecutive game of at least 100 yards for the back.
Prevent that, force redshirt fresman Scheelhaase to throw the ball more than the gameplan calls for, and Baylor will be well on its way to a bowl win.
December, 5, 2010
12/05/10
10:40
PM ET
Illinois Fighting Illini (6-6) vs. Baylor Bears (7-5)
Dec. 29, 6 p.m. ET (ESPN)

Illinois take by Big Ten blogger Adam Rittenberg
: After doubling its wins total from 2009, Illinois enters somewhat unfamiliar territory Dec. 29 at Houston's Reliant Stadium.
The Illini have been the nation's ultimate all-or-nothing program the last decade, reaching two BCS bowls -- the 2002 Sugar and the 2008 Rose -- and enduring eight losing seasons. They haven't played in a non-BCS bowl since the 1999 MicronPC.com Bowl, which also marked the program's last postseason victory. Illinois can take a step toward consistency in the Texas Bowl against Baylor.
Illinois has made strides in all three phases this season, although the Illini remain prone to erratic play.
Junior
Mikel Leshoure
emerged as the Big Ten's best running back this season, ranking eighth nationally in rushing (126.1 ypg). Paul Petrino's offense is built around the run, and Illinois boasts plenty of ball-carrying options with Leshoure, classmate
Jason Ford
and redshirt freshman quarterback
Nathan Scheelhaase
.
The Illini defense surged at the start of Big Ten play but backslid down the stretch. Illinois needs standouts like defensive tackle Corey Liuget and linebackers Martez Wilson and Nate Bussey to perform at their peak against Baylor's multitalented quarterback Robert Griffin.
The big question: Which Illinois team will show up in Houston? If it's the one that pounded Penn State and Northwestern and beat a good Northern Illinois team, the Illini have a good shot to win. But if it's the one we saw Friday night against Fresno State or Nov. 13 against Minnesota, it'll be a long night.
---

Baylor take by Big 12 blogger David Ubben
: You won't hear any complaints from Baylor on its bowl destination during the holidays. Bears fans stormed the field at Floyd Casey Stadium after a win over Kansas State in October gave the team its sixth win, officially qualifying for bowl eligibility for the first time since 1995. A three-game losing streak to end the season slowed some of the Bears' momentum after a 7-2 start, but the official announcement should serve as a jolt of energy and a reminder of the accomplishment's significance within the program.
The Bears boast an exciting set of skill position talent in quarterback
Robert Griffin III
, running back
Jay Finley
and five receivers with at least 40 catches this season. Baylor had to use that offense to outscore a handful of opponents this season, but they did it enough times to reach the team's ultimate goal when the season began: ending that infamous bowl drought.
The Bears bowl destination isn't exactly exotic -- just a short trip east to Houston -- but like I said, you won't hear them complaining.