April, 17, 2014
4/17/14
1:30
PM ET
Kansas State heads into the 2014 season with its entire coaching staff intact for the first time since Bill Snyder returned to lead the program he built in 2009.
Normally, the thought of continuity would bring great piece of mind for a head coach. But Snyder is a unique man and coach, one who is always covering every angle and thinking of every possibility.
[+] Enlarge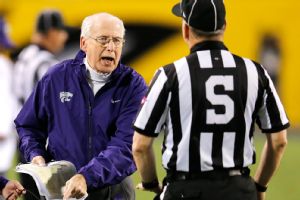 AP Photo/Matt YorkBill Snyder's entire coaching staff is back this season. While that's comforting, Snyder isn't happy with just maintaining the status quo.
"I think that it is something that you have to be cautious about, not taking that for granted," Snyder said of having the coaching staff intact. "Just the fact that you have the same people in place, it will be very easy to think it will just be done how it has always been done. Then you get yourself into some dire straits if you accept it that way."
The Wildcats staff features several coaches who have been at KSU for more than a decade. Special teams coordinator Sean Snyder, co-offensive coordinator Dana Dimel, co-offensive coordinator Del Miller and interior defensive line coach Mo Latimore have combined to spend 82 seasons in the program. The program does feature some newer faces in receivers coach Andre Coleman and defensive ends coach Blake Seiler, who just completed their first season as position coaches in Manhattan.
Snyder's response to the question about continuity could be a glimpse at what helps separate him from other coaches. In his mind, there's no advantage to having his entire staff return if they return as the same coaches they were during the previous season. He expects his staff to grow as coaches, much like he expects his team to grow as players.
"It is a plus to have all of your staff returning, but it is a plus only if that staff continues to grow and continue to provide the foundation for our players to improve on a regular basis," Snyder said. "When you have been in a position -- yours, mine, anyone else's -- the longer that you are in it, the more susceptible you [are to] take certain aspects for granted. We need to be awfully careful about that."
Clearly the coaches on his staff buy into that mindset, and it's working. The Wildcats have averaged 8.4 wins per season since Snyder's return five years ago, including 29 wins during the past three seasons. KSU averaged 5.6 wins per season in three years with a 17-20 overall record under Ron Prince from 2006-08.
March, 3, 2009
3/03/09
7:55
PM ET
By
Tim Griffin
| ESPN.com
Posted by ESPN.com's Tim Griffin
Arizona inside receivers coach Mike Smith has left the Wildcats program to pursue a possible position at Kansas State.
The Arizona Daily Star reported Tuesday that Smith told Arizona coach Mike Stoops of his decision on Monday, and the job opening was placed by athletic department officials early Tuesday.
"Mike Stoops gave me his blessing," Smith told the Star. "I value Mike's friendship and our relationship on and off the field. It was a tough decision for me."
Smith could become the second Arizona coach to join KSU coach Bill Snyder's staff in the past month. Associate head coach Dana Dimel, a former veteran KSU assistant under Snyder, returned to his old school on Feb. 10.
With the departure of offensive coordinator Andy Ludwig for a vacant job at California late last month, Dimel likely will roll into the coordinator position with Smith taking a similar job coaching receivers with the Wildcats.
The return makes a lot of sense for Smith, who coached running backs with Snyder on his KSU staff from 1995-2005. His two daughters still live in the Manhattan area, the Star reported.
It would appear to be another part of Snyder's staff familiar with his coaching philosophy. Among the coaches who are currently on the KSU staff, co-defensive coordinator Chris Cosh, defensive ends coach Joe Bob Clements and defensive line coach Mo Latimore all previously served on Snyder's staff. And co-defensive coordinator Vic Koenning played at KSU.
Or maybe it's the addictive Cajun food at the Hibachi Hut in Aggieville in Manhattan, Kan.