January, 1, 2013
1/01/13
11:00
AM ET
Time for another round of fun facts and tidbits about the Big 12's premier bowl games: The Tostitos Fiesta Bowl and AT&T Cotton Bowl.
As always, these come courtesy of our crack team at ESPN Stats & Information and sports information departments across the Big 12. Let's get started:
Did you know ...
Oregon leads the nation in touchdown drives that lasted less than a minute with 22.
The Ducks have 44 touchdown drives of two minutes or less, also the most in FBS.
Kansas State has scored on 40 percent of its drives this season, and average 3.5 points per drive.
K-State averages more than 10 fewer points per game than Oregon, but the two are tied for second nationally in points per drive.
Kansas State's 10 turnovers this season are the third fewest in FBS.
The Wildcats are in the top four nationally in average drive start position, penalties per game, turnover margin and opponent points off turnovers.
Collin Klein is completing 53.8 percent of his passes longer than 20 yards this season, compared to 43.9 percent last season.
Klein has at least one touchdown in goal-to-go situations in 22 of 23 games against FBS opponents the past two seasons.
Klein averages 8.7 yards a carry on scrambles and 41.4 percent of those carries end in first downs.
Texas A&M QB Johnny Manziel has 784 of his 1,181 rushing yards on scrambles, averaging 9.7 yards a carry on those plays.
Manziel has been forced out of the pocket on 27.6 percent of drop backs this season.
Over the last three games, Oklahoma quarterback Landry Jones is completing 77.7 percent of his passes for four touchdowns and no interceptions when he's blitzed.
On the season, he has eight touchdowns and one pick when blitzed.
Jones has thrown just 12.2 percent of his career passes from outside the pocket, but thrown 25.5 percent of his career interceptions from outside the pocket.
In Oklahoma's first 10 games, Jones attempted 41 passes from outside the pocket. In the last two games, he's attempted just three such passes.
Oregon coach Chip Kelly is the only coach to ever reach a BCS game in each of his first four seasons as a head coach.
With a win, Oregon would have its third consecutive 12-win season. The last coach to do that in an AQ league was Oklahoma's Bob Stoops from 2002-04.
Oregon averaged 31.3 points in the first half this season, which is more than 73 FBS teams average in a game this year.
Kansas State averages 23.4 points in the second half this season, second most in FBS, behind only Louisiana Tech.
Klein is 21-4 as a starting quarterback.
K-State's 10 wins by fewer than seven points in the last two seasons are tied for the most in FBS.
Oregon is tied for the most forced turnovers this season with 38.
K-State has scored touchdowns on 36 of 71 second-half possessions this season. The top four in the FBS in that stat are all from the Big 12 (K-State, Baylor, Texas, Oklahoma State).
Klein's 49 rushing touchdowns since the beginning of 2011 are more than every FBS player but Wisconsin's Montee Ball, who has 54.
Klein's scored a touchdown in 21 consecutive games against FBS opponents, the longest streak in FBS since 2004 by five games.
Texas A&M is 4-8 in its 12 Cotton Bowl appearances.
Oklahoma is 1-0 in its only appearance in the bowl, back in 2002.
If Oklahoma wins, it will have its first four-game bowl winning streak since 1978-81.
West Virginia's Pat White is the only player to ever go 4-0 in bowl games. Landry Jones could join him with a win.
A&M hasn't won consecutive bowl games since 1985.
A win would give Stoops 150 wins at Oklahoma, seven short of Barry Switzer's school record.
A win would give Texas A&M its first 11-win season since 1998.
November, 2, 2012
11/02/12
10:00
AM ET
Time for another round of fun facts across the Big 12 that should come into play this week. As always, these come courtesy of ESPN Stats & Info and various sports information departments around the Big 12.
Thanks for all you do. We love you. You make our readers the smartest folks at their tailgates. Let's get to it!
Did you know ...
Kansas State is first nationally in drive starting position, at its own 40.
The nation's top five teams in that stat have just three combined losses.
Kansas State is tied for second nationally with 3.6 penalties a game.
Kansas State is tied for fourth nationally converting 54 percent of its third downs.
Kansas State has yet to give up a point off one of its turnovers, the best mark in the FBS.
K-State kick returner Tyler Lockett ranks eighth nationally with 29.7 yards per return. Five of his 12 returns have been longer than 30 yards.
On throws 20 yards or longer last year, Collin Klein completed 44 percent of his passes for four touchdowns and two interceptions.
This year, he's completing 60 percent of those same throws with seven touchdowns and no interceptions.
On those throws last year against Oklahoma State, Klein was 2-of-6 for 56 yards and an interception.
Oklahoma State's Wes Lunt has completed just 5-of-18 (27.8 percent) of his passes longer than 20 yards this season. J.W. Walsh completed 47.4 percent of those passes this season.
Lunt was 1-of-4 for 38 yards last week against TCU on throws longer than 20 yards.
Kansas State's offense has just 86 drives this season, the second-fewest in FBS.
Kansas State's offense is fifth nationally in scoring, however. It has scored touchdowns on 42 of those drives.
It ranks first nationally in drives per touchdowns (2.2), plays per touchdowns (12), and touchdown percentage (48.8).
Over the past two seasons, Collin Klein leads the FBS with 45 rushes for first downs on third down, including 12 on third downs with longer than five yards to go.
Collin Klein averages 9.1 yards a carry on zone read plays this year, compared to 5.2 last season.
Lunt's completion percentage against the blitz (50) is 16 percentage points lower than when defenses drop at least seven defenders into coverage.
Klein, meanwhile, has completed 16 of 20 passes for 188 yards and two touchdowns against the blitz in his past two games.
Oklahoma State's Joseph Randle has 479 yards after contact this year, the third-most among backs from AQ conferences.
Randle, though, averages three yards a carry after contact, a higher rate than the two backs ahead of him, Wisconsin's Montee Ball and Michigan State's Le'Veon Bell.
Seth Doege has 13 touchdown passes and no interceptions on throws longer than 15 yards. That's the best ratio in the FBS.
He's completing 51 percent of his throws longer than 15 yards, the fifth-best mark nationally.
Texas' defense gave up 15 throws longer than 25 yards all last season.
The Longhorns have already given up 18 of the same completions this year.
Johnathan Gray didn't have a single carry longer than 20 yards in his first four games. He has three in his last four games.
His yards after contact per rush is up to 2.3 yards a carry vs. 1.6 in the first four games.
David Ash completed 55.6 percent of his passes longer than 15 yards with five touchdowns and no interceptions through the season's first five games.
He's completed 23.5 percent of those passes in the past three games with no touchdowns and three interceptions.
In those three games, Ash is 3-of-6 when targeting Mike Davis on throws longer than 15 yards. He's 1-of-11 when targeting the rest of the team on those throws.
Seth Doege is completing 79.1 percent of his passes in the red zone, the second-highest percentage in the FBS. Last year against Texas, he was 5-of-7 with two touchdowns in the red zone.
Landry Jones completed 49 percent of his throws longer than 15 yards last year. This season, he's down to 39 percent.
Oklahoma averaged just 2.4 yards per carry against Notre Dame, the worst mark of the season. They also averaged just 1.2 yards per carry before contact, the worst mark of the season.
Texas' offense has 21 touchdown drives longer than 75 yards this season, the most in the FBS.
In his first four games, Geno Smith completed 72.4 percent of his throws longer than 15 yards with nine touchdowns and no interceptions.
In his past three games, Smith has completed 3 of 27 (11 percent) of those throws with no touchdowns and two interceptions.
West Virginia averaged 220 yards after the catch in its first five games, all wins.
It's averaging just 119 yards after the catch in its last two games, both losses.
Both of Smith's interceptions this season have come on throws targeting receivers other than Tavon Austin and Stedman Bailey.
TCU quarterback Trevone Boykin completed all 13 of his pass attempts on third down against Baylor. He's just 9-of-25 since in losses to Texas Tech and Oklahoma State.
Baylor has 14 touchdown drives in under a minute this season. Against Iowa State last week, the Bears had just one.
Nick Florence has three of the top six games in Baylor history in single-game passing yards.
Steele Jantz tied the school record for completions (36) and touchdown passes (5) last week against Baylor.
Iowa State ran 102 plays last week, tying a school record and racking up 557 yards of offense, the most since 2008 against Kansas State.
James Sims' streak of four consecutive 100-yard games is the most in KU history since Tony Sands all the way back in 1991.
KU tackle Tanner Hawkinson has 44 consecutive starts, the most for a Jayhawk since 2000.
KU threw seven passes last week, the fewest in a game since 1992.
KU has already surpassed last year's interception total (8) with nine picks this season.
August, 16, 2012
8/16/12
2:00
PM ET
Our ESPN college football team is talking Heisman all day today, including the debut of our weekly Heisman tracker, the Heisman Watch.
We have 15 voters who turn in a Heisman top 5 each week following the games, including yours truly.
We
released our first version today
, and two Big 12 quarterbacks are on the list.
West Virginia's
Geno Smith
is No. 3, and even received a first-place vote. He cashed in two votes for second, third, fourth and fifth. Way to spread the love. He appeared on 11 of 15 ballots.
Oklahoma's
Landry Jones
is No. 5. He also appeared on 11 of 15 ballots, but had three third-place votes, and four votes in fourth and fifth place.
You can
see the full standings here
.
I'll be releasing my ballot here on the blog every week, but
here's how I voted to start the season:
Matt Barkley, QB, USC
Montee Ball, RB, Wisconsin
Marcus Lattimore, RB, South Carolina
Geno Smith, QB, West Virginia
Landry Jones, QB, Oklahoma
August, 16, 2012
8/16/12
1:30
PM ET
By
ESPN.com staff
| ESPN.com
Stanford's Andrew Luck left a year early for the NFL. USC's Matt Barkley returned for his senior season. Baylor's Robert Griffin III bolted. Oklahoma's Landry Jones stayed. Alabama's Trent Richardson moved on. Wisconsin's Montee Ball is still in Madison.

The top six finishers in the Heisman Trophy vote were all underclassmen. The top three left early (Griffin, Luck and Richardson). But the next three came back (Ball, Tyrann Mathieu and Barkley, though Mathieu was given the boot from LSU).

On the defensive side of things, while superstars such as LSU's Morris Claiborne, Mississippi State's Fletcher Cox and Alabama's Dont'a Hightower entered the draft early, others, such as LSU's Sam Montgomery, Utah's Star Lotulelei and Notre Dame's Manti Te'o, came back.

Bottom line: There's a lot of star power returning to college football in 2012. More, perhaps, than usual. Each player has his own reasons for coming back, though visions of national championships, individual awards and, yes, better NFL draft position certainly danced in their heads.
Read
more from Ted Miller by clicking here
.
December, 5, 2011
12/05/11
9:10
PM ET
My Heisman Trophy ballot has changed every week for the last couple of months.
I'm not surprised there are more than three players going to the trophy presentation.
Five players were invited to New York for Saturday night's Heisman Trophy presentation -- quarterbacks
Andrew Luck
of Stanford and
Robert Griffin III
of Baylor, tailbacks
Montee Ball
of Wisconsin and
Trent Richardson
of Alabama and cornerback Tyrann Mathieu of LSU.
It's a shame the Heisman Trust didn't have room for three more quarterbacks because Houston's
Case Keenum
, USC's
Matt Barkley
and Boise State's
Kellen Moore
were just as deserving.
With five finalists going to New York, it figures to be one of the closer votes in recent Heisman Trophy history.
The closest vote in Heisman Trophy history came just two years ago, when Alabama tailback Mark Ingram edged Stanford's Toby Gerhart by only 28 points. Ingram received 227 first-place votes, Gerhart got 222 and Texas quarterback Colt McCoy, the second runner-up, received 203.
Given the number of finalists and their geographical regions, we could have another really close finish on Saturday night.
Luck, the runner-up to Auburn's Cam Newton last season, entered the 2011 season as the Heisman Trophy favorite. His performance didn't slip much this season, as he completed 70 percent of his passes for 3,170 yards with 35 touchdowns and nine interceptions.
I still feel Luck might be the most valuable player on any team in the country. Without him, there's no way the Cardinal is ranked No. 4 in the country and playing No. 3 Oklahoma State in the Tostitos Fiesta Bowl. Luck has done more with less, as Stanford lacks the game-changing playmakers that other teams have.
But Luck might still be the second-best quarterback in New York. Griffin, who is widely known as RG3, completed 72.4 percent of his passes for 3,998 yards with 36 touchdowns and six interceptions. He also ran for 644 yards with nine touchdowns.
Without him, the Bears wouldn't have beaten TCU, Oklahoma and Texas. Griffin's one drawback: He had a late interception that sealed the Bears' fate in a 36-35 loss at Kansas State on Oct. 1 and threw two picks in a 59-24 loss at Oklahoma State on Oct. 29. But with everything else RG3 has done this season, it's easy to give him a mulligan for the miscues.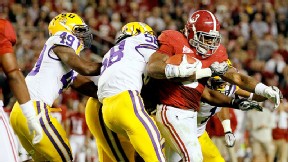 Kevin C. Cox/Getty ImagesRunning back Trent Richardson has been at his best in Alabama's biggest games.
I still believe Richardson is the best player in the country. He looked like the best player on the field in No. 2 Alabama's 9-6 loss in overtime to No. 1 LSU on Nov. 5. He had 89 rushing yards and 80 receiving yards in a game where every yard mattered. He finished the season with 1,583 yards with 20 touchdown runs and three touchdown catches. He's also Mr. Dependable, not losing a fumble in his past 520 touches and only once in 614 career touches.
Ball has been a scoring machine for the No. 10 Badgers this season, running for 1,759 yards with 32 touchdown runs and six touchdown receptions. His 38 total touchdowns are one shy of matching former Oklahoma State running back Barry Sanders' NCAA single-season record of 39 set in 11 games in 1988. Ball's production helped lead the Badgers to a Jan. 2 date against Oregon in the Rose Bowl Game presented by VIZIO.
Mathieu fell off my ballot after he was suspended from playing in the Tigers' 45-10 victory over Auburn on Oct. 22 for smoking synthetic marijuana. But his big plays helped the Tigers overcome deficits in each of their last two victories, over Arkansas and Georgia in the SEC championship game.
Mathieu -- aka the "Honey Badger" -- is the best player on the top-ranked team. He leads the Tigers with 70 tackles and has forced six fumbles and recovered five. He also is the most dynamic punt returner I've seen since Florida State's Deion Sanders. Mathieu has scored four touchdowns -- two on fumble returns and two on punt returns.
To penalize Mathieu for one foolish mistake wouldn't have been right. After all, Newton was briefly ruled ineligible at Auburn last season and 2010 Heisman Trophy finalist
LaMichael James
of Oregon was suspended from playing in last season's opener.
December, 5, 2011
12/05/11
7:53
PM ET
By
ESPN Stats & Information
| ESPN.com
On Monday the five finalists invited to New York for the Heisman Trophy ceremony were revealed. This year has featured one of the most interesting races for the Heisman as no one player has stood from the rest.
Here's a look at what a Heisman Trophy win -- or loss -- would mean to these players and their respective schools.

Trent Richardson, Alabama
Two seasons ago Trent Richardson was a part of a National Championship team with a Heisman Trophy winner, when running back Mark Ingram became Alabama's first winner. Richardson has nearly identical numbers to Ingram this season, and has already totaled 23 touchdowns compared to Ingram's 20 TD's.
If Richardson were to win the award it would put him and Ingram in some rare company. In the history of the Heisman Trophy only three times have two different players playing the same position at the same school won the award in a span of three seasons. It last happened when USC QB Matt Leinart won it in 2004 after Carson Palmer had taken home the award in 2002.

Andrew Luck, Stanford
Luck is listed second here as he finished second for the Heisman last season and Stanford has actually had the Heisman runner-up in each of the past two seasons (Toby Gerhart, 2009).
If Luck wins he would be the second player in Stanford history to win the award (Jim Plunkett, 1970) and join 1981 Herschel Walker as the only Heisman runner-ups to win the award the next season.
If Luck finishes second, Stanford would set a record. No school has ever had a Heisman runner-up in three consecutive seasons.

Montee Ball, Wisconsin
Montee Ball earned his invite thanks to his impressive numbers. Ball needs one touchdown in the Rose Bowl to tie Barry Sanders' FBS record for touchdowns in a season (39). Sanders won the Heimsan trophy during that 1988 season.
Ball's 38 touchdowns are the most by a Big Ten player since Eddie George had 25 in his Heisman Trophy winning 1995 season.

Robert Griffin III, Baylor
RGIII finished off a great regular season in which he threw 36 touchdowns compared to only six interceptions, while also leading Baylor to nine wins, its most since the 1986 season.
Griffin's invite is an accomplishment in its own considering he plays for Baylor. The Bears have only had one player finish in the top five of the Heisman vote in school history. In 1963 Don Trull finished fourth.
If Baylor's Robert Griffin III wins the Heisman Trophy this year, he will be just the third player since the BCS was established in 1998 to win the Heisman without his team playing in a BCS bowl game.

Tyrann Mathieu, LSU
The Honey Badger will take the trip to New York looking to join Charles Woodson as the only defensive backs to win the Heisman trophy.
Despite being a defensive player, recent history is on Mathieu's side to take home the award. Since 2003, seven of the past eight Heisman Trophy winners have come from the team at number one in the BCS standings entering the National Championship Game.