May, 9, 2012
5/09/12
6:00
AM ET
By
ESPN.com staff
| ESPN.com
WEST VIRGINIA MOUNTAINEERS
2011 overall record:
10-3
2011 conference record:
5-2
Returning starters:
Offense (8), Defense (6), P/K (2)

Top returners:
QB
Geno Smith
, WR
Stedman Bailey
, WR
Tavon Austin
, RB
Dustin Garrison
, RB
Shawne Alston
, S
Darwin Cook
, S
Terence Garvin
Key losses:
DE Bruce Irvin, LB Najee Goode, DE Julian Miller, S Eain Smith, CB Keith Tandy
2011 statistical leaders (*returners):
Rushing:
Dustin Garrison* (742 yards)
Passing:
Geno Smith* (4,385 yards)
Receiving:
Stedman Bailey* (1,279 yards)
Tackles:
Najee Goode (87)
Sacks:
Bruce Irvin (8)
Interceptions:
Keith Tandy (4)
Three spring answers
1. A clear defensive vision:
Jeff Casteel packed up for Arizona and rejoined former WVU coach Rich Rodriguez in Tucson. He took the 3-3-5 with him. On the way to the Big 12, coach Dana Holgorsen went away from the defense that made a name for the Mountaineers. Now, he's got co-defensive coordinators Keith Patterson and Joe DeForest getting his team ready to utilize a 3-4 with a pass rush built to confuse and fluster Big 12 quarterbacks.
2. Wealth overflows at receiver:
Bailey and Austin make a great case for being the Big 12's No. 1 and 2 receivers entering the 2012 season, but now true freshman Jordan Thompson adds even more depth to the position. He provides another target for Smith.
3. No worries on offense:
WVU is already one of the most productive offenses, and any doubt was eliminated during a quiet spring in West Virginia before one of the most anticipated seasons in school history. The passing game should be fine, but Shawne Alston filled in well for Garrison, who was out this spring after seriously spraining a knee during practices for the Orange Bowl.
Three fall questions:
1. Can the Mountaineers handle the heat?
West Virginia is no stranger to big games. Its played LSU and Auburn in recent years and is 3-0 on the BCS stage. Can WVU handle the week-to-week grind of the Big 12 and difficult venues every week? The step up from the Big East won't be as great as TCU's from the Mountain West, but it's still going to be more difficult. WVU was the only Big East team ranked in the top 25 for most of the 2011 season. Six Big 12 teams will likely be ranked in the preseason.
2. How explosive is this offense in Year 2?
Holgorsen can work some magic with his offense, and he'll have lots and lots of toys in 2012. Brandon Weeden didn't get a second year with the offensive wizard, but Holgorsen has high hopes for special talents in Smith and Austin, two players he can't complement enough. Is West Virginia the best offense in its new conference?
3. A clear vision, but will it work?
West Virginia recruited to build a 3-3-5 scheme, but it'll try and piece together the 3-4 in a defense that lost its top three pass-rushers from 2011. Holgorsen knows what he wants to do schematically on defense, but there's certainly reason to doubt whether it can handle the huge jump in quality of offenses from the Big East to the Big 12.
May, 8, 2012
5/08/12
1:00
PM ET
By
ESPN.com staff
| ESPN.com
Time to wrap up our series breaking down each team's best and worst positions entering the 2012 season. West Virginia will bring up the rear.
More spring superlatives:
Strongest position: Wide receiver

The Big 12 has exactly zero returning 1,000-yard receivers in 2012, thanks to Texas A&M's SEC defection. All four 1,000 receivers from 2011 will be in the NFL (Justin Blackmon, Ryan Broyles, Kendall Wright) or the SEC (
Ryan Swope
).
West Virginia, though, returns two.
Stedman Bailey
and
Tavon Austin
will start the season as the Big 12's top two receivers, and there's a pretty good chance they'll end the season in the same place. Quarterback
Geno Smith
is arguably the Big 12's best, and the offense returns eight starters entering Year 2 of Dana Holgorsen's high-powered attack. That's a good sign for Bailey and Austin, a pair of dynamic playmakers. WVU's entire offense is based around getting them the ball, and as long as they stay healthy, both are more than capable of getting open.
Weakest position: Pass-rushers
West Virginia loved watching feel-good story Bruce Irvin hear his name called in the first round of the NFL draft, but it also brings the focus on a stark realization for the Mountaineers: They need a lot of help with the pass-rush. Irvin is gone, but so is fellow defensive end Julian Miller and linebacker Najee Goode. Those were the team's three leading sackers, and leave behind 19 sacks in 2011 that the Mountaineers have to replace in 2012.
They'll do it in a new league with faster offenses and smarter, better quarterbacks. They'll also be breaking in a brand-new scheme. The 3-4 is a big departure from the 3-3-5 that much of the defensive recruits signed up to play when they came to West Virginia. That's an adjustment that won't be quick, but new coordinators Joe DeForest and Keith Patterson worked all spring on installing the system and making sure players can play fast with minimal thinking. Expect a few growing pains early. Everything looks better on defense when you have a disruptive pass-rush, but there are plenty of reasons to believe that element might not be there for WVU in the immediate future.
March, 13, 2012
3/13/12
1:15
PM ET
By
ESPN.com staff
| ESPN.com
We're looking back at the top 25 list today, but it's time to look eastward at another top 25 list, too.
Oklahoma State led the Big 12 with five players on the top 25 list, but the Big East?
West Virginia took home the title with
seven
players on the list, including No. 1 Geno Smith. To prep for the Mountaineers' arrival, here's what colleague Andrea Adelson had to say about the WVU players who cracked the list.
Click on each player for even more. Where will they fall in the Big 12 list? You'll have to wait until later this summer, friends, when we unveil the preseason list.
Writes Adelson:
No. 1: Geno Smith, QB:
There is no way West Virginia would have had another record-breaking offensive year and been one of the most explosive groups in the country without Smith. Take Smith away, and
Tavon Austin
and
Stedman Bailey
are not nearly as effective. There is no denying that trio of players benefited from playing in the high-powered offense Dana Holgorsen brought with him from Oklahoma State. But one glance at what happened at Pitt should show everybody that there is no such thing as just being able to insert any warm body into a spread offense and have it work like magic.
No. 3: Tavon Austin, WR/KR
: Austin's most impressive stat is this -- going into the Orange Bowl against Clemson, he had racked up 807 yards after the catch on the season. To me, that says all you need to know about his abilities not only as a receiver but an all-around playmaker for the Mountaineers. ... Austin did it all this season, and led the nation in all-purpose yards -- averaging 198 a game. That is an incredible amount for a single player, considering all of the Mountaineers' talented skill guys.
No. 7: Stedman Bailey, WR
: Bailey was the most sure-handed and consistent receiver for the Mountaineers this past season and set career marks in every major category -- 72 receptions for 1,279 yards and 12 touchdowns. Working in the wide-open offense Dana Holgorsen brought with him surely benefited Bailey and
Tavon Austin
, who also has his spot secure higher in these rankings. Bailey also set a school record for consecutive 100-yard games with five. He actually had seven total, and they all happened in the span of eight games.
Unlike the first three, the next four players on the list won't be returning, but you can get a look at them, too.
No. 12: Najee Goode, LB
: Perhaps most important to keep in mind -- Goode played all three linebacker positions this season. He started the year in the middle, then had to move to the strong side when
Doug Rigg
got hurt, and finished the year at the weak side. His versatility made him an incredible asset. Couple that with his productivity, and you see why he was a first-team Big East selection and landed right here on my year-end list.
No. 13: Bruce Irvin, DE:
Irvin emerged as a force in 2010, with an amazing 14 sacks as a pass-rush specialist. Many anticipated bigger things in 2011, especially with his move into the starting lineup. But Irvin got off to a slow start and was particularly ineffective early in the season, as he had to fight off double teams and adjust to his new every-down role. West Virginia coaches smartly saw that and adjusted, pulling him out of the starting lineup. The result was a return of the Irvin of old. Irvin had one sack in the first five games of the season; he had 7.5 in the final eight.
No. 14: Julian Miller, DL
: Against Cincinnati, Miller had seven tackles, and scored a touchdown on the most critical play of the year -- when
Zach Collaros
was sacked and fumbled in the end zone. Against Pitt, Miller had a career-high four sacks and 12 tackles; and against USF, he had four tackles, two for loss, and a pass breakup. On the year, he finished with six sacks and tied for a league high with three fumble recoveries. He forced two fumbles himself. His stats may not be earth shattering, but his value and importance to the team cannot be underestimated, and helped transform the Big East race.
No. 24: Keith Tandy, CB:
Tandy had a bit of an up-and-down season, but he still was one of the best cornerbacks in the Big East. The way he helped shut down Clemson receiver
Sammy Watkins
in the Discover Orange Bowl after a 27-yard touchdown reception early in the game was probably the highlight of his season. There were more than a few interceptions he dropped, which probably made West Virginia fans pull their hair, but it also is important to remember that he was the best player in a secondary that had its share of struggles. The cornerback combination of Tandy and
Brodrick Jenkins
seemed to work best late in the season.
March, 12, 2012
3/12/12
10:30
AM ET
By
ESPN.com staff
| ESPN.com
West Virginia opened camp on Sunday and will continue through the next six weeks. Here's what to expect.
Schedule:
Sunday marked the first of West Virginia's 15 NCAA-allowed practices, leading up to the spring game April 21. The Mountaineers are hoping for 30,000 at the Blue-Gold Game, which would far outpace most of the Big 12. Practices before the spring game are closed to fans and media.

What's new:
Like TCU, it's the task ahead. One could argue that the task ahead of WVU isn't quite as difficult. The Mountaineers join the Big 12 next fall after two decades in the Big East. West Virginia won the league six times since 2003 and was 3-0 in BCS bowl appearances, including a dominant victory over Oklahoma. The Big East, however, has struggled to keep teams in the top 25 throughout the past few seasons. The Big 12 should open 2012 with six teams in the top 25, and maybe six in the top 20.
New faces:
You'll find a few familiar ones on WVU's staff, even if you haven't followed much outside the Big 12 lately. Second-year head coach Dana Holgorsen won 10 games (including a 70-33 Orange Bowl rout of Clemson) in his first year as a head coach after leaving his post as Oklahoma State's offensive coordinator after just one season. He was also on Mike Leach's staff at Texas Tech from 2000-2007 before jumping to Houston. As for this year, longtime defensive coordinator Jeff Casteel is gone and will be replaced by co-coordinators Keith Patterson and Joe DeForest, who was at Oklahoma State for 11 seasons.
Question mark:
Can WVU adjust to a new defensive scheme? WVU has been known for its 3-3-5 stack defense as its profile has risen over the past decade, but Casteel is taking it with him to Arizona. Instead, Patterson and DeForest will install a more traditional 3-4. Big 12 teams have been all over the map in terms of success with that formation, but look for lots of speed at the four linebacker spots. Can WVU master the scheme well enough by fall?
On the mend:
The biggest name sitting out the spring is running back
Dustin Garrison
, who took over the starting job as a freshman and rushed for 742 yards to lead the team. He tore his ACL in Orange Bowl practice, though, and will be out until the fall. Look for senior
Shawne Alston
(12 touchdowns in 2011) and
Andrew Buie
to handle most of the carries this spring.
Big shoes to fill:
The Mountaineers' entire defense, basically. In addition the new scheme on defense, WVU is replacing five top playmakers from its front seven, including leading tackler
Najee Goode
(87 stops) and sack masters
Bruce Irvin
and
Julian Miller
, who combined for 14 in 2011. Defensive backs
Keith Tandy
and
Eain Smith
are gone, too. WVU's depth chart with so much turnover and in a new scheme looks pretty jumbled, but will need some clarity this spring.
All eyes on:
Geno Smith
and the WVU offense. Is it truly good enough to produce week to week and win big in the Big 12? Smith is a dark-horse Heisman contender, but he's still got a lot to prove as the Mountaineers get used to their new digs. I'm betting yes, the WVU offense will be able to hang, but there's no guarantee until we see this fall. Year 2 in Holgorsen's system should be a big one for Smith and his top two targets,
Stedman Bailey
and
Tavon Austin
, who both topped 1,185 yards receiving and combined for 20 touchdown catches in 2011. Left tackle Don Barclay and right guard Tyler Rader are the only starters not returning for 2012, and the expectations for this offense are enormous.
February, 28, 2012
2/28/12
9:00
AM ET
Another day down at the NFL combine.
You'll need Insider to see this post from Steve Muench, but here are a few snippets from our team on the ground in Indianapolis:

West Virginia's Bruce Irvin ran a 4.43-second 40-yard dash, which is faster than most outside linebackers, let alone defensive ends. That's good for Irvin, who projects as a pass-rushing outside linebacker. He's undersized (6-3, 245) and lacks the power to anchor against the run as an end. He would have been better off working with the linebackers at the combine because he is a developmental prospect, and it showed in his footwork when he dropped.
Obviously, I didn't get a big chance to see Irvin from week to week in the Big East, but that 40 time is nuts. Reminds me of ... wait for it ... Von Miller?

What about another Big 12 pass rusher you know a bit better?
Oklahoma State DE Jamie Blatnick isn't as explosive or athletic as some of the other prospects, and his arms are as short as Ingram's, so there are some red flags. On the other hand, Blatnick performed well during the drill. His hands were active and violent during bag work while he did a good job of staying low in his backpedal when asked to drop.
Blatnick's a tough guy, but like Muench said, doesn't have the jaw-dropping measurables of some other guys we've seen in this league or guys at the combine this week.
He was productive, though, and technique will take you a long way in the NFL. Blatnick isn't lacking in athleticism necessarily, he just doesn't wow you.
Now, time for a few results from Monday at the combine:
LINEBACKERS
Najee Goode
, West Virginia
40-yard dash: 4.66 seconds (sixth among inebackers)
Ronnell Lewis
, Oklahoma
40-yard dash: 4.68 seconds (T-8 among linebackers)
225-pound bench press: 36 reps (most among linebackers -- by four reps)
Tank Carder
, TCU
40-yard dash: 4.69 seconds (11th among linebackers)
225-pound bench press: 19 reps
Emmanuel Acho
, Texas
40-yard dash: 4.73 seconds (14th among linebackers)
225-pound bench press: 24 reps (T-10th among linebackers
Travis Lewis
, Oklahoma
40-yard dash: 4.88 seconds
225-pound bench press: 22 reps (14th among linebackers)
Keenan Robinson
, Texas
225-pound bench press: 27 reps (T-6th among linebackers)
February, 24, 2012
2/24/12
12:00
PM ET
I'm thinkin' of something orange. Something orange. Give up? It's an orange.
February, 21, 2012
2/21/12
9:00
AM ET
Spring football is already under way at Texas Tech, but in the coming weeks, the Big 12's other nine programs will join the Red Raiders in taking the field as a team for the first time since January, December or November for some.
Here's a preview of what to expect:

BAYLOR BEARS
Spring practice start date:
March 19
Spring game:
April 14
What to watch:
Nick Florence: It's not official, but the Baylor quarterback job is Florence's to lose. That means he inherits the unenviable task of replacing the school's first Heisman winner. He replaced RG3 in 2009 with mixed results, but showed some major potential in a win over Texas Tech when RG3 took a shot to the head and sat out the second half. Can he keep the bowl streak alive at Baylor? We'll get an idea this spring.
The defense's progression: You didn't need to see much more than the 67-56 Alamo Bowl win over Washington to know the Bears needed some work on defense. In the month of November, Baylor became the first team in FBS history to win four consecutive games in a single season while also giving up at least 30 points in each of those games. The defense can't make Florence pick up the slack to that level. Year 2 under Phil Bennett must be better. Baylor has no excuses. The Bears have the athletes on campus necessary to be at least a decent defense.
The team's attitude/motivation: Baylor played with a lot of purpose the past two seasons, and made history in both, cracking a 16-year bowl drought and winning 10 games this year. Is that fire still there? Baylor has to prove it is without RG3 (and Kendall Wright) carrying the team on the field, emotionally and mentally.

IOWA STATE CYCLONES
Spring practice start date:
March 20
Spring game:
April 14
What to watch:
The quarterback battle: Or is it? Jared Barnett looked like the man of the future in Ames late in the season, leading the Cyclones to an historic upset of No. 2 Oklahoma State. But in the ugly Pinstripe Bowl loss to a mediocre Rutgers team, Barnett's inaccuracy posed big questions. He was benched and Steele Jantz stepped in, though he didn't play much better than Barnett. Turnovers were an issue for Jantz early on, but Barnett has to bounce back in the spring to make sure the job doesn't come open.
The receivers: Darius Reynolds was the big-play man for the Cyclones, but he's gone. It's going to be tough to replace him. Slot receivers Aaron Horne and Josh Lenz were productive, but did little to stretch defenses like Reynolds did. Can ISU find someone to fill the void?
The new man at left tackle: Iowa State had the luxury of having a future pro, Kelechi Osemele, at left tackle for the past three seasons. He earned All-Big 12 nods in each of those seasons, but he's gone now. Junior Carter Bykowski was behind Osemele on the depth chart, but will the converted tight end be the new man at tackle for the Cyclones?

KANSAS JAYHAWKS
Spring practice start date:
March 27
Spring game:
April 28
What to watch:
Uh, everything?: I mean, what's not to watch at KU? Charlie Weis steps in for the fired Turner Gill and tries to build KU up from nothing. The Jayhawks were one of the worst teams in Big 12 history last season, losing six games by at least 30 points. Weis will speak his mind and watching him rebuilding the Jayhawks is going to be fun. It all starts next month -- on the field, at least.
KU's new pass-catch combo: Dayne Crist is on campus, and so is Oklahoma transfer Justin McCay, a former blue-chip recruit who didn't quite catch on in Norman. Quarterback and receiver were arguably the two biggest positions of need for KU last year, and we'll get a preview of what could be a productive combo next season. McCay isn't officially eligible for the 2012 season yet -- he needs the NCAA to waive its mandated redshirt year after a transfer -- but the coaching staff is confident he'll have it granted.
The uncertainty on the depth chart: When a new staff comes in, you never know what to expect. Kansas' leading rusher in its final season under Mark Mangino, Toben Opurum, is now one of its best defensive linemen. Look for Weis to shake things up, too. Where? Who knows?

KANSAS STATE WILDCATS
Spring practice start date:
April 4
Spring game:
April 28
What to watch:
Collin Klein's maturation: Kansas State's quarterback could be fun to watch this spring and next fall. His throwing motion isn't pretty, but his accuracy improved in a big way throughout the season. If that continues at a pace anything close to what we saw last year, K-State's going to be a load for everyone. Look out.
Developing depth at running back: John Hubert is back, and so is seldom-used Angelo Pease. Bryce Brown is gone, though. Klein handles a lot of the heavy lifting in the running game, but it'd be some nice insurance if K-State could establish some more depth in the backfield. Making Klein carry the ball 300 times again is tempting fate.
Stars becoming superstars: Kansas State brings back more starters than all but seven teams in college football, so this team is going to look remarkably similar in 2012 to the way it did last year. However, it should get better. And its two transfers could look dominant this spring. Cornerback Nigel Malone and linebacker Arthur Brown emerged as stars last year, but we could see the duo emerge as true game-changers this spring. Look out, Big 12 offenses.

OKLAHOMA SOONERS
Spring practice start date:
March 8
Spring game:
April 14
What to watch:
New faces on, off the field: Mike Stoops' arrival as the defensive coordinator was the biggest news this offseason in the Big 12, and Brent Venables, who had been at OU for all of Bob Stoops' tenure, left for Clemson rather than become co-defensive coordinator. Hopes are high that Stoops can revitalize Oklahoma's defense. He was in charge when the Sooners rode a dominant D to the 2000 national title, and the Sooners have the talent to win it all in 2012. Receiver Trey Metoyer joins the team this spring, and could be a major contributor immediately. Two of the team's four new tight ends are also enrolled early.
QB Blake Bell's role: The Belldozer is back … but so is full-time quarterback Landry Jones. How will the balance between the duo look this spring? And what new wrinkles will we see in Oklahoma's simple, yet near-unstoppable short-yardage formation that scored 13 touchdowns in the second half of 2011?
The battle at defensive end: Oklahoma must fill two huge holes at defensive end. Big 12 Defensive Player of the Year Frank Alexander is gone, as is possible first-round pick Ronnell Lewis. R.J. Washington contributed late and has potential, but David King filled in for Lewis in the final three games of the season. The duo could be great, but it could also be pretty pedestrian. We'll get an idea this spring, but Lewis and Alexander set a high, high bar.

OKLAHOMA STATE COWBOYS
Spring practice start date:
March 12
Spring game:
April 21
What to watch:
The quarterback battle: This will easily be the highest-profile, highest-quality quarterback battle in the Big 12. It won't be at the level of Texas Tech in 2010, but it won't be too far off. Clint Chelf, J.W. Walsh and Wes Lunt will go head to head. All have plenty of potential, though Lunt may have the most. The big-armed true freshman also has the least experience. Anything could happen here.
Which receivers rise: Justin Blackmon and Josh Cooper leave huge holes behind. It's not every day a two-time Biletnikoff Award winner walks on campus. Hubert Anyiam is gone, too. Michael Harrison is unlikely to play for the 2012 season, but the school has offered no confirmation on his status. He had the most potential, but OSU is deep at the position. Who emerges as the top target? Isaiah Anderson? Tracy Moore? Josh Stewart? Anything could happen there, too.
Defense needs a leader: Safety Markelle Martin has been the heart of the defense the past two seasons, but his big-hitting days are over. Who becomes the new voice of the defense? It needs to find leadership this spring heading into summer voluntary workouts.

TEXAS LONGHORNS
Spring practice start date:
Feb. 23
Spring game:
April 1
What to watch:
The quarterback competition: I still think having a competition at the spot, which Texas says it will, isn't the best option, but David Ash and Case McCoy will go at it alongside early-enrolling freshman Connor Brewer. If Ash secures the job, expect an announcement heading into summer officially anointing the sophomore.
More sophistication on both sides of the ball: The progression is natural and likely. Offensive coordinator Bryan Harsin and defensive coordinator Manny Diaz had good first years in Austin, but this is Year 2. The spring won't be devoted to learning the playbook. It's time to master it. Both units could look markedly different, and much more refined next fall. Deny it all you like: Texas is back on its way to the top after a rough two years.
Maturing offensive weapons: Last season, the Longhorns relied on two true freshman running backs (Malcolm Brown/Joe Bergeron), a freshman/sophomore rotation at quarterback and its top receiver (Jaxon Shipley) was a true freshman. No. 2 (Mike Davis) was a sophomore. I hope I don't have to tell you what freshmen and sophomores do in college football. Look. Out.

TCU HORNED FROGS
Spring practice start date:
Feb. 25
Spring end date:
April 5
What to watch:
Can TCU shut out the scandal? Four team members were arrested in a recent drug sting and kicked off the team. How much of a distraction will that be for a program undergoing the most monumental change in its history? Quantifying the effects of the scandal will be pretty impossible, and we've got no idea how they'll handle the change, but will it be on players' minds?
The offense tightens up: The Horned Frogs' offense is absolutely loaded and ready to go for 2012. Quarterback Casey Pachall returns and brings his top three weapons (Josh Boyce, Skye Dawson and Brandon Carter) with him. Running backs Waymon James, Ed Wesley and Matthew Tucker each topped 700 yards rushing in 2011 and all return. The spring will be all about fine-tuning an already stellar offense, and it'll be fun to watch.
Replacing departed starters: All-America linebacker Tanner Brock was among the four football players arrested and booted from the team, as was all-conference defensive tackle D.J. Yendrey and likely starting safety Devin Johnson. Those were unforeseen losses, but TCU can't feel sorry for itself. Gary Patterson has no choice but to find new faces to fill those holes.

TEXAS TECH RED RAIDERS
Spring practice start date:
Feb. 17
Spring game:
March 24
What to watch:
Once again, a new defense: Texas Tech sounds like a broken record these days when it comes to defensive coordinators. This time, Art Kaufman will be stepping to the microphone as the fourth defensive coordinator in Lubbock in four years. He's bringing a 4-3, a shift back to what Ruffin McNeil ran in 2009. Chad Glasgow's 4-2-5 and James Willis' 3-4 failed miserably in 2011 and 2010, respectively, the first two years under Tommy Tuberville.
The battle at running back: No one knows yet if Eric Stephens will be back next season. There's still a long way to go in his rehab from a dislocated knee he suffered last season in a loss to Texas A&M. DeAndre Washington is also out this spring after tearing his ACL against Missouri. Harrison Jeffers hung up his cleats. Who will prove to be reliable this spring? Look for the Red Raiders to try to use sophomore Bradley Marquez, freshman Javares McRoy and junior SaDale Foster in a manner similar to the way Oregon uses scatback De'Anthony Thomas, with lots of short passes and bubble screens to get them the ball in space, where they can use their speed and shiftiness to make plays.
Team health: Tuberville said earlier this month that the team is missing 15 players this spring. It can't afford any more injuries. It's already going to be tough to get enough done this spring, but Tech can't start getting banged up.

WEST VIRGINIA MOUNTAINEERS
Spring practice start date:
March 11
Spring game:
April 21
What to watch:
Dana Holgorsen's offense in Year 2: Holgorsen didn't get a chance to coach his talented offense at Oklahoma State in its second year. The results could have been crazy. They might be at West Virginia in 2012, and the beginning steps will be taken this spring as Geno Smith & Co. get more and more comfortable with the system and Holgorsen adds more wrinkles.
The battle at running back: Sophomore Dustin Garrison hurt his knee in practices leading up to the Mountaineers' 70-33 Orange Bowl win over Clemson, and won't be there for the spring. What does senior Shawne Alston have in store for the spring? Garrison was the featured back last season, but a big spring could help Alston earn a few carries next year.
Defense needs help: Najee Goode leaves a big hole at linebacker, and defensive back Eain Smith's exit means the Mountaineers enter the season without two of their top three tacklers from a year ago. Bruce Irvin and Julian Miller's talents on the defensive line will be tough to replace, and in a league that requires a great pass rush, Irvin, Goode and Miller's 19 combined sacks must be replaced somehow.
February, 15, 2012
2/15/12
10:00
AM ET
We're back, and the kindly introduction is over. It's time to get to know the real West Virginia.
How will the Mountaineers handle the transition? Big 12 blogger David Ubben and Big East blogger Andrea Adelson debated the issue.
David Ubben:
TCU's jump would seem to be a lot bigger, but the Big East has had its well-chronicled struggles the past few years. The Mountaineers left the league with a convincing Orange Bowl win against Clemson, scoring 70 points in the process. Talk about endearing yourself to your new offensive-minded friends, huh? You've seen this team up close lately, though. What, if anything, do you think WVU will have to change to get back to the BCS as a Big-12 member?
[+] Enlarge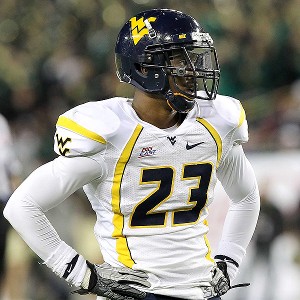 Kim Klement/US PresswireBrodrick Jenkins, an up-and-coming cornerback, will lead the Mountaineers into Big 12 play next season.
Andrea Adelson:
Well, one thing that definitely is going to change is the way West Virginia plays defense. Long-time defensive coordinator Jeff Casteel is out, and so is the odd 3-3-5 stack defense. The Mountaineers are going to go with a 3-4 base set under former Oklahoma State assistant Joe DeForest. This should help ease the transition from the stack, as West Virginia does not have the type of players on the roster to go with four down linemen.
In addition to the new scheme, West Virginia is losing its two best pass-rushers in
Bruce Irvin
and
Julian Miller
, perhaps its best defensive player in linebacker
Najee Goode
, and its best cover corner in
Keith Tandy
. There were times last season when the Mountaineers got beat deep in pass coverage, which will not bode well in Big 12 play.
However, cornerback
Brodrick Jenkins
has the potential to be truly terrific in 2012. He showed flashes late last season. As for the offense, coach Dana Holgorsen is looking for perfection. That means more consistent play out of an offensive line that was mediocre at times last season, and more explosion out of the run game. Starting running back
Dustin Garrison
is coming off ACL surgery, so it will be interesting to see whether he will be the same back come August.
Say what you will about the Holgorsen passing offense, but he definitely wants a running back to complement
Geno Smith
the way Kendall Hunter did with
Brandon Weeden
at Oklahoma State in 2010. How do you think West Virginia will fit in to its new conference home?
DU:
WVU is a good fit on the field. Geographically, not so much, but the Big 12 teams have to like that. There's a lot of uneasiness with TCU entering the league. That could shake up recruiting a lot and cut into the share of teams like Oklahoma State and Texas Tech.
But West Virginia's clearly a strong brand. This is a team that could just as easily have been in the SEC. Instead, it's in the Big 12. The three BCS wins are a big deal, as was the Orange Bowl win. That's endeared the Mountaineers to their new opponents in the Big 12. To win like that on that kind of stage says a lot about where the program is and where it's headed. Having a coach like Holgorsen, who has lots of ties to Texas, will help them grab a few players in Texas, too. The difference between WVU and Mizzou isn't much when you think about recruiting in Texas. I could see WVU being the biggest threat to Missouri recruiting in Texas.
But like TCU, winning games gets people excited. Big 12 fans are psyched about the Mountaineers, who seem like a fun group.
How do you think WVU's transition will compare to TCU's?
AA:
Watching a team put up 70 points is always fun! Hearing a guy like Holgorsen talk is always fun because you never know what he is going to say.
But on to your question: I think West Virginia will have a much smoother transition than TCU because it has played in an AQ conference already. Yeah, OK enter your Big Least jokes in here. But West Virginia has been a solid program throughout the course of its history. Note that the Mountaineers are one of just 14 schools to have 700 program victories -- joining Texas and Oklahoma from the Big 12.
West Virginia is one of just three schools to have at least nine wins in seven straight seasons. That doesn't happen by accident. And it's also important to note West Virginia is not exactly in a recruiting hotbed. Talent does not come pouring out of the state the way it does in Texas. The Mountaineers have built pipelines into Florida -- Geno Smith and
Stedman Bailey
being two notable examples on the squad -- and try to mine talent in Baltimore, Virginia and Washington, D.C. So I do think there will be inroads made into Texas with the Big 12 affiliation.
Already on the roster from the state are starting running back Dustin Garrison and quarterback Ford Childress, an ESPNU 150 player in the class of 2012. I respect the job Gary Patterson has done in building TCU, but I simply think there is going to be much more of a growing curve for a team transitioning to an automatic qualifying conference. What do you think?
DU:
I'd agree. The Big East has been weak, but there aren't any teams like New Mexico and UNLV in that league, who are little more than a week off for teams as talented as TCU has been the past few years. Show up and you win.
Last year, even Kansas beat the MAC champions, Northern Illinois, before losing its final 10 games of 2011. Big 12 champion Oklahoma State lost to 6-7 Iowa State, too. This league is so, so deep. You have to show up and play well every week, and even then, you might not win. In 2010, 11 of the league's 12 teams had five wins and at least played a game with a chance to win six and qualify for a bowl game.
This year, nine of the 10 teams did that. It's got elite teams, too. Texas and OU played for titles in 2008 and 2009 and OSU was barely shut out of the title game this year.
The depth of the Big 12 is what TCU will have to get used to. In that sense, WVU will have to adjust much less. Of course, you never know for sure. We'll find out next year. WVU had some head-scratching losses, too. Losing to Syracuse by 26 points? Really? Sheesh.
Both of these teams are built to win in 2012, and I think they'll do it. But winning a Big 12 title requires you to show up every week and play well. In the Big East, which sent an eight-win team to the BCS in 2010, that hasn't necessarily been true.
In the Big 12, Texas or OU has basically run through the year with 0-2 losses every single season. If WVU wants to win this league, they'll have to do that.
When do you think WVU will win its first title? Will it win one?
[+] Enlarge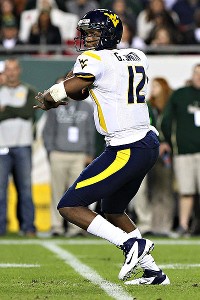 Kim Klement/US PresswireGeno Smith will enter the Big 12 in his third season as West Virginia's starting quarterback.
AA:
It is tough to put a time frame on when West Virginia will win a league title. As crazy as it might sound, I think this team is built to contend in 2012. The Mountaineers dropped FSU from the nonconference schedule, so you could consider Kansas as filling that void. I am sure West Virginia takes that.
Oklahoma is going to be a preseason national favorite, but after that, every single team returning has major question marks. Is Texas going to be Texas? What does Baylor do without RG3? What does Oklahoma State do without Weeden and
Justin Blackmon
?
You bring up a good point about the head-scratching losses. There have been a bunch of those over the last several seasons -- including TWO in a row to Syracuse. This is a team that has simply been inconsistent. It didn't put together a full game against Clemson. But I think Geno Smith,
Tavon Austin
and Stedman Bailey are going to be a handful for teams to stop, so I wouldn't be surprised if the Mountaineers were a surprise contender in 2012. Are you buying or selling?
DU:
I'd generally agree. Year 1 seems to be their best chance. It's a wide-open year in the Big 12, and I think Oklahoma's a bit overrated heading into next year, though the potential for a national title run is there. Texas looks like it's on its way back up, but next year won't be the year.
If it doesn't happen next year, though, I don't think WVU will win a Big 12 title in the next decade. It's a solid program that I think could get into the BCS, but win the Big 12?
With the stability, metroplex location and winning tradition, I like TCU's upside a whole lot more, and its ability to win a Big 12 title in the future. I'm buying a Horned Frogs Big 12 title in the next decade. Not so much on WVU.
Time to put you on the spot: What's WVU's record next year and Big 12 finish?
AA:
I can see the hate mail trickling into the Big 12 mailbag over that one, Mr. Ubben!
I am going to say West Virginia goes 10-2 and finishes second in the Big 12. What say you?
DU:
Maybe so. But hey, that's how we do things on the Big 12 Blog. I call it like I see it. And I see more potential for the Froggies, though I think the Mountaineers will be a solid, solid program. I wouldn't be that surprised if they won the league, but I'm not betting on it.
This is a league built around the state of Texas, and the location's going to make it tough for them to consistently field teams that can win 11-12 games consistently.
Next year, I'll take 9-3 for the Mountaineers, but a tie for third place.