July, 11, 2014
7/11/14
10:00
AM ET
Unfortunately it's the time of year when off-the-field missteps litter the headlines as college football players remind us they aren't much different than many other college students outside of their athletic endeavors. And while occasional misdeeds are getting the headlines other college football players are going out of their way to make a positive impact.
With that in mind, it's never a bad time to look at guys who impact their football team on the field yet strive to have a positive impact on their worlds off the field as well. Here are five Big 12 players to root for this fall, regardless of your normal allegiances:
Deep snapper Nate Boyer, Texas
If you aren't cheering for Boyer to excel, something is wrong with you, die-hard fans of the Sooners, Bears, Red Raiders included. His road to becoming the Longhorns long snapper
has been well-documented
, from his exploits as a Green Beret to his time in Darfur. Boyer has been a solid special teams' contributor at UT during the past two seasons. The recipient of the 2012 Disney Spirit Award, which is given annually to college football's most inspirational figure, Boyer is entering his final season at UT.
Quarterback Bryce Petty, Baylor
Petty isn't just exceptional on the field. He's a guy whose impacts lives off the field as well. The reigning Big 12 offensive player of the year is active in Big Brothers, Big Sisters and FCA. He also has spent time in Kenya on a mission trip with fellow Baylor athletes in 2011 and was a finalist for the Big 12 male sportsperson of the year in 2013. On the field, Petty is a guy who knows how to lead, shoulders the blame during tough times, brings a positive attitude to the Bears' football squad and elite production behind center. Petty's exploits during his time in Waco, Texas are probably coming to an NCAA student-athlete commercial near you at some point in the future.
Baylor Bears, Bryce Petty, Levi Norwood, and Eddie Lackey sharing at the @FiestaBowl FCA Breakfast @BaylorAthletics pic.twitter.com/ijHIvf4AVj

— Heart of Texas FCA (@HeartofTexasFCA) December 28, 2013
Defensive end Ryan Mueller, Kansas State
One of the Big 12's top sack masters,
Mueller befriended Kaiden Schroeder
, a nine-year-old boy who suffers from Acute Lymphocytic Leukemia. Their relationship lead to one of the Big 12's most memorable moments in the spring when Schroeder scored a touchdown in the Wildcats' spring game. Mueller, who had 11.5 sacks in 2013, was a finalist for the Big 12 male sportsperson of the year and has been named as one of KSU's captains for the 2014 season.
Cornerback JaCorey Shepherd, Kansas
Another guy who is active with Big Brothers, Big Sisters, Shepherd also volunteers at local elementary schools. He won KU's Galen Fiss Award, which is given for exemplary service to the community and campus. On the field, he's a impact cornerback and kick returner for the Jayhawks leading KU with 15 passes defended in 2013. He was a finalist for the Big 12 male sportsperson of the year.
Watch @KU_Football's JaCorey Shepherd and his "little" from @BBBSA spend the day together shooting hoops http://t.co/yDAPCUkYqm

— Kansas Jayhawks (@KUAthletics) November 22, 2013
Quarterback Trevor Knight, Oklahoma
Knight is just starting to approach his potential on the field but he's already made a mark off it. The Allstate Sugar Bowl MVP has gone to Haiti twice as a member of OU's "Sooners4Haiti" contingent and is active in FCA, often appearing as a public speaker when his schedule allows. On the field, he's developing as a leader and playmaker and could rise to battle Petty for All-Big 12 honors with consistent performances in 2014.
Trevor Knight and a group of our #Sooners continue to serve this week with @Sooners4Haiti! pic.twitter.com/GUdtinNVmZ

— Oklahoma Football (@OU_Football) May 15, 2014
November, 6, 2013
11/06/13
2:30
PM ET
By
Jordan Conn
| ESPN.com
In a state where love of football is akin to love of country, at a school that might soon fire its head coach, on a team that has only recently begun to show that this season can be something other than utter disaster, everyone, it seems, still loves the guy who carries the flag.
The fans call him a "hero," except for the fans who call him a "patriot," except for the fans who call him a "real American," and, of course, the fans who call him a "real American patriot hero." Teammates call him "America" or "old man," depending on their mood, and at least one assistant coach refers to him as "Jason Bourne." Mack Brown, the beleaguered head coach who has never lost his ability to make you wish he was your grandfather, says of the guy with the flag, "He's even better than Rudy."
As for the flag bearer himself, his name is
Nate Boyer
. He is a 32-year-old, 190-pound long-snapper for the University of Texas Longhorns. He is a failed actor and a damn good soldier, a veteran of the Army Green Berets but a novice on the football field, someone who never even played in high school. He's not crazy about his nicknames — worst of all "hero" — and unlike the film version of Rudy Ruettiger, he is not here just to inspire or to prove his self-worth.
Instead, Boyer is here, in Austin, a starting football player for one of the most prestigious programs in the country, carrying the American flag out of the tunnel every Saturday, for a simple reason: "It seemed like it would be fun."
To continue reading this story,
click here
.
October, 3, 2013
10/03/13
12:00
PM ET
Now here's a thought: Could a college football player be worth
$114,000
or as much as $419,000?
June, 18, 2013
6/18/13
10:30
AM ET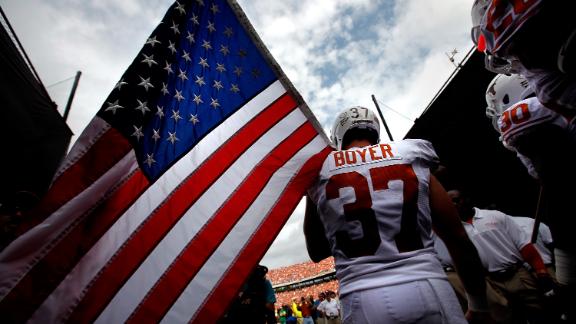 Texas junior long snapper
Nate Boyer
has been honored as the Big 12's Sportsperson of the Year.
Boyer, who was placed on scholarship last August as a sophomore, was a member of the Green Berets Special Forces before coming to Texas to play football. He also won the Disney Spirit award last year as college football's most inspirational story.
The 31-year-old earned a Bronze Star for his duty, which began as a response to the Sept. 11 attacks and included work in the Darfur region of the Sudan, as well as providing assistance to autistic children.
He began another tour of duty in May. Coach Mack Brown called it the "most unique story" he'd ever seen. Perhaps most unique: Boyer didn't even play high school football because his school didn't field a team.
He's found a niche on the Longhorns' team, and the Big 12 honored him with more hardware on Monday. Throughout the award season, though, he's only earned more respect. He brought two Wounded Warriors with him to the College Football Awards in Orlando and has earned a status much more prominent than just the guy who charges the field at Texas games as the first player out of the tunnel with the American flag in his hand.
"Nate sets a tremendous example for our guys and is a daily reminder of how our military personnel give so much to protect and provide us freedom," Brown said in a release. "He is a great example for student-athletes across the country and someone who is worthy of any award or recognition that comes his way."
I'll second that sentiment from Brown. See
more on Boyer's incredible story here
.
December, 6, 2012
12/06/12
9:15
PM ET
By
ESPN.com staff
| ESPN.com