June, 19, 2014
6/19/14
10:30
AM ET
There will be familiar faces around weight rooms and in front of overhead projectors in football complexes this summer: coaches' faces.
Big deal.
Except it is a big deal, at least to the coaches who can now occupy strength and conditioning sessions and hold film study with their players.
The NCAA partially adopted a rule from the hardwood in October allowing a maximum of eight hours of mandatory workouts for players for eight weeks of the summer. What football coaches really care about, however, is the ability to watch those conditioning sessions and meet with their players for up to two hours each week. Any on-the-field work with footballs is still prohibited.
[+] Enlarge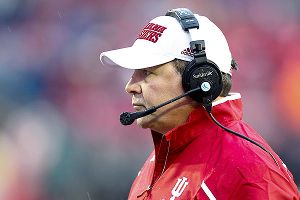 AP Photo/Andy ManisIndiana coach Kevin Wilson is one of many coaches that can visit with players in the summer rather than relying on "spies" to get information on offseason workouts.
"You don't need secret spies anymore," Indiana coach Kevin Wilson told ESPN.com. "You can just watch your football team now. ... It's common sense that if I'm in control and if I want to walk in the weight room and watch them lift weights then I can watch them lift weights."
It is uncharted territories for most coaches, who are used to relying on third-party word of mouth from the program's strength coach and upperclassmen on how summer workouts are progressing and whether freshmen are adjusting. Some coaches began mapping out how they would use their eight hours when the rule was passed, while others will take the pulse of the team and adjust accordingly. For some, they'll protect the details of those hour splits as if it were the playbook.
"We have to carve out [player meetings] with our strength coach, time that we can take away from his hours because you're not adding extra time," Notre Dame coach Brian Kelly said. "There is this model that I'm not interested in giving up to anybody, that we think gives us a balance."
Notre Dame is still debating between
Everett Golson
and
Malik Zaire
as its starting quarterback, so Kelly can spend part of the summer mentally preparing both for the upcoming competition. He will institute a "spring ball installation" of the core offensive plays and defensive structure, "something we've never been able to do in June." He'll also show his quarterbacks all of their mistakes in previous settings in hopes of limiting them once the season begins.
The vast majority, if not all, are in favor of the rule, although to varying degrees. Indiana's Wilson has walk-on players who could eventually earn a scholarship, so those players feel a need to attend summer workouts. He knows that means some will take out additional loans for summer school.
For the coaches, with summers now filled with prospect camps and recruiting visits, there are fewer hours to break away from the football facility. Wilson will take advantage of the change, but he wonders whether coaches will suffer from the burnout a 365-day coaching calendar lends itself to. The NCAA implemented a two-week summer dead period to combat the evolving recruiting calendar, but Wilson knows some coaches will stick around to watch tape with players.
"It's a little ironic they added a rule that for two weeks a recruit can't come in but added a rule so you can spend that time with your players," first-year Wake Forest coach Dave Clawson told ESPN.com.
Added Wilson: "How do we find the balance? It's nice we can work with them, but it's finding a balance where your coaches can find sanity. It's nice we can talk legally but … I think you can overcoach.
"It will be interesting after year one, whether coaches will say they want to do more or do less."
No school returns fewer starters in 2014 than Utah State, so coach Matt Wells is tasked with making sure those players who will be asked to step up this fall are physically and mentally able. He is also cognizant that his staff spending too much time with the team this summer could produce undesired results.
[+] Enlarge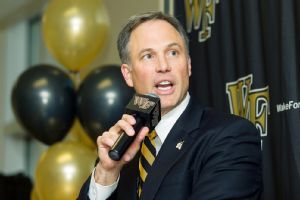 Brian Westerholt/Four Seam Images/AP ImagesThe new NCAA rules are a boon to first-year coaches such as Wake Forest's Dave Clawson, who get a chance to get acclimated with their new players.
In the early portion of the summer, Wells will meet with his team more often than he might in July. He will bring the program's newcomers up to speed with scheme and terminology in meetings, but he also doesn't want to overload them. With the upperclassmen, he believes it will become counterproductive to have extended and repetitive classroom sessions.
"We're going to still lean on player-led meetings, voluntary meetings the coaches aren't in because it builds leadership in your team and in position groups," Wells told ESPN.com. "We've benefitted from that the last three summers from an increased leadership role, and I think it's important for the players to have a break from the coaches."
For first-year coaches such as Clawson, the new rule will narrow the learning curve this fall as his players continue to adjust to his offensive and defensive ideologies. Clawson is seemingly like most coaches, though, in that he does not favor using the full two hours for Football 101 seminars. Wake Forest's new coach is not deviating much from the old summer status quo.
When he and his staff assessed the Demon Deacons following the spring, he felt strength and conditioning was lacking most. So when mandatory summer workouts kicked off, he decided he'd only spend 30 minutes to an hour each week meetings with players.
"It didn't make sense to take two hours away from that," he said.
That could change in the coming weeks, though. While some schools already have their entire incoming freshman class on campus, Clawson won't see all of his until July. He said the previous rule preventing coaches from working with freshmen lacked common sense.
"It used to be awful, the first time a freshman's ever on campus and you can't be around them," Clawson said. "When these guys first get here, you need to have some involvement. Part of recruiting is parents trusting you with their son, and first time they drop them off, to not be allowed around them was very hard."
December, 26, 2011
12/26/11
1:00
PM ET
VIP strip club outings, illegal campaign contributions, expense claims that qualified as only slightly less than stealing: The Fiesta Bowl organization sounded like it was inspired by "The Sopranos" in a series of stories written by the Arizona Republic from 2009-10. When the U.S. Attorney's Office, FBI and IRS began investigations, the resemblance was even more striking.
Former Fiesta Bowl COO Natalie Wisneski was indicted in Arizona federal court on nine criminal counts on Nov. 16, and among the seven felony counts were conspiracy and filing false tax records. More indictments could follow, including for former bowl CEO John Junker, who was forced out in March. Junker, according reports on the investigations, piled up nearly $5 million in expenses on the company's credit card over a 10-year period. Along the way, he allegedly paid for a $1,200 strip club visit and held a $33,000 birthday party for himself at Pebble Beach.
Bowl games already were catching heat in the media, and not just because of fans wanting a playoff instead of the BCS. More than a few news reports had questioned the bowl games' tax-exempt status. Tales of the lavish ways of the Fiesta Bowl certainly didn't help the public perception.
[+] Enlarge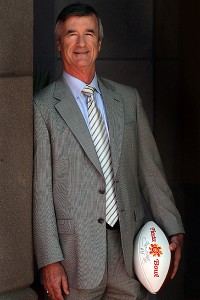 AP Photo/Darryl WebbRobert Shelton was hired to help repair the Fiesta Bowl's image.
Fiesta, indeed.
Into this swirling mess stepped Robert Shelton: an academic, a physicist, a former president of the University of Arizona. But his taking over the top spot at the Fiesta Bowl wasn't a moment for relativity. The bowl organization's issues were philosophic as much as anything. And Shelton's focus after taking over were existential. A branding group from Dallas was brought aboard to study the simple idea of why the Fiesta Bowl existed and what it should aspire to be.
"If we disappeared tomorrow, what would be better or what would be worse in the world?" Shelton said. "The answer is pretty simple in the end. The answer isn't bowl games. We exist to bring economic value to the state of Arizona, to be a window to the state of Arizona, a source of pride. That people outside the state of Arizona will come to see Arizona. We exist for philanthropic purposes. So that's why we are here."
And then he added: "If we keep that in mind, then we can say, 'How do we do this?'"
If the Fiesta Bowl -- the game itself -- isn't the end, but the means to an end, then the Fiesta Bowl's prime directive is to serve its community, though probably not at the local strip clubs and through backdoor routes to political coffers.
There have been changes, starting with a turnover of about one third of the bowl's 35 full-time employees. Even before Shelton arrived, the bowl adopted a new set of bylaws that included a far stricter set of checks and balances on how money is spent. There's a new "authorization matrix," which lists who can approve what expenditures at what levels and what kind of sign-offs you must have for purchases. Large expenditures require multiple sign-offs. The bowl now uses bowl-owned purchasing cards, instead of allowing employees to use their own credit cards for expenses, expecting reimbursement, which helps the bowl get a concrete idea of expenses. Further, all employees and volunteers undergo background checks, and all employees and board members sign a code of conduct.
And the old, infamous "Fiesta Bowl Frolic," which was basically a big party for college administrators, is now the "Fiesta Bowl Summit." It will include panels on important subjects, such as concussions in college football.
The Fiesta Bowl's problems were about the corrupt actions of individuals, but they also were about the bowl's culture. Both had to change.
"There were a handful of individuals alleged to have misbehaved," Shelton said. "But they were enabled by an atmosphere that was created over many, many years. Not through any evil intent but an atmosphere that wasn't cautious and reviewing or as informed as it should be."
Shelton was hired in June, but the months before he came aboard were precarious. Existential thoughts? The Fiesta Bowl, first played in 1971, was facing potential extermination. It could have been kicked out of the BCS, for one. And it could have lost its bowl licenses from the NCAA, which includes its oversight of the Insight Bowl. In the end, the BCS fined the bowl $1 million but retained the Fiesta Bowl, and the NCAA Postseason Bowl Licensing Subcommittee put the bowl on one-year probation.
Shelton believes the bowl game is back on firm ground, though he said it wasn't yet time for the bowl to be "sanguine."
"I think there is a sense we've done the right things, and the BCS and NCAA value what we bring to the bowls and postseason play," he said.
The bowl's mission as a charitable organization also has been reviewed. When asked how much the bowl gave to charity in past years, Shelton admitted it was "relatively low in the past."
That $1 million fine from the BCS has been paid out to charity, and the Fiesta Bowl has decided to give out another $400,000 to charitable causes. It's also adopted a more systematic fashion of giving, holding publicized general calls for charitable requests.
Of course, there's another apparent conflict of interest that Shelton must face leading up to this year's Fiesta Bowl between Stanford and Oklahoma State on Jan. 2.
Shelton is a Stanford graduate.
"I am completely neutral," he said. "I shall be dressed in neutral colors. I can't talk for my wife or kids who are also Stanford alumni."
It's a great matchup, arguably even better than the national title game between LSU and Alabama, considering that is a rematch. But while both teams have sold out their ticket allotments, the bowl is not yet a sellout.
It's possible that in a sagging local economy, the locals won't immediately re-embrace a bowl game that let its community down.
But Shelton is hoping, after an existential crisis, that the bowl finds a mythic ending.
"We could use the Fiesta Bowl's tragic events to come out even better," he said. "That's the nature of the word 'Phoenix.'"
December, 19, 2011
12/19/11
9:00
AM ET
The Pac-10 and Big 12 nearly got married last year, but only Colorado ended up eloping with the now-Pac-12.
You know: The conference that can count!
But the Pac-12, which has, yes, 12 teams, and the Big 12, which has 10 teams (though it's often hard to keep up with which ones), play each other in three bowl games this holiday season.
Joy to the world.


So it seemed like a good time for the Pac-12 and Big 12 bloggers -- Ted Miller and David Ubben -- to say howdy and discuss all the coming fun.
Ted Miller
: Ah, David, the bowl season. Pure bliss. Unless you're the Pac-12, which is expected to get a whipping from your conference over the holidays. We have three Pac-12-Big 12 bowl games with the Tostitos Fiesta Bowl between Stanford and Oklahoma State, the Valero Alamo with Baylor and Washington, and the Bridgepoint Education Holiday matching California and Texas. And the Big 12 is favored in all three!
Poor ole West Coast teams. What are we to do? It's almost like the Big 12 is the SEC or something. Speaking of which, how are things with your Cowboys? Are they over not getting a shot at LSU for the national title? Are they excited about getting a shot at
Andrew Luck
and Stanford? We might as well start with that outstanding matchup in Glendale.
David Ubben
: You know, I was actually a little surprised. I stuck around Stillwater for the BCS bowl selection show announcement, and the players took the news pretty well. They found out an hour before, but there wasn't a ton of down-in-the-dumpiness from the Pokes. When you've never been to this point before, it's a bit difficult to develop a sense of entitlement. If Oklahoma had OSU's record and was passed over by Alabama and sent to the Fiesta Bowl for the 17th time in the past six years, you might have had a different reaction.
But Oklahoma State's first trip to the BCS and first Big 12 title aren't being overlooked. These players are looking forward to this game. There's no doubt about that.
I know the Big 12 seems like the SEC, but I have a confession, Ted. I wasn't supposed to tell anybody, but I can't hold it in anymore. When the Big 12 began back in 1996 ... wow, I'm really going to do this ... then-SEC commissioner Roy Kramer graciously allowed the league to keep two of his teams. The league made a similar arrangement with the Big Eight a century ago, and the Southwest Conference around the same time. Missouri and Texas A&M are really wolves in sheep's clothing: SEC teams just pretending to be in other leagues. So, that might explain the Big 12's recent dominance.
These should all be fun games, though. I ranked two of the matchups among the top three in my bowl rankings.
As for the big one, they say you learn more by losing than by winning. Stanford got its first BCS win. How do you think that experience plays into this year's game? I hate to ruin the surprise, but Oklahoma State's a bit better than the Virginia Tech team Stanford beat last season. OSU's loss to Iowa State this season is bad, but it's nothing like the Hokies' loss to James Madison last season.
[+] Enlarge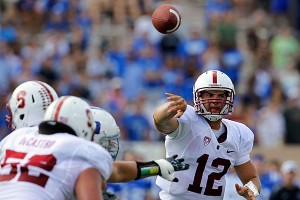 AP Photo/Gerry BroomeQuarterback Andrew Luck leads Stanford into its second consecutive BCS bowl, this season against Oklahoma State in the Fiesta Bowl.
Ted Miller
: Not only is Oklahoma State better than Virginia Tech, it's still questionable whether this Stanford team is better than last year's. Since we're going all crazy and whispering about the SEC, there was a feeling out West that by the end of the 2010 season the Cardinal might not only be the best team in the Pac-12 but also in the nation. They were big and physical and quarterback Luck actually had a solid receiving corps with which to work. After a loss to Oregon in the fifth game, they didn't lose again until playing, er, Oregon in this year's 10th game. If we could go back in time and have the Cardinal play Auburn, I think Stanford would have won the national title.
But that's 2010. The difference this year is the season-ending knee injury to middle linebacker Shayne Skov, who was an All-American candidate, a slight step back on the offensive line and a lack of top-flight receivers. But if Oklahoma State fans are looking for something to worry about it is this: Stanford's running game.
The Pokes are bad against the run, and they haven't faced a team that is as physical and creative in the running game as Stanford. As much as folks talk about Luck's passing, it's his run checks that often ruin a defense's evening.
The Fiesta Bowl matchup looks like a great one, perhaps the best of the bowl season. But I'm excited to see Mr. Excitement
Robert Griffin III
in the Alamo Bowl against Washington. Of course, I'm not sure that the Huskies, their fans and embattled Huskies defensive coordinator
Nick Holt
are as thrilled. First, tell us about what Washington should be most worried about with Griffin. Then tell us about Baylor in general. Such as: Can the Bears stop anyone?
David Ubben
: Nope. Not really.
Oklahoma State's defense unfairly gets a bad rap. Baylor's bad rap is earned. This is the same team that won five consecutive games late in the season -- but became the first team ever to win four consecutive in a single season while giving up 30 points in each.
[+] Enlarge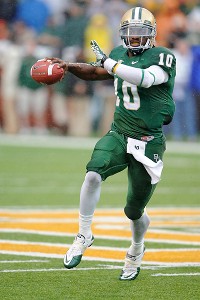 Jerome Miron/US PresswireBaylor's Robert Griffin III will try to make it three straight bowl victories by Heisman Trophy winners.
Which, if you ask me, says plenty about both the defense and the power of RG3. They've got a lot of athletes on the defense, but when four of your top five tacklers are defensive backs, well, you need a guy like RG3 to go 9-3.
The man is a nightmare. Top to bottom, he's the most accurate passer in a quarterback-driven league. Then, you add in his athleticism, which he doesn't even really need to be extremely productive. It sets him apart, though, and forces defenses to account for it, and it buys him time in the pocket. How many guys break a 20-plus yard run before hitting a receiver for a game-winning 39-yard score to beat a team like Oklahoma for the first time?
How do you think Washington will try to slow him down? What has to happen for them to have some success?
Ted Miller
: This game matches the 99th (Washington) and 109th (Baylor) scoring defenses. It has a 78-point over-under, the biggest of any bowl game. The offenses are going to score plenty, at least that's the conventional wisdom.
How does Washington stop RGIII? His name is
Chris Polk
. He's a running back. Baylor gives up 199 yards rushing per game. Polk right, left and up the middle is a good way to contain Griffin. The Huskies' best hope is to reduce Griffin's touches with ball control. It also needs to convert touchdowns, not field goals, in the redzone. The Huskies are pretty good at that, scoring 36 TDs in 45 visits to the red zone.
The Huskies also have a pretty good quarterback in
Keith Price
, who set a school record with 29 touchdown passes this year. He and a solid crew of receivers have prevented teams from ganging up against Polk. But Polk is the guy who burns the clock.
Should be a fun game. As should, by the way, the Holiday Bowl. David, Cal fans are
still
mad at Texas coach Mack Brown and his politicking the Longhorns into the Rose Bowl in 2004. Every team wants to win its bowl game, but the Old Blues really want to beat Brown.
Of course, neither team is what it was in 2004. Cal has an excuse. It's not a college football superpower. Sure you've been asked this before, but give me the CliffsNotes version of why the Longhorns have fallen so hard since playing for the national title in 2009.
David Ubben
: Cal fans are still mad? Really? I'd suggest they get over themselves. What's anybody on that Cal team ever done anyway? It's not like the best player in the NFL missed out on a chance to play in the Rose Bowl. Now, if that were the case, we might have a problem. But honestly, I don't think Tim Tebow cares all that much about the Rose Bowl.
As for Texas' struggles?
The easy answer is quarterback play. Texas relied on Colt McCoy and Jordan Shipley more than anyone realized. When they were gone, Texas couldn't run the ball, and quarterback Garrett Gilbert never made it happen. Two seasons later, the Longhorns still don't have a quarterback.
The other big answer last season was turnover margin. Gilbert threw 17 interceptions and the Longhorns were minus-12 in turnovers, which ranked 115th nationally.
They were still only 90th this year, and without solid quarterback play in a Big 12 dominated by passers, they scored five, 13 and 17 points in three of their five losses. Texas keeps people from moving the ball and runs the ball better this year, but without a solid passing game and a defense that changes games, it's tough to rack up wins in the Big 12.
It's been awhile since Cal was in the mix for the BCS, even as USC has fallen. Oregon answered the call and rose, but what has prevented Cal from winning the Pac-10 and Super Pac-10 since the Trojans' swoon?
Ted Miller
: You mention quarterback play. Cal fans ... any thoughts? You mention Aaron Rodgers. Cal fans? Oh, well, that's not very nice during this festive time of the year.
Cal has become a solid defensive team, but it's lost its offensive mojo, and that can be traced to a drop in quarterback play since Rodgers departed. The latest Bears quarterback,
Zach Maynard
, started fairly well, stumbled, but then seemed to catch on late in the season. It's reasonable to believe the team that gets better quarterback play -- mistake-free quarterback play -- is going to win this game.
Nice to cover a conference where quarterback play matters, eh David?
Speaking of quarterback play and winning, let's wind it up. Our specific predictions aren't coming on these games until after Christmas. But we can handicap the Big 12-Pac-12 side of things. We have a three-game series this bowl seasons.
I say the Pac-12, underdogs in all three games, goes 1-2. What say you?
David Ubben
: And to think, before the season, all I heard was the Pac-12 had surpassed the Big 12 in quarterback play. Did somebody petition the NCAA for another year of eligibility for Jake Locker and/or clone
Matt Barkley
? You West Coast folk are geniuses; I figured you'd find a way. We can't all be Stanford alums ...
Clearing out all the tumbleweeds here in middle America, I'll go out on a limb for the Big 12 in this one. Every matchup is a good one, and I don't think Cal has seen a defense like Texas' and Washington hasn't seen an offense like Baylor's. People forget that, yeah, RG3 is outstanding, but the Bears also have the league's leading receiver and leading rusher.
Stanford-OSU is a toss-up, but I'll go with a perfect sweep for the Big 12. The Cowboys haven't played poorly on the big stage yet, so I'll give them the benefit of the doubt in this one, and they clean up for the Big 12 against what was almost its new conference this fall.
Oh, what could have been. Ubben and Miller on the same blog? Divided ultimately by a little thing we call the Rockies.
February, 22, 2010
2/22/10
4:45
PM ET
Spring practice begins Friday for Texas, which means the program can leave behind an excruciating "what might have been" from the national championship game and start looking forward to a promising 2010.
Well, sort of.
"It's one of those things that is kind of hard to get over, just looking back on it, but you know you have to move on to the next year and try to get back there again," senior defensive end Sam Acho said.
One noble gesture eases the sting for Acho, a first-team ESPN The Magazine Academic All-American. All the merchandise -- T-shirts, hats, etc. -- that was produced to celebrate the national championship that never was, was
shipped off to Haiti
to help the relief effort.
"That touched my heart and it speaks volumes about Texas as a program," Acho said.
Acho figures to be a cornerstone of the program next year, particularly for a defense that welcomes back seven starters. He was honorable mention All-Big 12 in 2009 after recording 63 tackles -- 14 for a loss -- with 10 sacks and four fumble recoveries, which tied for the most nationally.
While many expect the defense to have to carry the offense early -- quarterback
Colt McCoy
and four other starters are gone -- Acho isn't so sure, noting that the Longhorns "don't rebuild, we reload."
While replacing the winningest quarterback in NCAA history won't be easy, the silver lining of the charcoal gray cloud of seeing McCoy go down early in the 37-21 loss to Alabama was the play of
Garrett Gilbert
, who will take over the starting job as a true sophomore.
"Garrett did a great job and got a lot of leadership experience from that one game," Acho said. "A couple guys were saying that one game Garrett played gave him a year's worth of experience. So we're excited for next year and for him at quarterback."
Speaking of the future of the program, yes, Acho said, he and his teammates have heard all the talk of the Big Ten and Pac-10 planning to raid the Big 12 for the biggest expansion prize: Texas.
The Dallas native doesn't believe any conference is going to mess with Texas.
"I heard some guys talking about it," he said. "I know it's not going to happen. We're not really worried about that."