Big 12:

nebraska-intro-021011
February, 10, 2011
2/10/11
3:00
PM ET
We're in transition on the Big 12 blog this week, saying goodbye to Nebraska and Colorado, but Big 12 commissioner Dan Beebe has been dealing with that transition since the decisions to leave were made in June.
I caught up with the commish this week and covered a wide range of topics about the Big 12's future, like a possible name change for the league, his thoughts on Texas' new television network, Texas A&M's future as a member of the Big 12 and the creation of a Big 12 television network.
David Ubben: The season's been over for awhile, and obviously there's basketball being played, but what have you been working on the past few weeks as it relates to the Big 12 and its future?
[+] Enlarge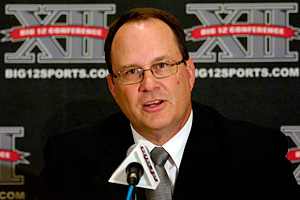 AP Photo/Cody DutyCommissioner Dan Beebe remains confident about the future of the Big 12.
Dan Beebe:
Well, we're preparing and we've been doing a lot of work preparing for our future negotiation for television [with Fox Sports later this spring]. It's going to be a very critical thing for us, and I'm on the men's basketball committee, so I've got games of basketball dancing through my head at all hours and all times, and we're also working with the branding company in Boston on what's our position, how we want to position ourselves moving forward with 10 members. So, all that should be aiming toward the spring meetings. That's kind of the launch point for all these things.
What about the conference name and logo? Anything definitive happening there?
DB:
We're looking at all that. By June, we want to have a decision on it. This group has done a great job of going around and gathering information from our people and trying to figure out what is our purpose and how we want to position ourselves going forward.
As far as branding the league moving forward, are there any changes that you feel like definitely will be coming?
DB:
Well, not at this point. Right now we're still studying all that. We have some direction, but we need to run it through our membership and see if it resonates with them first, before we do anything about it. But we're excited about the things that they've captured and the ideas that they have, and we just need to vet it with our membership and make sure it resonates there before we do
anything
publicly.
What ideas that they've presented do you feel strongly enough about that you'd want to push hard to the membership when you meet in June?
DB:
I want to look hard at the name change, but I think a lot of people feel like the name we have is one that banners have been won under and all that, so we'd have to look very hard at that, and we have a lot of equity in it. Really, I'm just open to what's discovered being the benefits that we have. I mean, obviously, we're going to be different than some of our peer conferences in terms of having complete round-robin play in football and double round-robin in basketball, and I think that's an exciting way to position ourselves going forward.
February, 10, 2011
2/10/11
1:30
PM ET
We're saying goodbye to Nebraska on the blog today, and I took some time to list a few of the things I'll miss most about the Huskers.

The fans. Easily No. 1 on my list. Huskers fans are everywhere. Home and away, I can't go anywhere on campus on a game weekend without running into Huskers fans. They e-mail endlessly. They know and love their team. As a group, they're what every fan base should aspire to be.

The buzz. There's not much like Lincoln on game day. Especially before big games, the whole city is buzzing with anticipation, and it's a bit more palpable than on most campuses. Nebraska fans only get a handful of Saturdays a year to celebrate their favorite thing in sports, and they take advantage of it.

Memorial Stadium. It's an absolute palace. Over 80,000 pack it every game day, and from the inside, you can't ask for anything more. The brown stone on the outside is gorgeous, but the sea of red that fills it on game days have made it what it is today.

Tunnel Walk. There's no more goosebump-inducing entrance in the Big 12. Players walk the red carpet through a line of fans to The Alan Parsons Project's Eye in the Sky while a video of past Husker legends fires up the fans in the stands. When they run through the stone gates in the corner of the stadium, you know it's time for some great football.

Throwing the bones. It's an individual celebration, but at the same time, a nod to all the greats that came before them. It's great to see any time a Blackshirt throws them in a game after a big play.

Lazlo's. It's delicious. Fire up a steak once you head to Lincoln, Big Ten fans.

The red balloons. A little bit hokey? Maybe. But you won't find it anywhere but Nebraska. It's unmistakable. Every game, the first time the Huskers score, a flood of red, helium-filled balloons fill the sky after being released by fans.

The multi-turf at Memorial Stadium. I'm a sucker for it. Deal with it. It looks cool, and nobody else in the Big 12 has it.

So that's my list. What will you miss?
February, 10, 2011
2/10/11
11:00
AM ET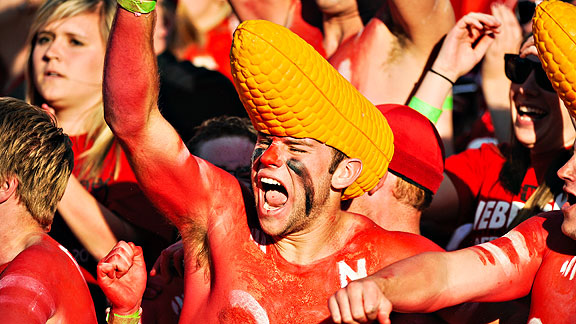 Eric Francis/Getty ImagesNebraska fans will see their Cornhuskers face a tough schedule in the Big Ten.
The
Nebraska Cornhuskers
have a new home in the Big Ten blog, and bloggers Adam Rittenberg and David Ubben are guiding the Big Red ship through these waters of transition. Before Ubben and the Big 12 give up Nebraska for good, it's time for something we like to call a blog debate.
Buckle up.
Adam Rittenberg:
Mr. Ubben, I know you're all torn up about losing Nebraska. How can you possibly wake up in the morning without all those e-mails from Huskers fans flooding your inbox? Somehow, you must push forward. We here in Big Ten country certainly appreciate your generosity. The Big Ten undoubtedly gets better with the addition of Nebraska.
Let's face it: The Big Ten needs to catch the SEC, and Nebraska gives the league another big-name program with a ton of tradition on the football field. Nebraska has reached back-to-back Big 12 championship games and could have won both. Bo Pelini seems to have things going in the right direction, aside from his sideline flare-ups. My question to you is this: How close is Nebraska to becoming a true national powerhouse once again?
David Ubben:
Very, very close, and if the ball had bounced their way a bit different a few times during the previous season, we might already be agreeing that the Huskers were truly back.
Pelini announced Nebraska was back after the Holiday Bowl win following the 2009 season and I agree with his statement. Nebraska won't play anyone next season, and didn't play anyone this season, that they didn't have a very good chance of beating. Doing that consistently is what separates the elite programs from everybody else. Everything is in place for Nebraska to have big-time success moving forward. They have tons of talent, lots of depth and a great coaching staff. There are obvious places where improvement is necessary, namely on offense, but I wouldn't be surprised to see Nebraska become a major player in the national title race in the next few years. They weren't far off this season.
We've heard a lot of talk about next season's schedule, though. How tough will it be? Where do you think Nebraska fits into the Big Ten on the field in Year 1?
[+] Enlarge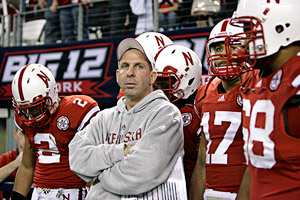 Brett Davis/US PresswireBo Pelini and the Cornhuskers were happy to leave the Big 12.
AR:
The Big Ten certainly is doing Nebraska no favors right off the bat. Not only will the Huskers play five teams, in what I think will be a very competitive division, but their crossover opponents are the three top teams in the Leaders division (Ohio State, Wisconsin, Penn State). Two of those games (Wisconsin and Penn State) are on the road. Bottom line: We'll find out very soon how well Nebraska stacks up with the Big Ten's top teams. If the Huskers can win their division after going through this schedule, they'll immediately put themselves among the Big Ten's elite.
Since Nebraska joined the Big Ten, we've heard a lot about the cultural similarities between Nebraska and its new league and also some of the cultural differences between Nebraska and the Big 12. Big 12 officials didn't even deliver the North division trophy to Lincoln. How contentious did things get at the end with Nebraska and the Big 12?
DU:
"Quite" probably doesn't do it justice, but suffice it to say, Nebraska welcomed the end of the Big 12 era. Ever since the Big 8 became the Big 12, Nebraska hasn't quite been as happy with the Texas-centric nature of the league. The league offices moved from Kansas City to Dallas and the Big 12 Championship was set to be played at Cowboys Stadium for the next three years before Colorado and Nebraska left. That's not why Nebraska is leaving, but it didn't help establish much good faith toward the Huskers. It's a mischaracterization to say they're running "from" the Big 12, but rather they're running "to" the Big Ten.
The action on the field didn't help ease the transition. Nebraska was the only team that had a player suspended for a helmet-to-helmet hit all season, and there were plenty of controversial calls in the Huskers' second loss of the season, on the road against Texas A&M. Their final two losses were mostly free of controversy, but like I said, Nebraska's bags are packed and they're definitely excited about the future in a more stable Big Ten.
What do you think will be the best and worst parts about the transition for the Huskers?
AR:
The positives certainly outweigh the negatives. The Big Ten provides the stability Nebraska craves and the equitability from a revenue-sharing standpoint that the Big 12 lacks. Nebraska also aligns itself with a stronger group of academic institutions, and membership in the Committee on Institutional Cooperation (the Big Ten's internal academic association) will please those in the administration. Nebraska also will get a bump in exposure not just for its football team but for other athletic programs because of the Big Ten Network.
The biggest negative, other than a tougher schedule in most seasons, is the potential recruiting impact. Other than Ohio State and, at times, Penn State, the Big Ten isn't a major player on the national recruiting scene. Nebraska has had great success in the state of Texas, but it no longer will be playing games there on a regular basis and players and their families will have to travel a lot farther on fall Saturdays. Can the Huskers continue to recruit well in Texas and also establish themselves more in the Big Ten footprint?
OK, Ubben, you're on the spot. How much will Nebraska's departure impact the Big 12? Can the league continue to be considered one of the nation's elite or will the ACC and Big East have company soon?
DU:
As long as the Big 12 survives as a league, and I believe it will, it will be fine. Next season isn't a big concern. Oklahoma, Oklahoma State and Texas A&M should all be top-20 teams at worst, and Texas and Missouri could find their way into that group without surprising too many people as well.
Long term, I think there are a lot of programs moving in the right direction to keep the Big 12 a nationally relevant league. Nebraska leaving hurts, but it's not a death sentence. Oklahoma isn't going anywhere. It's hard to see Texas getting any worse, and the new network will help that, too. Texas A&M is probably the biggest question mark in terms of long-term success, but they finally got things moving under Mike Sherman and despite an underwhelming 2011 recruiting class, are off to a nice start in 2012.
Oklahoma State and Missouri are having great success, racking up a lot of wins even if they haven't been able to win the conference. Texas Tech looks like it's building some great things under Tommy Tuberville. Baylor is better than it has been in the history of the Big 12.
On the field, it should be fine.
And the flip side of that Nebraska recruiting debate is this: Where do you think those Texas players that don't choose to go to Nebraska will go? TCU is becoming a big player in the state, but in all likelihood, most of the best among those 400 or so FBS signees in Texas every year will stay and play in a slimmed-down Big 12. More parity could theoretically be on the way if that happens.
For now, the ACC and Big East will continue to be the only leagues who gain entrance into the BCS as little more than legacy admissions. Thanks for playing last month, UConn.
What's the biggest impact Nebraska's entrance will have on the Big Ten, both on and off the field?
AR:
Nebraska gives the Big Ten another impact program, another program that demands national attention. Big Ten blog users often see me write the phrase "move the needle," which basically translates to: make an impression nationally.
Some college football programs move the needle win or lose and others have a much harder time doing so, even if they have great success on the field. The Cornhuskers give the Big Ten four programs that truly move the needle: Nebraska, Ohio State, Michigan and Penn State. Just looking at the 2011 schedule, there are so many more potential marquee games in the Big Ten with Nebraska entering the mix.
The Big Ten has fallen behind the SEC both on the field and, to a lesser extent, in buzz factor. If Nebraska enters the league and truly restores itself as a national powerhouse, the Big Ten will have a better chance of catching the SEC in both arenas.
February, 10, 2011
2/10/11
9:00
AM ET
Nebraska is officially part of the Big Ten blog, and the welcome wagon hasn't stopped rolling.
To help us learn more about the Huskers, I've reached out to colleague David Ubben from
the Big 12 blog
. David knows all about Big Red and covered Nebraska during its transition from the Big 12 to the Big Ten. After being nice enough to hand off the Huskers -- actually, I had to pry them from his hands -- Ubben took some time to talk about the Big Ten's newest member.
Let's go back to June 11. What was your initial reaction to Nebraska leaving the Big 12 for the Big Ten?
David Ubben:
Ha, well it was certainly an unpopular one among the Nebraska supporters. I thought it was a great move for the university and the football program, but a huge, huge blow to the future stability of the Big 12.
In short, I equated Nebraska leaving to
pulling the pin on the Texas Grenade that would blow up the Big 12
.
Obviously, that's not what ended up happening, and for a fan base that since June has despised all things Big 12, I was surprised at how much the Huskers didn't want to be blamed for the Big 12's demise. One would think they would relish in it.
At the core, I think there was some fear from fans that their Huskers might be villainized as a program for the self-serving move, but that's not at all what happened to Arkansas, who certainly did much of the same thing to the Southwest Conference when it left for the SEC.
Back to your original question, though, Nebraska leaving definitely meant a weaker Big 12 if it continued to exist moving forward, and anyone who wants to try to argue otherwise is kidding themselves. Nebraska did what it needed to do: secure infinitely more stability and a good amount of cash with a move to the Big Ten, as well as the academic prestige that comes with, to borrow a phrase from deservedly maligned Missouri governor Jay Nixon, aligning themselves with Northwestern and Wisconsin rather than Texas Tech and Oklahoma State.
Yeah, anytime a school wants to upgrade its league, it should remember Mizzou and do exactly the opposite. But back to Nebraska. People know about the national championships, Dr. Tom and the option offense. What should Big Ten fans know about the current Nebraska program and its fan base as the Huskers transition to the conference?
[+] Enlarge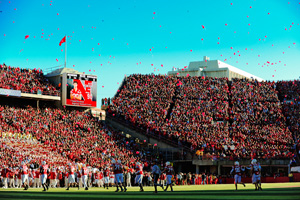 Eric Francis/Getty ImagesNebraska's Memorial Stadium has been sold out for every single home game since Nov. 3, 1962.
DU:
Nebraska's biggest asset is its fan base. People like to knock Huskers fans for being a bit full of themselves, but they have reason to be. They're going to rival any team in the Big Ten when it comes to traveling for road games. Prepare yourselves for a sea of red in your stadiums when Nebraska comes.
One big reason? It might be tougher to get a ticket to see the Huskers in Lincoln. Every single home game has been sold out since Nov. 3, 1962, a streak of 311 games. That's an NCAA record, of course. The ones who do make it into Memorial Stadium on fall Saturdays enter under permanent signs that read "Through these gates pass the Greatest Fans in College Football."
Is it obnoxious? Yes. Will it turn off a few opposing fans? Most definitely.
But I would argue that it's not inaccurate.
Husker fans are voracious supporters. They love their team. They know their team. They read about and are opinionated about their team. They spend money on their team. Any other fan base should admire at least that much. Because of that devotion, among other things, the program is one of college football's blue bloods and is able to make a big move that will benefit the program tremendously.
Let's talk about the team itself. Bo Pelini is an Ohio guy, and his track record on defense speaks for itself. Nebraska has seemed more up and down on the offensive side. How do you see the Huskers' style translating to the Big Ten?
DU:
That's presuming Nebraska has an offensive style. Nebraska was all about the run early in the year, and ran over and around just about everybody in the first half of the season. Since no one could stop it, they didn't have to throw much, and when they did, they were so, so dangerous.
But the offense slowed late in the season, and I thought they relied on
Taylor Martinez
to simply drop back and pass way too often and didn't run the zone read enough.
The latest word from Nebraska's recruits is they want an offense that most closely resembles Oregon's, likely minus the dizzying tempo. Offensive coordinator Shawn Watson would describe his offense as a bit of a hybrid between Oregon's offense and the West Coast passing attack, but he looks like he's on his way out.
I'm a big believer that you have to do what suits your personnel, and with a zone-read whiz like Martinez and quality running backs like Nebraska has, it would seem that's a good fit.
On the whole, though, Martinez has to continue to develop as a passer to really give the best defenses trouble. How much of that happens over the next three years will determine how successful they ultimately are. If he can't do it, there's nothing saying he's guaranteed to be the starter above incoming freshmen Bubba Starling (if he stays with football and doesn't sign an MLB contract) and Jamal Turner. Even
Cody Green
, who played when Martinez was injured this year, could earn some quality snaps if Martinez struggles as a sophomore.
Wow, sounds like we could soon have a QB controversy. Interesting. What do you think will be the biggest adjustments for Nebraska in transitioning from the Big 12 to the Big Ten?
DU:
I'm a big believer in Pelini as a defensive coach, so I think they'll be able to make these adjustments eventually, but they're going to have to change the type of players they recruit defensively. You need so many defensive backs (and good ones) to have success in the Big 12, and winning the line of scrimmage will put you over the top, but teams like Missouri and Texas Tech have had success in the league without doing it on a consistent basis.
The Big Ten is all about the beef up front. The Huskers are big and fast on the defensive line with guys like Jared Crick and Baker Steinkuhler. I don't see many problems there.
Nebraska's best linebacker this year, Lavonte David, made a Big 12-best 152 tackles. He also happens to be 210 pounds. Players like him, while they're incredibly valuable in the Big 12 for their ability to make plays in coverage and provide a speed rush, will be marginalized in Nebraska's future for bigger, run-stopping linebackers.
There will be all kinds of things that will have to change, but the type of defensive personnel will be No. 1 on the list. Specifically, Nebraska will need more, bigger linebackers and fewer defensive backs.
Nebraska always has recruited so well in the state of Texas. How do you think the move to the Big Ten will impact Nebraska's recruiting strategy?
[+] Enlarge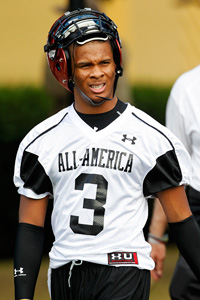 Cliff Welch/Icon SMI Now that it's left the Big 12, Nebraska will have more difficulty luring elite Texas high school players like Jamal Turner.
DU:
Oh, what a contentious question. So, so much disagreement on this issue.
I don't think there will be a time when Nebraska just has no one from Texas, but their success in the state will take a considerable hit with the move. I do believe the Huskers should continue to recruit the state, but I also think they need to take some of those efforts and resources previously allocated toward Texas and use them to start scraping the Rust Belt and compete with their new conference mates, rather than their old ones.
Pelini knows the area well, and I think the Huskers will have some success doing it. They had a huge year in 2011 in Texas, getting three top-tier, ESPNU 150 players in ATH/QB Jamal Turner, RB Aaron Green and CB Charles Jackson.
I do believe they can keep getting some talent like that in 2012 and 2013, but as recruits and their families really realize what life is like as a parent of a Texas kid playing in the Big Ten, they'll realize why so few Texas recruits elect to play in the Big Ten. I talked with Texas Tech coach Tommy Tuberville about this issue last week actually, and he said for most families, it's a huge deal. Watching on TV simply isn't the same thing as going to games, home or away. And the facts are, a lot of families can't afford to fly to a ton of games.
Nebraska traditionally only played one or two games in Texas during a season, three if they made the Big 12 title game and it was in Texas. That doesn't sound like many, but look at it this way, unless you can pay for a flight or make a ridiculously long drive, you're talking about going four or five months without seeing your son versus around two or fewer if they play games in Texas.
So in short, I don't think there will be a time when Nebraska absolutely can't recruit in Texas, but they need to take advantage of their new opportunities in Ohio and Michigan, too, as compensation for the guys who won't want to play up North.
OK, you're on the spot. How do the Huskers fare in Year 1 in the Big Ten, which has already branded them a legendary team in the Legends division?
DU:
The Big Ten certainly didn't do them any favors with their first-year schedule, booking them for trips to Wisconsin, Penn State and Michigan. Hosting Iowa, Michigan State and Ohio State is going to be tough, and they have to play the Buckeyes in the first game with their five suspended players back. Who knows what happens there?
With a still-maturing passer who won't have a ton of help at receiver, they'll have some struggles offensively, but they should be solid again on the defensive end.
I'll say 9-3 or 8-4. Short of what you might call a Legendary season, but certainly a good one.
Thanks to David for his time, and stay tuned as we'll both have more on Nebraska's move to the Big Ten.