May, 14, 2014
May 14
1:30
PM ET
There's a weak link on every team, but also a strength. This series will look at the strongest and weakest position groups for each Big 12 team heading into the fall.
On Wednesday, we continue the series with Kansas.

Strongest position:
Secondary
The Jayhawks have arguably the best returning cornerback duo in the Big 12 with
JaCorey Shepherd
and
Dexter McDonald
. They combined for 27 passes defensed in 2013, each ranking in the top 10 in the conference in that category. And Shepherd and McDonald still have room to grow as individual players.
KU's safeties are just as productive.
Isaiah Johnson
was the Big 12 Defensive Newcomer of the Year after making 73 tackles and intercepting five passes during his first season in the conference. Fellow safety
Cassius Sendish
was right behind Johnson with 67 tackles of his own.
Add cornerbacks
Kevin Short
and
Greg Allen
, who looked ready to contribute during the spring, and the Jayhawks secondary brings experience, production and depth to the field on Saturdays this fall, three traits several other Big 12 teams wish they had on their rosters.
Weakest position:
Offensive line
If KU has any hope of John Reagan's offense taking off during his first season as offensive coordinator, the offensive line will have to reach new heights.
The Jayhawks
return a league-worst 34 career starts
along the offensive line, with All-Big 12 honorable mention guard
Ngalu Fusimalohi
as the lone returnee with double-digit starts (12). Reagan, who is the offensive line coach in addition to his coordinator duties, is tasked with making the inexperienced group the foundation of his offense's success.
KU has five different returnees with starting experience and will add ESPN 300 center
Jacob Bragg
into the mix this summer so the Jayhawks have options to work with. Head coach Charlie Weis has promised the Jayhawks will strive to put their top five offensive linemen on the field, regardless of their previous position, so the summer and preseason could feature plenty of shuffling along the offensive line.
Fusimalohi is a great place to start but plenty of work remains for Reagan and Weis to transform this unit one of the strengths of the team.
May, 9, 2014
May 9
9:00
AM ET
Since last week, we've been
analyzing the depth charts
of every Big 12 team coming out of the spring. We conclude the series with Kansas' projected post-spring depth chart.
OFFENSE
QB: Montell Cozart (So.)
,
Jake Heaps
(Sr.),
Michael Cummings
(So.),
T.J. Millweard
(So.)
[+] Enlarge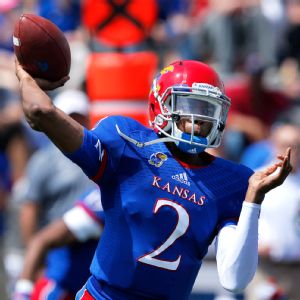 AP Photo/Orlin WagnerMontell Cozart was the clear choice at quarterback for the Jayhawks this spring.
Cozart was clearly the Jayhawks' best quarterback during the spring game, so it made perfect sense when Kansas coach Charlie Weis named him the starter shortly after spring practice. If the sophomore continues to develop as a passer, he could help KU's offense take a clear step forward. Heaps' status is unclear but, with Weis making it clear Cozart is the man, there's no reason for him to stick around. Millweard and Cummings should be solid behind Cozart. It's not the best group of quarterbacks in the league, but it's not the worst, either.
RB: Brandon Bourbon (Sr.)
,
Darrian Miller
(Jr.),
Taylor Cox
(Sr.)
Bourbon had a solid spring and Miller returns after finishing second on the squad with 322 rushing yards in 2013. Yet it won't be easy to replace
James Sims
, who was a mainstay in KU's backfield for four seasons. Freshmen
Corey Avery
and
Traevohn Wrench
join
De'Andre Mann
as newcomers in the summer. KU should be able to replace Sims with a combination of these six running backs and its running game should be solid, particularly with Cozart providing a running threat at quarterback as well.
WR: Nick Harwell (Sr.), Tony Pierson (Sr.),
Rodriguez Coleman
(Jr.),
Justin McCay
(Sr.),
Andrew Turzilli
(Sr.)
TE: Jimmay Mundine (Sr.)
,
Ben Johnson
(RFr.)
With Harwell and Pierson, the Jayhawks could have two of the Big 12's top big-play creators this fall. Both guys can be a handful in the open field and can turn a short gain into a long touchdown. Coleman came on in the spring and could provide another target for Cozart. The Jayhawks receivers looked solid in the spring. Now they just need to carry that momentum into actual production in the fall or end up being considered one of the conference's worst groups of receivers again.
C: Keyon Haughton (Jr.),
Joe Gibson
(RFr.)
G: Ngalu Fusimalohi (Sr.)
,
Joey Bloomfield
(RFr.)
G: Mike Smithburg (Sr.)
,
Bryan Peters
(Jr.)
T: Damon Martin (So.),
Zach Fondal
(Sr.)
T: Pat Lewandowski (Sr.)
Brian Beckmann
(So.)
The Jayhawks' offensive line situation seems fairly fluid, so expect KU to continue to search for its five best offensive linemen during preseason camp. Fusimalohi is the best of the bunch and anchors the offensive front. This group had its moments last season, but needs to play better for KU's offense to really take off.
DEFENSE
DL: Ben Goodman (So.),
Tyler Holmes
(So.)
DL: Andrew Bolton (Jr.)
,
T.J. Semke
(Jr.)
DL: Keon Stowers (Sr.),
Tedarian Johnson
(Sr.)
Goodman and Stowers are returning starters for the Jayhawks defense. Stowers is solid in the middle and Goodman has the talent to break out in 2014. The unit has a solid group of starters, but needs additional depth.
BUCK: Michael Reynolds (Sr.),
Marcus Jenkins-Moore
(Jr.)
Victor Simmons
(Sr.)
LB: Ben Heeney (Sr.),
Courtney Arnick
(So.)
LB: Jake Love (Jr.)
,
Schyler Miles
(Jr.)
This is a solid and deep group of linebackers, with several players competing for a job. Outside of Heeney and Love, nobody's job could be safe, with players such as Miles and Arnick looking like contributors.
CB: Dexter McDonald (Sr.),
Ronnie Davis
(Jr.)
CB: JaCorey Shepherd (Sr.),
Michael Mesh
(Jr.)
NB: Kevin Short (Jr.),
Greg Allen
(So.)
S: Cassius Sendish (Sr.),
Tevin Shaw
(So.)
S: Isaiah Johnson (Jr.),
Anthony Smithson
(So.)
The Jayhawks have a solid secondary full of playmakers. McDonald and Shepherd can hold their own at cornerback, and Sendish and Johnson are a pair of active safeties. Short was one of the stars of KU's spring practice. This starting unit could rank among the Big 12's best if it continues to improve heading into the fall.
April, 4, 2014
Apr 4
3:00
PM ET
Our breakdown of the 10 best players at the moment on every team in the Big 12 wraps up on Friday.
These lists don't include junior college or freshman signees who haven't arrived on campus yet. Rather, they include only the players currently on their teams this spring. Some of these rankings might look different after the spring, but this is how we see them now.
Last but not least, the
Kansas Jayhawks
:
1. LB Ben Heeney:
The best Big 12 defender who is not a household name. Heeney finished with 87 tackles as a junior, recording double-digit stops in six of the 10 games in which he played in 2013. He has been a bright light on the Jayhawks' defense for the past two seasons.
[+] Enlarge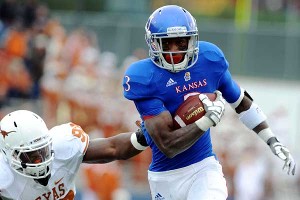 John Rieger/USA TODAY SportsTony Pierson missed five games last season, but has more than 1,000 rushing yards in his career at Kansas.
2. RB/WR Tony Pierson:
The senior is one of the Big 12's most explosive playmakers when healthy. Concerns about a head injury limited his big-play production as a junior, but if he returns to full health in 2014, he's sure to strike fear in the hearts of Big 12 defensive coordinators.
3. S Isaiah Johnson:
He was easily the most active newcomer to KU's defense in 2013. He earned Big 12 defensive newcomer of the year honors while starting all 12 games at safety. Johnson finished with 73 tackles and five interceptions to help an improved Jayhawks defense.
4. G Ngalu Fusimalohi:
The lone consistent anchor in KU's offensive line a year ago, Fusimalohi played a key role in James Sims' second consecutive 1,000-yard season. The strong yet fluid guard will provide a solid starting point for John Reagan in his first season as KU's offensive coordinator.
5. CB JaCorey Shepherd:
The former receiver was a playmaker in the Jayhawks secondary and also provided a threat as a returner. Strong performances against TCU and Oklahoma were a glimpse at the type of player he can be. If he continues to improve, he could rank among the Big 12's top cornerbacks in 2014.
6. LB Michael Reynolds:
The Jayhawks' most productive pass rusher, Reynolds led KU with 6.5 sacks and added 10 tackles for loss and two forced fumbles. One of the most consistently productive KU defenders, Reynolds had at least one tackle for loss in six of 12 games in 2013.
7. TE Jimmay Mundine:
Mundine could be one of the Big 12's best pass-catching threats if he becomes more consistent. His 20 receptions for 229 yards and five touchdowns made him KU's best receiving threat in the middle of the field a year ago. With better quarterback play and more consistent hands, Mundine could double that receptions total this fall.
8. S Cassius Sendish:
The senior slid right into the starting safety spot, starting 12 games in his debut season with KU. He immediately emerged as one of the most active defenders on the roster, finishing with 68 tackles, which ranked third on the team.
9. CB Dexter McDonald:
He joins with Shepherd to give KU a solid cornerback duo. His 12 pass breakups placed him eighth in the Big 12 and he added two interceptions during his first season at Kansas.
10. P Trevor Pardula:
He finished second in the Big 12 in net punting and also led the conference in punts inside the 10-yard line (14). Pardula got plenty of work, with 84 punts, and he did his job well while also handling the Jayhawks kickoff duties.
Recapping the series:
April 3
: Iowa State
April 2:
West Virginia
April 1:
TCU
March 31:
Texas Tech
March 28:
Kansas State
March 27:
Texas
March 26:
Oklahoma State
March 25:
Oklahoma
March 24:
Baylor