January, 27, 2012
1/27/12
1:30
PM ET
By
ESPN.com staff
| ESPN.com
We're taking a look at what each program in the Big 12 needs to deal with during the offseason, whether it be in the spring, summer or fall preseason camp. Maybe all three! Who knows?
Next up: The
Oklahoma State Cowboys
.

1. Don't get comfortable.
Congratulations, you just won your first Big 12 title. Guess what? Now everybody wants to beat you a whole lot more. It took a whole lot of work for Oklahoma State to scale the league's mountain, and it has to remember how hard that was. Forget it, and get complacent? Ask Texas
how easy it is to replace the number of big-time contributors
on a team good enough to win the national title. The two biggest reasons for the Big 12 title run,
Justin Blackmon
and
Brandon Weeden
, are gone. New players have to work with that same sense of purpose.
2. Find a quarterback.
Losing Blackmon and Josh Cooper isn't as big of a concern. OSU has a lot of talent at receiver. But at quarterback? For now, there's no question filling Weeden's void is a huge question mark. All three guys vying for the spot —
Clint Chelf
,
J.W. Walsh
and Wes Lunt — have potential, but Weeden shattered all kinds of records and will be tough to replace. Additionally, will the offense change with more experience at running back? That's up to Todd Monken. This year will be a much tougher test than last year, which Monken compared to being handed the keys to a Ferrari.
3. Solidify the offensive line.
You've got to like offensive line coach Joe Wickline's ability to make this happen, and there's plenty of promise in the rising offensive linemen.
Parker Graham
has especially impressed older players. Tackle
Levy Adcock
, center
Grant Garner
and guard Nick Martinez are all gone. Adcock was the most talented player on the line and Garner made the whole machine work. Like Weeden, they leave enormous holes. This group will have to do what the unit in 2010 did: Grow during the season after figuring who'll be in the lineup by the season opener.
More offseason to-do lists
.
January, 24, 2012
1/24/12
9:00
AM ET
Signing day is coming fast. Next Wednesday, the next round of players will sign up for their respective programs and start what could be storied careers.
Here's what each team across the Big 12 needs. You'll find Texas A&M and Mizzou on the SEC blog and West Virginia on the Big East Blog.

BAYLOR
Quarterback:
This one's pretty simple.
Robert Griffin III
is taking his talents to the NFL early.
Nick Florence
is waiting to take over, and the Bears have
Bryce Petty
behind him, but more reinforcements at quarterback are needed. Dual-threat quarterbacks, ideally.
Defensive tackle:
Baylor already was one of the nation's worst teams (102nd nationally) at stopping the run. Now it'll need to replace both its interior linemen,
Nicolas Jean-Baptiste
and
Tracy Robertson
.
Offensive linemen:
Baylor's offensive line, meanwhile, has been solid. It loses junior college transfer and two-year starter
Robert T. Griffin
, as well as All-Big 12 center
Philip Blake
.
John Jones
, a reserve guard, also has exhausted his eligibility.

IOWA STATE
Receiver:
This has been a weak spot for the team for several years, and its top overall talent,
Darius Reynolds
, is gone.
Darius Darks
is, too.
Aaron Horne
and
Josh Lenz
will be the team's best weapons in 2012, but the pair of shifty slot guys will be seniors. This position needs reinforcements.
Defensive back:
The DBs have been a quiet strength for ISU, especially in 2011. Cornerback
Leonard Johnson
and safety
Ter'Ran Benton
both have exhausted their eligibility, though, and defensive backs coach Bobby Elliott left for Notre Dame. You'll see plenty of new faces in the Cyclones' secondary next year.
Defensive line:
Experienced starters
Stephen Ruempolhamer and Jacob Lattimer are both gone, and Iowa State has struggled to stop the run consistently the past few seasons.

KANSAS
Quarterback:
Kansas landed high-profile transfers
Dayne Crist
(Notre Dame) and
Jake Heaps
(BYU), but this is still a huge position of need. Last year's starter,
Jordan Webb
, left the team.
Quinn Mecham
is out of eligibility. Heaps is sitting out his NCAA-mandated year after transferring. Crist is the starter, but he badly needs a backup, especially if
Brock Berglund
's transfer appeal allows him to leave.
Wide receiver:
Kansas lacks a big threat at this position. It needs a talent upgrade in a big way. Oklahoma transfer
Justin McCay
is joining the team, but he's no guarantee to a) be granted immediate eligibility or b) become an impact player.
Defensive tackle:
Kansas is thin here, too. Richard Johnson,
Patrick Dorsey
and
Michael Martinovich
are gone, and Kansas couldn't stop much of anything on defense. Some push up front could help make everything look better. A late addition to the 2012 class from a junior college seems like a no-brainer. The Jayhawks need physically mature players to contribute immediately.

KANSAS STATE
Offensive line:
K-State's offensive line was much better in 2011 and could be again in 2012. It needs help replacing All-Big 12 lineman
Clyde Aufner
, though. Starter
Colten Freeze
is also gone.
Defensive line:
Kansas State is bringing back about as many starters as anyone in the Big 12, but the biggest losses are along the defensive line. Kick-blocking specialist (five in 2011) Ralph Guidry is gone, along with tackle
Ray Kibble
. Juco transfer
Jordan Voelker
exploded onto the scene this year, but he's gone, too.
Defensive backs:
Cornerback
David Garrett
leaves a huge hole behind.
Tysyn Hartman
may not be as talented as teammate
Ty Zimmerman
, but his experience leaves a big hole. Zimmerman will have to mentor a younger safety in the near future.

OKLAHOMA
Receiver:
The Sooners are thin here in a big way. That was obvious late in the season when
Ryan Broyles
' storied college career ended a few weeks early with a knee injury. The team also lost Justin McCay (transfer) to Kansas.
Jaz Reynolds
and
Kenny Stills
are the likely top two targets, but they need help.
Tight end:
This position inspired a bit of panic at the end of the season. Seniors
James Hanna
and
Trent Ratterree
are gone.
Austin Haywood
wasn't allowed back on the team, and two more tight ends left the team for various reasons. That left the Sooners suddenly without a scholarship player at the position returning in 2012.
Offensive line:
Starting tackle
Donald Stephenson
must be replaced, as will guard
Stephen Good
, who moved in and out of the starting lineup throughout his career. The Sooners bring back a lot of talent and aren't dying for depth there, but those two will leave holes. Three more offensive line starters will be seniors in 2012.

OKLAHOMA STATE
Offensive line:
The Cowboys need a whole lot of help here to fill in behind young players stepping into the starting lineup. Starters
Levy Adcock
,
Nick Martinez
and
Grant Garner
are gone. Backup center
Casey LaBrue
is gone, too. Those are two All-Big 12 linemen who leave big shoes to be filled.
Receiver:
Justin Blackmon
surprised no one by leaving a year early, and
Josh Cooper
leaves with perhaps the most underrated career of any receiver in school history. In OSU's offense, there's always room for depth here. Nine receivers had at least 19 catches in 2011. Blackmon and Cooper combined for 192, though.
Defensive ends
: The pass rush was solid for Oklahoma State this year, but both starters,
Jamie Blatnick
and
Richetti Jones
, are gone. Replacing both is a necessity.

TEXAS
Receiver:
Texas lacks a true game-changer at the position, though
Jaxon Shipley
and
Mike Davis
may develop into that role in 2012. Former blue-chip recruit
Darius White
left for Missouri, too.
Quarterback
:
David Ash
and
Case McCoy
didn't show a ton of potential at quarterback this year, though Ash may grow with an offseason to prepare as starter. Garrett Gilbert got a big chunk of the work in the spring, summer 7-on-7 and fall preseason camp. Even if Ash does grow, the Longhorns need reinforcements at the position.
Linebacker:
Two senior impact players are gone. Texas is left trying to replace
Emmanuel Acho
and
Keenan Robinson
, though
Jordan Hicks
may mature into a star in 2012.
TCU
Offensive line:
TCU's offensive line is headed for some major turnover. OT
Robert Deck
, OG
Kyle Dooley
and OG Spencer Thompson are gone. Two more starters, OG
Blaize Foltz
and C
James Fry
, will be seniors in 2012.
Defensive linemen:
TCU isn't losing a lot at this spot, but
Ross Forrest
and
D.J. Yendrey
will be seniors in 2012. The Horned Frogs would be well-served to prepare, and offer some depth next year.
Specialists:
TCU will have to break in a pair of new starters on special teams next season. Kicker
Ross Evans
and punter
Anson Kelton
have exhausted their eligibility.
TEXAS TECH
Receiver:
The Red Raiders' offense requires a lot of depth here.
Tramain Swindall
is the only loss at the position, but three more (
Alex Torres
,
Cornelius Douglas
,
Darrin Moore
) will be seniors. Douglas moved to cornerback this year after the team was racked with injury, but we'll see whether he moves back this offseason.
Offensive line:
Tech has a huge need here. Four players won't be returning in 2012.
Lonnie Edwards
,
Mickey Okafor
and center
Justin Keown
must be replaced.
Defensive linemen:
Tech's
Donald Langley
and
Scott Smith
are both out of eligibility, and juco transfer
Leon Mackey
will be a senior.
December, 31, 2011
12/31/11
9:00
AM ET
PARADISE VALLEY, Ariz. -- In Monday night's Fiesta Bowl, you'll see
Brandon Weeden
flip passes into tiny windows to athletic receivers who make acrobatic grabs. You'll see
Joseph Randle
shake a linebacker in the open field and turn a 5-yard gain into a 12-yard gain.
You might even see
Justin Blackmon
jump over somebody.
You probably won't see Oklahoma State's offensive line dominating, but that's because nobody watches what's been arguably the most impressive Cowboys unit over the past two seasons.
Maybe they should start watching.
Last year, the Cowboys were the Big 12's best line, and returned all five starters. In 2011, they've been just as good as expected, if not better, blocking for an offense that's tops in the league and No. 2 in the nation.
"We didn't have to worry about coming into a new offense or anything like that," said tackle Levy Adcock, whose mullet you'll see poking out the back of his helmet before he cuts it next week and heads to the NFL. "All we had to do was mature on what we had, and in the spring we did that really well. In the summer, we worked together every day. We just kept getting better and communicating better and grew as a group."
Why the success? Every Cowboys offensive lineman pointed in the same direction: at offensive line coach Joe Wickline.
"We've got a really, really good coach. I think he's incredible and he gets us on the right track," center Grant Garner, a first-team All-Big 12 selection, said of Wickline.
"If there was any kind of a glitch or a kink in our offensive line, he works it out, no matter what," Adcock said. "He's just an old-school coach, and it's never good enough, no matter how good it is."
For Oklahoma State, it's been pretty good, too. It's only gotten better since breaking in a brand-new offensive line at the beginning of the 2010 season, the first of consecutive 11-win seasons.
Why didn't they struggle longer than a few early games?
"You can give that to our coach, Joe Wickline," said left tackle Nick Martinez. "He's one of the best in the country. He's all about trying to make us one of the best offensive lines in the country."
Even after losing a top-10 pick in Russell Okung at tackle after the 2009 season, Wickline succeeded. When Oklahoma State loses three linemen who have started this season after the Fiesta Bowl, he'll try to do it again.
"Everybody was freaking out last year when we had to replace five starters, but this year, they really only have to replace two or three, and Wick is harder on the twos than he is on the ones, so I think it'll be a seamless transition next year," Garner said. "As long as he's here, that's going to be the case."
August, 29, 2011
8/29/11
2:00
PM ET
By
ESPN.com staff
| ESPN.com
A few teams across the Big 12 updated their depth charts in preparation for the season. Here's what you ought to know.
KANSAS STATE
Bill Snyder's depth chart for the team's game notes heading into next week's game against Eastern Kentucky? A work of art.
Snyder said he'll be releasing the depth chart tomorrow. More later on the Wildcats.
OKLAHOMA
Oklahoma didn't have any huge surprises, but the biggest news: Jamell Fleming has officially reclaimed his spot above Gabe Lynn at the boundary corner spot, despite missing all of spring practice after leaving the university.
Three true freshmen also broke the lineup. Kameel Jackson will back up Trey Franks at receiver, and recently added linebacker Kellen Jones is a co-backup with Jaydan Bird behind Tom Wort at middle linebacker. Nila Kasitati is a co-backup behind Tyler Evans at right guard.
Doubt the committee approach at running back? Brennan Clay, Dominique Whaley and Roy Finch are all co-starters at the position. Finch is listed last on that group, but we'll see how carries are distributed in Week 1 vs. Tulsa. Whaley is a walk-on who has had big days in the spring game the past two seasons.
Ronnell Lewis is listed as the starter at defensive end, but the university has yet to officially clarify his eligibility status. Kenny Stills is likely suspended for Saturday's game after an offseason arrest, but he's listed as the starter at receiver.
TEXAS TECH
Texas Tech has pair of hyped defensive linemen, and both cracked the two-deep. Leon Mackey, a juco transfer, will start at defensive end in Week 1 for the Red Raiders against Texas State. Meanwhile, former UNC signee and recently cleared true freshman Delvon Simmons will back up Kerry Hyder at defensive tackle in Chad Glasgow's 4-2-5 scheme, fresh from TCU.
Glasgow will lean on a true freshman for one of his two linebacker spots. Blake Dees had a huge impact in the spring and solidified his starting spot during fall camp.
Receiver Marcus Kennard, a juco transfer, looks like he'll redshirt after not showing up on the two-deep, but Darrin Moore will grab the Z receiver spot for the Red Raiders.
OKLAHOMA STATE
The rumors have been officially proven correct at Oklahoma State: The Cowboys return all five starters on the offensive line, but juco transfer Michael Bowie has crashed the starting lineup at left tackle. He'll replace Nick Martinez, who'll back up Lane Taylor at right guard now. The Cowboys offensive line is the league's best, and clearly, Bowie's hyped arrival gives it a whole lot more than depth.
Justin Gilbert has officially usurped Devin Hedgepeth as the corner opposite Brodrick Brown. No surprise there. Gilbert's ceiling is sky high.
Caleb Lavey was the likely starter at the spot, but he'll officially start the year as Orie Lemon's replacement at middle linebacker, where he began spring camp.
MISSOURI
Justin Britt replaces Elvis Fisher at left tackle. The sophomore had been inside, but the team saw him moving outside eventually. He'll take that spot now with Fisher out for the season with a torn patellar tendon.
Hyped juco transfer Sheldon Richardson? Fifth on the depth chart no more. The recently cleared big man moved to No. 2 at defensive tackle behind Terrell Resonno.
Center Travis Ruth is out for the opener against Miami (OH). Jayson Palmgren fills his void.
Starting corner Kip Edwards is doubtful. Trey Hobson is listed as the starter.
Receiver Jerrell Jackson is also doubtful. Marcus Lucas will get the nod if Jackson can't go.
True freshman Corbin Berkstresser grabbed the No. 3 quarterback spot behind James Franklin and returning backup Jimmy Costello, who left the team and planned to join the Army, but re-joined after Tyler Gabbert's transfer.
IOWA STATE
Iowa State made it official on paper: Steele Jantz is the starting quarterback. His backfield? Crowded, but led by Shontrelle Johnson, as expected.
I'm not sure if it means he's playing for sure just yet, but Darius Reynolds is listed as the starter at one of the three receiver spots, despite suffering a broken toe earlier in fall camp.
A.J. Klein, meanwhile, has moved to middle linebacker next to weak side linebacker Jake Knott. Matt Tau'fo'ou started at middle linebacker spot last year, but after suffering a broken leg, he's backing up Klein in the middle. C.J. Morgan, a freshman, takes over at strong side. I haven't seen Morgan play, but at 207 pounds vs. Klein's 243, he'd presumably offer some more, much-needed speed at the position. Jacob Lattimer? Starting at defensive end, despite a March arrest and suspension.
July, 7, 2011
7/07/11
10:30
AM ET
By
ESPN.com staff
| ESPN.com
Heading into the season, I see five teams in the Big 12 with a realistic chance to win the league. I'll be breaking them down in order (which
won't be the same as my post-spring power rankings
) of their chances to leave the season with the Big 12 title.
No. 1 on the list was
the favorite: Oklahoma
No. 2 was Texas A&M.
Today, we take a look at the third-most likely Big 12 champion: Oklahoma State.
[+] Enlarge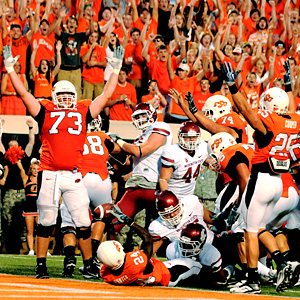 AP Photo/Brody SchmidtLevy Adcock (73) is the anchor of the Big 12's best offensive line.
Why the Cowboys will win the Big 12
1. The offensive line.
You could point to a lot of reasons for the Cowboys' success in 2011, but it all started up front on the offensive end. OSU's big men entered the season as a patchwork group, but matured into one of the Big 12's best by midseason. They should be even better in 2011 when all five return, and the group adds juco transfer Michael Bowie, who could blaze his way into a spot into the starting lineup. Levy Adcock is the Big 12's best offensive lineman, and Lane Taylor, Grant Garner, Nick Martinez and Jonathan Rush fill out a unit that could block the Cowboys into their first Big 12 title.
2. It has the best pass-catch duo in the country.
The distance between
Brandon Weeden
and
Landry Jones
is paper-thin, but
Justin Blackmon
established himself as a cut above
Ryan Broyles
during the 2010 season, and earned the Biletnikoff Award for his efforts. The pair had a joint news conference to announce their return, and the ensuing celebration was warranted. If Oklahoma State wins a Big 12 title, those two are taking them there.
3. The defense's rapid improvement could continue.
OSU has to replace six starters on defense, but returns three starters in a secondary that matured late last season. Look no further than dominant defensive performances against prolific passing offenses like Baylor and Arizona, who the Cowboys blew out. Both safeties, Johnny Thomas and Markelle Martin, are back and make up
a unit I named the Big 12's best
. Justin Gilbert may be charged with replacing Big 12 interception champ Andrew McGee across from returning starter Brodrick Brown. OSU also held a high-scoring Kansas State offense (33.6 points, third in the Big 12) to just 14 points at home in a big game without Blackmon. There's a lot of turnover, but if you can stop the pass in the Big 12, you're going to be in good position to win the league.
Why the Cowboys won't win the Big 12
1. Todd Monken is not Dana Holgorsen.
Monken may be a great offensive coordinator, but for now, we have no idea. What we do know is everywhere Holgorsen has coordinated the offense has become one of the best in college football. Sure, his system is part of it, but so is the effectiveness of his in-game adjustments. Ask Texas A&M and its 21-7 halftime lead in Stillwater. Monken has learned the system, but when things go badly, how will he adjust? One could argue that was one of Holgorsen's best attributes.
2. It hasn't proven it can beat Oklahoma, and has to go to College Station.
Most pundits (
yours truly included
) were willing to overlook history and pick the Cowboys to finally beat an Oklahoma team that hadn't yet proven it could win big games on the road. OSU was favored and playing better football than Oklahoma, whose two losses earlier in the season came to solid Big 12 contenders in night games on the road. OSU, however, allowed its losing streak to Oklahoma to reach eight years and Mike Gundy is still 0-6 against his in-state rival. Additionally, the Cowboys have to go into Kyle Field, one of the most intimidating venues in the league, to face the other Big 12 contender. That's not exactly a recipe for success.
3. The heart of the defense is gone.
Markelle Martin is a good leader, but Orie Lemon was the heart of OSU's defense last season, an experienced player that had been through a lot and made it obvious to his teammates how much playing his final season meant to him. Those kinds of things are always a bit intangible, and hard to peg until the marathon of a college football season kicks off. Can the Cowboys replace his leadership?
April, 20, 2011
4/20/11
3:00
PM ET
By
ESPN.com staff
| ESPN.com
The seventh in our series looking at the strongest and weakest position for each team in the Big 12: The Oklahoma State Cowboys.

Strongest position: Offensive line
Key returnees:
Nick Martinez, Levy Adcock, Jonathan Rush, Grant Garner, Lane Taylor
Key losses:
None
Analysis:
Guys like
Brandon Weeden
,
Justin Blackmon
and last year,
Kendall Hunter
, get all the attention, but I really believe the five guys up front are the real strength for the Cowboys.
Yes, their skill position talent is on par with anyone's in the country, but the
five guys up front got very little credit for Dana Holgorsen's offense
last year.
Despite throwing the ball 532 times (third-most in the Big 12), the Cowboys gave up just 10 sacks, eight fewer than anyone else in the conference. Most games, quarterback Brandon Weeden's jersey barely caught a stain. Sure, part of that is playing on turf at Boone Pickens Stadium, but you get my point. Those 10 sacks were fewer than only seven teams in college football, and among that group were two teams with NFL quarterbacks (TCU, Stanford) and option offenses that rarely threw the ball (Army, Air Force, Navy) and another (Oregon) that played in the national championship. That's pretty good company.
The Cowboys also ran for more than 5 yards per carry last season, which ranked 20th nationally and third in the Big 12.
All five starters return, and to make things better, juco transfer Michael Bowie may crack the starting lineup at left tackle by midseason just because he's got a chance to be even better than Martinez, the starter. Four current starters are seniors and Taylor, the lone junior, has two years of starting experience where everyone else has just one.
There may be some hiccups in the transition from Holgorsen to new coordinator Todd Monken, but an offensive line like the Cowboys have will make those a lot easier to deal with.
Weakest position: Defensive tackle
Key returnees:
Nigel Nicholas
Key losses:
Shane Jarka, Chris Donaldson
Analysis
: The Cowboys have potential in Nicholas, a junior who played some last season and has drawn rave reviews this spring after notching 13 tackles, four tackles for loss and two sacks last year.
Beyond him, though, Oklahoma State may find it difficult to replace both starters on the interior of the defensive line, especially Jarka.
Christian Littlehead is set to start after the spring, but the freshman redshirted last year and will be trying to learn on the go, rather than be eased into a rotation like Nicholas. Additionally, the Cowboys have no one else on the roster with real experience.
Coach Mike Gundy signed five defensive tackles in his 2011 class, but it may be awhile before those players get a chance to really have an effect on the field.
More spring superlatives:
April, 12, 2011
4/12/11
11:00
AM ET
STILLWATER, Okla. -- A year ago, Oklahoma State was full of question marks. None, perhaps, were bigger than what to expect out of the 1,500 pounds or so trying to pave the way for the Cowboys' new offense.
[+] Enlarge
Chuck Cook/US PresswireLane Taylor is part of an experienced offensive line for Oklahoma State.
"We only had one guy [Lane Taylor] that was a returning starter and he'd only played 4 or 5 games, so we didn't know where we were at," said coach Mike Gundy.
Added quarterback
Brandon Weeden
: "[Offensive line] coach [Joe] Wickline, as good as he is, I expected the best, but that was kind of the unknown. Myself, I was kind of like, 'will they be able to get it done?'"
Wickline rotated a few players in and out of the starting group early in spring. Finally, in hopes of chemistry creating a "whole greater than the sum of its parts" type of situation, he decided to stick with five players.
Taylor, a sophomore and the lone returning starter, was slotted at right guard. Levy Adcock and Nick Martinez slid into the role of right and left tackle, respectively. Jonathan Rush took over at left guard. Grant Garner assumed the role of center, making up a group of four juniors and a sophomore.
"We hoped that [running back] Kendall [Hunter] and some of the wideouts we had could make plays for us and we'd overcome some deficiencies in the offensive line," Gundy said. "Later, we found out they were pretty talented and they were able to work well as a group and make some plays."
What looked like a patchwork offensive line eventually developed into one of the Big 12's best, helping pave the way for Hunter and give Weeden time to quarterback the nation's No. 3 offense.
"They were just some blue-collar guys that worked well together," Gundy said. "I think they had great leadership from their quarterback and it didn't hurt that we had a Doak Walker candidate at running back and a Biletnikoff winner at receiver, which takes a lot of pressure off those guys."
The best news now, though? All five are back. Four starters are seniors and Taylor will enter his third season in the starting lineup as a junior.
"Experience is very important in this game at any level and at any position, and when you have experienced guys up front, it gives your quarterback a little sense of security," Gundy said, "and they feel better about themselves and he feels better about his ability to be protected and make some plays."
The line saw progress in spring. It continued into the fall.
"By the end of the year, they were rolling pretty good," Gundy said. "They didn't just dominate people, but they were really good, sound and didn't make a lot of mistakes. Because of that, eliminating the errors, made them a good offensive line."
The offense will have to adjust to a new play-caller and a new running back next season, but with the play of the big men up front, their tasks look significantly easier.
July, 8, 2010
7/08/10
10:45
AM ET
By
ESPN.com staff
| ESPN.com
Josh Cooper, WR
Any of the Oklahoma State receivers probably make sense here in a new pass-happy offense. But Cooper, at 5-foot-11 and 192 pounds, will take over as a slot receiver and could be a consistent target for new starter Brandon Weeden. Cooper caught 20 passes for 234 yards and a score last season, but he'll get a lot more opportunities in the Cowboys four and five-receiver sets under new offensive coordinator Dana Holgorsen. Hubert Anyiam could blossom into a star, but look out for Tracy Moore and Justin Blackmon, too.
Brodrick Brown, CB
Call Brown the silver lining of cornerback
Perrish Cox
's suspension from January's Cotton Bowl. Brown replaced the star cornerback and finished with three tackles and a pass breakup, gaining experience that could prove valuable in 2010. He earned the starting spot after the spring and the 5-foot-8, 190-pound sophomore will help solidify a secondary headlined by safety Markelle Martin.
Nick Martinez, LT
Faces don't get much fresher than Martinez at left tackle for the Cowboys.
Russell Okung
protected the quarterback's blind side for almost four full seasons before being selected No. 6 by the
Seattle Seahawks
in this year's NFL Draft. Martinez, a junior who's played just 18 career snaps from scrimmage, emerged from the spring as the starter at left tackle. Okung was 6-foot-5 and 310 pounds. Martinez is 6-foot-4 and weighs 317. He has Okung's size. We'll find out this fall how much of Okung's skill Martinez has.
More Fresh Faces:
March, 19, 2010
3/19/10
8:30
AM ET
By
ESPN.com staff
| ESPN.com
Here, we'll take a look at one area where each team in the Big 12 can expect to succeed, and another that needs improvement.
Weak: Offensive line

Oklahoma State must replace four starters on the offensive line, including likely top 10 pick LT Russell Okung and SI cover boy C Andrew Lewis. (Yes,
that counts
.) Left guard Noah Franklin and right tackle Brady Bond also don't return.
For Oklahoma State to be successful, they'll need the new line to gel with a first-year starter at quarterback.
Kendall Hunter
returns with hopes of a big year, but if the line plays poorly, he'll have to do it with plenty of shovel passes.
Juniors Nick Martinez, Levy Adcock and Jonathan Rush join senior Anthony Morgan as new starters this spring, and last year's lone returning starter, Lane Taylor, moves over to center to begin spring practice. Taylor began 2009 near the bottom of the depth chart, but took over at right guard during his freshman season.
Runner-up: Linebacker, where Oklahoma State loses quality linebackers in Andre Sexton, Donald Booker and Patrick Lavine.
Strong: Kicking game
Punter Quinn Sharp and kicker Dan Bailey could both be in for big years. Sharp was named All-Big 12 honorable mention as a freshman, when he averaged 45.1 yards on 67 punts, the second-best average ever for an Oklahoma State punter and fifth in the nation. He also had 35 touchbacks as a kickoff specialist.
Bailey will be a four-year starter at kicker and has not missed any of his 131 extra-point attempts in over almost three seasons since becoming starter as a freshman. Perhaps most importantly, he's 24-of-26 on kicks inside 40 yards. He also has a career-long of 51 yards.
More Weak & Strong:
February, 17, 2010
2/17/10
2:00
PM ET
Here's a breakdown of three issues facing each program heading into the spring:

Baylor Bears
Spring practice starts
: March 16
Spring game
: April 10
1. Quarterback Robert Griffin III's surgically repaired right knee
. Griffin hasn't played since tearing the ACL in his right knee in the third game of the '09 season. He recently said he's ahead of schedule in rehabilitation, but probably won't do much during spring practice. He'll wear a heavy knee brace and won't participate in contact drills.
2. New linebackers
. The Bears lost strongside linebacker Antonio Jones and middle linebacker Joe Pawelek, who combined to make 190 tackles last season. Senior Earl Patin, who also has played some defensive end during his career, is poised to replace Pawelek in the middle. But Patin will have to hold off highly regarded youngsters Chris McAllister and LeQuince McCall, who redshirted in '09. Senior Chris Francis is probably the top candidate to replace Jones on the strong side.
3. Safety
. The Bears must replace both of their starting safeties, including All-Big 12 performer Jordan Lake, who started 36 games in a row. Junior college transfer Byron Landor and sophomore Mike Hicks will get the first looks in the spring. But they'll have to hold off incoming freshman
Ahmad Dixon
, one of the top prospects to ever sign with Baylor, after he arrives for fall camp.

Colorado Buffaloes
Spring practice starts
: March 6
Spring game
: April 10
1. Michigan transfer Toney Clemons
. Buffaloes coach Dan Hawkins called Clemons his team's most exciting receiver while he sat out the '09 season under NCAA transfer rules. The cousin of Arizona Cardinals receiver Steve Breaston, Clemons could bring an interesting dynamic to the CU offense. His arrival couldn't come at a better time, either, after
Markques Simas
was suspended indefinitely for violating team rules.
2. Linebacker
. The Buffaloes must replace their two most productive linebackers after losing Marcus Burton and Jeff Smart. The departed seniors combined to make 105 solo tackles and 6.5 sacks last season. Senior Michael Sipili is the top candidate to replace Burton in the middle, and sophomore Jon Major might get the first crack at replacing Smart on the weak side.
3. Offensive line
. The unit's inconsistency has dogged Hawkins' offense in each of his first four seasons. Eight offensive linemen had significant playing time in '09, so the Buffs are looking for more stability up front. The return of sophomore guard Maxwell Tuioti-Mariner from a pair of knee injuries, and early arrival of junior college transfer Eric Richter might shore up the interior line.

Iowa State Cyclones
Spring practice starts
: March 23
Spring game
: April 17
1. Linebackers
. The Cyclones lost each of their starting three linebackers: Josh Raven, Jesse Smith and Fred Garrin. Junior Jacob Lattimer is in line to replace Raven on the strong side, and two highly regarded sophomores are in line to fill the other spots. A.J. Klein, who had 17 tackles in 13 games as a freshman, might get the unenviable task of replacing Smith, who led the Big 12 in tackles in '09. Jake Knott, who had 23 tackles as a freshman, is the top candidate to start on the weak side.
2. Wide receiver
. Iowa State lost leading receiver
Marquis Hamilton
, who had 50 catches for 606 yards with four touchdowns in '09. Tight end
Derrick Catlett
, another top receiving threat, also is gone. The good news: Junior
Darius Reynolds
returns from a broken leg that caused him to miss all but four games last season. Reynolds, who earned the moniker "Money" for his big-play potential, had 13 catches for 72 yards before he was hurt in practice in late September. Junior college tight end Ricky Howard enrolled in classes in January and will participate in spring practice.
3. Defensive line
. Two starters will have to be replaced after ISU lost right end Christopher Lyle and tackle Nate Frere. Lyle led the team with five sacks in '09; Frere was a pretty good run-stopper. Sophomores Cleyon Laing and Roosevelt Maggitt will get strong looks at end, and senior Austin Alburtis and sophomore Jake McDonough will move into the tackle rotation.

Kansas Jayhawks
Spring practice starts
: March 27
Spring game
: April 24
1. Quarterback
. New Kansas coach Turner Gill might have one heck of a competition on his hands. Sophomore
Kale Pick
is a mobile option, after averaging 11.9 yards per rushing attempt in 2009. Junior college transfer Quinn Mecham, who enrolled in classes at Kansas in January, threw for 3,091 yards with 40 touchdowns and 11 interceptions at Snow College in Utah last season.
2. Wide receiver
. The Jayhawks have to replace departed stars
Kerry Meier
and
Dezmon Briscoe
, which will be no easy task. The duo combined to catch 186 passes for 2,322 yards with 17 touchdowns last season.
Bradley McDougald
and
Johnathan Wilson
were proven targets last season, but younger players such as
Chris Omigie
and incoming freshman
Keeston Terry
will have to help this fall.
3. Secondary
. The Kansas defense gave up too many big passing plays and didn't create enough turnovers last season. The Jayhawks will have to replace strong safety Darrell Stuckey, who led them with 93 tackles in '09. Senior Phillip Strozier will get the first crack at replacing the heart and soul of the Kansas defense.

Kansas State Wildcats
Spring practice starts
: March 21
Spring game
: April 24
1. Oregon transfer Chris Harper
. In 2008, Harper played wide receiver and quarterback for the Ducks as a freshman. He became the first Oregon player in eight years to run, pass and catch a touchdown in the same season. Harper, a native of Wichita, Kan., might figure into Kansas State's quarterback or wide receiver plans after sitting out the '09 season under NCAA transfer rules.
2. Quarterback battle
. Harper and two other players will probably battle to replace departed senior
Grant Gregory
. Senior
Carson Coffman
, who started the '09 season at quarterback, figures to be back in the mix, along with junior college transfer
Sammuel Lamur
.
3. Defensive line
. The Wildcats have a couple of gaping holes to fill up front defensively. End Jeff Fitzgerald, who had 40 tackles and 10 tackles for loss in '09, has to be replaced, along with tackles Daniel Calvin and Chidubamu Abana. Junior college transfer Javonta Boyd, who has already enrolled in classes, could help in the interior line.

Missouri Tigers
Spring practice starts
: March 9
Spring game
: April 17
1. Wide receiver
. The Tigers have to replace
Danario Alexander
, who led the country with 1,781 receiving yards in 2009. Juniors
Jerrell Jackson
and
Wes Kemp
both caught more than 20 passes last season, but younger players like
T.J. Moe
and
Rolandis Woodland
are going to have to contribute more. Incoming freshman
Marcus Lucas
could help in the fall.
2. Linebacker
. The Tigers bring back two of their starting three linebackers, but three-time All-Big 12 selection Sean Weatherspoon is the one who left. Sophomore Donovan Bonner heads into spring camp as the top candidate to replace Weatherspoon on the weak side, and Will Ebner and Andrew Gachkar are back at the other linebacker spots.
3. Defensive line
. Two starters are gone on the defensive front: end Brian Coulter and nose tackle Jaron Baston. At least the Tigers know they're set at one side, with end Aldon Smith coming back after totaling 19 tackles for loss and 11.5 sacks in '09. Marcus Malbrough and Jacquies Smith will battle for starting end, and Terrell Resonno could move into the vacant tackle spot.

Nebraska Cornhuskers
Spring practice starts
: March 24
Spring game
: April 17
What to watch:
1. Will quarterback Zac Lee keep his starting job?
After Lee was plagued by inconsistency throughout the '09 season, offensive coordinator Shawn Watson is expected to open the competition during spring practice. Sophomore
Cody Green
, senior
Latravis Washington
and freshman
Taylor Martinez
will all be given a fair chance to win the job.
2. Defensive tackle
. Nebraska fans won't see All-American Ndamukong Suh commanding double-team blocks along the line of scrimmage. Even after losing one of the most decorated players in school history, the Cornhuskers figure to be pretty good up front. Jared Crick and Baker Steinkuhler will man the middle, with Pierre Allen and Cameron Meredith entering spring camp as the favorites at ends.
3. Rex Burkhead
. The sophomore burst onto the scene after Roy Helu Jr. was hurt early in the Huskers' 33-0 rout of Arizona in the Pacific Life Holiday Bowl, rushing for 89 yards with one touchdown. Burkhead was very explosive running out of the Wildcat package, so look for Watson to try and utilize him even more to make the Nebraska attack less predictable.

Oklahoma Sooners
Spring practice starts
: March 8
Spring game
: April 17
1. Offensive line
. The Sooners have a lot of questions up front on offense, after left tackle Trent Williams and right guard Brian Simmons departed. Will junior Donald Stephenson finally be ready to contribute at left tackle after being suspended for all of the '09 season? Will center Ben Habern be ready after breaking his leg late in the '09 season? When will Jarvis Jones return from a broken heel?
2. Linebacker Ronnell Lewis
. The sophomore had a break-out game in the Sooners' 31-27 victory over Stanford in the Sun Bowl, finishing with six tackles and a forced fumble. With starting linebackers Keenan Clayton and Ryan Reynolds departing, Lewis will assume a starting role on the strong side. Redshirt freshman Tom Wort is projected to start in the middle, with junior Travis Lewis starting on the weak side.
3. Secondary
. The Sooners have shuffled their defensive backs after losing cornerbacks Dominique Franks and Brian Jackson. Sophomore Demontre Hurst is in line to replace Franks at field cornerback, and senior Jonathan Nelson has moved from strong safety to boundary cornerback. Junior Sam Proctor is expected to replace Nelson at strong safety, and senior Quinton Carter is back at free safety.

Oklahoma State Cowboys
Spring practice starts
: March 8
Spring game
: April 17
1. Quarterback Brandon Weeden
. The 26-year-old junior is the top candidate to replace
Zac Robinson
, who broke nearly every OSU passing record. Weeden was a second-round choice of the New York Yankees in the 2002 amateur baseball draft. If he can grasp new offensive coordinator Dana Holgorson's spread offense quickly, the Pokes' passing game should again be potent in 2010.
2. Defense
. Defensive coordinator Bill Young will have his hands full this spring trying to replace nine starters. The only returning starters are defensive end Ugo Chinasa and strong safety Markelle Martin. The Pokes have to replace three starters on the defensive line, three linebackers and three defensive backs. Three newcomers -- linebacker
Caleb Lavey
and defensive backs
Devin Hedgepeth
and Malcolm Murray -- will get early looks in spring camp.
3. Offensive line
. The Cowboys will have to replace star left tackle Russell Okung, left guard Noah Franklin, center Andrew Lewis and right tackle Brady Bond. Juniors Nick Martinez, Casey LaBrue and Grant Garner will be the top candidates to fill open starting spots.

Texas Longhorns
Spring practice starts
: Feb. 26
Spring game
: April 4
1. Quarterback Garrett Gilbert
. The sophomore was thrust into action after
Colt McCoy
injured his shoulder against Alabama in the Citi BCS National Championship Game and played admirably well in tough circumstances. The Longhorns might change their identity on offense with a young quarterback under center, so developing a running game to take pressure off Gilbert might be a top priority.
2. Defense
. The unit is in good hands with coordinator Will Muschamp, but he'll have to replace many of the star players from 2009. End Sergio Kindle, tackle Lamarr Houston, linebacker Roddrick Muckelroy and safety Earl Thomas are all gone. Younger players such as end Alex Okafor and tackle Tyrell Higgins will have to turn it up a notch during spring practice.
3. Wide receiver
.
Jordan Shipley
, who was McCoy's favorite target, also departed. Seniors
James Kirkendoll
and
John Chiles
, junior
Malcolm Williams
and sophomore
Marquise Goodwin
will have to be more consistent in their route running and pass catching. Other receivers such as
D.J. Monroe
and
DeSean Hales
will be trying to crack the receiver rotation during the spring, before talented freshmen like
Darius White
,
Mike Davis
and
Demarco Cobbs
arrive on campus.

Texas A&M Aggies
Spring practice starts
: March 23
Spring game
: April 17
1. New defensive coordinator Tim DeRuyter
, who built one of the country's best units at Air Force last season. He inherits an A&M defense that was woefully porous last season and will switch to a 3-4 scheme. Nine starters are coming back on defense, including pass-rushing specialist Von Miller. DeRuyter will spend the spring trying to install his system and getting his players comfortable with it.
2. Offensive line
. The Aggies must replace three starting offensive linemen: left tackle Michael Shumard, center Kevin Matthews and right tackle Lee Grimes. Juniors Joe Villavisencio and Danny Baker and sophomore Stephen Barrera have to be ready to step up this spring.
3. Special teams
. The Aggies' special teams weren't so special last season, as they ranked 104th in net punting, 91st in kickoff return defense and 49th in kickoff returns among FBS teams. Aggies coach Mike Sherman is putting a new emphasis on special teams, which cost his team dearly in its 44-20 loss to Georgia in the Independence Bowl.

Texas Tech Red Raiders
Spring practice starts
: March 7
Spring game
: April 17
1. Quarterbacks
. With former Auburn coach Tommy Tuberville replacing Mike Leach at Texas Tech, senior quarterbacks
Taylor Potts
and
Steven Sheffield
figure to start spring camp on a level playing field. Potts started 10 games last season, throwing for 3,440 yards with 22 touchdowns and 13 interceptions. Sheffield started two games and threw for 1,219 yards with 14 touchdowns and four picks. New offensive coordinator Neal Brown, who was hired from Troy, runs a version of the spread offense, but Tuberville will probably incorporate more of a traditional running game into the offense.
2. Defensive line
. New defensive coordinator James Willis has to replace three starters on his defensive front: ends Brandon Sharpe and Daniel Howard and tackle Richard Jones. Making matters worse, the top two reserve ends in 2009 were seniors, along with the backup nose tackle.
3. Offensive line
. O-line coach Matt Moore, who was retained from Leach's staff, has to replace three starters: center Shawn Byrnes, right guard Brandon Carter and right tackle Marlon Winn. Juniors Justin Keown and Mickey Okafor and sophomore LaAdrian Waddle will probably be given first crack at replacing them. Incoming junior college transfer Scott Smith could play stand-up end in Tech's 3-4 scheme, and junior college defensive tackle Donald Langley might also have an impact in spring practice.
May, 26, 2009
5/26/09
9:55
AM ET
By
Tim Griffin
| ESPN.com
Posted by ESPN.com's Tim Griffin
All questions aren't settled during the course of spring practice as teams still have much work to upgrade their weaknesses heading into the season.
Obviously, some will receive a boost from incoming freshmen who will arrive later. But here's how each team's biggest liability shakes out heading into the summer.
Baylor: The Bears are desperately looking for help at offensive tackle after losing No. 2 overall draft pick Jason Smith and Dan Gay as their starters. Former Canadian firefighter Danny Watkins has established himself at Smith's old position protecting Robert Griffin's blind side. And on the right side, junior Chris Griesenbeck and redshirt freshmen Cameron Kaufhold are competing for the starting job with Tyler Junior College's Phillip Blake and Blinn College's Marquis Franklin set the arrive later this summer.
Colorado: Wide receiver has been a question mark for the Buffaloes throughout Dan Hawkins' coaching tenure. The Buffaloes return four scholarship wide receivers and had a chance to work out several new players with Scotty McKnight injured during the spring. Josh Smith and Markques Simas are the top playmakers coming out of the spring. Non-scholarship players like Jason Espinoza and Ryan Maxwell emerged, but the Buffaloes definitely need a big upgrade at the position from their arriving freshman class.
Iowa State: The Cyclones will be facing a big hole at left tackle, where two-year starter Doug Dedrick departs. It could be filled by Matt Hulbert, who started two games last season when Dedrick was hurt. Or it could be massive 354-pound junior Hayworth Hicks or freshman Brayden Burris at the position. Whoever emerges will face a huge challenge in filling Dedrick's experience as he protects the blind side of the Iowa State quarterbacks.
Kansas: Coach Mark Mangino will be facing a few huge rebuilding job at linebacker, where the Jayhawks lose key contributors Joe Mortensen, Mike Rivera and James Holt from last season. Mangino is talking about using a two-linebacker set as his base defense with fifth-year senior Jake Schermer and senior Arist Wright getting the starting jobs leaving spring practice. Sophomore Steven Johnson and converted running back Angus Quigley were competing for playing time during the spring and another boost is expected when junior linebacker Justin Springer, who is recovering from a torn ACL last season, returns in the fall.
Kansas State: Carson Coffman appeared to have claimed the starting job at quarterback -- at least for a few weeks -- after a strong effort during the latter stages of spring practice. But Coffman's late binge has to be tempered considering he is playing against the weak Kansas State secondary. So it's fair to say there are some lingering questions at the position. Coffman apparently has beaten back the challenge of challengers Collin Klein, Joseph Kassanavoid, Trey Scott and Milton McPeek. But the arrival of South Florida transfer Grant Gregory and heralded junior-college transfer Daniel Thomas will mean more competition in the summer.
Missouri: The Tigers will be facing a challenge of replacing NFL first-round draft pick Evander "Ziggy" Hood at defensive tackle to play opposite nose tackle Jaron Baston. Redshirt sophomore Terrell Resonno appeared to have claimed the job out of the spring, with Dominique Hamilton, Chris Earnhardt and converted linebacker George White perhaps earning their way into the rotation.
Nebraska: After the graduation of top receivers Todd Peterson and Nate Swift from last season, the Cornhuskers need to fill both positions. Leading returning receiver Menelik Holt appears to have a hammerlock on one position, but Niles Paul lost a chance to take a big step forward after missing the spring after he was suspended for driving under the influence. Antonio Bell was the biggest surprise, but converted I-back Marcus Mendoza, Chris Brooks, Wes Cammack and Curenski Gilleylen all showed flashes during the spring.
Oklahoma: There was concern before spring practice, considering the Sooners were replacing four-fifths of their starting offensive line with only Trent Williams back from last season's starters. And it got worse when Bob Stoops called out the young replacements because of their lack of diligence in their preseason conditioning. Williams emerged at left tackle with Brian Simmons and Stephen Good at guards, redshirt freshman Ben Habern at center and either LSU transfer Jarvis Jones or Cory Brandon at right tackle. The depth took a hit when center Jason Hannan left early in training camp and sophomore guard Alex Williams chose to leave after spring practice. The group struggled against the Sooners' talented defensive line, allowing Sam Bradford to be touch-sacked twice in three possessions in the spring game and produced only 27 rushing yards in 52 carries.
Oklahoma State: The loss of veteran center David Washington produced a huge hole in the center of the Cowboys' interior line. Andrew Lewis returns to his natural position, leaving Oklahoma State needing two new starters at guard. Noah Franklin and Jonathan Rush have staked claims to the starting positions with Anthony Morgan and Nick Martinez getting repetitions inside. This group needs to improve if it hopes to equal the standards of previous seasons, when the Cowboys led the Big 12 in rushing each of the last three seasons.
Texas: The tight end was rarely used for the Longhorns after Blaine Irby dislocated his kneecap last season against Rice. He still wasn't ready to go during the spring as Greg Smith, Ahmard Howard, Ian Harris and D.J. Grant all got work. None of them emerged. And with Irby's return remaining iffy, it means the Longhorns again could reduce the use of the tight end and utilize four-receiver sets when they want to move the ball. Don't look for the Longhorns to use the tight end much unless this production improves.
Texas A&M: T
he Aggies were wracked with injuries during the spring as projected starters Lee Grimes, Kevin Matthews and Lucas Patterson were sidelined all spring as A&M was down to only nine healthy offensive linemen for some practices. It still doesn't excuse the lack of offensive production for A&M's starting unit, which produced only 9 yards rushing on 24 carries against Texas A&M's first-string defense. Coach Mike Sherman will be counting on immediate production from an impressive group of incoming freshman at fall practice, but it's fair to characterize the Aggies' offensive line as the team's biggest spring concern -- especially after allowing 39 sacks last season and ranking last in the conference in rushing yards per game.
Texas Tech: The loss of productive starters Daniel Charbonnet and Darcel McBath left a gaping hole at safety for the Red Raiders. Junior Franklin Mitchem earned the free safety position leaving spring practice and redshirt freshman Cody Davis emerged at strong safety. Jared Flannel, Brett Dewhurst and converted linebacker Julius Howard also got some snaps at safety. It will still be a challenge to combat the explosive Big 12 defenses with such an inexperienced group at the position.