January, 15, 2010
1/15/10
8:51
AM ET
By
Tim Griffin
| ESPN.com
OMAHA, Neb. -- The magnitude finally hit him, shortly after he grasped the microphone and realized that he was listening to the Nebraska crowd chant his name one final time.
[+] Enlarge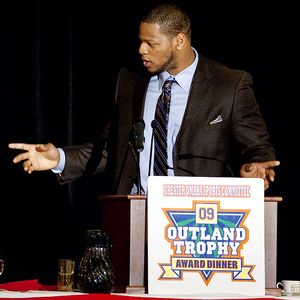 AP Photo/Nati HarnikNdamukong Suh is the ninth Nebraska player to win the Outland Trophy.
Ndamukong Suh picked up his Outland Trophy award at a banquet Thursday night. But he was just as touched by the reaction from an overflow crowd of Nebraska fans and well-wishers who wanted to toast his legendary career again.
During the middle of his acceptance speech, the 6-foot-4, 305-pound defensive tackle began crying as he thanked his coaches and teammates.
"For some reason, it hit me when I watched that video," Suh said, dabbing at his eyes after watching a series of the top plays of his career on the big screen. "It's the last time I'll ever be at Nebraska ... and be a Cornhusker ... and be on that field. It's hard."
Suh's mother, Bernadette, told the Omaha World-Herald she couldn't remember the last time her son cried for any occasion.
"I haven't seen him cry for, gosh, I don't know how long. It's been quite a while. It's been years.
"I think it finally has hit him that this is the end of the college part. An end of an era. It's just been wonderful to be part of this Big Red family. I'm sure he's going to miss it."
The Nebraska fans are going to miss it, too.
Fans interrupted the program on several occasions to break out the familiar "Suuuuuuh" chant.
"I'll definitely miss hearing that chant you guys do," Suh said.
Others waited for more than an hour in hopes of getting an autograph from the most decorated Blackshirt in the history of the program. Earlier this week, more than 400 fans paid $50 to have an item signed by Suh at an Omaha shopping mall.
Suh won the Lombardi, Nagurski and Bednarik awards and was the Associated Press National Player of the Year -- the first time that a defensive player has won that award. He also finished fourth in the Heisman.
But it was clear that collecting the Outland Trophy -- the ninth time a Nebraska player has won it -- meant something special to him.
Coach Bo Pelini presented Suh with the award. Pelini recalled traveling to Suh's hometown of Portland, Ore., early last year to talk to him about coming back to Nebraska for his senior season.
Although Suh was a likely first-round draft pick in the NFL draft last season, Pelini told him that other goals could be accomplished if he returned to school.
"I can't be more proud of one person as I am of him," Pelini said. "Last year he told me, 'I want to have an impact on the University of Nebraska forever. I came here to make an impact and to go down in history as somebody to have a long-lasting impact on the program that they're going to be talking about forever.'"
As he looked at his former player, Pelini understood the significance of perhaps the most popular Cornhusker player of all time.
"I think you accomplished that goal, Ndamukong," Pelini said.
And so much more.
January, 13, 2010
1/13/10
2:54
PM ET
By
Tim Griffin
| ESPN.com
I'll be in Omaha all day tomorrow as I prepare to present Ndamukong Suh with the Outland Trophy on behalf of the Football Writers Association of America later that night.
But I wouldn't think of not having a chat when we can have the opportunity to talk some Big 12 football.
We can discuss Colt McCoy's injury, Will Muschamp's long-term job prospects and Suh's professional opportunities, among other topics.
Please feel free to send some questions by
following this link
, or you can join us during the chat tomorrow afternoon.
As always, I'm looking forward to it.
January, 12, 2010
1/12/10
5:41
PM ET
By
Tim Griffin
| ESPN.com
The season might be over, but letters and e-mails keep rolling in.
Here are some of the better missives I've received over the last several days.
Steven Johnson from Salina, Kan., writes:
This season there truly was the "curse of the Big 12 quarterback" all season long. Did any other conference lose as many starting QBs as the Big 12 this season due to injury? In the South Division, only A&M had the luxury of their starting QB all season long. Who were the only quarterbacks in the Big 12 who started every game this season?
Tim Griffin:
Yes, it was a bad time to be a starting quarterback in the Big 12 in 2009. The only quarterbacks who started every game were Kansas'
Todd Reesing
, Missouri's
Blaine Gabbert
, Texas'
Colt McCoy
and Texas A&M's
Jerrod Johnson
.
And McCoy's injury against Alabama last week might have been the biggest injury of the season for any player in the nation.
I don't know of any conference anywhere that had the run of injuries that the Big 12 endured this season.
---
Terrell from the Bay Area in California writes:
It's obvious that Mack Brown's offensive staff doesn't develop the talent like it should or utilize the talent it has. What's the shelf life of Greg Davis? Mack has a history of going with the style that's winning. And right now a pro-style SEC offense is dominating the championship scene. Do you see Coach Brown having the courage to replace Davis or are we stuck with him until Will Muschamp takes over? I think now would be a perfect time to make the switch especially with the recruiting classes they've had the last three years. The lineman alone should make Brown a more pro-style coach.
Tim Griffin:
Terrell, you raise an interesting point I often hear from Texas fans. Davis was successful enough to help Vince Young and Colt McCoy develop into two of the greatest quarterbacks in college football history. There's no doubt the Texas running game struggled this season, but Davis was able to cobble together a short passing offense that still took them to the national championship game.
I think there's a lot of loyalty between Mack Brown and Greg Davis. They've worked together for 17 seasons at three different jobs -- Tulane, North Carolina and Texas. Brown has never fired a coach before during his Texas stint. And I don't see him starting with one of his most stalwart associates in Davis.
---
Zachary Cole from San Marcos, Texas, writes:
I just read that Tommy Tuberville's new offensive coordinator will be Neal Brown from Troy. I don't know much about Troy, do you think this is a good choice or do you think that Lincoln Riley should have got the call?
Tim Griffin:
It doesn't surprise me that Tuberville looked outside the Tech program to pick his offensive coordinator. And Brown is one of the rising stars of the business after the job he did with the Trojans over the last two seasons. He's actually the youngest offensive coordinator in the nation but has more experience as a coordinator than Riley at the job.
Tuberville was looking for a proven commodity along with a coach rising in the profession. It's a bonus that Brown arrives with a few different wrinkles he wants to bring to his new job.
I think it's a good choice, although it sounds like the offense will be pretty similar to the one the Red Raiders have run in recent years with Mike Leach serving as the coach and offensive coordinator. Tuberville wants his own immediate stamp on the program and that's why I think he went out of it for Brown.
---
Chris Watkins from Lawrence,Kan., writes:
Tim, now that Jim Leavitt, Mike Leach, and Ruffin McNeill are all available, would it be wise for Kansas State coach Bill Snyder to bring them in, even in the thick of the tumult? I could see going to Kansas State being a smart move for Leach and Leavitt considering their reputations have taken hits. Snyder is just the guy to "mentor" them, much like Tony Dungy did with Michael Vick. Who would be most likely to go to work for the Wildcats, in your opinion?
Tim Griffin:
I expect Jim Leavitt, Mike Leach and Ruffin McNeill all to be back in coaching quickly. But as far as Kansas State, I would suspect that Leavitt makes the most sense, mainly because he's worked for Snyder before.
I know that Snyder has leaned on veteran counsel in the past and hasn't hesitated to surround himself with former head coaches. And Snyder's ability to "mentor" coaches, as well as work them pretty hard, is legendary. It would be a good place for any of those coaches you mentioned to land.
---
Preston Nix of Austin writes:
Tim, now that the season is over I've been looking at recruiting and noticed that Texas doesn't have a running back ranked better than 31st in his position for 2010. Why is this? It seems with Texas underperforming at running back there would be a high demand for star running backs to fill the gap.
Tim Griffin:
Preston, I'm not normally a huge fan of recruiting rankings except for the very top players. And it seems like Mack Brown has done a nice job melding together his program in recent seasons with players who weren't the top recruits. But at running back, I am a little surprised that the Longhorns haven't been in the ballgame for more top prospects. Obviously, the Longhorns' running game problems since Jamaal Charles left the program have been well-chronicled. And it seems that Texas has steered away from the running game in favor of pass-heavy offense under McCoy. Obviously, recruits see that and likely are more interested in places where they will carry the ball more often.
Maybe
Chris Whaley
will be poised to earn playing time over the spring. Or Tre' Newton could takes the next step in 2010. But it is clear that Texas does have an immediate opening for a top running back heading into next season. Improved punch in the running game will be important as the Longhorns try to lessen some of the pressure around new quarterback
Garrett Gilbert
.
---
Kelly Smith from Memphis, Tenn., writes:
Tim, being an avid Cornhusker fan in SEC country, I have really enjoyed your coverage of the Big 12. I look forward to your outstanding continued reporting on college football. Keep up the good work. I have only one thing against you...lol... you did not vote for Ndamukong Suh for Heisman. I will forgive you, however.
Tim Griffin:
Kelly, I appreciate the kind words. And your note isn't the only one that I've received for not voting for Suh for the Heisman.
But I am going to meet with Suh on Thursday night in Omaha. In my role as the president of the Football Writers Association of America I'll be presenting him with his Outland Trophy, emblematic of his season as the best lineman in college football.
We supposedly will be having a record crowd for the banquet. I'll look forward to seeing him, the Pelini brothers and all of the rest. I'll report back on it after the banquet on Thursday night. It should be a good time.
Thanks again for all of the good questions. I'll check again Friday as I leave Omaha and head into the weekend.
December, 10, 2009
12/10/09
9:19
PM ET
By
Tim Griffin
| ESPN.com
There was a decided Big 12 influence Thursday night as
Colt McCoy
and Ndamukong Suh accounted for seven awards during the Home Depot ESPNU College Football Awards show Thursday night.
McCoy capped the festivities by earning the Maxwell Award. Earlier, he earned the Walter Camp Football Foundation's Player of the Year and the Davey O'Brien Award.
Suh claimed the Outland Trophy and the Chuck Bednarik Award and had earlier been presented with the Bronko Nagurski Award and the Vince Lombardi/Rotary Award.
McCoy beat out Alabama running back
Mark Ingram
and Florida quarterback
Tim Tebow
for the Maxwell Award -- the final award presented during Thursday's awards show.
"Tim and Mark are two great candidates and are well deserving of this award," McCoy said. "I'm very humble."
McCoy talked about how excited he is to play in the Citi Bowl Championship Series National Championship on Jan. 7.
"That's something very special, something me and our seniors have worked for four years," McCoy said. "Obviously, we know we have our hands full with Alabama and their offense, defense and special teams. They are very well-coached and are a tremendous football team. But we're really excited about it."
December, 10, 2009
12/10/09
8:29
PM ET
By
Tim Griffin
| ESPN.com
Nebraska defensive tackle Ndamukong Suh picked up back-to back-awards in a five-minute period as he claimed the Outland Trophy as the nation's best interior lineman and the Chuck Bednarik Award as the nation's best defensive player.

Suh continued a Nebraska tradition, becoming the eighth Cornhusker and first since Aaron Taylor in 1997 to earn the Outland Trophy, beating out Russell Okung of Oklahoma State and Idaho's Mike Iupati.

In the process, Suh has been a part of a stunning turnaround in the Nebraska defense.

"It's been a tough ride but got some strong guys back there. My class especially has been through some kind of hell," Suh said. "But having a great coaching staff and great defensive gurus like (Nebraska coach) Coach Bo (Pelini) and (Nebraska defensive coordinator) Carl Pelini. We learned the best from them. We want to continue to improve and get better as we do through the year."

Suh said he hopes to represent all of the offensive and defensive linemen as a finalist for the Heisman Trophy on Saturday night in New York City. He becomes the first interior lineman since Warren Sapp of Miami in 1994 to be nominated.

"That's a crazy feeling. I never expected it," Suh said. "After the Missouri game there was some Heisman talk. But I never expected to be there. I'm very proud of it. I talked to a couple of guys when I was at the Lombardi Award and hopefully want to represent those guys in the right way.

"All the guys up front -- the offensive linemen and defensive linemen -- I definitely want to be that person to represent them and happy to do it."

Earlier, Suh overcame Alabama defensive tackle Terrence Cody and Florida linebacker Brandon Spikes to become first Cornhusker and third Big 12 player to win the Bednarik Award.
December, 10, 2009
12/10/09
3:51
PM ET
By
Tim Griffin
| ESPN.com
It will be like Oscar night around my house this evening.
For good reason, I might add. Most of college football's biggest awards will be presented tonight at The Home Depot ESPNU College Football Awards show.
The festivities will begin at 7 p.m. ET, meaning you still have plenty of time to get together with your friends and start your pools.
Here are the Big 12 nominees and their legitimate chances of toting home the hardware from Disney World this evening.
Chuck Bednarik Award (best defensive player)
Big 12 nominee:
Ndamukong Suh, Nebraska.
Chances of winning:
Outstanding. Anybody who saw Suh's game against Texas should see he's a pretty deserving candidate.
Biletnikoff Award (best receiver)
Big 12 nominee:
Jordan Shipley
, Texas.
Chances of winning:
Poor. Shipley might not have even been the most deserving candidate from the conference, considering the late charge by Missouri's
Danario Alexander
.
Maxwell Award (best all-around player)
Big 12 nominee:
Colt McCoy
, Texas.
Chances of winning:
Fair.
Mark Ingram
might get the nod here in what should be tight balloting.
Davey O'Brien Award (best quarterback)
Big 12 nominee:
Colt McCoy, Texas.
Chances of winning:
Good. McCoy's lifetime statistics should boost him past finalists
Tim Tebow
and
Case Keenum
.
Outland Trophy (best lineman)
Big 12 nominees:
Ndamukong Suh, Nebraska; Russell Okung, Oklahoma State.
Chances of winning:
Outstanding. Look for Suh to win this award, although Okung would be a strong selection as well.
Jim Thorpe Award (best defensive back)
Big 12 nominee:
Earl Thomas, Texas.
Chances of winning:
Fair. Eric Berry is the favorite and he played more of the season as a hybrid linebacker/safety. Thomas has eight interceptions this season, but not Berry's career achievements.
November, 24, 2009
11/24/09
9:05
AM ET
By
Tim Griffin
| ESPN.com
Oklahoma State tackle Russell Okung and Nebraska defensive tackle Ndamukong Suh have been named among three finalists for the Outland Trophy, which is awarded to college football's best interior lineman by the Football Writers Association of Amerca.

The other finalist named was Idaho guard Mike Iupati.

The finalists will attend the announcement of the award, which will come on Dec. 10 during The Home Depot ESPNU College Football Awards Show at the Walt Disney World Resort in Lake Buena Vista, Fla. The show will begin at 7 p.m. ET.

Okung, a 6-5, 300-pound senior from Houston, has been rated as the top offensive tackle NFL prospect in college football. Heading into the regular-season finale against Oklahoma on Saturday, the durable Okung is slated for his 46th consecutive start for the Cowboys. He's a big reason why the 9-2 Cowboys' offense produces 203.5 yards a game on the ground. Twice during his career he has not allowed a sack against the nation's leader at the time -- including an effort against Texas A&M end Von Miller this season.

Suh, a 6-4, 300-pound senior defensive tackle from Portland, Ore., leads Nebraska in tackles with 35 unassisted tackles and 30 assisted stops. He has 15 tackles for 52 yards in losses (6.5 sacks), 10 pass break-ups, 20 quarterback hurries, one interception, one forced fumble and three blocked kicks. A top NFL prospect, Suh heads up the nation's third-ranked scoring defense that has propelled the Cornhuskers to an 8-3 regular-season record heading into the regular-season finale at Colorado on Friday.

The Big 12 has featured two previous winners in its history. Aaron Taylor of Nebraska claimed the award in 1997 and Jammal Brown of Oklahoma in 2004.

Including its previous history, Nebraska has claimed the award previous a record eight times by seven different players. Previous Nebraska winners include Dave Rimington (twice), Larry Jacobson, Rich Glover, Dean Steinkuhler, Will Shields, Zach Wiegert and Taylor.

An Oklahoma State player has never won the Outland Trophy.

The official 2009 award presentation will be Jan. 14, 2010, in Omaha, Neb., at a banquet sponsored by the Greater Omaha Sports Committee.