August, 8, 2014
8/08/14
9:17
AM ET
Nobody questions the excellence of Barry Sanders during the 1988 season. The former Oklahoma State running back was a sight to behold during his Heisman-winning campaign, slithering through defenses with relentless consistency and eye-popping production.

One season before, Thurman Thomas was almost as lethal with an OSU decal on his helmet.

Thomas was an Associated Press All-American and Big Eight Offensive Player of the Year, rushing for 1,767 yards and 21 touchdowns in 1987. Yet Sanders' greatness the following season -- he recorded 2,850 rushing yards and 39 TDs in the regular season -- completely overshadowed one of the best seasons in Cowboys history from Thomas the year before.

"There's no question [his greatness was overshadowed]," said former Oklahoma State coach Pat Jones, who coached the duo during the 1987 season. "What Sanders did was so unworldly. This is the only time in the history of college football that two running backs overlapped in their college careers and ended up in Canton. That speaks volumes for how good they were. It's happened one time and we were fortunate to be a part of it."

Thomas averaged 147.2 rushing yards per game and 6.2 yards per carry in 1987 while sharing time with Sanders, and both players earned All-America accolades (Sanders earned All-America honors as a kick returner as a sophomore). Thomas rushed for more than 100 yards in 11 games that season, including 173 against Oklahoma and a 293-yard performance against Iowa State.

"Thurman's true greatness collegiately was overshadowed by the unbelievable year Sanders had in 1988," Jones said.

Thomas remains OSU's leading all-time rusher with 5,001 career yards and 50 touchdowns during four years in Stillwater. And his excellence rubbed off on Sanders, helping to create a foundation for what Sanders accomplished in 1988.

"The most impressive thing about Thomas was how he was on a daily basis," Jones said. "I don't think I've ever been around a more competitive, tougher guy. It helped Sanders' development to be around Thurman. It did Sanders a lot of good; by the time Sanders got going, Thomas was a legitimate All-American. Work habit-wise, maturity-wise, study-wise, all of it. It was invaluable to him to be around that guy, and there never was any animosity between them."

Thomas' 1987 season was overshadowed excellence, but excellence nonetheless.

"He had virtually every honor you could have outside of a Heisman Trophy," Jones said. "A lot of Thomas' stuff has gotten overshadowed just because of the sheer volume of what Sanders accomplished.

"The bust in Canton totally validates what [Thomas] was."
July, 9, 2012
7/09/12
9:00
AM ET
We're looking at coaches this week on ESPN.com. It's a big subject, sure. In our blog network, we'll be breaking it down each day to smaller topics.
Today, a simple question: What would a program look like without the winningest coach in program history? Which coaches had the biggest impact?
Here's how it breaks down for each program in the Big 12 (all-time record in parentheses):
[+] Enlarge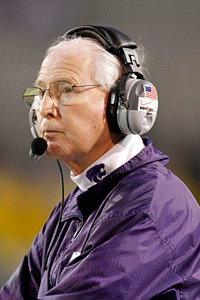 Brett Davis/US PresswireKansas State's winning percentage plummets without Bill Snyder.
BAYLOR: 524-530-44 (.497)
Winningest coach: Grant Teaff: 128-105-6

Wins without winningest coach: 396
IOWA STATE: 500-594-24 (.458)
Winningest coach: Dan McCarney: 56-85

Wins without winningest coach: 444
KANSAS: 572-560-58 (.505)
Winningest coach: A.R. Kennedy: 52-9-4

Wins without winningest coach: 520
KANSAS STATE: 475-612-41 (.439)
Winningest coach: Bill Snyder: 159-83-1

Wins without winningest coach: 316
OKLAHOMA: 821-307-44 (.718)
Winningest coach: Barry Switzer: 157-29-4

Wins without winningest coach: 664
OKLAHOMA STATE: 530-523-47 (.503)
Winningest coach: Pat Jones: 62-60-3 (Mike Gundy needs three wins to tie Jones)

Wins without winningest coach: 468
TEXAS: 858-330-33 (.716)
Winningest coach: Darrell Royal: 167-47-5

Wins without winningest coach: 691
TCU: 593-514-57 (.534)
Winningest coach: Dutch Meyer: 109-79-13 (Gary Patterson is tied at 109-30.)

Wins without winningest coach: 484
TEXAS TECH: 524-405-32 (.562)
Winningest coach: Mike Leach: 84-43

Wins without winningest coach: 440
WEST VIRGINIA: 701-457-45 (.601)
Winningest coach: Don Nehlen: 149-93-4

Wins without winningest coach: 552
That's a wide variance of wins. It's clear that no man means more to his school than Bill Snyder does to Kansas State. The program has a rather depressing .358 winning percentage if you remove Snyder's win from the equation. He took two seasons to get Kansas State from a perennial doormat to a team above .500. Snyder then went on a historic run that included a Big 12 title in 2003 and two BCS bowl bids.
Don't ever doubt why some consider what Snyder has done in Manhattan as the single greatest coaching job in the history of the game. Snyder's career win percentage at Kansas State is .656, almost double what the program's overall win percentage is. No other coach comes close to those numbers. There's a reason why many of the nation's coaches are often in awe of Snyder and why he is so respected.
The biggest surprise for me was the relative dominance of West Virginia compared to the rest of the Big 12. That .601 win percentage is behind only Texas and Oklahoma over the course of the program's history. And you wonder why folks are so excited about their entrance into the league?
Looking elsewhere, Texas Tech's decision to fire Mike Leach looks worse and worse while the Mike Gundy hire at Oklahoma State looks better and better. Gundy is three wins from passing Pat Jones as the school's biggest all-time winner. He did so in just 89 games while Jones needed 125 matches to reach 62 victories.
Conversely, how about the job Gary Patterson has done at TCU? Sure, the schedule is different, but he's suffered the same amount of losses as Gundy with 50 more wins. He's also reached 109 wins in 62 fewer games than Dutch Meyer.
We're living in the age of some great, great coaches in this league. History shows us that.
June, 8, 2012
6/08/12
9:00
AM ET
Today, there are more than 100 FBS teams with rosters that often broach around 100 players. In simplified math, the game has seen more than 500,000 players take the field over the past 50 years.
[+] Enlarge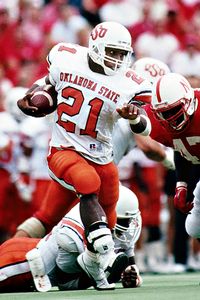 Malcolm Emmons/US PresswireOklahoma State's Barry Sanders set 25 NCAA records and rushed for over 300 yards four times during the 1988 season.
Barry Sanders' 1988 season was better than every single one of them. Nobody's really even that close.
Future NFL Hall of Famer Thurman Thomas left the program to a little-known junior who had rushed for just over 600 yards as a sophomore in 1987.
Over the next year, Sanders wrote his legacy every single week with the single greatest season of college football ever played. His 2,850 yards are more than even some of the best running backs log in a career. That NCAA record still stands, and it's one of 34 he set that season. Winning the Heisman Trophy that season is laughably far down the list of remarkable accomplishments for Sanders in a season to remember in Stillwater.
He scored 39 touchdowns, 44 if you count his five in the Holiday Bowl. The NCAA didn't begin counting bowl stats in the official record books until 2002. He rushed for 300 yards in four games during the season, and his lowest total of the entire season came against Missouri, with a paltry 154 yards and two touchdowns on 25 carries.
He scored at least two touchdowns in every game, and set the tone for the entire season by returning the opening kick against Miami (OH) 100 yards for a touchdown.
He scored at least four touchdowns in seven games that season, helping Oklahoma State go 10-2, which tied what was then the best record in school history.
Sanders' hips swiveled like no one else's, and he embarrassed defenders on what seemed like every run. He was quicker than everyone, shiftier than everyone, and when he reached the open field, proved he was faster than everyone.
Sanders saved his best for last. He was awarded the Heisman before the final game against Texas Tech in Tokyo and proceeded to carry his team to a 45-42 win over the Red Raiders with a career-high 332 yards on a career-high 44 carries. His coach, Pat Jones, loved to call the Kansas native "The Wichita Comet."
When the dust settled on a blowout win over Wyoming in the Holiday Bowl, Sanders had averaged 7.6 yards per carry on 373 carries and stood alone atop the list of the greatest seasons in college football history. He averaged just under 240 yards per game. In 2011, nine teams in college football averaged more rushing yards per game than Sanders did in 1988.
Sanders' season forecasted one of the greatest NFL careers ever, though Sanders abruptly ended it in 1999, within striking distance of Walter Payton, who held the NFL career rushing record.
Sanders was a quiet personality who kept to himself and never liked to talk about his exploits, even declining to dispute his father's contention that he wasn't the greatest running back in the history of the game. That didn't stop others from acknowledging the greatness he showcased every week of the 1988 season at Oklahoma State.
After his record-breaking season, he left Stillwater for the NFL, where he spent 10 more record-breaking seasons with the Detroit Lions.
September, 5, 2009
9/05/09
2:00
PM ET
By
Tim Griffin
| ESPN.com

Posted by ESPN.com's Tim Griffin

STILLWATER, Okla. -- Give Boone Pickens credit for one thing. His money has helped build a heck of a football stadium.

At one time, old Lewis Field was one of the worst football facilities in major college football. I always got the idea I was visiting something that was built by an erector set back in the old days.

But Pickens' gifts to his alma mater, estimated at $458 million, has changed things around here in a big way. The renovated football stadium is the most obvious and noteworthy sign of his benevolence.

Mike Gundy and his staff work in an airy football facility that looks nothing liked the cramped, dingy dungeons where Jimmy Johnson and Pat Jones once toiled when coaching here.

The stadium, expanded to 60,000, will be dedicated to the Cowboys' megabuck booster shortly before kickoff. The facility has all of the bells and whistles of the finest college stadiums across the country.

Pickens originally attended Texas A&M, where he hoped to become an athlete.

"Fortunately for us," Gundy said. "A&M didn't think he was a basketball player."

The Aggies' loss has been the Cowboys' gain ever since then.
July, 27, 2009
7/27/09
6:02
PM ET
By
Tim Griffin
| ESPN.com
Posted by ESPN.com's Tim Griffin
IRVING, Texas -- Watching the video of the Holiday Bowl isn't a very pleasant for Oklahoma State linebacker Andre Sexton or many of his teammates.
The Cowboys still cringe when they watch Oregon charge through them in the second half to claim a 42-31 comeback victory, ripping though their defense for 307 rushing yards and 7.7 yards per carry as the Ducks charged back from a 10-point halftime deficit.
"It really was embarrasing," Oklahoma State linebacker Andre Sexton said. "It really was embarrasing because that quarterback (Oregon's Jeremiah Masoli) made our players look like they had never made a tackle before. That was pretty sad."
But that disappointment helped spur a tougher attitude for the Cowboys all spring. Sexton said that late collapse has spurred them throughout their workouts.
"You get back to the fundamentals of tackling," Sexton said. "You've got to take away what you can and continue to grow and get motivated for the next season. It's been emphasized every day during spring ball. We've gotten back to smash-mouth football -- the roots of good hard-nosed football."
OSU coach Mike Gundy said that having another team dominate his team late in the game brought a significant attitude change for his team.
"What happened to us against Oregon is they hit harder than we did and were tougher than we were in the fourth quarter," Gundy said. "Up front they beat us on both sides of the ball. As a staff we were very disappointed in ourselves in our preparation. And our players were disappointed they outhit us in the fourth quarter."
That game has sparked a point of emphasis for the Cowboys over the last several months.
"I was a quarterback, but I always played with Pat Jones," Gundy said. "Toughness and discipline and structure and being hard-nosed is important to me. That's not been an issue of us being outhit most times. We've been a tough football team, but we weren't in that football game."
One OSU player who Gundy can't fault in that game was OSU quarterback Zac Robinson, who sustained a separated shoulder early in the third quarter but remained in the game.
"I threw about 50 in the game and probably 20 of them came after the injury," Robinson said. "It hurt every time and I had no arm strength. My arm was done after that. I could throw it 35 yards, but it didn't have much zip on it."
Despite the injury, Robinson was determined to remain in the game and was there until the end as he threw a career-high 50 passes.
"I just kept struggling through it and telling them I was fine," Robinson said, chuckling.
January, 15, 2009
1/15/09
4:52
PM ET
By
Tim Griffin
| ESPN.com
Posted by ESPN.com's Tim Griffin
Oklahoma State coach Mike Gundy apparently has hired Johnny Barr, who will be joining the Cowboys' program for a third time, the Oklahoman has reported.
Barr is expected to fill the Cowboys' recruiting coordinator position that was vacated when Robert Matthews was hired to an assistant's position.
Barr first served as an assistant coach with Pat Jones when Gundy was a quarterback in the late 1980s. He later coached on Bob Simmons' staff with the Cowboys in 1995-96. Most recently, Barr worked as director of on-campus recruiting for Dennis Franchione when he coached at Texas A&M through the 2007 season.
Gundy still is considering options for his defensive coordinator position, but is not ready to name a replacement for Tim Beckman.
August, 9, 2008
8/09/08
12:19
PM ET
By
Tim Griffin
| ESPN.com
Posted by ESPN.com's Tim Griffin
Times are changing around Oklahoma, where Oklahoma State coach Mike Gundy has opened up some practices this summer while Oklahoma coach Bob Stoops has thrown up a "Crimson and Cream" curtain around his preseason work this fall.
Tulsa World columnist Dave Sittler has as good of a handle on the inner workings of the Sooner program as anybody around. He said that some Oklahoma insiders are telling him that Stoops is closing his practices because he's still miffed from 2005.
It seems that Stoops believes that some "friends of the TCU program" tipped off the Horned Frogs with secrets they had learned by watching the Sooners' open scrimmages. The result was a 17-10 upset victory for TCU.
Sittler also said that former Oklahoma State coach Pat Jones, now a radio talk show in Tulsa and Oklahoma City, was turned down to watch the Oklahoma scrimmage because he's now considered a member of the media.
I'm sure the Sooners would be pretty vanilla in those scrimmages if they knew that we prying minds -- or even fans -- were watching.
Because you never know what those "friends" might be saying to your upcoming opponents.
Particularly when Oklahoma's first game will be against that vaunted defense of the Chattanooga Moccasins, which ranked 102nd in rushing defense, 75th in pass efficiency defense, 84th in total defense and 93rd in scoring defense in the Football Championship Subdivision last year.
Until then, we'll have to wait to hear what the players and coaches have to say after their scrimmage today at Owen Field. Because Stoops has made sure that nobody else will be watching.
And if Oklahoma-area fans really have to watch football today, they can drive up to watch Oklahoma State's open scrimmage this afternoon.
Sure, Gundy might scream at reporters when's he not happy. But he still knows that he needs us to help sell a bunch of seats for the Cowboys' home opener on Sept. 6 against Houston.
Until then, here a few other links to whet your appetite this weekend.