March, 15, 2013
3/15/13
12:00
PM ET
February, 14, 2013
2/14/13
12:00
PM ET
By
ESPN.com staff
| ESPN.com
If you forgot Valentine's Day, no amount of reading this blog will make it better. Sorry, guys.
January, 23, 2013
1/23/13
12:00
PM ET
January, 8, 2013
1/08/13
12:00
PM ET
Welcome to the long, dark, cold world of the college football offseason. We aren't leaving for eight months.
January, 1, 2013
1/01/13
11:00
AM ET
Time for another round of fun facts and tidbits about the Big 12's premier bowl games: The Tostitos Fiesta Bowl and AT&T Cotton Bowl.
As always, these come courtesy of our crack team at ESPN Stats & Information and sports information departments across the Big 12. Let's get started:
Did you know ...
Oregon leads the nation in touchdown drives that lasted less than a minute with 22.
The Ducks have 44 touchdown drives of two minutes or less, also the most in FBS.
Kansas State has scored on 40 percent of its drives this season, and average 3.5 points per drive.
K-State averages more than 10 fewer points per game than Oregon, but the two are tied for second nationally in points per drive.
Kansas State's 10 turnovers this season are the third fewest in FBS.
The Wildcats are in the top four nationally in average drive start position, penalties per game, turnover margin and opponent points off turnovers.
Collin Klein is completing 53.8 percent of his passes longer than 20 yards this season, compared to 43.9 percent last season.
Klein has at least one touchdown in goal-to-go situations in 22 of 23 games against FBS opponents the past two seasons.
Klein averages 8.7 yards a carry on scrambles and 41.4 percent of those carries end in first downs.
Texas A&M QB Johnny Manziel has 784 of his 1,181 rushing yards on scrambles, averaging 9.7 yards a carry on those plays.
Manziel has been forced out of the pocket on 27.6 percent of drop backs this season.
Over the last three games, Oklahoma quarterback Landry Jones is completing 77.7 percent of his passes for four touchdowns and no interceptions when he's blitzed.
On the season, he has eight touchdowns and one pick when blitzed.
Jones has thrown just 12.2 percent of his career passes from outside the pocket, but thrown 25.5 percent of his career interceptions from outside the pocket.
In Oklahoma's first 10 games, Jones attempted 41 passes from outside the pocket. In the last two games, he's attempted just three such passes.
Oregon coach Chip Kelly is the only coach to ever reach a BCS game in each of his first four seasons as a head coach.
With a win, Oregon would have its third consecutive 12-win season. The last coach to do that in an AQ league was Oklahoma's Bob Stoops from 2002-04.
Oregon averaged 31.3 points in the first half this season, which is more than 73 FBS teams average in a game this year.
Kansas State averages 23.4 points in the second half this season, second most in FBS, behind only Louisiana Tech.
Klein is 21-4 as a starting quarterback.
K-State's 10 wins by fewer than seven points in the last two seasons are tied for the most in FBS.
Oregon is tied for the most forced turnovers this season with 38.
K-State has scored touchdowns on 36 of 71 second-half possessions this season. The top four in the FBS in that stat are all from the Big 12 (K-State, Baylor, Texas, Oklahoma State).
Klein's 49 rushing touchdowns since the beginning of 2011 are more than every FBS player but Wisconsin's Montee Ball, who has 54.
Klein's scored a touchdown in 21 consecutive games against FBS opponents, the longest streak in FBS since 2004 by five games.
Texas A&M is 4-8 in its 12 Cotton Bowl appearances.
Oklahoma is 1-0 in its only appearance in the bowl, back in 2002.
If Oklahoma wins, it will have its first four-game bowl winning streak since 1978-81.
West Virginia's Pat White is the only player to ever go 4-0 in bowl games. Landry Jones could join him with a win.
A&M hasn't won consecutive bowl games since 1985.
A win would give Stoops 150 wins at Oklahoma, seven short of Barry Switzer's school record.
A win would give Texas A&M its first 11-win season since 1998.
May, 3, 2012
5/03/12
2:00
PM ET
I've been inspired by the boys at the Big Ten Blog, and this should be a fun walk-through each week in the new-look Big 12 next season. I'll pick one game a week during the season that I'd attend if it were entirely up to me. I don't make the call, and things change as games are played, of course. But right now, this is how it would look if it were up to me. I'll include road nonconference games, too.
Here's the Week 12 slate in the Big 12:
Oklahoma at West Virginia
Texas Tech at Oklahoma State
Kansas State at Baylor
Iowa State at Kansas
My pick: Oklahoma at West Virginia
This one's a no doubter. K-State and Baylor played an absolute classic last year, but Oklahoma's maiden Big 12 voyage to Morgantown might be the Game of the Year in the entire conference.
Last year, it was clear early in the season that Bedlam would decide the Big 12 title. This time around, my bet is this showdown of new conference rivals, and if they're both in the top 10, don't be surprised if ESPN's "College GameDay" makes its second trip to Morgantown, a sequel to last year's visit the weekend of the LSU game.
That was a fantastic atmosphere, and GameDay or not, Oklahoma will be walking into one of the toughest atmospheres it'll see all season in this one. It'll also be another shot for Dana Holgorsen to take down the Sooners. He came dangerously close as offensive coordinator at Oklahoma State in 2010, when the Big 12 South title was on the line. Additionally, the Big 12's top two passers,
Geno Smith
and
Landry Jones
, will go head to head for the first and only time in their careers. The last time West Virginia and Oklahoma played, the Mountaineers trounced the Sooners, 48-28, in the Fiesta Bowl behind
Pat White
, Noel Devine and Owen "Runaway Beer Truck" Schmitt.
This year's game will have higher stakes for Oklahoma than West Virginia. If West Virginia wins, it could be very, very close to clinching the league. It finishes its Big 12 schedule with Iowa State and Kansas, who'll be picked to finish at the bottom of the Big 12. But Oklahoma?
If the Mountaineers lose, there's still hope the Sooners could lose and give WVU a share of the title or more. Oklahoma must host rival Oklahoma State before finishing up with a trip to Fort Worth to face TCU. This will be a fun one, and definitely the game of the year in Morgantown. Will it be the game of the year in the Big 12? Time will tell.
December, 31, 2010
12/31/10
9:30
AM ET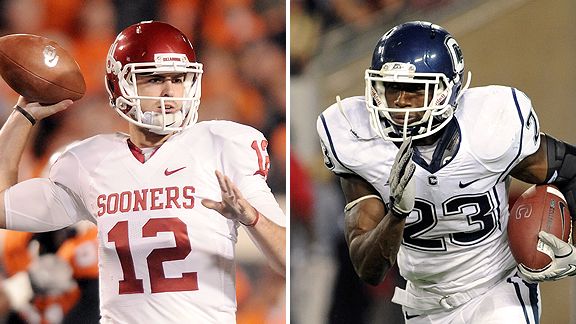 Getty ImagesLandry Jones leads heavily favored Oklahoma against Jordan Todman and Connecticut.
We've heard it ever since the bowl pairing was announced: Connecticut has no chance, and this might be the most lopsided matchup of the entire season. Oklahoma enters as the champion of the Big 12, a conference with five teams in the top 20.
Connecticut, to its credit, won its final five games to get here, but needed a 52-yard field goal in its season finale to win the Big East, a conference with one team (West Virginia) in the BCS top 25.
Even Vegas agrees, pinning the Sooners as a 17-point favorite.
So the big question is simple: What reason do we have to believe that we're not in for a snoozer on Saturday night?
[+] Enlarge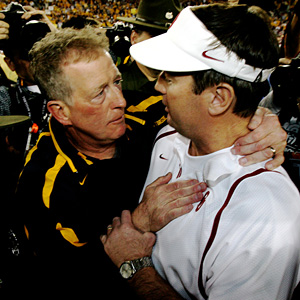 AP Photo/Ross D. FranklinThe last time Bob Stoops was at the Fiesta Bowl, he left with West Virginia interim coach Bill Stewart consoling him.
Ted Miller
: David, let's start with karmic reasons! For one, when everyone thinks one thing, it's inevitably wrong. Second, Oklahoma has a history of flopping in BCS bowl games, losing to opponents great (USC, Florida) and small (West Virginia, Boise State). The Sooners have been hearing non-stop how much better they are than UConn all week. That's been in their heads during preparation. You wonder if they will show up with their A-game on Saturday, no matter how often they claim they are fully and completely motivated. Further, UConn has been hearing about how lousy they are, how they don't deserve to be here. Heck, some want to change BCS rules so an unranked team won't get into a BCS bowl game again! You should expect the Huskies, a well-coached team, to come out focused and angry. We always talk about how important motivation is in a bowl game. That's an area where the Huskies should have a decided edge.
Or do you think this is cracked and the Sooner are going to come out on fire?
David Ubben:
Yeah, for as much as the Huskies have heard they don't belong here, Oklahoma has heard just as much about those famous flops on big bowl stages. Those didn't happen back in the 70s. Plenty of the guys on this team were there or played in the losses to West Virginia and Florida. They want to prove those days are behind them, and close a pretty good season by Oklahoma standards with a win. Also, unlike those teams, which had some of the best players in college football like Tim Tebow, Percy Harvin and Pat White, there's nothing about UConn that's particularly scary or gamebreaking.
Jordan Todman
is solid, but he's not a guy that's going to give Oklahoma nightmares like
Noel Devine
did.
And though teams like Boise State and West Virginia were short on program pedigree like the Huskies, they were also short on losses, where Connecticut has a healthy surplus. All five of those losses came to experienced teams and those five teams have the same number of losses combined (4) as the unranked Huskies have in just this season.
So, if Oklahoma is ready to play, are there any reasons for Sooners fans to be concerned?
Ted Miller:
Well, I think we can all agree that if Oklahoma comes out and plays its best, it's going to win the game. It's simply more talented in nearly every area.
But this is college football, and talent doesn't always carry the day. UConn's recipe for success here isn't revolutionary. It needs to win the turnover battle, probably decisively. It needs to win third down on both sides of the ball. It needs to establish its running game and play keep-away from a potent Sooners offense. It needs to make at least a few plays downfield in the passing game to keep the Sooners defense reasonable honest when it tries to gang up on the line of scrimmage against running back Jordan Todman. And it needs to win the red zone, scoring TDs when it's there and keeping the Sooners out of the end zone when they are there.
What can't happen? UConn can't make mistakes. And it must maintain some pass-run balance to keep the Sooners honest.
So that's a fairly involved scenario for a UConn win. What do the Sooners need to do to prove the experts correct?
David Ubben:
You're right, I think even Connecticut players would admit Oklahoma is the more complete team, but two of the greatest equalizers in football are turnovers and weather. Unfortunately, the three-point shot in college football (a.k.a. a field goal) isn't quite as effective as in basketball.
Since we'll be indoors, Oklahoma can count out that as a factor.
[+] Enlarge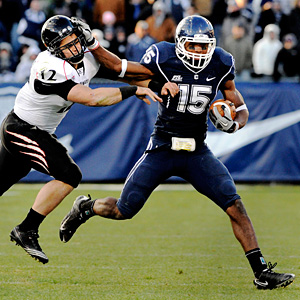 AP Photo/Fred BeckhamConnecticut may need to win the turnover battle to beat Oklahoma. Jerome Junior (15) was one of two Huskies with four interceptions this season.
Turnovers, however, could be an issue. If Oklahoma loses this game, I'd be willing to guarantee that it lost the turnover battle.
Landry Jones
has been much, much more careful with the ball in 2010, but he caught a bit of the turnover bug against Oklahoma State. If Connecticut can do something similar and -- here's the important part -- capitalize off them with points, then we'll have a ball game.
Don't expect the Sooners to put the ball on the ground, though. They've lost just five fumbles this year in 13 games, good for sixth nationally.
So, theories aside, let's get down to it. How does this play out?
Ted Miller:
I think UConn comes out with a sound plan and plays hard. I expect the game to be close at halftime, with the notion of a huge upset still alive. But the Huskies lack the firepower to keep up, touchdown for touchdown, with the Sooners. I expect the UConn defense will start to wear down due to the Sooners fast-paced offense, and that will create big-play opportunities in both the passing and running game for Oklahoma. Once the Sooners get up by double-digits, I don't see the Huskies being capable of loading up on the passing game to mount a comeback.
So let's say 42-24 Oklahoma.
What's your take?
David Ubben:
Yeah, I'm taking Oklahoma 41-20. Oklahoma hasn't seen a back as good as Todman this year that also plays in a power system. The closest thing has been
Cyrus Gray
at Texas A&M, who ran for 122 yards and the Aggies beat Oklahoma.
But unlike A&M, Connecticut doesn't have enough weapons elsewhere to keep up with an Oklahoma offense that it won't be able to stop barring turnovers. Remember, Connecticut is playing without nickel back Mike Lang, too. Oklahoma should be able to move the ball consistently, and while I think it might be close early, I tend to buy into your idea of them being worn down.
I think the Huskies can catch the Sooners on play action a couple times for big plays, but not enough to outscore them.
February, 24, 2009
2/24/09
2:51
PM ET
By
Tim Griffin
| ESPN.com
Posted by ESPN.com's Tim Griffin
Texas A&M coach Mike Sherman has told anybody who would listen the last few months that he thought Stephen McGee had the right stuff to play quarterback in the NFL.
Most thought it was just a way for Sherman to put a feel-good spin for his senior who lost his starting spot due to injury and then didn't complain after Jerrod Johnson assumed the No. 1 job.
But McGee's performance at last weekend's NFL combine shows that he still might fulfill his college coach's prophecy after all.
McGee blazed a 4.66 time in the 40-yard dash, second behind only West Virginia's Pat White, at his position. He also was tied for third among quarterbacks with a 33-inch vertical leap and ranked fourth among quarterbacks with a broad jump of 9 feet 4 inches. Those numbers should indicate that somebody will give McGee a shot based on pure athleticism when draft day rolls around.
The workouts of Texas Tech wide receiver Michael Crabtree (stress fracture of left foot) and Missouri wide receiver Jeremy Maclin (hyper-extended left knee) curtailed their workouts. Both players were expected to be first-round picks before the combine. It will be interesting to see if their status is affected by their injuries.
Other notable performances by former Big 12 players at the combine included:
Nebraska offensive lineman Lydon Murtha had the fastest time of any offensive lineman when he was clocked at 4.89 seconds in the 40-yard dash. Murtha's time was the only one by an offensive lineman that was less than 5 seconds. Murtha also had the fastest time among linemen in the three-cone drill (7.06 seconds) and 20-yard shuttle (4.34 seconds) and was second among offensive linemen with a vertical jump of 35 inches.

Texas defensive end Brian Orakpo had the third-fastest time among defensive linemen in the 40-yard dash at 4.7 seconds and also was second with a vertical jump of 39 ½ inches.

Texas Tech offensive lineman Louis Vasquez led all at his position with 39 reps in the bench press. Vasquez's total was five more than any at his position and the highest number of any player who was was tested. Missouri's Ziggy Hood was fourth among defensive linemen with 34 bench press repetitions.

Kansas State's

Josh Freeman

led all quarterbacks with a broad jump of 9 feet 11 inches and was second in the vertical jump with a leap of 33 ½ inches.

Missouri quarterback

Chase Daniel

was tied for third among quarterbacks with a vertical jump of 33 inches and was fourth at his position in the 20-yard shuttle with a time of 4.31 seconds.

Texas A&M's

Mike Goodson

was third among running backs with a vertical jump of 39½ inches and seventh in the 40-yard dash with a time of 4.54 seconds.

Texas running back

Chris Ogbonnaya

was third at his position with a time of 6.85 seconds in the three-cone drill.
Some Big 12 players will work for scouts as their respective school's pro days. I'll have a list of those dates later today.
February, 5, 2009
2/05/09
4:34
PM ET
By
Tim Griffin
| ESPN.com
Posted by ESPN.com's Tim Griffin
Recruits: 30
Breakdown: 23 high school, five junior college, two transfers.

Positions: 7 DB, 5 OL, 5 ATH, 3 TE, 3 LB, 3 DL, 1 QB, 1 RB , 1 WR, 1 K.
Where they came from: Oklahoma 6, Texas 5, Kansas 4, Florida 4, Georgia 2, Louisiana 2, California 1, Colorado 1, Illinois 1, Maryland 1, Mississippi 1, Missouri 1, Virginia 1.
The stud: RB Timothy Flanders, Midwest City, Okla. Elusive running back and receiving threat who should also see immediate playing time in the backfield and as a kick returner.
Recruiting-class sleeper: TE Travis Tannahill, Olathe, Kan. (East Olathe). Strong player who also punts and played quarterback in high school. Could blossom with the opportunity to concentrate on playing one position in college, where his size already makes him a viable prospect.
The one who got away: QB/ATH Denard Robinson, Deerfield Beach, Fla. Slightly built 180-pounder would have been an ideal run-pass threat at quarterback for Kansas State, particularly after the loss of Josh Freeman to the NFL draft. Instead, he chose to attend Michigan, where Rich Rodriguez visualizes him as the second coming of his former QB Pat White.
Needs addressed: Defensive back, offensive line.
Still lacking: Quarterback.
Scouts Inc. grade: C- (12th in the Big 12, sixth in North Division).
My take: So this is why Bill Snyder got back into football? The veteran coach struggled in his first recruiting foray, failing to attract much star power. Snyder mentioned several times this week that his first recruiting class since his return to coaching was similar to his first at the school in 1989. That's probably not a good sign, considering the Wildcats' early struggles when Snyder took over. The Wildcats desperately need someone to emerge at quarterback, perhaps Daniel Thomas of Northwest Mississippi Junior College, a player who Snyder compared to Michael Bishop.
December, 17, 2008
12/17/08
2:00
PM ET
By
Tim Griffin
| ESPN.com
Posted by ESPN.com's Tim Griffin
I know I've been accused by some of my loyal readers in Nebraska for overlooking the accomplishments of senior quarterback Joe Ganz throughout the season.
It's not that Ganz is lacking for superlatives. After all, he received the ultimate compliment from his coach, Bo Pelini, who described him with a concise two-word description: "a stud." That probably means more to Ganz than anything I could write about him.
But Ganz has been sometimes underrated because of all of the other quarterbacks in the Big 12 this season. It's been easy for the others to be forgotten when players like Heisman Trophy winner Sam Bradford of Oklahoma, Texas' Colt McCoy and Texas Tech's Graham Harrell highlight the Big 12.
It made me think about how good Ganz's statistics would look if they were compared with some of the other top quarterbacks from major conferences from around the country. So I analyzed his statistics against those posted by the all-conference quarterbacks of the other five FBS conferences affiliated with the BCS.
I looked at Ganz with North Carolina State's Russell Wilson, Florida's Tim Tebow, Penn State's Daryll Clark, West Virginia's Pat White and USC's Mark Sanchez as a matter of comparison.
Ganz's numbers hold up pretty well. I guess I could call him "a statistical stud."
Top BCS quarterbacks
Pass Yards
TDs (pass)
INTs
Rating
Rush yards
TDs (rush)
TDs resp. for
Joe Ganz
3,332
23
10
156.72
257
5
29*
Russell Wilson
1,769
16
1
134.28
342
4
20
Tim Tebow
2,515
28
2
176.74
564
12
40
Daryll Clark
2,319
17
4
145.23
265
9
26
Mark Sanchez
2,794
30
10
159.12
0
2
32
Pat White
1,510
18
6
135.64
919
8
26
*Includes one TD reception by Ganz
September, 19, 2008
9/19/08
2:11
PM ET
By
Tim Griffin
| ESPN.com
Posted by ESPN.com's Tim Griffin
Baylor quarterback Robert Griffin isn't surprised he's earned a starting job quickly during his freshman season. But his early results might be another story.
His rapid start has quickly become one of the most remarkable September stories in college football heading into the Bears' game tonight against Connecticut (8 p.m. ET, ESPN2). Griffin, a world-class quarter-miler, is leading the nation's quarterbacks in rushing despite not playing every quarter this season.
Most importantly, he's providing some hope for the downtrodden Baylor program that has not made a bowl trip since the Big 12 was formed.
Griffin's effort against Washington State last week could be an indication of what is in front of him for the next few seasons. He rushed for a school-record 217 yards and averaged a Big 12 record 19.7 yards per carry in a 45-17 victory that was the Bears' first victory over a FBS non-conference opponent since 1998. Included in his virtuoso performance were carries of 58, 58 and 57 yards.
"You have to have confidence in your team's ability and your own," Griffin said. "But I didn't come into my freshman season thinking I was going to run for 217 yards. I don't think I've ever run that much in one game before. It's a good sign of what our offense can produce when everything is clicking for us."
After making his debut in the second quarter of the Bears' season-opening loss to Wake Forest, Griffin has barely caught his breath. He ranks 29th in the nation in rushing and is 13th in passing efficiency.
Most amazingly, Griffin is only 18 years old.

"He's an exceptional athlete and is exceptionally mature for his age," Baylor coach Art Briles said. "The things he's done haven't surprised us. He's very poised, confident and athletic."
That might be one of Briles' biggest understatements ever. The 6-foot-3, 200-pound Griffin graduated from high school early to start with the Baylor program. And while his old high-school friends were getting ready for their prom, Griffin won the Big 12 400-meter hurdles championship, and finished third in the NCAA outdoor meet at the distance. He also competed in the U.S. Olympic trials.
Earlier this summer, Griffin said that he believed he could have made the Olympic team if he had concentrated on training for track.
Who's to doubt him after watching his football career begin?
"I think things have escalated for me fast and for the better," Griffin said. "Most freshmen who are brand-new like me don't get the chance to earn the respect of their program. It's been a blessing for me to start like I have. And these guys trust in what we are able to accomplish together."
Earlier in training camp, he was involved in a tight battle with former Miami transfer Kirby Freeman and incumbent Blake Szymanski for the starting job.
Briles opted to start Freeman in the opener against Wake Forest, but inserted Griffin into the lineup early in the second quarter after the Bears fell into an early hole.
After Griffin passed for 125 yards against the Demon Deacons, Briles wasted little time in making his determination. He announced Griffin would be his starter on the day after the game, despite two fumbles on botched handoffs.
"He provided a spark, which is what he has to do for us," Briles said. "I don't care what it says on his birth certificate."
Griffin didn't learn of his promotion until a couple of days later. But when it came, he was ready.
"Coach Briles told the newspaper, but he didn't tell me," Griffin said. "I'm not a big newspaper reader so I didn't know about it, but eventually I found out. It didn't shock me when it came."
His Baylor teammates have quickly gravitated to him as a leader despite his youth. He quickly earned their admiration because of his tenacity in the weight room, earning the nickname of "Rambo" because of his work.
Before the season started, it figured that Griffin might have to duplicate some of that character's famous one-man assaults to have success with this team.
But after the two recent victories, that might not be the case. The Bears have developed some nice complimentary parts that will help Griffin's growth.
A veteran offensive line has a combined 94 starts heading into the Connecticut game. Wide receiver David Gettis is one of the Big 12's fastest players. And tailback Jay Finley has emerged as a steady rushing threat, producing games of 91 and 119 yards in Baylor's two recent victories.
Those developments have provided hope for the future. The Bears have lost 12 straight conference games, but should be more competitive as Griffin grows with the offense.
Connecticut coach Randy Edsall compared Griffin to West Virginia's Pat White because of his athleticism. And Wake Forest's Jim Grobe is already worrying about facing the Bears in the return game next season.
"He just gave us fits," Grobe said. "I'm definitely not looking forward to playing them again."
Despite the fast early start, Griffin remains grounded knowing what is still ahead of him.
"It's a quarterback's job not to have any personal goals," Griffin said. "Our main focus is to just win football games and that's how it is for me, too. If you come out and win, you've done your job. And that's what I want to keep doing."
September, 17, 2008
9/17/08
2:49
PM ET
By
Tim Griffin
| ESPN.com
Posted by ESPN.com's Tim Griffin
Colorado's defense had been rocked and knocked back on its collective heels early in its most recent game against Eastern Washington.


Despite those struggles against an FCS opponent, Colorado DT George Hypolite's confidence never wavered. He knew his unit would come back, loudly proclaiming to anyone who would listen that the Buffaloes' defense would eventually provide the difference in the game.
"Even after those early struggles, we had to have a short memory," Hypolite said. "I told everybody on the bench that we were coming back and making a play to win us the game. Fortunately, Cha'pelle was listening."
Undersized CB Cha'pelle Brown made Hypolite sound like a prophet. His 27-yard interception return for a touchdown with 1:44 left enabled the Buffaloes to escape with a 31-24 victory over the plucky Eagles, allowing Colorado to avoid the ignominy of losing two straight games against FCS opponents in three seasons.
Those struggles against the Eagles wouldn't appear to bode well before Colorado's game Thursday night against West Virginia and talented multi-faceted QB Pat White. But Hypolite is ready for the challenge and excited about improvements the Colorado defense has made during a bye week to prepare for the Mountaineers.
"This is one of those games you dream about playing," Hypolite said. "Everybody in the country will be watching. It's the only game on. If you make big plays, you're going to be getting text messages from your friends around the country for the next few days. I'm excited about it."
White has his own struggles. The Mountaineers managed only 251 yards and converted only three of 12 third-down plays in a loss to East Carolina two weeks ago. And the Mountaineers will be matched against a Colorado defense that is permitting only 59 yards rushing per game (11th nationally) and hasn't allowed an opposing back to rush for 100 yards since 2004.
The Mountaineers will be running the same spread-option attack that has helped them to three straight bowl victories and a combined 34-6 record in the last three-plus seasons. The Mountaineers have ranked fourth, second and 18th nationally in rushing from 2005-07.
"It's not really the offense, but just the players they have," Hypolite said. "Pat White and Noel Devine really make it difficult on a defense. You can do a great job on them for most of a game and then they can jump on you for three or four plays. And it's really difficult because we don't see a lot of spread option offenses in this part of the country."
Colorado coach Dan Hawkins said that containing White will rank among the most difficult challenges his team will face this season.
"He's as fast, if not faster than anybody in our conference," Hawkins said. "He can throw it and he's definitely a dual-threat guy. If you look at their game against Oklahoma last year, he had some huge throwing plays. I don't know if we've seen anybody who runs like him. You're talking about him being one of the best players in the country."
The challenge in the secondary will fall to Brown, who has been tested by bigger competitors most of his career.
"People have always questioned me because of my height," the 5-foot-7 Brown said. "But that doesn't matter -- as a defensive back we want to prove ourselves. I've played with a chip on my shoulder my entire career because of that."
That attitude has permeated the Colorado defense, which has similarly disproved naysayers in the first two games of the season.
"We knew going into the season that we were inexperienced and didn't have much depth," Hypolite said. "We knew we would play like a young team at times. But against Eastern Washington, we dug deep and exhibited a lot of resiliency. That shows a lot about this team and our character."
September, 8, 2008
9/08/08
3:03
PM ET
By
Tim Griffin
| ESPN.com
Posted by ESPN.com's Tim Griffin
After three hours on various conference calls this morning, here are some early tidbits from around the Big 12.
Texas A&M QB Stephen McGee suffered a sprained right shoulder against New Mexico and his condition is listed as day-to-day, A&M coach Mike Sherman said. "We thought there was an outside shot he might have torn his labrum," Sherman said. "But it [the prognosis] was more positive than that."
Of a more pressing concern to Sherman is the condition of QB-WR Ryan Tannehill, who sustained a sprained ankle later in the game. "It will probably keep him out every day this week," Sherman said. "Then, we'll have to take it day-to-day next week. It wasn't a mild sprain."
Sherman said that although he didn't get to see Brett Favre's debut Sunday with the New York Jets, he was impressed with his performance. "I text-messaged him and told him he did a great job," Sherman said.
Kansas coach Mark Mangino said that CB Kendrick Harper is recovering after he was hospitalized for an apparent neck injury sustained in the Jayhawks' victory over Louisiana Tech. "There's nothing new today, other than what I mentioned last night," Mangino said. "He's been released from the hospital and is feeling fine."
Elusive West Virginia QB Pat White provides a difficult defensive challenge that has already caught Colorado coach Dan Hawkins' attention as he prepares for the Sept. 18 game. "There's just so much running from the quarterback position," Hawkins said. "Pat is explosive and electric."
Oklahoma coach Bob Stoops has been pleased with the progress of his no-huddle offense that has produced more than 80 plays in both games and scored 109 points in victories over Chattanooga and Cincinnati. "I like the fact we've been productive running and throwing the ball," Stoops said. "I haven't been as concerned about that as much as moving the ball, scoring points and resting the defense. And, fortunately, we've been able to do that."
Oklahoma State coach Mike Gundy said WR Artrell Woods sustained a mild sprained knee that caused him to be removed from the Cowboys' victory over Houston. The injury is not related to Woods' neck injury that sidelined him for the entire 2007 season. Gundy said he expects Woods back in the lineup for the Cowboys' game against Missouri State.
Kansas State coach Ron Prince likes his team's open date this weekend that will carry into their nationally televised game Sept. 17 at Louisville. "I think our situation is very unique because we have so many new players," Prince said. "We have about 28 new players who saw action in our first game. [The bye] comes at a good time for us. This is a very unique, 21-day period and we want to get them ready. It's important not to overwork them."