May, 6, 2010
5/06/10
7:30
AM ET
By
ESPN.com staff
| ESPN.com
2009 overall record:
9-4

2009 conference record:
6-2
Returning starters:
Offense (4), Defense(4) P/K (2)
Top returners:
DE Ugo Chinasa, RB
Kendall Hunter
, WR
Hubert Anyiam
, S Markelle Martin, K Dan Bailey, P Quinn Sharp
Key losses:
QB Zac Robinson, OL Russell Okung, RB Keith Toston, WR Dez Bryant, LB Donald Booker, CB Perrish Cox, LB Andre Sexton, LB Patrick Lavine, S Lucien Antoine
2009 statistical leaders (*returners)
Rushing:
Keith Toston (1,218 yards)
Passing:
Zac Robinson (2,084 yards)
Receiving:
Hubert Anyiam (515 yards)
Tackles:
Donald Booker (99)
Sacks:
Ugo Chinasa* (6.5)
Interceptions:
Patrick Lavine (5)
Three spring answers
1.
Learning the offense
: Oklahoma State looks on schedule in learning new offensive coordinator Dana Holgorsen's spread attack, one he used to coordinate the best offense in college football at Houston last season.
Brandon Weeden
is the unquestioned starter after the spring, including a nice finish in the spring game when the junior threw four touchdown passes.
2.
Kendall Hunter: New ends, different means
. Coach Mike Gundy estimates Hunter will touch the ball around 250 times next season, but he won't be doing it on the ground. Instead, he'll be catching the ball in space, using his shiftiness to make defenders miss and pile up yards for the Cowboys. Holgorsen says Hunter is even better than he thought, and they'll both want to prove it in the fall after Hunter's disappointing 2009 season.
3.
He's no Lemon.
Defensive coordinator Bill Young believes linebacker Orie Lemon is the best middle linebacker in the country, and Lemon had one of the best springs of any player on the Cowboy defense. He missed the entire 2009 season after tearing his ACL in fall camp, and will be ready to get back on the field this fall.
Three fall questions
1.
Will Weeden be the next Keenum?
At Houston under Holgorsen,
Case Keenum
threw for almost 1,500 more yards than the second-best in football in 2009. No one's expecting Weeden to throw for 5,600 yards in 2010 (or throw it almost 700 times), but if he can elevate his status to one of the conference's best quarterbacks, Holgorsen will have another impressive bullet on his resume and the Cowboys will have a few more wins.
2.
Can the O-line assert itself? Will it have to?
The offensive line is replacing the NFL Draft's No. 6 pick and four-year starter Russell Okung, along with three other starters. Will they be good enough to get Holgorsen's offense humming? With the system's quick-release passing, it might not have to hold for long.
3.
Can the Cowboys exceed expectations in a rebuilding year?
After falling short of the South title in 2009 with Zac Robinson, Dez Bryant (at least part of the time) and Okung, expectations are measured in what's somewhat of a rebuilding year for the Cowboys. They have a great chance to parlay a 4-0 non-conference record into a bowl game, but how many more wins will the Cowboys have in conference? Only the fall knows.
March, 19, 2010
3/19/10
8:30
AM ET
By
ESPN.com staff
| ESPN.com
Here, we'll take a look at one area where each team in the Big 12 can expect to succeed, and another that needs improvement.
Weak: Offensive line

Oklahoma State must replace four starters on the offensive line, including likely top 10 pick LT Russell Okung and SI cover boy C Andrew Lewis. (Yes,
that counts
.) Left guard Noah Franklin and right tackle Brady Bond also don't return.
For Oklahoma State to be successful, they'll need the new line to gel with a first-year starter at quarterback.
Kendall Hunter
returns with hopes of a big year, but if the line plays poorly, he'll have to do it with plenty of shovel passes.
Juniors Nick Martinez, Levy Adcock and Jonathan Rush join senior Anthony Morgan as new starters this spring, and last year's lone returning starter, Lane Taylor, moves over to center to begin spring practice. Taylor began 2009 near the bottom of the depth chart, but took over at right guard during his freshman season.
Runner-up: Linebacker, where Oklahoma State loses quality linebackers in Andre Sexton, Donald Booker and Patrick Lavine.
Strong: Kicking game
Punter Quinn Sharp and kicker Dan Bailey could both be in for big years. Sharp was named All-Big 12 honorable mention as a freshman, when he averaged 45.1 yards on 67 punts, the second-best average ever for an Oklahoma State punter and fifth in the nation. He also had 35 touchbacks as a kickoff specialist.
Bailey will be a four-year starter at kicker and has not missed any of his 131 extra-point attempts in over almost three seasons since becoming starter as a freshman. Perhaps most importantly, he's 24-of-26 on kicks inside 40 yards. He also has a career-long of 51 yards.
More Weak & Strong:
January, 21, 2010
1/21/10
12:18
PM ET
By
Tim Griffin
| ESPN.com
Here's a look at what each of the South Division teams need to address in terms of recruiting with signing day fast approaching.
Baylor
Defensive line:
After losing starters Jason Lamb and Trey Bryant and having Phil Taylor and Earl Patin entering their senior seasons, the Bears need to add immediate depth. Xavier Ruben and Anthony Gonzales will help shore up the deficiencies and the Bears still are in the hunt for top prospects like Carlos Thompson and Byran Jones.
Secondary:
Starters Jordan Lake and
Jeremy Williams
have graduated and four juniors in the two-deep roster will start their senior seasons. Coach Art Briles has already lured surprising strength in the defensive backfield with Ahmad Dixon, Tyler Stephenson and Prince Kent. That trio makes it one of the finest positional groupings for Baylor in recent history.
Robert Griffin's redshirt season has lessened the immediate need at quarterback:
With Griffin now having three years of eligibility remaining, recruits now see only a two-season window to play. But another Robert Griffin should help the Bears as well. Baylor coaches see the other Griffin, a junior college transfer from Coriscana Junior College, being able to contend for the starting position at right tackle from his first day in the program.
Oklahoma
Running back:
With
Chris Brown
graduating and
DeMarco Murray
entering his senior season, the Sooners need some producers at the position. Bob Stoops has never hesitated to playing top freshman players in the past if they can help. Don't be surprised if top recruits like Brennan Clay and Roy Finch get an early chance in 2010 with the Sooners.
Receiver:
Ryan Broyles
is entrenched in the slot, but the Sooners are looking all over for pass catchers who can challenge existing players. Recruits Kenny Stills, Joe Powell, Julian Wilson and Sheldon McClain all should challenge this summer to battle their way into the rotation.
Defensive tackle:
Injuries and NFL declarations have riddled the Sooners' depth at the postion. Gerald McCoy will leave early for the NFL draft with JaMarkus McFarland ready to take over.
Adrian Taylor
was set at the other position, but his nasty ankle injury sustained in the Sun Bowl has depleted the Sooners' depth. Redshirt sophomore Casey Walker and four incoming freshmen are all that is in place as far as depth at the critical position.
Oklahoma State
Offensive line:
The Cowboys lose four senior starting offensive linemen from the Cotton Bowl team, including the left side of their offensive line in tackle Russell Okung, guard Noah Franklin and center Andrew Lewis, as well as right tackle Brady Bond. Mike Gundy needs some immediate help at the position, both from existing players and incoming ones.
Defensive tackle:
Starters Swanson Miller and Derek Burton both will graduate and top backups Shane Jarka and Chris Donaldson both will be senior this season. Defensive coordinator Bill Young needs to find some defensive linemen who can challenge for playing next season.
Linebackers:
Young also will have to rebuild this group after the underrated group of Andre Sexton, Donald Booker and Patrick Lavine helped sparked the Cowboys' surprising defensive growth last season. All will be gone this season, putting pressure to add some more contributors to add to the returning mix of players including
James Thomas
, Tolu Moala and Justin Gent.
Texas
Defensive end:
With Sergio Kindle graduating and Sam Acho and Eddie Jones both entering their senior season, the Longhorns need a talent boost here. It also just happens to be the position where top target Jackson Jeffcoat would immediately fill the rather sizable hole.
The left side of the offensive line:
Tackle Adam Ulatoski, guard Charlie Tanner and center Chris Hall combined for 114 starts during their careers.The Longhorns has some strong arriving talent, but they'll still miss the leadership and savvy that this trio provided over the years.
Quarterback:
Even with
Garrett Gilbert
seemingly entrenched as the Longhorns' quarterback of the future, the Longhorns added depth with the commitments of Connor Wood and Colt's little brother Case McCoy. It will make for some interesting competition this spring and fall as the rotation sorts itself out.
Texas A&M
Defensive end:
The Aggies received a huge boost when Von Miller announced he would return for his senior season, but A&M needs to prepare for his departure -- particularly after losing starting defensive end Matt Moss and Miller's backup Matt Featherston as departing seniors from 2009.
Tight end:
Starter
Jamie McCoy
graduated and top replacements
Kenny Brown
and Craig Raschke both will be seniors next season. Adding at least one player would be beneficial as the Aggie coaches hope they can find a combination blocker/receiving threat at the position like McCoy was.
Offensive tackle:
The Aggies lose bookend senior starters Michael Shumard and Lee Grimes. They do have Stephen Barrera and Danny Baker in the depth chart but would like more depth to help the line develop.
Texas Tech
Defensive line:
The Red Raiders' biggest need is at defensive end where all three players in the two-deep roster -- Brandon Sharpe, Ra'Jon Henley and Daniel Howard were seniors. At defensive tackle, Richard Jones departs as a senior and Colby Whitlock will be a senior next season. New coordinator James Willis needs to find some productive players in the trenches quickly.
Linebackers:
Starters Bront Bird and Brian Duncan will be back as seniors next season, but Tech loses departing starter Marlon Williams on the other side. They need some depth to help build for the future at the position.
Quarterback:
Taylor Potts
and
Steven Sheffield
will wage one of the closest-watched battles for playing time in the nation during the spring and summer. But both will be seniors, meaning the Red Raiders need to prepare for their departure by grooming some young talent like Scotty Young, a recent commitment at the position.
January, 21, 2010
1/21/10
10:05
AM ET
By
Tim Griffin
| ESPN.com
Oklahoma State has emerged as a consistent power under Les Miles and Mike Gundy with bowl trips in seven of the last eight seasons.

The Cowboys have done it with a star-studded array of top players who have dotted their rosters over the last few years, most notably at wide receiver and running back. I was left with a tough choice between Adarius Bowman or Dez Bryant as the second wide receiver behind Rashaun Woods. And at running back, I went over and over as I tried to decide between Kendall Hunter, Keith Toston or Vernand Morency to go along with Tatum Bell.

After some careful deliberation, here are my choices for the Cowboys' top players of the last decade.

OFFENSE

QB: Zac Robinson

RB: Kendall Hunter

RB: Tatum Bell

WR: Rashaun Woods

WR: Dez Bryant

TE: Brandon Pettigrew

OL: Russell Okung

OL: Corey Hilliard

OL: Sam Mayes

OL: Charlie Johnson

C: David Washington

DEFENSE

DL: Kevin Williams

DL: LaWaylon Brown

DL: Juqua Thomas

DL: Greg Richmond

LB: Terrence Robinson

LB: Dwayne Levels

LB: Patrick Lavine

DB: Perrish Cox

DB: Vernon Grant

DB: Elbert Craig

DB: Darrent Williams

K: Luke Phillips

P: Matt Fodge

Ret: Perrish Cox

Offensive player of the decade: WR Rashaun Woods. His emergence in the early part of the decade foreshadowed the Big 12's development into the most pass-happy conference in the nation. Despite facing constant double-coverage, he produced 293 catches and was the first receiver in Big 12 history to reach 4,000 career receiving yards.

Defensive player of the decade: DT Kevin Williams. Excelled as a mainstay in the Cowboys' defensive front, making 42 starts in his career. He helped transform the Cowboys' defense into a tough run-stuffing unit, making 160 tackles and 18.5 sacks over his career.

Coach of the decade: Mike Gundy. His coaching career is no longer dominated by sound bites of eruptions at press conferences. Gundy has directed the Cowboys to four straight bowl trips and back-to-back nine-win seasons for the first time in 21 seasons.

Moment of the decade: Josh Fields directs 2001 comeback victory at Oklahoma. Fields came off the bench to rifle a 14-yard touchdown pass to Rashaun Woods with 1:36 left, and the Cowboys held on for a 16-13 victory. The Oklahoma State defense notched three interceptions and seven sacks of Nate Hybl and gave Bob Stoops his first home loss.
January, 2, 2010
1/02/10
6:26
PM ET
By
Tim Griffin
| ESPN.com
Oklahoma State's hopes of claiming its first bowl victory since 2007 were undone by an embarrassing rash of fourth-quarter mistakes in the Cowboys'
21-7 loss
to Mississippi in the AT&T Cotton Bowl. Here's a look at what went wrong for the Cowboys and right for the Rebels.


How the game was won:
Ole Miss took advantage of six Oklahoma State turnovers on consecutive fourth-quarter possessions to blow the game open. The Rebels got the ball back via interceptions by free safety Kendrick Lewis on consecutive drives, followed by back-to-back fumble recoveries and then interceptions by Patrick Trahan and Fon Ingram during a run in which the Rebels scored the game's final 14 points.
It's notable:
Ole Miss coach Houston Nutt becomes the first coach to win back-to-back Cotton Bowls since Lou Holtz at Notre Dame in 1993 and 1994.
Turning point:
With about 9 minutes remaining in a tie game, OSU had the ball on the Ole Miss 19-yard line and appeared poised to claim the lead. Ole Miss defensive tackle Jerrell Powe looked to have obviously jumped offsides on a snap as he charged past OSU center Andrew Lewis before the snap was completed. Feeling that he had a free play, Robinson threw to the end zone, where he was intercepted by Lewis in the end zone. The Cowboys unraveled from that point in the game.
Player of the game:
Oklahoma State's defense was gearing to stop Ole Miss running back
Dexter McCluster
. And it still didn't matter. McCluster rushed for 185 yards on 34 carries, including touchdown runs of 86 and 2 yards to account for both of the Rebel's offensive touchdowns. He also produced five receptions for 45 yards, becoming the first player in Southeastern Conference history to account for 1,000 rushing yards and 500 receiving yards in the same season.
Unsung hero:
Patrick Trahan capped the victory with two pivotal fourth-quarter plays. He recovered a fumble by OSU wide receiver
Hubert Anyiam
and returned it 34 yards for a touchdown to give the Rebels a 21-7 lead. He then provided an interception on OSU's next possession to ice the victory.
Stat of the game:
The two teams combined for 12 turnovers, but it didn't top the Cotton Bowl record of 13 that was set when Alabama claimed a 29-21 victory over Texas A&M on Jan. 1, 1942.
What it means:
Oklahoma State failed to tie a school record with a 10th victory. The Cowboys' late collapse in the final two games was a disappointment, but OSU overachieved considering their injury and suspension losses over the course of the season. The Cowboys lose key players like Robinson, Russell Okung,
Keith Toston
, Perrish Cox and starting linebackers Andre Sexton, Donald Booker and Patrick Lavin next season. But they will try to rebuild around a retooled offense that will should be centered around running back
Kendall Hunter
, who looked to regain his form Saturday after struggling with injuries all season.
Ole Miss didn't achieve its preseason goal of contending for an SEC championship, but the Rebels claimed back-to-back 10-win seasons for the first time since 1959 and 1960. And they likely will have
Jevan Snead
back for another season as well.
December, 9, 2009
12/09/09
12:00
PM ET
By
Tim Griffin
| ESPN.com
Oklahoma State was expected to have a breakthrough season in which it contended for the first BCS bowl appearance in school history as well as the team's first Big 12 South title.
A loss to Texas killed the championship hopes. And the Cowboys saw their BCS at-large hopes fade away after dropping a disappointing 27-0 loss to Oklahoma to finish the regular season.
The season was still a good one for coach Mike Gundy and the 9-3 Cowboys, who finished second in the Big 12 South and earned a Cotton Bowl berth.

It was a season in which Gundy showed his coaching mettle in overcoming the loss of top playmaker
Dez Bryant
for most of the season after he was suspended for improper dealings with an agent. Top 2008 Big 12 rusher
Kendall Hunter
was injured early in the season and had trouble regaining his form until late in the campaign.
New defensive coordinator Bill Young cobbled together an improved defense that ranked sixth in the nation against the rush and in the top 40 in pass efficiency defense, scoring defense and total defense.
The Cowboys had two of the Big 12's top defensive playmakers in linebacker Patrick Lavine (five interceptions) and cornerback Perrish Cox.
Quarterback
Zac Robinson
overcame injuries much of the season but provided inspirational leadership for an offense that was good enough -- but struggled against top defenses like Texas and Oklahoma.
It was a good season for the Cowboys, but one in which they just didn't have enough talent to overcome all of their critical offensive losses.
Offensive MVP: RB Keith Toston
With an offense losing its way after the loss of key producers Dez Bryant and Kendall Hunter, the Cowboys leaned on Toston throughout the season. He was ready for the challenge, rushing for 1,177 yards to rank second in the conference and scoring 11 touchdowns. Those numbers are particularly remarkable considering he was a backup for the first two games of the season. Toston produced the top rushing game in the Big 12 with 206 yards against Iowa State and the third-best with 172 yards against Colorado.
Defensive MVP: CB/PR Perrish Cox
One of the Big 12's premier cover corners had a big senior season, leading the nation with 19 passes defensed and snagging three interceptions. He also ranked 25th nationally in punt returns, including a 67-yard return for a touchdown against Colorado. Cox's strong play enabled him to become a semifinalist for the Thorpe Award.
Turning point: Oct. 17 vs. Texas A&M
The Cowboys had a difficult week leading up to their trip to College Station as Zac Robinson lost his grandfather to cancer and the team learned that Bryant would miss the rest of the season with an NCAA-mandated suspension. With Robinson having the words "Press On" written in lamp black under his eyes, the Cowboys rebounded to claim a 36-31 victory. That triumph helped them earn a 6-2 Big 12 conference mark that was a school record for conference victories.
What's next?
The Cowboys will have a tough matchup with Mississippi in the Cotton Bowl, a rematch of the 2004 Cotton Bowl they lost to the Rebels. A victory would enable the Cowboys to likely finish in the top 15 nationally and wrap up their first 10-win season since 1988. The Cowboys lose many of their key players heading into next season like Russell Okung, Robinson, Toston, linebackers Andre Sexton and Lavine and Cox. It will be a difficult rebuilding job in the South Division, but confidence gleaned from two strong seasons should help Gundy in his team's transformation.
November, 19, 2009
11/19/09
11:58
PM ET
By
Tim Griffin
| ESPN.com
It wasn't an artistic success.
As a matter of fact, it was far from it.
[+] Enlarge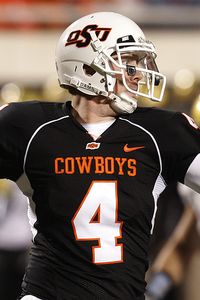 AP Photo/Sue Ogrocki Third-string quarterback Brandon Weeden threw for 168 yards and two touchdowns in the second half.
But Oklahoma State persevered for a tight
31-28 victory over Colorado
, playing without starting quarterback
Zac Robinson
and overcoming a shaky first start by backup quarterback
Alex Cate
.
Former minor-league baseball player
Brandon Weeden
orchestrated the comeback with a stunning second-half passing display. His 168-yard passing effort was particularly noteworthy considering Cate was 0-for-9 in the first half.
The Cowboys overcame an 11-point deficit early in the third quarter to claim the triumph. But it will be interesting to see what kind of BCS bounce -- if any -- this game produces.
OSU was thought to be in a tight battle with teams like Iowa, Penn State and Boise State for an at-large spot.
They didn't look very deserving of a BCS bowl berth most of the game. But their performance in the fourth quarter stamped them as one of the most resilient OSU teams in history as they pushed their record to 9-2.
Coach Mike Gundy opted to rest Robinson in the game in order to save him for the Cowboys' regular-season finale at Oklahoma next week.
It nearly bit them as Colorado responded with a gritty effort that belied the Buffaloes' lack of bowl hopes as
Tyler Hansen
and
Cody Hawkins
both had their moments at quarterback for the Buffaloes (3-8).
But in the end, OSU had too much firepower. Underrated
Keith Toston
showed why he might be the best all-around running back in the Big 12 with 170 yards on 30 carries and a critical 47-yard touchdown reception that gave the Cowboys a short-lived lead early in the fourth quarter.
After after Colorado had reclaimed the lead on the ensuing kickoff, Weeden showed moxie in his responding drive. He hit 4-of-5 passes for 71 yards, converting two third-down plays along the way with critical completions. His 28-yard strike to
Justin Blackmon
was the game-winning play for the Cowboys.
And fittingly, OSU's defense salted away the victory. Linebacker Patrick Lavine killed one drive with a fumble recovery and Colorado's last drive was punctuated by a three-and-out from a Cowboy defense that allowed only 13 rushing yards and 251 total yards.
Gundy showed faith in Weeden directing the comeback and he did. The late rally keeps the Cowboys slim Big 12 South title hopes alive.
OSU can win the Big 12 South by beating Oklahoma next week and for Texas to lose remaining games against Kansas on Saturday and Texas A&M next week.
Despite the narrow victory, the Cowboys likely have a good shot at the school's first at-large BCS berth in school history. The victory looked remarkably like those that Iowa has been piling up in the Big Ten all season long.
OSU will be battling some heavy odds at Owen Field next week, where Oklahoma has a current 29-game winning streak that is the longest in the nation and a school record. Bob Stoops' teams are 65-2 at home in his career, including 49 wins there in their last 50 games.
The Cowboys are the only Big 12 team to ever beat Stoops in Norman with a triumph in 2001 that cost them the Big 12 South title that season. They'll have to have another similarly stunning victory next week to make history with their first berth into the BCS.
November, 14, 2009
11/14/09
11:26
PM ET
By
Tim Griffin
| ESPN.com
Patrick Lavine's 20-yard interception return for a touchdown has boosted Oklahoma State to a lead over Texas Tech and put the Cowboys close to putting this one away.
Lavine stepped in front of a pass from
Steven Sheffield
to
Lyle Leong
and streaked down the sideline for the score.
The apparent Oklahoma State victory could put Texas' South Division title hopes on ice at least for a week.
The Longhorns could have clinched an appearance in the Dec. 5 Big 12 title game with an Oklahoma State loss.
That will have to wait until next week, when the Longhorns host Kansas.
As soon as Sheffield threw the interception,
Taylor Potts
was inserted into the lineup. He responded with a six-play scoring drive, capped by a 24-yard touchdown pass to
Edward Britton
.
But the Red Raiders will be going against a tired Tech defense without linebacker Marlon Williams, who was just carted off the field for the locker room with a leg injury.
September, 5, 2009
9/05/09
6:57
PM ET
By
Tim Griffin
| ESPN.com

Posted by ESPN.com's Tim Griffin

STILLWATER, Okla. -- Who was it that says they don't play defense in the Big 12?

They might want to look at the job that venerable Oklahoma State defensive coordinator Bill Young's defense has turned in with a 24-10 victory.

Patrick Lavine's came up with an interception with 2:45 left to seal Oklahoma State's big effort.

It was the third turnover that Young's unit has turned in. The first two all both to scoring drives for the Cowboys.

The Oklahoma State fans are getting chesty in the latter stages of this one. Many of them are chanting "Big 12, Big 12" after the strong performance of the conference today.

Lavine's pick also has sent most of the Georgia fans scurrying for the exits.

I'm headed down for the locker room to talk to some of the Oklahoma State defenders about their unexpectedly strong performance.
August, 13, 2009
8/13/09
6:08
PM ET
By
Tim Griffin
| ESPN.com
Posted by ESPN.com's Tim Griffin
STILLWATER, Okla. -- One of the revelations for Oklahoma State this Fall has been the growth of middle linebacker Donald Booker, who is thriving in new coordinator Bill Young's retooled defense.
Booker, a former junior-college All-American at Navarro Junior College, had trouble getting acclimated last season, making only 32 tackles in 13 games for the Cowboys as a junior.
"He typifies what happens to a lot of junior college players," Young said."They come in after playing in a relatively simple system and now they are in one that's a lot more complex. They are playing with guys who are bigger and faster and stronger. It's tough for them sometimes to get settled."
But Young's new defense has brought out some of the productivity that helped make Booker one of the nation's most heralded junior-college recruits in 2007, when he led the nation with 161 tackles.
Added to returning nucleus of senior starters Patrick Lavine, Orie Lemon and Andre Sexton, it's helped make the Cowboys' quartet of linebackers a pleasant surprise for Young in his early work with the Cowboys defense.
But Booker, a physical 5-foot-11, 235-pounder who has always turned heads with his hitting, has the kind of ability that could provide more of a physical presence to the middle of the Cowboys' defense.
"It's too bad he doesn't have three years to play with us rather that two," Young said. "That ideally would have let us bring him the first year and just get him ready."
October, 7, 2008
10/07/08
12:46
PM ET
By
Tim Griffin
| ESPN.com
Posted by ESPN.com's Tim Griffin
Most observers are expecting a lot of points Saturday night at Faurot Field -- a game that could resemble an Arena Football League shootout considering the explosive offenses of Missouri and Oklahoma State.
It's understandable why, considering some of the numbers coming into the game. The Tigers rank second in scoring and the Cowboys are third. Missouri's defense is 83rd overall in total defense and 114th in pass defense. Oklahoma State's is 114th in sacks and 116th in tackles for losses.
Even with those daunting indicators, OSU linebacker Patrick Lavine says he doesn't care what dire defensive predictions are floating around days before the game.
"That doesn't bother us. The defense is going to go out there and play as hard as we can regardless of what is being said," Lavine said. "We've progressed so much from day 1 to where we are now. We're building some confidence and I think we'll show it when we get our chance."
The Cowboys' improved defensive work has been one of the biggest surprises in OSU's 5-0 start that's its best since 2004.

The OSU defense went into a feeding frenzy in its 56-28 victory over Texas A&M, providing five first-half turnovers and three three-and-outs to spark the early knockout.
"Our staff has really done a good job in the last nine months of building on the success we had in the bowl game and bringing the team together and really making [sure] they understood what we were trying to accomplish Xs and Os wise," OSU coach Mike Gundy said. "The players have rallied together in running to the football."