April, 23, 2010
4/23/10
9:00
AM ET
MANHATTAN, Kan. -- It was supposed to be
Carson Coffman
's time. He'd sat behind first-round draft pick and starting quarterback Josh Freeman for two seasons, and now he was going to take his turn, continuing a family tradition. His father, Paul Coffman, was a standout at Kansas State before going on to a Hall of Fame career in the NFL. Older brother Chase Coffman caught more balls at Missouri than any tight end in college football history.
[+] Enlarge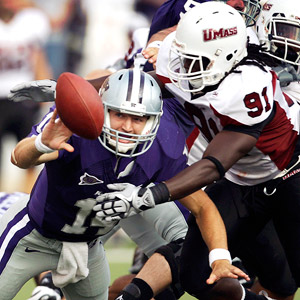 AP Photo/Orlin WagnerCarson Coffman is again battling for the starting quarterback job.
Carson Coffman's looked ready to carve out his own legacy, especially after beating out transfer
Grant Gregory
for the starting job in fall camp after Bill Snyder regained the rein for the Wildcats.
Before long, Coffman says, the pressure got to him.
"All of it," he said.
As a first-year starter, he'd never had a whole team counting on him every time the ball was snapped. By the time conference play arrived, Gregory took over as starter.
"I think it was just a mind game last year. My head was just messed up," Coffman said. "I was thinking way too much."
Coffman didn't have to think much when he watched from the sidelines as Gregory helped the Wildcats knock off Iowa State in the conference opener at Arrowhead Stadium, the same place his father finished his career with the Chiefs in the NFL.
"I felt a lot of pressure last year, I felt a lot of pressure from the coaches and my family and the players and the team," Coffman said. "I just think I need to go out there and play and have fun. I'll play a lot better that way."
He's tried that this spring, and he's emerged, along with former receiver
Collin Klein
, as a frontrunner to re-win the job he lost last season. The issue likely won't be settled by Saturday's spring game, but Coffman will try to beat out Klein again in the fall like he did last season, prompting Klein's position change.
Sammuel Lamur
is also hoping to win the job.
"If one of those three individuals would gain the kind of consistency we're talking about, then I think the depth chart would define itself a little bit more clearly than it has," Snyder said.
Klein and Lamur can't compete with Coffman's experience. Coffman can't compete with either player's athleticism.
"Ultimately, it's going to be what the team needs at the time they need it," Klein said. "And I think we're still developing some identity as an offensive unit. So, [the starter will be] whoever fits that picture the best and who's best able to serve the team."
Coffman knows he's been there. Made his mistakes and learned from them. He remembers what it was like before those four interceptions were thrown, open receivers missed.
"I learned a lot just about myself through sitting on the bench and being benched. I could have been real down on myself and had a bad attitude, but I feel like I handled it pretty well and supported the rest of the team, Grant and everything they were doing," Coffman said.
Both know they have a long way to go to separate from the other. Asked where he needed to improve to do so, Klein laughed and glanced at the ceiling.
"We could be here for awhile," he said.
Snyder wants his quarterback to understand the game. Every day, he stresses not trying to force the offense through defenses set up to stop it. That's where Coffman hopes he has the advantage.
"If me or Collin check a play, I think he gets pretty excited about that," Coffman said. "I feel I have a leg up, just with the confidence to check those plays, because I've been in there. I know what I'm doing and the other guys I'm competing against haven't had a chance to do that."
They'll be able to showcase their skills on Saturday. Coffman hopes his second chance comes in August and doesn't end until December -- or maybe January. He just wants to stay there.
This time, he says, he's ready.
August, 18, 2009
8/18/09
4:49
PM ET
By
Tim Griffin
| ESPN.com
Posted by ESPN.com's Tim Griffin
Kansas State coach Bill Snyder appears no closer to settling on a starting quarterback for the Wildcats Sept. 5 season opener against Massachusetts than he was 14 practices ago.
Snyder said Tuesday that there is tight, ongoing competition between four contenders for the job. Carson Coffman, Grant Gregory and redshirt freshmen Joseph Kassanavoid and Collin Klein all are hooked up for the starting job.
"No decision has been made and just about every time that I seem to think that someone is starting to pull away, the pack closes the gap on them," Snyder said. "I would say that on any given day they are probably pretty equal at this point in time."
That lack of separation is a trend that Snyder hopes will be ending with six practices remaining.
"The longer it goes it makes it harder and harder because it is human nature to settle into routines and to settle into performance levels," Snyder said. "I am trying to encourage that someone needs to rise above it all and continue to make that kind of improvement. And that doesn't mean that there hasn't been improvement, I'm not saying that, but not enough and not consistently enough for one to firmly establish himself."
Coffman and Gregory were presumed to have a slight edge because of their previous experience. Coffman, a redshirt junior, had 41 passes as Josh Freeman's backup last season. Gregory, a senior, threw 37 passes in the previous two seasons at South Florida as Matt Grothe's backup before transferring to Kansas State this spring.
"They both seem to do some of the same good things," Snyder said. "Carson, having been here in the spring, has had a little more experience. He's had 15 days more experience in this actual system and many more days than that when you encompass the offseason program and all that goes along with it.
"Grant probably has more playing time experience and has been around the game for a few more years with this being his sixth year in college football. Both of them come from football families, are pretty astute, and try to be good students of the game."
Coffman's father, Paul, is a former Kansas State tight end who played 11 years in the NFL. His older brother, Chase, was a record-breaking tight end at Missouri and a third-round draft pick of the Cincinnati Bengals.
Gregory's father Greg, was the offensive coordinator and quarterbacks coach at South Florida on coach Jim Leavitt's staff before he was fired earlier this year. He now works as the offensive coordinator and quarterbacks coach on Joey Jones' staff at South Alabama.
Snyder was also pleased with the progress of the two redshirt freshmen, who have both shown flashes of potential.
"Joe and Collin have both done reasonably well," Snyder added. "But, they haven't progressed at quite the same level that the other two have. They continue to make improvement and do good things."
The Wildcats will be on display Saturday at an open practice. It should be interesting to see which one of the quarterbacks takes the majority of the snaps -- or if Snyder chooses to keep them relatively equal as the season approaches.
May, 29, 2009
5/29/09
2:00
PM ET
By
Tim Griffin
| ESPN.com
Posted by ESPN.com's Tim Griffin
As anybody who reads this blog on a regular basis understands by now, I see numbers and statistics as a way of explaining a lot of things about sports.
A whole generation of analysts has constructed brand new ideas in baseball because of the work of sabermetricians like former Kansas student Bill James.
Football doesn't quiet have that wealth of study, mainly because there aren't as many numbers available.
But there are a growing segment of analysts out there doing more and more work on football analysis.
My wife got me a book over the weekend which I read while I was down at the beach over Memorial Day. Sean Lahman's "The Pro Football Historical Abstract" used some Jamesian methodology to rank the top pro players in history at their positions, among other things.
And bringing some of Lahman's study into closer focus, I was particularly interested in how players from Big 12 schools ranked among his career lists at various positions.
Here's a position-by-position glance at the top Big 12 players in NFL history, according to Lahman's rankings.

Quarterbacks
12. Bobby Layne (Texas)
27. Troy Aikman (started at Oklahoma, UCLA)
28. John Hadl (Kansas)
62. Steve Grogan (Kansas State)
63. Kordell Stewart (Colorado)
100. Bernie Masterson (Nebraska)
Running backs
2. Barry Sanders (Oklahoma State)
5. Thurman Thomas (Oklahoma State)
21. Earl Campbell (Texas)
30. Roger Craig (Nebraska)
32. John Riggins (Kansas)
38. Priest Holmes (Texas)
45. Ahman Green (Nebraska)
54. Larry Brown (Kansas State)
98. Gale Sayers (Kansas)
99. James Wilder (Missouri)
Wide receivers
17. Cliff Branch (Colorado)
27. Del Shofner (Baylor)
47. Irving Fryar (Nebraska)
48. Mel Gray (Missouri)
49. Dave Parks (Texas Tech)
Tight Ends
6. Kellen Winslow (Missouri)
14. Keith Jackson (Oklahoma)
34. Henry Childs (Kansas State)
49. Paul Coffman (Kansas State)
Offensive linemen
7. Will Shields (Nebraska)
32. Richmond Webb (Texas A&M)
34. Bob Brown (Nebraska)
39. Bob Young (Started at Howard Payne, Texas, Texas State)
46. John Wooten (Colorado)

Defensive linemen
18. Ron McDole (Nebraska)
19. Steve McMichael (Texas)
43. Ray Childress (Texas A&M)
Linebackers
2. Mike Singletary (Baylor)
26. Andy Russell (Missouri)
28. Jack Pardee (Texas A&M)
29. Zach Thomas (Texas Tech)
30. Leslie O'Neal (Oklahoma State)
Defensive backs
16. Yale Lary (Texas A&M)
21. Pat Fischer (Nebraska)
36. Roger Wehrli (Missouri)
Kickers
20. Bobby Layne (Texas)
Kickoff returners
2. Glyn Milburn (Started at Oklahoma, Stanford)
4. Dante Hall (Texas A&M)
7. Tyrone Hughes (Nebraska)
10. Gale Sayers (Kansas)
Punt returners
5. Eric Metcalf (Texas)
12. Glyn Milburn (Oklahoma, Stanford)
Combined kick returners
11. Dante Hall (Texas A&M)
14. Mike Nelms (Started at Baylor, Sam Houston State)
24. Dick Todd (Texas A&M)
TWO-WAY ERA PLAYERS
Backs
5. Verne Lewellen (Nebraska)
7. Glenn Presnell (Nebraska)

Ends
10. Guy Chamberlin (Started at Nebraska Wesleyan, Nebraska)
Tackles
1. Link Lyman (Nebraska)
Guards
3. Ox Emerson (Texas)
Centers
5. Charley Brock (Nebraska)
6. Frank Bausch (Kansas)
Coaches
4. Tom Landry (Texas)
53. Jack Pardee (Texas A&M)
72. Guy Chamberlin (Nebraska Wesleyan, Nebraska)

I had a chance to see many of these players as my frame of reference for the NFL goes back to about 1964, when I was 5 years old. The only one that really shocked me was how low Gale Sayers was ranked among running backs. I grew up watching the Chicago Bears and saw almost every one of Sayers' pro games. I find it hard to believe there were 97 better running backs in NFL history than him.
One fact that was interesting from this list was the number of running backs and linemen that were Big 12 products, in comparison with quarterbacks and receivers. In the old days, the Big Eight and Southwest conferences always had reputations based on stout running games. I think that will change in the future because of the conference's growing aerial status.
Obviously, there will be other Big 12 players who will be able to make the list in the future. It would be a shock if we don't see Adrian Peterson charging into the best backs in NFL history. It wouldn't surprise me if Michael Crabtree was able to be that kind of player. Maybe Jason Smith, too.
But it's always interesting to me to see the kind of work that Lahman has developed on a grand scale for the NFL and compare it to the Big 12 schools.
I just wish some other researchers would feel as passionate about college football history, too.
April, 28, 2009
4/28/09
6:53
PM ET
By
Tim Griffin
| ESPN.com
Posted by ESPN.com's Tim Griffin
After living in the shadows of family members most of his college career, Kansas State quarterback Carson Coffman is excited about finally making his own name as a football player.
Coffman backed up Josh Freeman most of his college career to this point, but is receiving the opportunity to direct the Wildcats offense this spring. And with the extra work is coming familiarity in the routine of running the offense.
"I feel like I'm getting a better grasp on the offense," said Coffman, the younger brother of former Missouri All-America tight end Chase Coffman and son of former NFL Pro Bowler Paul Coffman. "I'm really starting to feel comfortable in the plays, knowing what my receivers are going to be doing and know where the holes are going to open up. And these last couple of practices, I feel like I have been playing pretty well."
Coffman's improvement has been noticeable to KSU coach Bill Snyder as he sorts through his potential options at the position. Coffman is involved in a tight battle with redshirt freshmen Collin Klein and Joseph Kassanavoid.
Earlier this spring, Snyder was disappointed by the lack of consistency from all of them.
But it appears as if Coffman has made a noticeable recent step forward as the Wildcats prepare for their spring game on Saturday.
"Carson, in the last two days, has made a big jump in his performance," Snyder said. "For the most part in the scrimmage environment, he's been going against our ones and twos. He's still extremely inconsistent, but has taken some steps in the past two days."
Freeman made history Saturday when he was chosen with the 17th pick in the first round by Tampa Bay -- the highest a KSU quarterback has been chosen. Coffman said replacing him will be a challenge, but one he feels like he has effectively prepared for.
"There will be some big shoes to fill," said Coffman, who threw for 281 yards and a touchdown last season while playing in relief of Freeman. "Josh was a great player here and he will be a great player in the NFL, I think. But I feel like I'm pretty well prepared to follow in his footsteps.
"I backed him up for three years and I think I have an idea of what it takes to play this position in the Big 12. I'm excited to go out there and show people what I can do."
The return of Snyder has helped pump some enthusiasm back into the KSU program. The Wildcats have missed out on a bowl trip in four of the past five seasons since winning the 2003 Big 12 title.
Ron Prince was fired late last season, ending his three-year tenure with one bowl appearance. Snyder has returned intent on restoring the luster of the program that claimed three North Division championships and made 11 consecutive bowl appearances from 1993-2003.
Most observers don't expect the Wildcats to challenge for the North title this season, although Coffman said his team will show they can surprise at the spring game.
"We want to show the fans that we are ready," Coffman said. "We want to give them something to be excited about, so I think it is pretty important that we go out and perform well."
April, 14, 2009
4/14/09
5:13
PM ET
By
Tim Griffin
| ESPN.com
Posted by ESPN.com's Tim Griffin
New Kansas State coach Bill Snyder isn't anywhere close to naming a starting quarterback after the first six days of practice.
Carson Coffman is involved in a tight battle with Collin Klein and Joseph Kassanavoid for the job to replace Josh Freeman as the Wildcats' starter.
"There are those inconsistencies that we talk about," Snyder said. "It flourishes at the quarterback position."
Coffman, the younger brother of former Missouri All-American tight end Chase Coffman and son of former KSU and NFL standout tight end Paul Coffman, was the first player inserted into the lineup.
But he hasn't finished the job of claiming the starting job, Snyder said.
"Carson has taken the vast majority of the snaps at the number one position, but that is not in any stretch of the imagination written in stone right now," Snyder said. "I think Collin and Joseph have taken the rest of the reps and we've tried to equalize them as much as we can, although we probably haven't done it as much as we really should. But there is a high degree of inconsistency we need to improve on."
Snyder did see some flashes in the Wildcats' workout on Monday that encouraged him.
"Last night's practice was the first out of six that there was a little more of that consistency and it was a regular practice with a lot of repetitions taken, but I did see a little spark," Snyder said. "But then again, overall we have been inconsistent. If there had to be an order, it is merely for getting lined up and putting them on the field and somebody had to be number one. And that is Carson."
The Wildcats still have a long way to go in spring practice until their May 2 spring game. Look for the quarterback battle to play out well past that game -- the final spring game among Big 12 teams.