March, 15, 2010
3/15/10
10:30
AM ET
By
ESPN.com staff
| ESPN.com
Paul Rhoads inherited a team at Iowa State that had won five games in two seasons. Under his direction, the Cyclones won seven games in 2009, capped off by a win over Minnesota in the Insight Bowl. In part two of this two-part Q&A, Rhoads talks about his expectations for 2010 and how capable his team is of an encore.
Paul Rhoads Q&A: Part one
Note: Parts of this interview were edited for length.
David Ubben: Moving onto this season, you've obviously got a lot to replace on defense. You guys don't start practice until the 23rd, but what are you looking for out of the guys who have to step in?
Paul Rhoads:
Continuous improvement. A year ago, we had one objective, and that was to improve on every facet of our program. As we move into this year, we want to focus on continuous improvement. The reason behind that, behind having something that simple is because we have that far to go. I don't think that number objectives that important to us right now. "Well, let's increase our benches by so much percentage or win this many more games or gain this many more yards or decrease what we give up." If we just focus on continuously improving everything that we're doing, class attendance, GPA, block/pass protection, rushing the passer. If we just focus on that, the little things, I know the end result of our program will continue to grow.
DU: Who do you want to get a good look at in the spring?
PR:
Freshmen linebackers who will have to take over. Jake Knott and A.J. Klein both played this year as true freshmen, but now they're going to have to step up in what should be starting roles. We have a couple of junior college linebackers. One, Jake Lattimer who played a little bit, and another one Matt Tau'fo'ou, who didn't play at all. We have a freshmen group of secondary players and a junior college transfer in Anthony Young who are going to have to see a lot more time. I'm anxious to see them play, and a handful of receivers that are coming off redshirts that I'm anxious to see if they can give us more game-breaking ability at receiver.
DU: Back to Alexander Robinson. Did he surprise you at all last year, or were you well aware he was capable of putting up the type of numbers he did?
PR:
We were very aware after we started spring practice. We saw him in the offseason, thought he moved pretty good, and then we got into spring practice and we thought we had, especially with what we do offensively, we thought we had somebody who was very capable of being successful in our offense.
DU: I assume you're pretty committed to getting him the ball as much this year as last year?
PR:
Very much so, and what we'd like to do even more so is get him the ball in the passing game. He's a very capable receiver, and we'd like to see him thrown the ball more out of the backfield and down the field and so forth. We had a couple big passing plays with him, and we'd like to see him be more consistent.
DU: Are you looking at more creative ways of getting him the ball if defenses key in on him even more this year?
PR:
I don't know of anything more creative, we're pretty creative right now in putting him out there in empty sets and bringing him back into the backfield. Moving him around the backfield from one side to the other. When you're a one-back team, there isn't a lot of doubt who in the backfield is going to get the ball. So we, as everybody does, tweak the offense a little bit right now this time of year and try to figure out some schemes that will work against teams that maybe have more physical ability than us and one of the objectives of the spread offense is to get the ball to your playmakers in space, and that's what we'll try to create.
DU: What is this year's team capable of?
PR:
I don't know. But hopefully that's something we'll find out in spring practice and just see if we are a little bit better than we were a year ago, which we think we will be, and our physical skills will be different, but you've got guys that have played the game. We're graduating five linebackers that all played defensively or special teams or both, and when you're replacing those kinds of numbers, not just at one position but at other positions, you should be a little bit nervous. So we are, but we'll attack spring practice and we'll get our incoming class in this fall and see how things pan out during fall camp, and then I'll be better able to see how capable we are.
As much as people thought we overachieved or had a favorable schedule, or things that they don't think we repeat in 2010, I think we're capable of that. I think potentially we'll be better everywhere you look. I think our quarterback play was average and they return. If we're coaching and guys are responding to coaching, then a year more means a year better of performance. And I think that will be reflected by our football team. The schedule certainly is more challenging than it was a year ago, so we could be better -- we could be significantly better -- and not have more wins or as many wins and that still be the truth.
March, 15, 2010
3/15/10
8:30
AM ET
By
ESPN.com staff
| ESPN.com
Paul Rhoads inherited a team at Iowa State that had won five games in two seasons. Under his direction, the Cyclones won seven games in 2009, capped off by a win over Minnesota in the Insight Bowl. In part one of this two-part Q&A, Rhoads reflects on his first season as a college head coach.
Note: Parts of this interview were edited for length.
David Ubben: This time last year, what did you expect or envision for your 2009 team?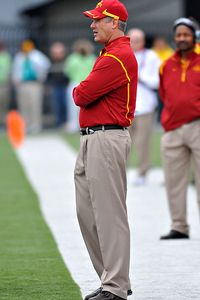 Denny Medley/US PresswireIowa State coach Paul Rhoads classifies his team as "blue collar."
Paul Rhoads:
Well, what I expected, I'm not even sure.
I knew at this point I had a very hungry team that was responding to everything that we were asking out of them. They were embracing everything that we put out there in front of them, but as we headed into spring ball, there were so many unknowns. And when we started spring ball, I knew we were a long way away from being the physical team that we wanted to become.
DU: What are you going to remember most about last year?
PR:
I think a group of senior football players that led the way and an entire football team, including the freshmen that came and the new players that play -- we talk about a culture here at Iowa State. And those freshmen came right in and they bought into that culture and a football team that responded beyond my dreams.
DU: When you say "culture," what do you mean?
PR
: Blue collar. We have a hard-hat mentality; we put on our hard hats and we go to work every day. We don't have any stars. We've got some good players, but we don't have any stars. And if we're going to find success, it's going to come at the expense of a full team working together, and I think that's how we approach it. There are no shortcuts.
DU: You say the team doesn't have any stars, so how would you classify Alexander Robinson?
PR
: I'd say he's a really good football player, but I don't think people recognized him as a star. If they did, they would have voted him all-league. I think he's an all-league type of player. But the media or the coaches didn't feel that way about him, so I guess he's not a star. But I think he's a really good football player, I'm glad he's on our team. I wouldn't trade him for other backs, and he's going to continue to help us run the football with very good success.
DU: What do you think the success last season does for the program, as well as the perception of the program?
PR:
It gives it credibility. We came in and the program had won five games in two years. And we go through the regular season and win six games. There's a lot of talk about that and progress being made, but if you don't go out and win a bowl game to cap that off, then its just a good season. "Well, they finally won some games, maybe they hadn't been winning before and they got to six wins." But by winning that bowl game, you got credibility with your fan base, you got credibility with opponents, in my opinion, and you've got credibility when you're out on the road recruiting. Kids know who was playing in bowl games, and especially who was winning bowl games. So as you head toward your 2010 recruiting class and beyond, you start to open more doors.
DU: I'm sure you've been asked about this plenty, but how's YouTube stardom treated you?
PR:
I don't know if I'd use that term, stardom. We certainly got a lot of play out of it, we got a lot of attention from it. I spoke earlier of the culture, I think that video speaks of the passion that's a part of our program. I did not see it until December actually, after the season was over and we put it in a video that we used during an official visit weekend.
Every time that it played, I looked at something different. In the eyes of the players, and in the emotion going back and forth between each other. It's everything I want our program to stand for, and I think its speaks for it in that video.
DU: Where'd that moment rank for you in your coaching career?
PR:
Oh, gosh. Very much toward the top. The first team meeting I had here as head football coach was the greatest day I've had in my career. And I will never, ever forget it, but certainly that win and everything that took place around it, there was a long week for us. We had guys that were sick, we even had guys with the H1N1. We had guys with just flu-like and cold-like symptoms, but I'm talking about the extremes. I'm talking about over-100 temperatures and couldn't do anything without coughing to where they couldn't breathe and were so fatigued they couldn't make it through practice. We had to take an extra Suburban over with guys with those surgical masks. We were at the dining table at the hotel in Lincoln on Friday night, and I'm telling you, literally, a guy would get up to go to the training table, they'd have his temperature taken and send him up to his room. Three minutes later, another player would get up, same thing. They were almost dropping like flies. We had a player break his leg in the game. We had players hooked up to IVs in the locker room. There was so much that was a part of that week and a part of that victory which made the win and the postgame celebration so meaningful.
And the line I say in there, where I'm proud to be their football coach, goes back to that first team meeting, and that's the first thing I told them, that I was proud to be their football coach and privileged to be in that position. So that line had a deep-seeded meaning to it. It wasn't just a spontaneous saying.
In part two later today, Rhoads talks about his expectations for his team this year, and what he's looking for in his players who will step into starting roles for 2010.