August, 2, 2011
8/02/11
4:15
PM ET
Monday we began a week-long project looking at the most famous touchdowns from 100+ yards down to one yard, and we'll be taking a look at each of the Big 12 entrants on the blog throughout the week.
You can
see the full project here
.
Oklahoma and Nebraska met in the Big 12 title game just twice, despite making a combined 14 appearances, but Malcolm Kelly scored the greatest 66-yard touchdown in college football history in the 2006 classic.
Dec. 2, 2006
: Oklahoma went 99 yards in 11 plays to ice its 21-7 win in the Big 12 championship, capped by Malcolm Kelly's second touchdown of the game. Coach Bob Stoops called it the drive of the year, but Kelly's first touchdown puts him on this list. Kelly caught a pass from Paul Thompson at the Huskers' 20-yard line, eluded a tackler and scored a 66-yard touchdown to put Oklahoma up 14-0 with a one-play drive.
-- David Ubben
December, 1, 2009
12/01/09
11:14
AM ET
By
Tim Griffin
| ESPN.com
Colt McCoy
has to go way back to the dusty playing fields of West Texas to remember the last time he accomplished the ultimate in team goals for a season.
Sure, there have been a slew of individual accomplishments over the years and enough personal records to keep the Texas quarterback satisfied long after his playing career is over.
But McCoy has to revert to his days at tiny Jim Ned High School when his Class 2A team was beating up on the likes of the Bangs Dragons, Ballinger Bearcats, San Saba Armadillos and Coleman Bluecats for District 3 supremacy to remember his last true on-the-field team championship.
[+] Enlarge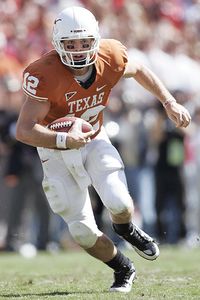 Tim Heitman/US PresswireColt McCoy has his sights set on winning a Big 12 title Saturday.
His next chance will come Saturday night at Cowboys Stadium in Arlington, Texas, when the Longhorns meet Nebraska.
"It's right there in front of us," McCoy said. "It's a goal we've worked for all year long and it's finally here. This is the most important game. We know there are big things after the game if we go out and handle our business. But right now, Nebraska is our focus."
Only a year ago, McCoy and the Longhorns dealt with the bitter disappointment of failing to make the Big 12 championship game. Earlier, they had defeated eventual champion Oklahoma in a dramatic comeback. But their South Division championship hopes were dashed by a last-second loss at Texas Tech that caused a three-way tie for division title. The split championship affected the computer polls and kept Texas out when the final numbers were tallied at the end of the regular season.
That snub resonated through all of the Longhorns' offseason practices and workouts before leading to their success this season.
Texas coach Mack Brown reminded them of that past disappointment as they began work for Nebraska earlier this week.
"They were disappointed as any group of kids I've ever seen," Brown said. "But [they] committed themselves to be in this game and win it. And now they have it all in front of them."
McCoy battled through a mid-season crisis of confidence to direct the Longhorns to a 12-0 record. Only a 16-13 victory over Oklahoma has been by a margin of less than 10 points.
Throughout the season, McCoy has talked about his personal need to play in the Big 12 championship game -- the biggest of all stages in his conference. Such a goal, he said, is bigger than an individual award like winning the Heisman Trophy.
He's never been there before, watching Paul Thompson and
Sam Bradford
claim titles for Oklahoma during his career at Texas.
He'll go down in history as the winningest quarterback in NCAA history. His 44-7 record likely will never be broken -- at least until the NCAA starts mandating 13-game or 14-game regular seasons.
In order to claim his place among the pantheon of great Texas quarterbacks like Vince Young, James Street, Bobby Layne and James Brown, McCoy needs to earn a title.
Texas offensive coordinator Greg Davis remembers hearing from McCoy only minutes after he learned that Vince Young was leaving school early for the NFL.
"Colt told me not to worry, that he was ready," Davis said.
Such a pronouncement might have been construed as a tad bold coming from a redshirt freshman who had never played before. But McCoy has been proving it ever since.
There was his first wild road victory when he beat Nebraska in a raging snowstorm in 2006.
And the way he's beaten old rivals Texas A&M and Oklahoma in back-to-back seasons. Nobody has done that since the Longhorns' salad days of late 1960s and early 1970s when Darrell Royal was roaming the sideline.
But the Big 12 title has been elusive for McCoy.
McCoy's quest has even infused Brown, who said Saturday's title game will be more meaningful for him for players like his senior quarterback than any sense of personal accomplishment in claiming his second Big 12 title and qualifying for his second BCS title game.
"I would like is for Colt and these seniors to have a championship," Brown said. "They deserve it. They have given us so much. It's a thing that's not on their résumé.
"And that's what Saturday night is about for me. I want Colt to finish getting the acclaim he should for this program and for college football. He'll have a lot more by winning Saturday."
September, 7, 2009
9/07/09
1:21
PM ET
By
Tim Griffin
| ESPN.com

Posted by ESPN.com's Tim Griffin
News that
Sam Bradford
has either a
Grade 2 or Grade 3 sprain
of his throwing shoulder means that he won't be back in the starting lineup for at least a couple of weeks.
Bradford likely won't be ready to play before October. And even that could be pushing his return before he is ready to play.
Oklahoma coach Bob Stoops said Monday that Bradford's upcoming status with the Sooners is undetermined.
"It will be a fairly long process, meaning it will probably be a week or two before we know more about it," Stoops said. "A lot depends on how he feels and how he recovers through the week. In the end, it will be awhile."
Stoops said that the loss of tight end
Jermaine Gresham
, out with a sprained knee, has changed how his offense works. Gresham was expected to be the Sooners' leading receiver and an important checkdown receiver for a young offensive line with four new starters.
Not having a Heisman Trophy winner and a projected preseason All-American tight end has led to a dramatic change of production from an offense that set an FBS record last season for scoring.
After a 14-13 loss to BYU in the Sooners' first game, the Sooners rank 73rd nationally in rushing offense, 90th in scoring offense, 92nd in passing offense and 95th in total offense.
"It affects us in a big way, there's no denying that," Stoops said. "Jermaine is a big presence and a go-to guy for us. It changes the complexion of our offense, but you just deal with it. It's the same kind of things with him as Sam, and hopefully we'll have an idea within a few days to see what the doctors and Jermaine decide to do."
The Sooners won't be pushed over their upcoming home games against Idaho State on Saturday and next week against Tulsa. And then they have a week off before they travel to Miami.
Getting both players back by then obviously is the goal. It would provide the Sooners with two games -- the game against the Hurricanes and against Baylor the following week -- to get their rhythm back by the crucial Texas game.
It won't be easy. But the Sooners have been one of the most effective teams in the nation at overcoming adversity and injuries in recent seasons.
Stoops was able to coach around the preseason loss of Rhett Bomar after he was dismissed from the team in training camp before the 2006 season. Despite playing untested quarterback Paul Thompson, the Sooners still won the Big 12 championship that season to start their recent run of three consecutive titles.
That season was also marked by the loss of Adrian Peterson, who missed the final seven games of the season with a broken collarbone.
And despite early conference losses to Texas in 2006 and 2008, the Sooners rebounded to claim the title in both seasons.
Texas coach Mack Brown said that Stoops' past history makes him confident that the Sooners will be able to overcome Bradford's injury.
"Bob does a great job," Brown said. "They've overcome more injuries than anybody and bounced back and won. Oklahoma will be good and I'll say it will start this week. It was a one-point loss [to BYU] with two great players out and they still nearly won. It's a credit to them."
Stoops is the highest-paid coach in the Big 12. He'll be earning every penny of that salary over the next several weeks.
July, 7, 2009
7/07/09
12:56
PM ET
By
Tim Griffin
| ESPN.com
Posted by ESPN.com's Tim Griffin
Bamboozled again and again and again. Boise's gadget plays doom Oklahoma
Date: Jan. 1, 2007
Place: University of Phoenix Stadium, Glendale, Ariz.
Score: Boise State 43, Oklahoma 42
Few observers gave Boise State much hope against Oklahoma in the 2007 Fiesta Bowl.
Even with those daunting odds, the Broncos had a trick play -- or three -- up their collective sleeves to stun the Sooners in one of the wildest games in modern college football history.
The Broncos blew an 18-point lead late in the third quarter and twice came back from touchdown deficits -- once late in regulation and again in overtime -- to notch one of the biggest upsets in college football history.
The Sooners appeared to have the game salted away after cornerback Marcus Walker intercepted Boise State quarterback Jared Zabransky and returned it 33 yards for a touchdown to put Oklahoma ahead 35-28 with 1:02 left.
But the Broncos had a little trickery left. Facing fourth-and-18 in the final seconds of regulation, Zabransky hooked up with Drisan James on a crossing pattern at the Oklahoma 35. As Oklahoma tacklers converged, James pitched the ball to Jerard Rabb, who raced into the end zone with 7 seconds left to tie the game after the conversion.
That stunning ending only set the stage for overtime.
The Sooners got the ball first and scored on Adrian Peterson's 25-yard run on the first play of overtime.
Boise State answered with another gadget play. Wide receiver Vinny Perretta's fourth-down 5-yard touchdown strike to tight end Derek Schouman -- on a play where Zabransky went into motion and the direct snap from center went to Perretta -- pulled the Broncos within 42-41.
Boise State coach Chris Peterson then decided to go for the victory by going for a two-point conversion. On the play, Zabransky looked at three wide receivers to his right before handing the ball behind his back to tailback Ian Johnson, who ran untouched for the game-winning points.
To punctuate the victory moments after the game, Johnson asked his girlfriend, Boise State cheerleader Chrissy Popadics, to marry him.
Early in the game, Boise State proved it wasn't intimidated by the heavily favored Sooners. The Broncos struck first on a 49-yard touchdown pass from Zabransky to James.
And on the next series, defensive end Mike T. Williams sacked Oklahoma quarterback Paul Thompson who fumbled, one of his four turnovers in the game. Williams recovered at the Oklahoma 9-yard line.
Two plays later, Johnson rumbled in from 2 yards to give the Broncos a 14-0 lead halfway through the first quarter.
The Sooners charged back to 14-10 before Boise State scored again shortly before the half to extend the lead to 21-10 on a 32-yard pass from Zabransky to James.
Marty Tadman's 27-yard interception return extended the Boise State lead to 28-10 with 8:05 left in the third quarter.
But Thompson, who struggled with a career-high three interceptions, was determined to lead the Sooners back into the game. Oklahoma erupted for 25 unanswered points, going ahead on Walker's interception.
Included in Oklahoma's binge was another touchdown run by Peterson, who finished with 77 rushing yards in his final collegiate game. It was Peterson's first game back after missing more than two months due to a broken left collarbone.
But Boise State wasn't done, digging deep into its playbook to produce one of the most memorable bowl games in history.
They said it, part I: "Yeah, another day at the office, huh?" Boise State coach Chris Petersen after the Broncos' victory.
They said it, part II: "It would have been easy to give up on us with a minute left, but we still had a lot of magic left," Boise State quarterback Jared Zabransky, after the Broncos' wild comeback.
They said it, part III: "I want to give them credit because I thought they executed it in a really good way. It's just the circumstances, the way it happened. They hit it perfect." Oklahoma coach Bob Stoops, on Boise State's series of gadget plays.
They said it, part IV: "There was no better time," Boise State tailback Ian Johnson, telling the Associated Press about why he decided to make his postgame proposal to Boise State cheerleader Chrissy Popadics on the field.
They said it, part V: "It might go down in college football as the best game -- ever." Zabransky on Boise State's late dramatics.
Factoids: Zabransky finished by passing for 262 yards and three touchdowns. Included were a pair of touchdown passes to James, who finished with 96 yards on three receptions ... Adrian Peterson finished his career with a touchdown on his final carry as a collegian ... Thompson completing 19 of 32 passes for 233 yards and two scores along with his three interceptions ... Ian Johnson rushed for 101 yards to lead Boise State ... The Sooners and Broncos combined for 22 points in the final 86 seconds of regulation ... Zabransky told reporters after the game that the Broncos worked on the hook-and-ladder play almost every day in practice, but it rarely worked against the Boise State defense because of their familiarity with the call ... Tadman produced two interceptions.
The upshot: The victory capped off a 13-0 season for Boise State, finishing as the nation's only unbeaten team. The Broncos finished the season ranked fifth in the final Associated Press poll, far behind national titlist Florida (13-1).
Boise State was the fifth team since the BCS began in 1998 to go unbeaten and not win the National Championship. The others were Tulane (12-0, 1998), Marshall (13-0, 1999), Auburn (13-0, 2004) and Utah (12-0, 2004). Utah (13-0, 2008) became the sixth team.
Oklahoma's loss snapped a seven-game winning streak in 2006 for the Sooners, continuing their run of recent struggles in BCS bowl games. It was the Sooners' third-straight loss in a BCS game during an eventual streak that has reached five-straight BCS bowl-game losses.
The Sooners finished the season 11-3 and 11th in the final Associated Press poll.
The countdown:
6. Yes Sirr. Parker's heroics lead A&M to 1998 championship
7. Crouch's TD catch cements Heisman bid, beats Oklahoma
8. Sproles and Roberson stun t op-ranked OU, leading KSU to its first Big 12 title.
9. Emotional A&M victory brings closure after Bonfire tragedy.
10. Roll left: James Brown guarantees victory and then backs it up.
11. When BCS meant "Boo Chris Simms" in Colorado's first Big 12 title.
12. A Buffalo stampede: Six Chris Brown TDs lead CU to first Big 12 title game.
13. Run, Ricky, run. UT's Ricky Williams breaks NCAA career rushing record.
14. Wild game, wilder post-game rants when Gundy and Leach meet in 2007.
15. Rout 66: No, that score wasn't a typo.
16. KSU finally slays the Cornhuskers.
17. Kingsbury and Long hook up in a passing duel for the ages.
18. Henery and Suh make Colorado blue.
19. Stunning OSU rally leads to Stoops' first home loss.
20. It's never over for Texas Tech until it's over.
21. Reesing to Meier. Again and again.
22. A Texas-sized comeback -- Texas over Oklahoma State in 2004.
23. A Border War unlike any of the rest -- Missouri over Kansas in 2007.
24. Seneca Wallace's wild TD run vs. Texas Tech in 2001.
25. Baylor's "So Much for Taking a Knee" against UNLV in 1999.
May, 1, 2009
5/01/09
11:26
AM ET
By
Tim Griffin
| ESPN.com
Posted by ESPN.com's Tim Griffin
| | |
| --- | --- |
| | |
| | J. Meric/Getty Images |
| | Sam Bradford has the ipportunity to become the first back-to-back Heisman winner in over 50 years. |
While putting together a chart earlier this week, I was struck by the unique opportunity Oklahoma quarterback Sam Bradford will have during the upcoming season.
Bradford will obviously have a chance to become the first back-to-back Heisman Trophy winner since Archie Griffin in 1974 and '75. But he'll also be able to become the first player in recent memory to quarterback a team that won three-straight conference championships.
It also got me thinking about the different quarterbacks that have played for Bob Stoops over his coaching tenure at Oklahoma.
Stoops is a wise coach and has never made the comment about which quarterback accomplished the most for him while at Oklahoma.
So I'll take care of it for him. Here are my rankings. Please feel free to comment.
1. Sam Bradford (starter in 2007-08) -- The first quarterback to lead his team to back-to-back Big 12 championships won the Heisman after his sophomore season. And he's poised for even more in the upcoming season.
2. Josh Heupel (starter in 1999-2000) -- The transfer from Snow Junior College jump-started Stoops' tenure in his first season and capped his career by leading the Sooners to the 2000 national championship. He doesn't have the statistics of some quarterbacks I ranked below him, but he has the ultimate accomplishment with the national championship.
3. Jason White (starter for some of 2001, 2003-04) - Stoops' other Heisman winner led his team to back-to-back BCS title games by throwing for 40 touchdowns in 2003 and 35 in 2004.
4. Nate Hybl (starter for most of 2001, 2002) -- Georgia transfer led the Sooners to back-to-back bowl victories and the 2002 Big 12 title.
5. Paul Thompson (starter for one game in 2005, 2006) -- I've got to think that Thompson might be one of Stoops' favorite players. He unselfishly moved to wide receiver in 2005 without complaint. And he pulled together the pieces in 2006 after the Bomar fiasco, an early loss to Texas and a 3-2 start to still lead the Sooners to the Big 12 title. It might have been Stoops' most satisfying title.
6. Rhett Bomar (starter for most of 2005 season) -- Ah, what might have been. But Stoops probably doesn't give too much thought to all of that, considering he's won the Big 12 title every season since Bomar left Oklahoma.
April, 29, 2009
4/29/09
2:50
PM ET
By
Tim Griffin
| ESPN.com
Posted by ESPN.com's Tim Griffin
I haven't had a mailbag in a couple of weeks because of some outstanding assignments. The letters have kept coming in, including some questions that were interesting. I thought this thought-provoking query from a reader in Nebraska merited its own answer in a separate post, along with a chart that explains my answer.
So here's the bonus question and watch Friday for a usual mailbag coming. It will have a lot of topical questions and answers about Big 12 football.
Jack Nelson from Lincoln, Neb.: Hey Tim, love your blog. But I've got one question after reading your post about Colorado the other day. How can you discount Nebraska's returning talent when you compare them against the Buffaloes or anybody else in the North. Any reasons that you think the Buffaloes stack up better than the Cornhuskers?
Griffin: Jack, thanks for the compliment and also know that I thought only that Colorado could be competitive in the North because of an experienced, deep running game, along with a strong returning offensive line.
But the major reason I might discount the Cornhuskers is because of the lack of experience at quarterback. In the history of the Big 12, only one championship quarterback has been able to win a championship in the same season he made his first collegiate start.
That would be Sam Bradford of Oklahoma in 2007. And Bradford had a pretty strong supporting case around him on that 2007 team -- certainly better than any team in the Big 12 North this season.
My experienced quarterback theory will be tested this season as three of the five teams that shared part of the division championships last season -- Missouri, Nebraska and Texas Tech - all will be starting quarterbacks with no previous experience as a collegian.
Missouri likely will be looking to Blaine Gabbert as its starter. Texas Tech will likely have Taylor Potts. And Nebraska likely will be looking to Zac Lee manning the starting quarterback slot.
All are untested. And the North Division particularly could be an area where a team with an experienced quarterback could have an edge with either Todd Reesing at Kansas or Tyler Hansen and Cody Hawkins at Colorado all having an experience edge with previous starts coming into the season.
I just think that previous starting experience is critical in college football. And it will take a special kind of quarterback to be able to win a title without previous college starting experience at the position.
Here's a look at the Big 12 championship teams over the years, who they had playing quarterback and their previous starting experience.
1996 Texas: James Brown had more than a year of starting experience coming into the season.
1997 Nebraska: Scott Frost had a year of starting experience coming into the season.
1998 Texas A&M: Both Branndon Stewart and Randy McCown had started games in previous seasons before their championship year.
1999 Nebraska: Eric Crouch had started most of the games in the previous season before his championship year.
2000 Oklahoma: Josh Heupel had started a complete season of games the previous year.
2001 Colorado: Both Craig Ochs and Bobby Pesavento had started games in previous seasons before their championship year.
2002 Oklahoma: Nate Hybl had started games in the previous season before his championship year.
2003 Kansas State: Ell Roberson had started games in the previous season before his championship year.
2004 Oklahoma: Jason White had started more than a year's worth of games before his championship season.
2005 Texas: Vince Young had started nearly two previous seasons before his championship season.
2006 Oklahoma: Paul Thompson had started one previous game during his previous year at quarterback and several more at wide receiver.
2007 Oklahoma: Sam Bradford had never started a college game before his championship season.
2008 Oklahoma: Sam Bradford had started one previous season before his championship season.
Those trends make the odds daunting that the Cornhuskers, Tigers, Red Raiders or Kansas State will be able to claim the Big 12 title this season.
It's even more likely that the championship team could come from a group of three teams with the most experience at quarterback -- Texas, Oklahoma and Oklahoma State.
December, 11, 2008
12/11/08
4:14
PM ET
By
Tim Griffin
| ESPN.com
Posted by ESPN.com's Tim Griffin
It was almost like I asked Bob Stoops to tell me which one of his three children he liked the best.
The Oklahoma coach blanched when I wondered if his team's recent Big 12 championship was more meaningful than the others because of all of the BCS controversy that went into even getting them a chance to play in the championship game.
It's easy to understand why it's so tough for Stoops to pick and choose. He does have six Big 12 titles in a nine-season span that would qualify by any definition as a dynasty.
But just don't ask him which championship he liked the best. Because he really can't tell you.
"They are all sweet," Stoops said. "How do you beat the first time? Last year when we won with a freshman quarterback (Sam Bradford)? And Paul Thompson's season (2006) is one of my favorites because you remove your starter at the beginning of the year and bring a wide receiver to play at quarterback. It was one of the most gratifying because of what a great kid that Paul was."
So while Stoops won't say, I'll do it for him.
Here's my ranking of Stoops' six Big 12 title teams by their success and overall accomplishments.
1) 2000 Oklahoma
Record: 13-0
Key players: QB Josh Heupel, LB Rocky Calmus, DB Roy Williams
Losses: 0
Conference title game: Beat Kansas State, 27-24
Bowl: Beat Florida State, 13-2, for national championship
What made them special: Stoops' only undefeated team had "Red October" run where they beat ranked teams Texas, Kansas State and Nebraska in succession.
Weaknesses: Not many. They were national champions for a reason.
2) 2008 Oklahoma
Record: 11-1
Key players: QB Sam Bradford, G Duke Robinson, WR Juaquin Iglesias, DT Gerald McCoy, S Nic Harris
Losses: Texas, 35-45
Conference title game: Beat Missouri, 62-21
Bowl: Playing Florida in the Fed Ex BCS National Championship Game
What made them special: Bradford keyed perhaps the most explosive offense in college football history, setting a record with 60 points in five straight games. Varied offensive attack with strong running game, deep cast of receivers and talented offensive line. Despite defensive lapses, productive unit leads the nation in turnover margin and ranks third in sacks produced.
Weaknesses: Uneven defense gashed for big yardage efforts unlike most of Stoops' teams.
3) 2002 Oklahoma
Record: 12-2
Key players: QB Nate Hybl, RB Quentin Griffin, DT Tommie Harris
Losses: at Texas A&M, 26-30; at Oklahoma State, 28-38
Conference title game: Beat Colorado, 29-7
Bowl: Beat Washington State, 34-14, in the Rose Bowl
What made them special: Stifling defense ranked no less than 14th in any of the four major defensive statistical rankings and featured five All-Big 12 players.
Weaknesses: Susceptible to big plays, yielding four touchdown passes in losses to A&M and OSU.
4) 2004 Oklahoma
Record: 12-1
Key players: QB Jason White, RB Adrian Peterson, WR Mark Clayton, DE Dan Cody
Losses: USC in Orange Bowl, 19-55
Conference title game: Beat Colorado, 42-3
Bowl: Lost to USC in Orange Bowl for national championship
What made them special: Explosive offense ran up at least 28 points in every game but one be
fore the bowl game. Multifaceted offensive attack featured strong passing from White (35 touchdown passes) and rushing from Peterson (1,925 yards).
Weaknesses: Defensive struggles were apparent in close victories over A&M and Oklahoma State, but really were exposed when USC rolled up 525 yards in bowl loss.
5) 2006 Oklahoma
Record: 11-3
Key players: QB Paul Thompson, RB Adrian Peterson, LB Rufus Alexander
Losses: at Oregon, 33-34; Texas, 10-28; Boise State, 42-43
Conference title game: Beat Nebraska, 21-7
Bowl: Lost to Boise State in the Fiesta Bowl, 42-43
What made them special: This was Stoops' most resilient team, overcoming the replacement of Rhett Bomar by Paul Thompson before the season and Adrian Peterson's mid-season injury.
Weaknesses: The least talented of Stoops' teams didn't have enough defensive standouts to overcome high-powered offenses like Oregon, Texas and Boise State. They almost lost in tough shootouts against Texas Tech and Oklahoma State.
6) 2007 Oklahoma
Record: 11-3
Key players: QB Sam Bradford, G Duke Robinson, DE Auston English, LB Curtis Lofton
Losses: at Colorado, 24-27; at Texas Tech, 27-34; West Virginia, 28-48.
Conference title game: Beat Missouri, 34-17
Bowl: Lost to West Virginia in Fiesta Bowl, 28-48
What made them special: Bradford keyed an explosive offense by throwing for an NCAA freshman-record 36 touchdown passes. Balanced team ranked in top 20 in both scoring offense and scoring defense while leading the nation in kickoff returns and pass efficiency.
Weaknesses: Struggled in pass defense and in producing a legitimate pass rush during much of the season.