Big 12:

Philip Montgomery
December, 30, 2014
12/30/14
3:51
PM ET
With Jim Harbaugh's entertaining introduction at Michigan on Tuesday, this latest turn of the coaching carousel seems to be winding down. The results: Seven Power 5 programs have new head coaches, and four Group of 5 schools hired coordinators from flourishing Power 5 offenses. Beginning with Michigan's big splash -- one that is dominating the news cycle, even though we're fewer than 48 hours from the first College Football Playoff semifinal -- here are grades for those 11 hires:
Michigan Wolverines
New coach:
Jim Harbaugh (former San Francisco 49ers head coach)
Grade:
A+
Harbaugh said Tuesday he isn't comfortable with the idea of being Michigan's savior, but he'd better get used to it because that's the expectation. He didn't face that sort of pressure when he resurrected Stanford, but he certainly did each year in the NFL, where he averaged 12 wins a season and took his team to a Super Bowl. Harbaugh is an A-plus hire because he's equipped for the challenge, and as an alum, he's emotionally invested in the product. As
college coaches told me this week
, Michigan could not have done any better. It sought Harbaugh from the start of the process, and it got him.
The question
December, 12, 2014
12/12/14
8:00
AM ET
October, 9, 2013
10/09/13
8:51
PM ET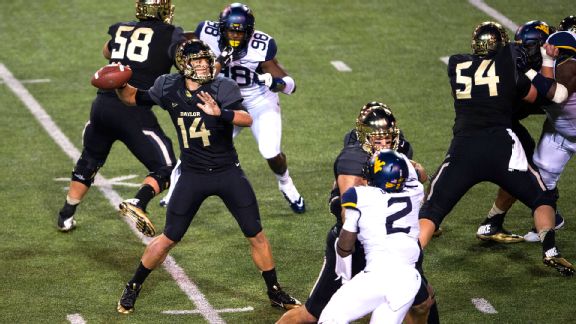 Jerome Miron/USA TODAY SportsPhilip Montgomery's Baylor offense has been something to behold, as quarterback Bryce Petty and company are averaging a mind-boggling 70.5 points and 779.5 yards per game.
Philip Montgomery doesn't do many interviews.
It's not a matter of the Baylor offensive coordinator trying to avoid them; he just leaves that responsibility to Art Briles. Makes things easy for him, he says, and they don't matter much.
"I think that's definitely his style," former Baylor quarterback Nick Florence said. "He likes being in the background, doing his part and running the machine."

Philip Montgomery
He doesn't seek the fame, Florence said, because Montgomery gets enough satisfaction out of calling games and coaching players. He's simple like that.
While fame has quickly found Dana Holgorsen, Gus Malzahn, Chad Morris and so many other of college football's spread offense gurus, Montgomery remains a bit of a mystery man nationally. Maybe that's what he prefers.
"I don't know how he hasn't gotten attention nationally," Florence said. "But at the same time, I know he doesn't like it. He's definitely deserving."
Perhaps he's just busy plotting what comes next for perhaps the best offense in college football. For all the reverence Briles receives, Montgomery is the one calling the plays, the guy who decides when it's time for
Lache Seastrunk
to carve up a defense and when the time is right for
Bryce Petty
to go deep to
Antwan Goodley
or
Tevin Reese
.
He will take little credit and won't accept much praise for this offense. Most offensive coordinators -- at any level of football -- can only dream of achieving what Baylor did last week against West Virginia: 73 points and a Big 12-record 872 yards.
Here's how Montgomery summed it up: Line played well. Skill guys played well. Petty played well. Running backs played well. Went in with a good plan. Good things happened.
"Those guys on the field, they make plays," Montgomery said.
He's staying humble, and there's no doubt the greatest influence on how Montgomery perceives offensive football has been Briles. This is the 15th season they've spent coaching together, starting in 1996 when Montgomery joined Briles' coaching staff at Stephenville (Texas) High School.
"I think a lot of that starts with Coach," Montgomery said. "Even when we were back in Stephenville, we were kind of progressive offensively and started spreading it out before a lot of people did. All of that has really got to lay at his feet."
But don't underestimate the third member of this coaching trio. Randy Clements has been coaching with Montgomery for 17 seasons and first began working with Briles at Stephenville in 1990. He's tasked with overseeing the Baylor run game and offensive line.
Perhaps Montgomery doesn't take the credit simply because this has always been a team effort, with all three serving as the idea men behind the evolution of their scheme.
"It's a special bond that we have," Montgomery said. "When you've worked with those guys for as long as we've worked together, you kind of have a good feel of what you're doing in that room when it comes to preparation and starting a game plan. There's not much that can replace that type of camaraderie and the unit that's formed there."
Montgomery coached Baylor receivers coach Kendal Briles, Art's son, at Stephenville and at the University of Houston. Running backs coach Jeff Lebby is married to Art's daughter and has been on the staff since 2008.
"When you start putting all those factors together, it's a tight unit that is pretty special in college football," Montgomery said.
When Briles landed the head job at Houston in 2003, Montgomery and Clements were two of his first hires. They turned the Cougars offense into one of the nation's 10 best in passing yards, total yards and explosive plays during their tenure.
And they've done it again at Baylor, once again ranking among the top 10 in those same categories since 2008 while averaging a run-pass balance of 55-45.
Having elite quarterbacks has certainly helped. Three of Montgomery's pupils -- Robert Griffin III, Case Keenum and Kevin Kolb -- are in the NFL. Florence followed Griffin and was the Big 12's leading passer in 2012. Of course, he'll take no credit.
"The good Lord has blessed us with good guys," Montgomery said. "We've done a decent job of helping them and making sure we're giving them a chance to make plays and grow within what we do offensively.
Florence believes it's Montgomery's coaching style that has helped beget so much success. He's a player's coach, a hands-on mentor who doesn't chew out his quarterbacks. It's about being straightforward, honest and open. Plus, he's pretty good at calling plays.
"I think he's got good schemes, and him and Coach Briles together is dynamite," Florence said. "Coach Montgomery is an outstanding playcaller. He's always looking out for the QB and takes shots when it's good to take shots. He has great balance with playcalling, and you can see that on the field. It's not a science -- he has a great feel for the game."
[+] Enlarge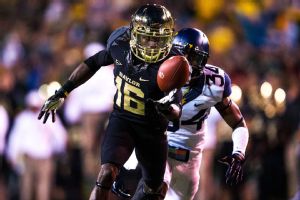 Jerome Miron/USA TODAY SportsTevin Reese set a Baylor record with 21 career touchdowns of 40-plus yards.
Good luck engaging Montgomery in a discussion on what makes this offense so successful, or why the Baylor spread is unlike most offensive attacks in college football. He's not sharing the recipe.
"Well, there's some things you talk about, and then there's some things you don't," he said with a chuckle.
He's proud of how far his offense has come and the product the Bears are putting on the field today. Montgomery was the lead recruiter for Petty and Goodley, the two breakout stars of this year's Baylor offense. He knew how good they could eventually become, but this is just the start.
Baylor running back
Glasco Martin
said Saturday this is the best and most dangerous BU offense he's been a part of in four seasons. Montgomery isn't ready to go that far.
"As far as the best one, you know, it's still real early in this season," Montgomery said. "So as the paint keeps getting painted, we'll see what it comes out to.
"The offense we had in 2011 with Robert was pretty dang special. Last year with Nick, it was pretty dang special. There are some standards that have been set that those guys are striving to make sure we try to exceed those every year."
If they pull that off, the nation just might start figuring out who Montgomery is -- whether he likes it or not.