Big 12:

Phillip Montgomery
December, 24, 2014
12/24/14
2:00
PM ET
In today's holiday edition of the Big 12 Twitter mailbag, we talk recruiting, potential expansion (again), who could be 2015's version of TCU, and the end of a Twitter era, as @FauxHolgorsen.
Here's to everyone having a Merry Christmas.
Now, on to the 'bag;
@Jake_Trotter With BU and MSU losing coordinators on opposite sides of the ball, who has the better chance in the Cotton @CottonBowlGame?

— BearsCanClimb (@TideNormand) December 23, 2014
@Jake_Trotter: It's probably a wash. Considering the Bears still have coach Art Briles and a veteran quarterback in Bryce Petty, I don't think not having Phillip Montgomery will have a major effect on the offense. Briles has established a culture of scoring that goes beyond any one assistant or player. Likewise, Michigan State has implemented a culture of defense under Mark Dantonio. Pat Narduzzi has been a fabulous coordinator. But just because he won't be in Arlington doesn't mean the Spartans will forget how to play defense. I still expect this to be an epic clash of irresistible offense vs. immovable defense.
@Jake_Trotter @ESPN_Big12 What team next year from the bottom half of conference, could make a run for the title?

— Steven Torpy (@Torpyedo) December 23, 2014
Trotter: From a list of West Virginia, Oklahoma State, Texas Tech, Kansas and Iowa State, I would have to go with the Cowboys. Oklahoma State appears to have uncovered its long-term answer at quarterback in Mason Rudolph, who was terrific in his two starts to cap the regular season. Oklahoma State will also return its entire receiving corps, as well as eight starters defensively. With TCU, Baylor, Oklahoma and Kansas State all headed to Stillwater next season, the schedule lines up for the Cowboys to make a bounce-back run at the conference crown.
@Jake_Trotter How much do you think the @Big12Conference will fine its newest members for their bowl brawl?

— Will Estel (@willestel) December 23, 2014
Trotter: Clever.
@Jake_Trotter do you see expansion on our horizon?

— Jake Perry© (@JakePerry56) December 23, 2014
Trotter: For the first time this football season, I went to the movies over the weekend and saw "Interstellar." So if by "horizon" you mean the wormhole next to the rings of Saturn, then yes, expansion is on the horizon.
@Jake_Trotter what is the percent of probability, in your opinion, that UCF joins the Big 12 in the next 3 years?

— Eli Fried (@elisfkc) December 23, 2014
Trotter: Highly unlikely, considering any expansion is highly unlikely. That said, commissioner Bob Bowlsby has indicated in recent days that if the Big 12 ever expanded, it would look east instead of west. That would seemingly put UCF in play, as one of the top available schools to the east. I'm not sure how a Big 12 school in Florida would work. Then again, the Big 12 really has no convenient options left when it comes to expansion.
@Jake_Trotter what are the chances that Mr. President makes @TTU_WreckEm the new White House?

— Raider_Red (@RAIDER_R3D) December 23, 2014
@Jake_Trotter tech DC thoughts? Who might it b? Ideas on where President is leaning?

— Brian Martin (@gunsupbm) December 23, 2014
Trotter: It's possible Chad President ends up in Lubbock. After losing Jarrett Stidham to Baylor, Texas Tech needs a quarterback for this class, and President needs a new team after de-committing from Baylor. But Tech won't be the only Big 12 school that goes after him. Highly ranked quarterbacks (even quarterbacks that could end up as college receivers) usually aren't available this late in the recruiting game. So President will be in demand. As for the Tech defensive coordinator search, Houston's David Gibbs is at the top of the list. Even though Houston finished just fifth in the American, the Cougars have improved defensively under Gibbs, ranking 11th in scoring defense this season. A former defensive coordinator at Minnesota and Auburn, Gibbs is the kind of veteran coordinator Kliff Kingsbury needs to add to his staff.
@Jake_Trotter if you could put a percentage on it, what are the odds Daylon Mack ends up in a TCU uniform?

— Chris Conaty (@Con_Man95) December 23, 2014
Trotter: After de-committing from Texas A&M, Daylon Mack tweeted that TCU and LSU were his top two schools. He is apparently scheduled to take an official visit Texas on Jan. 23, which could change things. But I would think TCU's odds of landing Mack at this point are at least 33 percent.
@Jake_Trotter How sad are you that the @FauxHolgorsen account is ending?

— Jake Lantz (@NiteStare) December 23, 2014
Trotter: Huge bummer. This, by the way, was his farewell letter. In memoriam, below was a great moment in @FauxHolgorsen history...
@Jake_Trotter @ESPN_Big12 Guess what arrived today? Thanks for my Midseason Coach of the Year trophy. pic.twitter.com/eu3n9VvGnt

— Not Dana Holgorsen (@FauxHolgorsen) October 21, 2014
@Jake_Trotter @ESPN_Big12 what coach is the most festive?

— Garrett Smith (@Gsmitty_titty) December 23, 2014
Trotter: This one is easy ...
#WVU Coach Dana Holgorsen tells us what he wants for Christmas this year. pic.twitter.com/MAoU0goxZa

— Geoff Coyle (@GFCoyle) December 18, 2014
.
February, 11, 2014
2/11/14
3:00
PM ET
The Big 12 is full of talented assistant coaches. In a conference loaded with quality assistants, we've tried to narrow it down to the top 10 based on the on-field production of their offense, defense or position group and their ability to evaluate, recruit and develop players at their position.
[+] Enlarge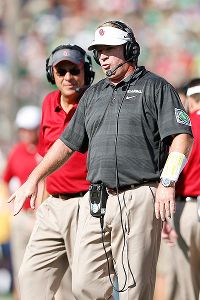 Joe Robbins/Getty ImagesMike Stoops' defenses at Oklahoma have been among the best in the Big 12 the last two seasons.
Here's a closer look at the top 10 assistant coaches in the Big 12:
Mike Stoops, Oklahoma defensive coordinator/safeties coach: The Sooners defense has been solid since Stoops returned after his stint as head coach at Arizona. Oklahoma has been among the Big 12's top defenses during the past two seasons, particularly against the pass. Stoops secured the top spot on the list with his willingness to completely change the defense in 2013, going to a three-man front and making the defense faster and more versatile. And he's one of the best evaluators and developers of defensive backs in the country.
Phillip Montgomery, Baylor offensive coordinator/quarterbacks coach: Montgomery coordinated the nation's top offense in 2013. The Bears led all BCS teams, averaging 52.4 points and 618.8 yards per game, as the offense spearheaded Baylor's run to its first Big 12 title. Montgomery also has mentored some of the Big 12's top quarterbacks in recent years, including Robert Griffin III and Nick Florence, capped by Big 12 offensive player of the year Bryce Petty in 2013.
Glenn Spencer, Oklahoma State defensive coordinator/linebackers coach: Spencer took over Oklahoma State's defense in 2013 and the Cowboys transformed into a more aggressive and adaptive unit. Oklahoma State's defense led the Big 12 in fewest points allowed (21.6) and lowest third-down conversion rate (31.4 percent) to finish among the top 20 teams in the BCS in each category. Spencer also is a superb recruiter and developer of linebackers for the Cowboys, who featured two of the Big 12's best in Caleb Lavey and Shaun Lewis last season.
Dick Bumpas, TCU defensive coordinator/defensive line coach: Bumpas has coached with TCU head coach Gary Patterson since 2004, and the Horned Frogs have fielded some of the best defenses in the nation during Patterson's tenure. TCU's defense finished among the Big 12's best in several categories in 2013, including its 4.83 yards allowed per play, which was No. 13 among BCS teams. Bumpas' defensive line group also has been among the Big 12's best, as he consistently turns players other teams overlooked into solid performers.
Dana Dimel, Kansas State offensive coordinator/running backs and tight ends coach: The Wildcats' creativity on offense often goes unnoticed, but K-State finished among the top 30 BCS teams in yards per play. Dimel, who coaches the running backs and tight ends, has been a key member of Bill Snyder's staff and has coached 34 players who have played in the NFL. That includes Daniel Thomas, who arrived on campus as a junior college quarterback before developing into an All-Big 12 running back.
Joe Wickline, Texas offensive coordinator/offensive line coach: Wickline has been one of the Big 12's top position coaches for the past few years as Oklahoma State's offensive line coach. He coached several players to all-conference honors, including NFL first-round pick Russell Okung. Wickline moves to Austin, Texas, in 2014 after being named Texas' offensive coordinator by head coach Charlie Strong. He has a proven ability to evaluate talent and develop relative unknowns into productive offensive linemen.
Wally Burnham, Iowa State defensive coordinator/linebackers coach: Burnham consistently has developed All-Big 12 linebackers during his time on the Cyclones' coaching staff. During his five seasons coaching linebackers, Jesse Smith, Jake Knott, A.J. Klein and Jeremiah George each earned All-Big 12 honors. The Cyclones defense took a step backward in 2013, but much of their success under Paul Rhoads is built upon an underrated defense led by quality linebackers.
Sonny Cumbie, TCU co-offensive coordinator: The Red Raiders receivers have been among the Big 12's best under Cumbie for the past few seasons. His work with the receivers was one reason Texas Tech led the Big 12 and finished second nationally with 392.85 yards per game in 2013 despite playing multiple quarterbacks. Cumbie will play a key role in kick-starting TCU's offense in 2014.
Kendal Briles, Baylor passing game coordinator/receivers coach: Briles secured his spot on this list thanks to his ability to evaluate, recruit and develop receivers. He's one reason Baylor has become "Wide Receiver U" in the Big 12 while putting several players into the NFL, including Kendall Wright, Terrance Williams and Josh Gordon. Not only does he evaluate well -- such as with overlooked speedster Tevin Reese -- Briles has shown he can develop those signees into all-Big 12 performers.
Jay Norvell, Oklahoma co-offensive coordinator/receivers coach: Much like Briles, Norvell consistently recruits and develops players for the Sooners. He coached NFL draftees Ryan Broyles, Kenny Stills and Justin Brown during the past three seasons, when six receivers have caught at least 50 passes. His ability to continue to bring in elite prospects amps up the competition at the position.