Big 12:

Ponies-Raiders-090510
September, 5, 2010
9/05/10
9:05
PM ET
LUBBOCK, Texas -- For most of the first quarter, Texas Tech's offense didn't perform the way fans at Jones AT&T Stadium have grown accustomed to over the past decade. The Red Raiders moved the ball 50 yards on the first drive and had a field-goal attempt blocked. On the second and third drives, they combined for zero yards and two three-and-outs.
Excluding a lopsided result against Texas A&M last season, the Red Raiders never scored more than seven points in the first quarter of a loss.
They scored seven on Sunday, but unlike last season, Texas Tech's new defense held, dominating SMU in the first half before a few second-half mistakes and mishaps made the win a less-convincing
35-27 final
.
Tuberville called the first-half performance excellent. Before a lengthy drive put SMU's first points on the board, Texas Tech held the Mustangs to just 68 yards of offense, resulting in four punts and two interceptions on their first six drives.
[+] Enlarge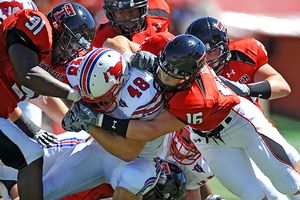 Patrick Green/Icon SMIThe Texas Tech defense smothered SMU in the first half. The Mustangs didn't cross midfield until a scoring drive late in the second quarter.
Before that score (which Texas Tech promptly answered with its own touchdown), SMU hadn't crossed midfield.
"I would never have guessed that," Tuberville said. "We didn't know what to expect, so we didn't know what to plan for."
SMU is not Texas. They are not Oklahoma. They are not Texas A&M. But they are a good offense, and if Texas Tech strings together many more stretches like they did early Sunday against SMU, a bad day for the offense doesn't mean a bad day for everyone involved with the Red Raiders program.
"It gives you huge confidence; you obviously have the momentum...you're not pressing," said quarterback
Taylor Potts
of the defense's early dominance. Potts finished with 359 yards and four touchdowns to further distance himself from backup
Steven Sheffield
. "You still want to score on every single drive, but it's nice knowing that your defense is playing really well like they always do."
Tuberville and his defensive coordinator James Willis arrived with SEC-stacked résumés, defensive minds that Red Raider optimists hope become SEC kryptonite to the Big 12 South superpowers.
Texas Tech doesn't have the defenders of a Florida or Alabama, two teams that sent Oklahoma and Texas home from the past two national championship games ringless. But they might soon. Tuberville's 2011 recruiting class ranks as the nation's 20th best, and though seven of the 19 commits are defenders, Tuberville already has a commitment from 2012 linebacker Derek David, a linebacker who ranks as one of the best defensive prospects in his class.
But that's the future. For now, Tuberville's focus remains on shoring up a leaky run defense and educating an inexperienced secondary that starts three sophomores.
"We gave up 27 points and that's way too many. That's 14 points too many. We want to try to have every shutout we can," Tuberville said. "But again, this defense will get much, much better."
Despite the 27 points on the scoreboard, Willis was pleased with the defense as a whole. It stunted the growth of rapidly developing SMU quarterback
Kyle Padron
, who finished his freshman season with a 460-yard performance in a 45-10 win over Nevada in the Hawaii Bowl. He threw three interceptions on Sunday after just four in seven games all last year, and finished with just 218 yards on 21-of-38 passing.
Texas Tech's impressive sack total -- it was one of just three teams in the Big 12 with more than 40 last season -- remained, notching five on Sunday and three by linebacker Brian Duncan, who didn't have any in 2009.
But the three interceptions are a good sign for a team that had just 10 all last season. That says improvement.
"Defensively, we're a work in progress, but I tell you, the way they practiced and the way they concentrate, they get better," Tuberville said.
Yes, it's just one game -- or almost a half, rather. Yes, it's against SMU. But the Mustangs offense was stifled in the first half, and when the Red Raiders needed a final stop with the game on the line, they got it.
Look up where the defensive powers in the Big 12 South started on Week 1. Texas gave up 17 points to Rice, the nation's 109th best offense in 2009, and Oklahoma had to defend its own end zone for most of the fourth quarter at home to survive an upset bid from Utah State.
Comparatively, Sunday's performance was a nice starting point for the Red Raiders.
"They finished, and that's our theme for the year," Willis said. "You start fast and you finish strong."
It was a pretty nice finish for the Red Raiders, with Duncan earning two of his three sacks on the final drive to preserve the win. But moving forward, Sunday's win over SMU was the start of something new for Texas Tech football.
September, 5, 2010
9/05/10
8:59
PM ET

Big 12 blogger David Ubben talks with Texas Tech quarterback Taylor Potts after the Red Raiders 35-27 win over SMU.
September, 5, 2010
9/05/10
7:07
PM ET
By
ESPN.com staff
| ESPN.com
LUBBOCK, Texas -- Definitely
a nice win for Texas Tech
against a pretty good SMU team that won eight games -- including a 45-10 bowl win -- last season. Texas Tech shut down
Kyle Padron
when they needed to, despite letting the game get sloppy late. SMU was driving, but never seriously threatened to score on the final drive.


How the game was won:
Texas Tech won the turnover battle convincingly, 4-1. One first-half turnover turned into a Texas Tech touchdown, and the Red Raiders led 21-7 at halftime.
Turning point:
Texas Tech let SMU get on the board with an impressive 12-play, 72-yard drive that brought the Mustangs to within seven. But the Red Raiders responded with a speedy six-play drive to make it 21-7 before half and scored on the opening drive of the second half to take a 21-point lead.
Stat of the game:
Texas Tech's trainers said the temperature read 148 degrees on the turf at AT&T Jones Stadium during Sunday's game. While it wasn't nearly as hot in the stands, the nearly triple-digit heat in Lubbock on Sunday meant a few seats in the stadium were left empty for the second half.
Player of the game:
Taylor Potts
, QB, Texas Tech. Potts held off an encore of "No More Potts" with a solid performance, shaking off a few early kinks to finish with 359 yards on 34-of-53 passing and three touchdowns.
Unsung hero of the game:
Cody Davis, S, Texas Tech. Davis delivered a few big hits in the secondary and on several occasions, flew up into the box to deliver a big hit in run support.
Record performance:
Lyle Leong
, WR, Texas Tech. The Red Raider receiver registered career highs in yards (142), receptions (11) and tied his career high in touchdowns (3).
Record performance II:
SMU kicker Matt Szymanski booted a school-record 61-yard field goal in the fourth quarter that brought SMU to within 15.
September, 5, 2010
9/05/10
6:45
PM ET
LUBBOCK, Texas -- Tommy Tuberville showed off his Riverboat Gambler moniker, trying to convert a fourth-and-1 from his own 34-yard line, despite holding a 35-20 lead. The Red Raiders fumbled the center-quarterback exchange and turned the ball over.
Tuberville's call was a questionable one, especially against an offense in SMU that hasn't been extremely effective for most of today's game.
Facing a fourth down of their own, SMU inched to within 35-27 after a sure interception slipped through the hands of a Texas Tech defender and into the arms of SMU's
Cole Beasley
.
The Mustangs forced a punt and have the ball on their own 6-yard line with a chance to tie.
September, 5, 2010
9/05/10
6:26
PM ET
By
ESPN.com staff
| ESPN.com
LUBBOCK, Texas -- SMU coach June Jones drew at least a few quizzical looks by sending out his field goal unit to attempt a 61-yarder. But Mustangs kicker Matt Szymanski made the kick -- the longest in school history -- besting his previous long of 53 yards in last year's season opener.

But it's still not enough to get SMU back into contention. Texas Tech took over possession after the kick with a 35-20 lead.
September, 5, 2010
9/05/10
5:14
PM ET
By
ESPN.com staff
| ESPN.com
LUBBOCK, Texas -- Texas Tech answered its worst defensive possession of the game with its best offensive possession, countering a 12-play, 72 yard drive by SMU with seven play, 80 yard drive in 1:23 to grab a 21-7 halftime lead.
Detron Lewis
capped the drive with 16-yard touchdown score over the middle.
Lewis and fellow receiver
Lyle Leong
have emerged as quarterback
Taylor Potts
' top two targets in the season opener. Potts has thrown all three of his touchdowns to the pair, who have combined for 13 receptions and 174 of the Red Raiders' 226 passing yards in the first half.
Even better for Texas Tech is after the impressive touchdown drive, it will receive the kick to begin the second half.
September, 5, 2010
9/05/10
4:28
PM ET
LUBBOCK, Texas --
Lyle Leong
helped spark Texas Tech's Alamo Bowl comeback against Michigan State with a 43-yard catch on third-and-12 and the Red Raiders trailing by four midway through the fourth quarter. That eventually set up the Red Raiders' go-ahead touchdown that put Tech up for good.
It looks like he's parlayed his strong finish (nine catches, 116 yards, TD in his final two games) into a great start in 2010, with two touchdown catches to put Texas Tech up 14-0.
He hauled in a perfect fade pass from
Taylor Potts
in the back left corner of the end zone at the end of the first quarter and caught his second touchdown on the next possession, dragging across the back of the end zone underneath the south goalpost in front of the student section.
Leong caught 45 passes for 571 yards and nine touchdowns last season.
As for June Jones' high-flying offense, Tommy Tuberville's new-look defense has taken the upper hand, which has to be encouraging to fans who listened to Tuberville talk about the shift in philosophy all spring and summer. SMU has the ability to break the big play, but Texas Tech has prevented it thus far, limiting the Mustangs to just two first downs and 63 total yards on 16 plays, including 0-for-4 on third downs.
September, 5, 2010
9/05/10
3:56
PM ET
Texas Tech's offense marched 35 yards on its opening drive, but the drive finished with a blocked field goal.
Chalk it up to poor blocking if you'd like, but SMU
blocked nine kicks last season
.
Looks like June Jones' spread mixes in a little bit of Beamerball, too.
And as for the Red Raiders oft-mentioned run-pass ratio: eight passes, three runs.
Several of the passes were short looks to the flats, an extension of the run game, but Texas Tech has yet to move under center.
September, 5, 2010
9/05/10
3:35
PM ET
By
ESPN.com staff
| ESPN.com
LUBBOCK, Texas -- Texas Tech has just taken the field in red jerseys and white pants, and there's little to note in pregame, but it has to be a special debut for true freshman quarterback
Scotty Young
.
Not everybody can suit up for their first college game ever and see fans everywhere wearing his jersey.
Of course, there's a reason for that. Young wears No. 15, the same number today's starting quarterback,
Taylor Potts
wore last season. Potts made a switch to No. 12 before this season and a red No. 12 jersey sounds like a tough find in Lubbock.
Coach Tommy Tuberville's requested red out looks like a success, as the vast majority of the crowd got the memo and followed the new head man's orders.
Tuberville led the team onto the field in a red polo shirt with his guns very clearly up.
Time to kick it off. After missing out on a gameday atmosphere yesterday, I'm ready. I'm sure Texas Tech's players, fans and coaches are, too.
September, 5, 2010
9/05/10
1:54
PM ET
LUBBOCK, Texas -- The students are lining the south end zone in a newly renovated Jones AT&T Stadium, and the rest of the fans are outside tailgating as we're a little under two hours from kickoff for the final game of the Big 12's opening weekend.
Starting quarterback
Taylor Potts
just left the field after a brief warm-up.
There's not a cloud in sight from up here in the press box, and a cool morning has given way to a 90-plus degree afternoon set for football. The Tommy Tuberville era is not quite here yet, but it's fast approaching, and the Tuberville-requested red shirts around the stadium and the crowd surrounding the players for the inaugural "Raider Walk" suggest anticipation is high. Not to mention the record-breaking season ticket sales.
I'll be here from start to finish with updates and plenty to follow. Tune in to today's game at 3:30 ET on ESPN and follow along right here.