November, 5, 2013
Nov 5
10:00
AM ET
NORMAN, Okla. -- Oklahoma football players aren't used to this scenario.
When the Sooners walk down the visitors tunnel Thursday night, they will emerge onto the turf at Floyd Casey Stadium as clear underdogs. Baylor hosts OU in Waco, Texas, in a battle of Top 10 teams that could end up as the game that decided the Big 12 title race when all is said and done.
[+] Enlarge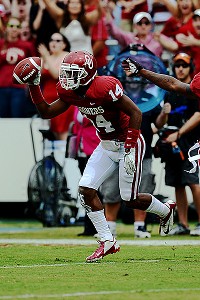 Matthew Emmons/USA TODAY SportsSenior Aaron Colvin believes the Sooners play well when doubted, as long as they stay focused.
"It becomes a challenge, makes the game more exciting," safety
Quentin Hayes
said of being an underdog. "We just have to go out and play Sooner football. It is what it is."
Odds makers have made the Bears two touchdown favorites, as Baylor has looked as good as any team in the nation while reeling off a 7-0 start.
Even though they can count the number of times they've entered a game as underdogs on one hand, several Sooners seem to cherish the underdog role.
"I think this team thrives off the underdog role," defensive end
Geneo Grissom
said. "We almost feel disrespected being an underdog. We feel like we can play with anyone in this conference. It motivates us and helps us thrive."
Under Bob Stoops the Sooners have excelled in similar situations. OU is 4-2 in road games against AP top 10 teams under Stoops, including a 3-1 mark since 2010. The Sooners also are undefeated when facing back-to-back AP Top 10 opponents, having swept Kansas State and Nebraska in 2000 and Texas and Iowa State in 2002 under Stoops. OU defeated then-No. 10 Texas Tech 38-30 in its last game, Oct. 26.
Simply put, when questions about their chances to win arise, the Sooners tend to rise to the occasion.
"I think we do," cornerback
Aaron Colvin
said. "I feel like we play well when we're in that underdog role. Personally, I love the underdog role. I feel like I've been in it my whole life."
Several times in recent years, the Sooners have taken their game to another level when many doubted their chances to win. Florida State (2011), Oklahoma State (2009, 2010) and Kansas State (2011) are prime examples. OU won those four games by an average of 21 points.
Against No. 12 Oklahoma State in 2009, the unranked Sooners were winding down a five-loss regular season with a makeshift offensive line, yet they shut out the Cowboys in Norman, their 27-0 win dashing OSU's hopes of a BCS berth. In Bedlam 2010, No. 9 Oklahoma State was expected to win again before the No. 13 Sooners dashed their Big 12 title hopes with a 47-41 win in Stillwater. In 2011, top-ranked OU went to Doak Walker Stadium to earn a 23-13 win over No. 5 FSU in a matchup of Top 5 teams. Later that season, the team traveled to Manhattan, Kan., with a No. 9 ranking after having lost to Texas Tech and hammered No. 8 Kansas State, 58-17.
Don't go putting the much-anticipated matchup with Baylor in the win column, however. The past three times OU has been an underdog, they've proved their doubters right. In Bedlam 2011, No. 3 Oklahoma State got its revenge for the previous two seasons with a dominant, 44-10 win. Last year, No. 5 Notre Dame pulled away from the Sooners in the fourth quarter of a 30-13 win, and No. 9 Texas A&M dominated the second half of its 41-13 Cotton Bowl triumph to hand OU two of its three 2012 losses.
But make no mistake -- several Sooners feel disrespected by being the underdog heading into any game.
"I do feel pretty disrespected," Colvin said. "Not necessarily because of their opinion or them picking us to lose, but just some of the things they might say about us, or the point deficit they think we might lose by. Whatever it is, we can't worry about it, and that's my job as a leader to make sure we aren't worried about it."
October, 22, 2013
Oct 22
10:00
AM ET
NORMAN, Okla. -- Texas Tech will bring the nation's No. 10 team, an explosive offense, charismatic coach and sizable chip on its shoulder when the Red Raiders visit Oklahoma Memorial Stadium on Saturday.
Yet, it's hard to imagine a better time for Oklahoma to face Texas Tech.
[+] Enlarge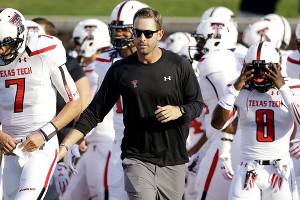 AP Photo/LM OteroSomething has to give when Kliff Kingsbury leads No. 10 Texas Tech and its high-flying offense against No. 15 Oklahoma and its stout pass defense.
The Sooners' run defense is in shambles with Texas and Kansas having exposed OU's biggest defensive weakness in back-to-back weeks. OU allowed 255 rushing yards to UT and 185 rushing yards to KU as its defense tries to replace senior linebacker
Corey Nelson
. Those two teams averaged 5.13 yards per carry on first down as the Sooners had no answers for their running games.
OU's pass defense is another story. As bad as it's been when opponents turn to the ground during the past few weeks, the Sooners defense has been relentless and productive when teams try to throw. OU leads the nation allowing 149.71 passing yards per game and ranks second nationally in yards per pass attempt at 5.27.
"It plays right into our hands," safety
Quentin Hayes
said of the Red Raiders coming to Norman. "Because we have one of the best pass defenses in the country and they're a passing offense."
In other words, the Sooners are lucky it's not Kansas State, or even Baylor, set to step on the Oklahoma Memorial Stadium turf on Saturday. And yet there's nothing easy about facing the Red Raiders offense, which leads the Big 12 and ranks No. 2 nationally with 416.43 passing yards per game but ninth in rushing offense at 131.71 rushing yards per game.
So Saturday's matchup will be strength against strength, may the best unit win.
"Anytime you play an offense like this, that is explosive, it's always exciting as a defensive player to try to go out and stop them," cornerback
Aaron Colvin
said.
OU's secondary has become a strength after entering the season as a potential weakness. Redshirt freshman cornerback
Zack Sanchez
has helped supplement Colvin at the other cornerback, while nickelback
Julian Wilson
and safeties
Gabe Lynn
and Quentin Hayes have played well. Colvin was the only returning starter who began the season at the same position he started in 2012.
Yet, as confident as the Sooners feel about their secondary, they know the Red Raiders will bring passing excellence they haven't seen in their first six games.
"We've never been tested like we're going to be on Saturday," defensive coordinator Mike Stoops said. "We would be fools to think that."
The past two games have exposed the weakness of OU's new 3-3-5 defensive scheme with the Longhorns and Jayhawks using power running games to have success on the ground against the Sooners' undersized personnel. This weekend the strength of the Sooners' three-man front comes into play as the additional speed and athleticism the scheme brings to the table will be critical as OU tries to slow the Red Raiders offense.
"There's nothing that's perfect for everything but this is part of the reason we wanted to be more multi-dimensional," Stoops said. "Regardless of what you do, you have to be able to match up with their skill, their quarterbacks, their offensive line."
Texas Tech coach Kliff Kingsbury will undoubtedly have a twist aimed at taking advantage of OU's subpar run defense and Stoops will have a plan to make things difficult for Red Raiders quarterbacks
Davis Webb
or
Baker Mayfield
.
"Their defense schematically has changed a bunch from last year," Kingsbury said. "He does a good job bringing people from everywhere, very athletic, fly around, fundamentally sound. It will be a very, very good challenge for a young quarterback."
The winner could be determined by which coaching staff and team makes the best in-game adjustments.
"Coach [Stoops] has made a lot of changes, given us a lot of options," Colvin said. "Texas Tech is a different team, they like to throw it a lot. They'll probably throw the ball more than they run but you never know. Whatever they do we've got to be ready for it."
September, 25, 2013
Sep 25
4:00
PM ET
On Saturday, Oklahoma will make its first trip to Notre Dame Stadium in 14 years. The Irish won that 1999 contest, 34-30, and have won eight others against the Sooners, as they hold a 9-1 all-time mark in the series. Last season's game turned on several big Notre Dame plays on both sides of the ball, lifting the Irish to a 30-13 road win and an 8-0 record.
What will happen this time around? We turn to Big 12 reporter Brandon Chatmon and Notre Dame reporter Matt Fortuna to preview this weekend's tilt in South Bend, Ind.
Matt
: Brandon,
Blake Bell
earned the noble distinction last year of becoming the first player to rush for a touchdown against Notre Dame. That was eight games into the Irish's season, and this year they have already given up two scores on the ground. Obviously, Bell has a lot more on his plate this time around. And he is making his first career road start, in a stadium where the Irish have won 10 straight games. What can Notre Dame's defense expect to see from Bell on Saturday?
Brandon
: The Irish will actually have to account for the possibility they will see No. 10 throw the ball when he's behind center. Notre Dame will have to be prepare for Bell to test its secondary with his arm more than his feet, and he showed he might be a better passer than people think in his first start against Tulsa. Undoubtedly, the windows will shrink against ND but the fact remains that the Irish will have to prepare for Bell, who could test them with his arm and feet, unlike their preparations for
Landry Jones
, who doesn't put fear into the heart of any defense with his legs. The overriding question in Norman is: how have the Irish changed in the trenches after manhandling OU in Norman last season? Can they do that again?
Matt
: The depth of Notre Dame's defensive line took some hits this offseason -- first with the transfer of
Eddie Vanderdoes
to UCLA, then with the ACL tear suffered by
Tony Springmann
. Still, the front-line guys remain very dangerous, though the numbers have not exactly depicted that through four games. The Irish's opponents have done a good job of establishing a quick-strike passing game, effectively negating the strengths of the Irish's defensive linemen. A mobile quarterback like Bell will likely present more challenges Saturday, and it us up to the Irish to continue to adjust. The other side is a bit of a mystery as well. Notre Dame has struggled to establish much of a run game so far, but its offensive line has done a tremendous job of keeping
Tommy Rees
standing up straight through four games, and the offense has again limited the turnovers. Rees and this year's group of running backs just don't pose the kind of threat that Everett Golson and last year's backfield did, so it's hard to imagine the Irish running to set up the deep pass in the same way they were able to last year, when they connected with
Chris Brown
for a game-changing 50-yard strike in the fourth quarter. They may have more weapons at receiver this year, though. How does Oklahoma's pass coverage match up with
TJ Jones
,
DaVaris Daniels
and company?
Brandon
: Well, Matt, the Sooners' secondary would like to think it's ready for the challenge against Rees and Notre Dame's receivers. All-Big 12 cornerback
Aaron Colvin
won't be a concern, but the rest of the secondary is somewhat untested. Senior
Gabe Lynn
is starting at safety, a new position, after spending his first three seasons at nickelback and corner, and he has played well. OU's three new starters, nickelback
Julian Wilson
, cornerback
Zack Sanchez
and safety
Quentin Hayes
, have looked good but haven't yet played a quarterback who will capitalize on their mistakes. That said, the OU secondary, without question, is faster and better in coverage than the 2012 version. Whether it will it hold up mentally in a hostile environment is the unanswered question, so I can't wait to see how it all plays out. Anyway, who do you like this weekend?
Matt
: Notre Dame's defense played its best game Saturday, responding to Brian Kelly's mid-week challenge. But I'm just not sure it has completely turned the corner yet. I think the Irish are getting Oklahoma at a more opportune time, as Bell is making just his second start and the Sooners have yet to really be tested. But I have not seen enough so far that makes me believe Notre Dame will be able to handle everything Oklahoma will throw at it offensively. Oklahoma has had one more week to prepare, and I sense a bit of wounded pride coming from the Sooners after the Irish out-muscled them late last year and, eventually, ended up ruining the their BCS-bowl hopes. How do you see this one unfolding?
Brandon
: I think everything falls on the shoulders of the quarterbacks. Rees is much more experienced than Bell and I have a feeling that's going to show itself on Saturday as the Irish make Bell uncomfortable in the pocket and force a couple of mental mistakes from the junior during his first road start. OU's defense will hold up and play well, giving the Sooners the chance to remain in the game no matter what happens offensively. But turnovers will be the difference and ND will win the turnover battle and win a close, hard-fought game at home.
September, 23, 2013
Sep 23
10:00
AM ET
NORMAN, Okla. -- Is Oklahoma a BCS title contender? Or a pretender?
Those questions will start to get answered on Saturday when the Sooners visit South Bend, Ind., to take on Notre Dame.
[+] Enlarge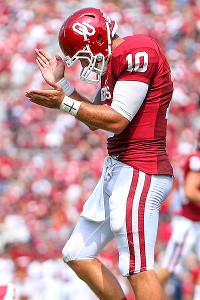 Kevin Jairaj/USA TODAY SportsIf Blake Bell can help the Sooners control tempo and execute in the red zone, OU's chance of winning at Notre Dame increases.
Turnovers, third down efficiency and sacks are obvious statistics that point to the eventual winner. But here are five overlooked stats to keep on eye on if the Sooners hope to knock off the Fighting Irish.
Rush attempts:
OU will want to establish the running game and be much more balanced than it was during its 30-13 loss to ND in Norman last season. The Sooners passed the ball 52 times and ran 24 times in that defeat.
Why it matters:
If OU's rushing attempts surpass 35, that likely means the Sooners are having success on the ground, particularly on first down. Four- or five-yard gains on first down will increase the chances of second down rushes. One- or two-yard gains will not. If the Sooners can run the ball, their odds of winning increase significantly.
Tackles for loss:
The Sooners need to play the majority of the game on Notre Dame's side of the line of scrimmage. OU had two tackles for loss against the Fighting Irish in 2012 as Notre Dame was never really taken out of its comfort level despite starting a redshirt freshman quarterback in Everett Golson.
Why it matters:
Mike Stoops' defense has been much more aggressive this season with more blitzing and a one-gap scheme along the defensive line. Those moves were made to get more penetration into opponent's backfield. If OU has five or more tackles for loss on Saturday, that's a great sign. If not, its defense could be losing the battle in the trenches.
Tackles recorded by Sooners' linebackers:
OU's leading tacklers after three games are
Corey Nelson
and
Frank Shannon
. Last season, the Sooners' leading tacklers were safeties Tony Jefferson and Javon Harris. Jefferson and cornerback
Aaron Colvin
combined for 21 tackles in OU's loss to ND last year, a sign that the defensive line and linebackers were subpar at best.
Why it matters:
Nelson and Shannon have played extremely well, along with pass rush specialist
Eric Striker
. If Nelson and Shannon are making plays sideline-to-sideline and Striker is getting pressure on ND quarterback
Tommy Rees
, the Sooners defense will have the chance to dominate the game. If OU safeties
Gabe Lynn
and
Quentin Hayes
are making the majority of the tackles, that means Nelson and Shannon aren't stepping up their game against the run or pass.
Red zone efficiency:
People often talk about how the Irish came into OU's house and dominated the Sooners in their last meeting. OU was 1 of 5 in the red zone in that loss, a negative state in a game that was tied 13-13 with just under 12 minutes left in regulation. Clearly, the Sooners weren't that far away from leaving Memorial Stadium with a win. Worse yet, they were 1 of 3 in goal-to-go situations that evening.
Why it matters:
Scoring points and capitalizing on opportunities decide games, particularly games between two quality opponents. The Sooners can't expect to win if they make consistent trips into the red zone and don't come away with points like they did in 2012.
Blake Bell
scored OU's lone touchdown last season, so the Sooners should be able to come up with ways to use Bell's skill set to make things harder on ND's defense. OU was 4 of 7 in the red zone and 3 of 4 on goal-to-go situations against Tulsa on Sept. 14 -- Bell's lone start this season -- but they'll need to be even more efficient against the Irish.
Time of possession:
There are several games where time of possession is irrelevant in this era of college football. This game will not be one of them. ND won the time of possession battle in 2012, as the Irish generally controlled the pace of the game.
Why it matters:
If OU can control the ball and maintain possession, it'll help take the crowd out of the game, potentially making things a lot easier in Bell's first collegiate road start. Obviously, if the Sooners can score five touchdowns on drives of two minutes or less to start the game, they'll take it. But the much more realistic scenario is to try to control the pace of the game by maintaining possession, much like the Irish did a year ago.
September, 9, 2013
Sep 9
3:00
PM ET
Here's a look at some of the Big 12's unsung heroes in Week 2.
Entire offensive line, Baylor:
Anytime you gain 781 yards -- including 329 rushing yards with just 13 yards lost rushing -- the big guys up front deserve a lot of credit. Led by All-America candidate
Cyril Richardson
, the Baylor offensive line is better than people think and has been for several seasons. As explosive as BU's offense is, it would struggle to get off the ground without a quality group of linemen.
Running back Darrian Miller, Kansas:
Looks like the Jayhawks found another one. KU already features terrific running backs in
James Sims
and
Tony Pierson
, but Miller showed he's a name to watch with 14 carries for 72 yards in the Jayhawks' 31-14 win over South Dakota. If Miller continues to emerge, it will allow Charlie Weis to get even more creative when divising ways to get the ball to his various playmakers in Lawrence.
Receiver Tramaine Thompson, Kansas State:
His two-reception, 46-yard performance on offense wasn't earth-shattering. Yet Thompson single-handedly sparked the Wildcats in KSU's 48-27 win over Louisiana-Lafayette. He opened the third quarter with a 94-yard kickoff return for a touchdown., then returned ULL's next punt 79 yards to the ULL 3-yard line. Thompson finished with 234 all-purpose yards.
Safety Quentin Hayes, Oklahoma:
Sooners defensive coordinator Mike Stoops has praised the athleticism and range of Hayes in the OU secondary. The junior finished with eight tackles and a forced fumble in OU's 16-7 victory over West Virginia. His versatility and coverage skills could help make the Sooners' secondary even better than last year's unit.
Safety Zack Craig, Oklahoma State:
The senior safety quietly played a key role in the Cowboys' 56-35 win over Texas San-Antonio. Craig, a backup safety, finished with seven tackles and two pass breakups, including a pass breakup that led to a
Shaun Lewis
interception. At one point, the Pokes were without both starting safeties because of injury and Craig stepped in to fill the void. He brings a veteran presence to OSU's secondary and special teams.
Receiver Mike Davis, Texas:
Overshadowed by the Longhorns' defensive collapse in Provo, Davis is off to a superb start in his senior season. He had eight receptions for 114 yards and two touchdowns in UT's 40-21 loss to BYU. If Davis continues to consistently produce, it should open up opportunities for UT's running backs.
Defensive tackle Terrell Lathan, TCU:
Lathan stepped in and stepped up after
Chucky Hunter
was injured during TCU's 38-17 win over Southeastern Louisiana. The sophomore had four tackles, including two tackles for loss and one sack. If the backup defensive lineman continues to progress, he could provide quality depth along the defensive front for TCU.
Receiver Bradley Marquez, Texas Tech:
The junior had just two receptions for 94 yards and one touchdown in the Red Raiders' 61-13 victory over Stephen F. Austin. But Marquez could be a key piece in Kliff Kingsbury's offense with defenses focusing on
Eric Ward
,
Jace Amaro
and
Jakeem Grant
. Marquez has the speed and athleticism to make defenses pay if they leave him one-on-one.
Receiver Kevin White, West Virginia:
He didn't play a perfect game in his first outing in a WVU uniform, but the junior college transfer showed signs he could emerge as a playmaker who will test Big 12 defenses this season. He finished with seven receptions for 80 yards and one fumble in WVU's 16-7 loss to Oklahoma. White is big, athletic and physical, so it won't be easy for Big 12 defenses to match up with him, giving Dana Holgorsen another one-on-one mismatch to exploit in 2013.
Note: Iowa State did not play in Week 2.
August, 3, 2012
8/03/12
11:30
AM ET
By
ESPN.com staff
| ESPN.com
On "College Football Live," Jake Trotter of
SoonerNation
breaks down what Oklahoma fans can realistically expect from reinstated players Quentin Hayes, Jaz Reynolds and Trey Franks.
August, 1, 2012
8/01/12
2:52
PM ET
Really sad, surprising news out of Oklahoma today.
Here's our news story
:
Oklahoma senior Ben Habern's career is over.

The Sooner center won't return to the team after offseason neck surgery that fused together two vertebrae, despite expectations that he would return at full strength this fall.

...

"Our coaching staff knows this was a difficult decision for Ben," [coach Bob] Stoops said in a statement. "Ben has been a consummate leader for our team, both on and off the field. We appreciate the toughness that Ben has displayed, and we wish him the very best as he completes his education at OU."
First things first: Absolutely hate to see this for Habern. I covered the Sooners for The Oklahoman during Habern's freshman year, and he's consistently been a great guy to cover from that point through just last week, when he was chosen as a representative for Oklahoma at Big 12 Media Days.
Here's
the video he took time to shoot for us
. (Stick around until the end).
It's truly shocking news. Habern must have been thinking about quitting, but didn't know until just recently. If Oklahoma knew Habern's status was in doubt, it's highly unlikely he would have represented the Sooners at media days.
Habern's dealt with neck and back issues throughout his career, which also featured a broken ankle in 2009 and a broken right arm last season that forced him out of five games.
His experience and leadership simply can't be replaced this season. Oklahoma's fantastic offensive line takes a huge hit with his loss.
As for his spot on the depth chart? Look for guard Gabe Ikard (one of the league's best overall linemen) to slide over to play center, and junior Adam Shead to move up and replace Ikard at guard. The Sooners can handle that. Don't be surprised if freshman Ty Darlington gets some time at center, too.
Still, Habern has been around for everything coming into this year, and been a stalwart at center for the past three seasons. He saw the 2009 collapse up close. He was integral in the rebound for a Big 12 title in 2010. He learned from the pressure of 2011.
He talked about his neck surgery at Big 12 media days last week, but gave zero indication he was even thinking about quitting.
Now, he has.
It's a sad story, no doubt, but Oklahoma has no choice but to move on.
As Habern moves on, here's hoping for the best for him. I'm confident he'll excel in his future endeavors.
Suspended players reinstated
In Wednesday's statement, Stoops also said that receiver Trey Franks, defensive back Quentin Hayes and receiver Jaz Reynolds were each reinstated from offseason suspensions, but only for preseason practice. Their availability for Oklahoma's season opener at UTEP on Sept. 1 was still undecided. Receiver Kameel Jackson was not reinstated, and his suspension will be re-evaluated "at the conclusion the current academic session."
Stoops also confirmed previous reports that wide receiver
Courtney Gardner
and offensive lineman
Will Latu
would not be available this season.
May, 10, 2012
5/10/12
8:30
AM ET
Four Oklahoma players have been suspended indefinitely for violations of team rules, which could leave the Sooners with just one receiver on the roster for the season opener who has caught a pass.
Coach Bob Stoops
announced the suspensions
late Wednesday night.
Receivers
Jaz Reynolds
,
Trey Franks
and
Kameel Jackson
and reserve safety
Quentin Hayes
are the players involved.
No details of the suspensions were made public, but the most troubling aspect? Two of the suspended players have been disciplined before.
This isn't the first time Reynolds has run into trouble with Stoops. Reynolds was suspended twice in 2010, including once after he made insensitive comments on Twitter following a campus shooting at the University of Texas.

This isn't the first time Stoops has punished Franks, either. After starting OU's first two games last season, Franks was suspended two games for what Stoops termed multiple violations of team rules. Franks ended the season with 22 catches for 196 yards.

Jackson, a true freshman last season who started for the Sooners in the Insight Bowl, tweeted earlier in the week that he was transferring from OU.
That's got to be frustrating for Stoops, but there's no doubt it's just as frustrating for quarterback
Landry Jones
, who's about to embark on an important season for his own career.
He's not getting much help from his teammates.
This story should be interesting to watch, and will have a big impact on the Sooners' Big 12 and national title hopes. Oklahoma was already a narrow favorite in the Big 12, but will the suspensions make way for another contender -- West Virginia, Kansas State, TCU, Texas perhaps? -- to grab the role of favorite come fall?
March, 23, 2012
3/23/12
10:30
AM ET
Time to continue our series breaking down each team's best and worst positions entering the 2012 season. Oklahoma is up next.
More spring superlatives:
Strongest position: Quarterback

Landry Jones
can put up big numbers, but it'd be interesting to see what
Blake Bell
could do, too, if an offense had to depend on him.
Bell rushed for 13 touchdowns in the Belldozer package in the second half of the season, but he can throw the ball, too. OU's strategy is sound: If you're throwing it, why take the ball out of Jones' hands? It should be interesting to see how (if?) the Belldozer is used in 2012, but Jones' shortcomings aside, few programs can boast a three-year starter and Heisman contender at quarterback.
Oklahoma can, and the Sooners exercise their biggest strength often. Jones threw the ball 562 times last year -- only three quarterbacks in college football had more attempts.
Weakest position: Safety
The potential for this spot is high, mostly because new defensive coordinator Mike Stoops seems intent on moving nickel back
Tony Jefferson
back to free safety, a more traditional spot.
Jefferson, though, has been a major impact player at nickel back, and Stoops' willingness to move him says plenty about the need at safety. That and the game tape from losses to Baylor and Oklahoma State late in the season.
Javon Harris
had high-profile struggles in the loss to Baylor, but we'll see how
Aaron Colvin
and
Quentin Hayes
fit in to the safety spot alongside Jefferson, too.
Jefferson has All-America potential, and he'll be playing a position he's more used to. But for now, giving up big plays has still been a weakness for this defense. Improvement is needed at safety.
January, 11, 2012
1/11/12
4:44
PM ET
In five seasons with Mike Stoops coaching the secondary, Oklahoma had five defensive backs named All-America.
Since? The Sooners have had just one.
[+] Enlarge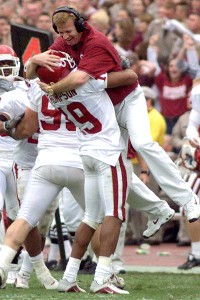 AP Photo/J. Pat CarterMike Stoops will return to Oklahoma as the secondary coach and co-defensive coordinator.
Sources have told ESPN's Joe Schad that
Stoops will rejoin the OU staff
, with an announcement coming as soon as today. The former Arizona coach will return to his old title of secondary coach and co-defensive coordinator where he served the Sooners from 1999-2003.
Current secondary coach Willie Martinez is expected to take a job elsewhere. Martinez has been connected to jobs at Kansas, Illinois and Auburn.
The Sooners are counting on Stoops to bring some bite back to a secondary that has been up and down since he left.
Just last season, Oklahoma ranked No. 79 in pass defense. The Sooners also surrendered a school-record 616 yards in the loss to Baylor, including 485 through the air.
After 1999, the Sooners never finished lower than No. 25 in pass defense under Stoops, and in his final season in '03, OU ranked No. 2 against the pass, allowing only 146 yards per game.
Of course, Big 12 offenses have changed since Stoops left OU. The spread has made the Big 12 perhaps the top passing league in college football.
But in the pass heavy Pac-12, Arizona ranked No. 45, 34 and 23 nationally against the pass entering this season. The Wildcats finished this season ranked No. 119, but Stoops was fired after a 1-5 start midway through the season.
In Norman, Stoops will have some cogs already in place in the secondary. But he'll have some work to do, too. The Sooners have a trio of foundational pieces in nickelback Tony Jefferson, safety Aaron Colvin and cornerback Demontre Hurst. All three players have performed at a high level as starters the last two seasons.
The trick for Stoops will be shoring up the rest of the secondary by finding another reliable corner and safety.
After Jamell Fleming got hurt, Texas Tech exploited OU's lack of depth at corner and torched Fleming's backup Gabe Lynn en route to a 41-38 win.
Safety Javon Harris, meanwhile, got beat time after time at Baylor, as Robert Griffin III threw for four touchdowns to give the Bears a 45-38 victory.
Stoops could give both Lynn and Harris another chance this spring. Or he could turn to others such as junior-college cornerback
Kass Everett
or up-and-coming safety Quentin Hayes.
Whatever the case, there's no doubting Stoops is an excellent secondary coach and defensive mind. Roy Williams, J.T. Thatcher, Brandon Everage, Antonio Perkins and Derrick Strait all thrived under his tutelage.
Chances are, Jefferson, Colvin, Hurst and the others will, too.
December, 26, 2011
12/26/11
1:30
PM ET
By
ESPN.com staff
| ESPN.com
SoonerNation has more on the Oklahoma football program:
Brandon Chatmon writes
: Oklahoma freshman receiver Kameel Jackson was rushed into playing this season due to injuries. Now during bowl practices, he's looking to cement a key role for the Sooners in 2012.
Bob Przybylo's Mailbag

: Don't doubt Kass Everett's commitment
Jake Trotter writes
: Quentin Hayes, Kameel Jackson among bowl practice standouts
February, 1, 2011
2/01/11
1:30
PM ET
ESPN The Magazine had a fascinating feature
looking back at the past 25 No. 1 high school recruits

, where they are now and what the ranking meant to them. With apologies to
Vince Young
, there aren't a ton of Big 12 talents on the list, but there have been plenty of great recruits to come through the Big 12. We took a look on Thursday at
how the All-Big 12 team stacked up as recruits
, and you saw quite a mixed bag.
Well, it's the same for the recruits who came to campus with high rankings and high profiles. Going back to 2006, here's how every Big 12 commit from the ESPNU 150 turned out. We'll eventually get to the current class in 2011, around signing day, but here's how the 2010 class breaks down. This class is only a year into their careers, so while some have shown more potential than others, it's ridiculous to be too discouraged by anyone on this list, or make any truly meaningful judgments.
No. 2: Jackson Jeffcoat, DE, Texas.
Got off to fast start in 2010 before being sidelined and slowed by ankle injury. Finished with 13 tackles, five tackles for loss, 2.5 sacks and one fumble recovery. Only three tackles after season's first four games.
[+] Enlarge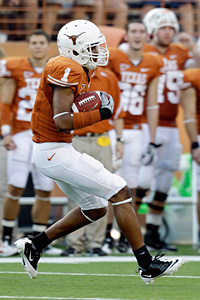 AP Photo/Eric GayTexas freshman wide receiver Mike Davis finished with 47 receptions this past season.
No. 4: Jordan Hicks, LB, Texas.
Ohio prospect chose the Longhorns over in-state power Buckeyes. Played in 11 games, including seven at linebacker. Finished with 21 tackles in first year, including 11 in a win against Nebraska.
No. 13: Mike Davis, WR, Texas.
No catches in the season opener, and missed the Red River Rivalry with an ankle injury, but ranked second on the team with 47 catches for 478 yards and two touchdown catches, tied for most on the team.
No. 14: Taylor Bible, DT, Texas.
Redshirted.
No. 15: Ahmad Dixon, S, Baylor.
Waco native forced a fumble and had 16 tackles.
No. 18: DeMarco Cobbs, ATH, Texas
. Played special teams in 10 games, and appeared at defensive back in one game. Made four tackles.
No. 20: Darius White, WR, Texas.
Played in seven games at wide receiver and one at special teams. Caught one pass for five yards against Florida Atlantic.
No. 21: Tony Jefferson, S, Oklahoma
. Won the starting nickelback job, finishing the season with 65 tackles, two interceptions and two sacks. Named co-Big 12 Defensive Freshman of the Year.
No. 46: Ashton Dorsey, DT, Texas.
Played in seven games, made one tackle.
No. 48: Austin Haywood, TE, Oklahoma.
Appeared in 11 games, mostly on special teams. Made three tackles.
No. 62: Corey Nelson, LB, Oklahoma
. Switched to the Sooners from Texas A&M on Signing Day 2010. Appeared in all 14 games, making 21 tackles, including 2.5 for loss. Blocked a punt vs. A&M.
No. 65: Blake Bell, QB, Oklahoma.
Redshirted.
No. 72: Reggie Wilson, DE, Texas.
Played in 10 games. Made five tackles.
No. 73: Chris Jones, WR, Texas.
Redshirted.
No. 75: Shaun Lewis, LB, Oklahoma State.
Became a starter and made 58 tackles and eight tackles for loss. Intercepted three passes, including two against Oklahoma, returning one for a touchdown. Named co-Big 12 Defensive Freshman of the Year.
No. 77: Quentin Hayes, S, Oklahoma.
Redshirted.
No. 83: Luke Joeckel, OT, Texas A&M.
Enrolled early and was the Aggies' starting left tackle by the spring game. Earned All-Big 12 honorable mention.
No. 86: Tevin Jackson, OLB, Texas.
Kept off the field by eligibility issues and appeal is still pending.
No. 90: Jake Matthews, OT, Texas A&M.
Became Aggies' starting right tackle midway through the season.
No. 114: Aaron Benson, LB, Texas
. Redshirted. Cousin of former Longhorn Cedric Benson.
No. 122: Carrington Byndom, CB, Texas.
Played in 10 games at defensive back and special teams. Made 11 tackles, all solo.
No. 125: Toney Hurd Jr., CB, Texas A&M
. Appeared in 12 games and made nine tackles.
No. 129: Brennan Clay, RB, Oklahoma.
Carted off field as a precaution in win against Florida State and missed next two games. Finished with 127 yards on 36 carries.
No. 134: Adrian Phillips, ATH, Texas.
Played in 10 games, including five at defensive back. Made eight tackles.
No. 141: Trey Hopkins, OG, Texas
. Played in 11 games and made three starts at left guard.
No. 142: Justin McCay, ATH, Oklahoma.
Redshirted.
No. 147: Andrew Rodriguez, OG, Nebraska
. Appeared in five games as a backup left guard, becoming the first true freshman Nebraska lineman to play since 2006.
August, 5, 2009
8/05/09
5:23
PM ET
By
Tim Griffin
| ESPN.com
Posted by ESPN.com's Tim Griffin
The ESPNU 150 for the Class of 2010 has been released and Big 12 schools have fared well in early commitments.
Texas has snagged 10 early commitments to lead the country, followed by nine for Florida and seven by LSU.
The South Division's domination over the North has continued into early recruiting with 18 of 19 Big 12 commitments headed to South schools.
Oklahoma has four commitments, Texas A&M has three and Baylor and Nebraska have one apiece.
The Baylor commitment of Waco native Ahmad Dixon, the nation's No. 15 player who turned down Texas to stay at home, indicates the growing recruiting prowess of Coach Art Briles.
Here's a look at the Big 12 representatives on the list:
Texas: No. 14 Taylor Bible, DT, Denton (John H. Guyer), Texas; No. 44 Ashton Dorsey, DT Tyler (John Tyler), Texas; No. 51 Aaron Benson, OLB, Cedar Hills, Texas; No. 73 Chris Jones, WR, Daingerfield, Texas; No. 100 Reggie Wilson, DE, Haltom City, Texas; No. 104 Adrian White, CB, DeSoto, Texas; No. 105 Tevin Jackson, OLB, Garland, Texas; No. 121, Carrington Byndom, CB, Lufkin, Texas; No. 128 Adrian Phillips, ATH, Garland, Texas; No. 141, Trey Hopkins, G, Houston (North Shore).
Oklahoma: No. 67 Blake Bell, QB, Wichita (Bishop Carroll), Kan.; No. 80 Quentin Hayes, S, Lancaster, Texas; No. 124 Sheldon McClain, WR, Cibolo (Byron M. Steele), Texas; No. 125 Brennan Clay, RB, San Diego (Scripps Ranch), Calif.
Texas A&M: No. 46 Corey Nelson, OLB, Dallas (Skyline); No. 66 Jake Matthews, OT, Missouri City (Lawrence E. Elkins), Texas; No. 87 Luke Joeckel, OT, Arlington, Texas.
Baylor: No. 15 Ahmad Dixon, S, Waco (Midway), Texas.
Nebraska: No. 109 Andrew Rodriguez, G, Aurora, Neb.
Both Texas and Oklahoma hope to improve their classes as they remain in the hunt for several other top prospects.
The Longhorns and Sooners are among the finalists for the No. 1 ESPNU 150 prospect, Jackson Jeffcoat, a defensive end from West High School in Plano, Texas, and the No. 2 prospect, Jordan Hicks, an outside linebacker from West Chester, Ohio.
And the Sooners are also among the finalists for the No. 4 prospect, Seantrel Henderson, a massive tackle from Cretin-Durham High School of St. Paul, Minn., and No. 6 prospect Michael Dyer, a running back from Little Rock Christian Academy.
BIG 12 SCOREBOARD
Saturday, 12/21
Monday, 12/23
Tuesday, 12/24
Thursday, 12/26
Friday, 12/27
Saturday, 12/28
Monday, 12/30
Tuesday, 12/31
Wednesday, 1/1
Thursday, 1/2
Friday, 1/3
Saturday, 1/4
Sunday, 1/5
Monday, 1/6
Tweets from @ESPNCFB/big-12