Big 12:

Raimond Pendleton
May, 10, 2011
5/10/11
1:15
PM ET
Former Kansas coach Mark Mangino hadn't spoken publicly about his dismissal in the 17 months since it occurred. Finally, he granted a
lengthy, wide-ranging interview
to the New Castle (PA) News back in his hometown.
On not speaking out:
"Our doorbell kept ringing with people wanting to interview me ... But Mary Jane and I had decided that the right thing to do was to just walk away with our heads held high and not burn any bridges. I learned long ago that you're never going to win trying to defend yourself."
[+] Enlarge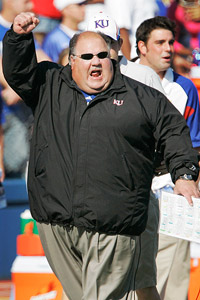 AP Photo/Orlin WagnerMark Mangino compiled a 50-48 record at Kansas.
He's probably right about that. It was the right approach for Mangino, who was replaced by Turner Gill from Buffalo. Everything snowballed pretty badly on him at the end. The intense approach with players flies much more smoothly when coaches' teams are winning BCS games. When it loses seven games to end a season, people get much less tolerant, and stories like the
one from the Kansas parking attendant
can do a lot of damage. If that had surfaced during the 2007 season, it wouldn't have been nearly as serious of an issue. I'm not excusing it, but that's how the world works.
On the infamous Raimond Pendleton YouTube video
(Which I can't link to for obvious reasons. Google is your friend.)
That should never even have been an issue. The conversation was between me and the player. It is an unwritten rule in college football that video is fair game in the coaches' box, but audio is absolutely off limits.

An ambitious young TV reporter from Topeka trying to make a name for himself stood in the end zone and put the audio on the coaches' box, without the knowledge of me or our university. He caught heck from our sports information department, but by then it already was out there.
Mangino's dead on with this one. No one cares about those unwritten rules once it's on YouTube, but people wanted to act like Mangino was the first coach to ever rip into a player with colorful language before. (Pendleton, by the way, deserved at least
some
scolding. I'll leave it to you to decide if Mangino went too far.)
The situation reminds me a bit of the
controversial Tony Jerod-Eddie/
Ben Cotton
situation in the Nebraska-Texas A&M game last year. It was an ugly incident, yes, but people unfamiliar with the game of football wanted to demonize Jerod-Eddie, as if he was some sort of deviant, the first person to ever do what he did underneath a pile. Why? Because cameras caught it. It's not a perfect example, considering Eddie's incident was on the national TV broadcast, but you get the point. It doesn't make it OK, but people overreacted to both situations.
On Arist Wright's allegation that Mangino poked him in the chest during practice:
"I was pretty much blindsided. I honestly didn't know what was going on."
Worth noting that while Wright and other players spoke out against Mangino, others inside the program violated Mangino's gag order on the issues to speak out in support of their coach. Some coaches coach the way Mangino does. Some don't. Some players respond to that kind of coaching. Some don't.
But any time a coach touches a player aggressively, public forum or not, it's going to be brought up, though it rarely results in anybody losing a job over it. I seem to remember a
high-profile coach poking a high-profile player in a high-profile game
this year and after a brief controversy, it pretty much went away.
Mangino's house in Lawrence remains unsold, but he's definitely looking to get back into coaching. Earlier this spring, Mangino was spotted at Oklahoma's spring practice with his former boss, Bob Stoops, but he told the paper he's still focused on finding a head-coaching job, rather than an assistant job.
On where he wants to work in the future:
"I do have some criteria that would need to be met before I would get back into the game. I want to be in a football environment — in other words, I would only go to a place where football has a high level of importance. I don't want to go someplace where football is an afterthought or a hobby, that just would not work for me.
He's laying it on pretty thick there. Kansas is easily the Big 12's biggest basketball school, and despite the football team's success, it never quite got the attention from the fan base it probably deserved. That has to get frustrating after a while.
Mangino's agreement to leave limits him from commenting on the specifics of the situation.
"When I look back on my time at Kansas, I want to remember the positive, not dwell on the negative," he told the paper. "I'm very proud of my time there."
And he should be. Despite the ugly end, there's no denying that winning a BCS bowl at Kansas is a huge accomplishment, something nobody at Kansas had been able to do for nearly four decades before Mangino.
November, 18, 2009
11/18/09
12:00
PM ET
By
Tim Griffin
| ESPN.com
An internal investigation about the discipline methods of Kansas coach Mark Mangino signal the end could be near for his tenure at the school.
Allegations have surfaced that Mangino poked senior linebacker Arist Wright in the chest during a walkthrough practice earlier this season. Several parents have complained to Kansas officials about his treatment of players. And the
Kansas City Star reported
Wednesday that a group of parents of players have organized to air their grievances about Mangino's coaching methods.
Earlier this week, Kansas athletic director Lew Perkins met with the Kansas football team to discuss some of the allegations of Mangino's treatment of student-athletes in the past. It appears that Perkins is trying to document reasons to get rid of his current coach.
Mangino's combustible temper has bubbled over during the years. There was the incident when he was verbally abusive to high-school game officials in 2002 when he thought the opposing team was roughing up his son, Tommy.
Or the time when he thought Texas got the benefit of some favorable officiating to help its BCS cause after a tight 2004 loss. Those complaints got Mangino fined $10,000 by the Big 12.
Or when Raimond Pendleton's theatrics after a punt return for a touchdown resulted in a profanity-laced tirade from Mangino which has more than 500,000 hits on YouTube.
I don't know if there's any truth to the recent allegations. But the history is there.
Mangino is the product of a different coaching era than many of his colleagues. He drove ambulances by night and attended school by day at Youngstown State to get his start. That hard-scrabble existence taught him grit and determination. But it also made him thoroughly convinced in his methods.
It's true that Mangino and Perkins have clashed in the past. As most athletic directors would be, Perkins probably would feel more allegiance to a football coach he had actually hired than one he inherited.
But it still seems hard to believe the Kansas program has floundered so quickly.
The Jayhawks started the season 5-0 and appeared to have a good shot for their first conference title-game appearance. They were ranked No. 16 nationally and second in the nation in offense. Mangino even made a point to pitch
Todd Reesing
as a Heisman Trophy candidate.
In the process, they appeared to have overcome some nasty allegations about a turf war with the basketball team. Sellout crowds were the norm for their games. Plans for a new $34 million addition of luxury boxes were announced. Interest and support for the program had never appeared more intense.
But the early on-the-field success appears now to be an apparition. The Jayhawks' defense struggled mightily in the first conference game against Iowa State. If
Austen Arnaud
didn't overthrow
Darius Darks
late in that game, the Jayhawks might be winless in conference play today.
The Jayhawks haven't been able to run the ball consistently in Big 12 play. Reesing has had some uncharacteristic turnover problems and the Jayhawks have become one of the Big 12's worst teams.
Still, it seemed a little strange when Reesing was benched at Texas Tech late in the game. Reesing remains the most productive quarterback in school history and one of the major reasons for Kansas' remarkable 12-1 season in 2007 that resulted in its only BCS bowl appearance.
Most coaches would have felt some allegiance to the player who was largely responsible for their success. Mangino instead had a quick hook.
At 50-46, Mangino is within two victories of becoming the winningest coach in Kansas history. Only A.R. Kennedy, who went 52-9-4 from 1904-10 has more wins.
After losing the 2003 Tangerine Bowl in his first postseason trip, Mangino's teams have won three straight bowl games. The 2007 Orange Bowl upset over Virginia Tech might arguably be the biggest victory in school history.
That strong season enabled him to win consensus coach of the year honors, honors he was able to parlay into a contract extension through 2012 for $2.3 million per year.
Mangino has feasted on nonconference scheduling over the years and is only 23-39 in Big 12 play. His only winning record was in 2007 during the Orange Bowl season when the Jayhawks went 7-1.
Other than that, the Jayhawks are 16-38 in Big 12 play under Mangino, including nine losses in their last 12 conference games since the middle of last season. Those struggles have also come at a time when the North Division has never appeared more winnable.
Mangino is a good coach. But his story is a cautionary tale for all in his profession.
In today's world, coaches can't berate players like they used to. Physical contact is an absolute no-no.
Mangino appears to have trouble adapting to those societal changes. His career is in serious jeopardy because of it.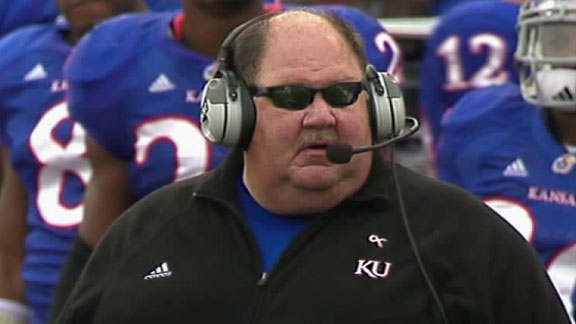 April, 13, 2009
4/13/09
9:17
AM ET
By
Tim Griffin
| ESPN.com
Posted by ESPN.com's Tim Griffin
Todd Reesing and the Kansas offense looked in midseason form at the Jayhawks' spring game Saturday.
Played before an announced crowd at Memorial Stadium of 17,000, the Jayhawks provided the most public glimpse of the spring for a team that is considered one of the primary North Division title contenders heading into the season.
The offense's success came at the expense of a young, developing defense that struggled at times. Some of the struggles could have been because it played against the Kansas offense, but a few more victories could have helped the confidence over the course of the spring.
Here are some specific things we learned about the Jayhawks during their spring work.
Kale Pick showed flashes of becoming the Jayhawks' backup quarterback, but still not enough to enable Kerry Meier to move to wide receiver full-time. That move still may come, but coach Mark Mangino likely won't make it until the summer at the earliest.
Jocques Crawford's suspension means that Jake Sharp will be the Jayhawks' primary running threat. Sharp's status as starter was solid already, but Crawford's suspension placed him deeper in Mangino's doghouse. It's hard to get out of it when you aren't playing, which leaves Sharp firmly entrenched as the starter. The play of Rell Lewis might have made Crawford's chances of moving back into the rotation academic anyway.
An offensive line breaking in three new starters looked good in Saturday's scrimmage. Jeremiah Hatch appeared to be a natural at center, as coaches expected. Tanner Hawkinson is a work in progress at left tackle, but coaches love his upside and are willing to let him learn.
The line's strong play during the spring is because it has a lot of talented skill-position people. Mangino hopes that the line's strong performance isn't indicative of a growing defensive weakness - or else we could see a lot of shootouts involving the Jayhawks this season.
The Jayhawks' retooled linebackers are improving, but the position remains a big question mark after losing three starters from last season. Newcomer Jake Schermer contributed eight tackles in the spring game, but converted running back Angus Quigley clearly is a work in progress.
Mangino had a busy spring, suspending Crawford, top receiver Dezmon Briscoe and defensive lineman Jamal Greene. Only Greene is back, leaving a question mark over the program about discipline problems as Kansas finishes spring practice. It's something that Mangino needs to iron out if the Jayhawks are going to contend for their first berth in the Big 12 title game.
Raimond Pendleton returned to the end zone for one of the few times since his infamous 2007 punt return for a touchdown prompted the wrath of Mangino after his post-score theatrics. Needless to say, Pendleton's score on Saturday -- which came as a second-string receiver -- was a lot quieter.
We're still not sure about the Jayhawks' kick returns. Briscoe appeared to be a revelation late last season, although his productivity obviously is in doubt with his suspension. The returns are a concern considering Kansas ranked 118th nationally last season and would have been last nationally without Briscoe's late spurt. It will remain a worry until the season starts and Briscoe's status clears up.