May, 9, 2012
5/09/12
9:00
AM ET
2011 overall record:
10-3
2011 conference record:
7-2
Returning starters:
Offense 9; defense 7; P/K (2)
Top returners:

QB
Collin Klein
, RB
John Hubert
, LB
Arthur Brown
, CB
Nigel Malone
, WR
Tyler Lockett
, LB
Tre Walker
, WR
Chris Harper
Key losses:
CB
David Garrett
, LB Emmanuel Lamur, S Tysyn Hartman, DL Ray Kibble, DE
Jordan Voelker
2011 statistical leaders (*returners)
Rushing:
Collin Klein* (1,141 yards)
Passing:
Collin Klein* (1,918 yards)
Receiving:
Chris Harper* (547 yards)
Tackles:
Arthur Brown* (101)
Sacks:
Meshak Williams
* (7)
Interceptions:
Nigel Malone* (7)
Spring answers
1. Filling the void left behind by Garrett:
David Garrett was one of the biggest playmakers for the K-State defense, but
Allen Chapman
seems to have locked down the assignment of replacing him in 2012. The California juco transfer broke up four passes last year and returned his only interception 60 yards for a touchdown. K-State's secondary should be solid.
Kip Daily
will also help out at corner.
2. Collin Klein can chuck it:
You have to take into account that Klein did it against second-teamers and that the quarterbacks have put up big numbers in spring games, but his 47-of-56, 480-yard performance is encouraging. He won't do that during the fall, but it's a good sign that Klein's improvement was obvious in the one practice fans or media were allowed to see.
3. Lockett returns:
Tyler Lockett was the most explosive talent on an offense mostly devoid of home run threats, but a lacerated kidney ended his 2011 season early. Lockett returned and practiced this spring, but reportedly had another minor injury before the spring game, depriving us of a chance to see him back in action. Still, it sounds like he'll be back in the fall.
Fall questions
1. Can Kansas State validate its surprising 2011?
The Wildcats memorably won eight games in 2011 by a touchdown or less, ascending to a second-place finish in the Big 12 after being picked to finish eighth. Advanced college football statistics suggest K-State is due for a regression in 2012, but this is Bill Snyder we're talking about. His team will be better in 2012. Can its record improve, too? Klein must remain healthy after leading the Big 12 in carries last season.
2. Who's filling in for Tysyn Hartman?
Hartman had loads of experience and was one of the most intelligent players on the team. The Wildcats don't have many question marks, but who replaces Hartman is one. They'll still have competition between
Thomas Ferguson
,
Randall Evans
and
Jarard Milo
this fall to win the job.
3. What will the offensive line look like?
Kansas State was the Big 12's most physical team in 2011 because of their strong offensive line. K-State loses three starters, and there's no doubt that if there's one thing that derails K-State in the fall, it's the new faces on the line. B.J. Finney is a stud at center, and
Nick Puetz
is solid, but the other three spots on the line didn't sound like they were sewn up by the end of spring.
April, 4, 2012
4/04/12
9:00
AM ET
Kansas State is the last Big 12 team to take the field this spring. Let's take a closer look:
Schedule:
Kansas State holds the first of 15 practices today, capped by the Purple/White game on April 28. Practices are closed to fans and media.

What's new:
The expectations. Kansas State returns 18 starters from last season's team; only seven teams in college football return more. Last season's team was picked to finish eighth in the Big 12, but won 10 games and earned a second-place finish. Bring back a team like that, and the spring's going to sound very, very different. Kansas State will likely tote a top-15 ranking into the season, and there's a lot more attention being paid to Manhattan this spring after Bill Snyder proved returning to the sidelines was a worthy cause.
New faces:
Defensive coordinator Chris Cosh left for South Florida, but new defensive coordinator Tom Hayes inherits a great defense with plenty of talent and experience. Kansas State also welcomes several early enrollees: quarterback Tavarius Bender, fullback Glenn Gronkowski, and defensive lineman Wesley Hollingshed from the juco ranks. Hollingshed, a 6-foot-2, 300-pounder from Texas, could help fill the void left by defensive tackle
Ray Kibble
, who made 38 tackles and 5.5 tackles for loss in 2011.
Breaking out:
Arthur Brown
earned plenty of attention last season, but fellow linebacker
Tre Walker
could be poised for a big junior season. Walker made 52 stops last season, and broke up three passes.
Big shoes to fill:
The offensive line. Kansas State's rushing attack carried it to the Cotton Bowl last season, but the biggest losses were on the front line. Tackles
Clyde Aufner
and
Zach Hanson
, and guard Colton Freeze are gone, so finding replacements this spring will be important. Center B.J. Finney might emerge as one of the team's leaders, but look for guys like
Cornelius Lucas
,
Jordan Allred
and
Ethan Douglas
to get the first shot at filling those holes.
Keenan Taylor
should be a factor at guard, too. Kansas State also brought in juco transfers Tavon Rooks and Ellwood Clement on the line. Last season's starting left tackle, Manese Foketi, suffered a season-ending injury early, but could be granted a medical redshirt and return for 2012.
All eyes on:
Collin Klein
. How much better of a passer will he become this offseason? We saw a lot of progression from September to December. Will that continue into the offseason, or has Klein hit his ceiling as a passer? He has an underwhelming receiving corps to throw to, but if Kansas State develops a better passing game, the offense is going to be the nation's most frustrating to stop. If Klein shows up with much more accuracy in the fall, he's going to have legitimate Heisman aspirations, too.
Question marks:
Kansas State can't prove it until the fall, but was last season a fluke, or the start of something special? There's no ignoring the Wildcats' 8-1 mark in games decided by a touchdown or less. In every game except a road loss against Oklahoma State, the Wildcats found ways to make plays and come back from fourth-quarter deficits. Can they improve and avoid some of those situations, but still perform in tight spots late in games? No question is bigger for the Wildcats in 2012. They won 10 games last season, but could have easily been closer to 7-5.
January, 24, 2012
1/24/12
9:00
AM ET
Signing day is coming fast. Next Wednesday, the next round of players will sign up for their respective programs and start what could be storied careers.
Here's what each team across the Big 12 needs. You'll find Texas A&M and Mizzou on the SEC blog and West Virginia on the Big East Blog.

BAYLOR
Quarterback:
This one's pretty simple.
Robert Griffin III
is taking his talents to the NFL early.
Nick Florence
is waiting to take over, and the Bears have
Bryce Petty
behind him, but more reinforcements at quarterback are needed. Dual-threat quarterbacks, ideally.
Defensive tackle:
Baylor already was one of the nation's worst teams (102nd nationally) at stopping the run. Now it'll need to replace both its interior linemen,
Nicolas Jean-Baptiste
and
Tracy Robertson
.
Offensive linemen:
Baylor's offensive line, meanwhile, has been solid. It loses junior college transfer and two-year starter
Robert T. Griffin
, as well as All-Big 12 center
Philip Blake
.
John Jones
, a reserve guard, also has exhausted his eligibility.

IOWA STATE
Receiver:
This has been a weak spot for the team for several years, and its top overall talent,
Darius Reynolds
, is gone.
Darius Darks
is, too.
Aaron Horne
and
Josh Lenz
will be the team's best weapons in 2012, but the pair of shifty slot guys will be seniors. This position needs reinforcements.
Defensive back:
The DBs have been a quiet strength for ISU, especially in 2011. Cornerback
Leonard Johnson
and safety
Ter'Ran Benton
both have exhausted their eligibility, though, and defensive backs coach Bobby Elliott left for Notre Dame. You'll see plenty of new faces in the Cyclones' secondary next year.
Defensive line:
Experienced starters
Stephen Ruempolhamer and Jacob Lattimer are both gone, and Iowa State has struggled to stop the run consistently the past few seasons.

KANSAS
Quarterback:
Kansas landed high-profile transfers
Dayne Crist
(Notre Dame) and
Jake Heaps
(BYU), but this is still a huge position of need. Last year's starter,
Jordan Webb
, left the team.
Quinn Mecham
is out of eligibility. Heaps is sitting out his NCAA-mandated year after transferring. Crist is the starter, but he badly needs a backup, especially if
Brock Berglund
's transfer appeal allows him to leave.
Wide receiver:
Kansas lacks a big threat at this position. It needs a talent upgrade in a big way. Oklahoma transfer
Justin McCay
is joining the team, but he's no guarantee to a) be granted immediate eligibility or b) become an impact player.
Defensive tackle:
Kansas is thin here, too. Richard Johnson,
Patrick Dorsey
and
Michael Martinovich
are gone, and Kansas couldn't stop much of anything on defense. Some push up front could help make everything look better. A late addition to the 2012 class from a junior college seems like a no-brainer. The Jayhawks need physically mature players to contribute immediately.

KANSAS STATE
Offensive line:
K-State's offensive line was much better in 2011 and could be again in 2012. It needs help replacing All-Big 12 lineman
Clyde Aufner
, though. Starter
Colten Freeze
is also gone.
Defensive line:
Kansas State is bringing back about as many starters as anyone in the Big 12, but the biggest losses are along the defensive line. Kick-blocking specialist (five in 2011) Ralph Guidry is gone, along with tackle
Ray Kibble
. Juco transfer
Jordan Voelker
exploded onto the scene this year, but he's gone, too.
Defensive backs:
Cornerback
David Garrett
leaves a huge hole behind.
Tysyn Hartman
may not be as talented as teammate
Ty Zimmerman
, but his experience leaves a big hole. Zimmerman will have to mentor a younger safety in the near future.

OKLAHOMA
Receiver:
The Sooners are thin here in a big way. That was obvious late in the season when
Ryan Broyles
' storied college career ended a few weeks early with a knee injury. The team also lost Justin McCay (transfer) to Kansas.
Jaz Reynolds
and
Kenny Stills
are the likely top two targets, but they need help.
Tight end:
This position inspired a bit of panic at the end of the season. Seniors
James Hanna
and
Trent Ratterree
are gone.
Austin Haywood
wasn't allowed back on the team, and two more tight ends left the team for various reasons. That left the Sooners suddenly without a scholarship player at the position returning in 2012.
Offensive line:
Starting tackle
Donald Stephenson
must be replaced, as will guard
Stephen Good
, who moved in and out of the starting lineup throughout his career. The Sooners bring back a lot of talent and aren't dying for depth there, but those two will leave holes. Three more offensive line starters will be seniors in 2012.

OKLAHOMA STATE
Offensive line:
The Cowboys need a whole lot of help here to fill in behind young players stepping into the starting lineup. Starters
Levy Adcock
,
Nick Martinez
and
Grant Garner
are gone. Backup center
Casey LaBrue
is gone, too. Those are two All-Big 12 linemen who leave big shoes to be filled.
Receiver:
Justin Blackmon
surprised no one by leaving a year early, and
Josh Cooper
leaves with perhaps the most underrated career of any receiver in school history. In OSU's offense, there's always room for depth here. Nine receivers had at least 19 catches in 2011. Blackmon and Cooper combined for 192, though.
Defensive ends
: The pass rush was solid for Oklahoma State this year, but both starters,
Jamie Blatnick
and
Richetti Jones
, are gone. Replacing both is a necessity.

TEXAS
Receiver:
Texas lacks a true game-changer at the position, though
Jaxon Shipley
and
Mike Davis
may develop into that role in 2012. Former blue-chip recruit
Darius White
left for Missouri, too.
Quarterback
:
David Ash
and
Case McCoy
didn't show a ton of potential at quarterback this year, though Ash may grow with an offseason to prepare as starter. Garrett Gilbert got a big chunk of the work in the spring, summer 7-on-7 and fall preseason camp. Even if Ash does grow, the Longhorns need reinforcements at the position.
Linebacker:
Two senior impact players are gone. Texas is left trying to replace
Emmanuel Acho
and
Keenan Robinson
, though
Jordan Hicks
may mature into a star in 2012.
TCU
Offensive line:
TCU's offensive line is headed for some major turnover. OT
Robert Deck
, OG
Kyle Dooley
and OG Spencer Thompson are gone. Two more starters, OG
Blaize Foltz
and C
James Fry
, will be seniors in 2012.
Defensive linemen:
TCU isn't losing a lot at this spot, but
Ross Forrest
and
D.J. Yendrey
will be seniors in 2012. The Horned Frogs would be well-served to prepare, and offer some depth next year.
Specialists:
TCU will have to break in a pair of new starters on special teams next season. Kicker
Ross Evans
and punter
Anson Kelton
have exhausted their eligibility.
TEXAS TECH
Receiver:
The Red Raiders' offense requires a lot of depth here.
Tramain Swindall
is the only loss at the position, but three more (
Alex Torres
,
Cornelius Douglas
,
Darrin Moore
) will be seniors. Douglas moved to cornerback this year after the team was racked with injury, but we'll see whether he moves back this offseason.
Offensive line:
Tech has a huge need here. Four players won't be returning in 2012.
Lonnie Edwards
,
Mickey Okafor
and center
Justin Keown
must be replaced.
Defensive linemen:
Tech's
Donald Langley
and
Scott Smith
are both out of eligibility, and juco transfer
Leon Mackey
will be a senior.
July, 21, 2011
7/21/11
10:30
AM ET
We've tackled every other spot, and now we'll wrap up out Big 12 position rankings with the defensive lines across the Big 12.
Here are the rest of the position rankings.
Now that we've finished ranking the complete units, we'll start ranking the top 10 at each position very soon leading into the 2011 season.
This is a decent position for the Big 12 this season, and the top half of the league should feel pretty good about their group. There aren't many studs in this group, but there are a whole lot of solid players.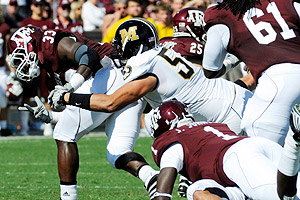 AP Photo/Pat SullivanMissouri has one of the Big 12's best pass rushers in Brad Madison.
1. Missouri --
Missouri has the Big 12's best returning pass rusher and a Defensive Player of the Year contender in Brad Madison, but its depth is what lands it on top of the list. Jacquies Smith is solid at the opposite defensive end spot, and Michael Sam and Kony Ealy provide great depth at DE. Dominique Hamilton's absence last season hurt after breaking his ankle against Oklahoma, but he's back, alongside Terrell Resonno. Sheldon Richardson, who may be transferring from junior college, is a wildcard that could be anywhere between a complete game changer, irrelevant or absent.
2. Oklahoma --
Oklahoma's defensive tackles are somewhat suspect, but the defensive end combo of Ronnell Lewis (provided he is eligible come fall camp) and Frank Alexander is on par with the best in the Big 12. Both were preseason All-Big 12 selections, but Jamarkus McFarland needs to make good on his potential. Stacy McGee and Casey Walker should both get time at the other tackle spot.
3. Texas --
Defensive end Jackson Jeffcoat is loaded with potential as the nation's former No. 1 recruit. He had a big impact early last season before being slowed by an ankle injury. Alex Okafor moved outside from defensive tackle just before spring and had five sacks in the spring game. Inside, Kheeston Randall is an All-Big 12 favorite, but Ashton Dorsey had a strong spring and could help out with Reggie Wilson opposite Randall.
4. Texas A&M --
The Aggies have one of the best linemen in the league in Tony Jerod-Eddie, but Jonathan Mathis, Eddie Brown Jr. and Ben Bass have a lot to prove around him after the loss of Lucas Patterson, who was outstanding in 2010.
5. Texas Tech --
Sam Fehoko has moved to defensive end from middle linebacker, and should provide some good speed to the front line. Scott Smith looked on his way to an All-Big 12 campaign last season, but was suspended for the remainder of the season by coach Tommy Tuberville and has yet to be officially reinstated. For now, Dartwan Bush and Aundrey Barr will help out at defensive end, outside of Donald Langley, Kerry Hyder and Pearlie Graves. The Red Raiders did snatch a big pickup from departed UNC signee Delvon Simmons, a defensive tackle that could have an impact immediately.
6. Oklahoma State --
Defensive line is the biggest weak spot for the Cowboys, who have a decent set of ends in Jamie Blatnick and former heralded recruit Richetti Jones, but an even bigger question mark at defensive tackle where Christian Littlehead and Nigel Nicholas enter fall camp as starters.
7. Kansas --
Top rusher turned defensive end Toben Opurum came on strong late last season and should be one of the most exciting Jayhawks to watch in 2011, but the rest of the line leaves a bit to be desired. Keba Agostino has the other starting spot at defensive end ahead of Pat Lewandowski, who had a great spring. Patrick Dorsey and John Williams enter fall camp as starters at defensive tackles.
8. Kansas State --
K-State recruited this position hard in its 2011 class. For now, defensive end Brandon Harold will try to bounce back from a disappointing 2010 after a promising 2009. Lance Dunbar and Taylor Martinez think this group is ranked too high, but Meshak Williams could start opposite Harold, while Ray Kibble and Raphael Guidry should be the tackles inside.
9. Baylor --
Tevin Elliott was limited this spring because of offseason shoulder surgery, and Terrance Lloyd exited spring practice as the starter, but I'd expect Elliott to regain the spot by the time the season arrives. Phil Taylor, a first-round pick, is a big loss, but Gary Mason Jr. will try to fill his spot next to Nicolas Jean-Baptiste.
10. Iowa State --
Having a pair of linebackers combine for 241 tackles is a good and bad thing. They've got outstanding linebackers, but the defensive line was the Big 12's worst last season for a unit that ranked 10th in rush defense and had just 11 sacks. That was the fewest sacks in the Big 12 and more than just three teams in all of college football. The good news is all four starters return, but for now, this is where the Cyclones start. Stephen Ruempolhamer has some promise, but Cleyon Laing, Jake McDonough and ends Patrick Neal and Roosevelt Maggitt have a lot to prove. Jacob Lattimer ran into offseason trouble, but re-appeared atop the depth chart released by the Cyclones on Wednesday.