April, 29, 2011
4/29/11
3:00
PM ET
By
ESPN.com staff
| ESPN.com
Thanks for all the questions, all. Enjoy the rest of the draft this weekend.
Jared in College Station, Texas asks:
What do you make of Texas A&M's "Senior QB Curse?" Reggie McNeil, Stephen McGee, and
Jerrod Johnson
were all ineffective and benched their senior season. Very odd, no? How can
Ryan Tannehill
escape the same fate?
David Ubben:
Well, I have problems buying into any curse, of course. The bottom line about McNeal and McGee is neither one was as good as Jerrod Johnson or Ryan Tannehill. Johnson, at his best, was better than Tannehill, but the shoulder injury was such a rough deal last season.
This week, coach Mike Sherman opined that Johnson tried too hard to make up for lost time in the spring and worked too hard during the summer. Whatever the cause, it was a shame. Johnson was a guy who did everything right, and despite that, it wasn't meant to pay off for him. That said, it's in the past.
Tannehill didn't take a ton of big hits last season, and with Texas A&M's solid offensive line featuring sophomore bookends loaded with potential, he doesn't figure to take many more in 2011. In the event he does run, though? I'm sure Sherman will be in his ear to make sure he gets down or out of bounds.
Curse or otherwise, you still have to take care of your passer. Last season, the Aggies had a pretty good backup plan for Johnson. This season, they don't. Being extra careful is the prudent approach.
Jamiell Showers and/or
Matt Joeckel
aren't winning Texas A&M a Big 12 title next season.
---
Brett in Kansas City asks:
Hey David, is there any chance that Bob Stoops, or any other Big 12 coaches for that matter, will be looking at homes in Columbus, Ohio anytime soon?
DU:
No, I don't buy that. Urban Meyer is obviously at the top of the list if Jim Tressel leaves, but if Stoops turned down Florida (twice), I'd be surprised if he left for Ohio State. There's some appeal in going "home," yes, but Stoops said himself this spring that Oklahoma is as much his home as anywhere these days. He's got three school-aged kids who have lived in Oklahoma since 1999. That's 12 years.
Besides that, how often do you see a coach of a major program leave to become coach at another major program? It's very, very rare.
I generally think Meyer will eventually end up at Ohio State, but if anything, Bo Pelini is much more likely to leave than Stoops, following a short tenure at Nebraska. I wouldn't bet on it, but Pelini is pretty high on the prospective list.
---
Michael in Long Beach, Calif. asks:
David, if Jamell Fleming enrolls for the fall semester is he good to go, or does he face academic or other types of suspensions? Would he be eligible academically? Thanks.
DU:
He should be good to go, as I understand it. It sounds like his status is in limbo, and ultimately, he's the only guy who can decide if he'll be back or not. He'll have to work to show it, though. He could miss out on something special at Oklahoma next year if he's not on the team. You'd think that alone would be enough motivation.
---
Frederico in Paris asks:
David,Who would you pick as the big 12 teams you're most likely to be over-rating and under-rating for the 2011 season at this point in time?
DU:
Interesting question. Overrating? We'll see about Oklahoma State. The defense got a lot better toward the end of last season, but will that continue into next season, especially without one of its leaders, Orie Lemon?
And then there's the whole playcalling deal, replacing one of college football's best, Dana Holgorsen, with an inexperienced Todd Monken.
Between the trio of teams at the top of the league, I'd say they're the most likely to have a disappointing season. Not saying it'll happen, but Texas A&M and Oklahoma have a lot fewer questions.
Underrating? Probably the same three teams I pegged as sleepers awhile back. Texas, Missouri and Kansas State. All have big question marks, but perhaps even bigger potential.
---
Barack Obama in Washington, D.C. asks:
I'm sure Tuberville's going on Hannity and bashing me plays well with the fans in west Texas but seems like a fairly stupid move overall. Tubs stated that as coach he represents all of Tech's players but I doubt if many of his African American players feel like those comments represent them. Do you think this could impact recruiting for Tech?
DU:
Whoa, whoa, whoa. Let's strip this letter of all the fighting words. I'd expect a president to be more diplomatic, no? First off, I'd hardly call what Tuberville said about Obama "bashing." Questioning? Sure. As it ends up, he was wrong, but again, Tuberville is little more than a victim of poor timing when it comes to Obama and his birth certificate. No one would bat an eye at this if Tuberville hadn't gone on the air and commented the night before Obama released the document.
Secondly, painting with a broad brush there a little bit, right? His black players wouldn't feel like those comments represent them? Since when are all of his white players backing the Republicans and all his black players backing the Democrats? Slow your role, Mr. President.
And most importantly, since when does that matter? It doesn't. If you're a player, there's no reason to be overly concerned with your coach's political views. When he says he represents all his players, I'd hardly say that crosses over to political views. I'm surprised this story became an issue, considering how little it has to do with anything.
---
Brady Kirk in Norman, OK asks:
Hey, Dubbs. I've been thinking lately about how the upcoming Sooner offense compares to its counterpart of 2008. First of all, how much of a difference do you see between their offensive lines; second, do you think this year's receiver corps is at the same level as that team's offensive line; and third, how close do you think this offense can come to that one overall?
DU:
There's a big difference in the offensive lines. Oklahoma's should be good next season, but the one in 2008 had four NFL players on it. This season's probably has two. The receivers this season are better, but a great receiving corps doesn't mean dominance in the same way that an offensive line does. The Sooners did anything they wanted that season (until they played Florida) and scored more points than any offense in the history of college football.
This year's offense should be great, but I'd be shocked if it came anywhere close to that team.
---
Tommy B in Stillwater, OK asks:
What are the chances OSU is able to get Justin Bieber to Bedlam?
DU:
Who knows just yet, but I'd like to see OSU do everything it can to get Bieber to Stillwater.
---
David Paschall in Austin, Texas asks:
I loved watching Texas'
Blaine Irby
play before his injury in 2008. It seems like he has a ton of potential at TE. Will we finally get to see him play again this year? He suited up for the Orange and White game, but I don't remember seeing him take the field and virtually no one has mentioned him. Will 2011 see his return?
DU:
He was out there this spring, but the team took it easy and held him out of the spring game. He's not back to full strength, but he sounds like he'll be back on the field in at least some capacity next season.
October, 29, 2010
10/29/10
10:00
AM ET
Oh yes, it's a holiday weekend, and it's football season. That means a theme post. Don't fight it, it's already here. Just give in.
Here are a few Halloween honors heading into this weekend's games.
Scary movie:
This one goes to the team with the worst loss this season. It was a warning of things to come, but who pegged
Texas
to get rolled by three touchdowns at home to a weak UCLA team?
Trick-or-Treat:
This award goes to the game featuring the most to gain or lose. There's no question it's happening this weekend between
Nebraska and Missouri.
The winner could glide into the Big 12 championship game, favored in each of its final four games, and Missouri could be five games from a possible national title game appearance. Lose, and the division title slips out of each team's hands.
Wizardry:
This award goes to the league's most "spellbinding" player so far this season. He's not only the most productive, he's the most exciting, even though he'll be sitting out this weekend. Oklahoma State receiver
Justin Blackmon
will run past you, run through you or jump over you. Either way, he's coming down with the ball.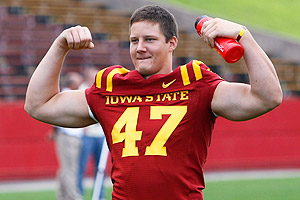 AP Photo/Charlie NeibergallIowa State linebacker A.J. Klein has quietly had a monster season.
Ghosts, Goblins, Ghouls:
This one goes to three guys putting up good seasons, but doing it under the radar. Iowa State linebacker
A.J. Klein
is a first-year starter, but he leads the Big 12 with 86 tackles. No other player in the league has more than 79. Texas A&M has had a disappointing season, and so has its quarterback,
Jerrod Johnson
. Top receiver
Jeff Fuller
hasn't. He's third in the league with 687 receiving yards, behind only Blackmon and
Ryan Broyles
. His nine touchdown grabs are also third in the league, behind only Blackmon and Texas Tech's
Lyle Leong
.
Aaron Jones
at Baylor has already kicked a league-high 16 field goals, hasn't missed any of his 31 extra points and is sixth in the Big 12 in scoring.
Cursed -- Texas A&M:
Johnson looks like he's fallen victim to the curse of the Texas A&M senior quarterback. First there was Mark Farris in 2002, followed by Reggie McNeal and Stephen McGee. Johnson ended up splitting time with
Ryan Tannehill
last week, and might not even finish the season as his own team's starter after opening it as the Big 12's Preseason Offensive Player of the Year. Johnson underwent offseason shoulder surgery and says he feels fine. His play argues otherwise. He only threw eight picks all of last year, but tossed as many in two games earlier this year in a near loss to Florida International and a last-second loss to Oklahoma State. All three of Texas A&M's losses have come to ranked teams, but they never thought they'd have three this early in the year.
Halloween costume:
Somebody get
Taylor Martinez
a "
The Flash
" costume! Ironic that he's the one who could do it the fastest, though, no?
Monster Mash:
This one goes to the league's scariest matchup. How about anyone against
Nebraska's running game
? The Huskers have three of the league's top 10 rushers, in Martinez,
Roy Helu Jr.
and
Rex Burkhead
. No other team has more than one.
Thriller:
The most exciting play of the season so far? Dan Bailey's game-winning field goal against Texas A&M, but no single play had the "What just happened?" factor of
Missouri kick returner Gahn McGaffie's 86-yard touchdown
to open the game against Oklahoma. It also had the most impact, helping send Missouri five spots up the BCS rankings and precipitated a double-digit jump in the human polls. Of course, it might not have been possible without
T.J. Moe
's 68-yard catch-and-run, go-ahead touchdown in the final minute against San Diego State, highlighted by three Aztec defenders giving each other their best shots while Moe ran free.
Jason Vorhees
--
Iowa State won't die:
Utah tried its best. So did Oklahoma. But there they were, celebrating inside a Texas visiting locker room to the surprise of everyone. Let's see what these resilient Cyclones have in store for the rest of the season.
October, 22, 2010
10/22/10
9:00
AM ET
By
ESPN.com staff
| ESPN.com
Here's this week's collection of things you probably didn't (or shouldn't) know about Saturday's game. Many thanks to ESPN Stats and Information, as well as various sports information departments around the Big 12.
Missouri quarterback Blaine Gabbert is completing 73.8 percent of his passes on first and second downs, but just 44 percent on third down. His 97.8 passer efficiency rating ranks 98th out of 109 passers with at least 30 attempts on third down.
Missouri has stopped 24.6 percent of opponent running plays behind the line of scrimmage. Only Miami, Boise State and Kent State have been better.
Opponents have scored touchdowns on just 26.7 percent of visits to the red zone against Missouri. The Tigers lead the nation in the statistic.
Missouri's defense has allowed opponents to cross midfield on 36 possessions this season. Only 11 times have those drives resulted in points. The Tigers lead the nation in that statistic as well.
Missouri's defense is the only team in college football who hasn't given up a goal-to-go touchdown this season. Opponents are 0-4 in those situations.
Missouri has never held a Bob Stoops-coached Oklahoma team to less than 25 points.
Missouri has scheduled Oklahoma 15 times as a homecoming opponent, and holds an 8-6 record in those games.
If Missouri wins on Saturday, it will be 7-0 for just the third time in school history. (1960 and 1899)
Oklahoma has led by at least 15 points in every game its played this season.
Nebraska's Taylor Martinez was 1-of-8 on throws beyond 10 yards against Texas, after going 7-of-10 for 234 yards and two scores against Washington and Kansas State.
Martinez averaged 13 yards a carry from the zone read going into last week's game. Against Texas, he ran it six times for minus-3 yards.
Nebraska has allowed just 51 plays of longer than 10 yards this season, fourth-fewest in college football.
The 12.9 percent of plays that have gone for longer than 10 yards is second best nationally, behind only Texas.
Oklahoma State quarterback Brandon Weeden has thrown for 762 yards, seven touchdowns and had 11 completions of longer than 20 yards in the third quarter of games this season.
Nebraska is 0-17 since 1997 in games on the road against top 20 opponents, and 11 of those losses have been by double digits.
Nebraska is 6-0 in its last six road games, including conference play.
Saturday will be the 36th time a Big 12 site has hosted ESPN's "College GameDay."
Kansas State is 6-1 all-time against Baylor.
After at least four turnovers in their past four games, Texas A&M was turnover-free against Missouri.
Iowa State's A.J. Klein has six 10-tackle games, two more than anyone else in the conference.
Oklahoma State receiver Justin Blackmon has had the two biggest receiving games (207, 190 yards) of anyone in the conference in his past two outings.
Baylor hasn't had a chance to play for bowl eligibility since 1995. It now has five chances at 5-2.
Baylor has scored at least 30 points in three games to start conference play for the first time in school history.
Colorado is one of just 13 teams nationally converting at least half of its third downs, and has held opponents to just 22-of-68 on third down.
Texas A&M's Jerrod Johnson needs 155 total yards to break Reggie McNeal's school record for total offense in a career at 8,876 yards.
Baylor is 12-32 against teams from the North in Big 12 play and 4-67 against teams from the South.
January, 21, 2010
1/21/10
4:17
PM ET
By
Tim Griffin
| ESPN.com
At the start of the decade, Texas A&M was at the top of the Big 12 South Division.
The Aggies claimed the Big 12 championship in 1998 after qualifying for the title game in 1997. A&M capped off an emotion-packed 1999 season by beating eventual Big 12 South champion Texas in the "Bonfire Game" to end the regular season.
But the program regressed as Oklahoma's Bob Stoops and Texas' Mack Brown built their programs throughout the aughts. R.C. Slocum was let go after the 2002 season and Dennis Franchione was similarly jettisoned after the 2007 season.
Mike Sherman is in place now. The program faces a huge battle to get itself back to the level where the Aggies were at only 10 seasons ago.
Here's a look at some of the top players and moments of the Aggies' last decade.
OFFENSE
QB:
Jerrod Johnson
RB: Courtney Lewis
RB: Jorvorskie Lane
WR: Robert Ferguson
WR: Terrence Murphy
TE: Martellus Bennett
OL: Cody Wallace
OL: Taylor Whitley
OL: Lee Grimes
OL: Kirk Elder
C: Seth McKinney
DEFENSE
DL: Mike Montgomery
DL: Rocky Bernard
DL: Ty Warren
DL: Von Miller
LB: Jason Glenn
LB: Justin Warren
LB: Mark Dodge
DB: Sammy Davis
DB: Melvin Bullitt
DB: Terrence Kiel
DB: Jaxson Appel
P: Justin Brantly
K: Todd Pegram
Ret:
Cyrus Gray
Offensive player of the decade:
QB Jerrod Johnson. It was a tough choice over quarterbacks like Stephen McGee and Reggie McNeal who played for the Aggies earlier in their careers. But Johnson's abilities to develop the most potent passing offense in A&M history -- setting school records for touchdown passes, total offense and passing yards in 2009 -- make him the choice. And he could be poised for even more in his senior season.
Defensive player of the decade:
DE/LB Von Miller. The Aggies' proud reputation for tough defenses became forgotten over the decade as spread passing offenses proliferated across the conference. But Miller was decidedly a throwback in a 2009 season where he led the nation with 17 sacks and became the most dominant A&M defensive player since Dat Nguyen. Miller thrived in the hybrid "Jack" position created by former defensive coordinator Joe Kines. He wisely chose to return to college for his senior season next year where he can continue with a new coordinator in place.
Coach of the decade:
R.C. Slocum. It was difficult for A&M fans to see the demise of Slocum, perhaps the most popular coach in school history. The Aggies never had a losing record under Slocum and made bowl trips in two of the three seasons he coached them this decade, including the 2001 Galleryfurniture.com Bowl that remains their most recent bowl victory.
Moment of the decade:
Stephen McGee's dramatic game-winning drive in a 2006 victory at Texas. Despite vomiting in the huddle throughout the game-winning drive, McGee directed the Aggies on a 16-play, 88-yard drive capped by his own 8-yard touchdown run en route to a 12-7 victory over the Longhorns in Austin. McGee converted five third-down plays on the drive as A&M snapped a six-game losing streak to their most bitter rivals.
January, 19, 2010
1/19/10
5:15
PM ET
By
Tim Griffin
| ESPN.com
I received a slew of comments about some of my early choices for my All-Decade teams across the conference. Hopefully, that will prove as popular during the rest of the week for the rest of the Big 12 teams as they are released.
Here's a representative example of some of the other missives I've received over the last few days.
Mike Heuertz of Iowa writes:
Tim, even with Ndamukong Suh leaving Nebraska, as well as a couple other key defensive players, do you think the Blackshirts will be better next season? And what do you think Nebraska's record will be?
Tim Griffin:
I talked with several Nebraska fans during my swing through the state last week who seemed almost giddy about the Cornhuskers' chances next season.
That being said, the loss of Suh will be huge. I think he can be considered the arguably greatest defensive player in the history of the program. The Cornhuskers also will lose Barry Turner, Phillip Dillard, Larry Asante and the heart, grit and talent provided by Matt O'Hanlon.
Now I can see players like Prince Amukamara, Will Compton, Sean Fisher and Jared Crick getting a lot better gaining experience playing Bo Pelini's defense. But it might be a little wishful thinking to hope for much improvement from this season -- considering the Cornhuskers' big defensive personnel losses.
As far as their record, I would expect them to be one of the powers of the Big 12. They have a tricky game at Washington which will earn them a lot of national notoriety if they can win. Texas will be coming to Lincoln, as will Colorado and Missouri. A road game at Oklahoma State doesn't look as daunting as it could be with the Cowboys breaking in a new quarterback. But an underrated challenge for the Cornhuskers might wait at Texas A&M with
Jerrod Johnson
and all of A&M's strong returning offensive weapons back for next season.
Looking at that schedule, I'll pick the Cornhuskers to go 10-2 and finish as the Big 12 North champion. Considering their returning talent and their schedule, I think that's a relatively conservative pick.
But as far as next year's team being better than the 2009 version of the Blackshirts, that might be wishing for a little bit much -- even for the Pelinis.
---
Chris Henson from Salt Lake City, Utah, writes:
Tim, a quick addition to the Texas A&M-Oklahoma State tidbit. The Red, White, and Blue Out in 2001 was organized by a group of students first and foremost as a fundraiser for the victims of 9/11. I appreciate you noting this event as it really shows what Texas A&M is all about.
Tim Griffin:
Chris, thanks for the clarification. Like you wrote, it was truly an emotional event. There's a picture of the stadium that is still hung in the press box at Kyle Field of the stadium bedecked for that game. It still gives me goose bumps when I see it.
---
Travis from Seattle writes:
Tim, the players of the decade category has created quite a stir, with many saying, "...well how could X player be off the list." For the most part I agree with your list if you look at it being, who were great players, AND who did the most to influence their team's success, (thus why Graham Harrell is off, being a plug-and-play quarterback in that system although he did do a fine job).
But I propose a different category. Who were the best ATHLETES of the decade? And how about the best competitors, the ones who did everything to try to win. What are your thoughts?
Tim Griffin:
You raise a good point about my list earlier being an all-around grouping of all qualities. As far as the best athletes of the decade in the Big 12 from the last decade, in no specific order I would include Ndamukong Suh, Eric Crouch, Robert Griffin, Chris Brown, Vince Young, Seneca Wallace,
Dez Bryant
,
Dezmon Briscoe
, Darren Sproles,
Danario Alexander
(before and after his injury), Brad Smith, Jeremy Maclin, Adrian Peterson, Brian Orakpo, Michael Huff, Earl Thomas, Reggie McNeal, Robert Ferguson, Sammy Davis and Michael Crabtree.
And among the top competitors I've seen include Stephen McGee, Crabtree,
Colt McCoy
, Roy Miller, Joe Pawelek, Jordan Lake, George Hypolite,
Todd Reesing
, Chase Daniel, Sean Weatherspoon, Matt O'Hanlon, Suh, Josh Fields, Brian Iwuh, Darrell Stuckey,
Steven Sheffield
, Wes Welker and Kliff Kingsbury. There are many others, but those are just some of the names that come to me off the top of my head. And the fact that Suh and Crabtree made both of those lists is pretty indicative of how exceptional they really were.
---
Fred Dodge of Annapolis, Md., writes:
Tim, in reference to your top 10 jobs in college football. You have a good list, BUT the one caveat that I think goes with this list or any list is context. Most of these are still the "right-guy-for-the-right-place" jobs -- as are coaches. Being a Husker, I lean toward Bo Pelini and Nebraska as my first examples. Bo would not be a good fit for many of these jobs...I just can't see Bo fitting at USC or Florida for example; but I also can't see Lane Kiffin or Pete Carroll being successful in Lincoln. And in my opinion there are only a few guys who can shape a program around their personality. Nick Saban could coach anywhere, Urban Meyer probably could, and Jim Tressel could in most places. But I have a difficult time seeing Mack Brown outside the southeast or southwest and Bo Pelini outside the midwest. All of these guys could still coach, but I think they would struggle in fan support -- and so they would also in recruiting.
Tim Griffin:
You make an interesting point, although I think that Pelini would work in more places than you might suspect. He's a dyed-in-the-wool football coach and would succeed at most traditional powers, although I think his style best suits him at Nebraska. But I could see him being successful in the Southeastern Conference, in the Big Ten or even at Notre Dame. Anywhere they have a deep appreciation for football, I can see Pelini working out.
I think coaches like Bob Stoops, Saban, Meyer and Tressel would work most places. I also think you might include some underrated coaches out there like Mike Riley of Oregon State, Gary Patterson of TCU, Jeff Tedford of California and Chris Peterson of Boise State would be adaptable at almost any job in the country. But it does seem that the smart coaches are the ones who pick places where they are comfortable and have the best chance for success.
---
Kyle Zander of Fort Hood, Texas, writes:
Will
Chris Whaley
and Desean Hales get playing time for Texas in 2010? I played against Hales in high school and the kid is the real deal, Texas needs to get him involved as soon as possible. And Whaley could help, too.
Tim Griffin:
Texas needs to find some help for its running game. Whaley was hurt when he reported to practice last summer and never regained his form. If he's willing to rededicate himself, there likely is a chance for him to earn some playing time this spring. He needs to have a big spring to get there.
Sales is in a similar situation. The Longhorns have wide receiving talent in players like senior-to-be
John Chiles
and
James Kirkendoll
.
Malcolm Williams
is a big strong receiver who will emerge in coming seasons and should be the team's featured receiver in 2010. But there are catches – plenty of them -- available for Hales if he can force himself into the mix.
---
Brett Stamm from Keller, Texas, writes:
Tim, love the blog! Keep up the good work! Has Mike Sherman, or will Mike Sherman, or why will Mike Sherman not, consider Dat Nguyen for defensive coordinator? Talk about a guy who has done an outstanding job in his current position and would bring some instant credibility with players and recruits in a program that has pretty much let a proud defensive tradition die with questionable and mediocre hires. This is a guy who was the face of and exemplified the "Wrecking Crew" tradition for four years! Your thoughts?
Tim Griffin:
Brett, Dat Nguyen has been a key member of Wade Phillips' staff as an assistant linebacker coach and defensive quality control assistant with the Dallas Cowboys. But I would suspect that Sherman probably would like for Nguyen to have a little more seasoning and experience calling defenses before he would give him the responsibility of serving as the Aggies' defensive coordinator.
In a way, Nguyen reminds me a little of Major Applewhite as they develop in their coaching careers. It won't surprise me if both become successful coordinators and eventually outstanding head coaches. But they need more experience to get there.
Nguyen seems like a natural to join the A&M coaching staff in the future. But I think it might be a stretch to see him as the Aggies' defensive coordinator at this stage of his career.
That's all the time I have for today. Thanks again for all of the good questions and keep the letters and e-mails coming. I'll check back again on Friday.
June, 18, 2009
6/18/09
6:14
PM ET
By
Tim Griffin
| ESPN.com
Posted by ESPN.com's Tim Griffin
No. 17
Kingsbury and Long hook up in passing duel for the ages
Date: Oct. 5, 2002
Place: Kyle Field, College Station, Texas
Score: Texas Tech 48, Texas A&M 47 (OT)
The Texas A&M-Texas Tech rivalry has developed into one of the country's most bitter blood feuds in the last few years. The Red Raiders have proved difficult for Texas A&M ever since Mike Leach took over in 2000.
One of the most memorable games in the rivalry wasn't settled until one of the wildest passing shootouts in conference history transpired.
Kliff Kingsbury was judged to be one of the nation's top quarterbacks in 2002, setting a conference record with six touchdown passes the week before the A&M game in a 49-0 beatdown of New Mexico.
Texas A&M quarterback Dustin Long wasn't expected to be nearly as proficient. Coming into the Tech game, he had thrown only one touchdown pass in his previous college career.
But that didn't faze him as he started quickly against the Tech secondary, blistering them for a 78-yard touchdown pass to Bethel Johnson on A&M's first offensive play of the game. He also added three other touchdown passes -- a 4-yard toss to Greg Porter, 9 yards to Terrence Murphy and 15 yards to Johnson -- to spark the No. 23 Aggies to a 28-17 halftime advantage.
Kingsbury was just as hot early, starting the game with 14 straight completions. But Long was more effective early, boosting the Aggies to a 35-17 lead on an 82-yard touchdown strike to Jamaar Taylor with 6:57 left in the third quarter.
That lead held until the fourth quarter when Kingsbury went to work.
The Red Raiders exploded for 21 unanswered points in a span of less than 10 minutes to take the lead after a 21-yard Kingsbury TD pass to Wes Welker, a 15-yard TD toss from Kingsbury to Taurean Henderson and a 88-yard punt return by Welker with 2:48 left. A two-point pass from Kingsbury to Anton Paige provided Tech with a 38-35 lead with 2:48 left.
The Aggies answered on a wild scoring play when running back Stacy Jones recovered a fumble by Porter at the Texas Tech 1 and carried it into the end zone with 1:40 left to extend A&M's lead to three. But kicker John Pierson missed the extra point to make it 41-38.
Kingsbury then engineered a seven-play 56-yard drive in only 98 seconds. It was capped by a 42-yard field goal by Robert Treece with two seconds left, tying the game at 41 and setting up the first overtime game in the history of the series.
The Aggies scored first in overtime on Long's seventh touchdown pass of the game, a 3-yarder to Terrence Thomas. But Pierson sent the conversion careening wide left, giving Tech an opening.
Four plays later, Kingsbury hooked up on an inside screen pass to Nehemiah Glover, who cut to the middle before scoring on a 10-yard reception. Treece's conversion gave the Red Raiders a wild 48-47 victory.
Kingsbury's heroics were particularly sweet considering he wanted to attend A&M coming out of high school. The Aggies never seriously recruited him and he ended up at Tech, where he left school as the most productive passer in school history.
The numbers: Kingsbury and Long combined for 841 passing yards and 13 touchdowns. Kingsbury completed 49-of-59 passes for 474 yards and six touchdown passes; Long was 21 for 37 for 367 yards and a Big 12 record seven TD passes. At the time, the Aggies' 47 points were the most they have ever scored in a loss.
It was also the most points that A&M had allowed at Kyle Field since a 57-28 loss to Texas in 1977. The week before the game, Long threw a touchdown pass in his first career start. It snapped a string of seven straight A&M games without a touchdown pass. And Henderson produced 13 catches for 61 yards to pace Tech.
They said it, part I: "This is the biggest definitely. To do it against A&M -- a college I wanted to come to out of high school, and they didn't recruit me -- I made my point today," Kingsbury, who told the Lubbock Avalanche Journal that the win was particularly memorable to him.
They said it, part II: "All week long, I had a great week of practice. The snaps and holds were great. It was my fault. I thought the first one was good, but it just missed going through. The second one I pulled from the beginning, and I knew I missed it right away," Pierson, who described his missed extra points to reporters after the game.
They said it, part III: "I didn't see anybody on our sideline that didn't think we couldn't win," Tech coach Mike Leach, commenting on his team's 18-point fourth-quarter comeback.
The upshot: Texas Tech utilized momentum from the victory to charge to an upset victory over Texas later in the season. That triumph boosted the Red Raiders into a winner-take-all battle for the South Division title against Oklahoma that they lost, 60-15.
After that loss, they advanced to the Tangerine Bowl where they notched a 55-15 triumph over Clemson for their first bowl victory under Leach. The Red Raiders finished the season at 9-5.
A&M coach R.C. Slocum and the Aggies had trouble overcoming the Tech loss. The Aggies lost four of their final five games that season to finish 6-6. Slocum was fired after the final game of the season, a 50-20 loss at Texas, and replaced by Dennis Franchione.
Long started the remaining games of the season but was supplanted by Reggie McNeal as the Aggies' starter the following season. After the demotion, Long transferred to Sam Houston State following the 2003 season where he completed his college career.
The countdown:
18. Henery and Suh make Colorado blue.
19. Stunning OSU rally leads to Stoops' first home loss.
20. It's never over for Texas Tech until it's over.
21. Reesing to Meier. Again and again.
22. A Texas-sized comeback -- Texas over Oklahoma State in 2004.
23. A Border War unlike any of the rest -- Missouri over Kansas in 2007.
24. Seneca Wallace's wild TD run vs. Texas Tech in 2001.
25. Baylor's "So Much for Taking a Knee" against UNLV in 1999.
June, 15, 2009
6/15/09
6:30
PM ET
By
Tim Griffin
| ESPN.com
Posted by ESPN.com's Tim Griffin
Today is a special summer day for football fans across Texas and the Southwest.
Today is the annual release date of Dave Campbell's Texas Football, which is the unquestionable college football magazine of record in these parts every year.
This magazine is special because it's the 50th anniversary edition. The first one was laid out on the kitchen table of former Waco Tribune-Herald sports editor Dave Campbell, who started it in 1960.
It's gotten much bigger than that over the years, being read by three generations of football fans over the years. Today, there's a Texas Football classic every year at the Alamodome and even an official Texas Football song.
I first learned about the magazine in the late 1960s when a friend of mine in fifth grade, Richard Jackson, moved to Memphis from Houston. Along with his neat Houston Astros hat that I always was envious of was his copy of Texas Football Magazine. The story and pictures of the guys from Texas, Baylor and Rice were so different than anything I came across in the Southeastern Conference. I wanted mine, too.
My dad occasionally traveled to Texas with his job and soon learned to look at the 7-Eleven on one of his trips to Dallas to see if he could score a copy of Dave Campbell for me.
Later, my family moved to Texas and I learned the excitement of visiting the newsstand in mid-June to pick up the Dave Campbell magazine, which was there to chronicle the demise of the Southwest Conference and the start of the Big 12.
The new one will officially be released today across the area. And the coverboy is Texas quarterback Colt McCoy, who becomes the first individual player to be pictured since Texas wide receiver Roy Williams in 2003.
I picked up my copy and am already deeply into it. It takes me back to my childhood.
The only problem is that I wonder why I couldn't pick up a Grape Slurpee to drink with it like I used to back in the day.
A list of the cover boys in the magazine's history exhibits a unique history of football in the southwest. Here's a list of the players who have graced the cover of the magazine over the years.
1960: Texas RB Jack Collins
1961: Baylor RB Ronnie Bull
1962: TCU QB Sonny Gibbs
1963: Texas coach Darrell Royal and DT Scott Appleton
1964: Baylor coach John Bridgers and WR Lawrence Elkins
1965: Texas Tech RB Donny Anderson
1966: SMU NG John LaGrone, Baylor DT Greg Pipes, Texas DT Diron Talbert
1967: Texas A&M T Maurice "Mo" Moorman
1968: Texas A&M QB Edd Hargett
1969: Texas QB James Street
1970: Texas RB Steve Worster
1971: Texas Tech QB Charles Napper
1972: Texas A&M LB Brad Dusek
1973: Texas LB Glen Gaspard
1974: Texas coach Darrell Royal
1975: Baylor coach Grant Teaff
1976: Houston coach Bill Yeoman
1977: Texas Tech QB Rodney Allison
1978: Texas A&M K Tony Franklin and Texas K/P Russell Erxleben
1979: Texas DT Steve McMichael
1980: Baylor LB Mike Singletary and Texas A&M QB Mike Mosley
1981: Baylor RB Walter Abercrombie and SMU RB Craig James
1982: Texas A&M QB Gary Kubiak
1983: SMU QB Lance McIlhenny
1984: Texas A&M DE Ray Childress
1985: TCU coach Jim Wacker and TCU RB Kenneth Davis
1986: Texas A&M coach Jackie Sherrill
1987: Texas QB Bret Stafford and Texas coach David McWilliams
1988: Texas RB Eric Metcalf and Texas A&M LB John Roper
1989: Houston coach Jack Pardee and SMU coach Forrest Gregg
1990: Texas Tech coach Spike Dykes
1991: Houston QB David Klingler
1992: Rice RB Trevor Cobb
1993: Texas A&M coach R.C. Slocum
1994: Texas QB Shea Morenz
1995: A collage of Southwest Conference historical figures including Texas RB Earl Campbell, Houston coach Bill Yeoman, Baylor LB Mike Singletary, TCU QB Sammy Baugh, Texas coach Fred Akers, Texas coach Darrell Royal and SMU RB Doak Walker.
1996: Baylor coach Chuck Ready, Texas Tech coach Spike Dykes, Texas coach John Mackovic and Texas A&M coach R.C. Slocum
1997: Texas QB James Brown and Texas RB Ricky Williams
1998: Texas A&M LB Dat Nguyen, Texas RB Ricky Williams and Texas coach Mack Brown
1999: Texas coach Mack Brown and TCU coach Dennis Franchione. Note: Alternative cover for those magazines sold outside the state featured Dallas Cowboys QB Troy Aikman
2000: Midland Robert E. Lee H.S. RB Cedric Benson
2001: Texas QB Chris Simms, TCU QB Casey Printers, Texas A&M QB Mark Farris and Texas Tech QB Kliff Kingsbury
2002: Texas Tech QB Kliff Kingsbury, Celina H.S. coach G.A. Moore, Dallas Cowboys RB Emmitt Smith and Baytown Lee H.S. QB Drew Tate.
2003: Texas WR Roy Williams
2004: Texas Tech DE Adell Duckett, TCU S Marvin Godbolt, Houston QB Kevin Kolb, North Texas RB Patrick Cobb
2005: Texas QB Vince Young and Texas A&M QB Reggie McNeal
2006: Former Texas RB Earl Campbell, Mansfield Summit H.S. QB John Chiles, Texarkana Texas H.S. QB Ryan Mallett and Gilmer H.S. QB G.J. Kinne
2007: Texas A&M QB Stephen McGee, Texas QB Colt McCoy and TCU DE Tommy Blake
2008: Texas Tech coach Mike Leach, Texas Tech QB Graham Harrell and Texas Tech WR Michael Crabtree
2009: Texas QB Colt McCoy
Source: ESPN.com research

April, 16, 2009
4/16/09
6:41
PM ET
By
Tim Griffin
| ESPN.com
Posted by ESPN.com's Tim Griffin
COLLEGE STATION, Texas -- His athleticism still wows observers almost every day at practice.
But Texas A&M quarterback Jerrod Johnson is intent on doing more than merely relying on his strong arm and quick feet.
| | |
| --- | --- |
| | |
| | Paul Jasienski/Getty Images |
| | Texas A&M quarterback Jerrod Johnson has been working on his mechanics this offseason. |
After a sophomore season alternately marked by success and struggles, Johnson is diligently working on becoming more of polished quarterback.
"I think I'm leaps and bounds better than I was last year," Johnson said. "I just understand the offense better, understand football and I'm seeing the coverages and blitzes better. I feel like I can do it with my ability rather than having to sit and think about what I have to do."
There were some early flashes of brilliance when Johnson replaced injured starter Stephen McGee after three games last season. Johnson threw multiple touchdown passes in five of his first six starts and went a record 213 attempts before he was intercepted. That streak matched the Big 12 record set by Texas A&M's Reggie McNeal and later tied by Kansas' Todd Reesing.
"I guess I did accomplish a little bit, but the one thing that stays on my mind is our record," said Johnson, who notched a 2-7 mark as a starter last season. "You only get judged by the games you win. And regardless of what I did individually, it's obvious that we weren't good enough."
Johnson struggled badly in losses against Baylor, Oklahoma and Texas to finish the season.
After completing 64 percent of his passes in his first six starts with 14 touchdowns and three interceptions, Johnson tailed off at the end, completing 47.2 percent of his passes with three touchdowns and six interceptions. His quarterback ranking dropped by nearly 50 points during that three-game span compared to his first six starts.
Texas A&M coach Mike Sherman doesn't expect those late struggles to hamper Johnson's development.
"I don't think the way our season ended was a reflection of him as much as it was our entire team," Sherman said. "I never look back on stuff like that. He's a great kid who works extremely hard. There's no residual effect there."
But it still didn't keep Sherman from fulfilling a promise to sophomore wide receiver Ryan Tannehill to move him to quarterback, producing some intrigue coming into the spring. That competition hasn't materialized this spring as Tannehill has been recovering from shoulder surgery.
That injury will leave Johnson and redshirt freshman Tommy Dorman with most of the snaps Saturday at the Aggies' spring game at Kyle Field.
For his part, Johnson said the game has slowed down from last spring. During that work, he was involved in a tight battle with McGee.
"This year, it seems like I can pick and choose and see when things will come," Johnson said. "I know how I will react before the ball is snapped as opposed to acting on the fly like it happened last year.
"That's really helped me out as far as understanding defenses and knowing how to react," Johnson said. "I can just get my thoughts together and make it happen when the ball is snapped."
Quarterbacks coach Tom Rossley has spent much of the spring working on Johnson's mechanics, particularly in his delivery of shorter, crisp passes.
At times last season, Johnson seemed to be overwhelmed by the pressure of blitzing defenses. It's led him to make a conscious effort to try to be faster in his reads and make quicker deliveries of his throws.
"I'm trying to get the ball out of my hands more quickly and just working with my footwork," Johnson said. "One thing that has haunted me throughout my career is getting the ball out quickly. Coach Rossley always tells me that your feet will guide. And once you do that, your arm will come with you. That's just one thing for me to work on."
His development will be critical for a young team that finished tied for last in the Big 12 South -- their worst finish in the history of the conference.
"We had a lot of young guys playing last year," Johnson said. "A bunch of us grew up together as the season went on and learned as we grew. I think it will start showing next year -- it's already showing in the spring. I think we'll have a lot of success in the future."
November, 12, 2008
11/12/08
4:37
PM ET
By
Tim Griffin
| ESPN.com
Posted by ESPN.com's Tim Griffin
The "Battle of the Brazos" should be interesting the next couple of seasons.
Bitter former Southwest Conference rivals Texas A&M and Baylor both are struggling through disappointing 2008 seasons with first-year coaches. But neither team appears to have many worries in the short term with the quarterbacks they currently have on hand.
Texas A&M sophomore quarterback Jerrod Johnson and Baylor freshaman quarterback Robert Griffin have been noticeable bright spots in seasons for both schools that haven't had many highlights. And their personal battle Saturday at Floyd Casey Stadium should be an interesting one featuring two of the Big 12's more spectacular athletes.
For all of the talk about Heisman candidates Graham Harrell, Colt McCoy, Sam Bradford and Chase Daniel, the two quarterbacks with the brightest futures in the conference might be Johnson and Griffin.
"It will be exciting to watch us progress over the next several years," Johnson said. "I'm impressed with what they are doing at Baylor and I like a lot of the things they do. They are very creative and Robert is a heck of a player. It should be a good matchup."
Johnson has already cut a wide swath through the A&M record book, tying the single-season record for touchdown passes and notching two of the four highest single-game passing efforts in school history.
Griffin leads Baylor in rushing (688 yards) and touchdowns (11) and has passed for 1,759 yards and 12 touchdowns. He is the first player in Baylor history to run and pass for 10 touchdowns in the same season.
Interestingly, Johnson's presence at Texas A&M before him made the Aggies turn away from recruiting Griffin as a potential quarterback when he was being recruited.
Instead, they decided to offer Griffin a scholarship only as a safety -- a slight that made him commit to Art Briles first at Houston and then follow him to Baylor when he took the Bears' coaching position.
"I wasn't interested in playing anywhere else but at quarterback," said Griffin, the nation's youngest quarterback. "I don't have any grudges or hard feelings towards them. I just decided to go someplace else."
Both quarterbacks had long interceptions streaks that recently were stopped. Griffin set an NCAA freshmen record with a streak of 209 passes to start his career before he was intercepted in the Missouri game.
And Johnson went 213 attempts before he was intercepted last week by Oklahoma. His streak matched the Big 12 record set by Texas A&M's Reggie McNeal and later tied by Kansas' Todd Reesing.
Difficult opponents led each quarterback through arguably their worst performance of the season last week. Griffin struggled through a 6-for-19, 71-yard effort in a 42-21 loss to Texas where he was sacked three times and intercepted once.
Johnson was removed in the third quarter in a 66-28 loss to Oklahoma after he was intercepted twice on successive passes. He finished that game by completing 11 of 31 passes for 162 yards with two interceptions and three sacks in what was also his worst game of the season.
"Their defense was good and we were a little out of synch," Johnson said. "With Oklahoma's offense, you can't start out slow and hope to build as the game goes on. You've got play perfect and we just didn't execute as well as we would have liked."

Despite those recent struggles, both young quarterbacks are excited about the chance to turn around their seasons around this week while they build to 2009.
"We're not just preparing for 2009," Griffin said. "We're looking towards the future, but not just saying we're playing for next year. We're looking to finish out with two wins and build on that for next year."
November, 4, 2008
11/04/08
1:26
PM ET
By
Tim Griffin
| ESPN.com
Posted by ESPN.com's Tim Griffin
The morning after games are a little different for Texas A&M quarterback Jerrod Johnson these days.
| | |
| --- | --- |
| | |
| | Stephen Mally/Icon SMI |
| | Jerrod Johnson is completing 63 percent of his passes. |
It's not like he's complaining about the assortment of postgame bumps, bruises and scrapes that keep turning up. Johnson is just happy to be playing again on a regular basis.
"On Sundays, things are pretty slow and I'm pretty sore," Johnson said. "But I'm feeling all right. That's what we did was work hard all summer to deal with all of the grueling stuff we face. I think I've held up pretty well."
A&M coach Mike Sherman is relieved at that comment, which might be one of the biggest understatements in recent memory.
After taking over the starting job when Stephen McGee went down with a shoulder injury, the sophomore has pumped some life back into A&M's program. His recent passing binge has fueled the Aggies' modest two-game winning streak leading into their game Saturday against No. 4 Oklahoma.
"I knew he was a very talented player and bright," Sherman said. "But to think he would be as comfortable as he is, I can't say I thought that would happen. He still has a ways to get better at, but his comfort level has exceeded my expectations."
Johnson and McGee were involved in a tight battle for the starting job during fall camp. McGee eventually won out and started the Aggies first three games.
But Sherman found a way to get the 6-foot-5, 229-pound Johnson in the game, starting him at wide receiver to capitalize on his athleticism. Johnson still leads the Aggies with a 20.5 yard per reception average from earlier in the season.
And when McGee went down with a shoulder injury against Miami, Johnson directed the victory off the bench and also started the next game against Miami before returning to wide receiver against Army. But McGee re-injured his shoulder against the Black Knights and Johnson delivered a game-winning touchdown pass in relief.
He hasn't looked back from there, erupting on a record-breaking pace he credits to the growth of his teammates with him. Eight freshmen are listed on Texas A&M's offensive two-deep roster, including three who are listed as starters or co-starters.
"It's slowed down a little bit, but the biggest thing is the guys around me," Johnson said. "They've done a great job of learning the offense. I think the game has slowed down and I've gotten better, but it's a great job of the team coming together."
September, 18, 2008
9/18/08
5:54
PM ET
By
Tim Griffin
| ESPN.com
Posted by ESPN.com's Tim Griffin
As Colorado prepares to meet West Virginia later this evening, here are a couple of historical nuggets that aren't too fondly remembered in the Brazos Valley.
Trust me.
Sept. 18, 1954: No. 19 Texas Tech 41, Texas A&M 9 (College Station, Texas) -- Only days after their infamous training camp at Junction concluded, the Aggies gradually wore down against the surging Red Raiders. A&M self-destructed with 10 fumbles. Tech FB Jack Spinks scored a pair of touchdowns to lead the Red Raiders to their first victory in school history at Kyle Field.
Sept. 18, 2003: No. 8 Virginia Tech 35, Texas A&M 19 (Blacksburg, Va.) -- Kevin Jones rushed for a career-high 188 yards and three TDs to lead the Hokies to a Thursday night victory despite rainy conditions caused by Hurricane Isabel. A&M pulled within 21-19 on Reggie McNeal's 15-yard pass to Tim Van Zant in the opening minute of the fourth quarter. But the Hokies cruised from there, scoring two late TDs from a ground attack that produced 273 yards.