February, 3, 2014
2/03/14
4:30
PM ET
As we close in on national signing day, it's an appropriate time to look back at how the top Big 12 recruits from four years ago performed.
2010 was a banner year for the Big 12 in recruiting, as the league
collectively landed 23 from the ESPN 150
.
A few, such as
Jackson Jeffcoat
,
Ahmad Dixon
and
Shaun Lewis
, became stars. Others washed out before their careers ever got off the ground.
[+] Enlarge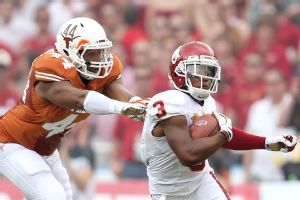 Matthew Emmons/USA TODAY SportsFormer five-star prospect Jackson Jeffcoat finished his career as the best defensive end in the Big 12.
Below is a closer look at what happened to
ESPN 150
players who signed with Big 12 schools:
No. 2: Jackson Jeffcoat, DE, Texas –
Though he never reached a high level of team success, Jeffcoat had a great individual end to his career, earning Big 12 co-Defensive Player of the Year honors and leading the league with 13 sacks.
No. 4: Jordan Hicks, LB, Texas –
Hicks has been good when he has played. Because of multiple injuries, that hasn't been often. Hicks missed most of last season with a torn Achilles, just a year after also being knocked out with a hip flexor injury. After getting a medical redshirt from his 2012 season, Hicks has one more year of eligibility remaining.
No. 13: Mike Davis, WR, Texas –
Davis finished in the Big 12's top 10 in receiving the last two seasons, compiling 200 career catches and 18 touchdown receptions.
No. 14: Taylor Bible, DT, Texas
– Bible never played a down at Texas, leaving after his redshirt freshman season because of issues with grades. Bible ended up at Carson-Newman.
No. 15: Ahmad Dixon, S, Baylor –
Dixon had a tremendous tenure with his hometown school, earning All-Big 12 and All-American honors as a senior as Baylor captured its first Big 12 title in 2013.
No. 18: Demarco Cobbs, ATH, Texas
– The Tulsa, Okla., native has appeared in 29 games on special teams and as a defensive reserve. He missed all of the 2013 season with a knee injury.
No. 20: Darius White, WR, Texas
– After making just six catches his first two seasons, White transferred to Missouri. He caught just seven passes this season for the Tigers, but has another year of eligibility left.
No. 21: Tony Jefferson, S, Oklahoma
– In his first season, Jefferson was the Big 12 co-Defensive Freshman of the year, and he was a three-year starter before leaving early to go pro.
No. 46: Ashton Dorsey, DT, Texas –
After serving as a reserve throughout his career, Dorsey was projected to start this season, but he transferred out days before Texas' season opener.
No. 48: Austin Haywood, TE, Oklahoma –
After getting playing time as a third tight end early in his career, Haywood unexpectedly quit in the middle of the season, tried to earn his way back on the team, failed and ended up transferring to Central Arkansas. After getting suspended there, Haywood gave up football.
No. 62: Corey Nelson, LB, Oklahoma –
Nelson shined early this season after finally getting a chance to be a full-time starter. That, however, was short-lived, as Nelson tore his pectoral muscle in an early October win over TCU and sat out the rest of his final season.
No. 65: Blake Bell, QB, Oklahoma –
The "Belldozer" starred his first two seasons as a situational, short-yardage QB. But in the preseason, Bell was beaten out by
Trevor Knight
for the starting job. Bell, however, still had his moments this season because of injuries to Knight. He led OU to a win at Notre Dame, then quarterbacked OU's game-winning touchdown drive at Oklahoma State.
No. 72: Reggie Wilson, DE, Texas –
He appeared in 51 games as a defensive reserve. Wilson had 19 tackles and a sack as a senior.
No. 73: Chris Jones, WR, Texas
– Jones transferred out after one year, and never played.
No. 75: Shaun Lewis, LB, Oklahoma State –
Lewis made an immediate impact, earning Big 12 co-Defensive Freshman of the Year honors along with Tony Jefferson. Lewis was a four-year starter and a big piece in Oklahoma State's defensive turnaround this season.
[+] Enlarge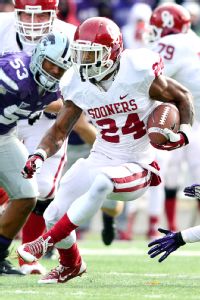 Jasen Vinlove/USA TODAY SportsFormer ESPN 150 recruit Brennan Clay was a solid, not spectacular, tailback for the Sooners.
No. 77: Quentin Hayes, S, Oklahoma –
After serving a year-long suspension, Hayes returned to win a starting job this past season. He has another year left.
No. 86: Tevin Jackson, LB, Texas
– Jackson has been a backup linebacker for the Longhorns and will be part of the team's great depth there in 2014.
No. 103: Adrian White, CB, Texas
– Played in 17 games, then joined the mass transfer exodus from this Texas class.
No. 109: Ivan McCartney, WR, West Virginia
– McCartney never became a No. 1 receiver, though he did contribute on West Virginia's explosive offenses in 2011-12. He only had 12 catches this past season as a senior, however.
No. 114: Aaron Benson, LB, Texas
– The cousin of former Texas running back great Cedric Benson has only been a contributor on special teams.
No. 122: Carrington Byndom, S, Texas
– One of the few players from this Texas class to pan out. Byndom made 39 career starts and was a second-team All-Big 12 selection this past season.
No. 129: Brennan Clay, RB, Oklahoma –
Clay proved to be a reliable and steady force in the OU backfield. He finished his career with 1,913 rushing yards, including 957 in 2013.
No. 134: Adrian Philips, ATH, Texas –
Phillips
settled in the Texas secondary, collecting 28 career starts there. He was second on the team this past season with 82 tackles.
No. 141: Trey Hopkins, OG, Texas –
Hopkins became a stalwart up front, making 42 career starts along the offensive line. He was a two-time, second-team All-Big 12 selection.
No. 142: Justin McCay, ATH, Oklahoma
– McCay transferred to Kansas after two years in Norman. He had nine receptions and a touchdown, which also was the first scoring catch by a Kansas wide receiver in almost two full seasons.
February, 21, 2013
2/21/13
1:00
PM ET
We're moving on with a new series today looking at the players across the Big 12 who have to replace program legends. We might as well call this the
Nick Florence
Memorial team, but let's talk
Texas Longhorns
.

Big shoes to fill: Texas' defensive ends
Texas isn't replacing much next season; the Longhorns
bring back 19 starters to lead the Big 12
and tie for the national lead. That's got to bring a smile to Mack Brown's face, but the departing
Alex Okafor
leaves behind a big hole at defensive end following a season with 16.5 tackles for loss and a Big 12-leading 12.5 sacks.
Jackson Jeffcoat
has the opposite end spot locked down, of course, but filling Okafor's role will get really interesting this spring. Senior
Reggie Wilson
contributed each of the past three seasons, made a start in 2012 and may step into that role, but junior
Cedric Reed
started the last six games of the year without Jeffcoat and had 4.5 tackles for loss in the final five games of the season. It seems like he might be the safer bet, but sophomore Torshiro Davis could be a dark horse after burning his redshirt year following Jeffcoat's injury. The Longhorns need production opposite Jeffcoat and have a few solid options to do it, so even with Okafor's absence, Texas has reason to feel solid about this spot heading into the 2013 season.
More big shoes to fill:
November, 1, 2012
11/01/12
10:15
AM ET
Here's what I'm watching for in the Big 12 this week:
1. Welcome back -- your dreams were your ticket out.
West Virginia's offense stumbled in big losses to Texas Tech and Kansas State and had a bye week to sit in the corner of the classroom and think about what it just did. Or something like that. WVU is back and plays an underrated but beat-up TCU defense. Can
Geno Smith
& Co. finally get back on track? It'll be the difference between 7-5 or 6-6 and 10-2 or 9-3.
2. You wouldn't like them when they're angry.
Oklahoma has never lost consecutive conference games under Bob Stoops. Notre Dame's not a conference game, of course, but it might as well be. Point is, late in the season the Sooners don't take too well to losing consecutive games. Iowa State hosts an angry bunch of Sooners. The last time OU was coming off a loss, it destroyed a pretty good Texas Tech team on the road back in September.
3. Get a push, or end up on your tush.
If the Cowboys can't slow down Kansas State's rushing attack on some level, it's going to be an ugly, ugly game. OSU might have to do it without its best tackle, too.
Calvin Barnett
was arrested for driving with a suspended license -- the third time that has happened.
[+] Enlarge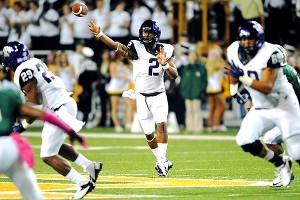 Jerome Miron/US PresswireTCU could get quarterback Trevone Boykin back this week, but a knee injury might limit his effectiveness.
4. Are the kinfolk OK?
Gary Patterson sounds like he thinks he'll have quarterback
Trevone Boykin
this week against West Virginia. Boykin's a speedy guy who uses his legs a lot. With a knee injury, will that affect TCU's game plan? If Boykin's sitting in the pocket all day, that certainly will have an impact on his effectiveness.
5. Back to the start.
Texas Tech's defense gave up scores on seven consecutive drives last week, and K-State scored 55 points. TCU scored 53 in triple overtime the week before. The Tech defense has taken some lumps over the past couple of weeks. It gets a struggling Texas offense this week. Can Texas Tech return to its early-season ways on defense?
6. Losing is the hardest part.
Kansas State leads the Big 12 in scoring offense and defense, but the defense lost a big piece in linebacker
Tre Walker
last week. He may be out awhile.
Arthur Brown
gets all the publicity, but Walker was a fantastic player, too. How badly will he be missed this week against Oklahoma State?
7. If you don't rush, they won't hurry.
Texas didn't have
Jackson Jeffcoat
last week after he suffered a season-ending pectoral injury, but Kansas isn't exactly a test for your pass rush. The Jayhawks threw nine passes last week against Texas. Just a hunch: Texas Tech will throw more than that this week -- in the first quarter. How will Longhorns defensive end
Reggie Wilson
handle a heavier load, and will Tech's line be able to slow
Alex Okafor
this week?
8. Time for a Sims 5 release party.
James Sims
has rushed for 100 yards in four consecutive games, and I'll go ahead and predict he rolls over Baylor for a fifth this week. However, can Baylor's defense show some fight? The Bears are ninth in the Big 12 in rush defense.
9. West Virginia learned this the hard way, Baylor.
When WVU lost
Stedman Bailey
, defenses were able to slow down
Tavon Austin
. With
Tevin Reese
banged up a little bit, will the same happen to
Terrance Williams
? I'm betting no, and that Kansas doesn't have the athletes in the secondary to make that happen, but it'll be interesting to see how KU tries to cover Reese, and if Reese is still effective after suffering a knee injury last week. He's expected to play.
10. Two in a row is the hard part.
Steele Jantz
blew up one of the Big 12's worst defenses last week, throwing for almost 400 yards and five touchdowns against Baylor. This week, he faces one of the best, and probably the league's best secondary in Oklahoma, which has surrendered only three passing touchdowns all season. Can Jantz keep it rolling for a second consecutive week?
October, 18, 2012
10/18/12
12:00
PM ET
You just bought Kareem Abdul-Jabbar's bones, and he's not even dead!
October, 14, 2012
10/14/12
10:21
PM ET
AUSTIN, Texas -- The Texas defense, which has suffered many blows in the past few weeks, just took another to the gut.
Jackson Jeffcoat
is out.
Gone for the season
. He tore his pectoral muscle. This time it was the right one. Last year it was the left one. So much for Texas having the top two defensive ends in the Big 12. Instead Texas is just left with big questions at a time when it is searching for answers.
The foremost is: Can
Cedric Reed
or
Reggie Wilson
even come close to producing at Jeffcoat's level? The answer is no. If they could, they would have had the starting spot.
[+] Enlarge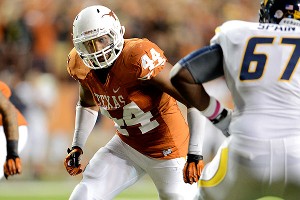 John Albright/Icon SMITexas will have to replace DE Jackson Jeffcoat, arguably its top defender, with inexperienced players.
Wilson showed a flash against Ole Miss when he jumped a diving blocker and sacked
Bo Wallace
.
Jeffcoat does stuff like that every game. The junior had four sacks, 11 tackles for loss, two forced fumbles and a fumble recovery for a touchdown already this season. Reed and Wilson have a combined five tackles for loss and one sack.
But Jeffcoat's game went beyond stats. He, along with bookend
Alex Okafor
, was able to pin in quarterbacks and shrink their options. The reason
Geno Smith
was unable to roll the pocket and therefore roll Texas was because he had Jeffcoat to his left and Okafor to his right every time he dropped back. It was the combined pressure of the two that forced Smith to take four sacks and be stripped of the ball twice.
Without that type of pressure the Texas secondary, which already has issues in coverage, is susceptible to being picked apart by a quarterback like Baylor's
Nick Florence
. Florence, the FBS leader in total offense, just so happens to be the next QB Texas faces.
The Longhorns might consider pulling the redshirt off someone like
Shiro Davis
in order to get more speed on the edge. But, as Texas has proven in the past two losses, it is very tough to play fast as a defensive player when you do not know where you are going.
Without Jeffcoat, Texas, a team that has allowed 111 points and more than 1,100 yards in the past two games, might be wondering where it is going.
Ash not ruled out
Texas has prepared itself since the spring to use two quarterbacks. Now the Longhorns might have to do just that.
While quarterback
David Ash
has not been ruled out with a bruise to his non-throwing wrist, he has not been cleared to play, either. That means Texas might once again be turning to backup
Case McCoy
.
The junior, who was 3-2 as a starter in 2011, lost out on the starting job after what was an eight-month competition. But the Texas coaches qualified their selection of Ash by stating, repeatedly, that they felt McCoy was more than an adequate backup and that they would not hesitate to play him.
Well, now the time might have come and it might be against Baylor, which happens to be the last team McCoy started against. In that game, McCoy was responsible for five turnovers. That, as much as anything, is what led to his demotion.
The coaching staff could not abide a quarterback who played fast and loose with the ball. They wanted a game manager. Ash better fit that role. McCoy, on the other hand, is much more of a draw-it-up-in-the-dirt player.
But McCoy has matured. He has added 15-20 pounds and put more zip on his intermediate throws as well as length on deep throws.
If he is the quarterback, it is almost a certainty that co-offensive coordinator Bryan Harsin will play it close to the vest and try to get McCoy to distribute the ball to playmakers such as
Daje Johnson
,
Marquise Goodwin
and
Johnathan Gray
. That has been when Texas is at its best. And to beat Baylor, a team that is No. 2 in total offense and No. 4 in scoring offense, Texas' offense will have to be at its best.
July, 21, 2011
7/21/11
10:30
AM ET
We've tackled every other spot, and now we'll wrap up out Big 12 position rankings with the defensive lines across the Big 12.
Here are the rest of the position rankings.
Now that we've finished ranking the complete units, we'll start ranking the top 10 at each position very soon leading into the 2011 season.
This is a decent position for the Big 12 this season, and the top half of the league should feel pretty good about their group. There aren't many studs in this group, but there are a whole lot of solid players.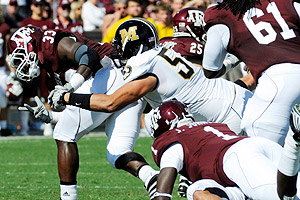 AP Photo/Pat SullivanMissouri has one of the Big 12's best pass rushers in Brad Madison.
1. Missouri --
Missouri has the Big 12's best returning pass rusher and a Defensive Player of the Year contender in Brad Madison, but its depth is what lands it on top of the list. Jacquies Smith is solid at the opposite defensive end spot, and Michael Sam and Kony Ealy provide great depth at DE. Dominique Hamilton's absence last season hurt after breaking his ankle against Oklahoma, but he's back, alongside Terrell Resonno. Sheldon Richardson, who may be transferring from junior college, is a wildcard that could be anywhere between a complete game changer, irrelevant or absent.
2. Oklahoma --
Oklahoma's defensive tackles are somewhat suspect, but the defensive end combo of Ronnell Lewis (provided he is eligible come fall camp) and Frank Alexander is on par with the best in the Big 12. Both were preseason All-Big 12 selections, but Jamarkus McFarland needs to make good on his potential. Stacy McGee and Casey Walker should both get time at the other tackle spot.
3. Texas --
Defensive end Jackson Jeffcoat is loaded with potential as the nation's former No. 1 recruit. He had a big impact early last season before being slowed by an ankle injury. Alex Okafor moved outside from defensive tackle just before spring and had five sacks in the spring game. Inside, Kheeston Randall is an All-Big 12 favorite, but Ashton Dorsey had a strong spring and could help out with Reggie Wilson opposite Randall.
4. Texas A&M --
The Aggies have one of the best linemen in the league in Tony Jerod-Eddie, but Jonathan Mathis, Eddie Brown Jr. and Ben Bass have a lot to prove around him after the loss of Lucas Patterson, who was outstanding in 2010.
5. Texas Tech --
Sam Fehoko has moved to defensive end from middle linebacker, and should provide some good speed to the front line. Scott Smith looked on his way to an All-Big 12 campaign last season, but was suspended for the remainder of the season by coach Tommy Tuberville and has yet to be officially reinstated. For now, Dartwan Bush and Aundrey Barr will help out at defensive end, outside of Donald Langley, Kerry Hyder and Pearlie Graves. The Red Raiders did snatch a big pickup from departed UNC signee Delvon Simmons, a defensive tackle that could have an impact immediately.
6. Oklahoma State --
Defensive line is the biggest weak spot for the Cowboys, who have a decent set of ends in Jamie Blatnick and former heralded recruit Richetti Jones, but an even bigger question mark at defensive tackle where Christian Littlehead and Nigel Nicholas enter fall camp as starters.
7. Kansas --
Top rusher turned defensive end Toben Opurum came on strong late last season and should be one of the most exciting Jayhawks to watch in 2011, but the rest of the line leaves a bit to be desired. Keba Agostino has the other starting spot at defensive end ahead of Pat Lewandowski, who had a great spring. Patrick Dorsey and John Williams enter fall camp as starters at defensive tackles.
8. Kansas State --
K-State recruited this position hard in its 2011 class. For now, defensive end Brandon Harold will try to bounce back from a disappointing 2010 after a promising 2009. Lance Dunbar and Taylor Martinez think this group is ranked too high, but Meshak Williams could start opposite Harold, while Ray Kibble and Raphael Guidry should be the tackles inside.
9. Baylor --
Tevin Elliott was limited this spring because of offseason shoulder surgery, and Terrance Lloyd exited spring practice as the starter, but I'd expect Elliott to regain the spot by the time the season arrives. Phil Taylor, a first-round pick, is a big loss, but Gary Mason Jr. will try to fill his spot next to Nicolas Jean-Baptiste.
10. Iowa State --
Having a pair of linebackers combine for 241 tackles is a good and bad thing. They've got outstanding linebackers, but the defensive line was the Big 12's worst last season for a unit that ranked 10th in rush defense and had just 11 sacks. That was the fewest sacks in the Big 12 and more than just three teams in all of college football. The good news is all four starters return, but for now, this is where the Cyclones start. Stephen Ruempolhamer has some promise, but Cleyon Laing, Jake McDonough and ends Patrick Neal and Roosevelt Maggitt have a lot to prove. Jacob Lattimer ran into offseason trouble, but re-appeared atop the depth chart released by the Cyclones on Wednesday.
February, 1, 2011
2/01/11
1:30
PM ET
ESPN The Magazine had a fascinating feature
looking back at the past 25 No. 1 high school recruits

, where they are now and what the ranking meant to them. With apologies to
Vince Young
, there aren't a ton of Big 12 talents on the list, but there have been plenty of great recruits to come through the Big 12. We took a look on Thursday at
how the All-Big 12 team stacked up as recruits
, and you saw quite a mixed bag.
Well, it's the same for the recruits who came to campus with high rankings and high profiles. Going back to 2006, here's how every Big 12 commit from the ESPNU 150 turned out. We'll eventually get to the current class in 2011, around signing day, but here's how the 2010 class breaks down. This class is only a year into their careers, so while some have shown more potential than others, it's ridiculous to be too discouraged by anyone on this list, or make any truly meaningful judgments.
No. 2: Jackson Jeffcoat, DE, Texas.
Got off to fast start in 2010 before being sidelined and slowed by ankle injury. Finished with 13 tackles, five tackles for loss, 2.5 sacks and one fumble recovery. Only three tackles after season's first four games.
[+] Enlarge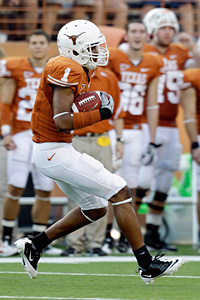 AP Photo/Eric GayTexas freshman wide receiver Mike Davis finished with 47 receptions this past season.
No. 4: Jordan Hicks, LB, Texas.
Ohio prospect chose the Longhorns over in-state power Buckeyes. Played in 11 games, including seven at linebacker. Finished with 21 tackles in first year, including 11 in a win against Nebraska.
No. 13: Mike Davis, WR, Texas.
No catches in the season opener, and missed the Red River Rivalry with an ankle injury, but ranked second on the team with 47 catches for 478 yards and two touchdown catches, tied for most on the team.
No. 14: Taylor Bible, DT, Texas.
Redshirted.
No. 15: Ahmad Dixon, S, Baylor.
Waco native forced a fumble and had 16 tackles.
No. 18: DeMarco Cobbs, ATH, Texas
. Played special teams in 10 games, and appeared at defensive back in one game. Made four tackles.
No. 20: Darius White, WR, Texas.
Played in seven games at wide receiver and one at special teams. Caught one pass for five yards against Florida Atlantic.
No. 21: Tony Jefferson, S, Oklahoma
. Won the starting nickelback job, finishing the season with 65 tackles, two interceptions and two sacks. Named co-Big 12 Defensive Freshman of the Year.
No. 46: Ashton Dorsey, DT, Texas.
Played in seven games, made one tackle.
No. 48: Austin Haywood, TE, Oklahoma.
Appeared in 11 games, mostly on special teams. Made three tackles.
No. 62: Corey Nelson, LB, Oklahoma
. Switched to the Sooners from Texas A&M on Signing Day 2010. Appeared in all 14 games, making 21 tackles, including 2.5 for loss. Blocked a punt vs. A&M.
No. 65: Blake Bell, QB, Oklahoma.
Redshirted.
No. 72: Reggie Wilson, DE, Texas.
Played in 10 games. Made five tackles.
No. 73: Chris Jones, WR, Texas.
Redshirted.
No. 75: Shaun Lewis, LB, Oklahoma State.
Became a starter and made 58 tackles and eight tackles for loss. Intercepted three passes, including two against Oklahoma, returning one for a touchdown. Named co-Big 12 Defensive Freshman of the Year.
No. 77: Quentin Hayes, S, Oklahoma.
Redshirted.
No. 83: Luke Joeckel, OT, Texas A&M.
Enrolled early and was the Aggies' starting left tackle by the spring game. Earned All-Big 12 honorable mention.
No. 86: Tevin Jackson, OLB, Texas.
Kept off the field by eligibility issues and appeal is still pending.
No. 90: Jake Matthews, OT, Texas A&M.
Became Aggies' starting right tackle midway through the season.
No. 114: Aaron Benson, LB, Texas
. Redshirted. Cousin of former Longhorn Cedric Benson.
No. 122: Carrington Byndom, CB, Texas.
Played in 10 games at defensive back and special teams. Made 11 tackles, all solo.
No. 125: Toney Hurd Jr., CB, Texas A&M
. Appeared in 12 games and made nine tackles.
No. 129: Brennan Clay, RB, Oklahoma.
Carted off field as a precaution in win against Florida State and missed next two games. Finished with 127 yards on 36 carries.
No. 134: Adrian Phillips, ATH, Texas.
Played in 10 games, including five at defensive back. Made eight tackles.
No. 141: Trey Hopkins, OG, Texas
. Played in 11 games and made three starts at left guard.
No. 142: Justin McCay, ATH, Oklahoma.
Redshirted.
No. 147: Andrew Rodriguez, OG, Nebraska
. Appeared in five games as a backup left guard, becoming the first true freshman Nebraska lineman to play since 2006.
May, 24, 2010
5/24/10
12:30
PM ET
By
ESPN.com staff
| ESPN.com
College football, unlike LOST, never ends. So give thanks.
October, 19, 2009
10/19/09
9:23
AM ET
By
Tim Griffin
| ESPN.com
Posted by ESPN.com's Tim Griffin
Here are some recruiting nuggets provided by Tom Luginbill, the national recruiting director for ESPN's Scouts Inc., about some Big 12-related prospects.
QB Blake Bell
Wichita, Kan.
Bishop Carroll H.S.
Scouts Grade: 81
ESPN150 Rank: 66
Position Rank: 3
Under Armour All-American Blake Bell, Bishop Carroll, trounce West
ESPNU 150 quarterback Blake Bell (Wichita, Kan./Bishop Carroll) completed 17 of 27 attempts (63-percent) for 245 yards, four first-half touchdowns and no interceptions in Thursday night's 55-0 shutout win over West (Wichita, Kan./West), the Wichita Eagle reports.
DE Jackson Jeffcoat
Plano, Texas
Plano West H.S.
Scouts Grade: 88
ESPN150 Rank: 1
Position Rank: 1
Jeffcoat watched Texas-Oklahoma game in Red River Rivalry
Five-star defensive end Jackson Jeffcoat (Plano, Texas/West) was set to take in this year's Red River Shootout between Oklahoma and Texas, ESPN's Gerry Hamilton reports.
USC and Houston are also seriously in the mix for the nation's No. 1-rated overall prospect in the Class of 2010.
His father, Jim Jeffcoat was an All-American defensive end at Arizona State before moving on to the Dallas Cowboys. He is currently an assistant coach at Houston.
WR Tai-ler Jones
Gainesville, Ga.
Gainesville H.S.
Scouts Grade: 81
ESPN150 Rank: 77
Position Rank: 13
Under Armour All-American Tai-ler Jones drops Cardinal for Irish
ESPNU 150 wide receiver Tai-ler Jones (Gainesville, Ga.) has decommitted from Stanford and is now set to sign as part of Notre Dame's Class of 2010, ESPN affiliate Web site IrishSportsDaily.com reports.
Jones was also offered by Alabama, Auburn, Oregon, Miami-FL, Oklahoma, Ohio State, South Carolina, North Carolina, Georgia, UCLA, Tennessee, Clemson, Vanderbilt, Michigan, Michigan State, Florida State, Georgia Tech, USC, Maryland, Arkansas, Kansas, Ole Miss, West Virginia, N.C. State and Kentucky.
Jones made an official visit to South Bend and took in Notre Dame's close loss to USC Saturday. His father, Andre Jones, was a member of the Irish's 1988 national championship team before moving on to the NFL.
Last fall, he caught 81 passes for 979 yards (12.1 average) and 12 touchdowns. Jones also registered 28 tackles and two interceptions, earning all-state recognition.
T Bob Graham
Jenks, Okla.
Jenks H.S.
Scouts Grade: 77
Position Rank: 61
Cyclones invade Oklahoma for Jenks blocker Bob Graham
A 6-foot-4, 280-pound offensive lineman, Bob Graham of Jenks, Okla., has accepted an offer from Iowa State.
He chose the Cyclones over Kansas, Louisville and Colorado State. Among his other offers were Kansas State, Air Force, North Texas, Toledo, Wyoming and Western Kentucky.
Iowa State has 11 commitments for the Class of 2010.
RB Lache Seastrunk
Temple, Texas
Temple H.S.
Scouts Grade: 83
ESPN150 Rank: 20
Position Rank: 5
Temple, Lache Seastrunk lose heartbreaker in overtime
Uncommitted ESPNU 150 running back Lache Seastrunk carried 15 times for 114 yards (7.6 average) and two touchdowns but Temple (Texas) lost to Heights (Killeen, Texas) on a successful two-point conversion in overtime, the Killeen Daily Herald reports. Among the schools that Seastrunk is considering include Texas, Oklahoma, Auburn, Florida, LSU and USC.
WR Chris Hawkins
Channelview, Texas
Channelview H.S.
Scouts Grade: 78
Position Rank: 50
Minnesota reels in highly-recruited receiver Chris Hawkins
Rated a three-star wideout, Chris Hawkins of Channelview, Texas, has pledged to the Gophers for the Class of 2010 over more than 20 other offers.
The 6-foot-1, 165-pound standout was also sought by Arizona, Arizona State, Arkansas, California, Colorado, Houston, Kansas, Kansas State, Kentucky, Nebraska, TCU, Tulsa and Utah, among others.
Minnesota has 21 commitments.
ATH Cortez Davis
Daytona Beach, Fla.
Mainland H.S.
2011 standout athlete Cortez Davis commits to Clemson
ESPNU 150 Watch List prospect Cortez Davis Mainland (Daytona Beach, Fla.) has accepted a Class of 2011 scholarship offer from the Tigers.
The 6-foot-4, 210-pound Davis, who was recruited as a defensive back, also holds offers from Miami-Florida, West Virginia, LSU, Florida State, Texas Tech and Oregon.
As a sophomore he collected 43 stops and four interceptions.
He joins teammate running back Marlin Lane as early pledges for Clemson. The Tigers now have four 2011 ESPNU 150 Watch List prospects.
DE Reggie Wilson
Haltom City, Texas
Haltom H.S.
Scouts Grade: 81
ESPN150 Rank: 99
Position Rank: 11
Texas commit Wilson helps Haltom to a shutout
Texas-bound DT Reggie Wilson registered a sack for a safety for Haltom (Haltom City, Texas) in its 16-0 victory over Weatherford (Texas), according to the Fort Worth Star-Telegram.
DT Ashton Dorsey
Tyler, Texas

John Tyler H.S.

Scouts Grade: 82
ESPN150 Rank: 44
Position Rank: 2
DT Dorsey applies pressure off D-line for Tyler
Texas commit Ashton Dorsey recover a fumble and pressured the quarterback three times for Tyler (Tyler, Texas) in its 52-17 win over Mesquite (Texas), according to the Tyler Morning Telegraph.
August, 5, 2009
8/05/09
5:23
PM ET
By
Tim Griffin
| ESPN.com
Posted by ESPN.com's Tim Griffin
The ESPNU 150 for the Class of 2010 has been released and Big 12 schools have fared well in early commitments.
Texas has snagged 10 early commitments to lead the country, followed by nine for Florida and seven by LSU.
The South Division's domination over the North has continued into early recruiting with 18 of 19 Big 12 commitments headed to South schools.
Oklahoma has four commitments, Texas A&M has three and Baylor and Nebraska have one apiece.
The Baylor commitment of Waco native Ahmad Dixon, the nation's No. 15 player who turned down Texas to stay at home, indicates the growing recruiting prowess of Coach Art Briles.
Here's a look at the Big 12 representatives on the list:
Texas: No. 14 Taylor Bible, DT, Denton (John H. Guyer), Texas; No. 44 Ashton Dorsey, DT Tyler (John Tyler), Texas; No. 51 Aaron Benson, OLB, Cedar Hills, Texas; No. 73 Chris Jones, WR, Daingerfield, Texas; No. 100 Reggie Wilson, DE, Haltom City, Texas; No. 104 Adrian White, CB, DeSoto, Texas; No. 105 Tevin Jackson, OLB, Garland, Texas; No. 121, Carrington Byndom, CB, Lufkin, Texas; No. 128 Adrian Phillips, ATH, Garland, Texas; No. 141, Trey Hopkins, G, Houston (North Shore).
Oklahoma: No. 67 Blake Bell, QB, Wichita (Bishop Carroll), Kan.; No. 80 Quentin Hayes, S, Lancaster, Texas; No. 124 Sheldon McClain, WR, Cibolo (Byron M. Steele), Texas; No. 125 Brennan Clay, RB, San Diego (Scripps Ranch), Calif.
Texas A&M: No. 46 Corey Nelson, OLB, Dallas (Skyline); No. 66 Jake Matthews, OT, Missouri City (Lawrence E. Elkins), Texas; No. 87 Luke Joeckel, OT, Arlington, Texas.
Baylor: No. 15 Ahmad Dixon, S, Waco (Midway), Texas.
Nebraska: No. 109 Andrew Rodriguez, G, Aurora, Neb.
Both Texas and Oklahoma hope to improve their classes as they remain in the hunt for several other top prospects.
The Longhorns and Sooners are among the finalists for the No. 1 ESPNU 150 prospect, Jackson Jeffcoat, a defensive end from West High School in Plano, Texas, and the No. 2 prospect, Jordan Hicks, an outside linebacker from West Chester, Ohio.
And the Sooners are also among the finalists for the No. 4 prospect, Seantrel Henderson, a massive tackle from Cretin-Durham High School of St. Paul, Minn., and No. 6 prospect Michael Dyer, a running back from Little Rock Christian Academy.