January, 3, 2012
1/03/12
10:00
AM ET
By
ESPN.com staff
| ESPN.com
Monday night's Fiesta Bowl was fun, but it's time to move on.
We'll have more coverage of the Cotton Bowl as the week progresses, and I'll be there, but here's a few fun facts via ESPN Stats & Information to get you started.
No. 6 Arkansas and No. 8 Kansas State will go head to head on Friday night in Cowboys Stadium.
The BCS National Championship Game and Fiesta Bowl are the only other games featuring teams with single-digit rankings.
Arkansas is 3-0 in Cowboys Stadium, with all three wins coming over Texas A&M. The Aggies, by the way, are 0-4 in the stadium.
Kansas State is plus-13 in turnover margin, which ranks sixth nationally.
This year, Arkansas strung together consecutive 10-win seasons for the first time since 1988-89.
Kansas State quarterback Collin Klein has converted 32 first downs by rush, more than any player in the FBS.
He's thrown 12 touchdown passes and ran for 26 scores, accounting for 84.4 percent of his team's touchdowns. That's the highest percentage of any player in the FBS, just ahead of USC's Matt Barkley.
With one more touchdown, Klein will tie Navy's Ricky Dobbs at 27 for the most rushing touchdowns by a quarterback in FBS history. He's one shy of Ricky Williams' Big 12 record, too.
He's first nationally in rushing TDs from inside two yards (14), inside five yards (21) and inside 10 yards (23).
Kansas State ranks fourth in the Big 12 by allowing just 33 plays longer than 25 yards this season, but 11 came in losses to Oklahoma and Oklahoma State.
K-State has scored a touchdown in 29-of-33 goal-to-go situations this season. That percentage (87.9) is 13th-highest nationally.
January, 24, 2011
1/24/11
11:00
AM ET
By
ESPN.com staff
| ESPN.com
Plenty of Big 12 talent took part in the East-West Shrine Game on Saturday, one of the postseason all-star games that serves essentially as a minicamp for middle to late-round draft picks. The week of practice is just as valuable as the game, if not more so, but the practices aren't televised.
You can
see our Insider blog for impressions from the week of practice
, but one big thing emerged during the game on Saturday:
Texas A&M passing game coordinator Tom Rossley
said in the days leading up the Cotton Bowl
that
Jerrod Johnson
's arm was getting stronger, but honestly, he didn't look much different on Saturday than he did in rough outings against Missouri and Arkansas early in the season. I hadn't seen him play since the loss to Missouri that landed the Aggies at 3-3, but I didn't notice much difference. Johnson's never exactly been young Brett Favre, but the velocity on his throws just isn't there, and it isn't what it was in 2009.
He easily had the least zip on his throws of any of the quarterbacks in attendance, and when that includes an option quarterback like Navy's
Ricky Dobbs
, that's a bad sign. You hate to see it because Johnson's a quarterback who's done basically everything you could ask as a coach, but he's just not the same quarterback. He finished 6-of-12 for 54 yards, but he had a pair of turnovers. His interception was essentially a duck, caught by Iowa State's
David Sims
. His accuracy was there on most throws, but when it takes a half second or so longer to get there compared to the rest of the quarterbacks in attendance, that's a problem.
Here's what our Insiders had to say, labeling Johnson as someone whose stock dropped this week:
"For a QB who is 6-6 and 250 pounds, Johnson has a surprisingly below-average arm. This was apparent from Day 1. His ball doesn't have a lot of zip or pop and falls apart in the air. He made poor decisions when improvising on the run, which resulted in bad throws and picks. This was something we saw on film as well and that's not a good trend. His struggles in decision making, his poor arm and his struggles as a game manager mean he's likely a free-agent prospect."
Again, the offseason surgery clearly contributed to the drop-off, and maybe that strength will return, but it'll have to happen quickly for Johnson to make an NFL roster.
He attempted to scramble late in the game, but was stripped by a defender on a sack and the East team added a touchdown when UNC's Marvin Austin recovered the fumble in the end zone.
More from our ESPN Insiders:
"Arm strength can be the most overrated aspect of evaluating a QB and some people put too much stock in it, but you have to have a certain amount of it to function in the NFL. There's a baseline and Texas A&M QB Jerrod Johnson does not meet the baseline. There are plenty of QBs in the NFL with below average arms, so you don't need a big arm, but Johnson's arm is lacking. We've seen a variety of throws all week long, and watching this game you got a real good glimpse of the problem when he couldn't throw the ball out of bounds, which allowed a DB to make a pick."
It was pretty tough to watch on Saturday, and his performance made it clear why he was the third quarterback off the bench. You look at the numbers he put up in 2009 and the highlight reels from that season and you watch Saturday and there's very little resemblance. That production and still-present coachable nature are hard to ignore, and will still earn him a shot somewhere this fall if he's not drafted, but to have any chance at a future in the NFL, he'll have to be a lot better than he was in the Shrine Game.
A few other quick Big 12 notes:
Oklahoma State linebacker Orie Lemon had eight tackles and looked solid.
Sims had the East team's only interception in their 25-8 win.
December, 31, 2009
12/31/09
7:30
PM ET
By
Tim Griffin
| ESPN.com
It was a good day for the service academies as Navy's convincing
35-13
victory over Missouri came on the heels of Air Force's triumph over Houston.
There was nothing fluky about the Midshipmen's victory. Here's how they got it done.
Missouri looked ready to blow Navy out of Reliant Stadium after jumping ahead on the second play from scrimmage on a 58-yard toss from
Blaine Gabbert
to
Danario Alexander
. From that point forward, Navy bounced back and allowed the Tigers only a pair of field goals during the rest of the game as they were limited to 298 yards.
[+] Enlarge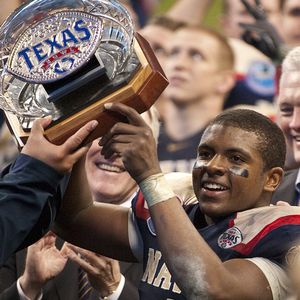 AP Photo/Dave EinselQuarterback Ricky Dobbs accounted for four of Navy's five touchdowns.
Turning point:
After Missouri had pulled within 14-10 at the half, Navy answered with a 58-yard scoring drive to immediately seize momentum.
Alexander Teich
returned the second half kickoff for 46 yards to spark the drive. Navy converted a fourth-down play and punctuated a drive with a 3-yard touchdown pass from quarterback
Ricky Dobbs
to
Bobby Doyle
to cap the drive.
Player of the game:
Dobbs expertly sliced up the bigger Missouri defense to power the Midshipmen's upset victory. Dobbs rushed 30 times for 166 yards and three touchdowns and passed for 130 yards and another score to lead Navy to its first bowl victory since the 2005 Poinsettia Bowl. Dobbs joins Craig Candeto from 2003 as the only Midshipmen to run and pass for more than 1,000 yards in a season.
Stat of the game:
Navy dominated the game in the trenches as they controlled the ball for 40 minutes and 54 seconds. The punishing thrust enabled them to pile up 519 total yards and gash Missouri's 12th-ranked rush defense for 385 yards in a convincing whipping.
Best call:
Navy's ground-based offensive attack opened up Dobbs' passing abilities throughout the second half. Dobbs completed all of his second-half passes for 71 yards and a touchdown to help Navy put the game away. The biggest was a 47-yard strike to
Marcus Curry
on the first play from scrimmage in the fourth quarter that set up the Midshipmen's clinching touchdown.
Second guess:
Trailing 21-10, Missouri appeared ready to score and keep the game close later in the third quarter. Missouri's running game was clicking after accounting for 38 yards on seven previous attempts on the drive. But on third-and-goal from the Navy 2, Missouri quarterback Blaine Gabbert tried a pass and was sacked by Craig Schaefer for a huge 10-yard loss. Missouri got a field goal on the drive, but could have scored a touchdown that would have kept them in the game.
What it means:
Navy posted a 10-win season for only the third time in the 129-season history of the program and for the first time since 2004 as they emphatically proved they can play with BCS-level schools. Missouri's loss put a disappointing conclusion in a game that really wasn't as close as the final score indicated. The Tigers need to get more consistency from Gabbert and improvement from a defense that couldn't seem to adjust to the Midshipmen's triple-option despite having nearly a month to prepare for the bowl game. With Nebraska loaded for next season, the Tigers will be challenged to maintain pace with them in 2010.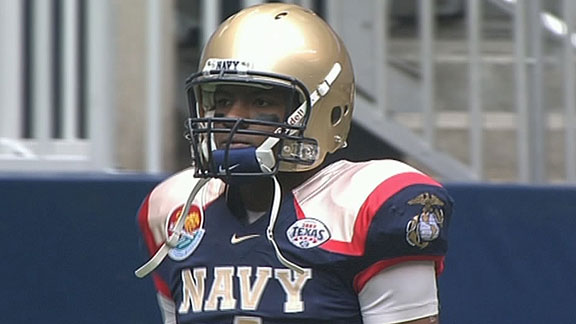 December, 30, 2009
12/30/09
10:47
AM ET
By
Tim Griffin
| ESPN.com
Here's all you need to know about the Texas Bowl matchup between Missouri (8-4) and Navy (9-4) on Thursday.


WHO TO WATCH: Danario Alexander, WR, Missouri
Biletnikoff Award voters made a dreadful mistake by not adding Alexander to their watch list late in the year after Alexander's one-man assault on Big 12 defenses over the last half of the season. Alexander nearly made history by becoming the first wide receiver in NCAA history to post four straight 200-yard receiving games after notching 214 yards against Baylor, 200 against Kansas State, 173 yards against Iowa State and 233 yards against Kansas in his final game. He produced 107 catches this season after recording 78 catches over his first three seasons at Missouri, finishing 2009 as the nation's leader in receiving yards (1,644) and average receiving yards per game (137.0). The tall, angular Alexander will be difficult for the undersized Navy secondary to contain. And his breakaway speed will be a concern for Navy every time he touches the ball.
WHAT TO WATCH: Missouri's run containment against Navy's triple-option
Missouri defensive ends Aldon Smith and Brian Coulter will be challenged to stop Navy's strong outside running game keyed by quarterback
Ricky Dobbs
and his pitches to running backs
Marcus Curry
and
Bobby Doyle
. Missouri doesn't see this offense very often, but the Tigers have had a long time to prepare for Thursday's game after ranking 15th in rush defense during the regular season. Missouri's defensive linemen need to do a good job of staying on their feet against Navy's undersized offensive linemen and its storied ability at cut-blocking. Missouri linebackers Andrew Gachkar and Sean Weatherspoon also need to maintain their lanes of pursuit as they try to stop Dobbs, who rushed for 1,037 yards and set an NCAA single-season record for a quarterback with 24 rushing touchdowns.
WHY WATCH: Contrasting offensive styles make for entertaining games
Navy and Missouri have two of the nation's most intriguing offenses. They just account for their yards in different ways. The Midshipmen rank fourth nationally in rushing, but 119th in passing offense. Missouri is 14th passing, but are 81st rushing. Missouri's quick-strike offense keyed by quarterback
Blaine Gabbert
and Alexander would appear to give the Tugers a firepower edge, although Navy has been effective this season and would have its first 10-win season since 2004 with an upset.
PREDICTION:
This should be a classic battle of different offensive styles. Tiger fans have been vociferous about their disappointment in getting the Texas Bowl, their fourth Texas-based bowl in the last four seasons, despite other Big 12 teams with lesser records being snapped up ahead of them in the conference's pecking order. Gary Pinkel's team can't afford to let those bad feelings linger, or it could be a long day against the underrated Midshipmen. But this game looks like a good draw for Missouri, whose big-play passing offense and strong rush defense appear well-suited to control Navy coach Ken Niumatalolo's plucky team.
Missouri 42, Navy 24.
December, 23, 2009
12/23/09
3:41
PM ET
By
Tim Griffin
| ESPN.com
The Big 12's bowl games will start on Monday when Texas A&M and Georgia square off in the Advocare V100 Independence Bowl.
But as we get ready for those eight games, it's clear that several key players need to step up with big games in order to help their team's winning hopes.
Here's my list of 12 players or groups who need to have big games to bolster their team's bowl hopes.
Texas quarterback Colt McCoy: His Heisman hopes sank after his nine-sack, three-interception performance in the Big 12 title game. But he has bigger aspirations if he can finish his career by leading his team to the national championship against Alabama in the Citi BCS National Championship Game.
Oklahoma tackle Trent Williams: He could become the fourth starter at center for Oklahoma this season if Brian Lepak doesn't respond to treatment before the Sooners' Brut Sun Bowl game against Stanford. Williams has become one of college football's best offensive linemen at tackle and looked good in practice earlier this season at center. He'll face a big test against massive 315-pound Stanford nose tackle Ekom Udofi if he plays at center in the bowl game.
Oklahoma State running back Kendall Hunter: After struggling with a nagging foot injury most of the season, Hunter has been diagnosed at "close to 100 percent" by Oklahoma State coach Mike Gundy. The Cowboys had a strong running game and led the conference in rushing but still missed a true breakaway threat without Hunter in the lineup. His return will provide an infusion of speed that could be important for their hopes against Mississippi in the AT&T Cotton Bowl.
Texas guards Michael Huey and Charlie Tanner and center Chris Hall: After their struggles against Ndamukong Suh in the Big 12 championship game, this trio will really be under the gun against Alabama All-American tackle Terrence Cody and All-American middle linebacker Rolando McClain. They must play better than they did against Nebraska if they have any hopes of bringing the national title home to Austin.
Oklahoma State quarterback Zac Robinson: After gamely trying to play against Oklahoma on a sprained ankle, Robinson says that he's healthy for Mississippi in the AT&T Cotton Bowl. Robinson's injury and a sputtering attack helped explain the Cowboys' difficulties in a 27-0 loss that ultimately cost them a shot at a BCS at-large berth. Robinson must run the offense better against a similarly strong Mississippi defensive front if the Cowboys are to pull off an upset victory.
Texas Tech running back Baron Batch: Batch is one of the Red Raiders' most consistent receivers and top rushing threats. He'll be critically important in the Valero Alamo Bowl as he goes up against Michigan State All-Big Ten linebacker Greg Jones. Michigan State is being universally dismissed because of their suspension-wracked roster. All of that will make Jones and the defense eager to become involved early. Batch will be tested to keep Jones and the Spartans away from starting quarterback Taylor Potts.
Missouri's defensive front: The grouping of defensive ends Aldon Smith and Brian Coulter, tackle Dominique Hamilton and nose tackle Jaron Baston played very well down the stretch as they allowed only 52.4 yards rushing per game during a strong 4-1 finish. But the Tigers' defensive front will be facing a huge challenge in stopping Navy's unique run-based offense in the Texas Bowl. The Midshipmen rank fourth nationally in rushing and are keyed by quarterback Ricky Dobbs, who averages 85.5 rushing yards per game and ranks second nationally with 24 rushing touchdowns. Keeping Navy in check will be a big challenge for the Tigers, particularly the defensive front.
Iowa State cornerback Ter'ran Benton: The suspension of Kennard Banks will thrust Benton into the starting lineup for the Cyclones in the Insight Bowl against Minnesota. Benton is recovering after breaking his left leg Oct. 24 against Nebraska and missing the final four games of the season. Top Minnesota receiver Eric Decker is injured and will miss the bowl game, but Troy Stoudermire and Brandon Green will no doubt test Banks early and often in the Dec. 31 game.
Iowa State running back Alexander Robinson: When Robinson is an effective ball-carrying threat, the Cyclones have a much better chance at winning. That's why it will be important to get him going early against a Minnesota defense that tends to wear down if it plays too much. Robinson's running will be an important part in trying to do just that.
Oklahoma quarterback Landry Jones: When he was on, Jones was one of the most effective passers in the Big 12, torching Tulsa for six touchdown passes, Texas A&M for five touchdown passes and Kansas State for four. But he also struggled with five interceptions against Nebraska. He'll need a big game against a similarly streaky Stanford team that ranked 95th in pass efficiency defense, 105th in pass defense and allowed 15 touchdowns in its last five games.
Texas A&M safety Jordan Pugh: He'll be important in coordinating work in a secondary that features two sophomores and a freshman in the starting lineup. After A&M's struggles in a 49-39 loss to Texas in the regular-season finale, the group will be facing a similarly high-powered offensive threat from Georgia. Joe Cox and A.J. Green no doubt saw the Aggies' struggles against Texas and will be intent on duplicating them in the Independence Bowl. It will be important for Pugh to keep his young teammates focused -- particularly if they struggle early.
Nebraska quarterback Zac Lee: His struggles running the Nebraska offense were apparent in the Cornhuskers' loss to Texas where they produced only five first downs and amassed only 105 yards in the game. The offense must perk up against Arizona in the Pacific Life Holiday Bowl and Lee will be most under the gun to make it happen. He showed flashes of a passing touch earlier in the season, but the Cornhuskers relied on a run-heavy game down the stretch to win the North Division. A couple of well-timed passes from Lee early in the game against the Wildcats could open up the Nebraska offense for the rest of the game.
December, 6, 2009
12/06/09
10:04
PM ET
By
Tim Griffin
| ESPN.com
Missouri (8-4) vs. Navy (8-4)
Dec. 31, 3:30 p.m. (ESPN)
Missouri was one of the Big 12's hottest teams down the stretch, but fell to the conference's lowest bowl affiliation as it was jumped by Iowa State and Texas A&M. Texas Bowl officials might not be complaining too much considering the interesting contrast they will receive in their game against Navy.


Danario Alexander
was the conference's most explosive offensive player in the final month of the season, emerging as the nation's leader in receiving yards per game (137 yards per game) and third in receptions (8.92 receptions). Sophomore quarterback
Blaine Gabbert
played strong during a three-game winning streak to finish the season and completed the year by passing for 3,302 yards and 23 touchdowns.
The Tigers ranked 109th in pass defense, but that shouldn't be a concern against Navy, which ranks third in rushing but next to last nationally in passing. Navy coach Ken Niumatalolo is familiar with bowl games after directing the Midshipmen into bowl games in each of his three seasons as a coach.
Navy's rushing attack is keyed by junior quarterback
Ricky Dobbs
, who rushed for 913 yards and 23 touchdowns, which ranks second nationally. It will mark the first time these teams have played since Missouri claimed a 21-14 victory in the 1960 Orange Bowl.