October, 7, 2012
10/07/12
12:50
AM ET
AUSTIN, Texas --
Geno Smith
is used to having the game in his hands. It's been the story of West Virginia's season. Near the end of a chilly night in central Texas, that changed.
Smith's offensive line had a simple message for their Heisman candidate: "We got this. It's over. We're going to win this game," they said.
"
Andrew Buie
said, 'Put it on my back,' Smith said. "He put it on his back and led us to a victory."
Not just any victory. He led them to a
48-45 victory
in West Virginia's first road trip in the Big 12, where they found a record crowd of 101,851 waiting at Darrell K. Royal-Texas Memorial Stadium -- a crowd Texas coach Mack Brown called the loudest in 15 years.
Said West Virginia coach Dana Holgorsen, who was an assistant in the Big 12 for nine years: "I've never seen this place like that."
It even got after Smith at one point, serenading him with a "Geno Sucks" chant as he gestured to the crowd, egging them on.
"Where does that come from?" Smith said. "Obviously, I don't suck. I'll let them believe that."
[+] Enlarge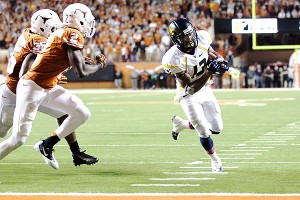 Tim Heitman/US PresswireThe second of Andrew Buie's rushing TDs gave West Virginia a 48-38 lead.
Buie led them to a victory that helped West Virginia clear the highest hurdle of its Big 12 (or national?) title "marathon," as Smith called it.
The Big 12 title runs through Morgantown, with Kansas State and Oklahoma waiting later in the season.
Saturday in Austin, though, it was Buie's time.
"He carried us," said Smith, the man used to carrying the Mountaineers. "We knew we were going to need to run the ball, because those guys like to get after the quarterback."
Texas did exactly that, sacking Smith four times and twice forcing fumbles inside the West Virginia 20-yard line. Before tonight, Smith had been sacked three times in four games.
Buie's 207 yards? Holgorsen said he wasn't surprised by those. But the 31 carries? That was a head-turner.
"We did commit to the run," he said. "That was something we talked about early in the week, and there weren't any tricks, either. We lined up and we just ran it right at 'em. We felt like that was gonna be the difference. If we could do that, it was going to alleviate some of the pressure on Geno."
On West Virginia's final drive, needing points to ice the game, the Mountaineers handed the ball to Buie on seven of eight plays. He turned them into 63 yards, capping his big night with a five-yard touchdown run, his second score of the night. While his teammates ran wild and kicked off the party on the West Virginia sideline, he trotted back through a parade of backslaps before being bearhugged by his position coach, Robert Gillespie.
"If we would have just drop back pass after drop back pass, they would have had 12 sacks. Maybe 20," Holgorsen said. "We just felt like it would be in the best interest of our football team to commit to the run."
Texas stuck in its nickel package for most of the night with just two linebackers on the field, even when West Virginia used its jumbo packages with bigger bodies. Buie saw it as a sign of "disrespect," and proved he'd make the most of his opportunities.
"With coach Holgorsen, you never know what the game plan is going to be fully," Buie said. "You just always want to be prepared to run from whatever he's put inside the menu for that week. When he calls your number, obviously he has confidence in you to make plays."
Holgorsen (and Smith, who often checked to various running plays at the line of scrimmage) had confidence in Buie 31 times on Saturday night. Buie was likely West Virginia's No. 3 back entering the season behind
Shawne Alston
and a recuperating
Dustin Garrison
. He looked like a man well deserving of the No. 1 spot against one of the Big 12's top defense. Before last week's 25 carries, Buie had never had more 15 carries in a game, and hadn't topped even 100 yards in a game. He had 52 carries in his entire freshman season in 2011.
Since 2009, Texas was 18-0 when winning the turnover battle. The Horns won it 2-1 on Saturday, but Buie's effort helped the Mountaineers overcome both of Smith's fumbles and move into the driver's seat for the Big 12 title.
"We're not going to force the ball. We're not going to force the issue. We'll take what you give us. I'm a smart quarterback, I understand defenses. I understand how to exploit them." Smith said. "The offensive line did a great job of getting all those guys, finishing blocks, getting to the second level. Buie was reading it and cutting back. Yards after contact was big. He ran hard tonight."
Think West Virginia's offense is just Geno Smith,
Tavon Austin
and
Stedman Bailey
? West Virginia proved otherwise.
August, 1, 2012
8/01/12
10:30
AM ET
To begin the season, I see six teams with a legitimate chance to win the Big 12. Today we'll continue our series looking at why each team will or will not win the league. Next up: Newcomer West Virginia.
More contenders:
Why the Mountaineers will win the Big 12
[+] Enlarge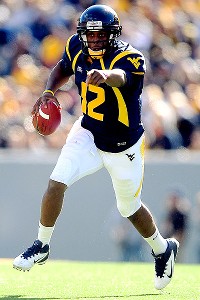 Andrew Weber/US PresswireWest Virginia's Geno Smith passed for 4,385 yards and 31 touchdowns last season.
1. They have the most explosive offense.
Nobody's got a better, more experienced pass-catch combo than Big 12 Preseason Player of the Year
Geno Smith
and his top two targets, receivers
Tavon Austin
and
Stedman Bailey
. The running game with
Dustin Garrison
and
Shawne Alston
isn't going to scare too many folks, but it's definitely good enough to make defenses respect it, and it benefits from the play of Smith, Austin and Bailey. WVU is entering Year 2 with Dana Holgorsen, and there's not a lot of reason to believe the trio won't be even better in 2012.
2. They've got plenty of inside knowledge.
Dana Holgorsen's been in the Big 12 for nine of the past 12 seasons, and his new defensive coordinator, Joe DeForest, spent more than a decade at Oklahoma State. Running backs coach Robert Gillespie and new graduate assistant Andrew McGee, a former OSU cornerback, can help provide some insight into what the Mountaineers will expect on the field in the pregame preparation.
3. They're an unknown entity.
Oklahoma has to make a trip to West Virginia on Nov. 17 in a game that may decide the league title. Nobody in the Big 12 has ever played this band of Mountaineers, and WVU can perhaps use that to their advantage. Big 12 defensive coordinators are familiar with Holgorsen's schemes, but nobody was really able to stop it when he was at Oklahoma State. Don't expect that to change with WVU this year, especially with the kind of talent he's fielding offensively.
Why the Mountaineers will not win the Big 12
1. Where's the defense?
West Virginia lost essentially its entire pass rush from last year's team, which ranked essentially in the middle of the pack in the offensively-challenged Big East. It's a whole new world in the Big 12. Defensive backs
Darwin Cook
and
Terence Garvin
return, along with defensive lineman
Will Clarke
and cornerback
Brodrick Jenkins
, but this isn't the Big East, and WVU is changing schemes from Jeff Casteel's 3-3-5 to a 3-4 with Joe DeForest and Keith Patterson. There could be a rough road ahead of the Mountaineers when it comes to trying to stop Big 12 offenses, which are in another stratosphere compared to what WVU traditionally sees on game day. The one advantage? They've gotten plenty of work in practice this offseason.
2. The Nebraska Effect: They've got too much to learn.
Nebraska was picked by plenty of folks to win the Legends Division in its first year in the Big Ten. The Huskers had the talent, but instead, went 5-3 and finished third in the division behind Michigan and Michigan State. West Virginia has the talent to win the Big 12, but has to study up on nine new teams. The rest of the Big 12 only has to adjust to two new teams. NU got rocked by Wisconsin and Michigan, teams that weren't nearly as good as Nebraska's inexperience in the league made them look. WVU may see the same fate against unfamiliar opponents.
3. The inconsistency will catch up to the Mountaineers.
Everybody remembers that nationally-televised bludgeoning WVU handed out to ACC champion Clemson. Doesn't seem like enough people remember a 26-point blowout loss to five-win Syracuse, or narrow wins over sub-.500 teams like Pitt and South Florida. West Virginia wasn't as impressive on a week-to-week basis as they were in their most prominent game in 2011. Even coach Dana Holgorsen admits that game has plenty of people thinking his team is better than it actually is. Will they improve enough between January and September to be a consistent team capable of winning a much tougher league? We'll find out soon.
April, 17, 2012
4/17/12
1:15
PM ET
MORGANTOWN, W. Va. -- West Virginia athletic director Oliver Luck would consider himself a man with foresight, but even he has to chuckle when he looks at his football head coach.
The Mountaineers are entering a brand-new world in the Big 12 in 2012, and the man in charge, Dana Holgorsen, happens to have nine seasons of experience in WVU's new conference.
"Dumb luck," says, uh, Luck.
That part may be luck, but the December 2010 hire was about a lot more. Holgorsen was hired as the coach-in-waiting, and 2012 was supposed to be his first season replacing Bill Stewart as head coach until
a drama-filled scandal made Holgorsen's time come early
.
[+] Enlarge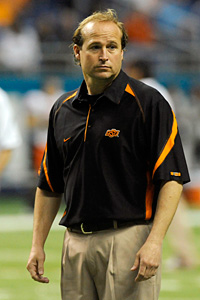 Matt Strasen/US PresswireDana Holgorsen coached for nine years in the Big 12, including stops at Texas Tech and Oklahoma State, before coming to WVU in 2011.
"I brought Dana in because I thought he was a great, young coach and had tremendous potential," Luck said. "I'd be pulling your leg if I said I had any premonition that we'd be in the Big 12. Having said that, it's great that both of our major sports -- football and men's basketball --have coaches who have coached in the Big 12."
Bob Huggins, who spent one season at Kansas State, came to West Virginia in April 2007.
Holgorsen's arrival preceding Big 12 membership was an accident, but Holgorsen's offseason hires were anything but. Defensive coordinator Jeff Casteel ended an eight-year tenure at West Virginia to join former Mountaineers coach Rich Rodriguez at Arizona, and Holgorsen didn't have to look far to find his new coordinator.
Joe DeForest spent 11 years at Oklahoma State before following Holgorsen east to West Virginia, and he'll share defensive coordinator duties with Keith Patterson, who spent time as a high school coach in Oklahoma and Arkansas before stops at Tulsa, Pittsburgh and Arkansas State.
"Dana's put together a great staff with knowledge of the league we're fixing to enter, which can only help us," said DeForest, who was the associate head coach, special-teams coordinator and safeties coach since 2005 in Stillwater.
Running backs coach Robert Gillespie was at Oklahoma State in 2009 and 2010, and the Mountaineers just welcomed Andrew McGee as a graduate assistant. The former Oklahoma State cornerback led the Big 12 in interceptions in 2010.
"It takes the element of surprise out," Luck said. "There's a lot of Big 12 coaching experience in the group and an understanding of the conference and a comfort level with all the things you've got to put up with, travel and et cetera. Some of the traditions. And I think having some coaches with experience in the conference filters down pretty quickly to the players because they realize that their guys have been there, and it's not all just brand new."
What can the coaches explain? DeForest will be sure to warn his players about the Paddle People in Stillwater, and the student section that sits just four yards behind the visitor's sideline.
"I'll have recall on every team we play," DeForest said. "Whether it's subtle things, tips that we've learned from previous years that they're still giving away, or any possible thing you can use based on the time you've been there and the knowledge that you've gained, and I think it's only advantageous for us."
For DeForest, suddenly he's bridging the gap between new guy and know-it-all. Instead of entering a brand-new world in the Big East, he's helping his players dip their toes into unfamiliar waters.
"There's a comfort level there. I've been to every venue. I can relay things to our players about every venue and every crowd and every student body and a lot of the personnel we're going to face. That excites me that I have knowledge and I'm not walking in here blind coming into the Big East, with them knowing and me not," DeForest said. "Knowledge is king. I'm just excited to see how our kids match up and how they respond each and every week in a big venue. I'm not saying the Big East didn't have big venues, but in the Big 12, it's a big venue every week."
DeForest knows well what Big 12 teams like to do on the field, especially Oklahoma State.
"Maybe they're continuing to do the same tendencies and I can feed off that to help give them knowledge and help us make better calls," he said.
Holgorsen, DeForest and the rest of the Big 12 will see just how big or small the impact will be come fall, but it's easy to see why Luck is confident in the men he put in charge as they bring West Virginia into its new world out west.
"It's all positive," he said. "I can't think of any negatives involved with the experience level of these guys."
January, 31, 2011
1/31/11
9:00
AM ET
By
ESPN.com staff
| ESPN.com
A few notes and nuggets from the offseason weekend that was:
Before Mack Brown began his coaching search that eventually required him to make six offseason hires, he met with the Texas Board of Regents to discuss coaching salaries. It sounds like they were, uh, receptive to what he had to say.
After a shocking and disappointing 5-7 season in 2010, Brown's assistants received hefty raises. Brown is expected to meet with the media in Austin later today for the first time since the season finale, a home loss to Texas A&M. Texas
already sat comfortably at the top of the heap in assistant coaches' pay
, and these latest raises only accentuate that. No one is making what defensive coordinator Will Muschamp made ($907,000) in 2010, but you definitely won't hear any complaints coming from the football facilities any time soon.
Here's a breakdown of last year and this year's salary among the coaching staff,
courtesy of the Austin American-Statesman.
Defensive coordinator
2011: Manny Diaz - $625,000 (made $260,000 at Mississippi State in 2009)
2010: Will Muschamp - $907,000 (took Florida head coach job)
Offensive coordinator
2011: Bryan Harsin (will call plays) - $625,000 (made $259,520 at Boise State in 2009)
2011: Major Applewhite (also coaches running backs) - $500,00 (made 269,509 in 2010)
2010: Greg Davis - $477,084 (resigned after season)
Tight ends
2011: Bruce Chambers - $200,000
2010: Bruce Chambers - $187,039
Defensive ends
2011: Oscar Giles - $200,000
2010: Oscar Giles - $162,451
Defensive backs
2011: Jerry Gray - $425,000 (previous NFL salary unknown)
2010 Duane Akina - $318,509 (left for Arizona)
Offensive line
2011: Stacy Searels - $425,000 (made 301,200 at Georgia in 2010)
2010: Mac McWhorter - $292,759
Receivers
2011: Darrell Wyatt - $315,000 (made 250,000 at Kansas in 2010)
2010: Bobby Kennedy - 212,519 (took receivers coach job at Colorado)
Life as a Longhorn right now? Well, last season's struggles aside, it's clearly pretty good.
---
Huskers find a new kicker
Nebraska will need a lot of new faces on special teams, after punter/kicker Alex Henery and kickoff specialist Adi Kunalic both exhausted their eligibility following the 2010 season.
The Huskers had a commit for their 2011 class, Niklas Sade, but he decommitted and pledged to North Carolina State last month.
The solution: Nebraska went after Mauro Bondi, a Boca Raton, Fla. native and (former) Wake Forest commit who has
an impressive YouTube highlight reel
and sounds ready to replace Henery.
"I definitely followed him, so I have to live up to that and maybe do even better," he
told the Lincoln Journal Star.
Bondi gives Nebraska 18 commits for its 2011 class. ESPN.com ranks the Huskers' class No. 14 nationally.
---
Cowboys' top commit 'solid'
One player who doesn't sound like he's decommitting or recommitting anywhere is ESPNU 150 member and running back Herschel Sims, Oklahoma State's top commit.
The Cowboys' running backs coach, Robert Gillespie, left Oklahoma State to join former offensive coordinator Dana Holgorsen at West Virginia. Sims had reportedly been wavering earlier in the recruiting season, but took his official visit to Stillwater in January and his high school coach
told the Tulsa World
that Sims is solid with the Cowboys and ready to sign on Wednesday, adding that there isn't "any doubt about it."
"During his official visit, he called that Saturday night and said, 'I can't imagine playing anywhere else,' Sims' coach, Steve Warren, said. "He loved it."
With Sims, Oklahoma State has 27 recruits committed to its 2011 class, which can begin signing letters of intent on Wednesday. ESPN.com ranks Oklahoma State's class No. 20 nationally.
September, 7, 2010
9/07/10
2:00
PM ET
Kendall Hunter
doesn't talk much, but he was talking before Saturday's game against Washington State. Even if his words were brief and quiet as usual.
"I'm ready, I'm ready," he kept telling his position coach.
[+] Enlarge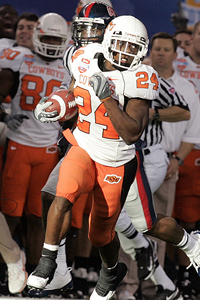 Tim Heitman/US PresswireKendall Hunter rushed for 257 yards in the opener and now needs only 126 yards to surpass his season total from 2009.
If only Washington State, warming up across the field at Boone Pickens Stadium, knew just how ready Oklahoma State's running back really was. Hobbled by an ankle injury in 2009, Hunter missed five games and managed just 382 yards while attempting to play through the injury for most of the season.
His first carry went for 17 yards, his day developed into a 257-yard season debut, and now Hunter needs only 126 yards to surpass his output in all of 2009. After one week of football, he's the nation's leading rusher.
"Above average? Would that work?" said Oklahoma State offensive coordinator Dana Holgorsen, describing Hunter's day. "He is the
fifth-best back in the Big 12
, right? Nah, he's obviously pretty good. Heck, you know, it's all about what you do for me lately. I understand how the whole thing works. He was pretty good two years ago, he's the type of kid who's not going to sit there and pout and feel sorry for himself. He's going to be motivated by things some people won't be motivated by."
Hunter had to sit and watch while his teammate, Keith Toston, took his spot and rushed for 1,200 yards in one of the most anticipated seasons in school history. Hunter got just one carry while Texas beat the Cowboys 41-14 in Stillwater. Hunter might not say last season's frustrations weighed on him or were on his mind, but he ran like it in his triumphant return to the field for his senior season.
"As the game went on, I kept asking him if he was tired and he kept saying, 'I just want to keep playing,' said Robert Gillespie, Oklahoma State's running backs coach. "He wanted to get out there so bad and just have fun. It was taken away from him last year, so this whole offseason he's been working to get stronger, faster and smarter to become a better player."
Gillespie came to Oklahoma State before 2009, excited to coach an All-American coming off a 1,555-yard season, after three years coaching backs at South Carolina. Gillespie was disappointed Hunter didn't spend the season as his featured back, but saw the work he put in despite the injury. Saturday night was a long time coming.
Gillespie says Holgorsen's offense, implemented during spring and preseason camp, should fit Hunter perfectly and set him up for success at the next level. Scouts have seen Hunter -- a "strange combination of quick, fast and powerful," Holgorsen says -- run around and over defenders. This year, he'll have more chances to show he won't allow defenders to return the favor in pass protection.
"The film don't lie, and the tape don't lie," Holgorsen said. "Hopefully we can win some games and he gets on TV and everybody can see what the kid's capable of, because he's the best one I've been around."
Oklahoma State's new Air Raid offense figured to be pass-happy as the name suggests, with Hunter getting plenty of receptions as the team's obvious best offensive talent. He carried the ball 21 times against Washington State, amassing an outlandish 12.2 yards per carry, but sat for much of the 65-17 blowout's second half. The Cowboys threw Hunter's way about four times, Holgorsen estimated, but failed to establish the screen game or short passing game. Hunter finished with three catches for minus-4 yards. So instead, they took the simpler route to getting their playmaker the ball: handing it to him.
"We're going to face some pretty good teams, I'm not oblivious to that. Some pretty good defenses out there with the likes of Texas, Oklahoma, Texas A&M, Nebraska and Texas Tech that are going to have something to say about it. Everybody's going to try to stop the run," Holgorsen said. "We're going to have to be able to execute that stuff to take some pressure off the running game. But that's why I'm here, that's why I've been hired."
Holgorsen knew the offense wouldn't be perfect on opening night. Far from it, he expected. He estimates it took two years before he got it to look "decent" at Texas Tech.
"Luckily we've got a guy like him," Holgorsen said. "We can hand it to him and he can make us all look good."
They'll do that plenty this year, and Hunter will keep making his offense look good with many more runs like he broke off against the Cougars. He finished with six runs of longer than 15 yards, including a 66-yarder and a 39-yarder for one of his four touchdowns.
"It's his time; he went through a lot last year," Gillespie said. "And he's hungry."