May, 28, 2013
5/28/13
10:30
AM ET
We're walking through each Big 12 team and identifying its most irreplaceable talent. He's the guy they can least afford to lose, and the guy to whom an injury or departure would have the most effect.
Let's move on with Kansas State.

More most indispensable players.
Most indispensable player:
RB
John Hubert
2012 stats:
189 carries, 947 yards, 15 touchdowns. 18 receptions, 98 yards, TD.
Why Kansas State can't afford to lose him:
With this K-State team, who really knows? By the end of the season, this could all change, but entering 2013, there's no question to me that Hubert is the guy K-State can least afford to lose. The Waco, Texas native has tons of experience and topped 945 yards in each of the past two seasons. K-State should be strong on the offensive line, which returns all five starters and lost just one player on the final season depth chart along the O-line.
There's no Collin Klein, but Jake Waters or
Daniel Sams
' stepping into Klein's shoes gets a whole lot easier with Hubert in the backfield. Most important, he'll be productive and should top 1,000 yards. A good offensive line and a consistent running game makes any quarterback look a whole lot better. That applies to Waters or Sams. Without that running game, it could get very ugly for the young guys.
Hubert's biggest asset is he plays so, so much bigger than 5-foot-7 and 191 pounds. His center of gravity is low and he runs with a ton of power. He's tough to bring down and after losing Angelo Pease, K-State doesn't really have another running back on its roster that it can truly count on.
Robert Rose
is next on the depth chart, but the 5-foot-4, 176-pound senior has little experience and 13 career carries. Hubert's been really durable and that's a great sign for the Wildcats, who don't have much doubt as to their most indispensable player heading into their Big 12 title defense in 2013.
May, 1, 2013
5/01/13
12:01
PM ET
April, 29, 2013
4/29/13
10:00
AM ET
Let's have a closer look at the last spring game in the Big 12.
KANSAS STATE

What happened:
Quarterback Jake Waters completed 14-of-18 passes for 249 yards and three touchdowns, with 27 yards rushing and a score. His competition, Daniel Sams, completed 18-of-28 passes for 391 yards and four touchdowns along with 28 yards rushing and a touchdown.
Running back Robert Rose rushed 17 times for 141 yards and a touchdown. Starter John Hubert didn't play.
Tyler Lockett caught nine passes for 231 yards and two touchdowns, including a crazy, juggling 38-yard touchdown catch in the middle of a handful of defenders from Sams, and a 76-yard grab from Waters.
Tramaine Thompson also caught six passes for 161 yards and two scores.
Dante Barnett and Corey Jackson swiped interceptions.
16,383 people showed up.
Purple beat White, 76-3.
What we learned:
Kansas State has the most deceptive spring game format of any team in the Big 12, so it's hard to take much away from its spring games. Bill Snyder traditionally matches the first string against the second string, and then flips the score at halftime. Technically, Purple lost to White, 41-38, but that couldn't be less representative of the competition level on the field. You learn very, very little from Kansas State's spring games, and that's just what Snyder likes.
Take the stat lines for Waters and Sams with like 1,000 grains of salt. We've seen deceptive stat lines from Carson Coffman and Collin Klein throwing the ball in spring games, so wait until the fall before passing much judgment or feeling too hyped about either guy. I did like what I saw from Sams and Waters in general. Sams looked so much more comfortable throwing the ball than he did last season against Oklahoma State. He was playing a lot looser, and for good reason. It's a spring game, and no national titles are at stake.
The defense lost most of its talent from last season, so going against the twos was going to make that matchup even more one-sided. The defense didn't have anybody who could run with Thompson and Lockett, and you saw what happened. Additionally, most of the offensive line is back, and the defense lost the entire front line. That's going to make it even more lopsided.
The biggest takeaway: There is no progress in the quarterback race. Snyder says the race is tied, and he flipped a coin to see who would start the game. "I cannot give you a distinct answer right now until we sit down and scrutinize things a little more closely in regards to this game as well as the other 14 practices," Snyder told reporters when asked where the competition stood. "I saw some very positive things with both of them. We saw some issues that we have been aware of during the course of the spring."
Kansas State is going to be a bit better than some people think, and I definitely feel nervous about my own feelings about the Cats finishing barely in the bottom half of the Big 12. These are the kinds of teams Snyder surprises most often with. Kansas State will be young, but it will have some under-the-radar talent on both sides of the ball, despite the loss of big names. Beware of the Cats.
May, 2, 2012
5/02/12
1:00
PM ET
By
ESPN.com staff
| ESPN.com
Miss K-State's spring game? We've got you covered.
What happened:
What we learned:
Sadly, not much. There's some encouragement from seeing Klein complete the high percentage of passes he did and rack up that kind of yardage, but I'd encourage you to take a look back at the 2009 and 2010 spring games at Kansas State. Carson Coffman threw for 334 yards and 440 yards in those games. To me, Klein's already a better passer, but you can't expect him to do that in the fall. Big 12 defenses aren't great, but they're better than K-State's backups.
Whenever spring games are played like this -- first teams versus second teams -- it's hard to take away much. You can really only get a sense for young players who'll fit into the rotation, and K-State brings back a ton of starters. Few of the backups stood out on Saturday. The White team's leading rusher had 13 yards. The leading tackler, Jonathan Truman, had 10.5 tackles and one tackle for loss. K-State's got to be encouraged by performances from Travis Tannahill and Curry Sexton who could contribute next year, but again ... these teams were stacked. We'll see come fall. That's just what Bill Snyder wants.
They said it:
"He is throwing the ball well. He can throw it down the field, but he is throwing the short passes. You saw a lot of that today and he has been doing it reasonably well."
-
- Bill Snyder on Klein
"No matter how it plays out, and this is in the position that I am in; if you are on the offensive side of the ball you might be able to say some positive things about the defense on the defensive side. If you are on the defensive side, you can say something good about the offense. I am in the middle. If the offense scores, I am mad at the defense. If the defense holds them, I am mad at the offense. It is kind of a no-win situation and I need to remove myself from it as much as possible. Our No. 1 offense played well, which would allow you to say that they played well except for the two beginning drives in the third quarter, which they were three and out and had not been kept out of the end zone in the first half. They played very well in the first half and I think they took a little something for granted going into the second half. It is something to learn from and I certainly believe they will."
-- Bill Snyder
April, 27, 2012
4/27/12
1:00
PM ET
By
ESPN.com staff
| ESPN.com
I've been inspired by the boys at the Big Ten Blog, and this should be a fun walk-through each week in the new-look Big 12 next season. I'll pick one game a week during the season that I'd attend if it were entirely up to me. I don't make the call, and things change as games are played, of course. But right now, this is how it would look if it were up to me. I'll include road nonconference games, too.
Here's the Week 11 slate in the Big 12:
Baylor at Oklahoma
Iowa State at Texas
Kansas at Texas Tech
Kansas State at TCU
West Virginia at Oklahoma State
My pick: Kansas State at TCU
Somehow, we made it until Week 11 before I got a chance to see the Horned Frogs play. In Week 11, it would be at TCU's shiny, brand-new Amon G. Carter Stadium. As we've mentioned before, it's tough to project how the Big 12 standings will look this late in the season, but this game could serve as a de facto elimination game in the Big 12 title race.
That may be more true for TCU than Kansas State, but this will be a fun game with a whole lot of purple. The Horned Frogs and Wildcats are two of the most physical teams in the entire league, and we'll see a game that doesn't look like all that much of a "Big 12" game once it starts. K-State has two 900-yard rushers in
John Hubert
and
Collin Klein
, and
Robert Rose
has come on strong this spring.
TCU boast three 700-yard rushers, but has a more evolved passing game than anything Kansas State showed through 2011. Will that change with another year of experience. Could be.
Klein could show something special in what would be a huge win for Kansas State, or an even bigger one for TCU.
August, 30, 2011
8/30/11
9:00
AM ET
By
ESPN.com staff
| ESPN.com
While Bill Snyder spent the spring and fall lauding his linebacker, Arthur Brown, Brown's brother Bryce has gotten a bit more lukewarm treatment.
Asked about his work ethic at Big 12 media days last month, Snyder had this to say:
"They're different in that respect. I haven't seen the same thing out of Bryce. It's just the way it is. They're two different people. Bryce hasn't put himself in the same position that Arthur has."
I've been a bit more tentative than my peers about
crowning Bryce Brown as simply a plug-and-play redux of Daniel Thomas
, the league's leading rusher the past two years, though Brown's physical measurables are similar.
With a week left in the preseason, though Snyder has said
Brown's talent is "obvious,"
he has yet to separate himself from
his scarcely recruited competition
, John Hubert and Robert Rose.
"We still have a logjam at the top," Snyder said Monday. "It would probably be a flip of the coin, I think. Virtually each and every one of them will have an opportunity on the field, if for no other reason than that we haven't really had one of them clearly outperform the other."
Kansas State plans to release a depth chart today, but Snyder clearly intimated that all three will get touches in Saturday's opener against Eastern Kentucky.
He doesn't want it to stay that way, though.
"I'd like to have a clear-cut No. 1 and somebody that offers a change of pace," Snyder said. "But I don't have the answer to who that is right now."
The good news is this: Kansas State's running game may be fine. This competition, while not great for Brown living up to his enormous high school hype, is good for the Wildcats in the wake of losing three offensive linemen from last year's team.
"Nobody's gone backward," Snyder said.
It's too early to rule out the possibility that Brown is everything the purple people hoped and more. Maybe he walks in on Saturday, clearly shows he's the best back and kicks off a 1,500-yard season for Snyder's Wildcats.
Sometimes game days can bring that out.
But he hasn't shown it in practice, and because of that, the possibility Brown isn't even the featured back in the offense is on the table, too. His physical prowess at 6-foot, 220 pounds is impossible to ignore, much more imposing than Hubert's 5-foot-7, 185-pound frame and he dwarf's Rose's 5-foot-4, 173-pound body.
But so far, it hasn't seemed to matter.
On Saturday, it better. Otherwise, Brown's time to shine might end up being short.
August, 4, 2011
8/04/11
9:00
AM ET
By
ESPN.com staff
| ESPN.com
Many thanks for all the emails. We'll wrap up the week with another mailbag on Friday, so
if your question didn't make the cut, feel free to send me another
.
Max in Tulsa asked:
Great blog Dave, hoping you could give your opinion on a debate I've been having with a Sooner friend of mine (well, sorta friend.. there are limits). Anyway, why do the Sooners get a free pass when comes to questions about replacing Kevin Wilson? Last I checked, he was THE offensive guru in 2008 before Holgorsen staked claim to that title in '09 and '10. Yet I haven't read a single article about how the Sooners might have trouble breaking in two new co-coordinators who have zero experience in that role or calling plays. Is it just because they served under Wilson? Just seems like significantly more questions are being directed toward Todd Monken than his Gooner counterparts.
David Ubben:
I've heard this a lot, but I think it's a combination of two things.
One, Heupel has coached quarterbacks for the Sooners since 2006, five seasons that include two working closely with
Landry Jones
. He's been right alongside Kevin Wilson upstairs in the coaching booth over that span, when Wilson was cementing his reputation as one of the game's best playcallers. It's hard to believe he didn't learn a ton over that time. Additionally, he's been in the meetings and knows Jones' game well.
Second, don't underestimate the effect of what Heupel did in the Fiesta Bowl. He was getting some of the same questions leading up to the Fiesta Bowl, but with the way Oklahoma's offense looked in that game, he answered a lot of them. Yes, it's UConn, an eight-win team from the Big East. But it's still a big stage, and Heupel helped the offense look pretty flawless. That's prevented a lot of those same questions from rising up.
Monken also had to spend one offseason learning a system that was somewhat unfamiliar to him, while Heupel has been ingrained in Oklahoma's fast-paced offense for the past few seasons.
I think the treatment has been fair. I don't see a lot of people writing off Monken, but the optimism toward him is a lot more cautious than it is toward Heupel, mainly because we just don't know, and haven't seen Monken call plays. He'll obviously have a ton of talent to work with, and whatever he calls will look better behind the Big 12's best offensive line, so I think he'll be fine.
But the bottom line is, we don't know for now.
---
Alex in Prairie Village, Kan., asked:
Hey David. I was wondering why you are just not high on
Bryce Brown
. As a K-State student I keep tabs on your blog and I just have noticed that you dont have much faith in Bryce Brown to suceed. I just wanted to know why. Thanks
DU:
We haven't had much of a chance to see him in action, but you can tell a lot from coaches' comments and from how the depth chart takes shape.
It's pretty obvious that the raw talent is there for both Arthur and Bryce Brown. Arthur, meanwhile, has taken over as one of the likely playmakers for the defense and racked up 14 tackles in the spring game. Snyder has lauded the linebacker and brought him to media days, which is a big deal for a newcomer. You don't see that very often. Brown was the only player at Big 12 Media Days that didn't suit up in the Big 12 last year.
Bryce, meanwhile, didn't exactly get a ringing endorsement from his coach at media days.
"They're different in that respect," Snyder told reporters. "I haven't seen the same thing out of Bryce. It's just the way it is. They're two different people. Bryce hasn't put himself in the same position that Arthur has."
Look at who Bryce Brown is competing with:
John Hubert
and
Robert Rose
. Hubert is a 5-foot-7, 185-pound redshirt sophomore who carried the ball five times last year. He had a lot of success as a high schooler in Waco, Texas, but
William Powell
was the clear backup to Daniel Thomas last year before he was injured.
Rose, meanwhile, is a 5-foot-4, 173-pound walk-on who has almost no experience and no career carries.
It sounds like the job will come down to Hubert and Brown, but if Brown can't separate himself clearly from Hubert, despite being in the program for two springs and a season on the scout team, that doesn't bode well for his potential. We'll see once the lights turn on and we do it for real, but if Brown was going to light up the Big 12 next season, I don't think there would be much question about whether or not he could start over Hubert.
For now, there is. And thus, my doubts that Brown is going to be a big game-changer. I think he'll be a good back, but a guy like Thomas who could run for 1,000 yards easily and handle a huge load of carries? I'm not betting on it.
---
GTCat in Tonganoxie, Kan., asked:
Ubbs,Why so many media folk think OSU is a better shoe-in for runner up this year over aTm? As much as I want to see a new contender face in the Pokes (probably the school I can relate to most as a K-stater), it seems to me their recent history, namely the last two years, have been nothing but let downs when expectations rise. I had the pleasure to get to hear pre game radio call in complaints in 2009 while in OK for a wedding the week after losing to Houston and supposedly that was to be "the year". I personally think aTm's a better runner-up candidate. Am I missing something? Is replacing one of the nation's best offensive coordinators a successful equation for runner up in a competitive league?
DU:
Hey now, don't look at me. I picked Texas A&M ahead of Oklahoma State, if for no other reason than the Cowboys' schedule is tougher. I think the difference between those two teams is miniscule, but I'm not real worried about either team choking like Oklahoma State did against Houston in 2009.
The potential is there, with A&M lining up against SMU and Oklahoma State scheduled for games against way underrated Tulsa and Arizona teams, but I really do think the Cowboys, Aggies and Sooners will all reach double-digit wins.
Texas A&M is a more complete team that should be a lot better on defense than OSU, and I feel more confident in their ability to do a wider variance of things on offense, but they don't have the explosiveness that Oklahoma State has on offense.
It's close, but I picked Texas A&M to finish second. Ultimately, I do see the winner of their matchup on Sept. 24 finishing second in the league and going to a BCS bowl .
---
Matt O. in Wildwood, Mo., asked:
I saw that
you said Mizzou has no chance of making it to the B12 championship game
, and that you would bet your life on it. In my opinion, if OU lost their starting QB and MU won that game. Then I don't understand your logic. Just saying, that one game could push us there. Stoops isn't invincible, just close to it. There is always that chance you forget about when betting your life.
DU:
Nah, man. I'll take my chances. Oklahoma could forfeit that game, and I still think Missouri would have the same chances (that is: zero) of playing in the Big 12 championship.
Consider my life still on the line.
Let's make this real, though: If Missouri plays in the Big 12 championship game this year, I will see to it that you, Matt O. from Wildwood, Mo., become the new Big 12 blogger. That is a promise.
Better yet, the same deal stands if Texas or Texas A&M play in the Big 12 title game this year, too.
---
LASooner28 in Thousand Oaks, Calif. asked:
DU...love the blog. Any truth to the rumors that your time off coincided with the NFL lockout talks heating up and finally concluding? No one has ever seen you and DeMaurice Smith in the same room at the same time...
DU:
You guys act like there's no reason I don't wear fedoras for my videos on the blog.
July, 18, 2011
7/18/11
3:45
PM ET
A week from today, college football will feel oh-so-close. The Big 12 will kick off its media days, slimmed down to two days with its new 10-team configuration, instead of 12 teams over three days like it's been in the past.
[+] Enlarge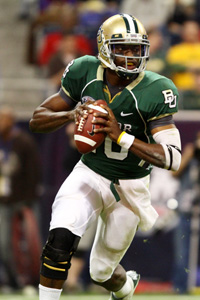 Thomas Campbell/US PresswireBaylor's Robert Griffin III will be attending Big 12 media days after missing last year's event.
I'll be there for every second of the action, with plenty of stories and videos, just like last year. Here's a look at
what we had for you every day
at media days last year.
You can expect more of that, and here's who we'll be dealing with here in Dallas.
Monday, July 25
Baylor
Oklahoma State
Missouri
Jacquies Smith, DE

Kenji Jackson, S

Elvis Fisher, OL

T.J. Moe, WR
Texas
Emmanuel Acho, LB

Keenan Robinson, LB

Blake Gideon, S

Fozzy Whittaker, RB
Texas A&M
Tuesday, July 26
Kansas
Steven Johnson, LB

Tim Biere, TE

Jeremiah Hatch, OL
Iowa State
Kansas State
Oklahoma
Texas Tech
I've got a lot of thoughts about this lineup:
Texas' quarterbacks haven't spoken to the media since the Thanksgiving Day loss to Texas A&M, and that streak won't end next week. Not that it necessarily should, at least not at this event. For better or worse, bringing a quarterback to media days implies a certain amount of confidence in said player, and every indication we got during the spring is that this race is wide open. Last year, Texas Tech brought both Steven Sheffield and Taylor Potts, and Mack Brown raised eyebrows when he brought his first-year starter, Garrett Gilbert, to media days before fall camp and before his first-ever start. He won't be making a return trip in 2011.

Kansas State's contingent is rather telling. If Bill Snyder was trying to temper the hype surrounding Arthur Brown, he wouldn't bring the transfer who has never played a game for Kansas State to Dallas. But Brown is coming, and his brother, running back Bryce Brown, isn't. That's plenty telling. As is Collin Klein's presence. It's not like Kansas State is starved for marketable talents. Cornerback David Garrett would fit in nicely, but he won't be coming. It's not explicit, but Klein will enter fall camp with the lead in the quarterback race, but Snyder has to feel good about him at this point. Bryce Brown's role on this team is still a bit unclear with Robert Rose and John Hubert still competing with him for carries, but I'm still feeling very good about making Arthur Brown my pick for Big 12 Newcomer of the Year. Except for Texas Tech quarterback Seth Doege, he's the only player in the entire league to come to Big 12 Media Days without at least a season of starting experience, and Doege at least has one start on his resume.

Serious, serious star power in Oklahoma and Oklahoma State's crews. Some of the biggest names in college football will be heading down to Dallas from just up north across the state line. Landry Jones will be making his first trip this year, as will Justin Blackmon. Weeden, Lewis and Broyles all attended in 2010. Another good bunch from A&M this year, too.

Glad to see Iowa State bring Kelechi Osemele to Dallas. He's a quiet star in this league who's been one of its best linemen for a couple seasons now. He'll finally get a bit more exposure in his first trip to media days. I'm a little surprised to see ISU bring Darius Darks, though, instead of Darius Reynolds, who Paul Rhoads went out of his way to praise this spring. That said, Darks is a solid choice as a co-captain and a contributor for three seasons heading into 2011, vs. Reynolds, a high-profile juco transfer who only emerged as a major contributor in 2010 after a quiet 2009.

Baylor's Robert Griffin III is back on Baylor's wagon after sitting out last year's media days to give the cameras and notepads a chance to get to know his teammates (and avoid about 4,000 questions about his knee, which was clearly fine last season).
June, 21, 2011
6/21/11
10:00
AM ET
Here's the next in our look at the Big 12 rankings by position: Running backs.
Last year's class was one of the best in recent history, but this year's class? Unassuming to begin the season. There are a few possible stars looming, but very, very little talent returning.
Cyrus Gray
ranked seventh in rushing yards last year (thanks to an insane finish), but he's the only player returning to the Big 12 from the conferences' top 10 rushers in 2010.
That's nuts.
The Aggies are the only team with a truly elite backfield tandem, though I could see Oklahoma and/or Oklahoma State joining that group by the end of the year.
The rest of the league? Every team has at least a couple of players to get excited about, and teams 5-10 are all pretty close. No one is really understaffed at the position, but obviously, they're fit to be ranked.
Here's where I have them:
1. Texas A&M
[+] Enlarge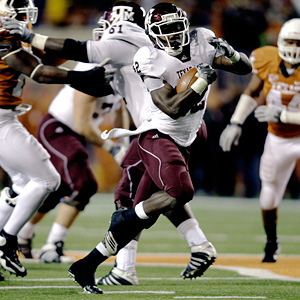 AP Photo/Eric GayCyrus Gray had at least 100 yards rushing in each of A&M's final seven games last season.
I wouldn't have been surprised if Cyrus Gray and
Christine Michael
were the Big 12's top leading returning rushers this year, but a midseason injury from Michael prevented it from happening. Regardless, his return gives Texas A&M by far the best tandem in the Big 12, and arguably the best in the country. When
Mister Jones
isn't cranking the Counting Crows on his stereo, he's a pretty good reserve, alongside
Ben Malena
, who
impressed me on my visit to College Station this spring
.
2. Oklahoma
Oklahoma will try and replace do-everything forever (or whatever) back DeMarco Murray with a platoon likely led by shifty Florida native
Roy Finch
. True freshman
Brandon Williams
made a big impact in spring camp, and
Brennan Clay
will likely earn a few touches, too. Health concerns raise questions about a pair of other OU backs' knees (
Jermie Calhoun
,
Jonathan Miller
), but walk-on
Dominique Whaley
led the team in rushing in the spring game
.
3. Oklahoma State
The Cowboys have a great pair in sophomores
Joseph Randle
and
Jeremy Smith
, and a nice set of backs to spell them if needed, too.
Kye Staley
, once a top-flight recruit, returned this spring after quitting the team following a severe knee injury, and might earn a few touches this spring. Also, Abilene, Texas, native and 2011 ESPNU 150 signee Herschel Sims arrives this fall and may jockey for time and the opportunity to shed a redshirt.
4. Missouri
What the Tigers lack in a truly elite back, they have in depth. Missouri has four backs who are all capable of being very good in the Big 12, even though neither of the four topped 600 yards a year ago. A big reason for that was none of the four got more than 100 carries, but with the carries they did get, every back averaged more than five yards per carry. The platoon approach works for Missouri, but senior
De'Vion Moore
and junior
Kendial Lawrence
will lead the way with sophomores
Henry Josey
and
Marcus Murphy
not far behind.
5. Kansas
[+] Enlarge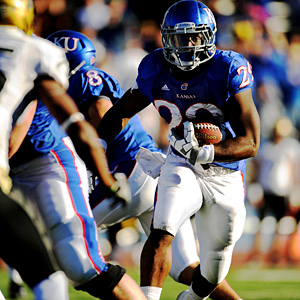 John Rieger/US PRESSWIREJames Sims is the No. 2 returning rusher in the Big 12 this season.
Running back will be a strength for Kansas next year, who might have found a second back this spring that perfectly complements power runner
James Sims
, a rising sophomore who racked up 742 yards last year after not playing in the opener. Believe it or not, he's the Big 12's No. 2 returning rusher, behind A&M's Gray. Darrian Miller burst onto the scene this spring, and figures to be a big part of the team in the fall. I see him being the Jayhawks' biggest home-run threat. DeShaun Sands and
Brandon Bourbon
offer even more depth at the position.
6. Texas Tech
The Red Raiders lose backfield constant Baron Batch, but have a good group lined up for 2011. Tommy Tuberville's effort to establish a more efficient running game is a realistic possibility with
Eric Stephens
as the likely feature back, and
Aaron Crawford
,
Ben McRoy
and
Harrison Jeffers
in the mix. True freshman Ronnie Daniels' strong spring likely earned him some time, too, rather than a redshirt.
7. Baylor
Baylor loses a 1,200-yard rusher in Jay Finley, and figures to use a thunder-and-lightning approach with 6-foot, 240-pound bowling ball
Terrance Ganaway
and shifty, 5-foot-9, 205-pound
Jarred Salubi
.
Glasco Martin
, a more balanced back, may earn a few carries, too. Regardless of who has the ball, life is good for Baylor backs, who get a bit more room from defenses that are forced to respect
Robert Griffin III
's legs.
8. Kansas State
The Wildcats' top two rushers, including two-time league rushing champ Daniel Thomas, are gone. Hopes are high for Wichita native and former blue-chip back
Bryce Brown
, but he's still entrenched in a position battle with
John Hubert
and
Robert Rose
heading into fall camp.
9. Texas
Texas brings back a pair of seniors in Fozzy Whittaker and
Cody Johnson
, but if the Longhorns are going to climb up this ladder by year's end (and they might) it's likely to be on the back of hyped incoming freshman
Malcolm Brown
, who is on campus and set to begin fall camp.
D.J. Monroe
might be the fastest player in the Big 12, but he'll have to master the nuances of pass blocking to get more than a few touches every game.
Jeremy Hills
can offer some depth at the position, too, after Tre Newton was forced to quit the game because of concussions.
10. Iowa State
Shontrelle Johnson
showed some flash last year, but he still brings just 35 career carries into his 2011 effort to replace
Alexander Robinson
.
Jeff Woody
and
James White
offer a bit more depth, too. Florida native DeVondrick Nealy might get into the mix if he can put together a strong fall camp.
April, 27, 2011
4/27/11
10:30
AM ET
Kansas State doesn't allow any fans or media to view its practices, so observations about players during the spring are based solely on comments from coach Bill Snyder or his players.
Snyder has kept his comments measured regarding running back
Bryce Brown
, formerly a five-star recruit at Tennessee, admitting that he's not sure what to expect in Saturday's spring game in Manhattan.
[+] Enlarge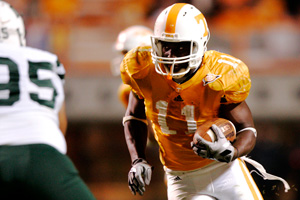 AP Photo/Wade PayneBryce Brown, a former top recruit, will have to compete with John Hubert for playing time.
"It is quite obvious that he is a very fine player," Snyder told reporters during a weekly media gathering on Tuesday. "He runs well and has really good speed and is developing into a multifaceted player. He is improving on his blocking capabilities. He can be involved in the passing game; he is proving his skills there."
Even still, Brown is far from a starter. For now, he's locked in a battle with
John Hubert
, a sophomore who also happens to be the cousin of former Oklahoma State standout cornerback Perrish Cox.
Hubert is a Waco, Texas native who also played high school football with blue-chip recruit Ahmad Dixon, a Baylor safety. He redshirted in 2009 after signing with the Wildcats. The only other notable schools who offered Hubert a spot were Louisiana Tech and North Texas. But even though the 5-foot-7, 185-pounder's recruitment process was the exact opposite of Brown's, he's pushing him for playing time next season.
"I really like the progress that we are making at that position," Snyder said. "[Brown] is the fastest of the group and more physical than the other two at least in stature to John Hubert and
Robert Rose
. Robert has really come into his own, but we saw that last year when he worked on the scout team. All three of them are really competitive right now."
Brown, conversely, held offers from schools like USC, LSU and Miami. After choosing Tennessee, transferring back to Kansas State and enduring a season on the scout team, Snyder feels good about Brown's transition back to a major contributor.
The Wildcats have proven they're capable of running the ball more than proficiently under Snyder. Juco transfer
Daniel Thomas
led the Big 12 in rushing the past two seasons. If K-State can find another to fill the void Thomas left when he packed up for the NFL, the another bowl game, at least, should be within reach.
"When Daniel came during the summer, he did not have anyone to coach him during the workouts other than our players, so it was kind of a crash course for him," Snyder said. "Bryce comes in having spent a season with us in a redshirt capacity and has learned a lot. He is ahead of Daniel when Daniel started his first season, but even at that a vast majority or Bryce's time was spent on the scout squad last year so that does limit the learning process; but he is a sharp young guy and picks it up very well.