Big 12:

Robert T. Griffin
August, 17, 2012
8/17/12
5:00
PM ET
By
ESPN.com staff
| ESPN.com
Thanks for all the e-mails this week.
Here's where you can reach me if you've got more to say
.
Connor in Austin wrote:
Dubbs, it's been a while since I last read the blog and I'm truly sorry for that. Sometimes I just want to get away from football (especially when the longhorns have lost to Baylor in consecutive years). I was wondering if you could give me an estimate of the Longhorns' offense/defense ranking in the NCAA. I'd say defense should be top 5 but number 1 in at least one category. However, I think the offense could end up around top 20 or better (pending the performances of
David Ash
). So really I have two questions. 1). Do you concur with my prediction? 2.) How likely is it that Ash fulfills his potential to be, for lack of a better description, a Colt McCoy-esque quarterback?
David Ubben:
I don't quite see it. If you want to factor in everything, I do believe Texas will have an argument at season's end as the nation's best defense, but the stats may not show it. It'll be tough for the Longhorns to finish in the top 10 just because of the way the Big 12 plays football.
For one, there are too many ridiculous offenses in this league and big-time talents on that side of the ball. Last year, Texas Tech finished sixth in the Big 12 in total offense. That was good for 13th nationally. That's a ton of good offenses to go up against every week. TCU and WVU will be solid replacements offensively for A&M and Mizzou.
Some see the Big 12's fast-paced offenses and think the Longhorns face more plays. It's not true. LSU finished second nationally in total defense and faced 897 plays. Texas faced only 865. Granted, Alabama faced 720, but in the nation's top 10 defenses, Alabama is a huge outlier. The next-lowest number in the top 10 was 835 plays.
Texas is going to be great, but they can't really worry about the numbers. The Longhorns finished 11th last year, and they should try to improve that, but it won't be easy in this league.
Offensively, I don't see any way Texas jumps all the way up to 20th in total offense. The offense just isn't explosive enough. They may be more productive this year, but the Horns still don't have a gamebreaker, and you've got to have big plays if you want a top 20 offense.
I think Ash will be significantly better this year, but nowhere in the Colt McCoy, 'Hey, let's complete 70 percent of our passes' realm. He's just got to make the throws he needs to make and not turn the ball over.
---
Bob Culwell in Denver, Colo. writes:
As a Kansas alum living in Colorado, the final football game between the schools in which the 'Hawks rallied from 28 down in the 4th quarter to beat the Buffs holds a special place in my heart. It is an oasis in the recent desert that has been Jayhawk football. I hope
Jordan Webb
is wildly succesful in Boulder. It was sad to see the bit you posted that the University of Colorado had written in Webb's new bio that Kansas won thanks to bad officiating.Colorado fired Dan Hawkins within days of that loss. So, let me get this straight, it is the policy of the University of Colorado to fire coaches for bad officiating? Why in the world would anybody want to coach at Colorado? The officiating in that game was fine. You know where it wasn't fine? The fifth-down game. Not only did CU get five downs--they didn't even get in the end zone on the fifth down. Colorado parlayed that win into a "national championship". I wonder if the Buffs make note of the terrible officiating that delivered a gift "national championship" to a group of Buffs that shouldn't have received it.
DU:
Ha. Wow. Brutal, but good points there, Bob. This wins for the e-mail of the week.
It does seem pretty contradictory to complain about the officiating and then fire a coach for losing the game. It's worth noting that no, Jordan Webb didn't play in that game, which makes it even more ridiculous that the game is (or was, I should say) even mentioned in his bio.
---
Brad in Duncan, Okla. writes:
Hey Ubbs, I just wanted to comment on your All-Names team. You left one of the most awesome names off the list.
Eric Striker
, LB, Oklahoma. From the first time I found out Oklahoma was recruiting him, and
Gunner Kiel
at QB, All I could think of was "Man, these guys definitely have names that fit their positions." Oklahoma didn't get Kiel of course, but I thought it was interesting.
DU:
Good points, Brad. Thanks for the note. I love a name that fits the position. Striker qualifies, and he probably deserved a spot on the team ahead of
Shaq Petteway
. I'll give him honorable mention.
No question about Gunner Kiel, though. If he was in the Big 12, he'd have a four-year run as the QB on that team.
---
Brett in Kansas City wrote:
David, can you explain how Bill Snyder isn't on top of the best coaching tree list? Off the top of my head I can think of 6 former assistants who went on to be head coaches and countless others who went on to be coordinators, and I'm sure there's more, and as you said without Snyder Bob Stoops and Bret Beilema's trees wouldn't even exist.
DU:
Got a ton of e-mail about this from K-State fans. I get it. Defining a coaching tree isn't very easy. Ultimately, I think you have to judge it by guys who leave one coach's staff to become head coaches elsewhere. That doesn't mean Snyder didn't have a huge influence on all of those coaches, whether it be Stoops, Mangino or whoever you want to cite on his old K-State staffs. Yes, Stoops took a lot of those guys to OU when he left. Yes, those guys were heavily influenced by Snyder.
They're a part of his tree, but guys always coach under different head coaches over the course of their careers. You have to draw the line somewhere. We chose to designate it by coaches' last stops before becoming head coaches. Even Stoops left K-State for Florida before taking the Oklahoma job.
---
Reed Robertson in Granbury, Texas:
Your not very intelligent.
DU:
Well said, Reed. I'll get to work on that.
---
Josh in Midland, Texas writes:
Hey Ubbs, do you ever get confused between Texas' RB
Malcolm Brown
and Texas' DT
Malcom Brown
? Do you think that announcers and sports broadcasters will get them mixed up? And what will Mack BROWN do about their names on the back of their jerseys? Usually when there are 2 players with the same last name, you can put the first couple letters of their first name also on the jersey (ex. Mi [Michael] Griffin and Ma [Marcus] Griffin), but you can't really do that with Malcolm and Malcom...What would YOU do if you had to make the choice?
DU:
This is easily the best name confusion since QB Robert Griffin III and OG Robert T. Griffin at Baylor last year. I asked around at Texas to get some clarification. I'd love to see the full name on a jersey, but I don't know if that's all that practical.
Anyway, I asked around at Texas, and for now, the tentative plan is for both jerseys to simply say "M. Brown" because they play on opposite sides of the ball. Malcom and Malcolm won't be on the field much at the same time, and they'll obviously have very different numbers, so I don't think it'll be a problem. It's a lot like guys wearing the same number. If they're not on the field at the same time, it's not an issue.
---
geotechpro in Lubbock writes:
After reading your chat today, I got to say, Ubben, you is a moron. You watch College Football Live and take a couple notes about the topics and then read a couple newspaper articles. That is your research and where you get your so called insight. You have not visited a Big 12 school, meaning actually going to the campus to do an interview or see what is going on in 3 years. You is a total moron and you is not a college football fan and you have said so before!! You just got lucky with this job which you trash every change you gets. Just a sad individual.
DU:
Good points. Thanks for the input.
Maybe one day
I'll
make
it
to
a
Big
12
campus
.
July, 5, 2012
7/05/12
12:00
PM ET
By
ESPN.com staff
| ESPN.com
May, 14, 2012
5/14/12
12:00
PM ET
By
ESPN.com staff
| ESPN.com
April, 16, 2012
4/16/12
12:00
PM ET
By
ESPN.com staff
| ESPN.com
She feels great. Her spirits are high, the whole family's high. There's your headline.
March, 21, 2012
3/21/12
11:15
AM ET
By
ESPN.com staff
| ESPN.com
WACO, Texas--I'm out at Baylor's pro day Wednesday after taking in Texas' on Tuesday, but if you can't be there, you can still watch live via ESPN3 or the WatchESPN App.
Here's the link
.
Heisman winner
Robert Griffin
III will throw today for scouts for the first time after skipping the exhibition during the combine. If he's going to buck expectations and become the No. 1 pick, today will be the day he does it.
RG3's showcase is the main attraction, but it's not the only attraction.
Can Big 12 receiving champ
Kendall Wright
improve on his disappointing 4.61 40 time at the combine?
Here are the members of Baylor's 2011 team who'll be taking part in all drills today:
RG3 and Wright are both probable first-rounders and should put on a show while they partake in some drills. Big 12 rushing champ
Terrance Ganaway
and center
Philip Blake
will also be partial participants.
Check it out
. We'll have some coverage later in the day.
January, 24, 2012
1/24/12
9:00
AM ET
Signing day is coming fast. Next Wednesday, the next round of players will sign up for their respective programs and start what could be storied careers.
Here's what each team across the Big 12 needs. You'll find Texas A&M and Mizzou on the SEC blog and West Virginia on the Big East Blog.

BAYLOR
Quarterback:
This one's pretty simple.
Robert Griffin III
is taking his talents to the NFL early.
Nick Florence
is waiting to take over, and the Bears have
Bryce Petty
behind him, but more reinforcements at quarterback are needed. Dual-threat quarterbacks, ideally.
Defensive tackle:
Baylor already was one of the nation's worst teams (102nd nationally) at stopping the run. Now it'll need to replace both its interior linemen,
Nicolas Jean-Baptiste
and
Tracy Robertson
.
Offensive linemen:
Baylor's offensive line, meanwhile, has been solid. It loses junior college transfer and two-year starter
Robert T. Griffin
, as well as All-Big 12 center
Philip Blake
.
John Jones
, a reserve guard, also has exhausted his eligibility.

IOWA STATE
Receiver:
This has been a weak spot for the team for several years, and its top overall talent,
Darius Reynolds
, is gone.
Darius Darks
is, too.
Aaron Horne
and
Josh Lenz
will be the team's best weapons in 2012, but the pair of shifty slot guys will be seniors. This position needs reinforcements.
Defensive back:
The DBs have been a quiet strength for ISU, especially in 2011. Cornerback
Leonard Johnson
and safety
Ter'Ran Benton
both have exhausted their eligibility, though, and defensive backs coach Bobby Elliott left for Notre Dame. You'll see plenty of new faces in the Cyclones' secondary next year.
Defensive line:
Experienced starters
Stephen Ruempolhamer and Jacob Lattimer are both gone, and Iowa State has struggled to stop the run consistently the past few seasons.

KANSAS
Quarterback:
Kansas landed high-profile transfers
Dayne Crist
(Notre Dame) and
Jake Heaps
(BYU), but this is still a huge position of need. Last year's starter,
Jordan Webb
, left the team.
Quinn Mecham
is out of eligibility. Heaps is sitting out his NCAA-mandated year after transferring. Crist is the starter, but he badly needs a backup, especially if
Brock Berglund
's transfer appeal allows him to leave.
Wide receiver:
Kansas lacks a big threat at this position. It needs a talent upgrade in a big way. Oklahoma transfer
Justin McCay
is joining the team, but he's no guarantee to a) be granted immediate eligibility or b) become an impact player.
Defensive tackle:
Kansas is thin here, too. Richard Johnson,
Patrick Dorsey
and
Michael Martinovich
are gone, and Kansas couldn't stop much of anything on defense. Some push up front could help make everything look better. A late addition to the 2012 class from a junior college seems like a no-brainer. The Jayhawks need physically mature players to contribute immediately.

KANSAS STATE
Offensive line:
K-State's offensive line was much better in 2011 and could be again in 2012. It needs help replacing All-Big 12 lineman
Clyde Aufner
, though. Starter
Colten Freeze
is also gone.
Defensive line:
Kansas State is bringing back about as many starters as anyone in the Big 12, but the biggest losses are along the defensive line. Kick-blocking specialist (five in 2011) Ralph Guidry is gone, along with tackle
Ray Kibble
. Juco transfer
Jordan Voelker
exploded onto the scene this year, but he's gone, too.
Defensive backs:
Cornerback
David Garrett
leaves a huge hole behind.
Tysyn Hartman
may not be as talented as teammate
Ty Zimmerman
, but his experience leaves a big hole. Zimmerman will have to mentor a younger safety in the near future.

OKLAHOMA
Receiver:
The Sooners are thin here in a big way. That was obvious late in the season when
Ryan Broyles
' storied college career ended a few weeks early with a knee injury. The team also lost Justin McCay (transfer) to Kansas.
Jaz Reynolds
and
Kenny Stills
are the likely top two targets, but they need help.
Tight end:
This position inspired a bit of panic at the end of the season. Seniors
James Hanna
and
Trent Ratterree
are gone.
Austin Haywood
wasn't allowed back on the team, and two more tight ends left the team for various reasons. That left the Sooners suddenly without a scholarship player at the position returning in 2012.
Offensive line:
Starting tackle
Donald Stephenson
must be replaced, as will guard
Stephen Good
, who moved in and out of the starting lineup throughout his career. The Sooners bring back a lot of talent and aren't dying for depth there, but those two will leave holes. Three more offensive line starters will be seniors in 2012.

OKLAHOMA STATE
Offensive line:
The Cowboys need a whole lot of help here to fill in behind young players stepping into the starting lineup. Starters
Levy Adcock
,
Nick Martinez
and
Grant Garner
are gone. Backup center
Casey LaBrue
is gone, too. Those are two All-Big 12 linemen who leave big shoes to be filled.
Receiver:
Justin Blackmon
surprised no one by leaving a year early, and
Josh Cooper
leaves with perhaps the most underrated career of any receiver in school history. In OSU's offense, there's always room for depth here. Nine receivers had at least 19 catches in 2011. Blackmon and Cooper combined for 192, though.
Defensive ends
: The pass rush was solid for Oklahoma State this year, but both starters,
Jamie Blatnick
and
Richetti Jones
, are gone. Replacing both is a necessity.

TEXAS
Receiver:
Texas lacks a true game-changer at the position, though
Jaxon Shipley
and
Mike Davis
may develop into that role in 2012. Former blue-chip recruit
Darius White
left for Missouri, too.
Quarterback
:
David Ash
and
Case McCoy
didn't show a ton of potential at quarterback this year, though Ash may grow with an offseason to prepare as starter. Garrett Gilbert got a big chunk of the work in the spring, summer 7-on-7 and fall preseason camp. Even if Ash does grow, the Longhorns need reinforcements at the position.
Linebacker:
Two senior impact players are gone. Texas is left trying to replace
Emmanuel Acho
and
Keenan Robinson
, though
Jordan Hicks
may mature into a star in 2012.
TCU
Offensive line:
TCU's offensive line is headed for some major turnover. OT
Robert Deck
, OG
Kyle Dooley
and OG Spencer Thompson are gone. Two more starters, OG
Blaize Foltz
and C
James Fry
, will be seniors in 2012.
Defensive linemen:
TCU isn't losing a lot at this spot, but
Ross Forrest
and
D.J. Yendrey
will be seniors in 2012. The Horned Frogs would be well-served to prepare, and offer some depth next year.
Specialists:
TCU will have to break in a pair of new starters on special teams next season. Kicker
Ross Evans
and punter
Anson Kelton
have exhausted their eligibility.
TEXAS TECH
Receiver:
The Red Raiders' offense requires a lot of depth here.
Tramain Swindall
is the only loss at the position, but three more (
Alex Torres
,
Cornelius Douglas
,
Darrin Moore
) will be seniors. Douglas moved to cornerback this year after the team was racked with injury, but we'll see whether he moves back this offseason.
Offensive line:
Tech has a huge need here. Four players won't be returning in 2012.
Lonnie Edwards
,
Mickey Okafor
and center
Justin Keown
must be replaced.
Defensive linemen:
Tech's
Donald Langley
and
Scott Smith
are both out of eligibility, and juco transfer
Leon Mackey
will be a senior.
October, 29, 2010
10/29/10
3:00
PM ET
By
ESPN.com staff
| ESPN.com
First off, I got a lot of e-mails covering a lot of different aspects of the
Justin Blackmon
suspension, but I'll just offer my general thoughts instead of answering 15 different questions:
My first big problem with all this is, it doesn't sound like enough people are differentiating between what Blackmon
actually
did and the "drunk driving" connotations that come with the initials "DUI." Blackmon traveled out of state on a game week. Not a great decision, but I highly doubt he's the only guy on the team to ever do that; it's my understanding that his trip was not explicitly in violation of team rules. Blackmon drank underage. Mistake, obviously, and illegal, but nothing uncommon to college or even college football teams. He waited until after 3 a.m. to make a 4.5-hour drive home. Definitely a bad decision, but not illegal on its own, minus the alcohol that was apparently in his system, although the exact wording of the police's statement leaves that up to interpretation. Making that drive at 92 mph, 32 miles above the speed limit, is both reckless and illegal.
But none of that equals "drunk driving." According to the police, there was a field sobriety test conducted and it found a "detectable" amount of alcohol on Blackmon. That adds up to a minor in possession charge in most states and a speeding ticket. I can think of at least three starting quarterbacks in football right now who have public intoxication charges on their records, a more serious charge, and that's just off the top of my head. It also includes at least one player who received serious Heisman buzz earlier in the year. Based on the police's actions, Blackmon was well below the legal limit, but in Texas, that's a DUI if you're under 21. If Blackmon was actually above the legal limit, I'm pretty certain he'd be facing a lot more than a three-digit fine.
Based on most of the e-mails I got throughout the week, it seems like not everyone understands that. I don't know Blackmon, but by all accounts, this is the first mistake by an otherwise upstanding student-athlete. My guess is, he didn't know the law in Texas, which is understandable, because before this week, I didn't either. And I live in Texas. I'm not going to defend any of the bad decisions, but I'll defend him against some of the e-mailers who wrote in claiming he got off too easy.
It was a series of decisions I'm sure he regrets, but he's taken his suspension, impressively took a few questions from the media only days after being arrested, and the team has moved on. I suggest everyone else do the same, and not do so with the notion of Blackmon as a "drunk driver." I'm not at all trying to excuse what he did; it was dangerous and against the law, but I got the sense this week that not enough people understood what he did.
This incident shouldn't have any effect on voters' minds if they're voting for the Heisman, Biletnikoff, Big 12 Offensive Player of the Year, or any other various awards Blackmon might be up for in December. Gundy (who handled the entire situation really, really well, by the way) made the right call in suspending him, but this one speed bump isn't significant enough to sully an otherwise remarkable season on the field.
---
Melissa in Lincoln, Neb., asks:
What do you think about the suspension of Martin for Nebraska. Can the league really pick and choose which helmet to helmet gets a suspension?
David Ubben:
There's some stuff you can debate on this and there's some you can't. First off, that hit was illegal. Period. I don't care if he "led with his shoulder" or not. It looks better from the angle from behind, but his helmet clearly hits Andrew Hudson's helmet first, and he followed through with his body and de-cleated him. You're in denial if you can't see the helmet-to-helmet contact on the replay from the angle the shows the hit from the front.
The suspension is certainly up for debate. I got plenty of questions on Twitter throughout the week and in my mailbag about why he got suspended and others with helmet-to-helmet hits didn't. My answer: I have no idea, because the people making those decisions haven't told us. I didn't expect the Big 12 to be very transparent about this, but it doesn't change the fact that I'd like them to be. A league spokesman
explained some of the decision-making process to the Omaha World-Herald
, but did not comment on the decision itself.
Two weeks ago, Kansas Isiah Barfield definitely hit Kansas State's
Tramaine Thompson
helmet-to-helmet. He wasn't suspended. Oklahoma safety Quinton Carter got flagged for a helmet-to-helmet hit in this weekend's game against Missouri and he wasn't suspended, though that hit was from behind, if my memory serves correctly.
Why is Martin suspended? Maybe the Big 12 has a good reason. There's no doubt in my mind the NFL's recent focus on helmet-to-helmet hits played a huge factor. But
based on the concise release they sent to the media
, there are plenty of other hits that qualify under the criteria stated by the league. He's the first player in the almost two-year history of the rule to be suspended because of a hit, but there's no way he's the first to make a helmet-to-helmet hit like that in that span. It wasn't a "cheap shot" and he wasn't intentionally trying to hit Hudson in the head, even though he definitely did hit him in the head.
I just wish we knew what the difference was.
I'm not going to rip the Big 12's decision on this, but I'm not going to defend it, either. It's an illegal hit. I feel strongly about that. They're within their right to suspend Martin if they see fit. But there's a lot of illegal hits happening. Not everybody is getting suspended. Why? I have no idea, and if the Big 12 had planned on issuing an explanation, we'd have heard it by now.
---
Don Bowers in Oklahoma City, Okla., asks:
Is this one of the questions you are going to pick for your totally awesome blog so I can brag to my friends how cool it is to get a question on here?
DU:
Nope.
---
Joe in Waco, Texas asks:
If Baylor can pull off the win this weekend, (I know, Texas will be playing with a purpose and Baylor hasn't won 3 straight all year) could it be the game that finally puts RG3 on the same stage as T-Magic and Newton?
DU:
You bring up an interesting point. First off,
Robert Griffin III
is pretty clearly a better overall quarterback (Note: As a runner, I'd go with T-Magic) at this point than
Taylor Martinez
, but let's take a look at Griffin's numbers vs. Newton's.
Passing:
Griffin: 180-270 (66.7 percent), 2,373 yards, 18 TD, 4 INT. Rating: 159.53
Newton: 90-138 (65.2 percent), 1,364 yards, 13 TD, 5 INT. Rating: 172.08
Rushing:
Griffin: 76 car, 374 yards (5.1 avg). 6 TD
Newton: 157 car, 1,077 yards (6.9 avg). 14 TD
It's pretty obvious that while Griffin is a great player, the impact of what Newton is doing this year is greater than what Griffin has done, and Newton is doing it for an undefeated, No. 1 team against an SEC schedule featuring a handful of ranked teams.
Griffin is a great player who's near the top of
my ballot for Big 12 Offensive Player of the Year
, but there's a reason why all 15 of our ESPN Heisman Watch first-place votes went to Newton. Tell the SEC linebackers Newton is trucking on a regular basis that the 250-pounder is all hype.
---
Wyatt in Nebraska asks:
Which big 12 players do you think would make the best body guards?
DU:
Apparently I might need a couple after picking against the Huskers this week. I've got calls placed in to Colorado's Nate Solder (6-foot-9, 310 pounds) and Baylor's Robert T. Griffin (6-foot-6, 330 pounds) to tag along with me to Lincoln this weekend.
---
Barry in Houston asks:
David,I just wanted your opinion on the act of tearing down goalposts. I ask because it seems that there is somewhat of a double standard that goes on here in particular, Texas Tech was known for a few years for rushing the field and tearing down goalposts, this got them labeled 'classless clowns' in the media. It even got to the point where law enforcement was brought into home games to keep it from happening. I remember reading several articles in the Houston area about how atrocious this behavior was and how it had no place in college football. The other day I was on here and the Mizzou 'tradition' of tearing down the goalposts and marching them through town was depicted as some sort of magical experience that every college football fan should experience. How is there such a difference in the schools actions? Why are they perceived so differently? Just wondering about your thoughts here.
DU:
There's a time and place for it. I think you're overreacting on the "classless clowns" comment that I bet few people have any memory of. Texas Tech doesn't have that reputation for field-storming as far as I know. There's a time to rush the field. Beating a team with one win is not it (ahem, Colorado), unless you haven't won a game in more than a year. Qualifying for a bowl game for the first time in 15 years is definitely appropriate. Beating a No. 1 team, especially the same team that your program hasn't beaten in more than a decade, the same team that beat you to keep you out of the national title game is an appropriate time to do it. Anybody who criticizes the actual act is an oversensitive curmudgeon who needs to lighten up. There are definitely times to do it. Missouri and Baylor took advantage of their opportunities.
September, 10, 2010
9/10/10
12:15
PM ET
By
ESPN.com staff
| ESPN.com
When I pulled my hamstring, I went to a misogynist.
September, 1, 2010
9/01/10
1:15
PM ET
By
ESPN.com staff
| ESPN.com
Last week, I had a chance to tag along with Baylor quarterback
Robert Griffin
on his first day of school.
First off, a thanks to the people at Baylor who helped make that happen. But it was a great experience and if you want to know what it's like to be Robert Griffin, here's
my story on a day in the life of Baylor's best hope
for a bowl game.
10:05 a.m. A quick run through the syllabus, and Griffin's first class of the day is over. He walks over to a shaded area outside the Student Union Building, where Griffin's friends and other athletes often kill time between classes. A familiar face starts the semester with some smack talk and a smile.

"I know you're not going to be talking all that stuff when I dunk on you," says Brittney Griner, the 6-foot-8 star of the women's team. "We can go to the Ferrell Center today. Write it down. Brittney Griner is gonna dunk on Robert Griffin. Then I'll come out to the football field and throw better than you."

"Whoa, whoa, whoa," Griffin says to laughter. "Let me go get my brace, and we'll go play right now."
Plenty more in the story, including cameos from Ohio State quarterback
Terrelle Pryor
, Oklahoma linebacker Travis Lewis, teammates Kendall Wright and Robert T. Griffin, as well as Baylor coach Art Briles.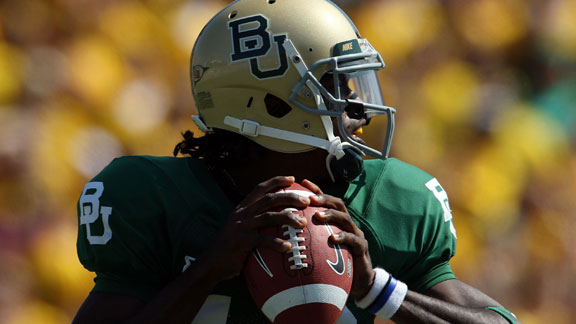 August, 20, 2010
8/20/10
4:15
PM ET
By
ESPN.com staff
| ESPN.com
Have a good weekend, everybody. There's a decent chance Texas Tech names its starting QB over the weekend, and if that happens, we'll have it here, so keep checking back.
Michael in Raytown, Mo., writes:
How long does MU give Pinkel if he continues to get beat down by OU and UT? I mean going to a bowl game every year is great and all, but I'm sick of us having good /very good years then getting slapped down by OU and UT. I know MU will probably never have the same level of talent overall as OU/UT but other inferior talent teams find a way to beat them--what gives?
David Ubben:
Gary Pinkel's struggles against Texas and Oklahoma aren't a deal breaker. His job security is as good as it's ever been, and nothing Texas or Oklahoma do is going to change that. Missouri fans sometimes forget where the program was before he came. The Tigers had two winning seasons from 1984 to 2000, when Pinkel arrived. He's guided them to five consecutive bowls and won an impressive 30 games in three seasons. Finally getting over the hump and beating Texas or Oklahoma would be a big step for the program, but it's foolish to suggest Pinkel's job depends on it.
---
Wes in Hampton, Va., writes:
There are plenty major games lined up for the Big XII this year. Do you see any teams with any major "snake in the grass" games? i.e. Nebraska @ Washington?
DU:
There are definitely quite a few. I'll define them as games that fans are counting as sure wins that they might warrant a second look.
1) Nebraska at Iowa State
-- For all the talk about turnovers, Iowa State still beat Nebraska in Lincoln without
Austen Arnaud
and
Alexander Robinson
, among others. It's foolish to think the Huskers over the Cyclones in Ames is a gimme.
2) Oklahoma at Cincinnati
-- Probably not viewed as a gimme, but Oklahoma fans see a team that lost its coach, Brian Kelly, and its two best offensive players, quarterback Tony Pike and receiver Mardy Gilyard. I see a team that went 2-5 away from Owen Field last year and still has to prove it can perform on the road, especially
Landry Jones
.
3) Texas A&M at Baylor
-- Baylor might be playing to end its bowl drought, and it'll be ready to go in Waco. The Aggies' defense can't play like it did most of last year against
Robert Griffin
and
Kendall Wright
this year. If it does, it'll leave with a frustrating loss.
---
Jess in Oklahoma asks:
What odds do you give Kenny Stills on being offensive newcomer of the year in the Big XII
DU:
As a true freshman, he'd be a "Freshman of the Year," rather than newcomer, which are two separate awards, but he's got a pretty good shot to win it. The opportunity in Oklahoma's receiving corps is there, and he's already impressed coaches in practice and fans in the spring game.
---
Roderick in Denver writes:
David, we've seen enough Top XX lists to make our eyes bleed this summer, but how about one more? What are your Top 10 Names in the Big 12? Could be cool, weird, just sounds like a football player, or a personal favorite. Here's a starter kit.
PK Zach Grossnickle of Colorado, DT Stephen Ruempolhamer of ISU, LB Blake Slaughter of KSU, CB Dijon Washington of Nebraska, DT Chris Littlehead of OSU, RB
Foswhitt Whittaker
of Texas, WR
Uzoma Nwachukwu
of A&M, RB's
Christine Michael
and Mister Jones of A&M.
DU:
That's a great list. I should mention, Baylor having two Robert Griffins might be my favorite name-related story in the Big 12 right now.
But here are a few additions, my favorite names across the conference:
Trevor Marrongelli
, OL, Kansas: As I mentioned in a video earlier this week, he's nothing to spread on toast. He's Kansas' starting right guard.
Oladipo Fajimolu
, DL, Kansas State: A native of Nigeria, Fajimolu did a lot in high school: Football, basketball, shot put, javelin, discus, soccer, badminton and table tennis.
Gahn McGaffie
, WR, Missouri: It's pronounced "John." As someone with an oft-butchered name, I can relate, and I imagine it's been pronounced correctly on the first attempt about 6 percent of the time. Him scoring a game-winning touchdown is screaming for a "He's Gahn" headline.
Forrest Shock
, WR, Missouri: Needed nickname: "Agent Orange" or "The Lumberjack."
Currenski Gilleylen
, WR, Nebraska: They say to never trust a man with two first names. I trust any man with two last names.
Yoshi Hardrick
, LT, Nebraska: Legitimately nicknamed after the dinosaur, and you won't find a better one in the Big 12.
Hubert Anyiam,
WR, Oklahoma State: Find me another player with three words in seven letters in one last name. In order. Fantastic. For reference, it's pronounced "ANNIE-ehm."
Jackson Jeffcoat
, DE, Texas: Alliteration is always good, and for more on why he's on the list, see Nebraska's first entry.
Tony Jerod-Eddie
, DL, Texas A&M: Does anyone know what you're supposed to do about guys with three first names?
Beau Blankenship
, RB, Iowa State: Boom. Sounds tough.
Bront Bird
, LB, Texas Tech: Anybody want to mess with him? I don't.
LeQuince McCall,
LB, Baylor: Four capital letters, one goal: cracking the Bears' depth chart.
Who'd I miss?
---
Brett in Kansas City asks:
Hey David, do you see K-State getting into a bowl this season and if so what bowl do you think it will be?
DU:
I like their chances a lot. You should look into the Pinstripe Bowl. Could be a nice trip.
May, 6, 2010
5/06/10
11:30
AM ET
By
ESPN.com staff
| ESPN.com
2009 overall record:
4-8

2009 conference record:
1-7
Returning starters:
Offense (6), Defense (6) P/K (2)
Top returners:
QB
Robert Griffin III
, WR
Kendall Wright
, RB
Jay Finley
, OT Danny Watkins, LB Antonio Johnson, DT Phil Taylor, P Derek Epperson
Key losses:
C J.D. Walton, WR David Gettis, LB Antonio Jones, LB Joe Pawelek, S Jordan Lake, DL Jason Lamb
2009 statistical leaders (*returners)
Rushing:
Jay Finley* (370 yards)
Passing:
Nick Florence
* (1,786 yards)
Receiving:
Kendall Wright* (740 yards)
Tackles:
Joe Pawelek (109)
Sacks:
Tracy Robertson*, Jason Lamb (3)
Interceptions:
Chance Casey* (2)
Three spring answers
1.
The return of RG3
. He does still exist. And though he was only a partial participant in spring practice, fans got to see him back on the field for the first time since September. Griffin unsuccessfully campaigned with Baylor coach Art Briles to let him play in the spring game, but says he's about 80-90 percent recovered from knee surgery.
2.
Deeper and deeper
. Briles finally feels like his team has a quality two-deep full of players who won't have a significant dropoff if forced into action. It's something he didn't have in the team's first two seasons under Briles, and now his focus shifts to becoming as deep as some of the teams who routinely finish above them in the Big 12 South.
3.
Patching together the O-Line
. Baylor is replacing All-American J.D. Walton, among others on the offensive line, and the spring was the first step to filling those holes. Briles says offensive tackle Danny Watkins could be one of the best in the conference, and juco transfer Robert T. Griffin will compete for time at guard in the fall after recovering from shoulder surgery in the middle of this spring.
Three fall questions
1.
Is Robert Griffin really back?
He'll be back on the field, but will he be the same Griffin? There isn't a lot of reason to think he won't be, but you never know until he takes the field. Whether it's in his mind or in his legs and arms, a layoff from live action for almost a year could be tough to come back from.
2.
Competition in the secondary?
Baylor brings in two talented recruits in Prince Kent and Ahmad Dixon in the secondary, along with a few others, but the Bears have three seniors and sophomore Chance Casey leaving the spring with starting positions. The fall camp could play host to heated competition from the talented youngsters.
3.
Bowl-bound Bears?
This season, not unlike the last, begins with plenty of optimism and legitimate hopes of reaching the program's first bowl game since 1994. By turning down Texas Tech in the offseason, Briles re-affirmed his commitment to doing it, and he'll get a chance to prove it when the season arrives.
March, 17, 2010
3/17/10
3:00
PM ET
By
ESPN.com staff
| ESPN.com
WACO, Texas -- There's a bit of an identity crisis at Baylor.
"There's two Robert Griffins, and I'm going to protect him like he's my brother," said Robert T. Griffin.
He'll do it because it's his job, and that's part of what makes the pair pretty easy to tell apart.
"People say he's the smaller one and I'm the bigger one," Griffin said.
Quite a bit bigger. At 6-foot-6 and 335 pounds, the juco transfer offensive lineman has four inches and 125 pounds on his quarterback. He came to Baylor via Navarro College in Corsicana, Texas, and wants to contribute immediately in hopes of helping quarterback
Robert Griffin III
lead the team to a bowl game, or maybe more.
"I'm so excited because the school has blown [this season] up," Robert T. Griffin said. "It's time to ball now."
Just don't expect two helmets to turn to the sideline when a coach screams, "Robert!"
"When people yell at him, I'll be hoping they're not yelling at me," the quarterback joked. "But I'll just put the blame on him, every time."
BIG 12 SCOREBOARD
Saturday, 12/20
Monday, 12/22
Tuesday, 12/23
Wednesday, 12/24
Friday, 12/26
Saturday, 12/27
Monday, 12/29
Tuesday, 12/30
Wednesday, 12/31
Thursday, 1/1
Friday, 1/2
Saturday, 1/3
Sunday, 1/4
Monday, 1/12
Tweets from https://twitter.com/ESPNCFB/lists/big12