June, 6, 2013
6/06/13
9:00
AM ET
PLANO, Texas -- Oklahoma coach Bob Stoops joked about the controversy he faced this offseason -- for comments about the SEC and not paying players more than a stipend -- before he sat down with me and a few reporters Wednesday night. One Sooners staffer jokingly asked if Stoops could just stay out of the news.
"Heck, I said, 'Frankly, I don't know half the time until two days later that there's even a storm,'" Stoops said. "I'm like, 'Geez, what happened with that?'"
Why has Stoops caught so much criticism with his comments in recent months?
"Come on, you know why. This time of year? You guys gotta have something to write about, talk about. It's just this time of year. Everybody blows up whatever they can," he said. "I don't care, to be honest with you. I could care less. It has no effect. It just fills up readers and feeds what everybody wants out there. It's all fluff."
[+] Enlarge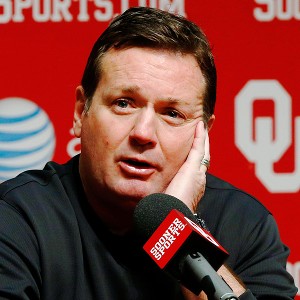 AP Photo/Sue Ogrocki"If they have eight guys from Atlanta voting on it, that'll be a problem," Bob Stoops said of the College Football Playoff selection committee.
Still, Stoops provided a bit more "fluff" in a nearly 30-minute session before taking the podium at an Oklahoma caravan event.
Stoops was adamant earlier in the offseason that he didn't want media on the College Football Playoff selection committee, but spent several minutes talking about the inherent bias that any committee member may bring to the process. Will there be a pro-SEC bias? "Well, if they have eight guys from Atlanta voting on it, that'll be a problem," he said. "Does everybody have bias or not? Does everybody have to answer to somebody, whether it's the area you're reporting or whether it's the people in your area and the paycheck you're getting or whatever?"

As for the idea of the likes of Roger Staubach or Condoleezza Rice taking part in the committee? Both have fewer direct allegiances to college football, but Stoops isn't exactly buying them as members. "I've got total respect for both of them, but how many games are they watching? I don't know," Stoops said. "If I'm Condoleezza Rice, I'm probably not watching a lot of them. I've got more important issues. If I'm Roger Staubach, probably the same thing. I've got business ventures I'm watching. Everybody wants to act like that's an easy answer. There's bias everywhere." He also said he's not sure old coaches will be signing up for the job of picking the four teams to play for the national title. "I don't know that if I was an old coach, that I'd want to be on it. What do I need that for?" he said with a laugh. "That's tough goin'. I don't know how they'll [pick the committee]."

Stoops made it clear that strength of schedule should play a big role in selection, but also argued that in the BCS era, that's not the case. "A year ago if we don't play Notre Dame and we play Little Sisters of the Poor, we're in a BCS bowl instead of Northern Illinois ahead of us," he said.

Stoops isn't advocating an eight-team playoff, but noted that as you got further down the rankings, the complaints of teams left out ought to be quieter, and people will care less about those arguments. "I think it's a good step, where we're at. We needed to start somewhere. We started at four. We'll see how four goes. I'm not convinced we needed to start at eight."

Sooners linebacker Corey Nelson, a Dallas native, accompanied Stoops to the event, and dropped an intriguing nugget when asked by an attendee to spill something about his coach that few knew. After a few wins, Stoops has been known to dance in the locker room -- and Nelson seemed impressed. Oklahoma State coach Mike Gundy has earned some notoriety for his postgame dances, some film of which has escaped, but I'm intrigued to know how much video of Stoops might garner on the black market. "He'll break it down for us," Nelson said.

Stoops also talked about his time helping with tornado relief in Moore, Okla., just north of Norman and not far from his home. Stoops said he and his wife have both been out helping clear out houses. "I work and I don't want any recognition. I didn't tell anyone I was there. I was there an hour and nobody knew who I was, chunkin' stuff out of a house and just helping a lady, and she appreciated it." The homeowner eventually discovered her high-profile help and got a big hug from Stoops. "The house was cleaned out and we had a good moment and that was enough for me."
January, 22, 2009
1/22/09
6:38
PM ET
By
Tim Griffin
| ESPN.com
Posted by ESPN.com's Tim Griffin
The folks at HeismanPundit.com have earned credibility over the years as one of the deepest websites for breaking down college football's top individual awards.
Heisman Pundit.com has already released its first watch list for the 2009 season. Colt McCoy of Texas is listed as its early leader. But what is really eye-opening about its early pick is that the defending Heisman Trophy winner isn't even listed as the top quarterback in his state on that list.
The website lists Oklahoma quarterback Sam Bradford at No. 10 at its initial poll. McCoy is followed by Tim Tebow of Florida, Jahvid Best of California, Terrelle Pryor of Ohio State and Daryll Clark of Penn State at fifth. Oklahoma State's Zac Robinson is ranked at ninth, in front of Bradford at 10th.
In its explanation, Heisman Pundit notes that Bradford's lack of a returning offensive line is the major reason it is discounting his chances. The Sooners will be breaking in four new starting offensive linemen.
If Bradford skids that far in the repeat balloting next season, his would be the worst repeat showing for a defending winner since Roger Staubach claimed the Heisman Trophy in 1963 and failed to place in the top five in the following season.
It will be interesting to see how Bradford fares next season. He will be playing behind an inexperienced line and throwing to a new set of receivers.
But I'm thinking he is returning with confidence about his team's chances, or else he wouldn't have opted to return for another season of college football.