February, 13, 2013
2/13/13
4:00
PM ET
Earlier this week, we
looked at the 2009 recruiting class' biggest surprises and biggest busts
, and colleague Jake Trotter
tackled 2008 last week.
You guys loved it. It's still a little soon to make generalizations about the 2010 class just yet, but you wanted more, so let's take a look back at 2007.
Here's half of the Big 12. We'll look at the rest later this week. (Note: Players who signed and did not academically qualify are not eligible.)
BAYLOR BEARS
Best surprise: "CB" Elliott Coffey.
Coffey signed with Baylor as the nation's No. 84 cornerback and a middle of the road recruit for Guy Morriss. By the end of his career, he'd gained almost 60 pounds and was a versatile linebacker at 235 pounds and the leader of the Bears' defense as an All-Big 12 talent.
Biggest bust: WR Romie Blaylock.
He was the highest-ranked recruit who made it to campus for the Bears but managed to have negative receiving yardage in his true freshman season. He eventually moved to cornerback but made just one start and eventually transferred to Midwestern State.
IOWA STATE CYCLONES
Best surprise: OL Kelechi Osemele.
This wasn't a very strong class from Iowa State, but Osemele, the nation's No. 149 tackle from Houston, blossomed into a three-year starter and an NFL draft pick who started for the Baltimore Ravens and won a Super Bowl ring earlier this month.
Biggest bust: QB Philip Bates.
Bates lost a quarterback competition to Austen Arnaud and transferred during his sophomore season, eventually landing at Ohio where he played quarterback and receiver. The Omaha native was Iowa State's highest-ranked recruit and the nation's No. 76 quarterback.
KANSAS JAYHAWKS
Best surprise: OLB Justin Springer.
Springer was rated higher than just two of KU's high school signees in the 23-member class, but he emerged as a starter and a team captain as a senior in 2010, helping KU upset the ACC champion Georgia Tech and winning the Big 12's Player of the Week honor. The California native was unranked as a recruit.
Biggest bust: RB Carmon Boyd-Anderson.
The Jayhawks' signed the Jacksonville, Texas native as the nation's No. 71 running back and the second-highest rated recruit in the class. He played sparingly as a freshman before transferring before the 2008 class when it was clear he had fallen down the depth chart.
KANSAS STATE WILDCATS
Best surprise: DE Ralph Guidry.
He was the nation's No. 150 defensive end in an average class for K-State and came to K-State at just 235. He was all the way up to 290 pounds by the end of his career and was a two-year starter at defensive tackle who notched more sacks than all but one Wildcat in 2011, when K-State won 10 games and reached the Cotton Bowl.
Biggest bust: S Lamark Brown.
Brown was the class' highest-ranked recruit as the nation's No. 19 safety, but he played exclusively offense in Manhattan and never caught on. He switched positions twice but never had more than 215 yards receiving and transferred to Minnesota State Mankato in the summer of 2010.
OKLAHOMA SOONERS
Best surprise: "RB" Travis Lewis.
The top of Oklahoma's class in 2007 was loaded, but the nation's No. 86 running back made a huge impact after a redshirt season. He led the team with 144 tackles and won Big 12 Freshman of the Year. He topped 100 tackles two more times in his career and became the first player in Oklahoma history to lead the team in tackles in four seasons.
Biggest bust: S Desmond Jackson.
Jackson was the class' second-highest rated recruit, behind only the late Austin Box. He was the nation's No. 16 safety but never started a game and made just 13 tackles before transferring to Tarleton State.
July, 14, 2011
7/14/11
9:00
AM ET
We'll move on to the cornerbacks today in our position rankings across the Big 12.
Here's what we've covered so far:
This group? Well, it's not very good. And considering the crazy depth in the Big 12 at receiver, it could be a long season for cornerbacks in this league. I love the upside of many of the Big 12 corners -- namely the guys at Missouri and Texas Tech (especially working with Chad Glasgow's 4-2-5 in Lubbock). Texas could also develop fast in its new defense, but outside of Texas A&M and Oklahoma, I don't see any Big 12 teams that should be completely comfortable with their cornerbacks.
Of course, for fans who love points, this could be a welcome development. For secondary coaches and defensive coordinators? Not so much.
[+] Enlarge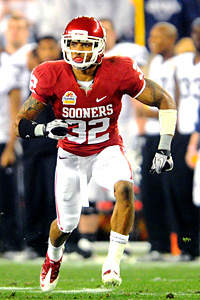 Mark J. Rebilas/US PresswireJamell Fleming returns as the Big 12's top cornerback.
1. Oklahoma
-- Jamell Fleming is the Big 12's top returner at the position and gives the Sooners a huge boost after being reinstated last week. Fleming had withdrawn from the university because of academic problems following the season. Aaron Colvin moved to safety during the offseason, but Fleming will still have to beat out Gabe Lynn in fall camp to start opposite Demontre Hurst. Julian Wilson also adds depth.
2. Texas A&M
-- Fleming's return pushed the Sooners over A&M as having the Big 12's best group of corners. But Coryell Judie and Terrence Frederick could both challenge for first team All-Big 12 honors at the position. They are ahead of reserves Dustin Harris and Lionel Smith, who will get plenty of time on the field.
3. Missouri
-- Missouri loses starters Carl Gettis and Kevin Rutland, but the coaches consider Kip Edwards a returning starter because of how much he played last season. Edwards could join E.J. Gaines in eventually becoming better than both Gettis and Rutland. Trey Hobson and Robert Steeples will get time in the rotation, too.
4. Oklahoma State --
OSU has to replace the Big 12's interception leader Andrew McGee , but Brodrick Brown's development should continue. He's likely a dark horse to earn first-team All-Big 12 honors after the season. The Cowboys didn't release a post-spring depth chart, but don't be surprised if return specialist Justin Gilbert edges out Devin Hedgepeth for the starting spot before the opener. Andrae May has earned playing time on special teams in both of his first two seasons on campus, but could be counted on for a much bigger role this year as the fourth corner.
5. Texas --
The Longhorns are fairly decimated at corner after losing three to the NFL in one offseason. Curtis and Chykie Brown joined Aaron Williams for one of the most talented sets of corners we've seen in this league, but now, secondary coach Duane Akina will have to replace them. Texas' depth chart is still as in flux as any in college football, but I'd be surprised if Carrington Byndom didn't emerge with a starting spot. True freshman Quandre Diggs might swipe the other, but A.J. White will be on the field, too.
6. Texas Tech --
The Red Raiders are likely to ascend this list by season's end, but for now, find themselves at No. 6. Injuries were costly for the defense last season, but Tre Porter and Derrick Mays should be much better, and Tech fans can be encouraged by the upside in Jarvis Phillips, Jeremy Reynolds and Eugene Neboh.
7. Iowa State --
This group might be a bit underrated, but with Iowa State's defensive problems last season, it's a bit hard to tell. Jeremy Reeves and Leonard Johnson return with loads of experience, and Anthony Young is a great additional piece as the third corner. Matthew Thomas should be in the rotation, too.
8. Baylor --
The Bears return both starters. Chance Casey has 15 career starts to Tyler Stephenson's four, but the Bears secondary struggled last season, especially the corners. Tuswani Copeland should be on the field under new coordinator Phil Bennett, whose work is cut out for him at this spot.
9. Kansas --
Kansas loses Chris Harris from last season's team, but Isiah Barfield is a playmaker at the position. Greg Brown, Tyler Patmon and Anthony Davis fill out the group.
10. Kansas State
-- The Wildcats have a huge talent in David Garrett, who led the team in tackles last season and was the nation's leader in tackles for loss, but he's still just one player at a position that needs lots of depth in this league. Also, his coverage leaves a bit to be desired. For now, K-State doesn't look like it has that necessary depth. Terrance Sweeney and Stephen Harrison are gone, but the Wildcats need to find more talents at the position in fall camp. Watch for Thomas Ferguson to emerge as the other starter.
March, 2, 2009
3/02/09
9:24
PM ET
By
Tim Griffin
| ESPN.com
Posted by ESPN.com's Tim Griffin
Baylor started spring practice Monday with six players playing different positions than those they played at the end of the 2008 season.
Some notable players were key contributors at their old positions.
Here are some of the changes:
Senior RB Jeremy Sanders to safety. Sanders rushed for 128 yards on 34 carries and scored a touchdown last season. He also recorded Baylor's highest kickoff return average with six returns for 163 yards (27.2 yard per kick average).
Senior WR T.J. Scranton has moved to safety. Scranton accounted for two catches for 24 yards and one kickoff return for 19 yards.
Sophomore WR Romie Blaylock has moved to cornerback. Blaylock rushed once for 7 yards and accounted for two receptions for -6 yards
Junior CB Krys Buerck has moved back to wide receiver. Buerck produced 24 tackles, broke up two passes and notched an interception for a return of 46 yards.
Senior DT Sam Sledge has moved to fullback. Sledge notched nine tackles, and produced 1 1/2 sacks.
Senior WR Ernest Smith has moved to the inside receiver position from outside. Smith produced seven catches for 175 yards and a team-best 25.0 yard-per-catch average.
The Bears worked out for two hours, 20 minutes on their first day of practice on Monday. Coach Art Briles was excited about what his team showed.
"We're just glad to be back on the field," Briles told reporters after the workout. "You spend all your time planning and hoping and now you get to put it to realization on the field. It's just a great time."
The Bears will work three more days before taking next week off for spring break. Their work will conclude April 2 with a controlled scrimmage.
"The thing we are really excited about is just getting a chance to concentrate on our guys," Briles said. "When you are in a season, you spend a lot of your time working on opponents and yourselves. When you get to spring ball, it's all about you.
"This is what we are all about. We're about Baylor. We are about getting ready to be bowl bound in '09."