August, 30, 2011
8/30/11
4:25
PM ET
Thanks for all the questions this week. We had some fun. Here's
the full transcript
.
Didn't get your question answered?
My mailbag is always open
.
Now, on to the highlights:
LT in Birmingham asked:
What do you think about the BYU to Big 12 chatter?
David Ubben:
It's in its very, very early stages, but
it'd be mutually beneficial for both sides
.
Cris in Waco asked:
Hey Ubbs! Can't get enough of the blog or Baylor. What do you think of Lache Seastrunk's chances at being eligible this season, and if so what kind of impact to you think he could have for the Bears offense?
DU:
He's better off sitting out by now. It sounds like the decision might take awhile, and if it's already a game or two into the season, he's probably not going to get much out of this year as is. Best to wait until 2012. Might have been different if he transferred in July.
Thomas in Columbia, Mo. asked:
How much of an impact do you think the A&M drama affects other Big 12ish schools on the recruiting trail? It seems to me that high caliber players would not want to come o schools where there is uncertainty in the league.
DU:
Interesting question. That's something that hasn't been explored yet, but I don't imagine it's a problem for schools like Texas and Oklahoma. Places like Iowa State and Kansas State? Hard to believe it wouldn't be, at the very least, a concern.
Brent in Utah asked:
Have there been any rumblings of the pac-12 renewing it's interest in the Texas Oklahoma additions they sought last year?
DU:
Not yet. I think Oklahoma would be wise to at least look at the option, but it sounds like everybody's "on the plane" as a man I know once said, regarding the future of the Big 12.
James in College Station asked:
Dave, I'm one of the few that is skeptical of the SEC move but for competitive reasons but I'm sick of people sayings its our fault if the Texas-A&M game goes away. That's ridiculous. We want that to continue no matter what. Why are we the bad guy?
DU:
Ha, nobody's saying that. At least not anybody who knows what they're talking about. Texas will probably put the dagger in the rivalry, but let's not act like A&M was an innocent bystander in the whole deal.
Evan in Aggieland asked:
Hey Ubbs, has ESPN told you where all you're being sent this weekend yet?
DU:
Yep. Will be announcing on the blog on Thursday.
Ryan in Ohio asked:
Do you miss the Missouri--Illinois Arch Rivalry?
DU:
I do. It was a great game. I'm guessing Ron Zook will not miss it.
Andrew in Missouri asked:
Do the Tigers have a prayer in Norman this year?
DU:
Yeah, probably sometime before the game, either in the locker room or just before they take the field. Most likely led by
James Franklin
.
Shep Klinke in College Station, Texas asked:
I better make your post-season Big 12 All-Name team!
DU:
My apologies. I was so disappointed in myself when I saw that on A&M's depth chart. You'd
knock Austin Wuebbels off that team in a second.
Matt in Columbia asked:
Oh David, saying the Big 12 won't fold is a little na´ve don't you think? How does the Big 12 survive if Missouri bolts?
DU:
Sorry, I can't read your question behind that gigantic if. Can you submit it again?
Jerome in Toronto, Canada asked:
Why didn't you list Arizona and Arizona State as your pipe dream teams? Earlier this year,
you went on and on about adding these PAC teams
. Did you finally see the light and realize they were not going to leave the PAC for the Big 12? Just curious why all of a sudden you didn't include them
DU:
After the Pac-12 signed that
new television deal and announced the new television networks
, it pretty much ended that dream. ASU and UA aren't happening. I wrote as much back when it happened, I think.
Raiderttu06 in Lubbock asked:
What are your thoughts on the Red Raider Defensive Line now that Delvon Simmons has gotten the all clear from the NCAA. Looks like the Depth is back on Defense which was missing last year with injuries.
DU:
Very underrated entering the season, but a lot of unknown commodities. The best news? Those guys up front may be able to mask possible problems on the back line.
HawkFanBeau in Waffletown asked:
If the three best teams comes down to a undefeated B1G, undefeated non-OU/Texas Big XII and a one loss SEC. Who plays for the chrystal ball?
DU:
The Big Ten team and the Big 12 team while the SEC's fans wail, thrash and scream.
July, 21, 2011
7/21/11
3:45
PM ET
You're counting down the days, I'm sure. We're so close, and yet so far from the season's opening weekend. I can't wait for it, and I'm sure every player in the Big 12 can't either. So, despite being a bit far off, we'll take a look at each team's opener, inspired by our friends over at the Big Ten Blog.
We started this series at the top of the alphabet, and it's time for the Tigers.


Missouri Tigers
Week 1 Opponent:
Miami (OH)
Coach:
Don Treadwell, first year
2010 record:
10-4 (7-1, MAC)
Returning starters:
17 (8 offense, 9 defense)
About the RedHawks:
Miami was no doubt underrated last season when the Tigers rolled them in Columbia, 51-13. The Redhawks were unimpressive in nonconference play, but reeled off six consecutive wins to end the season to win the MAC, a quality league at the FBS level. The RedHawks' turnaround from a 1-11 season in 2009 to a MAC title was one of the best stories in college football, and earned second-year head coach Mike Haywood the job at Pittsburgh,
though that already didn't end well
.
The RedHawks will lean on new coach Don Treadwell this year, who helped guide Michigan State to a share of a Big Ten title last season as offensive coordinator and interim head coach after coach Mark Dantonio suffered a heart attack following an overtime win against Notre Dame on Sept. 19.
Could Treadwell be the next great Miami name in the program that's earned the moniker of "Cradle of Coaches?" Jim Tressel, Woody Hayes, Bo Schembechler and new Indiana coach Kevin Wilson, a former Oklahoma offensive coordinator, have all come through Miami.
On the field, the Redhawks return quarterback
Zac Dysert
, a junior, and
Austin Boucher
, a sophomore who played in seven games as a freshman. Dysert suffered a rib injury and Boucher led the team to wins in its final four games, including the conference championship and the GoDaddy.com Bowl, but fall camp opens with a competition between the two. Boucher completed more than 60 percent of his passes and averaged more than 300 yards a game in his final two starts.
Leading rusher
Thomas Merriweather
(921 yards, 12 TDs) graduated, but rising sophomore
Tracy Woods
carried the ball 94 times for 376 yards and a touchdown last season.
Leading receiver
Armand Robinson
(1062 yards, 12 TDs) is gone, too, but the RedHawks return four receivers with at least 25 catches last season.
The defense returns nine starters, including all eight of the team's top tacklers, led by linebacker Jerrell Wedge.
Random factoid:
Illinois coach Ron Zook, whose Illini team has opened its past four seasons against Missouri, is a Miami (OH) alum.
Totally unscientific percentage chance Missouri wins: 81 percent.
Miami clearly made big improvements late in the year, and the Tigers will be throwing out a first-time starter at quarterback, which comes with all kinds of unknowns. Missouri is better at every position, but if the offense sputters, anything could happen.
More Week 1 previews:
December, 23, 2010
12/23/10
12:15
PM ET
My parents had my trust fund amended; I don't get anything until I'm 50, which is a waste because I'm gonna be a billionaire in Costa Rica by then. Eating dolphins and hangin' out with lady singers.
December, 8, 2010
12/08/10
1:40
PM ET
The coaches' ballots for the ESPN/USA Today top 25 poll are not made public during the season.
At the end of the regular season, the veil comes off. Every now and then, there's an interesting note or two, and this year is no exception.
You can see all the
coaches' ballots in this well-done chart.
Note: Plenty of coaches let a graduate assistant handle the duties during the season, but the majority will take over duties at the end of the season for the ballot that becomes public.
The following Big 12 coaches are voters: Art Briles (Baylor), Bo Pelini (Nebraska), Gary Pinkel (Missouri), Mike Sherman (Texas A&M), Paul Rhoads (Iowa State), Tommy Tuberville (Texas Tech)
The coaches poll is factored into the BCS standings, along with the computer rankings and the Harris poll.
A few notes:
All but four coaches voted their teams higher than its actual rank, but Bo Pelini ranked Nebraska No. 8, eight spots higher than its actual rank. Robb Akey at Idaho had the Huskers the next-highest, at No. 11. The Huskers beat the Vandals earlier this season.
Pinkel ranked Missouri No. 11. The Tigers came in at No. 14 in the final poll.
Sherman ranked Texas A&M No. 15. The Aggies came in at No. 17 in the final poll.
Pelini and Pinkel were the only voters in the Big 12 whose ballots contained all 25 teams on the final poll.
Who had Auburn No. 1? Pelini, Rhoads and Tuberville.
Who had Oregon No. 1? Briles, Pinkel and Sherman.
Finally, here's who ranked the Big 12 teams the highest and the lowest.
No. 8 Oklahoma: Jim Harbaugh, Stanford (No. 5); Three coaches ranked Oklahoma No. 12. (Steve Fairchild, Colorado State; Al Golden, Temple; Chris Petersen, Boise State)
No. 13 Oklahoma State: Two coaches ranked OSU No. 11. (Jim Harbaugh, Stanford; Tom O'Brien, NC State.) Interestingly, no coaches voted OSU at No. 17, but two had it at No. 18. (Mike MacIntyre, San Jose State; Robb Akey, Idaho)
No. 14 Missouri: Three coaches had Missouri at No. 11. (Todd Berry, Louisiana-Monroe; Gary Pinkel, Missouri; Ron Zook, Illinois). Greg Schiano at Rutgers had the Tigers the lowest, at No. 17.
No. 16 Nebraska: Pelini obviously had the Huskers the highest, at No. 8, and Akey had them at No. 11. New Mexico coach Mike Locksley had the Huskers at No. 21.
No. 17 Texas A&M: Brian Kelly at Notre Dame had the Aggies the highest, at No. 11. Five coaches had the Aggies at No. 19.
December, 26, 2009
12/26/09
9:20
PM ET
By
Tim Griffin
| ESPN.com
[+] Enlarge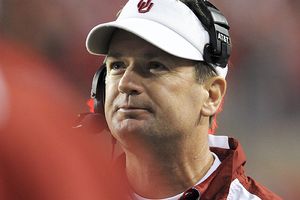 AP Photo/Dave Weaver Coaching at Florida could be a special opportunity for Oklahoma's Bob Stoops.
An indicator of how strong a pull Florida still has on Bob Stoops and his family could be seen earlier this week.
The Stoops family packed up for their condominium to spend Christmas at Crescent Beach, Fla., not too far away from the beach house owned by Steve Spurrier, his old boss at Florida.
Stoops still loves the Florida lifestyle and found virtually any excuse to return there -- even during the salad days of his Oklahoma run through the Big 12.
So now with the Florida job open, it will be interesting if Stoops can turn down an offer to return to the place he first built his coaching reputation. Stoops was the respected defensive coordinator under Spurrier for three seasons before he was hired at Oklahoma in December 1998.
He's still known as "Bobby" by Gator fans, but is respected for the job he did in leading the Gators to the national championship in 1996.
Stoops has had other opportunities over the years. Notre Dame made a big push earlier this season after other schools and professional teams came calling. Stoops was in the mix when Florida hired Ron Zook and Urban Meyer earlier this decade.
You don't hear him called "Big Game Bob" as much around the Big 12 as before -- particularly after his 7-5 record this year. It was his worst regular season mark in his 11 years with the Sooners. But Stoops remains one of the seminal figures in the conference's growth after claiming a record six Big 12 titles.
He enjoys a relationship with Oklahoma athletic director Joe Castiglione and school president David Boren that might be unrivaled for a college coach anywhere.
And it appears he is already itching for the challenge of bouncing back after this season's disappointment. Stoops has already arranged for the Sooners to have the Seattle-based Pacific Institute help rebuild his team's psyche next season like it did with Alabama this year.
But Florida clearly would be a special opportunity. He is familiar with recruiting throughout the sunshine state and it would give Stoops a chance to claim a program that is only a season removed from back-to-back national championships.
Would that be enough of a pull to get Stoops to leave Oklahoma after he's turned down so many other jobs over the years?
We'll have to see over the next several days.
December, 21, 2009
12/21/09
10:00
AM ET
By
Tim Griffin
| ESPN.com
It seems hard to fathom the thought of Kansas defensive coordinator Clint Bowen strolling the sideline for Kansas State.
But Bowen, who was ousted along with most of the previous members of Mark Mangino's staff with the arrival of Turner Gill, apparently has talked with Bill Snyder about the vacant defensive coordinator position at KSU.
The Lawrence Journal-World reported that Bowen
interviewed with Snyder last week
-- only a couple of days after Gill arrived as the Jayhawks' new coach.
The Wildcats have a vacancy at their defensive coordinator position after Vic Koenning accepted a similar position on Illinois coach Ron Zook's staff last week. The Journal-World reported that Bowen discussed a co-coordinator position for KSU's defense along with a position coaching the Wildcats' defensive backs.
Bowen became the Jayhawks' coordinator in 2008, helping lead them to an 8-5 finish and a victory over Minnesota in the Insight Bowl despite retooling the secondary midway through the season.
The Kansas defense struggled this season, ranking 74th in total defense, 85th in scoring defense and tied for 95th nationally in pass defense. The Jayhawks allowed at least 31 points in all but one conference game as they collapsed with a seven-game losing streak after starting the season 5-0.
Except for a one season as a player at Butler Community College and a one-season stint as a graduate assistant at Minnesota, most of Bowen's college and coaching career has been spent at Kansas. He was a hard-hitting safety for the Jayhawks during his playing career and has earned the reputation as one of the better recruiters in the state of Kansas.
While at Kansas he had served as a coach of tight ends, running backs, safeties and was special-teams coordinator and co-defensive coordinator after becoming a full-time coach in 2001.
It would be hard to imagine seeing Bowen wear purple-and-white attire along the sideline after so much of his playing and coaching career with the Jayhawks.
But coaching makes f0r some interesting bedfellows.
July, 20, 2009
7/20/09
6:32
PM ET
By
Tim Griffin
| ESPN.com
Posted by ESPN.com's Tim Griffin
The Big 12's nonconference schedule is marked with several extremely difficult tests early. These are statement games for the conference as a whole. If Big 12 teams can win these games, it would grab a lot of national attention.
If not, the Big 12's national reputation could take an early hit that could have naysayers reminding us about the conference's bowl struggles last season against the SEC.
But here's a look at six games that will be the most difficult for Big 12 teams. These will be a little more difficult than those last week I listed as potential trap games.
1. Nebraska at Virginia Tech, Sept. 19: Bo Pelini's toughest nonconference road game to date. The Hokies are ranked no lower than 14th nationally in any preseason magazine I've seen yet and will be a tremendous challenge in Blacksburg. In order to win, the Cornhuskers will have to keep Virginia Tech's defense and special teams in check and hope for a break or two.
2. Georgia at Oklahoma State, Sept. 5: This game will arguably be the biggest nonconference game in Oklahoma State history. And even though the Cowboys likely will be favored and facing a Georgia team breaking in a new starting quarterback, it will still be a huge test to beat one of the Southeastern Conference's traditional power teams.
3. Iowa at Iowa State, Sept. 12: The Cyclones have won four of the last five games at home in the series, but Paul Rhoads' first big test against his cross-state rivals looms especially large. Particularly with the Hawkeyes expected by many to be the surprise team in the Big Ten this season.
4. Illinois vs. Missouri (at St. Louis), Sept. 5: This game was already going to be tough before Sean Weatherspoon started tweeting about squeezing "the pulp" out of Illinois quarterback Juice Williams. And bet that Ron Zook and the Fighting Illini haven't forgotten that the Tigers have won four straight games against them in the bragging-rights battle.
5. Oklahoma at Miami, Oct. 3: This rivalry was one to circle back in the mid-1980s when Barry Switzer and Jimmy Johnson were battling. It's still a good one and Randy Shannon will be looking for a statement victory that would grab attention for his program from across the nation. Bet that Shannon will remind his team about the 51-13 whipping it endured last season in Norman for a little inspiration before the game at Land Shark Stadium.
6. Baylor at Wake Forest, Sept. 5: Baylor should be much better than last season and the Demon Deacons should be a little down from last season. But Wake Forest still should be a challenge considering Jim Grobe's recent transformation of the Demon Deacons, who have posted a 14-5 home record in the last three seasons. Baylor's defense will have to play much better than last season, when it allowed scoring drives on Wake Forest's first three possessions in an eventual 41-13 loss in Waco.
And 10 others to watch:
Colorado at West Virginia, Oct. 1
Oklahoma at BYU (at Arlington), Sept. 5
Texas A&M vs. Arkansas (at Arlington), Oct. 3
Texas Tech at Houston, Sept. 26
Houston at Oklahoma State, Sept. 12
Kansas at UTEP, Sept. 12
Missouri at Nevada, Sept. 26
Connecticut at Baylor, Sept. 19
Southern Mississippi at Kansas, Sept. 26
Kansas State at UCLA, Sept. 19