October, 4, 2012
10/04/12
10:15
AM ET
Here's what I'm keeping an eye on across the Big 12 this weekend.
1. Get 'em down and keep 'em down.
Texas' tackling issues were on display in a big way in a narrow victory over Oklahoma State. The Longhorns got away with it in Stillwater. I don't think that'll be the case against West Virginia, even at home. Texas has emphasized the issue this week. How will it work?
2. Time for a quarterback change?
Steele Jantz
turned the ball over four times in Iowa State's loss to Texas Tech, and coach Paul Rhoads said this week the quarterback who looks best in practice will play. Does
Jared Barnett
finally see some time? For Jantz, it will ultimately boil down to turnovers.
3. Take care of opportunities.
TCU has reached the red zone 20 times this season, but has come away with a touchdown on just nine occasions. The Horned Frogs have scored just 12 times. The touchdown percentage (45 percent) ranks 106th nationally. The Frogs are good enough to get away with it against Kansas or SMU or Virginia. Iowa State? The Cyclones will take advantage if the Frogs leave the doors open.
4. A big piece is missing.
West Virginia's running game has taken a big hit with
Shawne Alston
on the sidelines. Coach Dana Holgorsen was tight-lipped this week in regards to Alston's status, but he's going to be needed this week against Texas. He's a better pass-blocker than
Andrew Buie
and
Dustin Garrison
, too. Will big back
Ryan Clarke
make a return, too?
5. It's real. We know that. But is it spectacular?
Texas Tech took a step toward validating its defense, holding Iowa State to fewer than 200 yards of total offense, forcing four turnovers and maintaining its spot as the nation's No. 1 defense. How good is this unit, though? Oklahoma will be the toughest test yet, and its offense will be more like what Tech will see the rest of the season. Teams like OSU, Baylor and West Virginia have more high-powered offenses, but the Sooners will offer a huge checkpoint for Tech on its defensive road to redemption after an awful 2011.
[+] Enlarge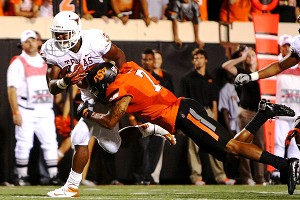 William Purnell/Icon SMIFreshman Johnathan Gray led Texas in rushing in relief at OSU; the spotlight will be brighter Saturday.
6. The young legs are back.
Sophomore
Malcolm Brown
, Texas' leading rusher a year ago, is out against West Virginia, but he'll sit on Saturday with an ankle injury. Now's the time for hyped freshman
Johnathan Gray
to step up. He looked really good in the fourth quarter against Oklahoma State and led the Longhorns in rushing. How will he handle West Virginia and how will he look with a week to know he'll be counted on?
7. Getting competitive yet?
I stick to my belief that Kansas is better than it was last year, despite its frustrating losses and worse record than in 2011. Nothing would signify progress more than hanging with in-state rival Kansas State. When Charlie Weis got the job, he looked at K-State and Missouri to see what they had and what KU didn't have, and how the Jayhawks could start closing the gap. Here's his first chance to measure up on the field.
8. Call it a Heisman special.
Geno Smith
's not throwing for 656 yards against Texas. Let's just get that out of the way. The Longhorns have defensive personnel and depth unlike anything Baylor's got. It's one of a few major hurdles for Smith to go from Heisman front-runner, as he is now, to Heisman winner in December. Can he maintain his crazy numbers that are better than RG3's from a year ago?
9. Where is the elder statesman?
The young'un
Devonte Fields
, a true freshman, has grabbed all the headlines so far this year at TCU, leading the Big 12 with five sacks and 8.5 tackles for loss. Meanwhile, preseason All-Big 12 representative
Stansly Maponga
has been really, really quiet thus far. He's got just 1.5 tackles for loss and one sack. Can he have a coming-out party against the Cyclones?
10. A lesson in thievery is needed.
Oklahoma's got just one turnover through three games this year. Buffalo is the only other team in the country who has forced just one turnover. Texas Tech has lost six turnovers this year (32nd nationally), but if Oklahoma doesn't force a turnover against the Red Raiders, the Sooners could very well be looking at an upset and a drop out of the top 25.
September, 22, 2012
9/22/12
3:32
PM ET
West Virginia's offense looked unchallenged in its first two outings, racking up 69 points against Marshall in its season opener and making 42 look easy against James Madison a week ago.
Saturday? The Mountaineers didn't respond well to their first challenge of the season. The offense was held scoreless in the third quarter and was forced to punt seven times in its
31-21
win over Maryland.


The biggest reason for the struggles? It's easy to point at running back
Shawne Alston
's absence, but even if that's the case, West Virginia's depth at the position looks at least questionable. Alston reportedly sat with a thigh injury.
Dustin Garrison
returned from an ACL injury, shedding a possible redshirt.
Andrew Buie
got the start in place of Alston. The duo combined for just 31 yards on 15 carries and looked underwhelming for all 60 minutes.
The explosiveness wasn't there, and the whole offense suffered because of it. The Mountaineers' lack of a running game didn't garner an ounce of respect from Maryland's defense and as a result,
Geno Smith
was hasseled all day. Alston's blocking prowess in the backfield was even more needed, and its absence even more apparent with Smith taking a bigger beating than he had all season. On more than one occasion, the Mountaineers' Heisman frontrunner got up and walked gingerly after taking a shot. An early injury to
Ryan Clarke
was another shot to WVU's backs' ability to block in the backfield.
Smith finished 30-of-43 for 338 yards and three touchdowns, going without an interception for yet another game. He joins Texas'
David Ash
as the Big 12's only QBs without a pick after four weeks.
Tavon Austin
was the day's biggest highlight-maker, catching 12 passes for 173 yards and three scores, finishing as the school's all-time leader in receptions.
The passing game is what everyone thought it was, even with a quiet day from
Stedman Bailey
, who caught just seven passes for 61 yards.
Still, the running game has looked good so far this season. With Alston down, it didn't. That may get fixed.
A bigger concern? The defense gave up 302 passing yards and three touchdown passes to true freshman quarterback
Perry Hills
. He averaged more than 10 yards an attempt, and freshman phenom
Stefon Diggs
showed off his speed with 113 yards on just three catches. Two went for touchdowns, including a 56-yarder on which Diggs embarrassed the WVU defense with cutbacks.
Through three games, the defense has been unimpressive for the Mountaineers, who will face their first real tests in the next two weeks. Baylor comes to town for what should be a hyped Big 12 opener next week, followed by a trip to Texas to face the Big 12's best defense.
We know what the passing game can do when the running game is there for balance. WVU's efficiency was unmatched by anyone in the Big 12 for its first two games. But when the Mountaineers are a one-dimensional team, can its offense still be productive enough to make up for a questionable defense?
Alston's likely return gives West Virginia a chance to maintain its balance, but without that balance, the first loss of the season for West Virginia could be coming fast.
April, 11, 2012
4/11/12
9:00
AM ET
MORGANTOWN, W.Va. -- Maybe it's silly, but I feel a bit like a trailblazer of sorts here in Mountaineers country. Those of us who hail from the Midwest or the South haven't had much reason to head to West Virginia, and I'd never been until yesterday. For most Big 12 fans and media, I'd say that's the case. Alas, I'll start there before moving to matters on the field.
The rumors you've heard are true. This campus and area is beautiful, just as advertised by West Virginia coach Dana Holgorsen and just about anybody else who's been here. The drive from the Denver airport to Boulder used to be my favorite in the Big 12, but it's now been replaced by the drive from Pittsburgh to Morgantown. I had heard it was two hours. It's not. It's in the ballpark of an hour to 90 minutes. Easily doable. Unlike Boulder, there isn't one big looming mountain, though. The campus and surrounding area is set among rolling hills unlike anything you'll see in the Big 12, save some parts of Austin, Texas. The drive over gives you a sense of the landscape, and there are plenty of gorgeous views. You'll love the first time you make it. I grew up in Northwest Arkansas in the thick of the Ozark Mountains, and it reminded me of that area a lot. No huge peaks, but lots of gorgeous scenery. I can only imagine how it will look in the fall.

As for travel, I have some advice for airlines: Add more flights on fall weekends between Pittsburgh and Kansas City, Dallas and Houston, the three biggest hubs for Big 12 fans. If you get a direct flight into Pittsburgh, the travel won't be much different than trying to get to Texas A&M, Mizzou or Kansas State. I had to connect through Philadelphia, though, and it was a legitimate half-day of travel. It might take a little out of you heading into a game weekend.

[+] Enlarge

Andrew Weber/US PresswireWest Virginia's Geno Smith is as physically imposing as any of his new Big 12 QB counterparts.

Unfortunately, I was on hand for the coldest day of the spring in West Virginia. Imagine my surprise when I woke up Wednesday morning to very legitimate snowfall. Dorothy, you're not in Texas anymore. It had been in the 70s and 80s for much of the workouts, but it was overcast and 50 degrees with blustery winds throughout Tuesday's two-plus-hour session, which included plenty of team drills. Holgorsen's teams typically don't tackle much, but players were going full contact on Tuesday, tackling to the ground during team drills, a rarity in the spring for some programs. Running back Ryan Clarke went down with an ankle injury, but his status is pending more examination from doctors.

I was struck by Geno Smith's physical prowess. I'm not sure I realized just how big he is. He's every bit of 6-foot-3 and 214 pounds, and maybe more. To me, he was more physically imposing than Landry Jones, who checks in at 6-4, 229. Other than Collin Klein, you won't see any Big 12 passers with the kind of physique Jones and Smith have, save newcomer Dayne Crist at Kansas.

Stedman Bailey and Tavon Austin? Good grief, those two are as advertised. Nobody in the Big 12 is going to be able to cover Austin with any consistency. Bailey and Smith have been friends since growing up in South Florida, and Bailey will be productive, too. Smith's throwing reps were limited on Tuesday to give his shoulder a little rest, but he hit Bailey and Austin for rainbow 40- to 50-yard passes on consecutive plays during 11-on-11 drills Tuesday. Bailey isn't quite as physically impressive as Austin (namely his quickness), but he's really smart and coordinated, and he'll be able to get open and make plays like he did last year.

The quarterbacks behind Smith, by the way? Both Texas natives who I'm sure are itching to go up against some familiar faces. Sophomore Paul Millard is from Flower Mound, a Dallas suburb, and Ford Childress (6-5, 224) is from Houston. Both looked strong, and Millard hooked up with Ivan McCartney on a deep ball while working some with the first team early in practice. Honestly, WVU might have the best full set of QBs in the league right now, beyond starters.

The scariest thing about WVU right now? You probably know the skill-position players -- specifically at QB and receiver -- are as good as if not better than any in the Big 12. But look out for the youngsters, too. WVU is deep and have a lot of guys who keep on coming. One name already turning heads this spring: True freshman early enrollee Jordan Thompson, a Katy, Texas, native who made plenty of plays during Tuesday's practice, and took a huge hit from a pair of defenders. "They've been waiting to do that for a long time," yelled a teammate as another picked Thompson up and Holgorsen smiled at his "Welcome to Division I football" moment.

You know about Bailey and Austin, but look out for J.D. Woods, too. He looked the part of playmaker in Tuesday's practice, and the senior could finally be turning a corner after a quiet junior season.

I'll have plenty more through the week -- I'm here until Thursday -- so keep checking back for more from my trip to West Virginia.
January, 27, 2012
1/27/12
10:00
AM ET
This week's Senior Bowl and next month's NFL scouting combine will help decide who will hear their names called, and when, in April's NFL draft, but what about next year?
Mel Kiper unleashed his top five returning players for 2012, the top prospects at their positions in next year's draft.
Lots of interesting names. Here's where the Big 12 talents sit.
Quarterbacks
Fullbacks
My take:
Good to see Wilson's name on this list. He's impressed coach Bill Snyder from the start, and Wilson was an underrated reason for K-State's success running the ball the past two seasons with Daniel Thomas in 2010 and
Collin Klein
/
John Hubert
in 2011. One of the Big 12's toughest players.
Receivers
My take:
Both of those names made me do a double take. Williams was a great player this season, and you perhaps best know him as the player who caught the game-winning touchdown to beat Oklahoma, but he's never looked to me like a player who could be the first receiver drafted. We'll see how he does in 2012 as Baylor's No. 1 receiver, with
Nick Florence
throwing him the ball instead of Robert Griffin III. Williams could become a star.
Austin always struck me as an undersized player, but there's no denying his playmaking ability. Few can match his game-breaking ability with the ball in his hands.
Offensive tackles
Centers
Defensive ends
My take:
No surprise there. Okafor burst on the scene this season, and has that combination of size and speed you rarely see outside of players who become first-round picks.
Inside linebackers
Outside linebackers
Cornerbacks
Punters