February, 18, 2011
2/18/11
3:00
PM ET
By
ESPN.com staff
| ESPN.com
Thanks again for all the questions. Enjoy your snowless weekends. I know I will. As for All-Star Saturday Night: Give me Chris Paul, Kevin Durant and Blake Griffin.
Jason in Austin, Texas, writes:
Ubbs, I've been talking to some friends about new names for the Big 12, and I've heard one thrown around that I wanted to get your take on: The Ten. What do you think?
David Ubben:
On first glance, I really like it. It's aggressive, and a little brash, which might rub a few people the wrong way, but a move like that might be what the Big 12 could use right now. A little administrative brashness has been missing for a while in this league. Dan Beebe sounds like he wants to position the league uniquely, and as the only 10-team conference left, that might be a pretty good way to do it.
The "big" problem with it is you still have the Big Ten. While "Big" may still be a qualifier, the mass perception would be The Ten vs. Big Ten. Not good. For that reason, when you look at the big picture, I don't think it would work well.
I'm on record as believing the Big 12 should keep its name, if only because A) I believe the brand is strong enough where a change would significantly hurt and B) there's no other good options. Maybe reason B could change, and "The Ten" is probably the best suggestion I've heard recently, but it's not better than the Big 12.
Anything lame like "The Heartland Conference" or something along those lines sounds like it belongs in NAIA.
---
Gary in Dallas writes:
Did you
really write that Texas Tech would contend for the national championship
` in 2012? What in the heck makes you say that? Since when are the Red Raiders going to beat UT, OU, Mizzou, Oklahoma State and everyone else on their schedule in the same year?
DU:
For the record, no. I was referring to the Big 12 title, which I do think Texas Tech will have a pretty good shot at winning in 2012. It'll be tough, sure. They won't be one of the favorites, but I don't consider them a team that has a great chance to win it this year. Next year, that may change. They can probably win 10-11 games. The question asked in the chat was kind of rambling, and those chats move pretty fast, but I would be very surprised if Texas Tech was in the national championship hunt as early as 2012.
---
Guy King in College Station writes:
You
list Ryan Tannehill with a 5-1 record
as a starter. Tell me the game that he lost? Check your records.
DU:
If I were a Texas A&M fan, I'd want to forget about the Cotton Bowl, too.
---
Bleedburntorange in Little Rock, Ark., writes:
Being a Texas Longhorn fan I really enjoy your views and opinions. I can't help but notice that most of Longhorn nation, myself included, is
expecting incoming freshman Malcolm Brown to breath some life
into the Longhorns' rushing attack. How many touches do you see him getting and how many yards do you think he will get? Also do you see any specific players stepping up to help fix all the problems from last season?
DU:
Well, it's obviously a little early for all that, and we haven't even seen Brown take the field yet. I'm not going to throw out a yardage figure, but my guess is he gets about 150-170 carries next year, and as he learns, starts to take a few more away from Fozzy Whittaker and
Cody Johnson
late in the season.
As for fixing the problems, it's not about one guy stepping up. They need everybody. You win in the Big 12 with offense. You become an elite Big 12 team with offense and good defense. The defense was OK last year, but the offense was a complete disaster. The offensive line didn't get it done. If that happens again, there's no point in worrying about what Malcolm Brown does.
Garrett Gilbert
had a historically bad year. And nobody consistently was a good target to throw to. Everybody has to be better.
---
Mike in Dallas asks:
Is the
Cyrus Gray
/
Christine Michael
RB duo the best in college football next year?
DU:
As long as Christine Michael can come back next fall and look like he did last year, I'd probably make that argument. He was playing fantasticly before he broke his leg. Against Arkansas and Oklahoma State, the two games I saw him really up close, he was running with a power that we didn't see from him as a freshman. And Gray obviously closed the season with an unbelievable run of seven 100-yard games against some great defenses (Nebraska, OU, LSU) that very well could carry into next year.
Also, people always want to ask, "Who'll start? Who'll get more carries?" Does it really matter? They're both going to get a lot. They're both good. Whoever is running it best at the time will probably get more at the time. That'll vary. Don't worry about the distribution, Aggies.
---
Ed in Chicago writes
: It seems to me that the new ESPN deal with Texas essentially made the Longhorns an independent inside a conference. Do you think it made the Big 12 more likely to stay together since Texas is the kingpin and they have it both ways? Or do you think that jealousy will force other members to leave the horns shadow? It seems that Texas would be content to stay since it is a nice arrangement for them.
DU:
I just don't believe it has as much of an effect on the Big 12's future as others do. Oklahoma is content to stay with Texas. Right now, with the television rights, money, scheduling and location, there's no question that Texas is happy in the Big 12 as it stands. Oklahoma would like much of the same. Texas A&M is the only other school that has the means to do anything about it, but all the decision-makers in College Station don't sound like they're seriously considering a move to the SEC this summer. They sound,
for the most part
, content in the Big 12.
The only other real option is if the Big Ten invited Missouri, an invitation which, in my opinion, Missouri would trip over itself to accept, but that "invitation" (yes, technically that's not how the Big Ten operates, but whatever. For the sake of simplicity, humor me here.) would require a sharp change of course from everything Big Ten commissioner Jim Delany has said of late. In short, they're not looking to expand past 12 teams. The only conference that might take the leap is the Pac-12, but without Texas as part of the package, a move to do so with just Texas Tech, Oklahoma State or Baylor isn't quite as appealing, and like I said before, Oklahoma is staying with Texas.
---
Jeff in San Diego writes
: David, Love the blog. Can you tell me how the
Longhorns are in the pre-season Top 25 that ESPN put out
. Where is all the love coming from? Mack replaced his entire staff and they have to teach the kids an entirely new offense and defense. Aren't expectations a little too high?
DU:
Well, it's the beauty of polls. There's plenty of room for disagreement. Like I've said all offseason, Texas won't be sniffing any top 25 poll I vote in until they give me reason --
on the field
-- to include them. Maybe it'll happen. Maybe it won't. But I'm waiting until mid-September at the earliest to even consider them. I don't care what anyone says/writes/does in the spring or fall camp. Show me in a game.
---
Jim Calhoun in Claflin, Kan,. writes
: What can KSU do to improve their defense? They have to improve greatly to be able to compete in the round robin Big XII.
DU:
The biggest problem I saw for Kansas State last year was a severe, severe lack of speed. Obviously, the great teams and defenses have it, but K-State was arguably the slowest defense in the Big 12 last year. That's not going to be good for any scheme, so don't hang it all on the coaches.
More than anything else, K-State needs speed to get better.
---
Kevin K. in Lawton, Okla., writes:
So how is it now to go through a mailbag without getting any questions mentioning Nebraska?
DU:
Oh, I still get Nebraska questions. Plenty of them, in fact. I just don't post them. We both know all you guys would get mad. Unless you really
want
to talk about Nebraska's new offensive scheme ...
---
Adam in Kansas writes:
Turner Gill came into Kansas saying they would run the football and even have fullback sets. With the new recruiting class featuring a couple of highly rated RBs, and
James Sims
and
Brandon Bourbon
returning, will the Jayhawks have a ground game that can carry the offense?
DU:
It's getting closer, but no question, that's where Kansas needs to focus. They don't have a ton of talent at receiver -- guys who can break games open -- so a ball-control offense that features the running game is probably their best option. They tried to be pretty balanced early last season, and it just didn't work. Obviously, they have to throw the ball some time, but running the ball is what Kansas should do best next year. They lost Brad Thorson and Sal Capra from the offensive line, so the new starters will have to fill the role well, but they also added Darrian Miller from the 2011 class, and he enrolled early. They're deep at running back with some guys who have a lot of potential, so while they figure out what they're going to do at quarterback, they need to expend a lot of energy refining the running game.
September, 9, 2010
9/09/10
8:30
AM ET
By
ESPN.com staff
| ESPN.com
Turner Gill gave redshirt freshman quarterback
Jordan Webb
his first chance to run the Jayhawks offense in the fourth quarter. Down 6-3 late, he kept the ball in Webb's hands, needing a game-winning drive.
Webb was unable to deliver, but Gill decided his efforts were enough to name him the Jayhawks' starter in Week 2 against No. 15 Georgia Tech, relegating sophomore
Kale Pick
to the bench.
"Looking at things that happened in the game and overall with the things going on, [Webb] gives us the best opportunity at this point and time and he deserves an opportunity to see what he can do as a starter," Gill
told reporters on Wednesday
Pick threw for 138 yards with an interception in a little more than three quarters, completing 13 of 22 passes. Webb replaced Pick early in the fourth and went 6-for-11 for 59 yards. Both were sacked twice.
"Obviously I am excited," Webb said. "It is what I wanted all along. It is what everybody wants. Everybody wants to be the starter. It is something I hope I can make the most of and run with."
Kansas is also shaking up the offensive line. Gill moved Jeremiah Hatch, a two-year starter at center, back to starter at his usual position. Sal Capra moved to left guard and relegated Duane Zlatnik to the bench.
August, 23, 2010
8/23/10
4:35
PM ET
By
ESPN.com staff
| ESPN.com
Preseason camps are about half gone. Opening weekend is less than two weeks away, and it's just over a week away for teams like Iowa State.
But plenty has been resolved in camps so far. Here's the best of what we know:
1. Three quarterback battles have been won.
Two (Kansas State and Nebraska) have yet to be decided, but
Tyler Hansen
won the job over
Cody Hawkins
at Colorado.
Kale Pick
beat out
Jordan Webb
at Kansas.
Taylor Potts
beat out
Steven Sheffield
in an epic duel at Texas Tech between two seniors who could start for about anyone in the conference.
[+] Enlarge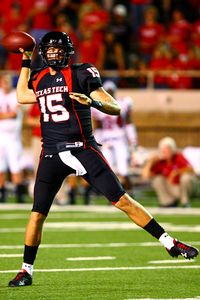 Karl Anderson/Icon SMITaylor Potts beat out Steven Sheffiled to be Texas Tech's starting quarterback.
2. Nebraska and Kansas have been hit hardest by injury.
Nebraska lost linebacker Sean Fisher and utility lineman Mike Smith for the season, each with a broken leg. Backup cornerback Anthony Blue will also miss the season with a torn ACL. Tight end Dreu Young also required back surgery and may miss up to the entire season. None figured to be game-changers, but without them, the Huskers depth suffers, leaving them more reliant on less experienced players. That's not the case in Lawrence, where Turner Gill will coach his first season without Huldon Tharp,
one of the conference's best linebackers
and one of his most exciting young talents. Backup running back
Rell Lewis
will miss the season with a knee injury, as will offensive lineman Jeff Spikes, who had a chance to start.
3. Gill: What have you done for me lately?
Turner Gill cares not about your recruiting stars, Jayhawks.
Toben Opurum
was the Jayhawks leading rusher as a freshman, with 554 yards. As one of the nation's best fullbacks, he came to Kansas because Mark Mangino planned to let the 6-foot-1, 240-pounder play running back. He was injured in the spring, but returned to full strength by preseason camp. Unable to crack the depth chart at running back, he's been moved to linebacker to help solve the Jayhawks' depth problems at the position. Meanwhile, two-year starter at center Jeremiah Hatch was sent to the bench in favor of senior captain Sal Capra, who played both guard positions last year.
4. Iowa State is even more huggable.
The team rallied behind rookie head coach Paul Rhoads in 2009 and raced to a seven-win season after just five wins in the previous two seasons combined. This fall, one of the teams practices was canceled so the players could sandbag the athletic facility to prevent damage from a major flood in Central Iowa. To do the team's laundry, team managers had to travel nearly 20 miles to the nearest source of fresh water.
5. Robert Griffin's arm isn't rusty.
The Bears sophomore quarterback has strung together two masterful scrimmages through the air, completing 33 of his 44 passes for three touchdowns and one interception. He has yet to prove he can run with the same explosiveness he showed as a freshman, but coach Art Briles isn't going to be getting Griffin hit many more times than is necessary.
6. Texas is talking up its defense.
Coach
Mack Brown
isn't keeping quiet about his expectations for his defense in 2010. ""I do think this could be our best defense," Brown
told the Dallas Morning News last week
, noting health and depth as variables. "We should be really, really good on defense." The Longhorns already ranked No. 3 nationally in total defense last year, but bring back one of the nation's best secondaries and perhaps the best and deepest group of defensive ends anywhere.
August, 20, 2010
8/20/10
9:00
AM ET
By
ESPN.com staff
| ESPN.com
Busy day for the Jayhawks, who released a pretty impactful depth chart late Thursday afternoon.
At the top of the list,
Kale Pick
has officially beaten out redshirt freshman
Jordan Webb
and juco transfer Quinn Mecham to be the team's starting quarterback. That's expected, but it's further proof of how important experience is, even if it's limited experience like Pick got as a freshman last year as a running complement to
Todd Reesing
.
[+] Enlarge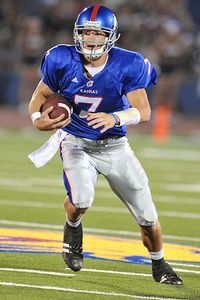 John Rieger/US PresswireQuarterback Kale Pick topped the Jayhawks' detph chart released Thursday.
Coach Turner Gill sounded confident in the decision and I don't see anything outside Pick struggling in-season changing that.
"He probably separated himself from the aspect of ball security which was huge. He didn't really turn the ball over there," Gill said. "I love the way that his demeanor has been, not to say that Jordan Webb has not had a good demeanor but Kale Pick's has just been a little bit better as far as the intangibles and his demeanor in the huddle, outside the huddle and when plays are going well and when plays aren't going well, just how he's handled himself."
Pick noted that Webb wasn't happy about the decision, of course, but there's a silver lining for him: He's only a freshman and Pick, a sophomore,
has a ways to go before he proves he's a franchise quarterback
. This isn't Texas Tech,
where two very talented, experienced seniors are fighting it out
, and injury, almost certainly, is the only thing that would cause them both to play.
"I definitely had a smile when I received the news. I'm excited and I think we're going to have a good season this year," Pick said.
I'm no history buff, and things like this are tough to look up, but can anyone else recall -- in the history of the Big 12 -- another team's leading rusher beginning the following season as a linebacker? Fans, feel free to let me know if that's happened to your team before.
If not,
Toben Opurum
is a trailblazer.
Gill has sounded unimpressed with Opurum since he got to Lawrence, but plenty of people -- myself included -- chalked that up to Opurum being hobbled by injury in the spring. Not the case. Opurum has officially moved to linebacker, but is still 0-for-3 on depth chart appearances under Gill. Judging from
his quote to the Topeka Capital-Journal last week,
my guess is he isn't thrilled about the decision.
"I expect to see my name at the top of any depth chart. I have to use that to drive myself," he told the paper.
Sixth-year senior Angus Quigley -- who, in light of Opurum's new position, ironically played linebacker last season -- held on to the starting job and should lead what sounds like a running back by committee situation. That's a good move with a lot of talent behind Quigley, like freshmen DeShaun Sands and Brandon Bourbon, as well as
Rell Lewis
, who was listed as the co-No. 2 back with Sands.
"We're going to probably rotate some guys, again we're still evaluating some of the guys so things can change but there are still some things happening at running back and we just have to get some guys some more reps," Gill said. "We have to dwindle that down because you can't get four, five or six running backs reps and you can't see them improve and so that is why we aren't able to make that decision at this time."
Elsewhere for the Jayhawks, Jeremiah Hatch, a two-year starter at center, has been benched in favor of Sal Capra, who was listed as the starting left guard after the spring.
Reports that Duane Zlatnik was rising
proved correct, as Zlatnick moved into a starting spot at left guard after being listed as the position's No. 2 afer spring.
March, 30, 2009
3/30/09
3:00
PM ET
By
Tim Griffin
| ESPN.com
Posted by ESPN.com's Tim Griffin
LAWRENCE, Kan. -- The best example of how things have changed around the Kansas program could have been found a couple of nights ago.
Later that evening, Kansas would square off with Michigan State in the Jayhawks' biggest men's basketball game of the year in the Elite Eight.
But before then, about 10 media members were awaiting Mark Mangino and his briefing on the Kansas football team.
While it might not match the media horde around Urban Meyer or Bo Pelini, it still indicates that interest is higher for the Jayhawks than ever before.
And that's understandable considering their back-to-back bowl bids -- a first in the history of the school's 119-year football program. It could be even bigger considering the expectations around the Kansas program heading into the upcoming season.
We sat down with Mangino for a few minutes to talk about how pereceptions of his program have changed, his team's defensive changes and whether the Jayhawks are any closer to being competitive with the South Division's top powers.
The culture appears to have changed around your program after the back-to-back bowl berths. How much of a difference have you been able to gauge in the last few months?
Mark Mangino: There's no question the culture has changed. Whether inside or outside the state, coaches are very complimentary and like to ask our guys a bunch of questions and me, too. But we're not doing anything novel. We have a system in place we believe in and our players believe in. We've tried to recruit kids who are willing to learn and have good values for hard work.
I've just tried to get as many good people and players together. And when everybody is on the same page, it's a good formula for success.
But we're still a work in progress. Just by the nature of the conference we play in, we're still under construction.
Have you ever thought how far your program has come since you arrived?
MM: Not very often, but on an occasion or two, we'll laugh or joke about some of the situations we were in during our early years. My philosophy for my program is that I always say the present is what matters and you are mindful of the future. I guess someday we might look back and say that we've come a long way. But we still have a long way to go.
There has been a lot of talk about your defense coming into the spring. How have they looked?
MM: We need all 15 practices. So far, I like what we're doing and how we're doing it. We've tweaked some things here and there. But we haven't made a wholesale change.
The kids are starting to learn it, starting to pick it up. You see they are getting a little more confident every time we practice. I like what I see.
We're going to have new linebackers so we have to get that area, get a strong two-deep in place. We've got to improve our inside guys, our defensive tackles. I don't think that we were as good as we need to be in that position last year. This spring we have to make some leaps in that area to be a good defensive unit.
There has been some talk that you guys might be going to a 4-2 as your base defense. Is that going to be the case?
MM: If you watched us last year, most of the time we were in that situation with a 4-2. We're still going to use a 4-3 as our base, but not nearly as much as we've had in the past.
It's still part of our package and it's what we call our base. It's our foundation and we build off that.
We've done some restructuring in our nickel package. Rather than just say, "OK, we're going to have that personnel in place," we've have a change in some of the responsibility of the personnel who is in the nickel.
Your offensive line will be transformed by several notable changes. Could you talk about some of your plans there?
MM: I feel much better about our offensive line right now than I did at the end of the season. I'm excited about moving Jeremiah Hatch to his natural position of center. That's what he does best. I'm excited about Tanner Hawkinson being at left tackle. We have a guy like Sal Capra who has played a lot of snaps for us now at a guard position and have a talented redshirt freshman named John Williams who will win a job unless something unforeseen comes up.
Some young guys who have been in the program for a couple of years are maturing. But I know we'll be better on the offense than we were last season.
What were your thoughts about bringing Bill Miller into the program as your new co-defensive coordinator.
MM: I kind of liked the setup we had with defensive coordinator and then a co-defensive coordinator who was the No. 2 guy who supported him and bounced ideas off of him. We didn't have that kind of role with anybody last year. But now the fact we have Billy in that role will be a big boost for us. Billy brings a lot of experience. He's been around and knows the game inside-out.
He's a good teacher and technician. And it will help us and our defense because I believe in that type of model, of having a coordinator and a No. 2 guy who plays a strong role in the defense and running our system.
Some people are discounting your team's chances of claiming Kansas' first North title mainly because of your cross-division schedule of South opponents. Do you think the team is better situated to be competitive against Texas, Oklahoma and Texas Tech?
MM: Hey, lets face it. We have won some games against South Division teams, but we've got to do better. We've got to beat some more South Division teams.
But until we do that, that kind of talk will persist. It's true and it's a fact of life. I don't hide from it, our program doesn't hide from it. The fact of the matter is until you start beating some of those South Division teams, you'll have that kind of talk.