August, 8, 2011
8/08/11
2:45
PM ET
By
ESPN.com staff
| ESPN.com
Last Monday, we began a week-long project looking at the most famous touchdowns from 100-plus yards down to 1 yard, and we'll be taking a look at each of the Big 12 entrants on the blog throughout the week.
You can
see the full project here
.
Missouri and Nebraska fans alike have very different memories of this play. For the Huskers, it was a stroke of fortune that signaled the 1997 team was truly one of destiny. For the Tigers, it fed the perception that the program was resigned to ultimate disappointment.
Nov. 8, 1997:
On third down from the Missouri 12-yard line with seven seconds left, Nebraska quarterback Scott Frost threw to Shevin Wiggins at the goal line. Wiggins couldn't make the play, but he kicked the ball into the air, and a diving Matt Davison made the alert grab in the end zone, which tied the score at 38 and capped a 67-yard drive in the final minute. The Cornhuskers, playing in their first overtime game, won 45-38, then went on to finish 13-0 and win the national championship, their third in four years. It was Tom Osborne's final season.
-- Ted Miller
February, 9, 2011
2/09/11
12:30
PM ET
By
ESPN.com staff
| ESPN.com
You know when things ain't happenin' the way they supposed to happen, Triple T gonna condense the nonsense.
February, 7, 2011
2/07/11
3:30
PM ET
By
ESPN.com staff
| ESPN.com
Mack Brown just finished filling six coaching openings, but could one of them be gone before he even starts?
Jerry Gray, a former Texas player with 14 years of NFL coaching experience, was one of the most well-received hires of Brown's six, but
according to Kirk Bohls of the Austin American-Statesman
, he may have a decision to make in the coming weeks.
The Longhorns' defensive backs coach is being considered as the new defensive coordinator for the Tennessee Titans, who hired Mike Munchak as their new head coach on Monday.
Moving from being a college position coach to a pro coordinator is obviously a big jump, and it has to be a big concern for Brown, as well as for Longhorns fans.
Gray has already been a defensive coordinator once. He oversaw the Buffalo Bills' defense from 2001-2005, so his decision wouldn't be about career advancement as much as it would be about overall happiness. Gray is new to the recruiting trail, but
sounded especially excited to start at his introductory news conference
three weeks ago when he was introduced as the replacement for Duane Akina.
One factor could be a big help in keeping Gray at UT, though.
"A big consideration for Gray is the impending NFL lockout; the source said the potential lockout over a new collective bargaining agreement clouds all hirings and could hurt Munchak's chances of getting Gray."
Signing day has come and gone, so keeping recruits is no longer an issue, and
Texas lost just one commitment because of the coaching upheaval
after the season.
Now, though, Gray leaving could hurt the Longhorns' preparations for spring practice. Brown kept Texas' early start, choosing to kick off practice on Feb. 24, and scrambling to find a replacement for Gray, should he leave, would be the last thing Brown needs this late in the semester.
---
Also on Monday, the Lincoln Journal Star learned that Oregon receivers coach Scott Frost, Nebraska's quarterback on its 1997 national title team,
would not return to Lincoln to coach
.
Pelini and Frost reportedly spoke about the possibility of Frost's return, but Frost wasn't going to leave Oregon without being able to call plays, which Nebraska did not offer.
Signs indicate those duties could go to running backs coach Tim Beck.
February, 7, 2011
2/07/11
12:00
PM ET
By
ESPN.com staff
| ESPN.com
That ain't yo' cake, Phillip! That's Simone's cake. You eat someone else's cake again, and I will get you a slice of Terry's very special pain cake ... And you won't want seconds of that.
November, 22, 2009
11/22/09
1:52
AM ET
By
Tim Griffin
| ESPN.com
LINCOLN, Neb. -- Larry Asante arrived on the field Saturday blinking away tears as he prepared for his final home game.
As he left the field, the Nebraska senior safety again was dabbing at his eyes.
But after a big performance in the Cornhuskers' 17-3 North Division-clinching victory, Asante was trying to get rid of the remnants of a post-game Gatorade shower he and Nebraska coach Bo Pelini got along the sidelines.
"He was giving me a hug, telling me how much he loved me and how far along I'd come as a player," Asante said, chuckling at the memory. "Then out of nowhere, I got dumped. But I didn't get mad. It was joyous. I was happy."
[+] Enlarge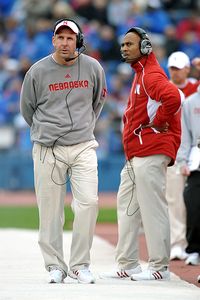 John Rieger-US PRESSWIREBo Pelini's Huskers will play third-ranked Texas in the conference championship game Dec. 5.
So were the Cornhuskers, who rode a gritty defensive effort into the Dec. 5 Big 12 championship game for the first time since 2006.
"We want to be known as a hard-hitting, hard-nosed defense," defensive tackle Ndamukong Suh said. "One where everybody is making tackles and making things happen."
Asante keyed a stellar defensive performance by Nebraska which limited the Wildcats to a field goal on their first drive and no more scoring after that. It was the 10th time in 11 games that a Nebraska opponent has scored 17 points or less, including the Cornhuskers' last five opponents.
His big night included an interception and a forced fumble which turned away KSU's best scoring opportunity when he hammered KSU's
Keithen Valentine
, causing a fumble at the Nebraska 1.
Saturday's triumphant performance is a remarkable transformation from where Pelini inherited the team less than two years ago.
To call that group defensive waifs might be an insult to all of the lost souls who wander the Earth.
The missed tackles and busted coverages that marked the Kevin Cosgrove era are nothing but a bad memory for those seniors who remained in the most dramatic transition in Nebraska's history.
That team allowed six opponents to score at least 40 points on them as they finished in the bottom ten nationally in rushing defense, scoring defense, total defense, turnover margin and sacks. The Cornhuskers were torched for 76 and 65 points in losses in two of their final three games in that lost season.
"They've come a long way in the last two years," Pelini said. "When I got here, especially the guys on defense, they were written off and told how bad they were."
But from those humble origins, Pelini nurtured the confidence and got this group to believe in his methods.
The result has been a run of games just like Saturday night.
"They kept getting better," Pelini said. "Now, look at how far they have come. It's been fun to watch."
Many of those same players were integral contributors to Nebraska's huge defensive effort. After KSU produced a field goal on its opening possession, the Wildcats were turned away on their final 10 possessions without a score. Included in that run were two possessions inside the Nebraska 20-yard line and three other stops at the Nebraska 27, 33 and 41-yard lines.
The reason for that toughness was instilled by Pelini and his older brother, Carl, who serves as Nebraska's defensive coordinator.
"We take it personal as a unit. We don't want to give up any points," Asante said. "We didn't have that culture back then. They've taught us how to play every play like it's our last. And we wanted to go out there the right way."
Suh, who finished in his final home game with nine tackles, 1.5 sacks and two passes broken up, said that Pelini's coaching has been the major reason for the change.
"We've grown tremendously, but there still is a lot of work to do," Suh said. "His message when he first got here has been embraced by everybody. We're not to what he expects from us, but I think we're on a good path."
Asante might be the best example of Pelini's transformation. He came to Nebraska as one of the nation's top 10 junior college prospects. But he looked lost in Cosgrove's defense and there were some early thoughts he couldn't play in Pelini's defense.
His seven tackles Saturday enabled him to tie for third on Nebraska's career list for tackles.
There were still some areas of concern, like a sputtering offense that will never be confused with the Cornhuskers' glory era when Eric Crouch, Scott Frost and Co. wreaked havoc across the Big 12.
The Cornhuskers are built to win games like Saturday's battle over Kansas State. They will challenge Texas, but likely don't have the firepower to dent the Longhorns' emerging defense.
But the recent play of the Blackshirts will give them a puncher's chance of sticking close to Texas, who might be looking ahead to their BCS title game prospects rather than worrying about the Cornhuskers next month.
"The way we played seems like it's a recurring theme," Pelini said. "We still have a long way to go, but there's still a lot out there. Our kids are hungry and it's on to the next challenge for us."
November, 13, 2009
11/13/09
1:08
PM ET
By
Tim Griffin
| ESPN.com
There's a big day of games looming Saturday. Nebraska and Kansas State can take another step toward a pivotal North Division showdown next week in Lincoln. And Texas can come closer to a trip to the BCS title game by beating Baylor in Waco.
Here are some stories to get you ready for the upcoming games -- and more.
July, 7, 2009
7/07/09
8:17
PM ET
By
Tim Griffin
| ESPN.com
Posted by ESPN.com's Tim Griffin
Davison's dramatic grab keeps Nebraska's winning streak alive
Date: Nov. 8, 1997
Place: Faurot Field, Columbia, Mo.
Score: Nebraska 45, Missouri 38 (OT)
Nebraska needed a huge break to keep its 1997 national title hopes alive.
The Cornhuskers got that and more when freshman receiver Matt Davison grabbed a kicked ball for a game-tying touchdown against Missouri. His dramatic play forced overtime and resuscitated the Cornhuskers' national title hopes.
The dramatic score is one of the most memorable play in the Cornhuskers' Big 12 history and certainly ranks with Johnny Rodgers' dramatic 1971 punt return against Oklahoma and Tommie Frazier's 75-yard scoring run against Florida in the 1996 Fiesta Bowl.
The New York Times described Davison's heroics the following day in a headline as a "fluke score."
Nebraska was trailing by seven points with 12 seconds left when Davison's made the big play.
Quarterback Scott Frost's pass to the end zone was knocked out of wide receiver Shevin Wiggins' grasp. Missouri defensive back Harold Piersey appeared poised to intercept the ball, but Wiggins inadvertently kicked the ball into the air on his way down. Davison was ready to make a diving grab in the end zone, pouncing on it just before it hit the turf for the touchdown.
The dramatics shocked Missouri fans who had stormed the field. Those fans appeared ready to rip down the goal posts to celebrate what would have been the Tigers' first victory over Nebraska since 1978. Instead, they had to get ready for overtime.
Frost made the most of the break, scoring three plays into overtime on a 12-yard scamper for his fourth touchdown run of the game. Missouri had two incomplete passes and a 3-yard gain before quarterback Corby Jones was sacked by Grant Wistrom and Mike Rucker to preserve the victory.
Nebraska, which came into the game as a 29-point favorite, had to work hard to escape with the victory as Missouri dominated most of the game.

Jones jolted the No. 3 defense for three touchdown passes and also rushed for 60 yards, although he was sacked five times by the Cornhuskers.
He was effective early in the game, but Frost's touchdown runs of 16 yards and 1 yard before the end of the first quarter gave the Cornhuskers a 14-7 lead.
Missouri reclaimed the lead at 24-21 at the half after striking for 10 late points. Scott Knickman's 39-yard field goal and a 39-yard touchdown pass from Jones to tailback Brock Olivo gave the Tigers the lead.
Frost boosted Nebraska back into the lead late in the third quarter on a 1-yard keeper, but Missouri answered with Devin West's 62-yard kickoff return on the ensuing play for good field position. Jones then scored on a 6-yard run to enable the Tigers to reclaim the lead at 31-28.
The Cornhuskers tied the game on Kris Brown's 44-yard field goal with 10:50 left in the game. But Missouri responded after Piersey's interception to the Nebraska 30. Jones then hit H-back Eddie Brooks on a 15-yard scoring pass with 4:38 left, boosting Missouri to a 38-31 lead.
Missouri squandered a chance to ice the victory in regulation when Jones was stuffed on a third-and-3 option play. Jason Smith's ensuing punt pinned Nebraska at its own 33 with 1:02 left before the dramatic game-tying possession.
It was just enough time for a miracle. And Nebraska made the most of its opportunity.
They said it, part I: "One stinking play," Missouri coach Larry Smith, expressing his disgust to reporters after the game.
They said it, part II: "We wanted to shock the world tonight. But the end of that game shocked us. We should have won that game. That's all there is to it," Missouri guard Craig Heimburger, in his postgame comments to the Columbia Daily Tribune.
They said it, part III: "It was floating like a punt, kind of end over end. It seemed like it took forever for the ball to get there," Nebraska wide receiver Matt Davison, telling reporters about his recollection of the play.
They said it, part IV: "We fought our (butts) off and came up short. It hurts so bad. We could have had it, should have had it," Missouri fullback Ron Janes, expressing his disappointment to the Columbia Daily Tribune after the loss.
They said it, part V: "He told me, 'We got lucky.' And he's right, they did," Smith, telling reporters of his postgame conversation with Nebraska coach Tom Osborne.
Factoids: Frost rushed for 141 yards on 23 carries and passed for 175 yards by completing 11-of-24 passes ... Jones completed 12 of 20 passes for 233 yards and three touchdowns with one interception ... Missouri failed in its bid for its first upset over a No. 1 ranked team in school history ... The Cornhuskers' victory extended their winning streak of 37 consecutive conference games and 19 straight victories over Missouri ... Brown's fourth-quarter field goal was his 10th straight -- a then-Nebraska school record ... Nebraska produced 353 rushing yards, paced by a game-high 189 rushing yards by Ahman Green on 30 carries ... Nebraska had a 528-386 edge in total yards ... Davison had caught only seven passes for 117 yards and no touchdowns before his memorable reception.
The upshot: Nebraska fell from No. 1 to No. 3 in the polls the following week. But they returned to No. 2 two weeks later and remained there, even after a smashing 54-15 victory over Texas A&M in the Big 12 championship game in San Antonio. The Cornhuskers then whipped No. 3 Tennessee in the Orange Bowl, 42-17 in the Bowl Alliance's top game.
That victory enabled Osborne to finish his career with a 14-game winning streak as the Cornhuskers spoiled Peyton Manning's final college game. Nebraska (13-0) finished No. 2 behind Michigan in the Associated Press media poll, but nosed out the Wolverines in the coaches' poll for a share of the national title.
Missouri finished the season with a 35-24 loss to Colorado State in the Holiday Bowl. The Tigers were 7-5 and No. 23 in the final Associated Press poll, the first time they had been ranked at season's end since finishing No. 19 in 1981.
The countdown:
5. Bamboozled three times. Boise State's gadget plays doom Oklahoma.
6. Yes, Sirr. Parker's' dramatic catches lead A&M to first Big 12 title.
7. Crouch's TD catch cements Heisman bid, beats Oklahoma.
8. Sproles and Roberson stun top-ranked OU, leading KSU to its first Big 12 title.
9. Emotional A&M victory brings closure after Bonfire tragedy.
10. Roll left: James Brown guarantees victory and then backs it up.
11. When BCS meant "Boo Chris Simms" in Colorado's first Big 12 title.
12. A Buffalo stampede: Six
Chris Brown TDs lead Colorado past Nebraska.
13. Run, Ricky, run. Ricky Williams breaks NCAA career rushing record.
14. Wild game, wilder post-game rants when Gundy and Leach meet in 2007.
15. Rout 66: No, that score wasn't a typo.
16. KSU finally slays the Cornhuskers.
17. Kingsbury and Long hook up in a passing duel for the ages.
18. Henery and Suh make Colorado blue.
19. Stunning OSU rally leads to Stoops' first home loss.
20. It's never over for Texas Tech until it's over.
21. Reesing to Meier. Again and again.
22. A Texas-sized comeback -- Texas over Oklahoma State in 2004.
23. A Border War unlike any of the rest -- Missouri over Kansas in 2007.
24. Seneca Wallace's wild TD run vs. Texas Tech in 2001.
25. Baylor's "So Much for Taking a Knee" against UNLV in 1999.
June, 29, 2009
6/29/09
6:00
PM ET
By
Tim Griffin
| ESPN.com
Posted by ESPN.com's Tim Griffin
Roll left: James Brown guarantees victory and then beats Nebraska
Date: Dec. 7, 1996
Place: TWA Dome, St. Louis, Mo.
Score: Texas 37, Nebraska 27
The first Big 12 championship game had much meaning and symbolism on both sides.
Nebraska and Texas had been on opposite sides of practically every major issue in the early history of the Big 12 -- from the first commissioner and site of the conference office to how many partial qualifiers would be acceptable to each conference school.
Nebraska was a two-time defending national champion that came into the game looking for a chance to play for the national championship. Texas arrived as a three-touchdown underdog, but one that had played well down the stretch. The Longhorns entered with a late four-game winning streak that boosted them to the South title after losing four of five games earlier in the season.
When reporters asked Texas quarterback James Brown about the Longhorns' huge underdog status before the game, he brazenly predicted his team might win by three touchdowns.
And while he didn't quite live up to that boast, Brown was masterful in directing one of the most memorable upsets in Big 12 history.
The Longhorns weren't intimidated by the Cornhuskers from the opening snap, marching 80 yards on 11 plays on the first drive of the game, capped by a 5-yard TD run by Priest Holmes. Texas was poised to extend the lead on its second drive after moving inside the Nebraska 10, but Brown was intercepted by Eric Stokes in the end zone to kill the drive.
The Cornhuskers tied the game on their ensuing possession on a 2-yard TD run by DeAngelo Evans.
Holmes later added a 61-yard TD run later in the first half that was matched by a 23-yard TD run by Evans later in the second quarter. Texas claimed a 20-17 halftime lead on a 30-yard field goal by Phil Dawson with 1:00 left before the break.
After another Dawson field goal, Nebraska took its first lead of the game on Evans' third TD jaunt of the game -- a 6-yarder with 2:11 left in the third quarter that boosted them to a 24-23 advantage.
The Cornhuskers then extended their lead to 27-23 on a 24-yard field goal by Kris Brown with 10:11 left.
But Brown, who passed for 353 yards on the game, put the Longhorns ahead to stay by arching a 66-yard TD pass to Wane McGarity with 7:53 left.
McGarity, a converted running back, made a brilliant over-the-shoulder catch over the outstretched hands of Nebraska safety Mike Minter near the sidelines before streaking past him for the final 35 yards into the end zone.
The Cornhuskers were stopped in Texas territory on the ensuing drive, but opted to punt the ball on fourth down to the Texas 7 with about four minutes left.
Texas coach John Mackovic then converted on the gamble of the year. Facing fourth-and-inches from his own 28, Brown faked a dive and rolled left. Tight end Derek Lewis was wide open down the left sidelines, Brown hit him in stride with a perfect pass, gaining 61 yards before he finally was stopped.
Holmes scored on an 11-yard TD run on the next play, punctuating a wild 37-27 upset victory that gave the Longhorns the first Big 12 title.
Factoids: Coming into the start of the Big 12, Nebraska coach Tom Osborne was the loudest critic of staging a conference championship game. But he and other coaches were outvoted because of the revenue generated for each conference school by the extra game ... Holmes rushed for 120 yards on nine carries ... Ricky Williams was used as a decoy, rushing for a career-low 7 yards on eight carries. But his pass blocking was invaluable in the Longhorns' triumph ... Evans rushed for a game-high 130 yards on 32 carries ... Nebraska quarterback Scott Frost rushed for 47 yards on 18 carries and completed 15-of-24 passes for 155 yards ... The Longhorns gashed the Cornhuskers for a season-worst 503 yards of total offense, despite having the ball for only 20 minutes, 25 seconds. Texas produced 8.82 yards per snap ... Before the loss, Nebraska had won its previous nine games and their last 31 games against conference opponents.
They said it, part I: "I could have thrown that ball behind my back and hit him. The play was so wide open. I looked up and Derek was open deep. I just had to get him the ball," Texas quarterback James Brown on the "Roll Left" pass to Derek Lewis.
They said it, part II: "Oh God. The losses stick with me more than the wins. And that game was disappointing to say the least. We were more talented with that team than the 1997 team that won the national championship," Nebraska defensive tackle Jason Peter on the disappointment of the Cornhuskers' loss.
They said it, part III: ''That was a tremendous call. It was a big gamble, but it worked,'' Nebraska coach Tom Osborne on Texas' dramatic fourth-down conversion.
The upshot: Texas ruined Nebraska's hopes of playing for a shot at the national championship. Instead, the Longhorns earned their first berth in the Fiesta Bowl against Penn State. The Longhorns squandered a halftime lead as the Nittany Lions stormed back to outscore them 31-3 in the second half en route to a decisive 38-15 victory. The loss dropped Texas to 8-5 for the season, finishing No. 23 in the final Associated Press poll.
While knocked out of the national title picture, Nebraska took advantage of four-straight scoring drives in the second half to claim a 41-21 triumph over Virginia Tech in the Orange Bowl. The Cornhuskers finished the season 11-2 and No. 6 in the final AP poll -- their lowest end-of-season finish in four years.
The countdown:
11. When BCS meant "Boo Chris Simms."
12. A Buffalo stampede: Six Chris Brown TDs lead CU to first Big 12 title game.
13. Run, Ricky, run. Ricky Williams breaks career rushing record.
14. Wild game, wilder post-game rants when Gundy and Leach meet in 2007.
15. Rout 66: No, that score wasn't a typo.
16. KSU finally slays the Cornhuskers.
17. Kingsbury and Long hook up in a passing duel for the ages.
18. Henery and Suh make Colorado blue.
19. Stunning OSU rally leads to Stoops' first home loss.
20. It's never over for Texas Tech until it's over.
21. Reesing to Meier. Again and again.
22. A Texas-sized comeback -- Texas over Oklahoma State in 2004.
23. A Border War unlike any of the rest -- Missouri over Kansas in 2007.
24. Seneca Wallace's wild TD run vs. Texas Tech in 2001.
25. Baylor's "So Much for Taking a Knee" against UNLV in 1999.
May, 5, 2009
5/05/09
10:04
AM ET
By
Tim Griffin
| ESPN.com
Posted by ESPN.com's Tim Griffin
Ah, what might have been.
Steve Sipple of the Lincoln Journal-Star had an interesting column this morning about Carl Crawford after the jet-quick Tampa Bay Devil Rays outfielder tied a modern-day major-league record by stealing six bases in a game on Sunday.
Some of us still remember Crawford as a speedy quarterback from his time at Jefferson Davis High School in Houston. He also was a signee for Nebraska before opting to turn pro in baseball, where he was a second-round draft pick for the Devil Rays in the 1999 draft.
Sipple caught up with former Nebraska coach Frank Solich, who remains convinced that Crawford was an outstanding football prospect.
How good?
Solich told Sipple that if Crawford had stuck with his commitment to the Cornhuskers, Crawford could have started at quarterback for the Cornhuskers.
That's likely not a reach, considering that Crawford was offered scholarships from schools like USC, Oklahoma and Florida. He also received a basketball scholarship offer to play point guard at UCLA and was an award-winning swimmer for his high school team.
Solich said that that Crawford's arrival would have led to the move of Jammal Lord to strong safety. And Solich adds that if Lord had played that position in college, he likely would still be playing there today in the NFL.
Of course, Crawford would have faced some long odds if he had opted for a college football career. The Cornhuskers had a couple of players in front of him at the position in 1999 -- Eric Crouch and Bobby Newcombe.
But if Crawford had showed the patience and the athleticism he now shows on the baseball diamond, who's to doubt he could have lived up to Solich's claims?
Imagine if Crawford had carried on the tradition of productive multi-faceted Nebraska quarterbacks Crouch, Scott Frost and Tommie Frazier who played before him.
"He was a complete kind of quarterback -- a guy who could throw the ball well but obviously had great running ability," Solich told the Journal-Star. "We thought he could really fit everything we wanted to do. In fact, his kind of ability would've allowed us to do a great number of things."
And would it be a reach to think that maybe Solich might still be coaching the Cornhuskers if Crawford had been as good as advertised at quarterback?
The Cornhuskers were less than two seasons removed from a trip to the BCS title game when Solich was fired late in the 2003 season.
Maybe his dismissal was inevitable, considering the Cornhuskers' slide during that time.
But if Crawford had played to his lofty expectations, he might have been able to have delayed Solich's fall from grace -- if not kept it from happening altogether.
April, 29, 2009
4/29/09
2:50
PM ET
By
Tim Griffin
| ESPN.com
Posted by ESPN.com's Tim Griffin
I haven't had a mailbag in a couple of weeks because of some outstanding assignments. The letters have kept coming in, including some questions that were interesting. I thought this thought-provoking query from a reader in Nebraska merited its own answer in a separate post, along with a chart that explains my answer.
So here's the bonus question and watch Friday for a usual mailbag coming. It will have a lot of topical questions and answers about Big 12 football.
Jack Nelson from Lincoln, Neb.: Hey Tim, love your blog. But I've got one question after reading your post about Colorado the other day. How can you discount Nebraska's returning talent when you compare them against the Buffaloes or anybody else in the North. Any reasons that you think the Buffaloes stack up better than the Cornhuskers?
Griffin: Jack, thanks for the compliment and also know that I thought only that Colorado could be competitive in the North because of an experienced, deep running game, along with a strong returning offensive line.
But the major reason I might discount the Cornhuskers is because of the lack of experience at quarterback. In the history of the Big 12, only one championship quarterback has been able to win a championship in the same season he made his first collegiate start.
That would be Sam Bradford of Oklahoma in 2007. And Bradford had a pretty strong supporting case around him on that 2007 team -- certainly better than any team in the Big 12 North this season.
My experienced quarterback theory will be tested this season as three of the five teams that shared part of the division championships last season -- Missouri, Nebraska and Texas Tech - all will be starting quarterbacks with no previous experience as a collegian.
Missouri likely will be looking to Blaine Gabbert as its starter. Texas Tech will likely have Taylor Potts. And Nebraska likely will be looking to Zac Lee manning the starting quarterback slot.
All are untested. And the North Division particularly could be an area where a team with an experienced quarterback could have an edge with either Todd Reesing at Kansas or Tyler Hansen and Cody Hawkins at Colorado all having an experience edge with previous starts coming into the season.
I just think that previous starting experience is critical in college football. And it will take a special kind of quarterback to be able to win a title without previous college starting experience at the position.
Here's a look at the Big 12 championship teams over the years, who they had playing quarterback and their previous starting experience.
1996 Texas: James Brown had more than a year of starting experience coming into the season.
1997 Nebraska: Scott Frost had a year of starting experience coming into the season.
1998 Texas A&M: Both Branndon Stewart and Randy McCown had started games in previous seasons before their championship year.
1999 Nebraska: Eric Crouch had started most of the games in the previous season before his championship year.
2000 Oklahoma: Josh Heupel had started a complete season of games the previous year.
2001 Colorado: Both Craig Ochs and Bobby Pesavento had started games in previous seasons before their championship year.
2002 Oklahoma: Nate Hybl had started games in the previous season before his championship year.
2003 Kansas State: Ell Roberson had started games in the previous season before his championship year.
2004 Oklahoma: Jason White had started more than a year's worth of games before his championship season.
2005 Texas: Vince Young had started nearly two previous seasons before his championship season.
2006 Oklahoma: Paul Thompson had started one previous game during his previous year at quarterback and several more at wide receiver.
2007 Oklahoma: Sam Bradford had never started a college game before his championship season.
2008 Oklahoma: Sam Bradford had started one previous season before his championship season.
Those trends make the odds daunting that the Cornhuskers, Tigers, Red Raiders or Kansas State will be able to claim the Big 12 title this season.
It's even more likely that the championship team could come from a group of three teams with the most experience at quarterback -- Texas, Oklahoma and Oklahoma State.
January, 27, 2009
1/27/09
1:14
PM ET
By
Tim Griffin
| ESPN.com
Posted by ESPN.com's Tim Griffin
Good afternoon. Here are some Big 12 links to go with your lunch today.
November, 8, 2008
11/08/08
12:01
PM ET
By
Tim Griffin
| ESPN.com
Posted by ESPN.com's Tim Griffin

Missouri will celebrate the contributions of a stellar senior class Saturday night in Columbia at the Tigers' final home game of the season against Kansas State. These 23 seniors have helped direct the Tigers to their first North Division title last season and a chance for another one this year.
But Nov. 8 hasn't always been a pleasant date in Missouri football history. Here are a couple of infamous happenings that marked the day in the Tigers' previous history.
Nov. 8, 1986 - No. 4 Oklahoma 77, Missouri 0 (Norman, Okla.) - Jamelle Holloway rushed for 117 yards as the Sooners gashed a weak Missouri defense for 681 yards and 10 rushing touchdowns. Oklahoma scored touchdowns on its first seven possessions as Oklahoma kicker Tim Lasher's 11 extra points set a Big Eight record. It was Oklahoma's biggest winning margin since the Sooners harpooned Kingfisher College, 157-0, in 1919.
Nov. 8, 1997 - No. 1 Nebraska 45, Missouri 38 (OT) (Columbia, Mo.) - Wide receiver Matt Davison saved the undefeated Cornhuskers' season with a diving catch of a kicked ball on the last play of regulation, enabling the Cornhuskers to eventually escape with a wild overtime victory. Scott Frost then scored on a 12-yard run in overtime for the game-winning touchdown, which was then punctuated by a fourth-down sack of Missouri quarterback Corby Jones to preserve the victory. Jones finished with 233 yards and three touchdowns passes. Frost passed for 175 yards and rushed for 141 more.

September, 12, 2008
9/12/08
6:54
PM ET
By
Tim Griffin
| ESPN.com
Posted by ESPN.com's Tim Griffin
As most of you know, I love a good list as much as anybody.
That's why Blair Kerkhoff of the Kansas City Star is to be congratulated for his research that appeared this morning. He went back through the Big 12's history and compiled the top won-loss records for the quarterbacks as starters in the league's history.
Obviously, you can judge quarterbacks by any number of quantitative statistics. But I think the best and simplest has to be their won-loss percentage as starters.
I think it provides a revealing look at quarterbacks in the conference's brief history. Eric Crouch might be the winningest quarterback with a 35-7 career record. But Vince Young has the best winning percentage at 30-2 (.938) and Scott Frost is the next in line at 24-2 (.923).
BIG 12 SCOREBOARD
Saturday, 12/20
Monday, 12/22
Tuesday, 12/23
Wednesday, 12/24
Friday, 12/26
Saturday, 12/27
Monday, 12/29
Tuesday, 12/30
Wednesday, 12/31
Thursday, 1/1
Friday, 1/2
Saturday, 1/3
Sunday, 1/4
Monday, 1/12
Tweets from https://twitter.com/ESPNCFB/lists/big12