Big 12:

Sooners-Bears-111119
November, 20, 2011
11/20/11
2:56
AM ET
By
ESPN.com staff
| ESPN.com
Robert Griffin III talks about Baylor's
45-38 upset
of Oklahoma.
November, 20, 2011
11/20/11
2:17
AM ET
WACO, Texas --
Robert Griffin III
made his way into Baylor's locker room, but paused when he opened the door.
Nobody was there.
"I was like, where'd everybody go?"
They were still on the field celebrating. There was a postgame party at Floyd Casey Stadium, and everybody wearing green and gold was invited. The Bears had swiped the Sooners' picnic basket.
Before tonight, Baylor had never had a chance to celebrate a win over Oklahoma.
With a 34-yard toss from Griffin to
Terrance Williams
in the back corner of the end zone, that all changed.
"There at the end, God works in mysterious ways," Griffin said with a wide smile. "When I looked down the field, I saw him one-on-one. All this is happening in milliseconds, so I saw him one-on-one and I was like, 'Well, I'll give him a shot.' I threw it up, and he made a great catch."
[+] Enlarge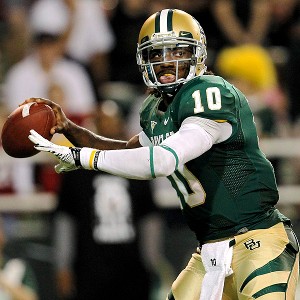 Sarah Glenn/Getty ImagesBaylor's Robert Griffin III passed for 479 yards and four touchdowns in the upset over Oklahoma.
Baylor 45, Oklahoma 38
.
That play, coach Art Briles admitted, was "not the way we drew it up."
"The dude has had the ability to take over a game by himself," said Baylor linebacker Elliot Coffey, "and you saw it."
We all saw it. We saw Griffin prove once again he's the best deep-ball passer in college football, throwing four touchdown passes, even if one of them unbelievably deflected off
Tevin Reese
's hands and helmet before floating into
Kendall Wright
's hands for a game-changing 87-yard score.
Griffin could only shake his head at that one, but he finished with a school-record 476 yards on 21-of-34 passing, breaking his own single-season school record for passing yards. He was also the Bears' leading rusher with 72 yards.
"Another day at the office for Robert," Briles said. "He's been doing that for three or four years. When the ball's in his hand, he's going to make good things happen, because he's very intelligent, very passionate and very gifted."
Said Baylor safety Ahmad Dixon: "You can't really defend him. You have to just take what he gives you."
No run was bigger than a 22-yard scramble on second down on the game's final drive, when Baylor had just 51 seconds left and no timeouts. Oklahoma had three, and when the Bears looked content to try to run it and settle for overtime, the Sooners used one. Baylor knew it needed a first down. The man they call RG3 provided those precious 22 yards.
"Then the whole thing flips," Briles said.
The aggressive move backfired, and the Sooners' fate was in the hands of the most dangerous player in the Big 12. Baylor should have known.
"Robert Griffin's the best in the game," running back
Terrance Ganaway
said. "When the ball's in his hands, expect big things."
The late toss to Williams was the biggest, and Griffin barely saw it. He took a big hit, but saw Williams haul it in. He wasn't sure, but the offensive linemen that mobbed him confirmed it.
"Robert, you just won us the game," they told him.
He got up, took a moment to kneel near midfield, then pointed to the sky and jogged to the sideline. He just wrote maybe the most memorable chapter in Baylor history. They'll never forget this night in Waco.
"When you work for something extremely hard for a lot of years, and you finally get it, it's a great feeling," Griffin said. "We worked for this. We haven't been waiting for it. We've been preparing for it. And it finally came to pass."
Baylor's already been through the whole bowl eligibility brouhaha. That's so 2010. Saturday was the third time Floyd Casey Stadium's field has been stormed in the past two seasons. Baylor's already equaled its win total from 2010 with two games remaining, and the Bears might be favored in both. Then there's a bowl game.
That's not lost on Griffin.
"It's great, but you've still got to show up every day and go to work. Go to practice. Watch film. That's something I've learned to appreciate, because the year I was hurt, I couldn't practice," said Griffin, who missed the final nine games of the 2009 season with a torn ACL. "I couldn't walk. I couldn't go to the bathroom by myself. My mom had to help me. My fiancee had to help me. So, when things like that happen to you, it makes you appreciate everything."
America learned to appreciate Griffin once again, too. He captured the nation's attention with a game-winning drive on the first weekend of the season against TCU, but the Bears suffered a pair of losses and dropped out of the Top 25. A slew of losses from top-ranked teams, though, combined with RG3's heroics?
The Heisman race has gotten a sudden face-lift.
"They say we needed a signature win," Griffin said with a laugh. "And we got it."
November, 20, 2011
11/20/11
12:03
AM ET
WACO, Texas--Chalk this one up among the greatest wins in Baylor history.
Art Briles has done a lot of big things at Baylor, but this is among the biggest. Baylor ended one of the most lopsided all-time series in college football with a
45-38 win
, the first for the Bears in 21 tries throughout the history of college football.
Lots more to come tonight, but here's some instant analysis.


How the game was won:
Baylor quarterback
Robert Griffin III
rolled to his left and hit
Terrance Williams
for a 34-yard touchdown pass with eight seconds left and the Bears recovered a squib kick. One kneel by RG3 and the Baylor fans stormed the field for the second time this season.
Turning point:
Baylor reversed momentum and answered two quick touchdowns by Oklahoma to open the second half with three touchdowns of their own, highlighted by a crazy 87-yard touchdown catch by
Kendall Wright
that bounced off
Tevin Reese
's hands and helmet before floating into Wright's hands in stride. Easily one of the plays of the year in the Big 12, if not all of college football. Oklahoma threatened to run away with the game, but Baylor wasn't shaken. The Bears did what they do best -- throw the ball deep -- and snatched back control of the ballgame.
Player of the game:
Griffin III, QB, Baylor. Who else? RG3 was the man for the Bears. He threw for 479 yards and four touchdowns without a turnover, torching Oklahoma's secondary in the second half and breaking a few records in the process. Speaking of which ...
Record performance:
Griffin broke his own single-game record for passing yards in a game (479) and broke his own record for passing yards in a season, all on the same night. He also helped his team get one of the biggest wins in school history. Not a bad day's work.
Second guessing:
Baylor faced a 4th-and-1 in its own territory early in the third quarter, but decided to go for it. That's OK, I guess, but running Griffin into the pile from the shotgun? Not good. Oklahoma stuffed it, celebrated and scored right away to take the lead. What would this game have looked like if the Bears simply punted there?
What Baylor learned:
It really can go head-to-head with the Big 12 titans and get a win. The Bears have ascended to the second tier of the Big 12, but failed to prove themselves against an elite opponent. Safe to say this game qualifies. The Sooners had a lot to play for and couldn't get it done.
What Oklahoma learned:
Life without
Ryan Broyles
is going to be hard. The Sooners host Iowa State next Saturday, but they'll face a similarly dangerous offense in Oklahoma State on Dec. 3. The offense put 38 on the board Saturday night and it wasn't enough. Don't be surprised if 38 isn't enough against the Cowboys, either, with a Big 12 title hanging in the balance.
What it means:
Oklahoma's national title hopes are kaput. Oklahoma State's loss on Friday night didn't help, but there's an SEC West logjam at the top of the BCS and Oregon lost earlier on Saturday. The Sooners were still alive ... until they weren't. A Big 12 title is still on the table for the Sooners, but a season that began with a beeline to the national title game will come up short. Big 12 titles are great and always difficult to win, but Oklahoma fans have come to expect more. They won't get their eighth national title in 2011.
November, 19, 2011
11/19/11
11:15
PM ET
WACO, Texas -- Oklahoma finds itself down 38-24 in the fourth quarter.
The Sooners' offense has had brief moments of brilliance -- mostly two quick drives in the third quarter -- but has otherwise been uninspired without top receiver
Ryan Broyles
.
That said, if this comeback's going to happen, Oklahoma's offense isn't the biggest concern. The Sooners can't slow Baylor's attack this half.
Three consecutive drives have gone for touchdowns after Baylor trailed 24-17 and turned this game around. A
Landry Jones
interception in Baylor territory didn't help, but Baylor receivers are running free in the secondary and suddenly, the Sooners front is consistently losing contain on the always dangerous
Robert Griffin III
, who's using his legs to make plays, too.
Losing defensive end Ronnell Lewis hasn't helped, and the Sooners pass rush has taken a hit, but if the defense doesn't find a way to get late stops, a comeback is impossible.
November, 19, 2011
11/19/11
10:46
PM ET
WACO, Texas -- Oklahoma defensive lineman Ronnell Lewis went down and clutched his knee on a 55-yard catch-and-run from
Kendall Wright
in the second quarter.
He won't be back.
Lewis is on Oklahoma's sidelines in street clothes and a knee brace. That's a big loss for the Sooners. Frank Alexander has been Oklahoma's best defender this year, but Lewis is a close second. Both are in contention for the Big 12 Defensive Player of the Year.
The Sooners defense will need to play well without him, too. Baylor scored on an unbelievable 87-yard play that caromed off
Tevin Reese
and floated right to a wide-open Kendall Wright in stride downfield, tying the score at 24.
You won't see that too often, but the Sooners had a similar touchdown pass to Jermaine Gresham against Oklahoma State back in 2008.
November, 19, 2011
11/19/11
10:25
PM ET
WACO, Texas--Oklahoma's been dominant in the third quarter all season.

Two quick touchdowns against Baylor and that's continued. Oklahoma's taken a 24-17 lead in just 3:39 of game time in the second half.

Oklahoma has now outscored opponents 132-10 in the third quarter this season.

Landry Jones has been on the money so far, too. He hit James Hanna for a 54-yard gain on the half's opening drive and found Kenny Stills for a 31-yard gain on the second drive.

Those were sandwiched around a fourth-down stop in Baylor territory that ignited a huge celebration on the OU sidelines.

The Sooners looked like they missed receiver Ryan Broyles badly in the first half, which featured just one touchdown.

All of a sudden, that doesn't look like the case.
November, 19, 2011
11/19/11
9:48
PM ET
WACO, Texas -- I'll go ahead and do it.
No. 5 Oklahoma's officially on upset alert.
Baylor's gone step-for-step with the Sooners on both sides of the ball, and the scoreboard shows it. The Bears lead 17-10.
Both teams have caught a few breaks and bad calls, but this one looks like it's going down to the wire.


Time for a bit of halftime analysis after the Bears jogged into the tunnel to raucous cheers and a "B-U! B-U!" chant.
Turning point:
Kendall Wright
took a short pass and weaved his way for a 55-yard gain, outrunning Oklahoma's defense. On the play, OU defensive end Ronnell Lewis went down, too. The Bears scored two plays later on a 15-yard run by
Terrance Ganaway
, and you got the sense that Baylor and its fans started to believe they could win.
Stat of the half:
It's been an ugly half. We've already seen 12 penalties for 114 yards.
Best player in the half:
Robert Griffin III
, QB, Baylor. Griffin connected on a 69-yard touchdown pass to
Tevin Reese
that counted and was thrown perfectly. Another 80-yard bomb on the opening drive was thrown perfectly and didn't count because of a hold. Still, he's 8-of-13 for 197 yards and a touchdown and has played mistake-free football. He has to stay that way. He's got OU safety Javon Harris on his heels.
What Baylor needs to do:
Keep poking at the Sooners and keep testing them deep. Baylor did a better job of handling the Sooners' blitzes in the second quarter and giving Griffin III some time to make plays. The Bears kept working the screen game to receivers on the outside, and the Sooners backed off a bit. The running game's only worked when Baylor's offensive tempo has been at its highest, so the solution there seems pretty obvious, too. Counter-intuitive to moving the clock, yes, but it's much too early to think about anything like that just yet. The Bears need to keep moving the ball.
What Oklahoma needs to do:
A big win seems like it's almost out of the question now. Baylor's not a team that's going to be pushed around tonight on either side of the ball. This game may stay low scoring, and as the road team, when the Sooners get opportunities to score, they have to take advantage. They've done that so far, outside of a
Trey Franks
fumble on a long run and a third-down sack to take them out of field goal range. It's telling that they've taken advantage of opportunities and still only have 10 points.
November, 19, 2011
11/19/11
9:04
PM ET
WACO, Texas -- I wouldn't flick the upset alert switch just yet, but Baylor's looking like a top-25 team through the first quarter against Oklahoma.
The Sooners and Bears are locked in an uncharacteristic defensive battle and tied at 3.
The Bears secondary has slowed Sooners quarterback
Landry Jones
tonight while the Bears offense has struggled with a fast, physical pass rush from maybe the best defensive-end duo in the country, Frank Alexander and Ronnell Lewis.
The defense has taken its knocks this season, and that didn't change early. The Bears broke up two passes before giving up a 26-yard completion to
Kenny Stills
to convert a deflating third down.
Oklahoma receiver
Trey Franks
broke a long gain on the next play, but who was there? The Bears secondary, flipping Franks and forcing a fumble.
This one hasn't gone how anyone projected it, but the Bears will take it.
Three points after one quarter for an offense like Oklahoma's? Maybe there's something to the way the Bears play at home. They haven't lost at Floyd Casey Stadium this season.
November, 19, 2011
11/19/11
8:34
PM ET
WACO, Texas -- Oklahoma's pursuing Baylor's running game aggressively, and it's paid off.
The Bears carried the ball six times on their opening drive.
Four went for losses. One was for no gain. The other went 6 yards.
Oklahoma looked bent on flying to the ball and making Baylor's offense one-dimensional.
Baylor, though, tried to answer.
Robert Griffin III
is looking deep, but his only connection, an 80-yard touchdown to
Kendall Wright
, was erased by a hold. The Bears ran a double pass from Griffin to
Jerod Monk
to
Terrance Williams
, too.
The Bears are trying to soften up the Sooners defense, but Oklahoma's bringing all kinds of blitzes and put a handful of big pops on RG3 on the opening drive.
Baylor will have to hit on a couple of those deep balls before the Sooners back off.
Additionally, we've already had five penalties for 60 yards tonight. An odd start on that front.
November, 19, 2011
11/19/11
6:12
PM ET
WACO, Texas -- It's unseasonably warm in Central Texas, and two of the Big 12's best quarterbacks will have to deal with some Waco wind tonight at Floyd Casey Stadium.
Baylor's
Robert Griffin III
and Oklahoma's
Landry Jones
have put up some crazy numbers this year, and I wouldn't expect that to change tonight.
The obvious question: Can Oklahoma bring more than Baylor? The Sooners watched their in-state rival go down at Iowa State on Friday night, delivering a huge blow to Oklahoma's national title hopes.
The Sooners aren't completely out of it, and could use a huge win tonight. Will they get it?
Few would discount the Sooners winning a close game on the road to a ranked team in conference, but the Sooners could turn a few heads if they're impressive against Baylor.