Big 12:

Sooners-Huskers-120410
December, 5, 2010
12/05/10
2:09
AM ET
ARLINGTON, Texas -- The game wasn't quite over yet, but Jarvis Jones snuck away from the Oklahoma sideline. The Sooners junior offensive lineman quickly found what he was looking for.
With Oklahoma only a couple snaps in the victory formation away from its seventh Big 12 title of the decade, Jones picked up the Oklahoma flag and made his way back to his teammates. The clock hit zeroes, and Jones crossed the sideline's white barrier to wave it proudly at midfield inside Texas' finest pigskin palace, Cowboys Stadium.
On this night, he might has well have replaced the Oklahoma logo with the Big 12's signature Roman numerals.
[+] Enlarge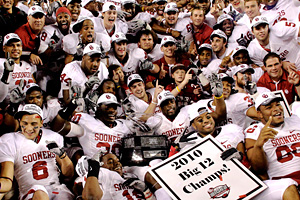 AP Photo/Tony GutierrezOklahoma had reason to celebrate after rallying from a 17-0 deficit to beat Nebraska 23-20 in the Big 12 title game.
Sooners 23, Huskers 20
.
"This is like Celtics-Lakers. This is Cowboys and Redskins," said Oklahoma offensive coordinator Kevin Wilson. "We needed this game for our school, for not just the program but this state. There's a lot of tradition. We put a lot of eggs in the basket."
Oklahoma won them all, climbing out of a 17-0 hole for the second largest comeback in the history of the Big 12 title game.
"We're the team that can't score in the fourth quarter. We're the team that can't come from behind, we're the team that can't win on the road," Wilson said. "So I don't know how we won."
Oklahoma did all of those things -- albeit on a neutral site -- in Saturday's win, but so many things made it seem like this was Oklahoma's night on a stage that it has owned.
The Sooners converted just one first down in 16 tries against the Big 12's best defense. Given that, who would have figured that Jeremy Beal would share a postgame pose with Big 12 commissioner Dan Beebe and the Big 12 championship trophy, rather than Nebraska's Jared Crick?
Quarterback
Landry Jones
, who suffered through a nightmarish five interceptions in Lincoln a year ago, threw just one on Saturday, and racked up 342 yards passing on a secondary with four All-Big 12 players trying to stop him.
"You've gotta give it to the people around me," said quarterback Landry Jones. "They got open. They beat their guy that was covering them."
Jones completed 7 of 10 passes longer than 10 yards for 192 yards and a touchdown.
That doesn't happen against the Blackshirts.
It did on Saturday. Jones completed passes of 49 and 30 yards to freshman receiver
Kenny Stills
and another deep ball down the left sideline to
Ryan Broyles
for 47 yards, three passes combining for a big chunk of Jones' yards on the night.
Without those, you can forget seeing noted Oklahoma fan Toby Keith struggling not to smile while doing a postgame interview with a local Oklahoma City TV station, and later throwing an Oklahoma Big 12 championship hat on over his red Oklahoma beanie.
It was an Oklahoma kind of night.
"It was really exciting to see the maturity of us being down 17-0, no one being rattled, just keep working it, keep playing football," Stoops said. "It's a long night."
[+] Enlarge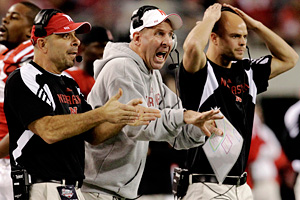 AP Photo/Tony GutierrezNebraska and coach Bo Pelini were unable to win a conference championship in their final year as a member of the Big 12.
It was especially long for Nebraska quarterback
Taylor Martinez
. The freshman, playing through a sprained right ankle and turf toe on his left foot, completed just 12 of 24 passes for 143 yards. He couldn't figure out Oklahoma's defense, and was sacked seven times. Before Saturday's game, Nebraska quarterbacks had been sacked 17 times in 12 games, tied for second-fewest in the Big 12.
It was Oklahoma's night, and no one benefited more than senior Pryce Macon. Perhaps no one who factored more in the outcome of any Big 12 championship entered the game with a more modest bio than Macon's. Entering this season, he boasted eight career tackles and didn't see the field in Oklahoma's injury-plagued 2009.
But he finally got his moment in his last game in his home state of Texas, stealing the show from more heralded defensive linemen like Frank Alexander and the AP's Big 12 Defensive Player of the Year, Jeremy Beal.
Macon finished with five tackles for loss -- erasing 24 of Nebraska's yards -- including three sacks. Only eight other players in the history of Oklahoma football have equaled Macon's efforts. He also forced a pair of fumbles.
Told of Macon's stat line, Stoops shot his senior a stare and a shocked, extended, "Whaaaat?"
"Parents wouldn't let me quit. Friends wouldn't let me quit. I just kept grinding," Macon said. "I'm just glad I stayed and stuck it out and kept fighting.
"Hey, I couldn't see this going any better than this."
Somebody had to stand underneath the red-and-white confetti shower at the end of this one. Macon helped make sure it was the Sooners. Later, freshman
Roy Finch
scooped some up off the turf surrounding the stage on the field and tossed it in the air, intent on keeping the dream night alive as long as possible.
It was Oklahoma's night.
"I was really pleased at how we finished last year," Stoops said of Oklahoma's convincing wins over ranked foes Oklahoma State and Stanford. "It gave you a strong feeling that this was coming, or it could come."
It did, and after a year spent at home watching the rival Longhorns celebrate on this field, the Sooners made it back to pose for a team photo on the Cowboys Stadium turf with Big 12 championship hats fresh out of the box, a scene and feeling the Sooners missed.
"This is my third Big 12 championship, and this one's definitely the sweetest," said linebacker Travis Lewis. "The fashion that we won this game in, we pride ourselves on defense wins championships."
The Sooners gave up three points over the game's final 42 minutes. Over the same period, Oklahoma's offense scored 23.
Somewhere, a box contains the last hats ever made commemorating a Nebraska Big 12 title. Most, if not all, will never be worn.
It was Oklahoma's night.
December, 5, 2010
12/05/10
12:29
AM ET
By
ESPN.com staff
| ESPN.com
No. 10 Oklahoma is going to the Fiesta Bowl and defeated Nebraska in its last conference game as a member of the Big 12. The Sooners rallied to beat
Nebraska 23-20
on Saturday night in the Big 12 championship.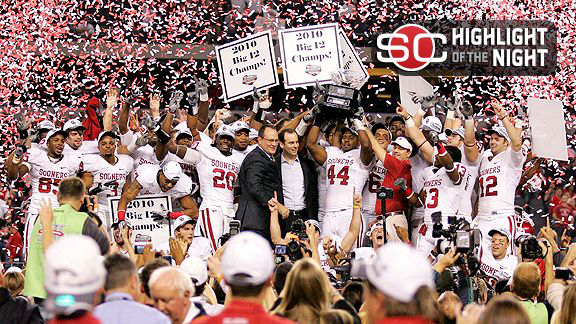 December, 4, 2010
12/04/10
11:32
PM ET
ARLINGTON, Texas -- Nebraska hasn't scored in the second half, and has just over 60 yards of offense since halftime. The Huskers don't need a lot, but they'll have to find something to knock off the Sooners.
Rex Burkhead
looks like the most likely source. He has run hard the entire night and has been getting more snaps in the Wildcat package after
Taylor Martinez
has struggled through the air for most of the night.
It's been a physical second half, but if the Huskers can't find a big play somewhere, it'll be another championship game heartbreak, considering they led 17-0 early on in tonight's game.
December, 4, 2010
12/04/10
10:56
PM ET
ARLINGTON, Texas --
Taylor Martinez
has been sacked five times tonight, including twice on Nebraska's current drive, which is carrying over into the fourth quarter.
Oklahoma's defensive line has played well, but the biggest reason for both sacks on this drive has been Martinez's indecision. Nebraska's pass blocking has been good enough, but the freshman quarterback has to get rid of the ball.
Both sacks came on first down, so it didn't completely end Nebraska's drive, but he's not doing the offense any favors.
On the second sack, he shook off one tackler, and still didn't get rid of the ball, giving up a sack to Oklahoma's Pryce Macon. He probably had close to 10 seconds to get rid of it, and didn't.
That will have to change for the Huskers, who can't win this game without a functional passing game in the fourth quarter.
December, 4, 2010
12/04/10
10:42
PM ET
ARLINGTON, Texas -- There aren't many quarterbacks who
have figured out Nebraska's pass defense
this year. However, Oklahoma's
Landry Jones
looks like has a good understanding after struggling early.
Jones hit top receiver
Ryan Broyles
on a deep pass down the left sideline for a 47-yard gain to set up a chip-shot field goal for Jimmy Stevens that tied the game at 20.
After that play, Jones now has completions of 49, 47 and 30 yards against the Huskers secondary, who entered today's game ranked second nationally in pass defense.
That's rare company.
Jones is 17 of 28 for 276 yards with a touchdown and an interception on a tipped ball. Compare that with the
chart of quarterback performances in this story.
That's a good sign for the Sooners, and a great sign for Jones' career. He won't see many secondaries tougher than the one he's trying to move the ball against tonight.
December, 4, 2010
12/04/10
10:03
PM ET
ARLINGTON, Texas -- Both defenses are playing well, but they've both given up a long touchdown, and the offenses have turned it over, which has given us a little more scoring than I expected tonight. We'll see if either offense can exploit the defenses in the second half, too. I doubt it, but those types of breakdowns are impossible to predict.
The big story has been Oklahoma capturing the momentum after falling behind
17-0
and looking flat early on.
Turning point:
There were plenty of plays that could be in contention for this one, but Oklahoma's 49-yard deep ball down the middle to
Kenny Stills
injected some life into the Sooners, and keyed a run of 17 consecutive points to tie the game.
Taylor Martinez
's inexcusable interception in the back of the end zone, and
Roy Helu Jr.
's fumble in Nebraska territory that set up Oklahoma's game-tying touchdown are in the running as well.
Stat of the half:
Oklahoma penalties: Three for 30 yards. Nebraska's: Two for 10. Hopefully this is the last time we have to talk about this.
Best player in the half:
Kenny Stills, Oklahoma. His two catches were two of Oklahoma's biggest plays of the half. The first was his 49-yard score, and the second was a nifty double move on one of the conference's best corners, Alfonzo Dennard, for a 30-yard gain down to the goal line.
Best player in the half II:
Alex Henery, Nebraska. He's proving just how valuable special teams are in close games. His 54-yard field goal in the first quarter put the Huskers up 10-0 and would have been good from well beyond 60 yards. His 42-yarder helped the Huskers take back some momentum heading into halftime.
Best call:
Nebraska called for a play-action pass on 4th-and-1, and Martinez hit
Mike McNeill
for a 36-yard gain down to the 9-yard line. Unfortunately for the Huskers, Martinez threw a preventable interception in the back of the end zone three plays later.
Best call II:
Oklahoma must have been paying attention. The Sooners went with a naked bootleg on a 4th-and-1 of their own, and
Landry Jones
was all by himself down the left sideline for a 15-yard gain into the red zone. The Sooners finished that drive with a field goal.
What Oklahoma needs to do:
Keep the pace up. Nebraska did well early, but the Sooners' no-huddle got to them late. Oklahoma has outgained Nebraska 280-209, but it was even more lopsided before Nebraska went 56 yards on its last drive of the half to set up the go-ahead field goal.
What Nebraska needs to do:
Seems pretty simple. Quit turning it over. Nebraska cost itself points with Martinez's interception, and Helu's fumble set up the Sooners game-tying touchdown. Both the defense and offense are playing well enough to win the game.
December, 4, 2010
12/04/10
9:21
PM ET
ARLINGTON, Texas --
Ryan Broyles
thought he made Oklahoma's biggest play of the game, but Nebraska safety Courtney Osborne's knee disagreed.
Osborne hauled in an easy interception and returned it to the 11-yard line, but Broyles stripped it and recovered possession as both players went to the ground. Officials ruled he had possession, but the call was reversed after a review.
That gave way to
Rex Burkhead
, who threw his third touchdown pass in two weeks -- this one to
Kyler Reed
-- that had the Huskers on top big early in the second quarter.
Oklahoma answered with a touchdown on its next drive, though, and trails
17-7
.
The pass from Burkhead was much-needed for Nebraska, whose quarterback,
Taylor Martinez
, had yet to complete a pass in four tries through the first quarter.
The Huskers' early lead should shift the entire game. Oklahoma won't abandon its run game, but it will look to pass a bit more than it did in the first quarter. Against the best secondary in the Big 12 -- and possibly the country -- that could be a dangerous proposition.
Not so much for the Sooners, who answered with a 49-yard bomb down the middle of the field to
Kenny Stills
. That's definitely a good sign for the Sooners, but a rare big play given up by the Blackshirts.
I'd be surprised if the Sooners hit another big play like that without breaking a tackle or benefiting from a miscommunication from the Huskers' secondary.
December, 4, 2010
12/04/10
8:46
PM ET
ARLINGTON, Texas -- Nebraska kicker Alex Henery was voted first-team All-Big 12 for the first time this week, but only by the media.

The league's 12 coaches pegged Oklahoma State kicker Dan Bailey for the first team, a move that Huskers coach Bo Pelini called "crazy."

Henery showed everyone watching why with a perfect 54-yard kick that put Nebraska up 10-0 in the first quarter.

It would have been good from well over 60 yards, too.

Henery's only miss in 18 kicks this year was a 50-yarder that was blocked, and it's the biggest advantage for the Huskers in this game.
December, 4, 2010
12/04/10
8:34
PM ET
ARLINGTON, Texas -- Nebraska fans had to feel a little uneasy when they saw running back
Roy Helu Jr.
limp off the field on the Huskers first possession. He wasn't down long, but it gave cause for concern.
Or not.
After stopping Oklahoma on a fourth down try, Helu took the first play of the Huskers' next drive 66 yards for a touchdown to put them ahead 7-0 midway through the first quarter.
It was reminiscent of the opening play against Missouri earlier this year, when Helu finished with 307 yards rushing and had three long touchdown runs. He won't hit 300 yards today, but that run was as important as any this year, establishing the early momentum in favor of the Huskers.
Helu is as important as any third of the Huskers' running attack, but he might have had the fewest headlines heading into today's game. Quarterback
Taylor Martinez
's injury has been of particular concern, and
Rex Burkhead
's performance last week with 101 yards, a rushing touchdown and two passing touchdowns earned plenty of attention.
Win or lose for the Huskers, that won't be the case after this one.
December, 4, 2010
12/04/10
8:05
PM ET
ARLINGTON, Texas -- I'm back in the press box from some time down on the field and Big 12 commissioner Dan Beebe's pregame press conference. Both teams have finished warm-ups, and we're only a few minutes away from kickoff. The crowd looks pretty close to 50-50, and with the ends and roof of Cowboys Stadium closed, it's already pretty loud.
Here's a few quick notes:
I'd expect Nebraska quarterback Taylor Martinez to start, but he's definitely still favoring his right ankle, however slight. Additionally, he's wearing two different kinds of cleats. It looked like the left cleat might be offering some additional support for his turf toe.
Oklahoma running back DeMarco Murray didn't look too bothered by a knee injury that left his status in doubt this week. He didn't do much full-speed work in pregame, but his movement looked normal.
Beebe's press conference offered little of note. He mentioned he did have some additional security for tonight's game, but nothing "significant." As for the talk of the Big 12 championship returning, don't hold your breath. Beebe noted that the coaches have been nearly unanimous in opposition of the game for the duration of its existence, and said he'd be surprised if that changed. I'd agree with him on that point.
He was asked about talks of conspiracy and the Eric Martin suspension, but didn't say anything we haven't heard before. Namely, that the notion of a conspiracy is silly and they don't spare any expenses when it comes to the integrity of officiating. On Martin's suspension and the lack of suspension of Texas A&M's Tony Jerod-Eddie after an ugly incident in a pile, Beebe cited the desire of the league to remove hits like Martin's from football.
On his no-show in Lincoln this year, Beebe noted that he didn't hand out any of the five divisional trophies this year, and hasn't been able to do it on several occasions for various reasons, most often tiebreakers. He also brought up that he delivered Nebraska's trophy last year, but did not do so for Texas.
He also stressed, once again, that the portion of Huskers fans sending hateful messages to him and other Big 12 officials is a small one, but did note that former Huskers star Ed Stewart, a Big 12 employee, received several as well.
That's all for pregame. I'll be blogging throughout tonight's game, but
I'll be chatting right here, too
. So come hang out for tonight's game.
December, 4, 2010
12/04/10
6:12
PM ET
ARLINGTON, Texas -- I've reached my seat in Cowboys Stadium for tonight's Big 12 Championship, and the Huskers are on the field warming up, while the few fans who filed in after the gates were opened are dotted among the blue seats in Cowboys Stadium.
Some of the best coaches in college football history have patrolled the sidelines of the Oklahoma-Nebraska rivalry. Nebraska's Bob Devaney and Tom Osborne helped build the proud middle American tradition in Lincoln. Oklahoma countered with Bud Wilkinson and Barry Switzer.
The four of them combined for 11 national titles.
Bob Stoops is already well into building his own legend at Oklahoma. Six conference titles and a national championship of his own will do that, recent BCS bowl flops aside.
First-time head coach Bo Pelini is well on his own way to becoming one of Nebraska's best -- showcasing the annual improvement indicative of coaches who eventually become legends.
With a win tonight, both could write the next sweet chapter of their careers. For Pelini, that improvement would continue, reaching the Big 12's summit before hopping over to the Big Ten. Already revered by the Nebraska faithful for restoring defense and power running to a program known for exactly that, Pelini would only intensify both feelings with a win.
Stoops, meanwhile, has terrorized the Big 12 with consistently good teams whose six Big 12 titles are three times as many as any other team in the conference.
Beat Nebraska tonight, and some of those defeats might be forgiven from fans in Missouri, Iowa, Kansas and other places across the Big 12 where finding a Huskers is a difficult assignment.
There are no national titles on the line tonight. The Big 12 Championship has seen "bigger" games. But considering
the events of last summer
and
the past few weeks
, it might have never have seen a more meaningful or contentious game.
Most often, that's in reference to Nebraska's program or the future of the Big 12, but the perception and résumés of the two coaches on the sideline qualify, too.