Big 12:

Sooners-Tigers-102310
October, 24, 2010
10/24/10
2:57
AM ET

David Ubben talks to Missouri receiver T.J. Moe about the win over top-ranked Oklahoma.

October, 24, 2010
10/24/10
2:39
AM ET

David Ubben and Ivan Maisel break down the significance of Missouri's win over Oklahoma.

October, 24, 2010
10/24/10
2:11
AM ET
COLUMBIA, Mo. -- Tim Barnes remembers well. He should, he was there.
Missouri's senior center had -- in the most frustrating sense -- a front-row seat to Oklahoma's dominance on the line of scrimmage in three victories over the Tigers in 2007 and 2008.
Missouri left as losers, never coming within single digits of the Sooners, who celebrated a pair of Big 12 titles and a national championship appearance at the Tigers' expense.
"They pretty much handled us up front," Barnes said.
The quiet flights home from Norman and later San Antonio in 2007. A year later, the bus from Kansas City.
[+] Enlarge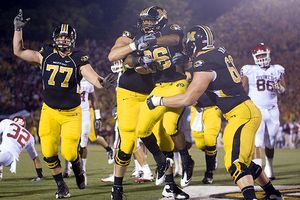 AP Photo/L.G. PattersonDe'Vion Moore celebrates one of Missouri's two rushing TDs against Oklahoma. The Tigers rushed for 178 yards against the nation's No. 1 team.
There wasn't much silence in Columbia, Mo., on Saturday night and into Sunday morning, following the Tigers'
36-27 win
over No. 1 Oklahoma -- and there won't be in this midwestern college town for some time.
The Tigers' linemen on both sides of the ball are to thank.
"Our ability to run the football for 178 yards was huge. The offensive line played very, very well," said Missouri coach Gary Pinkel, who earned his first-ever win over Oklahoma and the program's first-ever win over a No. 1 team.
Blaine Gabbert
completed 30 of 42 passes for 300 yards and a touchdown. Why? Well, it was obvious.
"He got a lot of time to throw," Pinkel said.
Way more than Chase Daniel got. The holes were bigger than the ones former backs Tony Temple and
Derrick Washington
tried to fit through. These Tigers won, and they did it by imposing their will on two Sooner lines filled with piles of recruiting stars that couldn't do anything about it.
This was a win over a No. 1 team, and it was a win over one of the Big 12 bullies that have tormented the Tigers, beating Pinkel 11 consecutive times before tonight.
It was a win for the program, and those players from the recent past were there to celebrate. Former receiver Tommy Saunders smiled amidst the sea of students on the turf, looking for someone to hug. Former linebacker Brock Christopher found one of his old teammates, defensive lineman Bart Coslet, and welcomed him with a huge, congratulatory hug.
There's no ceiling for Mizzou anymore. It left Faurot Field with the students carrying the goalposts to Harpo's downtown, celebrating through the steady rain. Players like Saunders, Washington, Christopher, Daniel and Temple helped Missouri reach that ceiling.
A new generation of players like Gabbert, Aldon Smith,
T.J. Moe
,
Jerrell Jackson
and
Henry Josey
helped shatter it.
"We wanted to come out there and prove to everyone that this year," Barnes said, "it was going to be a little different."
[+] Enlarge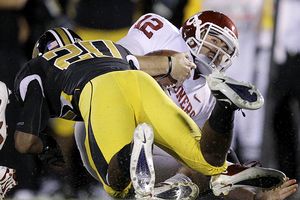 AP Photo/Jeff RobersonKevin Rutland and the Missouri defense disrupted the Oklahoma offense -- forcing two interceptions and holding the Sooners to just 99 yards rushing.
Message received. The defense held the Sooners to just 99 yards rushing.
Missouri knew this would be different early. The first time a Tiger touched the ball,
Gahn McGaffie
raced into the end zone on an 86-yard kickoff return. The first run from scrimmage: 20 yards by
De'Vion Moore
, longer than any other carry by a tailback in any of those three games in which Missouri failed to take its next big step as a program.
"We have a lot more experience and guys are getting better," Barnes said. "We wanted it so bad. I know for the linemen, it's just a little different for us."
It's different for Mizzou as a whole now, too, and Gabbert left no doubt as to what "it" was.
"I give all the credit in the world to our offensive line. They did an extremely good job winning the battle in the trenches," he said, "and that's why we were successful tonight."
The defensive line played just as well, pressuring the Sooners and hurrying Oklahoma quarterback
Landry Jones
.
The only thing the Missouri defense seemed to do wrong all night was fail to take an interception return into the end zone, a pick only created by Aldon Smith's pressure on Jones. Smith tipped the ball to himself and had to settle for a 58-yard return into Oklahoma territory, swinging the game's momentum and setting up a touchdown that put Missouri ahead 14-7 early.
"We'll talk about that later," Gabbert said of the return with a wide smile.
Pinkel couldn't help but crack a joke at the weaving return, too: "He's always talking about playing tight end," he said.
Smith's return to the field -- one he later said he had to make against the No. 1 Sooners -- from a broken fibula, helped spur a line that disrupted Oklahoma's passing attack, limiting them to just 60 yards passing in the second half after 248 in the first. None of Jones' final seven passes found their receivers; one found Missouri linebacker Zaviar Gooden deep in Oklahoma territory, which set up a field goal that put Missouri up 29-21.
"Our defensive line did really, really well, and that tempo of offense is very, very difficult," Pinkel said of the Sooners' high-speed attack. "When you win games like this, generally you go to the line of scrimmage and that tells the story."
It was a different ending this time for the Tigers, a story in Missouri's history that will be retold for decades. But after Saturday's celebration late into the night, they'll wake up on Sunday knowing that what happened on Faurot Field on Oct. 23, 2010, is exactly that: history. And that story's ending has yet to be written.
"We play Nebraska next week," Pinkel said. "This isn't the national championship."
October, 24, 2010
10/24/10
1:45
AM ET

Missouri defensive end Aldon Smith discusses the Tigers' win over No. 1 Oklahoma.


October, 23, 2010
10/23/10
11:48
PM ET
COLUMBIA, Mo. -- Missouri's big
36-27 win
should vault them inside or near the top 5, and gives them sole possession of first place in the North, and with this win against Nebraska's loss last week, the Tigers are the favorite to win the division and the Big 12.


How the game was won: Missouri pressured
Landry Jones
for the entire night, and kept the Sooners from ever getting in a rhythm offensively. On the other side, the Tigers protected
Blaine Gabbert
and ran the ball well the entire night, far out rushing the Sooners.
Turning point:
Down 26-21, Oklahoma's Jones was picked off by a diving Zaviar Gooden to give Missouri the ball in the red zone with a big lead. It turned that into three points after a successful hook-and-ladder for a first down and added a touchdown on the next drive to take a 36-21 lead in the fourth quarter.
Stat of the game:
Missouri's 178 rushing yards. Without those, the Tigers would have been one-dimensional as they were in past games against the Sooners and likely have faced a different fate.
Player of the game:
Missouri's linemen. As noted above, pressure on Jones forced turnovers on defense. A dominant performance allowed a handful of guys to make plays on offense, like
Jerrell Jackson
, who caught eight passes for 134 yards and a touchdown.
Second guessing:
A pair of two-point conversion decisions by both coaches. Oklahoma's Bob Stoops one-upped Gary Pinkel with an attempt when his team was down by nine points. The Sooners failed and didn't extend the game.
What Oklahoma learned:
It still can't play on the road or in the fourth quarter. All five losses came away from home last year, and the same is true of the Sooners' loss this year.
What Missouri learned:
Let's keep it simple. The Tigers are the best team in the Big 12.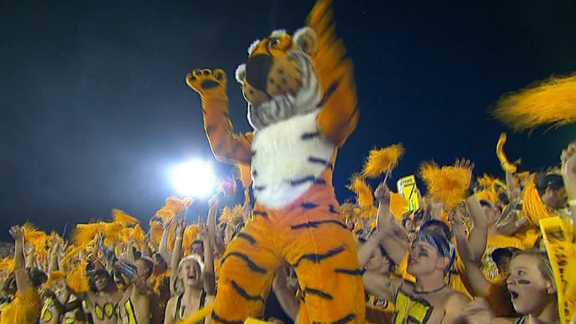 October, 23, 2010
10/23/10
11:23
PM ET
COLUMBIA, Mo. -- Oklahoma's last three possessions have resulted in a pair of punts and an interception.
Missouri's last three possessions have resulted in two touchdowns and a field goal.
Add it all up and Missouri looks ready to knock off the No. 1 Sooners with a 36-21 lead midway through the fourth quarter.
Oklahoma would be the third No. 1 seed to lose in as many weeks.
The Tigers marched 76 yards in five plays, spearheaded by a fantastic run from
De'Vion Moore
, who got into the secondary, kept his legs churning and made sure to protect the ball on his 39-yard carry up the middle.
The Tigers then brought in freshman backup quarterback
James Franklin
who got near the goal line and pushed the pile across the plane to put the Tigers over the top.
Missouri has clearly outplayed Oklahoma, and the Sooners' fourth quarter problems have continued. The Tigers have taken advantage, and the public address warnings to stay off the field may be tested.
Oklahoma's
Mossis Madu
returned the following kick 77 yards into the red zone, but the Sooners offense has to find a rhythm that's been absent in the second half to take advantage.
October, 23, 2010
10/23/10
11:09
PM ET
COLUMBIA, Mo. -- This has to look familiar to the Oklahoma faithful.
Missouri took a 29-21 lead early in the fourth quarter after executing a hook-and-ladder a la Boise State in the 2007 Fiesta Bowl to set up a field goal that put them up eight.
Blaine Gabbert
threw a pass to the flats to
Michael Egnew
, who pitched it to
Kendial Lawrence
. The crowd (and the cannon at Faurot Field) thought he'd run it in for a touchdown, but officials ruled him out of bounds.
If only Chris Petersen had called the play. It would have had to have worked, right?
The Tigers got the first down, but the offense stalled from there, and a failed two-point conversion on Missouri's previous touchdown, a 39-yard score by
Jerrell Jackson
, has kept the game a one-possession affair.
Zaviar Gooden intercepted
Landry Jones
' first pass after Missouri's first touchdown of the quarter to set up the second.
October, 23, 2010
10/23/10
10:32
PM ET
COLUMBIA, Mo. -- Oklahoma has reached the red zone four times tonight.

It has seven points to show for them.

Missouri has made three trips, totaling 13 points.

Missouri leads, 20-14, the same six-point deficit that's evident in the two teams' red zone trips.

The problems may have never been more frustrating than on the past two possessions for Oklahoma coach Bob Stoops. Kicker Jimmy Stevens yanked a 31-yard attempt badly from the right hash, missing wide left.

Missouri promptly drove down the field and kicker Grant Ressel made a 30-yard attempt in the rainy conditions that have taken over at Faurot Field tonight.

Field goals have been a constant problem for Oklahoma for the past two seasons, with a revolving door of Stevens, Patrick O'Hara and punter Tress Way, with Way focusing just on punting this season.

In big games, in which scoring is at a premium, it hurts the most. Oklahoma is experiencing that now, against a Missouri team whose kicker is now 38-of-40 for his career on field goals.
October, 23, 2010
10/23/10
9:43
PM ET
COLUMBIA, Mo.--That first half was a lot of things, but entertaining is at the top of my list. Two great teams going at it here at Faurot Field, and this thing is definitely up for grabs.
Turning point:
The opening kickoff. The energy in the stadium was already off the charts. Then Missouri's
Gahn McGaffie
housed it from 86 yards away and added some genuine belief in the building to the already buzzing energy.
Stat of the half:
Oklahoma's two turnovers. Both occurred in the red zone.
Best player in the half:
Oklahoma receiver
Ryan Broyles
. He's playing with an injured ankle, and he still looks like a contender for the Biletnikoff Award. He's caught six passes for 95 yards, including a 39-yarder that he narrowly snagged from a defensive back on the sideline.
Unsung hero:
Missouri's offensive line.
Blaine Gabbert
has had all night to throw. Missouri's running backs have consistently had holes to run through, racking up 70 yards rushing. That's a new phenomenon for the Tigers against the Sooners, and a great sign for their chances to spring the upset.
Best call:
Bob Stoops elected to go for it on 4th-and-1 in the red zone, with his team already coming up empty-handed there twice in the half. Fullback
Trey Millard
converted a dive play, and
DeMarco Murray
scored on a 5-yard reception two plays later to tie the game.
What Missouri needs to do:
Keep protecting Blaine Gabbert. He's the team's best player with some functional talent around him. Give him time, and he'll make enough plays to win this with sure-handed guys like
Michael Egnew
and
T.J. Moe
running around in the secondary.
Jerrell Jackson
has played well, also.
What Oklahoma needs to do:
Take advantage of opportunities. The easiest way to lose on the road is with turnovers. Do it in the red zone and you almost assure yourself a loss, especially to a quality team like the Tigers.
October, 23, 2010
10/23/10
9:17
PM ET
In almost any upset, you'll see the underdog win the turnover battle.
Missouri's doing that tonight, forcing a pair of turnovers in the red zone on an Aldon Smith interception and forcing a fumble from Oklahoma running back
Mossis Madu
.
The Tigers lead,
14-7
.
That's nothing new. Missouri's done it all year, with a plus-5 turnover margin.
It's pretty obvious how much more impactful those turnovers become when they come in the red zone.
But it is new for Oklahoma, who leads the league with a plus-9 margin entering tonight's game.
There's a big difference in picking off a downfield pass and returning an interception in the red zone 58 yards into an opponent's territory.
Twice, the Sooners have threatened to score, and on the play before Smith's interception,
DeMarco Murray
caught the ball in space but fell down before he could compose himself after the reception.
So far, Missouri's taken advantage of everything Oklahoma has given it, and in addition to Smith's pick, made big plays like
Gahn McGaffie
's kick return to open the game.
Iff you're trying to knock off the No. 1 team in the country, that's how you do it.
October, 23, 2010
10/23/10
8:27
PM ET
COLUMBIA, Mo. -- With a high-stakes, high-energy game, we're seeing a lot of high-stakes, high-energy play.
For Missouri, it's already been both good and bad. Thanks to a huge play and a couple costly mistakes, the game is tied 7-7 early in the first quarter.
Gahn McGaffie
returned the game's opening kick 86 yards for a score, and the Tigers forced a suffocating three-and-out on the ensuing possession with a sack from cornerback Kevin Rutland.
But punt returner Carl Gettis muffed the punt, and Oklahoma's
Landry Jones
hit a wide-open freshman receiver in
Kenny Stills
for a 27-yard touchdown that looked like the product of a miscommunication. You have to wonder if that mistake occurred with a defense high on energy and low on focus.
The Tiger have to settle down and provide plenty of both to upset the No. 1 Sooners, who became the second No. 1 team in two weeks to give up a touchdown on the opening kickoff.
October, 23, 2010
10/23/10
7:40
PM ET
COLUMBIA, Mo. -- Missouri star defensive end Aldon Smith plans to play, returning from a month-long absence following a broken fibula. Rumors of an ankle injury holding Oklahoma receiver
Ryan Broyles
out of tonight's game proved false. He was working during warm-ups and appeared to be moving well.
The rain has -- for now -- held off.
The Tigers and Sooners look ready to go.
Missouri is breaking out the gold pants and black jerseys for this one, a combination rarely used, but one the Tigers broke out for a win that launched one of the best seasons in school history. Playing in a nationally televised game against Nebraska in 2007, the Tigers rolled to a 41-6 win and eventually ended up ranked No. 1 for part of that season.
With another "Gold Rush" underway at Faurot Field like it had on that night, the Missouri fans are looking to capture some of that mojo, or perhaps more accurately, "Moe-Jo," a GameDay sign seen Saturday with a nod to star receiver
T.J. Moe
, who leads the team in receptions.
October, 23, 2010
10/23/10
6:28
PM ET
COLUMBIA, Mo. -- Just found my seat in the press box at Faurot Field after a good day of College GameDay and football.
The weather held up in the afternoon after some early showers, but the sky turned overcast in the afternoon and looks threatening with kickoff still over two hours away.
For all the fun and hoopla that's enveloped Missouri's campus over the weekend, an overnight incident has provided some sobering perspective.
Missouri junior defensive back Trey Hobson's cousin, Aaron Hobson, was in town for an annual trip to see Trey play, but was
fatally wounded by a gunshot
at a gas station in Columbia early Saturday morning.
A homicide investigation by police is underway.